5 Athletes People Around the World Want to Sleep With The Most
by | Last Updated
Sport fascinates us.
Why?
Well, the strength of a human body and the spirit of competition is what grabs our attention.
But also… abs.
There are hundreds of athletes who make people around the world lose their minds.
We were curious to find out the hottest ones, so we asked 10,000 participants to name an athlete they dream about. Here's a list of the names we heard most often.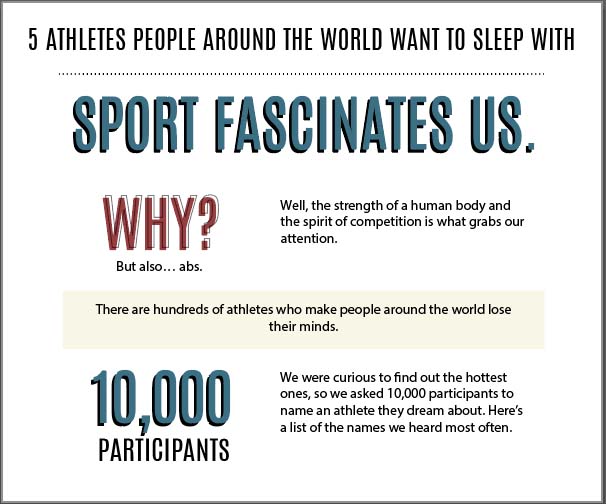 USA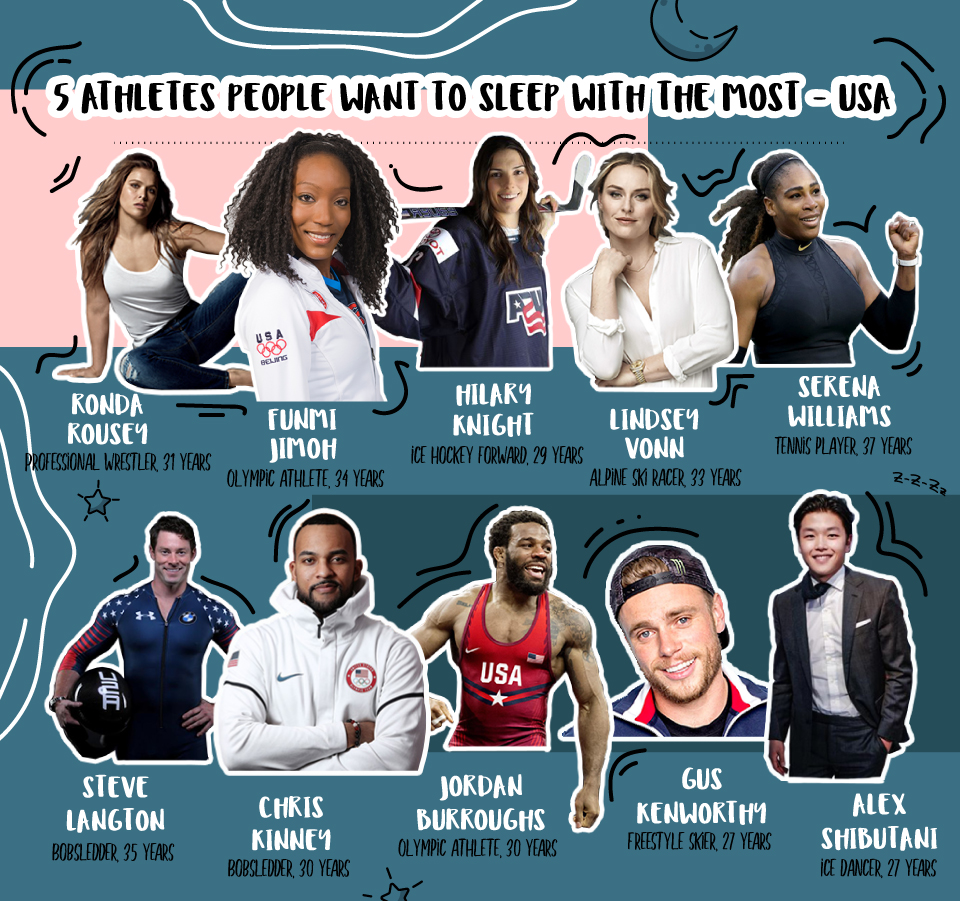 Men:
Steve Langton

Alex Shibutani

Chris Kinney

Gus Kenworthy

Jordan Burroughs
Here's what we are dealing with here. Cute smiles? Check. Abs of steel? Check. Perfect bone structure? Check. I mean, is there anything these guys don't have? If you are drooling already, that's okay. I get you.
Women:
Funmi Jimoh

Serena Williams

Lindsey Vonn

Hilary Knight

Ronda Rousey
Looks like strong and empowering women are all the rage these days, and I am not surprised at all. These beauties are a definition of perfection. Their toned bodies, beautiful smiles, and kind eyes truly can melt anyone's heart.
Canada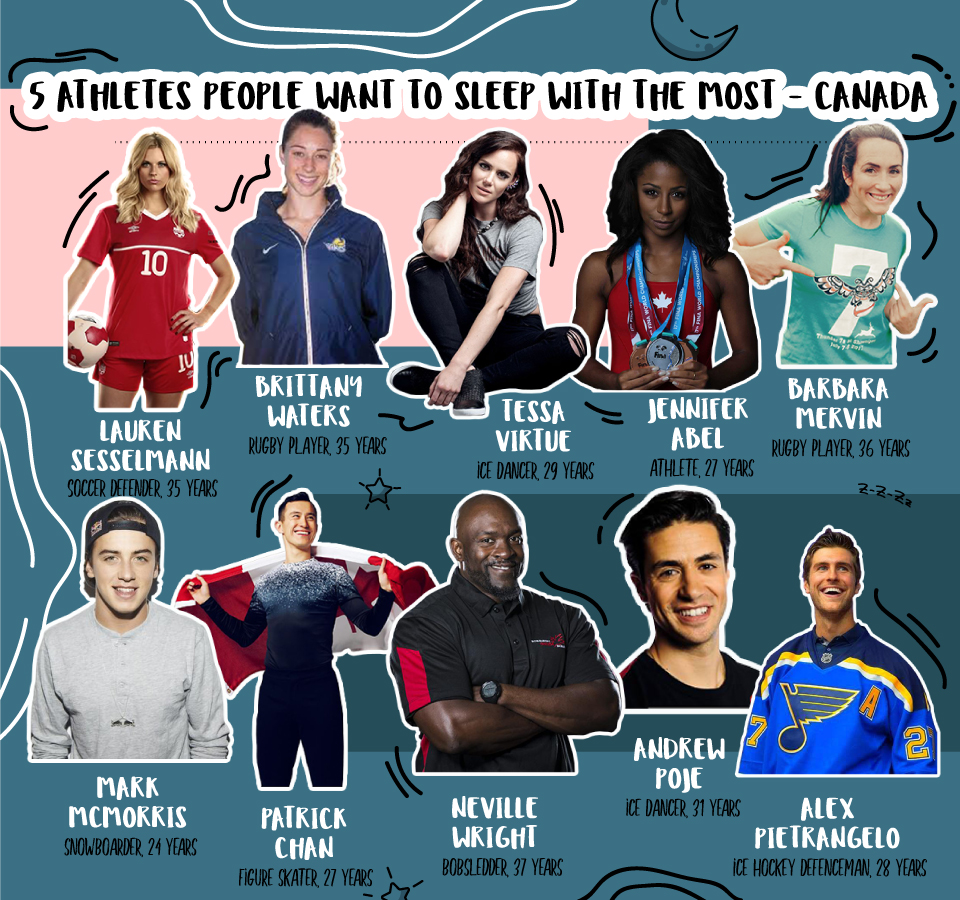 Men:
Mark McMorris

Alex Pietrangelo

Patrick Chan

Neville Wright

Andrew Poje
O Canada, the True North, strong and free! You raise the toughest men with the warmest hearts and smiles. These guys look like all they do all day is squats and rescue kittens from the trees. What a hot combo, don't you agree?
Women:
Jennifer Abel

Tessa Virtue

Barbara Mervin

Lauren Sesselmann

Brittany Waters
It might be cold in Canada, but these ladies can definitely make it hotter. They are sweet, strong, and sexy. What a combo, right? If you suddenly feel the need to pack your things up and move to Canada, I get it. Just don't forget to bring a sweater.
UK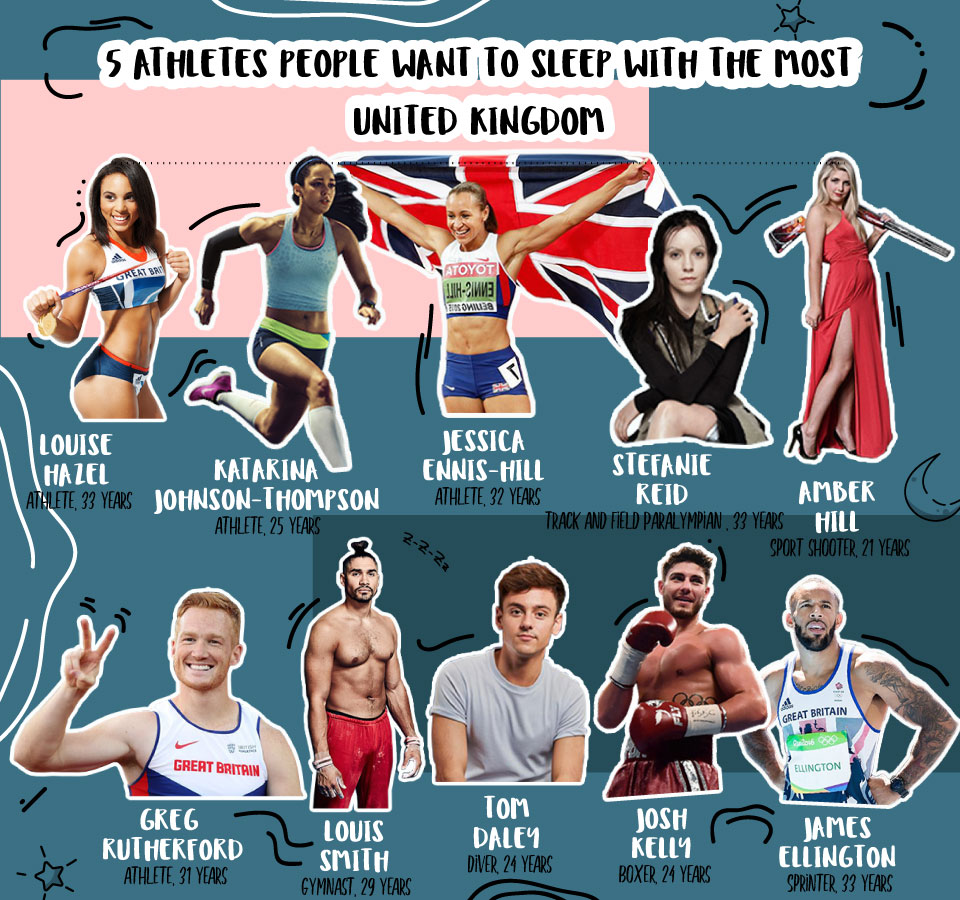 Men:
Greg Rutherford

James Ellington

Louis Smith

Tom Daley

Josh Kelly
Guess what I did after I saw these pictures? Push-ups. Did it make me feel (or look) better? No. Did I end up eating a whole bucket of Ben and Jerry's? Yes. And even though these men did this to me, they deserve to be recognized. Hats off to you, gentlemen.
Women:
Jessica Ennis Hill

Louise Hazel

Katarina Johnson-Thompson

Amber Hill

Stef Reid
These UK's beauties can easily compete with any famous actress or even a royal family member. But who would dare to compete with these ladies anyway? Not only are they beautiful, but also can kick pretty much anyone's ass.
Australia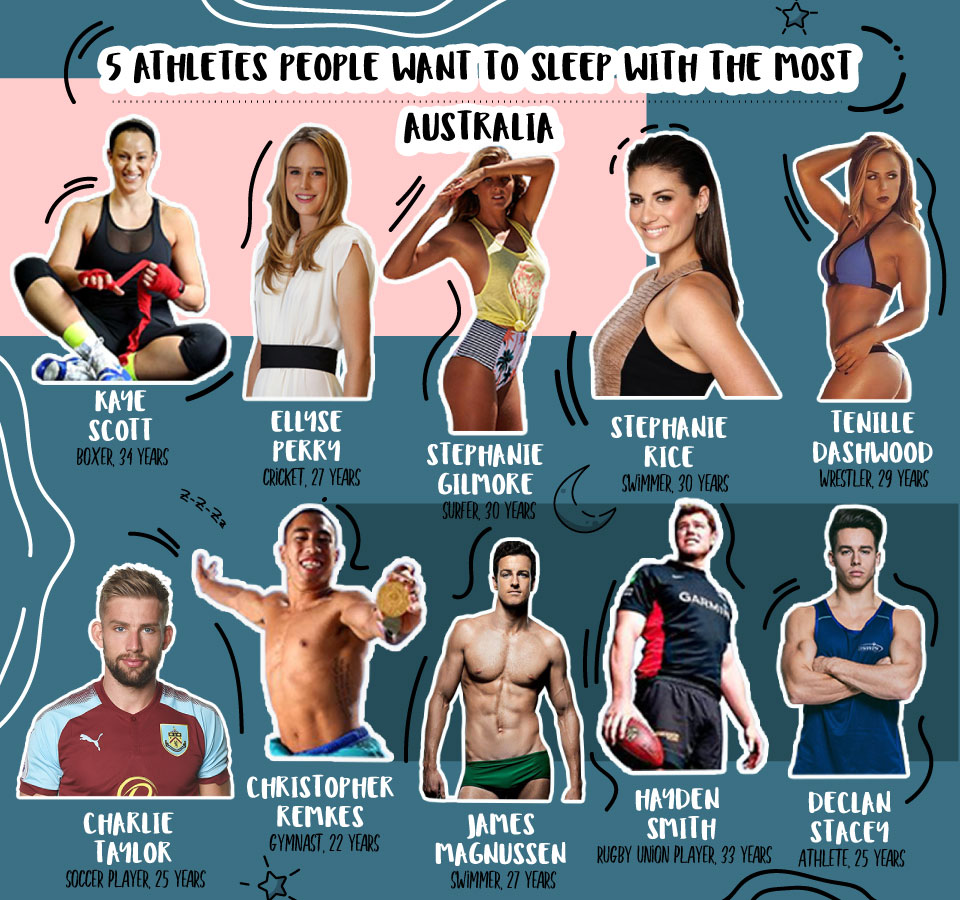 Men:
Hayden Smith

James Magnussen

Declan Stacey

Charlie Taylor

Christopher Remkes
It looks like Australian sun really helps heat the things up. So does regular exercising. These men work hard to maintain their shape, and thousands of people around the world appreciate the effort. Just like they appreciate the sun-kissed skin and those warm smiles.
Women:
Stephanie Rice

Kaye Scott

Stephanie Gilmore

Ellyse Perry

Tenille Dashwood
Australia has given so much to the world… Gold, wool, iron ore… But the most precious gift that we got from this land is, of course, the chance to witness the beauty of these wonderful strong women. Thank you, Australia, for being so generous.
New Zealand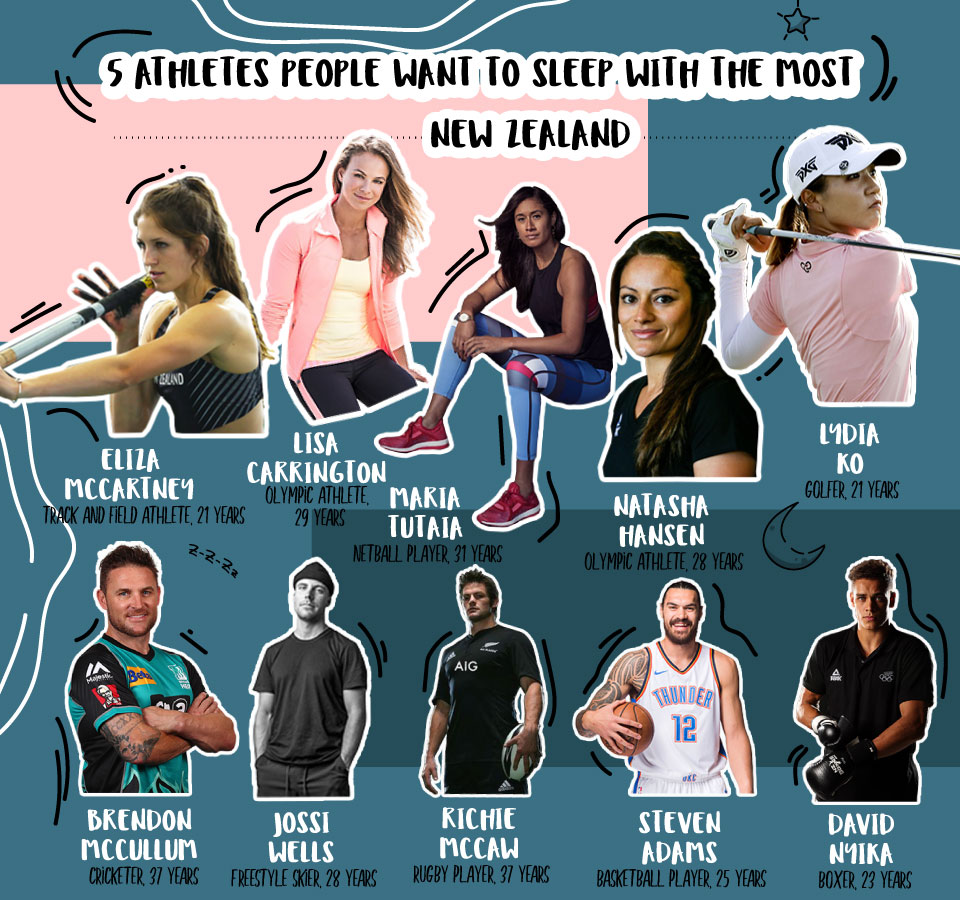 Men:
Jossi Wells

Steven Adams

Brendon McCullum

Richie McCaw

David Nyika
There are a bit more than 4 million people in New Zealand. And when looking at these athletes, I feel like half of that population are hot. You can try to prove me wrong, but these pictures speak for themselves.
Women:
Eliza McCartney

Maria Tutaia

Lydia Ko

Lisa Carrington

Natasha Hansen
These women got both: good looks and sports achievements. But don't let their success intimidate you: these Kiwi beauties may have strong bodies, but their hearts are gentle. No wonder so many people see these athletes in their dreams.
Latin America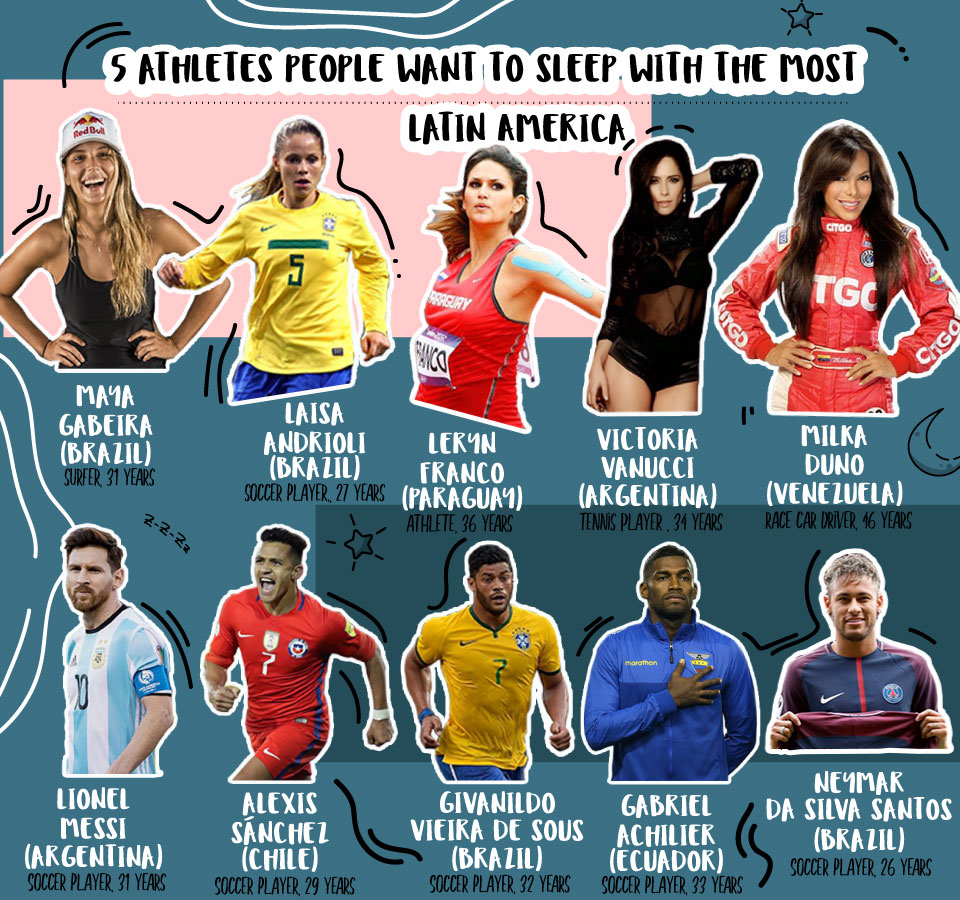 Men:
Givanildo Vieira de Sousa (aka Hulk) (Brazil)

Gabriel Achilier (Ecuador)

Giovani Dos Santos (Mexico)

Alexis Sanchez (Chile)

Lionel Messi (Argentina)
Latin American men are smoking hot by default. But add sports and athletics to the mixture, and you will get a mind-blowing cocktail of beautiful smiles, glowy sun-kissed skin, ripped bodies, and captivating eyes. No one can resist, that's a fact.
Women:
Leryn Franco (Paraguay)

Maya Gabeira (Brazil)

Milka Duno (Venezuela)

Victoria Vanucci (Argentine)

Laisa Andrioli (Brazil)
When these women compete, it's easy to forget about sports and concentrate solely on their beauty. I mean, have you seen them? Who can focus on a game/competition when such beauties are in front of them?
Europe
Men:
Kevin Rolland (France)

Sven Thorgren (Sweden)

Sven Kramer (Netherlands)

Javier Fernandez (Spain)

Ståle Sandbech (Norway)
Europe is famous for its tourist spots and romantic getaways. But the most precious gift it has given us is its sportsmen. Just take a moment and appreciate what we've got here. When charisma is combined with strong, beautiful bodies and handsome smiles, no one can escape this net of hotness.
Women:
Voula Papachristou (Greece)

Ellen Hoog (Netherlands)

Christina Vukicevic (Norway)

Caroline Wozniacki (Denmark)

Tina Maze (Slovenia)
Even though some of their names are a tad hard to pronounce, you will definitely remember these women. They've got abs of steel and innocent smiles, sexy curves and strong muscles, beautiful eyes and a confident walk. What an explosive mix!
Asia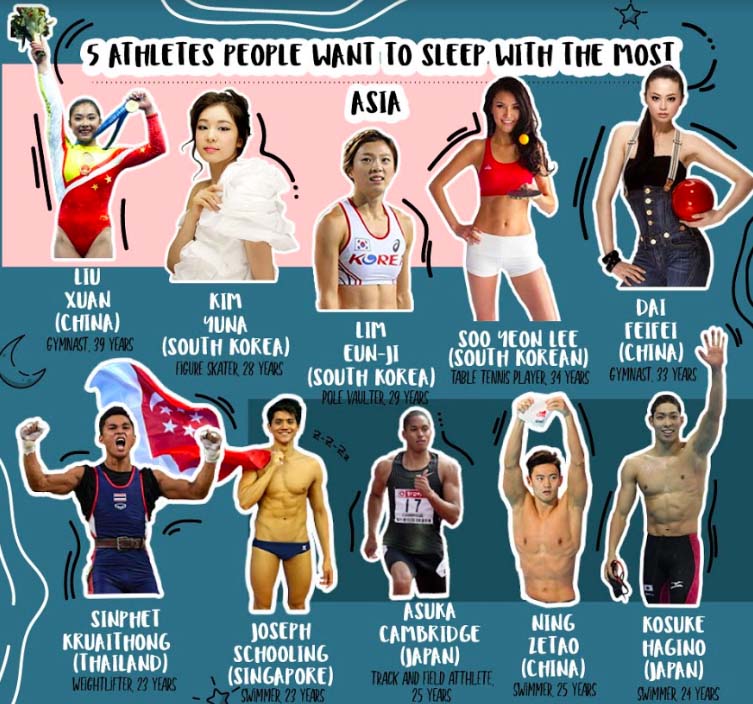 Men:
Asuka Cambridge (Japan)

Ning Zetao (China)

Kosuke Hagino (Japan)

Sinphet Kruaithong (Thailand)

Joseph Schooling (Singapore)
If you don't already have a kink for Asian guys, let me share these pictures with you. These men have everything, so I wasn't surprised to know that so many women dream about them. Their caramel skin, shiny smiles, and deep dark eyes can sweep you off your feet in seconds, I guarantee. And so do thousands of women around the world.
Women:
Lim Eun-Ji (South Korea)

Asuka (Japan)

Liu Xuan (China)

Kim Yuna (South Korea)

Dai FeiFei (China)
Let's face it: oftentimes, we watch sports not for the sake of sports. We just want to enjoy the "view". Especially when it comes to such female athletes. They are petite but strong. Cute but also feminine and beautiful. These women have everything to drive you crazy.
Feel thirsty yet? Let us know in the comments who's your personal favorite. Maybe someone you dream about didn't make it to our list?
Content Sharing Rights
Feel free to share the info and the pictures. However, to use the data, please mention this article as the original source and link to this website.