5 Best Mattresses for 3-Year-Olds to Transit Into a New Bed
by | Last Updated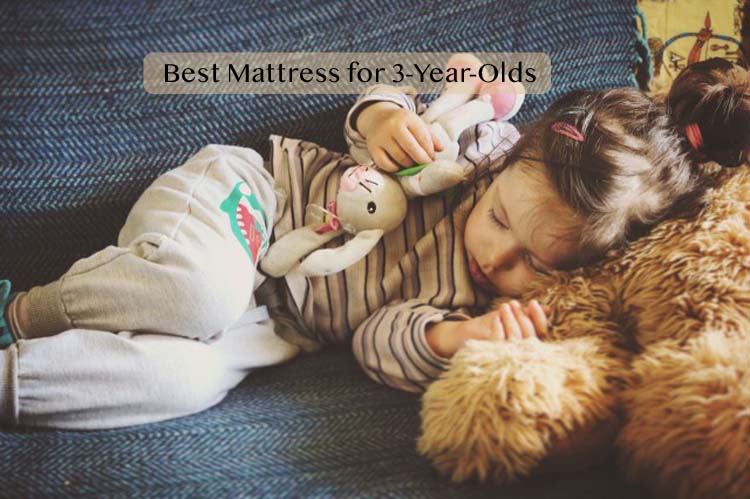 The transition from a baby cot to a full bed is a very important stage in the life of your little one. That's why you need to put a lot of effort to choose the proper mattress for his new sleeping place.
Thankfully, today there are a lot of brands offering mattresses suitable for little sleepers.
I carefully selected the best of them just so you can make the right choice.
So, scroll down and read my reviews of 5 best mattresses for a 3-year-old, as well as some critical things to consider before purchase.
Model
Type
Layers
Warranty
Rating
Smith & Oliver
Hybrid
organic cotton cover;
memory foam comfort layer;
memory foam support layer;
pocketed coils system
Not specified
Modway
Innerspring
quilted polyester cover with pillow-top;
foam comfort layer;
convoluted foam comfort layer;
felt pad;
pocketed coils system
1 year
SLEEP INC
Memory foam
polyester cover;
gel memory foam comfort layer;
high-density polyfoam base
10 years
PrimaSleep
Memory foam
polyester jacquard cover;
gel memory foam comfort layer;
dense foam support layer;
convoluted memory foam layer;
high-density foam base
10 years
Vibe
Memory foam
knit cover fabric;
gel memory foam comfort layer;
gel memory foam support layer;
dense foam base
10 years
Our Reviews of 5 Top-Rated Mattresses for 3-Year-Old Kids
Best for Hypoallergenic Materials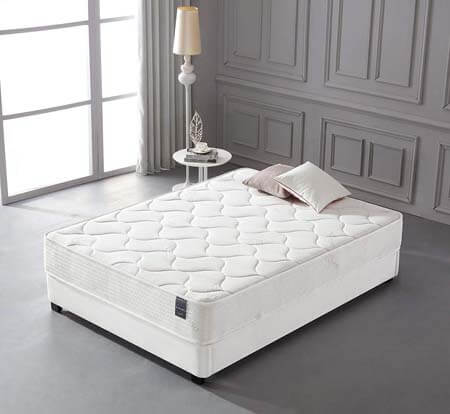 So, the first candidate on my list of top-rated mattresses for a 3-year-old is this hybrid model by Smith & Oliver. This mattress can be a good pick for children with allergies, as it features a cotton cover and is made from certified materials from top to bottom.
The cotton cover is very soft and breathable. This material absorbs moisture and removes heat, thus ensuring that your kid will get a good sleep.
Memory foam layers are responsible for cradling and comfort. They support correct spine alignment and relieve pressure points.
Finally, there are pocketed coils at the base. They enhance the breathable properties of the mattress and offer decent motion response without too much bounce. So, it won't be difficult for your kid to get off the bed.
Now, the only downside I want to mention is slow expanding time. Since Smith & Oliver is a budget brand, it uses less resilient and softer materials, so their mattresses take more time to decompress completely.
But I love that the manufacturer cares about children's health by using natural and hypoallergenic materials only.
The Smith & Oliver mattress will make a great purchase as the first full bed for a kid. It has great value for money and can offer good support for your kid.
Check out this mattress on amazon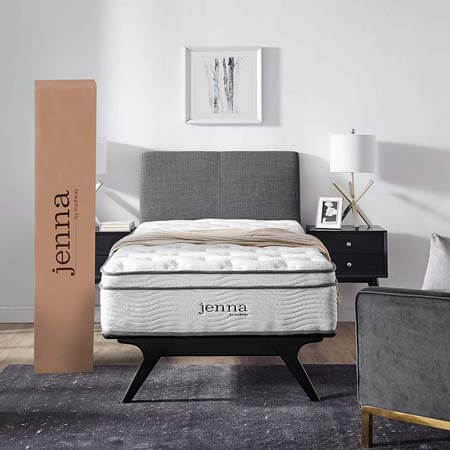 Another option with coils in my review of the best mattresses for a 3-year-old is the Modway. Being more on the firmer side, it can provide your child with sound sleep while properly supporting his growing bones.
So, this mattress is an innerspring and packs 8.5 inches of individually encased coils. These coils are quiet and less responsive compared to standard bouncy springs. Also, there's a layer of felt above the spring system for better shock absorption. So, if your kid is an active sleeper, he won't wake up because of his own sharp movements during the night.
Another great feature of innerspring beds is that they sleep cooler compared to foam models. The manufacturer additionally enhances this feature by using a convoluted foam layer for a more pronounced cooling effect.
Still, the Modway mattress isn't perfect. All innerspring beds tend to feel firmer than advertised, and this bed is no exception. If your little one is a side sleeper, this model might feel too firm for him.
But this mattress really sleeps cool and comfortable. Given the fact that children typically have higher body temperature, they might need something that can cool them down and promote rejuvenating sleep. The Modway mattress works great in this case.
I believe that the Modway will make a great purchase if your child tends to sleep hot. It has a breathable and cooling construction and provides proper support for back and stomach sleepers.
Check out this mattress on amazon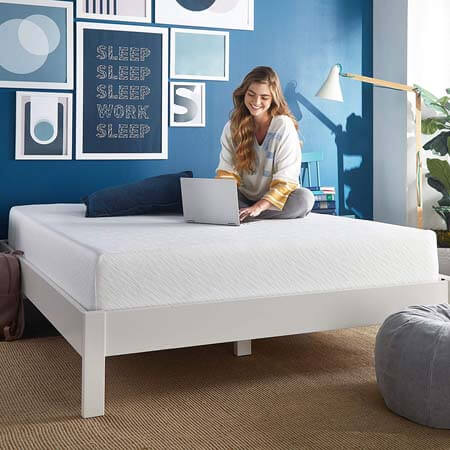 The next option on my list of the best mattresses for a 3-year-old will make an excellent choice for owners of bunk beds. The Sleep Inc mattress is only eight inches high, so it will fit a bunk bed without creating a dangerous situation for your kid.
Now, this is an all-foam model with a medium-firm level of firmness. It's perfect for little kids who switch many positions during the night, as it adapts to their body shape and supports their spine.
The construction is pretty simple: only one gel foam comfort layer and a dense foam base, put together into a soft, knit cover.
However, the construction does have a drawback. The gel foam layer is pretty thin, so it may not properly let the body heat escape. So, if your child tends to sleep hot, this mattress may not be the best option to go with.
When it comes to your kid's safety, though, the low-profile construction is always an advantage. Despite its simplicity, the Sleep Inc mattress is very supportive and offers a decent hug for your little sleeper.
Overall, this mattress is great for both bunk beds and regular beds. Despite some minor flaws, it's sturdy, supportive, and cradling enough to ensure your little one will get a good sleep.
Check out this mattress on amazon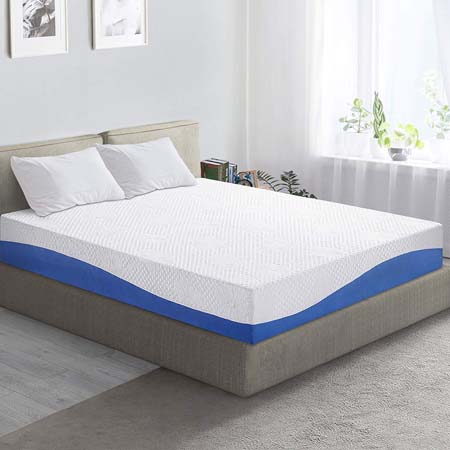 The model by Primasleep is in my review of the best mattresses for a 3-year-old because of its value for money. You get quality proprietary materials and effective construction that will support your little one in his sleep, and you won't have to empty your wallet.
The mattress is made entirely from foam, so you can expect that typical hugging feel and low motion transfer, which is vital for active sleepers with vivid dreams.
Two foam layers are responsible for heat removal. The first layer is gel foam right under the cover; it really does a great job, preventing your kid from overheating during sleep. The second layer is made of convoluted memory foam, which enhances airflow between the layers, thereby preventing mold and funky smells.
The only negative issue, however, is that the mattress has quite a sharp odor itself. It's a common problem with cheaper beds. But you can solve it by giving your mattress more fresh air or using a mattress encasement that will lock the odor inside.
Now, what I really love is, obviously, the value for money. After the smell diminishes, you get a supportive and comfortable mattress for your kid to make his transition to a new bed smoother.
I think that PrimaSleep will make an excellent purchase for any parent. It's reasonably priced, made of quality materials, and really supportive.
Check out this mattress on amazon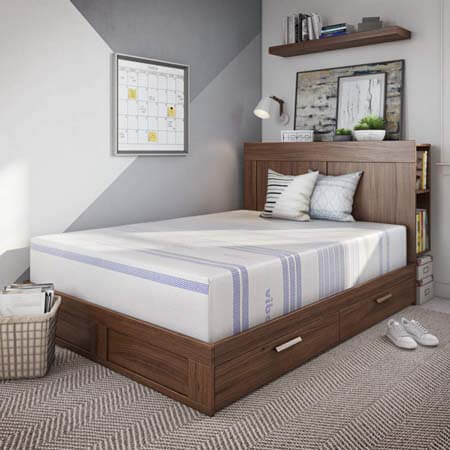 The Vibe mattress is the last contestant in my selection of top-rated mattresses for a 3-year-old, but it obviously isn't less worthy. Despite a fairly simple construction, this mattress offers uniform full-body support and looks long-lasting.
The mattress has three layers of foam packed under the cover. The top layer is made of gel-infused foam and excels at dissipating heat. The second layer is made of traditional foam and distributes the load from the body more evenly, supporting neutral spine alignment. Finally, a dense foam base absorbs motion and offers a sturdy and durable sleeping surface.
The only problem with the Vibe is the lack of edge support. It's a typical issue for foam beds, though. Just keep in mind that if your kid moves closer to the edge in his sleep, he might roll off, so consider installing borders on your bed.
Now, what I love is how this mattress isolates motion. Memory foam absorbs all impulses that may come from your child's movements, making this option suitable even for the most active sleepers.
The Vibe is a good mattress for literally any sleeper. Your kid will love its softness and cradling, and you can be sure about the durability and quality of the materials.
Check out this mattress on amazon
When It's Time to Make a Transition From a Crib to a Full Bed?
While there's no right time for changing a crib mattress for a full Twin bed, most pediatricians recommend taking this step between 18 months and 3.5 years. Ideally, the transition has to be as close to three years as possible, but you can do this faster, if your kid:
reached

three feet

in height;

escapes his crib

on a daily basis and travels to your bedroom;

starts asking

you about a big-size bed.
"Be sure to choose the safest spot in the room for a new bed. Opt for a corner that is the farthest from the windows, blind cords, lamps, or any other potentially unsafe subjects. You may also put a soft rug or large pillows on the floor to cushion possible falls."
Things to Consider Before Choosing a Mattress for a 3-Year-Old
Sleeping Position
Most kids are mixed sleepers. They begin to form a preferred sleeping position shortly after learning the rolling skills, although it's recommended to place a baby on his back until at least 18 months.
The right mattress for a kid should offer proper support for any sleeping position. That's why most beds for three-year-old children have medium to medium-firm firmness.
Mattress Thickness
The thickness of the mattress is important for two reasons: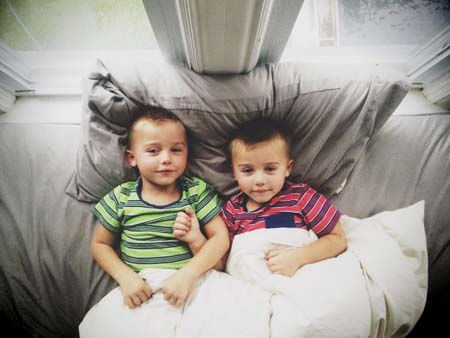 Better motion isolation.

The thicker the mattress, the more impulses it can absorb, and the lower are the chances of waking in the middle of the night.

Safety

. If you have a bunk bed, a thicker mattress can pose a threat of causing your child to fall off the bed. In this case, low-profile mattresses will work just fine.
Mattress Size
The mattress size also matters to the overall comfort. When choosing a bed for a three-year-old, you'll be more likely picking between the following three sizes:
Twin

. Twin is the most common size for a kid's bed. At six feet long, it provides enough room to move and suits children of different heights. Also, Twin is the cheapest size available.

Twin XL

. If your kid grows pretty fast, you may think of purchasing a bit longer version of a Twin mattress. It has five extra inches in the length, giving your little one more freedom to move and enough room to grow.

Full

. Although the Full size isn't a common choice for a preschooler, it can be helpful if you love reading bedtime stories for your child while lying on the bed with him. Besides, the Full size has enough width to accommodate very restless sleepers.
Additional Things to Keep in Mind
To ensure the safety and comfort of your kid, consider investing in these products along with your mattress:
Mattress protector.

Although most children are ready for potty training when they reach two years, some kids make progress at this step later. Besides, a change in surroundings might provoke accidental bedwetting. The best way to prevent a new mattress from this is to purchase a

waterproof mattress protector

. This will keep your warranty as well.

Rails

. Some bed frames support the installation of bed rails or borders. If your kid is an active sleeper or if you worry that he may roll off the bed at night, this could be a safe solution.
Also read: Best Mattresses For Graco Pack N Play
Final Word
Wanting to make the kid's transition from a crib to a bed as smooth as possible is natural for any parent.
The mattresses I've reviewed above can help you here. They offer a uniform sleeping surface and will lull even the most restless sleeper to sleep without a problem.
My favorite pick among the five is the Vibe. It has a balanced construction and will serve your child for years to come without losing its supportive properties.
In case you want something with a coil base for a firmer feel, then go for the Smith & Oliver mattress. It offers good bounce and uses natural and hypoallergenic materials.
Are you switching the bed with your kid right now? What is the current mattress your little one uses? And which of the ones reviewed above did you like the most? Share your thought in the comment section!
Product links on Happysleepyhead are referral. We get a commission on purchases made through our links at no additional cost to you. More information in my disclosures.