Best Mattress For Back Pain
by | Last Updated
You spent most of the lifetime at sleeping mode and you deserve the best mattress for back pain, don't you? It has the direct impact on comfortable sleeping of you during the night, right?
Then you might be wondering :
How to make a dream come true about peaceful sleep on comfortable and best mattress for them?
Please follow me to discover the best ever solutions about best mattress for back pain. If you are exhausted from back problems and not get to enough sleep, I would like to recommend for looking through them further.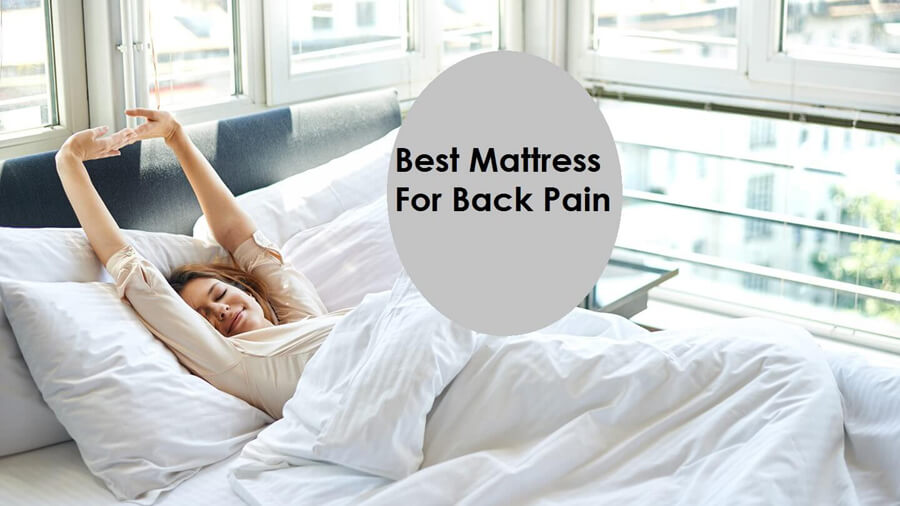 Best mattresses for back pain should be made of high-quality materials with good bounce, noise absence, edge and general support, pleasant cover and obligatory comfort.
The best options from best producers are waiting for you:
Colonial 13' model from AmeriSleep
Alexander Signature from Nest Bedding
Bear mattress
Loom and Leaf by Saatva
Eve mattress
Mattress
Type
Layers
Trial
Price
Rating
Colonial 13'
Foam
2.0″Memory Foam
4.0″Affinity Foam
7.0″Bio-Core Foam
90 nights
$1299-$2598
Alexander Signature

Foam
2″ Gel Memory Foam 2″ Visco
3″ Air Flow Foam
4″ Base Foam
101 nights
$999-$1399
Bear
Foam
1″Graphite Gel Foam
2.5″Response Foam
2.5″Support Foam
100 nights
$500-$950
Loom and Leaf

Foam
2.0″Gel Memory Foam
2.5″Visco
2.0″Transition
5.5″Base Foam
120 nights
$699-$1499
Eve Mattress
Foam
2″Memory Foam
1.5″Polyurethane
6.5″Base foam
100 days
$499-$749
Colonial 13' Model From Amerisleep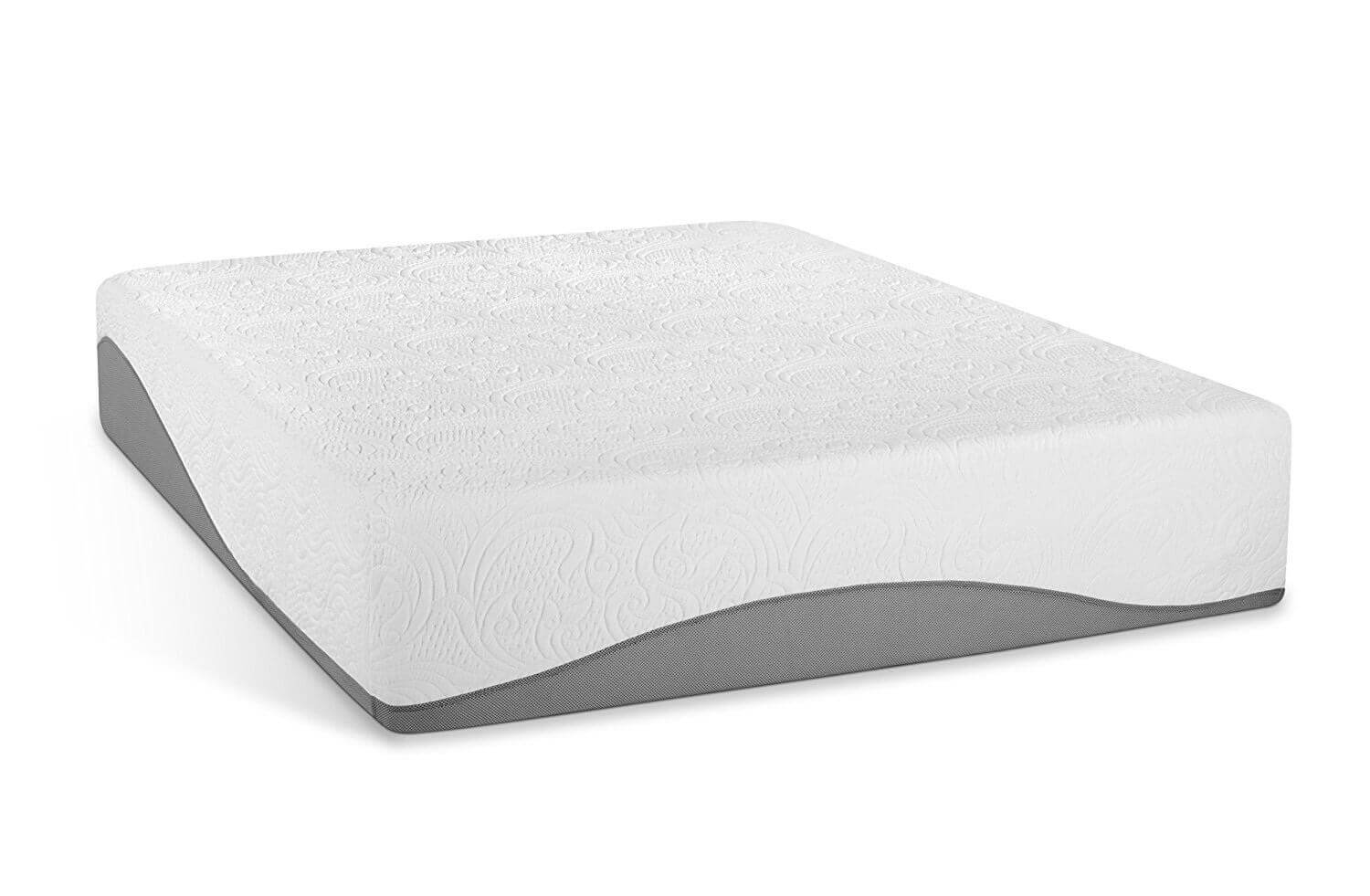 I would like to invite you to discover model made by Amerisleep included to our list of t he best mattress for back pain.
Combination of versatile layers (description is below) gives you the feeling of finally catch up on sleep.
Here we discover the main components which have a strong impact on quality of your sleep.
Now: Layers
Due to the open-cell structure of memory foam certified by Bio-Pur brand, the layer has a possibility to breath more than five times. Memory foam gives you overwhelming cooling effect which is a good assistant of calm sleep.
Transition foam with ergonomic effect thanks to SMT provides additional pressure. It helps to feel comfortable for side and back sleepers as their low back is in safety. Floating effect is achievable easily. Bio-Core base foam obtains required support.
Minerals with Thermo-reactive effect can feel the tender touch of the cover which helps to sleep longer.
What is really great with that mattress?
Bounce back within 4 seconds is impressive. Eco-friendly breathable materials with cooling effect are the best option for side sleepers. Full refund in case of non- satisfaction is available.
What is wrong with that mattress?
It is not suitable for back and stomach sleepers due to its softness. Edge support isn't amazing.
Alexander Signature Series From Nest Bedding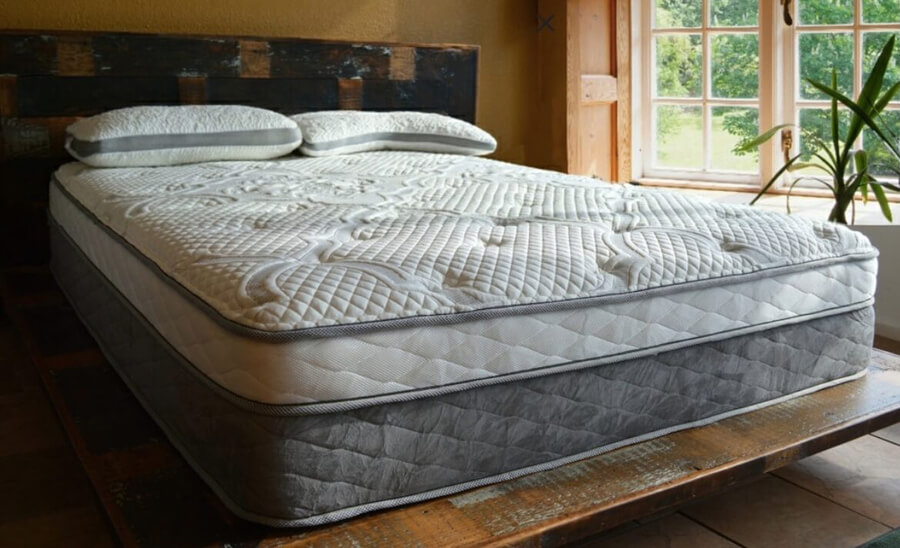 Due to versatile options of firmness, mattress from Alexander Signature series is included in the list of best mattresses for back pain. Producer established that you would get rid of back problems with their mattress.
Here is the deal:
You meet the first layer, that is why it is important what kind of material is there. You don't have to be a worry as gel memory foam gives the cooling effect which allows you not to feel any heat from the surface where you sleep.
Visco foam as the second layer was designed for support and comfort.Bounce is one more bonus which you can meet here.
Transition foam is included because of additional support in case if your weight is over than usual.
The last layer plays the crucial role as it provides the required foundation which reduces the effect of softening of foam.
The entire mattress is covered in a polyester and cotton blend fabric top with a mesh and suede side that gives it a pleasant, clean look.
What is really great with that mattress?
You will get rid of back pain if you choose right firmness from three (soft, middle and firm) options proposed by the producer.
What is wrong with that mattress?
Like most of the memory foam mattresses, it will not save you from poor edge support. You might not like an undesirable feeling of the too firm mattress.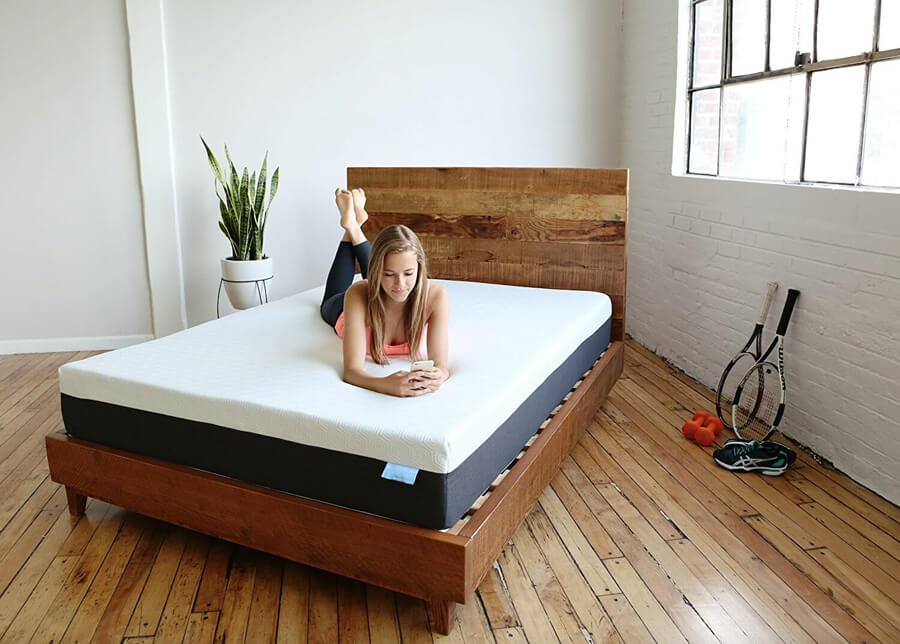 Natural material, certified by CertiPUR-US, creates your sleep comfortably sweet and soft for your skin due to the fact that Bear is the best mattress for low back pain.
Best mattress for back pain produced by Bear will cost you not much comparing with other ones. The excellent news is that it is suitable and specially designed for all kinds of sleepers due to medium level of firmness (6 out of 10 scale).
Here is the deal:
Three components, three versatile layers create ideal combination. Here is the proof:
Due to infused gel in the first layer, you are cheerful owner of cooling body at time of your sleeping
Optimal spinal alignment is possible due to great opportunity to offer great bounce inherent to response foam
Durability is able to be long lasting due to base foam furnishing support effect
Celliant Cover is designated to absorb all excessive body heat for unbroken dreams
What is really great with that mattress?
Absence of chemical components without respective smell, eco-friendly materials able to reflect infrared light and cooling effect from graphite gel can be loyal friend to all kind of sleepers.
What is wrong with that mattress?
Lack in edge support will be seen for you during utilization and you will have to wait about 17 minutes in order to cool off the body.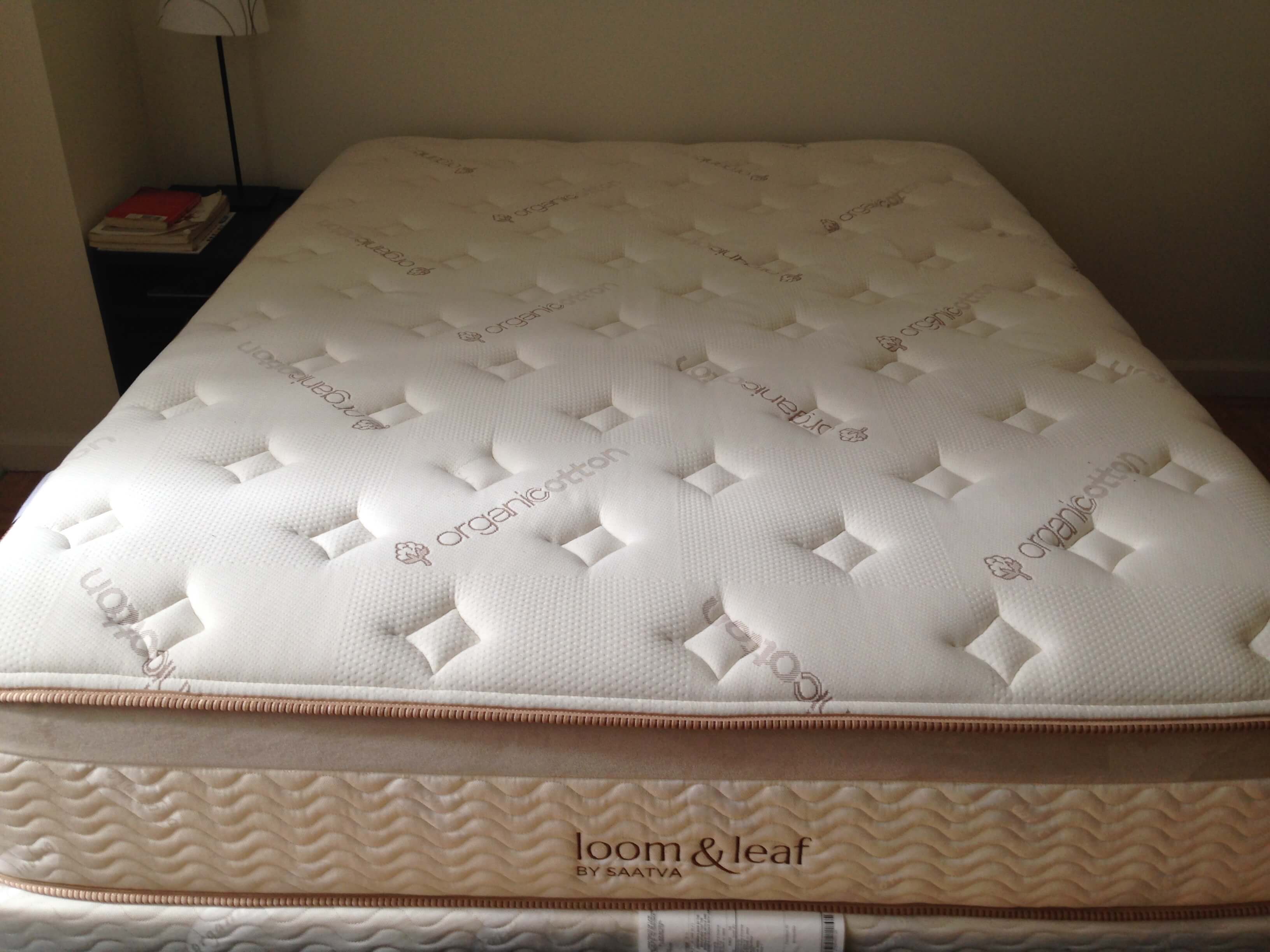 Loom and Leaf is comparable to qualities of the Tempurpedic mattress, but with affordable price. It means that is can be considered as the best mattress for back pain.
The Loom and Leaf mattress uses a variety of different foam layers in its construction as well as a unique cooling gel layer on top .Cooling gel which provides a cool, supportive sleep environment and promotes air flow furthering cooling.
Visco memory foam is for deep contouring support.
The third layer provides with transition support and allows to feel better comfort. High-density foam core base acts as the foundation for above layers.
A very high-quality tufted cover is much different from other memory foam mattresses. It is made up of a very luxurious feeling organic cotton and suitable for sleepers who need low back support as well as with torso.
You might be wondering:
5,5 out of 10 scales is intended for all sleeping positions and well balanced.
Loom and Leaf is ready to propose you the firmest variant – 8,5 out of 10 scale.It is great for back sleepers.
What is really great with that mattress?
I have found that having different choices of firmness is much better to ensure optimalsleeping conditions, especially for those who have back pain.
What is wrong with that mattress?
Relaxed Firm is not suitable for couples and overweight people due to its softness. You meet insufficient edge support if you try to sit there.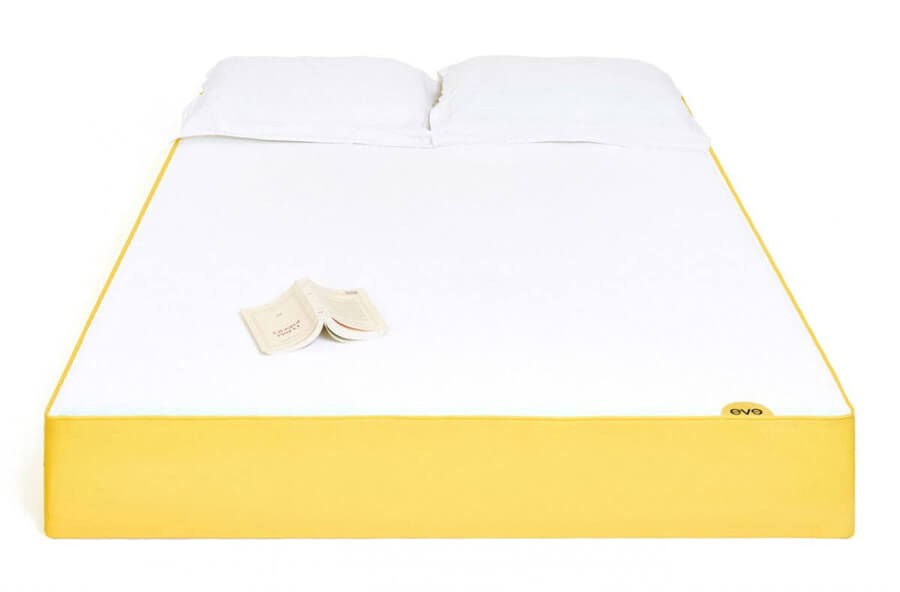 I would like to share with you valuable information about Eve Mattress. The mattress is designed and crafted by the team of British experts. Despite this company is British, it has a successful business in the USA. It means that respective sizes and prices are intended to American market. It is a crucial point for choosing of the best mattress for back pain .
Eve company launched bed-in-box delivery which is able to save costs for delivery and to save required space. Hand-sewn cover with breathable and cooling effect set the mattress apart from its competitors. It is a vital option in the summer. You can't remove it for washing but producer can propose you waterproof protectors instead.
Here is the deal:
Memory foam with such function as slow recovery meets you on the top. Balance which is given thanks to this layer can have positive effect for your spine. Polyurethane foam is in the middle and it is able to improve cooling effect during your sleep. Comfort zone of the temperature inside the bedroom is a vital point for placid and calm sleep. Base layer is able to give you necessary support.
Mattress produced by Eve asks you for not so big money comparing with other ones. For your information, it is suitable and specially designed for all kinds of sleepers due to medium level of firmness (6 out of 10 scale).
What is really great with that mattress?
Overwhelming combination of supportive foam layers with middle level of firmness and cooling and soft cover with luxurious look allows you to feel comfortable and to see sweet dreams throughout the night. You are confident in sleep without pain in your back.
What is wrong with that mattress?
Despite the fact that cover is hand-sewn which gives unforgettable gorgeous effect, you are not able to remove it for required washing. You have to deal with spots directly contacting with the mattress.
What cause the back pain problem?
You might be wondering how many people suffer from back pain. If you are one of us, reasons cause such suffering should be interesting for you.
First one is a wrong lifting of heavy things, especially it is crucial for men. Women who are used to carry their child till late age is in danger zone as well. Discs of the spine can be hurt and cause uncomfortable feeling and unpleasant pain. In case of durability of
such ache more than three months, you are strongly advised to call the doctor.
Next reason can be spinal curvature. It doesn't matter what spine section is curved, all of them are working together. Pain in one section can spread on other ones.
One more point which causes back pain is such breathing disorders like snoring. You are not able to breathe easily. You start to toss and turn from side to side and become awake. Longstanding process can be real obstacle to sweet and calm sleep and causes
insomnia.
Stress is so involved in our everyday life that we don't notice it. Unfortunately, it gives negative impact on your wholesome condition, particularly on the low back. Constant stress means lack of quality sleep and your muscles are in tension condition while you are turning up trying to fall to sleep.
Following doctor's prescription and considering the following factors which are obligatory for consideration, you can make a right choice of the most comfortable mattress precisely for you.
What type of mattress is recommended for solving back pain problem?
Mattress for back pain should provide the best support. What does it mean? Support can be obtained from medium level of firmness to a little bit firmer point. Ideally, it should contain from 5 till 7 out of 10 on the respective scale.
The super firm mattress doesn't provide the best support as you would like to feel comfortable as well. So harmony is always somewhere in the middle. Great combination of firmness and comfort make your sleep life delightful.
Deep compression should be on a possible high level. It helps to feel comfy and cozy for sleepers with versatile weight.
Right mattress should provide you with the cooling effect which is available in gel-infused foams. It can be an excellent assistant, in general, obtaining the whole body by respective oxygen. Enough volume of the oxygen means the better condition of blood flow in general. And this can be the consequence of reducing of low back pain. So you are highly advised to choose the cover with above characteristics to catch up on sleep.
Conclusion
Back pain is a serious matter which can't be postponed. While you are consulting with your doctor, you might be wondering what steps should be provided by you. It seems difficult but taking into account above information about best mattresses for back pain and versatile
factors which have the impact on your comfortable sleep, you will be aware now about crucial points which should be obligatory for you in the selection process.
If talking about required support and desirable comfort, then it is able to achieve it due to the high quality of memory foam and supportive foams as well. All above-mentioned companies are ready to make it available to you.
Please do not hesitate to consider these factors and top five mattresses observed above. By selecting one of them, you will be delightful with your decision. As for me, I would let myself to feel all advantages from mattress designed by Alexander Signature created by Nest Bedding
despite its price. With long steady reputation due to hundreds of positive feedbacks and high-quality eco-friendly materials, it is still the best on the market. It is able to be an excellent assistant with your back problems and will return your funds in case of non-satisfaction. Great choice!
Product links on Happysleepyhead are referral. We get a commission on purchases made through our links. More information in my disclosures.