Best Memory Foam Mattress
by | Last Updated
People like to feel comfort and safety at home. The same feeling you deserve to experience at your bed as well . The best memory foam mattress is able to give desirable pleasure. Does its material impact directly on your comfortable sleeping during the night, right?
Here is the deal :
There is a plenty useful and versatile information about the most comfortable memory foam mattress which is suitable exactly for YOU.
I have made for you a selection of the best memory foam mattress es that will not only decorate your house but make your sleep full, calm and colorful.
At the end of the article, you will find a guidebook that can help you in the choice of the best memory foam mattress that is right for YOU.
Be so kind to click on the link to get acquainted with it.
Top rated memory foam mattresses are varied from other ones by excellent bounce and response, great edge support, pleasant cover with the cooling effect and additional bonuses depends on each producer.
The following best memory foam mattresses from versatile the USA companies are worthy of your attention definitely. And you will realize the reasons in further review:
Mattress
Type
Layers

Warranty
Trial
Price
Rating
Novosbed
Memory Foam
2″Ultra Dense Memory Foam
2″Ultra Dense Memory Foam
7″Support foam
15 years
120 nights
Check Price on Amazon
Tempurpedic
Memory Foam
2″ Visco Foam
2″ Visco Foam
4″ Polyurethane Foam
4″ Polyurethane Foam
10 years
30 nights
$3099-$6198
Loom and
Leaf
Memory Foam
2.0″Gel Memory Foam
2.5″Visco
2.0″Transition
5.5″Base foam
15 years
120 nights
$699-$1499
ELuxurySuply
Mattress
Memory Foam
3″Gel Memory Foam
7″Support Foam
10 years
120 nights
$490-$800
Nectar
Mattress
Memory Foam
1″Gel Foam
3″Lush Foam 1.75″Hi Core Foam
5.25″Base foam
Lifetime
365 nights
$500-$900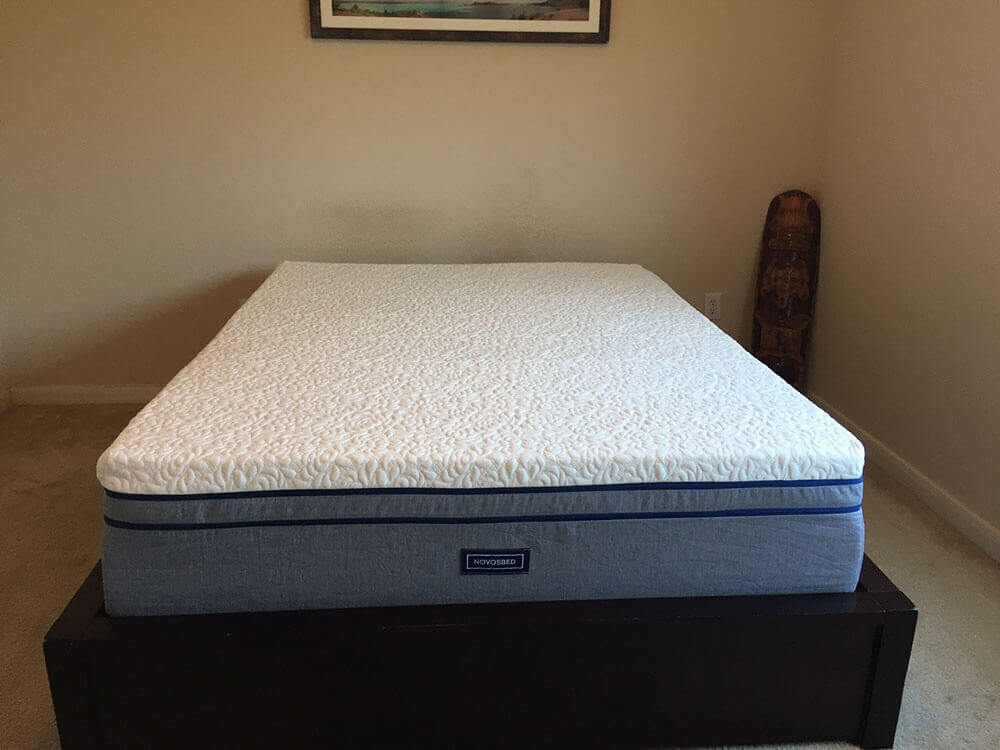 It is not a surprise that mattress created by Novosbed is included to our list of the best memory foam mattress.
This company is on the market a long time, and it always tries to upgrade the quality of their materials.
Further, we will discover is it true or not. The main components which have a strong impact on quality of your sleep are the following.
Now: Layers
Top ultra dense layer of memory foam has air holes thanks to which flow of the air is improving. Such process gives you overwhelming cooling effect which is good assistant of comfortable sleep.
The second layer can provide the required support. There is the quite excellent balance between support and response time which has direct influence from memory foam.
The last layer is created to support two above layers, and it is twice times higher than these two ones.
Main advantages of the cover are:
Combination of versatile materials furnish soft and stretch effect.
The original shape is returned immediately.
Polyester and spandex give breathable effect.
White top is totally removable for proper washing.
What is really great with that mattress?
Exceptional proposal of three options of firmness – soft version (3 out of 10 scale), medium (5,5 out of 10) and firm one (7,5 out of 10). And even more, Novosbed is ready to suggest you Comfort+Kit as an additional option for sleepers who desire to change the scale of firmness a little bit (by 1 point for example)
What is wrong with that mattress?
It can be too firm if you purchase firm option of the mattress taking into account sleepers' feedbacks. Edge support isn't amazing in soft version.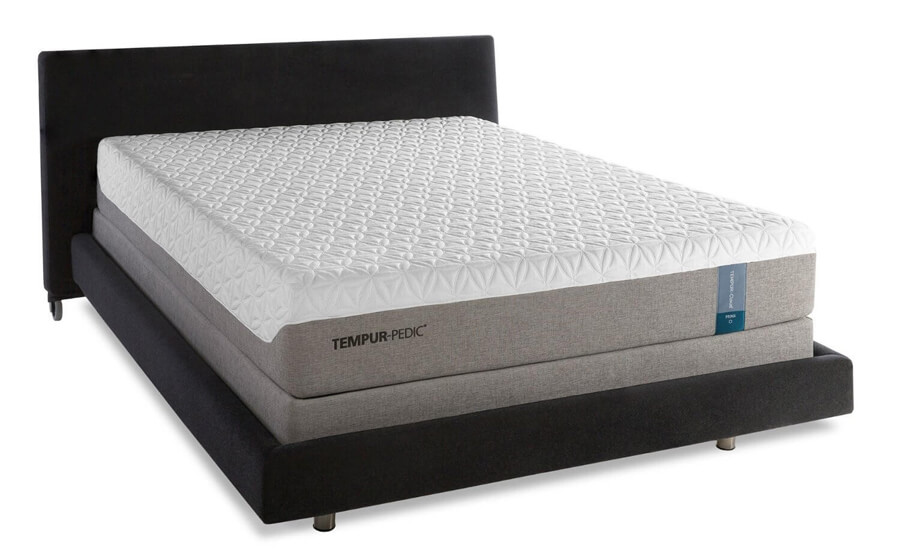 Tempurpedic mattress has to be included to the list of the best memory foam mattress as it is the most luxurious version on the market.
Best memory foam mattress produced by Tempurpedic costs you a fortune comparing with other foam mattresses. The excellent news is that it is suitable and specially designed for all kinds of sleepers due to medium level of firmness (5 out of 10 scale).
Here is the deal:
Four components, four versatile layers create ideal balance and bounce. The proof is the following:
Due to visco elastic foam in the first layer, you are a happy owner of soft and comfortable feeling at the time of your sleeping.
Second layer is almost the same, but it gives you transitional support and comfort. Polyurethane foam is able to provide you with long-lasting durability and support effect.
Bottom layer is always great foundation base creating deep compression.
Breathable cover designed from spandex and polyester has stretchy function and it is able to provide you with exceptional comfort.
What is really great with that mattress?
This mattress gives me association with British tea with the milk at royal residence. It has ideal parameters of firmness (strictly in the middle), slow response time (provided by the best foam mattress) and luxurious price (producer rates highly their efforts).
What is wrong with that mattress?
It is quite good mattress with quality materials but with highest price ever, especially comparing to other producers, for example Novosbed.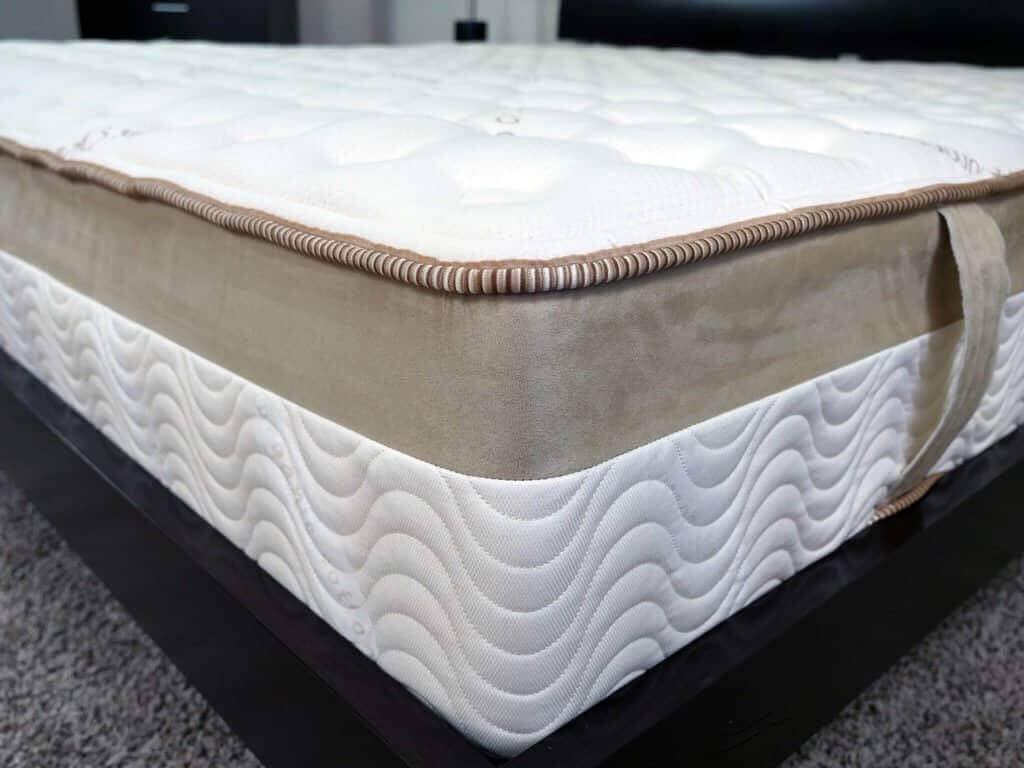 I liked the feeling when I slept on the mattress the Loom and Leaf produced by Saatva. It considered the best memory foam mattress on the market because of quality of foams included to its structure and excellent value. I highly advise you to give a strong look at this model.
The structure of layers is the following: Gel foam layer , Visco memory foam , Transition memory foam and Base foam. The mattress uses 5lb memory foam that is plant-based. The density and quality compare favorably to some of the mid-range Tempur-Pedic models. I liked the cover made of organic cotton. It is really soft and nice to the touch.
You might be wondering:
Loom and Leaf offers two firmness options:
5,5 out of 10 scale
8,5 out of 10 scales.
First one provides not too soft, not firm, but balanced support. The second one is the those who prefer to sleep on the back or to have a big weight.
What is really great with that mattress?
The mattress is great for couples, those who are sensitive to a hot sleeping surface, andthose who love getting a great deal.
What is wrong with that mattress?
I have noticed pungent smokey/chemical smell emanating from the mattress. If you set very close to the edge it will compress more than a quality innerspring mattress.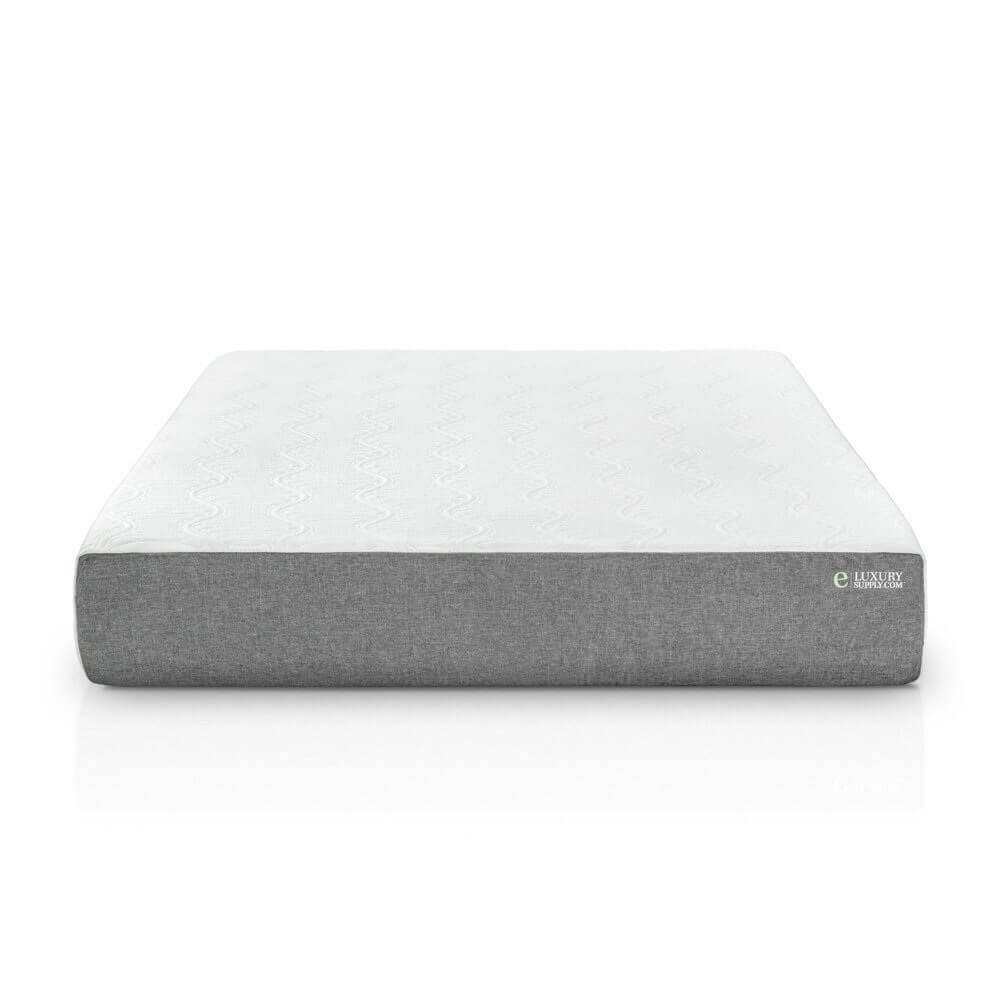 Eluxurysupply is able to provide required balance between quality, comfort and respective price. Last five years were successful for them. Due to constant improvement, they have created new version of gel memory foam mattress which can be considered as best memory foam mattress. You are invited to find out how it works further.
Now: here you are seeing the information about layers.
The first layer is their technology provided in the gel memory foam. Thanks to respective cooling effect, you can feel desirable comfort during your sleep.
The second layer is actually the bottom and plays foundational and support role. It can provide you with high density and deep compression support.
Such materials as polyester and spandex in the cover give you an incredible feeling of softness.
Due to that it is quite thin, airflow works properly and cool your heat up body. Side panels are in grey color for its continual durability.
What is really great with that mattress?
ELuxurySupply made decision to satisfy those sleepers who are dreaming about a little bit more firmness than common mattresses can propose. In the same time, it is not so roughly firm, so you are guaranteed in necessary comfort. Moreover, you are expected to get high
quality for reasonable price.
What is wrong with that mattress?
Expected bounce can disappoint you as it suggests you average level.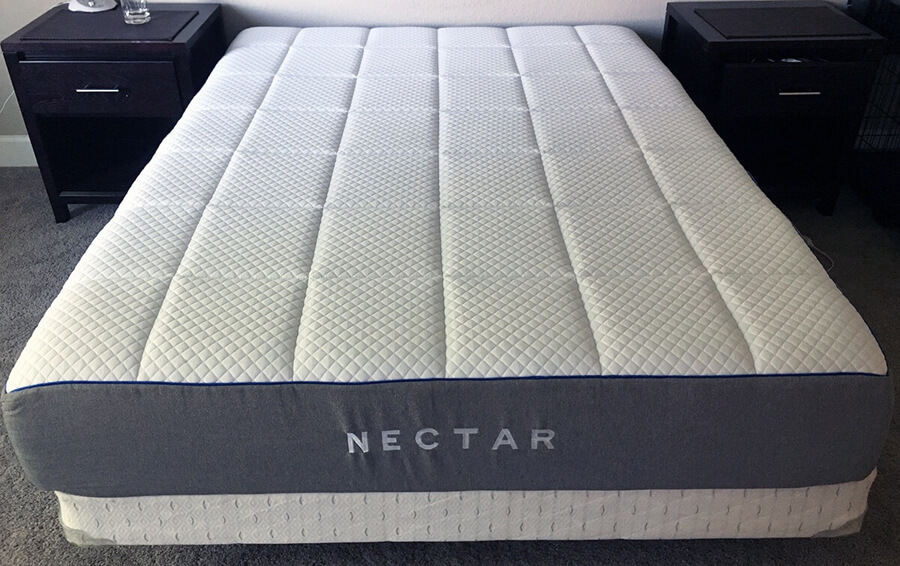 Originally designed by European producer, Nectar mattress has conquered the USA market. The company started to suggest exceptional conditions such as a year(!) trial period and lifetime warranty. Removable cover is great additional advantage comparing to other producers. But let's begin from the scratch.
Cover which is on the top is able to give you the feeling of coolness and soft mattress due to embroidered cotton. Great news is that you can remove it totally in order to wash. The main intended purpose consists in provision of proper air circulation which guarantees cooling effect.
The top layer is quilted gel foam which requires additional efforts and man labor power. It can provide the extra breathable effect.
The second layer represents dense foam wish semi-open sell technology which distributes the heat way from the sleeper.
Next layer is unique and has more supportive function than many other mattresses on the market due to Hi Core memory foam. Such technology guarantees lack sinkage and vice versa, qualitative contour, and support.
Last layer plays foundational role and has much denser foam than other base layers. The unique formula of the foam allows to have breathable air channel.
What is really great with that mattress?
Perfect for side, back and stomach sleepers as the mattress has 6,5-7 out of 10 scale. Lifetime warranty, year's trial period, free shipping and excellent value for money make the mattress created by Nectar desirable purchase.
What is wrong with that mattress?
Bounce can be not so ideal here comparing to latex material, for example.
How to choose the most suitable memory foam mattress?
You might be wondering how many people suffer from disbalance of their sleep and quality of their mattress. If you are one of us, respective advice should be interesting for you.
Starting from the scratch, let's discuss what factors should be considered by you before you make a final choice.
The first factor is the average lifespan of versatile kinds of mattresses. Did you know that innerspring mattresses can "live" about eight years, but ten years durability of memory foam mattress make them desirable purchase, right?
Please do not forget about the right size for each of your family to get the pleasant and convenient feeling during the night. I have great news for you – almost 80 percents of customers are satisfied by exactly memory foam mattresses. This fact should make you more confident while you are adding the best bed for you.
Here is the deal: One secret hint you must be aware is the time while you are laying on any type of the mattress, including memory foam. You will be required only 10 minutes. What should you realize and consider during such short period of the time?
Next list will be extremely useful for you:
Lifespan – as was mentioned before, ten years is an average period for standard memory foam mattress. You can take into account warranty period proposed by a producer who can prolong it even till two decades.
Comfort point – without the comfort you never listen about other advantages and preferences. You will feel comfortable in case of presence such factors as breathable cover and a top layer which can give you cooling effect and pleasant touch in general.
Enough volume of the oxygen means the better condition of blood flow in general. And this can be the consequence of reducing of pain. So you are highly advised to choose the cover with proper characteristics to catch up on sleep.
Support – advanced technology improved in memory foam mattresses allow providing the required support. Please be careful especially in choosing process if you have some problems with the spine. You may be advised to take doctor's consultation and a prescription accordingly.
Edge support – it a tricky point in almost each memory foam mattress. Some of them can give you required support if you make your own observation of different reviews before long-awaited purchase.
Motion transfer – this point is crucial if you and your partner will sleep together on the same mattress. The best solution here to invite your partner to test it properly. Do not hesitate to ask producer about it. Every company can give you time for it – trial period usually is enough to notice all inconveniences. A standard period is 100 nights, but can be less – 30 nights – like Tempurpedic or vice versa, super long time – a year – like Nectar.
Next point which I propose to discuss is your sleeping position during your sleep. All mattresses' industry is walking around this vital point as characteristics of each mattress has this mattress suitable precisely for you or not.
For example, side sleepers will feel satisfied by memory foam mattress from 1 till 6,5 out of 10 firmness scale. It means, they prefer from the softest mattress till a little bit firmer than medium one.
Stomach sleepers prefer firmer mattresses and will be delightful by them from 5,5 till 10 out of 10 firmness scale. Back sleepers have the narrowest level of firmness which lays between 5,5 and 7,5 out of 10. Especially a little bit firmer mattresses are obligatory if you have some problems with your spine.
Conclusion
It seems difficult. But taking into account my review of best memory foam mattresses and versatile factors which have the impact on your comfortable sleep, you will be aware now about crucial points which should be obligatory for you in the selection process.
If talking about required support and desirable comfort, then it can achieve it due to the high quality of memory foam and supportive foams as well. All above-mentioned companies are ready to make it available to you.
Please do not hesitate to consider these factors and top six mattresses observed above. By selecting one of them, you will be delightful with your decision. As for me, I would let myself to feel all advantages from mattress designed by Nectar. With long steady reputation due to hundreds of positive feedbacks and high-quality breathable materials, it is still the best on the market. It can be your excellent assistant and will return your funds in case of non-satisfaction.
Product links on Happysleepyhead are referral. We get a commission on purchases made through our links. More information in my disclosures.