5 Best Pillows for Shoulder Pain Relief and Comfortable Sleep
by | Last Updated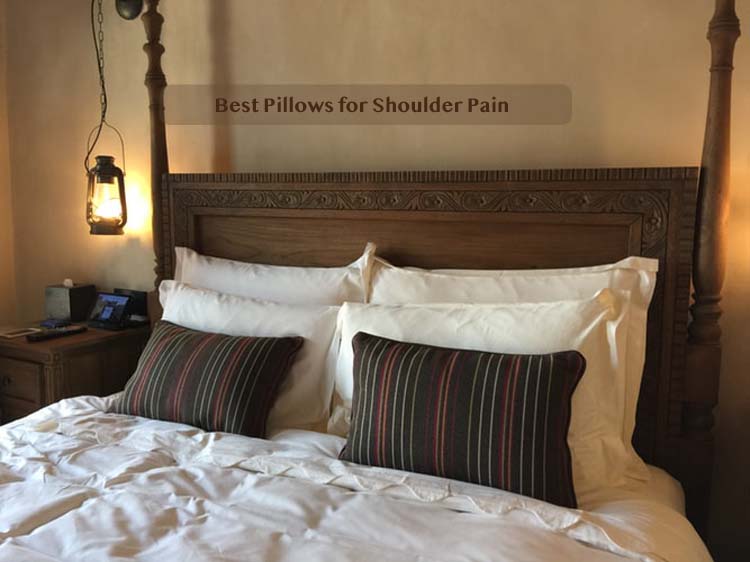 Office work, studying and sedentary way of life can wreck your quality of sleep in a ton of ways, with one of them being shoulder pain.
If in addition to that you use an unsuitable pillow, your pain may become literally unbearable, and all of this might lead to chronic conditions.
Since this is probably not what you want, I've got you covered.
Having thoroughly tested a lot of options, I can finally share my reviews of 5 best pillows for shoulder pain. So, check them out and give your shoulders a chance to feel fine again.
| Model | Filling | Cover | Warranty | Rating |
| --- | --- | --- | --- | --- |
| Coop Home Goods | Shredded memory foam | Bamboo rayon | 5 years | |
| Sleep Artisan | Talalay latex and poly silk fibers | Organic cotton | 3 years | |
| MALOUF | Talalay latex | Cotton | 5 years | |
| PureComfort | Shredded memory foam | Tencel cover | 5 years | |
| Cradle Me | Memory foam | Polyester jacquard | Not specified | |
Our Top 5 Best Pillows for Shoulder Pain Relief
Best for Adjustable Fill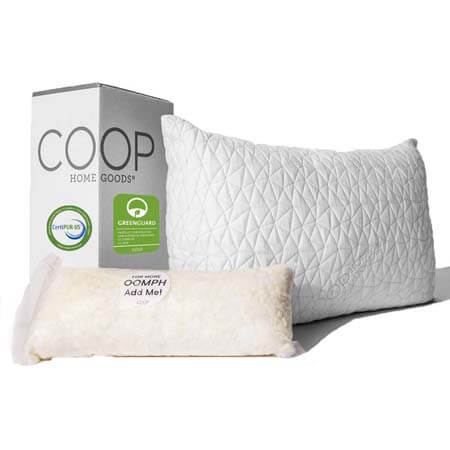 I've included the Coop Home Goods in my review of the best pillows for shoulder pain because of its adjustability. Depending on your sleeping position, you can easily regulate the amount of loft to keep your shoulders relaxed and aligned.
When purchasing the pillow, you will get a full bag of additional fill to make it higher if needed. You can also remove some amount by unzipping the inner case and thus make it thinner.
As for the materials, they're pretty basic. The fill is made of shredded memory foam and feels pretty moldable. An incredibly soft bamboo rayon cover helps you stay cool and acts like a moisture-withdrawing layer during hot nights.
The cover is also removable and totally washing machine friendly, so the maintenance of the pillow is very easy.
What I didn't like, however, is that the pillow took quite a white to expand fully. I fluffed it, putting it through several cycles in the tumble dryer, and still had to shake it manually to gain the needed fluffiness.
The coolest thing about this pillow is its versatility. Since most shoulder pain sufferers are side sleepers, an adjustable loft will come in handy for them, as it can contribute to better neck and shoulder support.
Despite minor flaws, I really enjoyed testing this pillow. It's moldable and it keeps your shoulders relaxed throughout the night.
Check out this pillow on amazon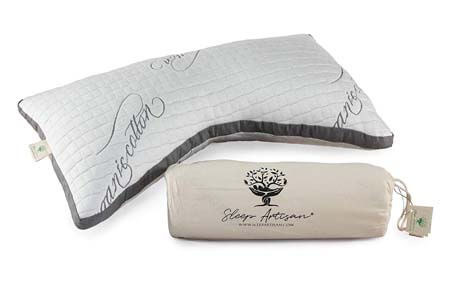 Another top-rated pillow for shoulder pain I've reviewed is the Sleep Artisan. It will become a lifesaver for those who struggle with hot sleeping. Plus, it has an adjustable loft and features materials that naturally sleep cool.
The fill of the pillow is made of a blend of natural Talalay latex and polyester silk fibers. Thanks to this combination, you get to sleep on a cooling cloud and have adequate body temperature during the night. Besides, shredded latex is pretty moldable and cradling, so your neck and shoulders will be relaxed and properly aligned.
The cover is made of organic cotton that perfectly wicks away moisture, saving you from drowning in your sweat and preventing the pillow from accumulating it inside. So, there's no chance of bacteria growth and funky smells.
The thing that disappointed me a bit is the quality of the zippers on the pillow cover. You have to be really careful with them, as they may jam or break if you pull the cover off too fast.
The most prominent feature of this pillow would definitely be its cooling effect. Side sleepers who tend to sleep hot can purchase this pillow and forget about this disrupting factor once and for all.
I loved this pillow for the combo of great materials and a decent amount of support. I think the Sleep Artisan will make a great purchase for anyone who is prone to overheating at night.
Check out this pillow on amazon
Best for Natural Materials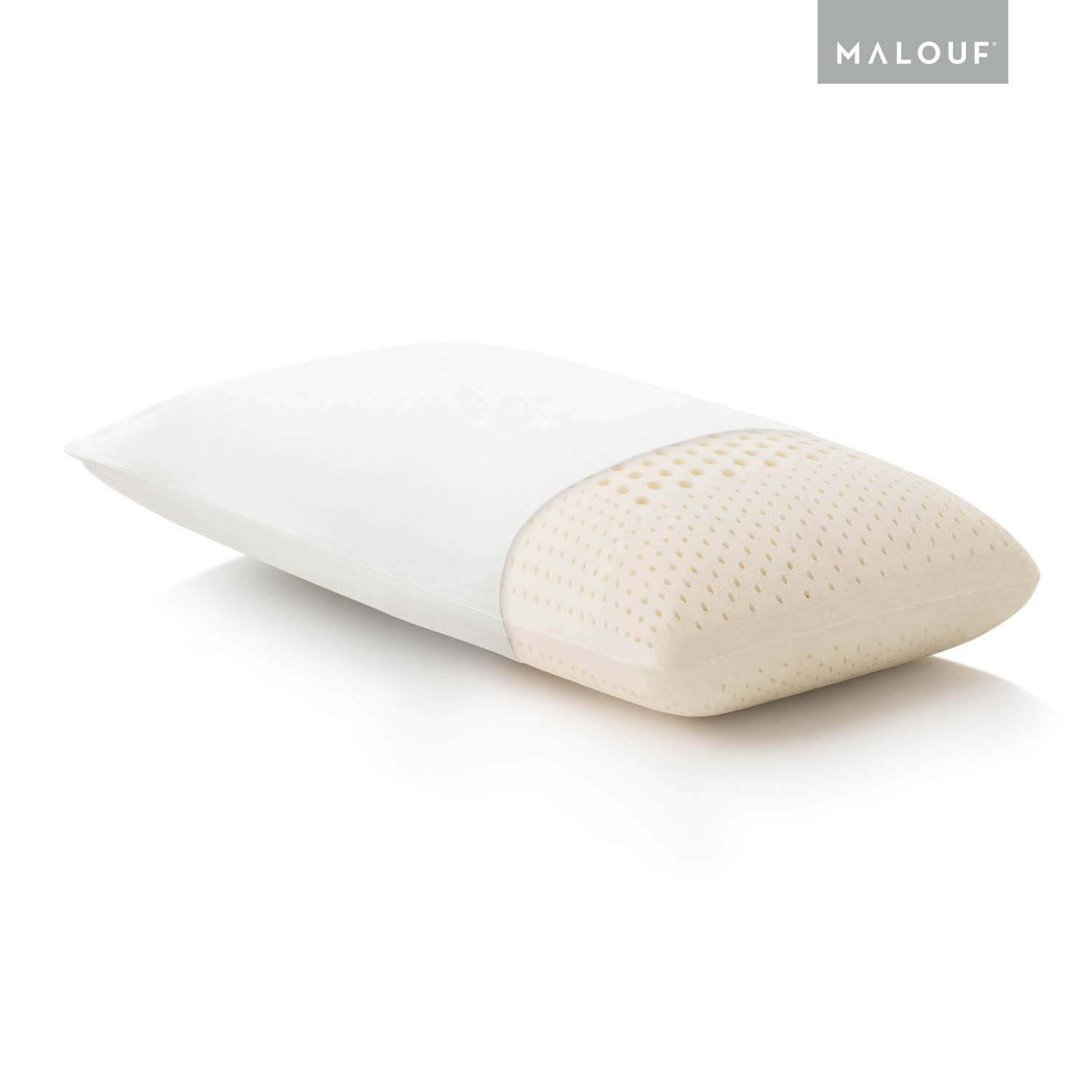 Here goes another latex option on my list of top-rated pillows for shoulder pain. MALOUF offers a solid latex pillow with zoned sections for better support. Besides that, the pillow is available in two loft configurations and two firmness levels, so you have an opportunity to choose the one that works for you best.
Now, let's get into detail. The Talalay latex brick, which is the fill of the pillow, has perforations all over the surface, with bigger holes in the central part. Besides aiding in the air circulation and making the pillow feel cool, zoned perforation results in better cradling and support for your neck in any sleeping position.
The cover of the MALOUF pillow is made of natural cotton and is very breathable. Also, you can easily take it off for washing.
However, the downside of natural materials is their price, and the MALOUF pillow doesn't make an exception here. Although it doesn't cost all the money in the world, it's still one of the most expensive pillows on the market today.
So, for me, the most significant advantage of this pillow is natural materials. Latex offers a perfect balance between cradling and rebound and naturally sleeps cool, which altogether promotes a sound shut-eye.
So, if you're in a mood to spend some more and want a pillow with great construction and materials, I definitely recommend you go for this option.
Check out this pillow on amazon
Best Budget-Friendly Pick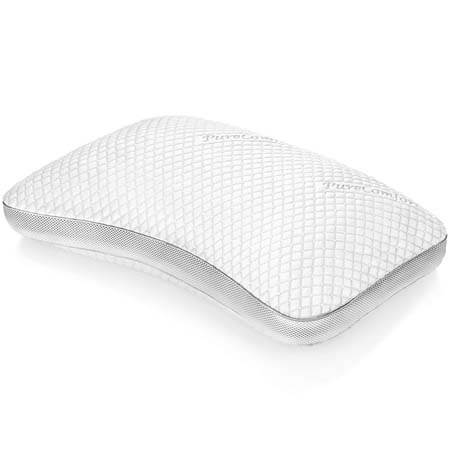 Moving down my list of the best pillows for shoulder pain, here's the PureComfort. This pillow has it all: decent support, quality materials, and — most importantly — a reasonable price.
The pillow is filled with shredded memory foam, and you can adjust its amount to your liking. Thus, the PureComfort can easily support your neck curve and shoulder area no matter which sleeping position you choose.
The cover of the pillow is made of Tencel fabric, which is known for its excellent breathability. Tencel also feels very soft and can absorb body moisture without feeling wet. Besides, the cover is removable, so maintaining it will be very easy.
The main issue I'd like to point out, though, is the smell. It's common for the shredded foam fill to have that unpleasant chemical smell as it expands, but this pillow took much longer to air out completely. Users with a sensitive nose should keep this in mind.
I really like the price of this pillow and what it offers for it. Thanks to its excellent cradling properties, the PureComfort can relax your stiff shoulders and prevent pain.
Overall, if you have the patience to let the PureComfort aerate a bit, you will get a pillow with a great amount of support for your shoulders and an appealing price.
Check out this pillow on amazon
Best for Ergonomic Design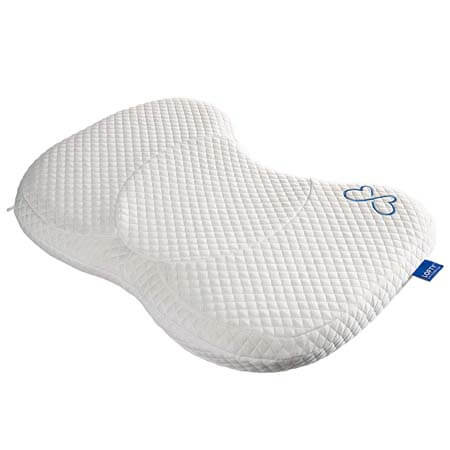 And the final candidate in the selection of the best pillows for shoulder pain is offered by Cradle Me. This ergonomic pillow features a boomerang shape (there's also a butterfly shape available), and it may suit individuals with chronic pain issues.
So, this pillow has slightly elevated edges and a smooth indentation in the center to support your head and neck. It helps you maintain the proper alignment if you love to sleep on your side or back.
The fill of the pillow is dense memory foam, which conforms to your head and neck and relaxes your sore shoulders. The polyester jacquard cover amplifies the overall soft feel and adds to the cooling effect.
As for the drawbacks, I would like to mention poor temperature regulation. Despite being relatively thin, this pillow does retain some heat, so it's not the best option for hot sleepers.
So, the greatest thing about this pillow is how it's made. Some users are skeptical about cervical pillows, but the Cradle Me pillow can really offer you one of the best sleeping experiences in your life.
So, if you need something that can really help with pain, you should surely go for the Cradle Me. Its ergonomic shape will help your muscles relax and give you a more restorative sleep every night.
Check out this pillow on amazon
Why Does Shoulder Pain Appear During Sleep?
So, pain and stiffness are surely the last things you want to experience in your life.
But why do they happen during sleep or after you wake up?
Well, there are several reasons for that: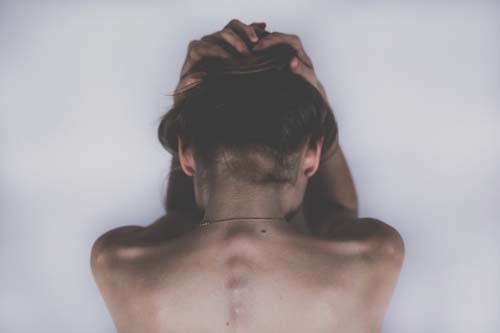 Your posture problems

. Our shoulder region has many tendons and ligaments, which tend to strain easily if the pressure applied to them is uneven. Posture problems, such as scoliosis, can contribute to misalignment even more and provoke pain episodes.

Neck problems

. The cervical region has dense innervation, and if you experience problems with this part of your spine, the pain can spread to hands and shoulders as well.

Structural changes.

As we age, our joints harden and tendons become less flexible. Both these factors limit mobility, and we can start feeling pain in those positions that were comfortable for us earlier.

Saggy mattress.

An old bed that has an uneven surface loses its primary aim, which is to support your spine, so you can expect soreness and strains in different parts of your body, depending on your sleep position.

Too firm or soft bed

. Extremely soft or firm mattresses can be good for alleviating certain medical conditions, but most sleepers typically need something in-between to sleep comfortably, and extremities can do you more harm than good.
"Heavy individuals and side sleepers are more prone to shoulder pain. So, if you are one of them, you should also consider getting a mattress designed for shoulder pain relief."
How Can a Pillow Help You Relieve Shoulder Pain?
If you still don't quite understand how a good pillow for shoulder pain can actually help you get relief and improve the quality of your sleep, let me explain:
As you sleep, your mattress typically offers deeper sinkage under your waist and hips, because that's where our mass center is located. However, this sinkage can put a strain on your shoulder area, especially if you're a heavy sleeper. So, a good pillow can support your head properly so that the tension in the shoulders diminishes.
Also, your own tossing and turning while trying to get comfy can actually contribute to morning soreness. A comfy pillow solves this issue by promoting more natural and faster drift-off.
"You can pair your pillow with a good mattress topper to add even more comfort to your sleep."
How to Choose the Pillow With Best Pain-Relieving Properties?
The modern market can offer you different types of pillows today. But not all of them work equally great for shoulder pain relief.
The thing is, your pillow should be comfy enough to help your shoulders relax, and depending on your sleeping position, you may find relief in different materials and firmness levels.
Below, I will give you a few recommendations on how to choose the right pillow for any type of sleeper.
Back Sleepers
The supine position has probably the most therapeutic effect on back and shoulder pain relief. It allows you to spread your shoulders while sleeping and maintains natural spine curves without creating pressure.
Pillows suitable for back sleepers typically have an average loft that won't elevate your head and neck too high. Plus, they are made of moldable materials that can contour your shoulders, such as shredded memory foam or latex, as well as their one-piece analogs.
Also read: The 7 Best Memory Foam Pillows In 2020
Side Sleepers
Side sleeping, despite being considered the most comfortable sleeping position,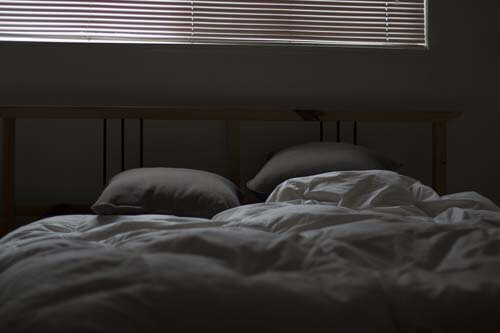 can strain your neck and shoulders. So a perfect pillow for a side sleeper with shoulder pain should have a higher loft to keep the neck aligned.
Also, note that side sleepers, especially those who are on the heavier side, tend to sink more deeply into their bed, so they are more prone to hot sleeping. Thus, it's better to opt for natural materials or switch to gel-infused foams. However, cotton, feather, or down pillows — along with being natural and very breathable — are also very soft, so they may not work for shoulder pain relief very well.
With that being said, the most suitable pillow choice for a side sleeper with shoulder pain would be shredded latex or gel-infused memory foam with medium to medium-firm feel. Buckwheat hulls could also work as the filling, as such pillows are pretty dense yet moldable.
Stomach Sleepers
Stomach sleeping is considered the least healthy position for your spine health. But let's be honest, some of us — including my wife, for example — can find comfort only while snoozing on their tummy.
So, the main problem with side sleeping is that people typically turn their head to the side, which can put a strain on the cervical region and result in pain.
General recommendations on pillows for stomach sleepers are: choose a small loft that won't elevate the neck too high and go for soft and moldable materials, such as feathers, down, or their alternatives.
Also read: The 7 Best Down Pillows You Can Buy Online In 2020
Main Checks to Make Before Buying a Pillow for Shoulder Pain
Finally, let me walk you through the main features that make a quality pillow for shoulder pain relief.
Adjustability
If you have one sleeping position that you prefer the most, things are going to be fine for you. But mixed sleepers like me typically need more versatile options.
And that's where adjustable pillows come in.
They allow you to tweak the level of firmness and fluffiness based on your needs. Although finding the perfect amount of filling can take a while, in the end, it will help you forget about shoulder pain.
Also read: 7 Best Pillows For Combination Sleepers With Great Value For Money
Cooling Properties
Hot sleeping can be a huge disrupting factor for your sleep, no matter which position you snooze in. If you're prone to sleeping hot or have a medical condition that gives you night sweats or hot flashes, aside from focusing on shoulder pain relief, make sure that your pillow sleeps cool.
To do that, look for materials that are either naturally breathable or additionally infused with cooling particles.
Shape
Finally, decide on the shape of your pillow.
If your pain issues only bother you episodically, a standard rectangular pillow will work just fine. But if you need something to alleviate chronic pain, opt for specifically designed orthopedic pillows. In the case of the latter, it's a good idea to consult with your healthcare provider, as they may help you choose the right shape.
Final Word
Shoulder pain is difficult but possible to deal with. And a suitable pillow is one of the effective solutions here.
All the models I have reviewed excel at pain relief and help your shoulders maintain natural alignment during the night.
As usual, I have my favorite option among the five. It's the MALOUF. I really love the amount of cradling it provides, and the overall feel. Along with that, natural latex is durable, so you can expect a longer lifespan compared to other models.
However, if you're struggling with chronic shoulder pain, the boomerang shape of the Cradle Me pillow can be exactly what you need. This pillow is supportive and cradling, so it can give you relief, and hence, ensure you'll get a good sleep.
How long have you been suffering from shoulder pain? Have you considered replacing your pillow to alleviate the issue? Share your thoughts with me below!
Product links on Happysleepyhead are referral. We get a commission on purchases made through our links at no additional cost to you. More information in my disclosures.