Best Sheets for Adjustable Beds to Create Your Sleep Sanctuary
by | Last Updated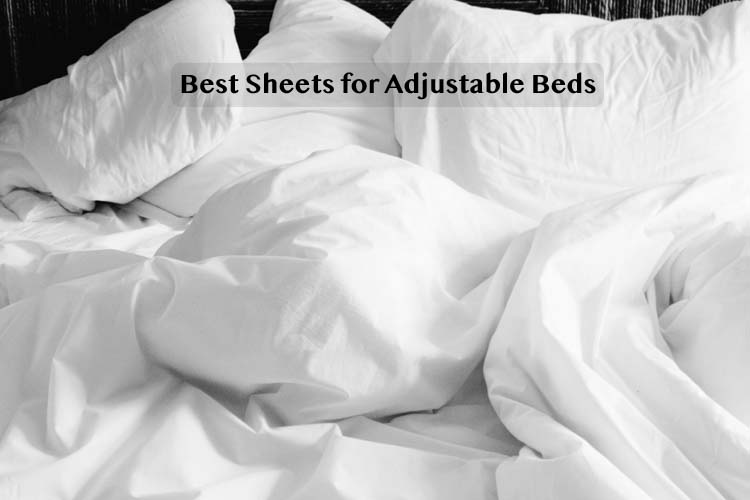 Adjustable bed frames can become a lifesaver for people with certain sleep-related disorders or chronic illnesses, thanks to their customization and versatility.
It seems that the only issue with adjustable frames is the bed making process.
I mean, I'm not a huge fan of making even a regular bed, and with adjustable beds, things can get even more difficult.
So, I started digging and eventually managed to find 5 best bed sheets for adjustable beds that can meet any demand. Let's see which one of them you will like the most.
Our Reviews of 5 Top-Rated Bed Sheets for Adjustable Beds
Best for Durability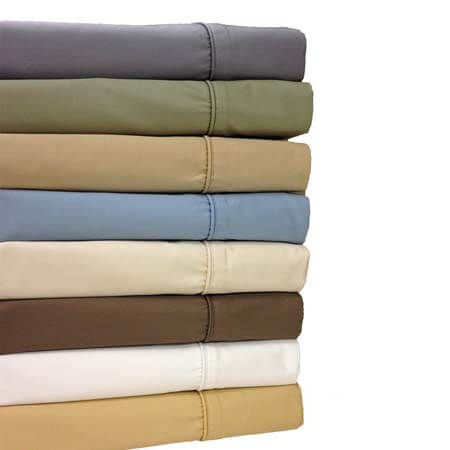 I will start my selection of the best sheets for adjustable beds with the Royal Hotel set. It literally stands for its name and is very well-made. Also, these sheets are available in 18 size configurations and 16 colors, which makes them the most versatile option on this list.
So, I was testing the Queen size that can fit mattresses up to 18 inches thick. It worked great for me, but if you have a higher mattress, you can opt for fitted sheets with 22-inch pockets.
The Royal Hotel sheets are made from a blend of cotton and polyester and have sateen weave. This results in better durability and incredibly soft feel. They sleep cool and excel at wicking away moisture.
I want to mention one drawback as well. Although the brand has a wide color palette, some colors don't look as advertised. I ordered the Sage color, and it appeared greener than we expected. Some users report the same issue with other colors, so keep that in mind.
What I really loved, though, is the durability of this bedding set. The materials are of high quality, and the seams are made to last, which means these sheets will be able to withstand a moving bed for years.
The Royal Hotel set will make an excellent purchase for any owner of an adjustable bed. It's long-lasting, has a soft feel, and can meet literally every demand.
Check out these bed sheets on amazon
Best for High Thread Count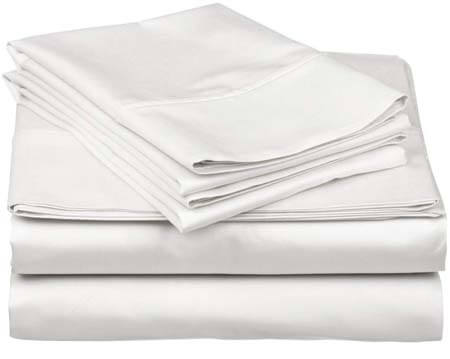 Another option in my review of the best sheets for an adjustable bed is designed by Thread Spread. It will make a good fit for those who look for something really soft. This bedding set has a 1,000-thread count and is made entirely of pure Egyptian cotton, so you can expect a heaven-like sleep.
The manufacturer offers a nice and versatile color palette varying from basic earthy colors to rich and saturated ones.
The Queen size that I was testing can fit mattresses up to 18 inches high pretty easily. If your bed is lower, don't worry: the corners won't puff up and create a messy look. The sheet fits pretty tightly and stays put even if you're a restless sleeper.
The main drawback of this bedding is how much it costs. Of course, that's what you have to pay for natural and high-quality materials. But if you have a strict budget, you may want to choose another item.
Now, the most prominent feature of the Thread Spread bedding set is its incredible softness. It is possible thanks to a high thread count. So, the sheets feel very comfy and plush and may suit even individuals with sensitive skin.
If you're a cotton fan and don't mind to fork out a bit, then definitely go for these sheets. They're worth every cent.
Check out these bed sheets on amazon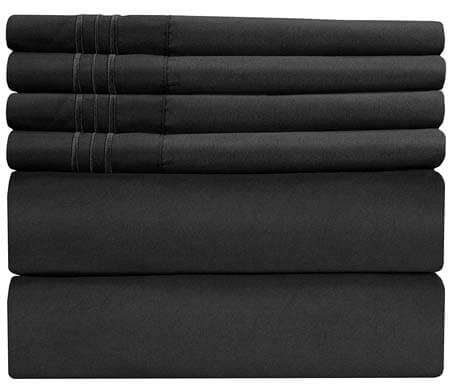 Now, let's talk about budget options. CGK Unlimited makes their bedding set from brushed microfiber in 6 most common sizes and 16 color options. The ability to combine the necessities and offer them at a great price is what has put CGK Unlimited on the list of top-rated bed sheets for adjustable beds.
So, even though microfiber is a synthetic material, it's no worse than the natural ones. Microfiber sheets don't feel itchy at all; instead, they're silky smooth and plushy. Also, microfiber is breathable and withdraws moisture from your body, so you can feel comfortable sleeping on it even during summer.
The CGK Unlimited sheets can fit mattresses up to 16 inches high, which is enough to accommodate most mattresses on the market.
However, they do have a downside. All synthetic materials are prone to generating static electricity, and microfiber is no exception. You can avoid this inconvenience by using an air humidifier in your bedroom, though.
Now, I really like the combo of price and quality these sheets offer. Microfiber is durable, soft and immune to lint, so you will get a bedding set that will last for years while maintaining a brand new look.
I really enjoyed testing this set. If you need something on the cheaper side yet stylish and durable, you, too, should try the CGK Unlimited.
Check out these bed sheets on amazon
Best for Natural Materials
Feather and Stitch New York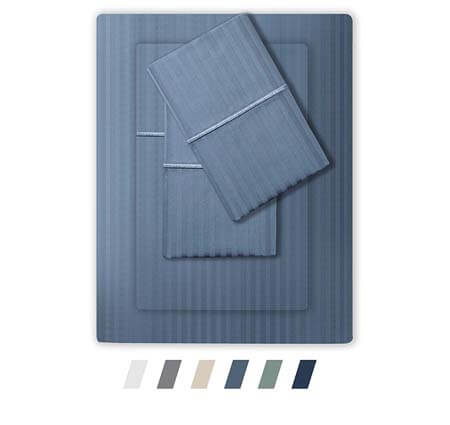 The next contestant in my review of the best bed sheets for adjustable bases is designed by Feather and Stitch. You will enjoy it if you're a fan of classic colors and all-cotton bedding items, as these are the brand's signature features.
These sheets have 500-thread count and get softer with each wash; at least, that's what the manufacturer states. From my experience, cotton sheets have a great ability to adapt to your body temperature and keep you cool. So, hot sleepers should definitely consider this product.
Now, the Feather and Stitch sheets come with pockets that can fit a mattress up to 18 inches high without any effort.
What kind of ruined my experience, though, was that the sheets feel scratchy, even though the company states the opposite. I suppose this issue might resolve over time, after a couple of washes, as it usually does with linen. Still, individuals with sensitive skin may consider looking for something softer.
Now, I'm really delighted with the quality of the materials. It looks and feels like high-grade cotton, and despite the flaw with the harshness, these sheets are excellent for eco-conscious individuals and allergy sufferers.
Overall, the Feather and Stitch set of sheets is a great combo of durability, good value for money, and natural materials. If you have enough patience to deal with the harsh feel, which could take a couple of washes, then go for it.
Check out these bed sheets on amazon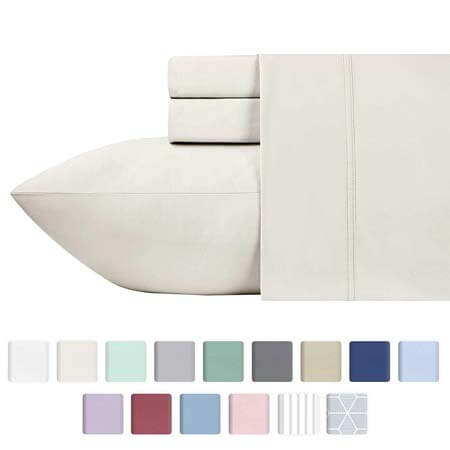 The last contestant on my list of the best bed sheets for adjustable beds is made of cotton. The manufacturer really put the breathability of this material to a whole new level. These sheets are weightless and feel incredibly cool to the touch, so they may please even the hottest sleeper.
The California Design Den is able to fit mattresses from 9 to 18 inches with ease. The sheet has deep pockets and well-made seams.
Another great thing about this option is that the manufacturer cares about the working conditions at the factories and supports the ethical and sustainable production process. So, it's a win for all the eco-enthusiastic fellows out there.
Now, the downsides. The elastic strap around the bedsheet could be made tighter. I had to additionally pin the sheet to my mattress protector to prevent it from ridging, which is not very exciting.
However, I enjoyed a refreshing sleep throughout the testing period. These sheets feel cool and breathable and can offer you incredible comfort even during summer nights.
If you're prone to sweating and getting hot during sleep, these sheets are your best option. They're durable, lightweight and can offer you really refreshing sleep.
Check out these bed sheets on amazon
Does an Adjustable Bed Require a Special Type of Sheets?
The short answer is yes.
As you probably know, adjustable beds have an electric drive that allows them to elevate separate sections, creating an inclined surface.
While this makes the key reason why people purchase adjustable bed bases, it's also the primary source of problems. Of course, you can make your bed using a regular bed sheet. But once you push the button and command your bed to lift the head section, for example, the sheet will instantly pop off and turn your heavenly cradle into a messy bear's lair.
You don't want that, right?
So, the obvious solution is to purchase a fitted sheet that has an elastic strap around the perimeter so that it can hug your mattress and move with the bed.
Thus, we have defined the main feature of a good sheet for an adjustable bed. But along with the fitted design, sheets that are compatible with adjustable bed frames have other features:
They're more durable

. A constantly moving sleeping surface creates more friction than an average bed. Sheets that are compatible with adjustable beds are typically designed to withstand the increased wear and tear for more extended periods.

They're resistant to wrinkles

. Along with friction, the inclined surface can create wrinkles in different areas. That's why bed sheets for adjustable beds should be made from materials that can smooth out after you get your bed base into a plain configuration.

They don't shrink after washing

. Well, mostly. The weave of these sheets can maintain the integrity for longer, and you won't be struggling with putting your sheets on after every wash.
"You can use these types of sheets on a regular bed as well, as they have the same sizing as the most common mattress sizes."
How Else Can I Keep Regular Sheets On My Adjustable Bed?
Sometimes, you can't or don't want to buy new sheets for your adjustable bed. In this case, I have two possible alternatives for you to make your bed using a regular bed sheet.
Straps and Mattress Suspenders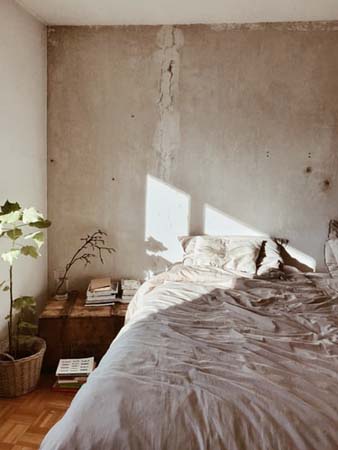 You've probably seen these little corner straps in a mattress store or a nearby supermarket. They can make an excellent temporary solution.
All you need to do is pull corners of your bed sheet under the mattress and tug the straps over it. Make sure that the strap isn't twisted and is placed diagonally across the corner.
Alternatively, you can purchase a bed sheet with sewn-in straps.
The main problem with these straps is that they may wear out rather quickly, so you may need to replace them more often.
"Using corner straps can also help if your mattress topper slides off your bed. Just attach the garters to the corners of the topper, put a sheet over it, and you're all set."
Custom-Made Bedding Sheets
Now, another option would be to order custom-made bedding sheets that are exclusively made to suit your adjustable bed. In this case, you only need to take the right measurements of your bed to get a perfect fit.
Note that custom-made orders typically are pricier. However, when it comes to quality and the ease of exploitation, a custom-fitted sheet easily beats even the most luxurious brand.
What to Look for Before Purchasing?
As with regular bedding items, you need to consider some important details before proceeding to check-out.
I will list the main ones below.
Materials
Cotton

. Cotton is the most common material for bedding sheets. It's lightweight and breathable and can serve you for a long time. The main problem with pure cotton is that it may shrink after a wash, especially if the brand uses any other weave except satin.

Cotton blends

. Cotton blends are literally cotton plus polyester or elastane in different proportions. The addition of synthetic materials makes the fabric more durable and long-lasting. But it also reduces its breathability and requires more careful maintenance because harsh detergents or high temperatures can damage synthetic fibers.

Bamboo rayon

. Chemically restored bamboo cellulose is a light, breathable material commonly used for bedding. It absorbs moisture and is totally hypoallergenic. Unfortunately, it also has a shorter lifespan compared to other materials and is prone to lint.

Microfiber

. Microfiber is a synthetic material, but it is often no worse than natural fabrics. Durable and stain-resistant, microfiber has an incredibly soft feel. The only complaint about this type of fabric is its ability to generate static electricity. But a humidifier in the bedroom resolves this problem completely.
"Different types of microfiber have different properties. Along with being breathable and hygroscopic, it can also warm you up pretty fast. This is the main reason why microfiber is a common fabric for winter blankets and throws."
Thread Count
Thread count is the main characteristic of softness for natural materials. The higher the number, the thinner are the fibers, and hence, the softer will be the fabric.
The average thread count for high-grade cotton is 650 and higher. If you choose lower count, chances are that it will feel a bit harsh.
But don't worry:
Cotton has a tendency to soften up with use.
Mattress Height
Finally, don't forget to consider the height of your mattress. Most fitted sheets are pretty versatile thanks to the pockets that can fit even really thick mattresses. However, if your mattress is 18 inches or higher (which is quite rare), this might be a bit challenging for you to find a good fit.
Wrapping Up
Now that you know a lot about choosing a new bedding set for your adjustable bed, I hope you will have no problems making a purchase.
All the options I included in my review offer good value for money. Plus, they are available in a ton of colors and sizes, making it easy for you to find a perfect fit.
Speaking of my favorite, I really liked the Royal Hotel. Despite some inconsistencies with colors, this bed set is great for any adjustable bed. It's nice and soft to the touch, lightweight and breathable, and fits tightly.
But if you don't want any synthetic materials in your bed, go for the sheets designed by California Design Den. They will keep you from sweating throughout the night, promoting peaceful and healthy sleep.
What adjustable bed base do you use? What's your experience with buying fitted sheets for this type of bed? Share your stories below!
Product links on Happysleepyhead are referral. We get a commission on purchases made through our links at no additional cost to you. More information in my disclosures.