Ghostbed Mattress Review
by | Last Updated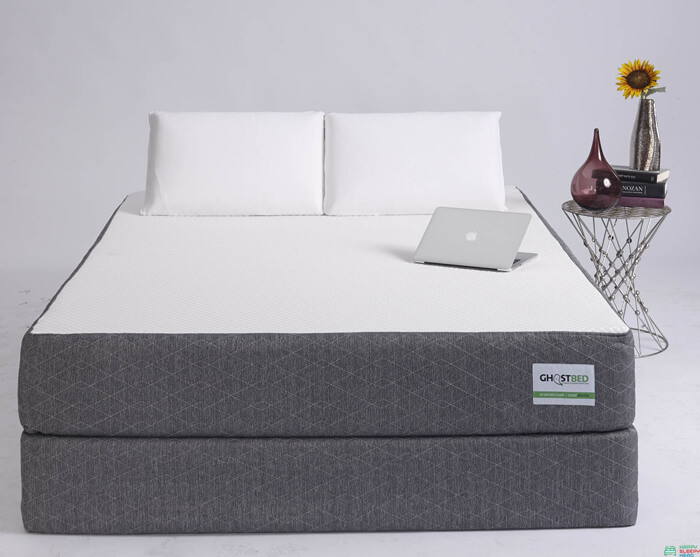 You know that, on average, we spend one-third of our lives sleeping. So, we can't deny that this time is important and must be spent in comfort and peace.
It looks like there's a company that has dedicated more than a decade to create a superb mattress for pretty much anyone. I've been using the Nature's Sleep mattress for more than 6 months now, and there are things I want to share with you. Pretty good things.
In this Ghostbed Mattress review, we will take a close look at the supernaturally comfortable mattresses and find out what exactly makes them so awesome.
Look, it's obvious why you've stumbled upon this Ghostbed Mattress review:
You want to take care of yourself and your sleeping regime.
And you probably feel lost because of the amount of mattress choices out there on the Web. So, let's take a close look at the Ghostbed Mattress and find out what makes it outstanding.
Construction and Layered Foams
The

bottom layer

was designed as a combination of softness and support. It is made of high-density foam, which is 1-inch thicker than any other standard mattress base. It is able to distribute any body weight evenly and absorb it efficiently, thus creating an excellent support for the spine. But note: even though the base layer is rather thick and dense, the mattress

doesn't feel hard

.

The

middle layer

is like an ice-cream in the ice-cream sandwich. It's packed with awesome features. First of all, the material used is gel memory foam, which combines a cooling effect and

natural body support

. The gel beads contain a material that relieves pressure by 100%. The middle layer provides free airflow, which also adds to the

body temperature regulation

. Forget your air conditioner and countless electricity bills. Your mattress will cool you on a hot night all by itself.

Now, the icing on a cake – the

top layer

. As this layer directly contacts your body, it has to be pleasant to the touch (which it actually is). Another great thing is that this layer features latex foam and an adaptive airflow technology, allowing it to regulate your body temperature and

adapt

to your sleep position, height, and weight.
"Cooling your body down even by a couple of degrees can drastically improve your sleep quality and your overall comfort."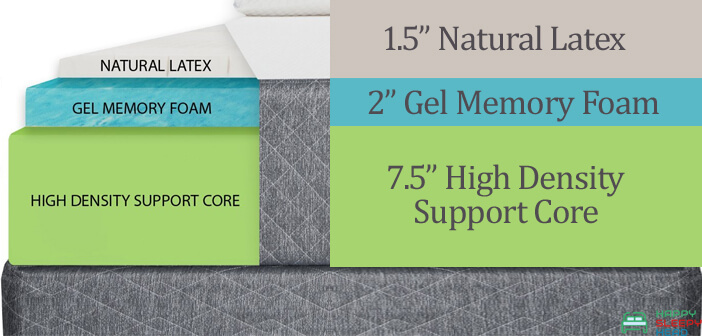 You are going to fall in love with this mattress the second you touch its cover. It looks good and feels amazing, as it's made of a special combination of different fabrics that provide a smooth and plush effect. Yet, it gets better: the cover is removable and washable, which means cleaning your mattress will always be easy.
Firmness, Support, and Comfort
The Ghostbed Mattress feels firm enough to provide great support and soft enough for a comfortable sleep. Its firmness is almost in the golden middle, which is 7-8 out of 10. You won't get a feeling of being stuck in the foam, which oftentimes happens to other memory foam mattresses. So, whether you are a bit heavier sleeper or a teeny tiny lady, this mattress will still be comfortable for you.
It feels great in any sleeping position: on the stomach, on the back, and on the side, which makes it a great option for people who toss and turn a lot in their sleep or don't have that one favorite sleeping pose. Also, it's a good mattress for side sleepers with lower back pain.
But:
In case you prefer sleeping in only one position – let's say, on your side – this mattress might not be a perfect variant for you.
The thing is Ghostbed Mattresses offer that kind of all-in-one support, so it might be better for you to get something designed specifically to support your favorite sleeping position.
Motion Transfer and Sinkage
To do the motion transfer test, I used my usual evening cup of hot tea. Yes, I'm that risky. And no, I wasn't worried about the cover because, as I've mentioned before, it is removable and washable.
Like the majority of high-quality foam mattresses, the Ghostbed showed great results. My tea stayed in the cup, which means this mattress is a great option for couples.
To do the motion transfer test, I used my usual evening cup of hot tea. Yes, I'm that risky. And no, I wasn't worried about the cover because, as I've mentioned before, it is removable and washable.
"Your partner can ruin your good night's sleep. But it's not their fault: the problem is in the mattress."
Same goes for the sinkage: the mattress bounces back rather quickly thanks to its latex top layer. Of course, the levels of sinkage will depend on your weight, but the gel foam layer will prevent you from getting stuck in your bed filling as it is very responsive and able to keep its shape excellently.
Like the majority of high-quality foam mattresses, the Ghostbed showed great results. My tea stayed in the cup, which means this mattress is a great option for couples.
In my Ghostbed Mattress review, I decided to mention a common foam mattresses' problem: smell. Many people complain that they can't sleep on their new mattress because of the smell.
When unpacking the product, I was also expecting to feel that chemical odor that comes with pretty much any new mattress. I did feel a slight off-gassing when I opened the box, but the smell disappeared in an hour or so, while I was dealing with the installation.
I guess the secret is in Ghostbed's manufacturing process. Nature's Sleep is all about eco-friendly production and against using any harsh chemicals. So, order this mattress without hesitation if you have a sensitive nose.
The company offers a sleep trial period for 101 nights, by the end of which you will be able to get all of your money back and return the mattress in case you didn't like it.
Also, there are two payment options available: one-time full payment and small monthly payments, which is great for people who don't want to invest a certain amount of money at once.
The Coolest Thing About the Ghostbed Mattress
When writing my Ghostbed Mattress review, I started asking myself what the best thing about this mattress is, what makes it so good? In my opinion, the ultimate winner among all the features is the level of comfort this mattress provides. The combination of a cooling effect and all-position comfort really buys me.
The Worst Thing About the Ghostbed Mattress
It's really hard to find fault in such a good product, but I managed to do so. Despite having a great night's sleep on this mattress, I think that it might seem too firm for some people. If you're used to soft foamy mattresses, this one will probably make your back hurt until you get used to its level of firmness.
1 business day shipping period;

free shipping to 48 states, $600 shipping to Hawaii and Alaska;

international shipping is not available;

20-year warranty;

101 nights sleep trial.
Will GhostBed Mattress Alter Your Night's Sleep?
My Ghostbed Mattress review clearly shows how impressed I am with the product. But I realize that different people have different requirements when it comes to sleeping comfort. I would recommend this mattress to:
someone who prefers to sleep on a bit firmer surface;

someone who wants an eco-friendly product;

people who highly value overall comfort and body support in multiple sleeping positions;

someone who hates feeling hot during the night;

people who are looking for a locally made and reasonably priced high-quality mattress.
Comfort

Materials

Support

Cooling

Smell

Company reputation

Delivery

Warranty

Trial

Customer service
Summary
The Ghostbed Mattress is really an all-in-one product suitable for almost any person. The combination of memory foam and latex layers provides great support, comfort, and a cooling effect. It might seem a bit too firm for some users but can offer great support for any sleeping position. The excellent warranty package and a trial period allow users to not worry about their money in case they don't like the mattress. It's a high-quality mattress that can satisfy almost any customer.
Did it manage to satisfy you? You're welcome to describe your experience with Ghostbed in the comment section below.
Product links on Happysleepyhead are referral. We get a commission on purchases made through our links at no additional cost to you. More information in my disclosures.