Leesa vs. Casper Mattress Review
by | Last Updated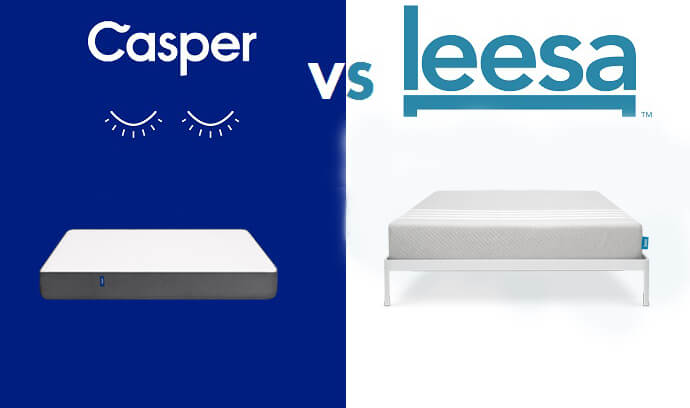 You probably won't deny that being overwhelmed by a number of goods makes it really difficult to choose the best one among them. Especially when we talk about mattresses, the things our sleep and well-being depend on.
There are many decent companies out there that offer high-quality mattresses. Some are comfortable, some are not. Some are more expensive, others offer exquisite service and guarantees.
The bottom line is:
There's plenty to choose from.
To help you make up your mind, I've decided to write a Leesa vs. Casper review, in which I'm going to compare two of the most popular mattress models on the market. Let's see which one is going to stand out.
I want to start my Leesa vs. Casper review with the most important part: the layered foams. This is the number one criteria you should consider when picking a mattress. Its construction will influence your sleep quality immensely, so make sure you pay attention to all the details.
Both Leesa and Casper are memory foam mattresses, but they have some differences in construction. Let's take a closer look at them and start with Leesa. The company makes mattresses with three layers:
the

top layer

is made of the

Avena foam and provides a cooling effect (which actually works pretty good). Thanks to its notched design, the top layer allows the air to flow freely and also provides a good bounce to the body.
"Waking up all sweaty doesn't always mean that you had a nightmare. Sometimes it's your mattress that turns your night's sleep into a hot mess."
the

middle layer

is a 2" memory foam designed for the

pressure relief. It also serves as a transition from the top comfort foam to the base layer.

the

support layer

is 6" thick and is a core of the mattress. It offers

support and durability but doesn't have that too firm feel like many other memory foam mattresses do.
Check out our in-depth review of Leesa mattress here.

Now, it gets a bit more fancier with Casper
. The company makes mattresses with four layers, and I have to say that it does make a difference:
the

top layer

is an

open-cell foam

, which serves as a

cooling

layer but also has a pleasant

bouncy

effect to it.

the

pressure relief layer

is quite

responsive

and doesn't make you sleep hot as it is placed under the cooling layer.

the

transition layer

is made of an

adaptive polyester

, distributing the body weight and providing a smooth transition from the top comfort layers to the base.

the

base foam

is thick and supportive. It's pretty basic, just like in any other foam mattress, but its quality is good and it provides

great support

.
"When buying a new bed, you're entrusting someone with more than just your sleep. Your mood, efficiency at work, and overall well-being will also depend on what you're going to sleep on."
Also, check out our in-depth review of Casper mattress.

This part of my Leesa vs. Casper comparison is for each of you who has a sensitive nose and hates sleeping hot. The cover in both mattresses is high-quality and very soft to the touch. I love the fact that Casper's cover has a zipper and can be removed, which makes it easier to clean. Leesa, on the other hand, provides excellent quality and finishes off with a great design. Although the cover isn't usually visible because of the sheets, I appreciate the pretty design anyway. Also, Leesa has released a special edition cover, with which the mattress will cost you $50 more.
Both covers are breathable and contribute to the cooling effect, which is a great plus.
Have you already got a personal preference? Click here to order your Leesa and here to buy your Casper mattress today!
Firmness and How It Feels
Now, this is where it gets tricky in my Leesa vs. Casper review. They both turned out to be a bit firmer than I expected, and I absolutely loved it. I prefer a supportive mattress and a bouncy feel, which are the characteristics of both Leesa and Casper.
So, in terms of firmness and the Casper vs. Leesa comparison, these two mattresses perform really well. On a scale from 0 to 10, Leesa is about 7 and Casper is closer to 8. They both don't feel like a cotton candy, so if you want something super soft and cloud-like, the Leesa and Casper mattresses aren't for you.
But if you, just like me, prefer sleeping on a supportive and bouncy surface, it's time to get your Leesa or Casper mattress!


"Back issues are a serious problem on their own. But when combined with a low-quality mattress, the situation gets worse. You can't cure your back while sleeping on a terrible mattress."
In the battle Leesa vs. Casper, the back support is a very important criterion. Many people, especially those who have a sedentary lifestyle, suffer from a constant backache and can't sleep well because of that. That's why picking a mattress that can support your back properly and distribute your weight evenly is an important step in improving your back condition.
Leesa provides decent support and a pretty good bounce. This mattress isn't too firm, which is why it's not suitable for heavier sleepers. When sleeping on the Leesa mattress, I felt comfortable in all positions. I guess that special Avena foam does the trick and supports the body in all positions. I didn't experience any back or neck pain, even though I'm used to sleeping on firmer surfaces.
The Casper
mattress had a bit firmer feel than Leesa, which is why the level of support it provides is also a bit better. It might even be suitable for heavier sleepers, but let's not forget that it's still a foam mattress, so don't expect it to support you perfectly if you're overweight.
As for the edge support, there's really nothing special to say about both Leesa and Casper. They are memory foam mattresses, which means the edge support levels are pretty standard and aren't that awesome. Of course, you won't roll off your bed in your sleep, but if edge support is crucial for you, it's a good idea to look at some innerspring mattresses.
Now, here's the deal:
This Leesa vs. Casper review is about memory foam mattresses. That's why I want to point that the motion isolation levels will depend on your and your partner's weight.
If you both are middle weight, you will enjoy the low motion transfer levels in both Leesa and Casper. Casper, being a firmer model, provides better motion isolation, so consider this point if you get easily disturbed while sleeping.
Have you made up your mind? Click here to get your Leesa mattress and here to order your Casper mattress today!
In my Casper vs. Leesa review, I want to pay attention to the sinkage levels because this criterion might be very important for some people. It's safe to say that both Leesa and Casper are rather bouncy and don't provide that much sinkage. Again, Casper is a bit firmer, so this mattress shows even lower levels of sinkage.
If you prefer your mattress to be bouncy and responsive, get your Leesa or your Casper mattress now!
Both mattresses are delivered compressed in a box, which means they might have a slight odor when unpacked. For the purpose of my Leesa vs. Casper comparison, I left both of the mattresses in a ventilated room. With Casper, the smell disappeared within a day. As for Leesa, the off-gassing stayed for longer. It took about a week and a half for the smell to disappear, which is much more compared to Casper.
Mattress
Size
Price
Leesa
Twin


$425
Twin XL


$525
Full


$690
Queen


$840
King


$970
Cal King


$970
Casper
Twin
Twin XL
Full
Queen
King
Cal King
Check Price on Amazon
My Leesa mattress arrived 7 days later after I've placed the order. The shipping was free, which is a big plus. The company ships to all 50 states, Canada, and the UK. The mattress comes compressed into a box, so the delivery and the setup were rather easy.
With Casper
, the shipping took 3 days and was a fairly easy process as well, plus it was free.
The return process for the Leesa mattresses is supposed to be rather simple. You need to use the mattress for at least 30 days, and then it can be picked up from your home for free. Keep in mind that if you live in Hawaii or Alaska, you will have to pay $100 for the return shipping.
As for the Casper mattress, if you buy it on Amazon (which I recommend you to do), you have the same conditions as other items.
A sleep trial is a common service many mattress companies offer to their customers, and both Leesa and Casper are no exception. With these two companies, you can safely try your mattress out for 100 days ("nights" is more suitable here, right?) and return them in case you don't feel comfortable enough.
As for the warranty, both Casper and Leesa offer a limited 10-year warranty. Now, you need to keep in mind that some companies offer a 15-year or even 20-year warranty, so if you're looking for something more long-term, you could search for other options.
But if you find these conditions more than suitable, get your Leesa mattress here or order your Casper here!
Which One Is Good for You?
Here's the deal:
No matter what the manufacturer claims, a mattress cannot be perfect for everyone.
We all have different shapes and preferences, which is why it's impossible to create one mattress that would suit all the people.
As for Leesa vs. Casper, each of these mattresses would be great for some people and not that great for others. Let's see which one is the best for you.
You will love Leesa if you:
Casper mattress is a great option for people who:
Click here to find out more and how to order YOUR Leesa Mattress and here
for Casper.
It's obvious now that both Leesa and Casper are great mattresses for a reasonable price. Casper
is a bit more expensive but offers an additional foam layer, more support, and great pressure relief. Leesa, on the other hand, provides a bit softer feel. They both offer a sleep trial and a 10-year warranty, and the delivery conditions are pretty much the same.
Yet, in terms of overall comfort, I would recommend Leesa. I found this mattress to be more supportive and to have a better influence on my back. It sleeps cool and shows better motion isolation levels. It's certainly a mattress worth investing in.
Product links on Happysleepyhead are referral. We get a commission on purchases made through our links at no additional cost to you. More information in my disclosures.