Leesa vs. Purple Mattress Review
by | Last Updated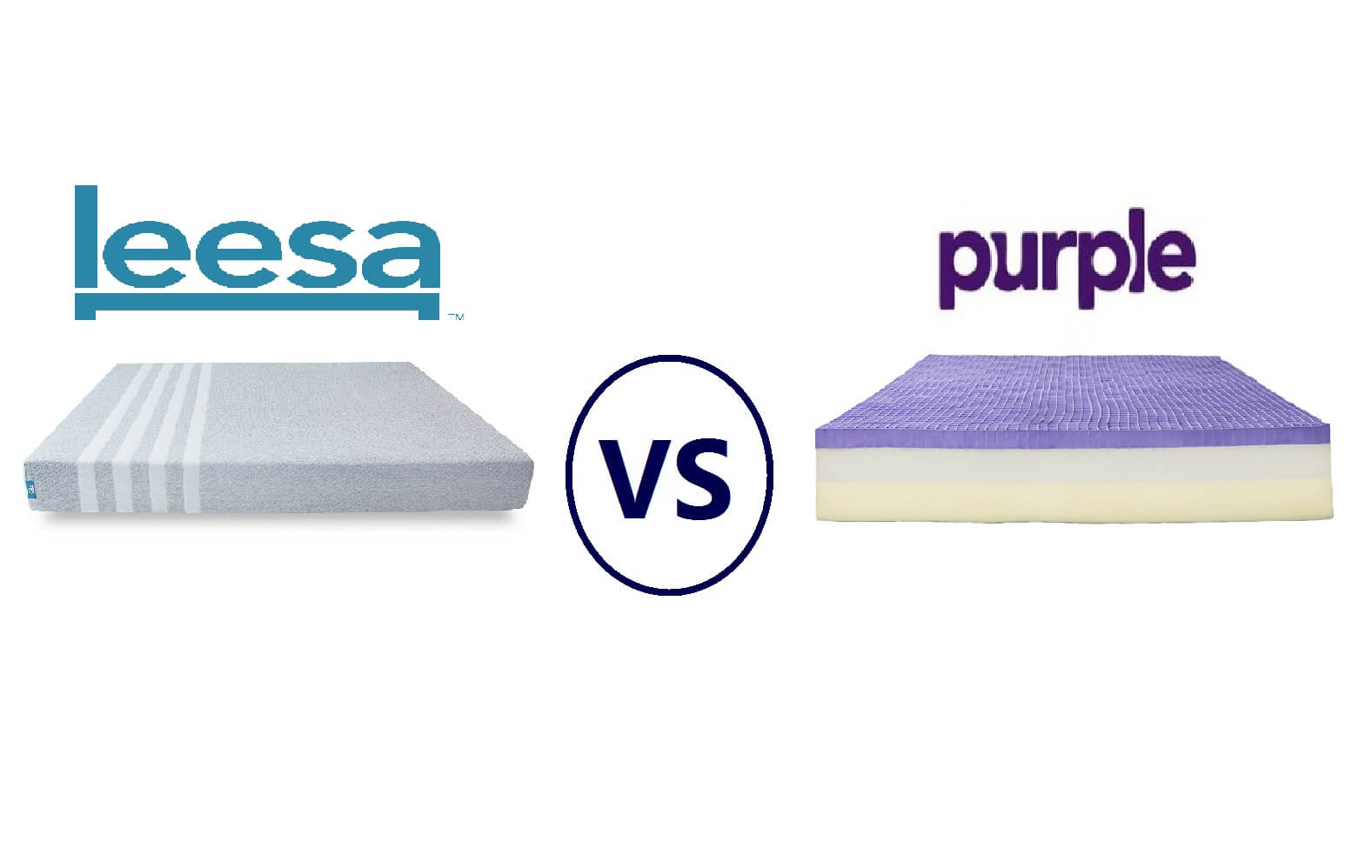 Choosing a mattress and preparing yourself to invest quite a sum can sometimes drive you mad . And something always goes wrong! You've finally made up your mind, picked a mattress, and are dreaming about curling up on it with a good book or an interesting movie when a sales person tells you that it costs $500 more than you expected.
Sometimes it's easier to look for a mattress online , reading all the specifications and customers' reviews. That's why today we will take a look at two popular mattresses on the market, Purple vs. Leesa,
and see which one would win and become the one to provide you with a good night's sleep.
I want to start my Leesa vs. Purple review with the most important part – the construction and the layered foams . Many companies claim that their mattresses are the best when in reality, the filling in their products is just low-quality foam that doesn't support your body and makes you sleep hot .
Now, with Leesa , you can be sure that the layered foams in this mattress are high-quality. Let's take a look at them:
The base layer, which is 6" thick, is supportive and durable . Being rather firm, it's the core of the mattress. But you won't feel it, as there are comfort layers on top of it.
The transition layer is 2" thick. It's made of the memory foam and provides both the pressure relief and the smooth transition from the comfort layers to the dense base of the mattress.
The top layer is made of the proprietary Avena foam , which is bouncy and has a notched design . So, it doesn't retain the airflow and serves as a cooling layer as well (which, in my experience, works quite well).
"During sleep, our core body temperature drops in order to facilitate the process of falling asleep. This means that any heat sources, like a hot mattress, only ruin the sleep quality."
Сheck out our in-depth review of Leesa mattress.

Moving on to Purple, which really knows how to surprise:
The base layer is 4" thick. It's made of dense poly-foam and provides great support for your body and the rest of the mattress construction.
The comfort layer is also made of polyurethane foam. It plays a transition role from the top layer to the supportive base.
The top layer is made of hyper-elastic polymer, and this is what might surprise you about this mattress. It's a grid-style layer that feels rather different. It didn't remind me of either foam or
latex. It's rather bouncy and stretchy, with a unique feel to it. Also, this layer is supposed to act as a cooling one, and I must say that it does its job rather well.
Was this enough to help you make up your mind? Click here to order your Leesa mattress and here to get your own Purple today!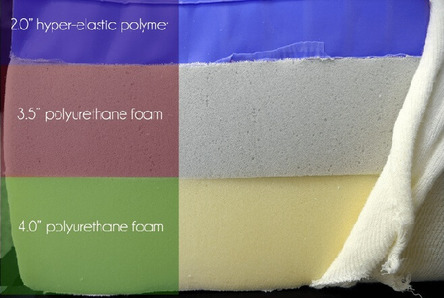 When buying a new mattress, many people are concerned about having allergic reactions. The cover plays a great part in that, as we lay directly on it. So, if you are prone to allergies, this part of my Leesa vs. Purple review will be of interest to you.
There's no point in describing each of the mattress covers separately because they are very similar. Both Leesa and Purple make mattress covers using high-quality breathable textiles , which only contribute to the cooling effect. They are soft to the touch and don't have any chemical odor .
The Purple mattress cover is a shining white one, while Leesa manufactures mattresses with stylish gray and white covers. There are two options available at the moment: Classic Leesa and ArtLifting Limited Edition one (the second one being $50 more).
I would recommend using a mattress protector for both of them because those covers are not removable.
"People can survive longer without food than without sleep, so while trying to choose the best dining table, spend even more time on picking a good mattress."
Check out our in-depth review of Purple mattress.
Firmness and How It Feels
Another important aspect I want to point at in my Leesa vs. Purple review is the firmness of each mattress. I personally love sleeping on a bit firmer mattress because I appreciate great support. So, let's see what Purple and Leesa have to offer.
"Humans are the only species on the planet who willingly delay sleep. But in some cases, it's not our fault that we aren't asleep when we need to be. Terrible mattresses and beds can be a number one reason for our sleep deprivation".
On the firmness scale from 0 to 10, Leesa would rate 7-7.5. That's quite firm, but it doesn't feel like that much. It's rather supportive, so if you appreciate a good bounce, you'll be happy with Leesa. Keep in mind, though, that if you're a heavier sleeper, you'll still sink deeper into the mattress and might find it not firm enough.
As for Purple, it has a quite extraordinary feel. As I've said before, it reminded me of neither foam nor latex. On the firmness scale, it would probably rate 7 but would feel more like 6 or even 5 if you're a heavier sleeper. The top layer material is quite bouncy and responsive, which is great for support. It also provides good pressure relief, which is another reason why this mattress doesn't feel that firm.


"When we sleep, our brain strengthens, restructures, and stores memories. So, if you don't want to lose your precious memories, invest in a good mattress."
This part of my Leesa vs. Purple comparison will definitely interest you if you are worried about your back.
Both mattresses show decent results in terms of support, but these results won't be the same for everyone. Both Purple and Leesa might not be suitable for heavier sleepers, as these mattresses aren't too firm. Nonetheless, they both are very responsive and provide good support. I felt comfortable sleeping on both of them in multiple positions and didn't experience any neck or shoulder pain.
The interesting thing I've noticed about Purple: it responds differently to different parts of the body. Hips and shoulders tend to sink deeper into the mattress, while the rest of the body remains on the
surface of the mattress. This means that the spine remains aligned, which is a very important aspect, especially for people who suffer from back issues.
Get your Leesa mattress here and click here to order your Purple today!
I want to dedicate this part of my Leesa vs. Purple comparison to the mattresses' motion isolation qualities. Because let's face it:
No matter how much you love your significant other, when they wake you up in the middle of the night by tossing and turning, they don't seem that lovable.
The good news is both Purple and Leesa show pretty decent motion isolation levels. I won't lie, the results of the motion transfer tests weren't perfect, but they weren't bad either. These mattresses are both memory foam, so if you or your partner are a heavier sleeper, the motion transfer levels will be higher. Check out this article with best mattresses for heavy people.
When it comes to sinkage levels, there's no winner in this Leesa vs. Purple battle. Even though being rather bouncy, they showed similar results and a couple of inches sinkage. Of course, it will also depend
on the weight you put on each mattress. Heavier sleepers will experience deeper sinkage as both of the mattresses aren't too firm. But if you're an average or a small sleeper, you won't experience that much of a sinkage.
Both mattresses are shipped vacuum-compressed , which might lead to some off-gassing.
In my case, Purple came without any off-gassing, just the smell of a new mattress. Nothing too harsh, nothing chemical. I don't think that the company uses any harsh chemicals when making their mattresses, and this would be a great option for people who are prone to allergies.
Leesa had a slight odor when I unpacked it, and the smell disappeared completely in a week or so. Again, it wasn't too harsh or chemical, so I think it's safe to say that Leesa mattresses are made of non-chemical materials.
Mattress
Size
Price
Leesa
Twin
$425
Twin XL
$525
Full
$690
Queen
$840
King
$970
Cal King
$970
Purple
Twin XL
Queen
King
Cal King
Check Price on Purple.com
When we compare the mattresses' websites, Purple vs. Leesa, we can see that the shipping terms are almost the same for these two companies.
Leesa ships to all 50 states, Canada, and the United Kingdom. It took my mattress 7 days to arrive, which is not that much considering they build the mattress after you order it. Plus, the shipping was free.
As for Purple , they deliver to 48 states for free. You can also order your Purple if you live in Hawaii, Alaska, or Canada, and the shipping price will depend on the distance.
Now, if you're not completely satisfied with the mattress or it has any manufacturer's defects, you can return both Leesa and Purple.
With Leesa, you will have to use it for at least 30 days, and only then return the mattress. It will be picked up from your house for free. But if you live in Alaska or Hawaii, you'll have to pay $100 for shipping.
As for Purple, the company also recommends trying the mattress out for at least 30 days . Then, if you're not happy with it, they will find a local donation center and arrange the pickup for you.
Again, both Leesa and Purple offer the same conditions: a 100-night trial and a 10-year warranty. So, you will have 100 days (and nights) to figure out whether you feel comfortable sleeping on each of the mattresses, and then return them for a full refund.
As for the warranty, there are companies that offer a 15-year or even 20-year warranty, but there aren't many of them. A 10-year warranty is a standard one for a mattress, which is what both Purple and Leesa offer.
Which One Is Good for You?
Now, I realize that all people are different, and one mattress can't suffice everyone. No matter what the manufacturer says, a mattress can't be perfectly comfortable for different people.
So, Leesa will be a great option for you if you:
You will love Purple if you:
Leesa 4.6 *****
Purple 4.5 *****
Overall, both Leesa and Purple are good mattresses for a reasonable price. They are not too firm and not too soft (they might seem soft if you're a heavier sleeper), bouncy, responsive, and able to adapt to your body. With the sleep trial and a 10-year warranty, both of them are safe options.
In terms of the overall comfort, I would recommend Leesa, but only if you are ready to experiment and try something new . Being a rather comfortable mattress, it has a unique feel, which might surprise you
and maybe even feel weird at first.
What are your thoughts on this? Do you believe there is a winner in the Leesa vs Purple battle? Let us know in the comment section.
Product links on Happysleepyhead are referral. We get a commission on purchases made through our links at no additional cost to you. More information in my disclosures.