Mattress Buying Guide: Everything You Need to Know (And a Bit More)
by | Last Updated
Ah, shopping.
It lifts our mood and entertains us.
But when it comes to buying a new mattress, things might not be that fun.
All those names, characteristics, materials, and other peculiarities of this product can bombard you every time you open a shopping page or enter a store.
But don't worry! You can easily deal with all of them once you go through this mattress buying guide. Read it – and you will know exactly what bed you need!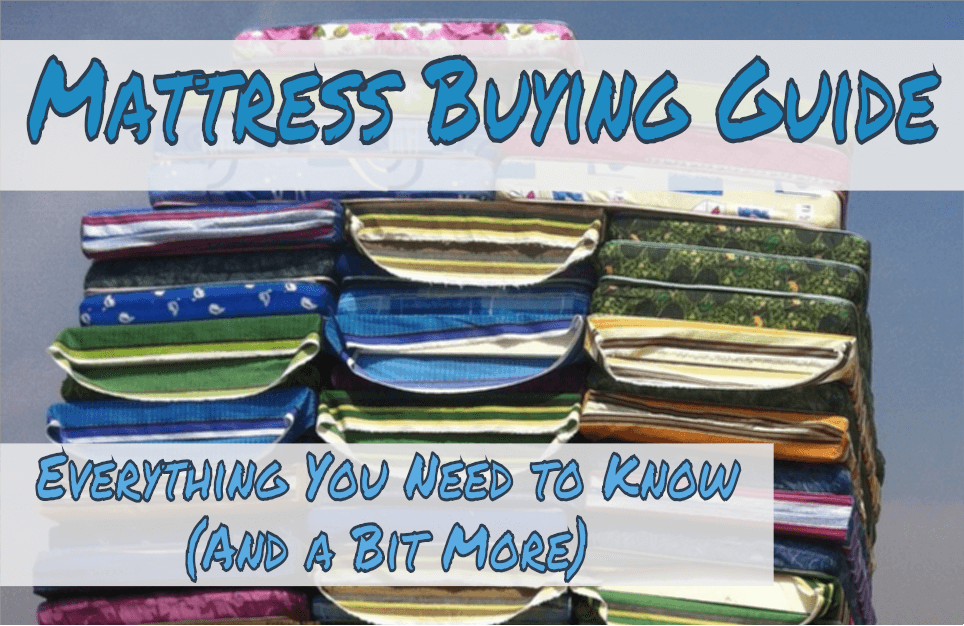 Factors to Consider
You are lucky, did you know that?
Because you have so many options to choose from!
These days we have all kinds of mattresses. There are options for everyone: tall, shot, big, small, people with arthritis, scoliosis, someone who hates sleeping hot, people who want a cloud-like feel, and so on.
However, when trying to choose a good mattress from so many options, you can feel lost. To help you deal with this and not be too overwhelmed, I will include all the necessary information in this mattress buying guide. And we will start with the main factors you need to consider when shopping. Each of them can influence your comfort and be a game changer depending on your personal preferences. So, let's take a closer look at them!
Material
You probably know that mattresses today come in a variety of different materials (and even combinations of several of them). And if you don't know how to choose a mattress, its material is probably the first aspect you should consider.
Now, different mattress materials create a different feel, meaning they can directly influence your comfort and sleep quality. We will give more details on this down below, but for now, here are the most common material types used:
memory foam;

coils;

latex;

gel.
There are hybrids, which combine either all previously mentioned materials or only some of them. You can also come across such items as airbeds. I will tell you about them later too.
Size
The next aspect you absolutely have to take into consideration when choosing a new bed is the size. While there are tons of options when it comes to mattress materials and construction, the number of available sizes is quite large too. Let's take a look at them:
| | | |
| --- | --- | --- |
| Size | Dimensions | Description |
| Twin | 39 x 75 inches | This size is most suited for kids and is often used in children's bedrooms. Of course, it can accommodate an adult too, but not a tall one. And not someone who likes to spread their arms and legs when sleeping. |
| Twin XL | 39 x 80 inches | This one is taller than Twin, which makes it more suitable for adults (sleeping solo, as it isn't wide). This size is a popular choice for dorms and smaller living spaces since it can provide enough length for a taller person but doesn't take up too much space in a room. |
| Full | 54 x 75 inches | Also known as Double, Full mattresses offer a wider surface and the same length as the Twin size, so they can be used by two people. Still, if one of them (or both) are taller than 5'5", there won't be enough leg room. |
| Queen | 60 x 80 inches | Queen is the most popular mattress size on the market these days. Such beds are both wide and long enough to easily accommodate two adults. This size is also often used in guest bedrooms, as it's relatively affordable, does not require too much space, and can provide a comfortable area for both solo sleepers and couples. |
| King | 76 x 80 inches | This is a great option for couples who prefer to have more space when sleeping or tend to move and shift a lot at night. This size is also good for parents who allow their children (and even pets) to spend some time in their "family" bed. Keep in mind that this mattress size is approximately the same as two Twin XL beds put together. Therefore, you need to make sure your room can accommodate such a large mattress. |
| California King | 72 x 84 inches | Cal King is longer than King but a bit narrower. It's a perfect option for tall couples and it can even accommodate a baby or a pet. Cal King is also a great choice if you want an adjustable base. It can provide enough length for the body even when being in an adjusted position, with some parts of it elevated. |
Also read: Best Full Size Mattresses
Firmness
Next thing you should do to choose a new mattress is determine how firm it should be. Typically, the level of firmness is linked to one's favorite (and most common) sleeping position.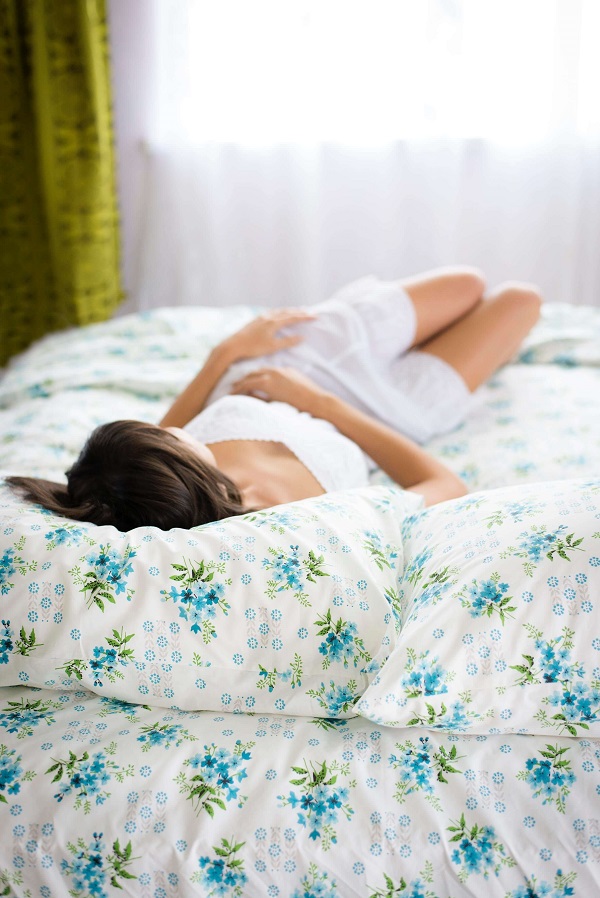 Let's take a look at them:
Side sleepers

make up the largest part of the population. Yes, this sleeping position is the most common, and it requires a specific mattress type. Generally, medium soft and soft mattresses are suited for side sleepers the best. On the firmness scale from 1 to 10 (with 10 being the firmest), this is around 5-6. You see, when sleeping on our side, some parts of our body protrude. And when the mattress is too firm, we get too much pressure on those protruding parts. Therefore, if you are a side sleeper, you need a mattress that would allow for a generous amount of sinkage to cradle your pressure points. At the same time, you don't want something extremely soft since such a mattress won't be able to properly support your body and keep your spine aligned correctly.

For

back sleepers

, it's better to pick a medium or medium-firm mattress (around 6-7 on the firmness scale). When lying on your back, your body is pretty much in a straight line, and there are not many pressure points and protruding parts. Additionally, you need your spine to be in a proper, neutral position, without the curves. Therefore, for such a sleeping position, a firmer mattress is recommended.

Sleeping on your stomach is considered the least healthy position. Why? Because your head is turned to one side, the neck is twisted, and the upper part of the spine is often elevated. Still, many of us feel perfectly comfortable sleeping like this. And for such people, a firm mattress is a perfect choice. 7-8 on the firmness scale would be fine. Such a mattress will prevent you from sinking in, thus protecting your spine from the extra curves and pain in the morning.
Now, these rankings are good for an average sleeper. But when choosing a mattress, you should also think about your weight.
Heavier individuals tend to sink deeper into their mattress, which means less support for their spine. So, if you are a bit on a larger side (more than 230-250 pounds), you need a firmer bed. Just add 1 or 2 points to the rankings above.
At the same time, if you are a smaller person (less than 120-130 pounds), you need a softer mattress for better conforming. That's why you'll need to subtract 1 or 2 points from the aforementioned numbers.
Easy math!
"A quick note: if you share a bed with a partner and you two have different firmness preferences, there are mattress companies that offer dual-comfort models, which means the two sides of the bed will come with a different feel."
Thickness
If you don't really know how to choose a mattress, such a parameter as thicknesses might confuse you.
But here's the trick:
This is when you should consider your weight again.
Overall, mattresses vary from 5-inch to 15-inch thick. If you are a heavier individual, you will need something thicker. Something that can hold up with your weight for a long time. So, something around 12 inches thick and up would be okay.
Petite sleepers may prefer thinner beds, something around 8-10 inches (or maybe even 6). This should be enough to provide perfect comfort, support your body, and hold up through the years of usage.
"Keep in mind that thicker beds usually weigh more. This can be a real headache when you decide to move things around in your bedroom (or when you need to transfer your mattress somewhere else)."
Weight
No, it's not about your weight this time. It's about how heavy your mattress is.
And here's the deal:
All mattresses are quite heavy. But depending on the material, they can be heavier or lighter than average. For example, latex beds and hybrid models (the ones that combine several material types) are usually bulkier and heavier than foam and innerspring beds. So, latex and hybrid mattresses are more difficult to move.
Support levels (including edge support)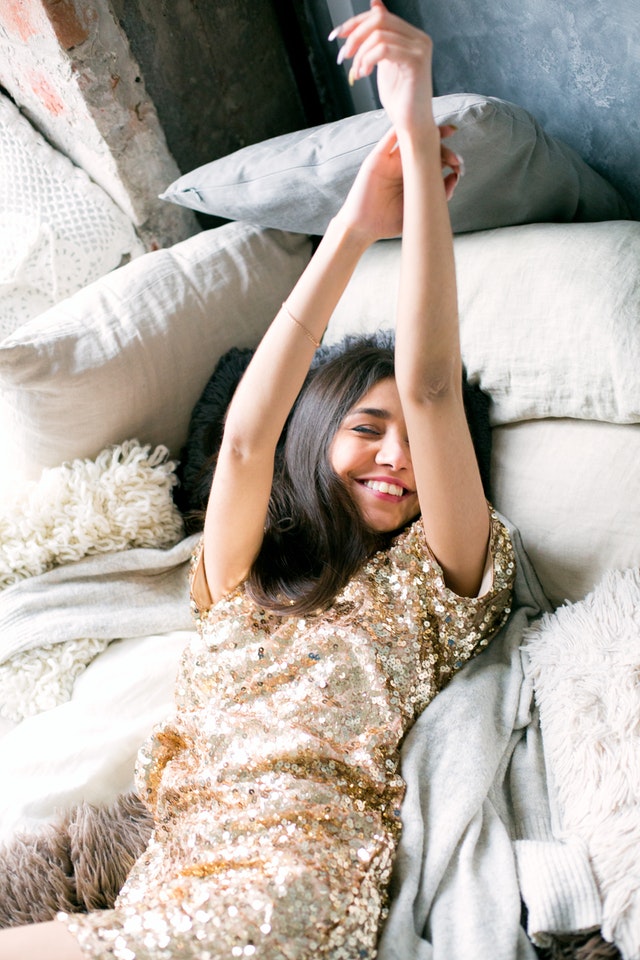 Now, the first thing you need to know here is that firmness and support are different characteristics of a mattress. Even though these words are often used interchangeably. While firmness determines the way a bed feels and the amount of sinkage it allows for, support is its ability to provide a consistent feel throughout the surface as well as keep the body aligned and, well, supported.
The majority of modern mattresses offer optimal levels of support. However, some of them tend to lose their abilities with time. Generally, memory foam is said to lose its springiness with time, while hybrids and innerspring beds tend to remain supportive longer.
Again, you need to consider your weight here. Heavier people require stronger support, so it's probably better to go for a hybrid or innerspring bed. You can also try denser foam, but keep in mind that you may have to replace such a mattress in a few years.
Now, edge support is another important factor you should consider. It is crucial in a few cases:
you share your bed with a partner and need a wider sleeping area;

you tend to sleep on the edge of your bed;

you have certain health issues (for instance, hip pain or arthritis), which make it difficult for you to get out of bed.
In all of these cases, you need good edge support. There are many mattresses with reinforced edges, but keep in mind that foam (and some latex) mattresses often can't provide good edge support even though a manufacturer might claim they can, while innersprings and hybrids usually offer more than decent edge support.
Motion transfer
This is what can ruin sleep for couples.
One sleeper's movement creates motion transfer all across the mattress surface and disturbs the other person. If you want to avoid this and ensure both you and your significant other sleep comfortably, consider a mattress that absorbs movement well. Such mattresses usually have softer comfort layers (like foam or latex).
"Almost all mattresses have a slight odor. In the majority of cases, it's just that "new mattress" smell. It doesn't linger for long and usually disappears within a day. However, some models come with a stronger off-gassing that can remain for a week or even longer."
Temperature
Now, some mattresses absorb the heat from our bodies and trap it, making us sleep hot and sweat during the night. If you hate that feeling, you need to get a temperature neutral mattress.
Typically, hybrid beds and innerspring mattresses don't sleep hot because their construction allows for proper air circulation between the coils. At the same time, foam and latex beds have a solid support core, which means they don't promote airflow, can trap heat and make you sleep hot.
"Shopping for a mattress online has its benefits. It's cheaper since the manufacturer doesn't have to spend money on keeping a physical store. Plus, you have a chance to compare different models side-by-side and read real customer reviews."
Mattress Types and Materials
You are already familiar with the main materials, so let me explain their main properties now. Hopefully, you will eventually identify which one is more suitable for you.
Foam
Memory foam has gained a lot of popularity in recent years thanks to its cradling properties and a pleasant hugging feel it provides. In the majority of cases, foam beds have a high-density polyfoam core and memory foam comfort layers. When considering this type of mattress, you should pay attention to the following factors:
Top comfort layer

. Foam tends to sleep hot. If you prefer to sleep cool, pick a model with a blended comfort layer. Many manufacturers offer mattresses with gel- or charcoal-infused foam top layers that make for better temperature regulation. But, to be honest, you shouldn't expect that infusion layers would drastically improve the situation.

Foam types. There are two most common ones: memory foam and polyfoam. Memory foam has great conforming properties, while polyfoam is a bit denser and is good for proper spinal alignment;
ILD

(

Indentation Load Deflection

). This term is used to describe how much weight is needed to compress the mattress surface by 4 inches, which basically determines the firmness of a mattress. Typically, the higher the ILD number, the firmer the mattress is;

PCF density (pounds per cubic foot).

This characteristic stands for foam density and defines how a mattress will be able to support a sleeper's weight. Keep in mind that high-density foam has a longer lifespan, while low-density one tends to lose its consistency faster.
Pros
Cons
Relatively affordable;
Great pressure relief properties;
No noise;
Good for pain relief;
Nicely contours the body's shape while offering great support;
Good motion isolation properties;
Widely available;
Works great for adjustable bases.
Tends to sleep hot;
Mediocre lifespan (may sag in a few years of use);
High odor potential;
Weak edge support;
Because of that hugging feel, might make you feel stuck in the foam, which some users don't really like.
Innerspring
Innerspring mattresses are probably the oldest on the market. However, they no longer resemble those old, squeaky, saggy beds. Modern innerspring mattresses feature different coil types and structures, which ensures good support and comfort levels for users.
When shopping for an innerspring mattress, keep in mind the following factors:
Coil types

. a) The most popular are

pocketed coils

, which involve each coil being individually wrapped in fabric. This makes them less noisy and contributes to motion isolation. b)

Bonnel coils

are shaped like an hourglass. They aren't very durable and can be found in cheaper beds. c)

Continuous wire coils

use rows of long wires, with each of them going throughout the mattress. This can make motion transfer an issue. d)

Offset coils

are constructed with squared tops and bottoms (hourglass-shaped like Bonnel coils), but their bottom parts are straightened to create a hinging effect allowing for better support and improved motion isolation. Such a coil type can be found in more expensive models;
"Shopping at a mattress specialty store will allow you to touch and try a wide selection of mattresses. This means you will get a clearer idea of what type of bed you need."
Comfort layers

. Many modern innerspring mattresses use foam or other padding types for their comfort layers. So, if you want (or don't want) a specific mattress feel, be careful here, as the comfort layers can affect the feel;

Coil gauge

. It determines the thickness of the coils and can also help you calculate the approximate durability of a mattress (thicker means more durable). The thickest coil gauge is 12, while the thinnest is 18;

Coil count

. Now, this one is tricky. Many manufacturers try to convince us that the more coils we have in a mattress, the more comfortable it will be. But this isn't true. Typically, mattresses with a 600-1,000 coil count are considered the comfiest, while models with 1,000 coils and more are not always linked to improved performance.
Pros
Cons
Affordable, in the majority of cases;
Widely available;
Usually doesn't sleep hot;
Bouncy and responsive;
Good edge support.
Relatively short lifespan;
Potential noise;
Not that great for pressure relief;
Minimal to no motion isolation.
Latex
Latex mattresses, similar to foams, are quite popular these days thanks to their properties. They are made from natural materials (elastic rubber from the rubber trees) and are naturally mold and dust mite resistant.
Still, latex can also be synthetic, meaning manufactured with petroleum-based components. Of course, fewer chemicals are used here than when producing polyfoam, but synthetic latex can still have a noticeable odor upon arrival.
Different mattress models can feature different latex types. Some use only natural latex, others have a synthetic latex base and natural comfort layers, and some implement a blend of synthetic and natural materials in each layer. In any case, latex remains bouncy and supportive and features a moderate amount of cradling.
When considering buying a latex mattress, keep in mind the following factors:
ILD (Indentation Load Deflection).

Just like foam, latex mattresses come with different ILD scores that determine their firmness. Usually, everything below 16 ILD is quite soft, while 39 ILD and up feels firm;

The processing method

. There are two methods used to make latex: Dunlop and Talalay. Obviously, each of them results in a specific feel.

Dunlop latex

is denser at the bottom and fluffier at the top because more sediment appears at the bottom. It is often used in support layers thanks to being bottom-heavy.

Talalay latex

has a more consistent structure throughout. It is lighter and fluffier than Dunlop, which makes it a popular choice for comfort layers;

Customization

. Some latex mattresses allow users to change the order of the comfort layers, thus changing the feel of a mattress. This is a great option when you don't know what you really want.
Pros
Cons
Good lifespan;
Natural open cell structure, which creates a relatively temperature-neutral sleeping environment;
Bouncy and supportive;
Great for proper body pressure distribution and pressure relief;
No noise;
Good motion isolation;
Mold and dust mite resistant;
Good conforming for pain relief.
High price;
Mediocre edge support;
Potential off-gassing;
Heavy and hard to move.
Hybrid
Hybrid beds usually have a coil support system and a foam (and/or latex) comfort layer (or a few). What's great about such beds is that they combine the best properties of different mattress materials while trying to eliminate their weak sides.
And because hybrid beds feature a combination of different materials, there are many factors to consider when shopping, including:
Coil type and gauge;

Foam density and thickness of the comfort layers;

Latex type (if it's present in the construction);

Coil count.
Pros
Cons
Combines great support levels with conforming and pressure relieving properties;
Good motion isolation;
Don't typically sleep hot thanks to the breathable support system;
Great edge support;
Many options of material combos and constructions.
Tend to be on a more expensive side;
Not the most durable type;
Noise potential because of the coil support system;
Potential off-gassing from the foam.
Airbeds
Airbed mattresses have a specific construction. The support system usually includes at least two air chambers that you can adjust according to your preferences by inflating or deflating. In some cases, they also come with a foam comfort layer.
This is a relatively new mattress type, and its popularity is only starting to grow on the modern market. When shopping for an airbed, consider the following factors:
Controls

. The majority of modern airbeds are remotely controlled. But some models need to be adjusted manually, which might not be suitable for some users;

Adjustability

. Airbeds allow users to adjust the firmness and feel of a mattress to a certain extent. Typically, the number of air chambers determines the available level of customization of a bed;

Surface

. Many airbeds have a noticeable trench in the middle, separating the bed into two air chambers. More air chambers mean more seams. This can change the feel of the bed and influence your comfort.
Pros
Cons
Good lifespan;
Superb customization;
Good for pressure and pain relief;
Can work for almost all body types (and all sleeping positions).
Expensive;
Not that widely available;
Noisy because of the adjustable air chambers and electronic components;
Easy to tear;
May malfunction occasionally;
Pricey to repair.
How Do Mattress Types Compare Side by Side?
Now that you know about all types of mattresses in detail, you can look at them side by side and see how they compare. The table below shows the basic information about every mattress type.
Mattress Type
Foam
Innerspring
Latex
Hybrid
Airbed
Average lifespan
7 years
5 years
9 years
6 years
8 years
Average price (Queen)
$1,000
$900
$1,900
$2,000
$2,200
Good for
Pressure and pain relief;
Good motion isolation;


Close conforming

People with a tight budget;
Support and bounciness;
Someone who needs strong edge support;


People who hate sleeping hot.

Someone who wants a durable mattress;
People who appreciate responsive and bouncy beds with enough contouring;
Users who are not on a tight budget;


Sleepers who need good motion isolation.

A unique feel;


People who need strong edge support, good motion isolation, and decent pressure relief.

Superb customization;


Someone who doesn't mind spending a lot on a single mattress.

Not suited for
Someone who hates sleeping hot;
People who want good responsiveness and bounciness;


Sleepers who need reinforced mattress edges.

Sleepers who can be easily disturbed by squeaky noises;
Couples that need good motion isolation;


Someone who wants an extremely durable mattress.

Users who need great edge support;


Someone who wants a more hugging feel.

People who have a limited budget;


Users who can't stand the sound of the coils.

People on a tight budget;
Sleepers that need their mattress to be silent;


Users that have pets (which can puncture the mattress with their claws).
How Much Should You Spend?
With such a wide variety of mattresses, you may be wondering, "What's the adequate price? How much do I actually have to spend on a new bed?"
Well, the answer will depend on your personal preferences in the first place. Do you want something simple or luxurious? Do you appreciate customization? What mattress type seems to be the most suitable for you?
Typically, foam mattresses are sold at about $800-1,000 depending on the construction (Queen size). Innerspring beds are cheaper, latex and hybrids are more expensive. And adjustable airbeds tend to be the priciest.
So, while I cannot decide for you how much you should spend, let me give you a couple of ideas concerning mattress prices:
$400-600

– This is either a price for a small bed (like Twin) or for a low-quality mattress (which supposedly won't serve you long or doesn't provide good comfort levels);

$600-1,000

– Probably the most common mattress price for regular, every-night-use mattresses;

$1,000-1,500

– Entry level luxury beds promising comfort and durability;

$1,500-2,500

– Luxurious mattresses that usually provide everything you may need. You can get a luxurious foam bed for such a price or a good hybrid, for example;

$2,500-5,000

– Customizable, high-end mattresses. Some of them aren't really worth the price, so be careful here. You might end up paying more merely for the brand name.
Also Read:
Best Mattresses Under $1000: King Size For A Truly Royal Life (And Sleep)
How to Shop Like a Mattress Expert
You now know all the important aspects and factors to consider when buying a mattress.
Well, almost all.
Here are some final tips to get you ready to shop like a real mattress expert and end up being satisfied with your purchase:
Try before you buy

. If you are shopping at a physical store, take your time to lie down on the mattresses you are considering. When shopping online, give your preference to the companies offering a home trial so that you could return the mattress if it's not comfy enough for you;

Consider the warranty

. This is your protection, so don't skip checking the warranty period and conditions. And remember: a longer warranty usually means higher durability;
"A mattress is a serious investment, so it's a good idea to protect it. Consider buying a mattress protector or topper to keep the surface stain-free."
Read mattress reviews

. Of course, all mattresses work differently for different users. But reviews can tell you how a certain mattress performs and holds up with time, how the company handled the delivery, and what other issues you may face with your new bed;

Don't forget about shipping

. Mattresses are heavy and bulky, so it's always nice when a company (or a store) offers free shipping to your door. Keep in mind that many mattress companies do not ship to Alaska, Hawaii, or overseas;

Consider your health

. If you have any issues like back pain, arthritis, hip pain, acid reflux, scoliosis, shoulder pain, etc., you might need a specific mattress type to feel comfortable. See your doctor to get some advice from a professional;

Don't be in a hurry

. Picking the perfect mattress takes time, extensive research, and testing. So, don't just settle for the first reasonably priced decent model. Try different options at the store, search for great deals online, and take your time to pick the best bed for yourself.
Hopefully, this guide will help you find the bed of your dreams. Are you ready to start sleeping like a baby? What mattress are you currently using? And what do you want to substitute it with? Share in the comments!
Also, check out these articles:
Best Mattresses In A Box – Buyer's Guide And Reviews