The 8 Best Memory Foam Mattresses in 2020 – Detailed Reviews
by | Last Updated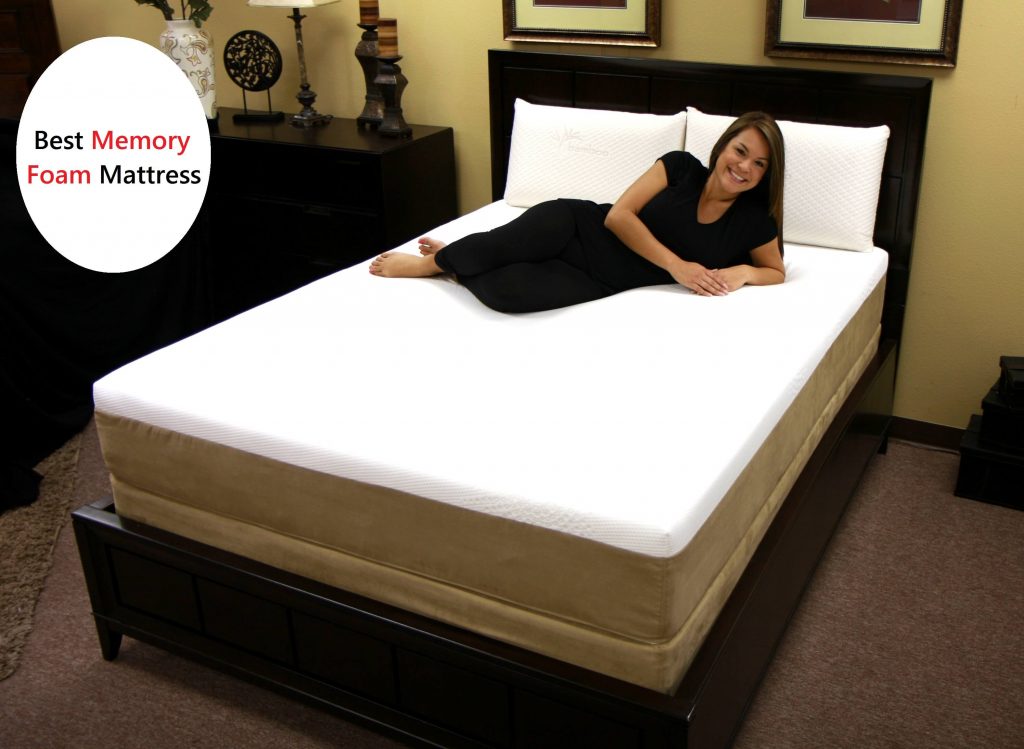 I think you'll agree with the fact that receiving a good night's sleep is vital for leading a happy, healthy lifestyle. During the day, the body has to deal with a lot of stress that needs to be relieved while we sleep.
It's essential to purchase a mattress designed for providing you with the needed rest.
But what type of mattresses suits this purpose the best?
Those made of memory foam, of course!
They are more comfortable, offer superior pressure relief, and excel at relaxing your mind and body.
Lucky for you, I've prepared a list of 8 best memory foam mattresses that will definitely change the way you sleep!
Name of the Company
Layers

Warranty and Trial
Rating
Cool Bliss by Plushbeds
Polyester Cover
Gel Memory Foam
Natural Latex
Convoluted Foam
Polyfoam Base
100-Night Trial
25-Year Warranty
Loom and Leaf
Cooling Gel Foam
Memory Foam
Transition Foam
High-Density Foam

120-Night Trial
15-Year Limited Warranty
Nolah 12
Organic Cotton Cover
AirFoam Layer (Soft side)
High-Resiliency Foam
High-Density Foam Core
Airfoam Layer (Firm Side)
120-Night Trial
15-Year Warranty
Bear Pro
Celliant Cover
Copper-Infused Foam
Gel Memory Foam
Transition Foam
Supportive Foam Core
100-Night Trial
10-Year Warranty
Novosbed
Tencel Cover
Memory Foam
Transition Foam Layer
Supportive Foam Base
120-Night Trial
15-Year Warranty
Nectar
Tencel Cooling Cover
Quilted Gel Memory Foam
Gel Memory Foam
Adaptive Hi Core Memory Foam
Breathable Base Layer
365-Night Home Trial
Infinite Limited Warranty
Amerisleep AS3
Celliant Cover
Cooling Foam
Affinity Transition Layer
Bio-Core Foam Base
100-Night Trial
20-Year Warranty
Layla
Soft Layer
Air Flow Layer
Base Layer
Firm Layer
120-Night Trial
Lifetime Warranty
Cool Bliss by Plushbeds – Editor's Choice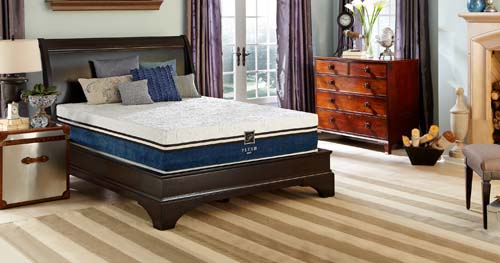 Thermoregulation issues are common among memory foam beds, it's a fact. But the Cool Bliss mattress by Plushbeds is a great exception! It has a medium-firm feel and can help even a chronic hot sleeper get a cool slumber — that's how it has made it to this list of the best memory foam beds.
Let's see what this mattress can offer you:
The proprietary Cool Bliss gel memory foam

effectively dissipates heat

while gently cradling your body.

The layer of natural latex enhances the breathability of the mattress and

adds some bounce

.

The mattress is also

available in split design

and can pair with adjustable bed bases for the maximum comfort of each sleeper.
The strongest point of the Cool Bliss is its construction designed to help you sleep cool. The mattress withdraws heat perfectly and promotes airflow between the layers for an optimal microclimate inside your bed.
As for the weak points, I think that the medium-firm feel can be a potential limitation for some users. Especially for petite side sleepers, who may not sink deep enough to get their body properly hugged.
Overall, I loved testing the Cool Bliss by Plushbeds. If you're a fan of the typical memory foam feel but tend to sleep hot on an average memory foam mattress, this bed might be your perfect fit for a cool sleep.
check out Cool bliss mattress on plushbeds.com
Loom and Leaf – Best Eco-friendly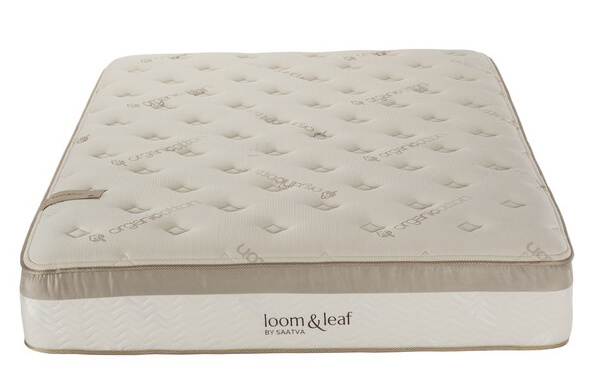 The Loom and Leaf mattress offers a high level of comfort, has a sturdy 4-layer structure, and comes with an organic cotton cover. This mattress provided me with the necessary back support and was comfortable enough to lull me into dreamland.
Let's take a look at the defining features of this model:
Loom and Leaf has a natural cotton cover that is very pleasing to the touch and completely safe for your health.
The mattress comes with a special cooling gel panel for controlling the temperature while you're sleeping.
Two firmness options available (firm and relaxed firm), depending on your support needs.
This brand hand-delivers all of its mattresses and sets them up for free.
The environmentally conscious manufacturing approach offered by this brand is the biggest advantage for me. I really appreciate the fact that this comfortable mattress was produced with organic cotton and has strong antibacterial properties. Moreover, the company's primary factory runs on solar energy, further lessening the negative impact it has on the environment.
The aspect that disappointed me the most with Loom and Leaf was the subpar motion isolation. While this mattress still performed admirably (it is a memory foam model, after all), my wife woke up several times when I was getting up in the middle of the night. Moreover, the edge support is also weaker than in other similar mattresses.
Despite a couple of minor flaws, Loom and Leaf is a high-quality mattress. It allows you to enjoy luxury comfort and provides the support necessary for dealing with neck pain.
check out loom and leaf mattress on loomandleaf.com
Nolah 12 – Best for Dual-Sided Design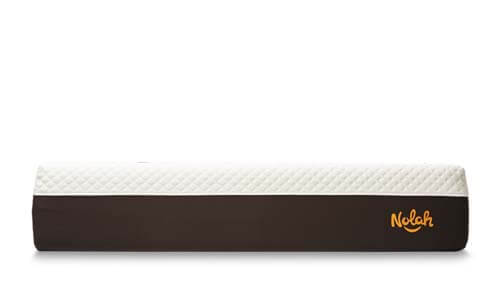 If you haven't determined what firmness level is right for you yet, I have good news for you:
You actually don't have to do this right now. Because after you purchase the Nolah Signature mattress with a dual-firmness design, you will be able to choose your preferred firmness at home, just by flipping a mattress! I believe this is more than enough to include the Nolah on my review of top-rated memory foam beds.
Now, let's see what else we've got here:
Two firmness levels

— Soft and Firm — can satisfy the majority of sleepers out there.

The proprietary Nolah Airfoam has an open-cell structure for

better pressure relief and relaxation

along with a cooler sleep.

The durable foam base offers

decent edge support

, which is rare for foam mattresses.
I was really impressed with the dual-firmness design of this bed. Both Soft and Firm sides are very supportive yet comfortable. It's a great option for those who don't know how firm they want their mattress to be.
What I didn't like, though, is that the Airfoam has a really pronounced sinkage on the softer side. This may lead to difficulty getting out of bed, especially for individuals with limited mobility.
So, whether you love a firmer or softer feel, the Nolah can give you both. It's cooler than similar memory foam mattresses, and each of its sides will help you keep your spine aligned through the night.
check out nolah 12 mattress on nolahmattress.com
Bear Pro – Best for Pressure Relief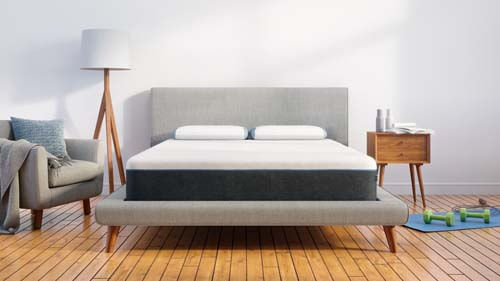 Cradling and pressure relief are what almost all memory foam beds excel at, so choosing the best one was really hard. But then I tested the Bear Pro mattress and it was amazing. Even when sleeping on the side, I didn't feel any pressure forming in my hips and shoulders. So, if you're looking for the best memory foam mattress to transform your sleep, the Bear Pro is all you need.
But that's not it:
The layer of copper-infused memory foam ensures

better breathability and a decent hug

for your body.

The Celliant cover fabric with thermosensitive fibers

reacts to changes in your body temperature,

thus improving the quality of your sleep.

The

medium firmness level

offers optimal contouring in different sleep positions and relieves all your pressure points.
So, the most prominent feature of this bed is how cradling it is. It hugs your body, relaxing your muscles and removing pressure accumulated during the day so that you can sleep like a baby.
The downside of the Bear Pro, however, is lack of edge support. It's not a total failure, but if you share a bed with someone, sleeping closer to the edge might result in injuries.
I think that the Bear Pro mattress can make a great purchase for individuals who seek a mattress with great pain-relieving properties. It completely relaxes your body and significantly improves the quality of sleep.
check out bear pro mattress on bearmattress.com
Novosbed – Best Customizable Pick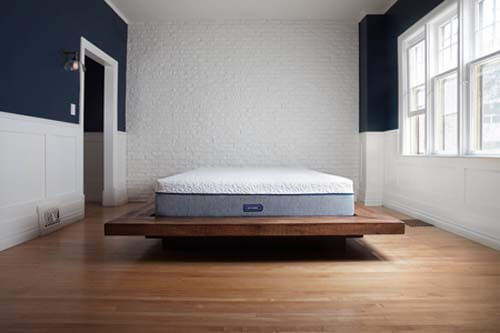 How about getting a supportive, comfortable and durable memory foam bed that you can customize to your needs? If this sounds like a miracle for you, let me introduce to you the Novosbed!
This mattress is available in three firmness levels. But if it turns out you've picked the wrong one, the manufacturer can send you a free firmness adjustment kit. But it's not the only reason why the Novosbed is on my review of the best memory foam mattresses.
So, let's take a look at the highlights of this model:
It has a

washing machine-friendly Tencel cover

made of eucalyptus fibers for cool and refreshing sleep.

The memory foam comfort layer has a decent hug and

can relieve your pressure points

in any sleeping position.

The mattress has a transitional foam layer

for a more precise contouring

and better load distribution.

The bed is available in

Soft, Medium, and Firm

options, so any sleeper can find what will work for them.
The thing I liked the most about the Novosbed is how customizable it is. With this mattress, you may not stress about picking the right firmness. Because even if you pick it wrong, you can simply ask the manufacturer to send you the adjustment kit that includes a foam layer of required firmness and a cover extension.
What I didn't like, though, was the fact that this mattress might sleep hot. Even though one of the layers has an open-cell structure, this doesn't give a pronounced cooling effect. So, unless you're not prone to hot sleeping, you may want to consider other options.
So, if you don't know what firmness will work best for you, choose the Novosbed and rest assured that you won't be stuck with an unsuitable mattress. And did I mention that the adjustment kit won't cost you anything?
check out novosbed mattress on novosbed.com

Nectar deserves to be a contender for the title of the best memory foam mattress for side sleepers because it's made of durable materials and has a sturdy construction. The company also offers a 1-year long trial. This fact demonstrates that Nectar strongly believes in the longevity of their products.
"It's very important to look at the length of the trial period when you're purchasing a mattress. It isn't easy to find the right fit, and it's impossible to tell if a mattress suits you just by sleeping on it for a few nights. In fact, a lot of people realize that a particular mattress doesn't fulfill their needs even after a month of everynight usage."
Here are the most notable characteristics of this mattress:
Nectar comes in several sizes.
The mattress is medium firm, which is ideal for finding the balance between weight support and softness.
The item offers temperature control that keeps you cool in the summer and warm in the winter.
Nectar is made of materials that guarantee you'll never have to deal with dust mites.
The cover has a nice silky feel to it, making the firmness more enjoyable.
The coolest thing about Nectar is its pain relief capability. The firmness offered by the mattress is enough for supporting my back, while the shoulder and neck area sinks deeper, allowing me to relax. Whether I've slept on my back or side, I woke up pain-free and revitalized.
The most unpleasant aspect of this mattress is the off-gassing. I have a rather sensitive nose, and the first few hours after unpacking the mattress were hard to deal with. However, after I've ventilated the room for several hours, most of the odor dissipated.
Nectar is a great mattress all-round. It especially excels at treating back pain thanks to the support offered by the extra-dense foam layer. Moreover, the Nectar's cover is made of woven fabric that provides the airflow needed for people living in hot areas.
check out nectar mattress on nectarsleep.com
Amerisleep AS3 – Best for Responsive Memory Foam Feel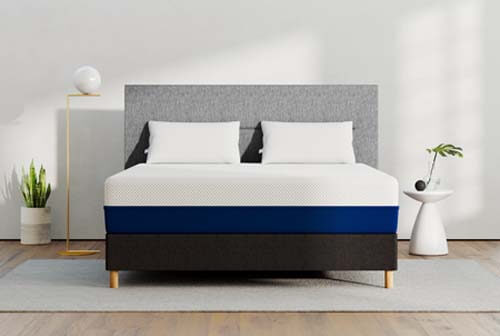 We all love memory foam mattresses for their hugging feel, but some don't like drowning in the mattress layers. If this is your case, the next option in my review of top-rated memory foam mattresses by Amerisleep is just for you!
This mattress features the construction that conforms closely to your body shape but doesn't restrict your movements, so you won't feel trapped!
Here are the main specifications:
The

Celliant cover fabric

reacts to the fluctuations of your body temperature and supports the optimal microclimate throughout the night.

The gel memory foam comfort layer

supports proper spine alignment

and traps less heat than traditional memory foam.

The transitional layer features a specific design for

even load distribution

and good pressure relief.
Also, all foams used in the mattress are plant-based — and hence, eco-friendly!
So, the most prominent feature of the Amerisleep AS3 is how responsive it is. The mattress hugs you, but you can still shift positions easily, which can be great for individuals with some mobility concerns, as well as for those who just hate that feeling of being sucked in.
The weakest point of the bed is its edge support. Even though it has pretty responsive construction and restores the shape immediately after you remove the pressure, the edges may still feel a bit weak.
I really enjoyed testing this mattress and was impressed with its quick response. I think that this makes it a good pick for individuals with pain or mobility issues, as well as for those who move a lot in their sleep.
check out amerisleep as3 mattress on amerisleep.com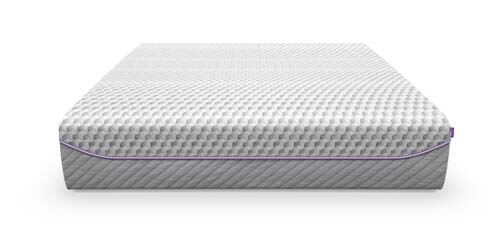 Layla deserves to be called the best memory foam mattress for side sleepers. It's the first model to introduce the combination of copper with memory foam. Also, Layla has two firmness levels that are possible thanks to a flippable structure.
Let's examine the most important features of this item:
Layla has copper infused layers on both sides. They make the mattress two-sided and provide the cooling effect this item is known for.
The second layer is made of support foam used for providing airflow and softness.
The third layer is 4.5" of foam used for providing the core support and firmness of the mattress.
Layla is made without harmful chemical components and doesn't possess any off-putting odors.
The biggest drawback of Layla is probably its thickness. While the height of 10 inches was enough for my wife and me, anyone who weighs over 250 pounds won't find enough support with this mattress. This is especially true for the edges which are weaker than in most memory foam models.
The best thing about this mattress is definitely the temperature control. Having a cool mattress is essential for me, as nights are very hot here, where I live. Layla kept me chilled and fresh through the night. This is possible thanks to the thermogel cover which is also very pleasing to the touch.
Layla is the best option if you want a mattress with different firmness levels. Both sides offer a unique feeling, so it's easier to find your sweet spot. Moreover, the double-sided thermogel layers will ensure that you rest in a cool, revitalizing environment that will help your body relax through the night.
check out layla mattress on laylasleep.com
Factors We Look At
Testing the characteristics of a mattress isn't easy. There are a lot of aspects you have to consider before making a decision. While it is up to your personal preference in the end, here are the factors I think are the most important for determining the quality of such a mattress:
Price. The price of a mattress will always be one of its most important aspects. Even though some people feel inclined to always go for the highest or lowest price tag, in reality, there are a lot of high-quality midrange options available.
Layers. While most memory foam mattresses have a similar layer structure, their number and thickness can still differ greatly. As a result, the cooling properties and firmness of each mattress are unique.
Firmness. Most mattresses rank 4 to 7 out of 10 on the firmness scale since manufacturers try to develop an option that will please everyone. However, if you need a particularly plush or hard mattress, such models are available as well.
Odor. A plague that haunts a lot of memory foam mattresses is the off-gassing. Thankfully, there are more and more models appearing that manage to deal with this problem successfully.
Thickness. The height of the mattress determines the level of support you receive as well as the height of your bed.
Cooling effect. One of the biggest complaints people have about sleeping is that it can be too hot. That's why mattress manufacturers implement various temperature control solutions so that you can sleep in a cool environment.
Questions You Need to Answer Before Buying a Memory Foam Mattress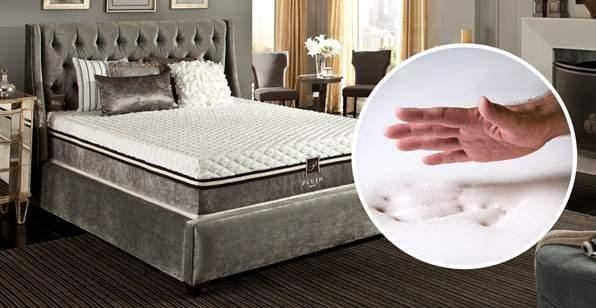 Choosing a mattress isn't all about studying its technical specifications. When searching for a top rated memory foam mattress, you also have to ask yourself the following questions:
Is it really the time to replace your current mattress?
If your mattress is 8 years old or really worn out, then you should do yourself the service of buying a new one. This is also true if your current bed is causing back pains.
What is your budget?
Allocating the right amount of money for a mattress isn't easy. In most cases, the $650-$1100 price range is the sweet spot for finding a high-quality model that offers all the benefits you need.
What is your favorite sleeping position?
The answer to this question should determine the firmness of your mattress. Thus, side sleepers should search for 4 to 6 options, stomach sleepers need a 5 to 7, and back sleepers require a 4 to 7 out of 10 on the firmness scale.
Here's the deal:
If you don't buy a mattress with the appropriate level of firmness, your bed will either be too hard or too soft, and you won't get the relaxing rest you deserve.
What is your weight and body build?
The bigger your weight, the more support you need from the mattress. It's generally recommended to not buy a memory foam model if you're over 250 lbs.
The Pros and Cons of Buying a Memory Foam Mattress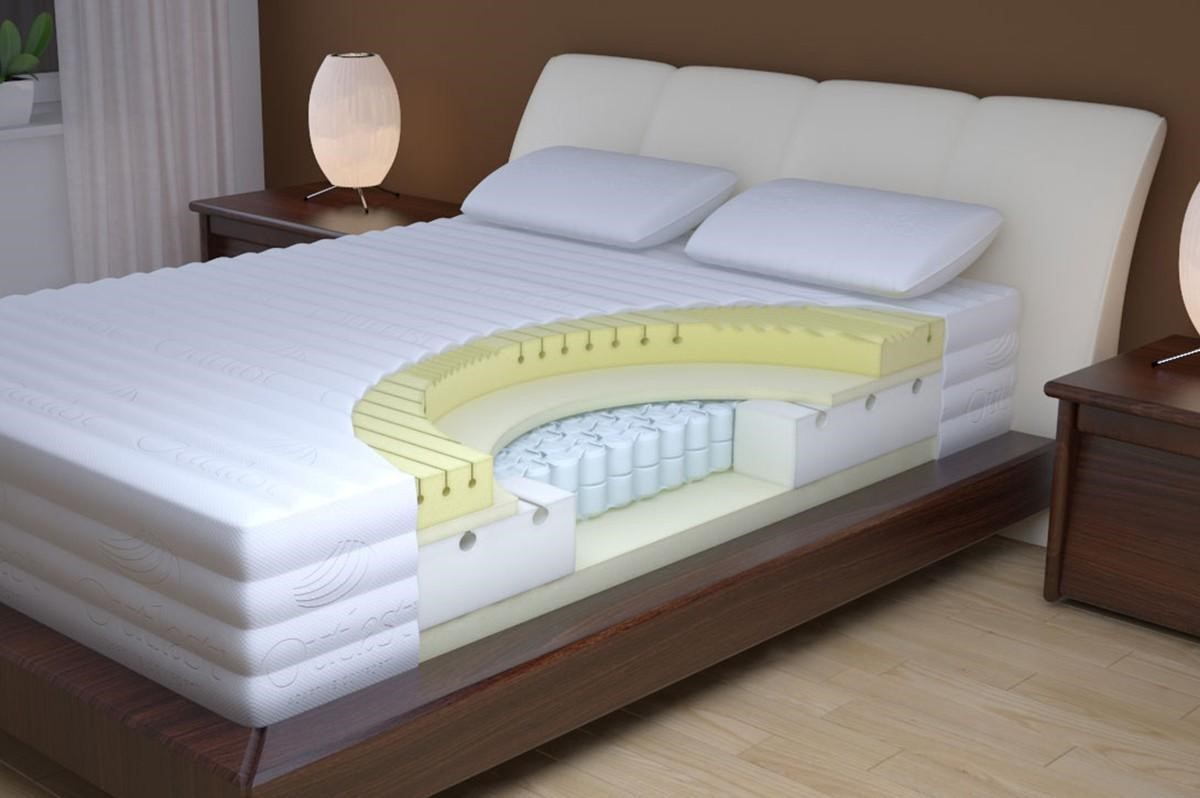 Memory foam mattresses are rising in popularity with each passing year. As with all things in life, they have their fair share of benefits as well as drawbacks.
The most notable pros include:
Motion isolation. Unlike traditional mattresses, those built with memory foam allow you to avoid disturbing your partner when you're getting out of bed or moving. That is why memory foams are usually recommended for couples.
Pressure reduction. Lying on an innerspring mattress is hard on your body. You feel sore, uncomfortable, and it can be hard to fall asleep. Memory foam, on the other hand, takes the pressure away and cradles you into sleep.
Pain Reduction. If you're suffering from back, shoulder, or neck pain, the relaxing firmness of a memory foam mattress will make your nights easier.
Durability. Since memory foam has a higher resistance to impressions, such mattresses last for far longer than innerspring models.
Now:
Memory foam isn't perfect. The advantages of this material come at a price. The most notable cons of such mattresses include:
Heat Retention. Previously, memory foams were known to get really hot in the night and make it unbearable to sleep in a warm room. And yet, a lot of brands today use special gels and foams to add a cooling effect and negate this drawback, so it's not much of a drawback anymore.
Off-gassing. Traditional memory foam is made with chemical components. Not only are they bad for the environment, they also cause the mattress to have an off-putting odor. Even though the smell usually goes away after a few days, it creates an unpleasant first impression.
Weight. Thicker memory foams are quite heavy to lift and move around. You don't need to do that often, but when you do, it's a hassle.
Different Variations of Memory Foam
When scrolling through mattress descriptions, you may come across such words as gel-infused, open-cell, and eco used with the term memory foam. They all are versions of the traditional memory foam and have little difference in how they feel at the touch. However, they differ in other properties, as their formula is altered in some way. To avoid confusion, let me describe them for you.
Open-cell memory foam
The traditional memory foam has a closed-cell structure, which is the main reason why it sleeps hot. The open-cell alternative has a slightly changed formula where the cell walls are broken. This results in lower density, higher breathability, and a softer feel. The difference is not significant but might be noticeable for some.
"It's worthy of note that manufacturers often use convoluted and punctured designs for the same reason they use the open-cell structure — to promote airflow inside the mattress."
Gel-infused memory foam
This type features tiny particles of a cooling gel evenly distributed inside a layer of memory foam. Similarly to the previous type, this improves airflow, reduces density, and gives the surface a more cushiony feel. However, the result is more noticeable here. The gel works as a phase-change material, which means it can turn from solid to liquid state thus improving thermoregulation.
Other substances, such as charcoal or aloe vera, can be infused into memory foam to keep a mattress fresher and prevent off-gassing. If you have a sensitive nose, looking for such models is a reasonable idea.
Copper-infused memory foam
Using copper in mattresses is the most recent innovation of all. This chemical element not only has high thermal conductivity but also is known to kill bacteria and prevent the growth of fungi.
But here's the thing:
Most of the research supporting these facts was conducted in the context of larger copper surfaces rather than particles of copper infused into a material.
So, the effect might be not as noticeable as you expect.
By the way, there are copper-infused pillows, sheets, socks, and even pajamas. So, if you really want to explore the benefits of this chemical element, you may want to pair your mattress with other items infused with copper.
"It's important to understand that no matter what innovations manufacturers come up with to fight the heat retention problem, they won't improve your situation if you really tend to sleep hot or if you live in a hot climate. I mean, this can work to some extent, but not as effectively as a natural latex mattress or a bed with a spring base would work."
Eco memory foam
This type of memory foam is also referred to as plant-based. And the reason why is pretty obvious. Instead of petroleum-based materials, it uses plant-based ones. The plants involved can be soy, bamboo, tea, and some others.
Remember:
It's always a combination of petrochemicals and natural ingredients. So, when buying a plant-based memory foam mattress, don't expect it to be a 100% natural option.
What you can expect is that you're making a more environmentally friendly choice. Apart from that, it's also a more breathable choice. And such mattresses typically have little to no odor, which is a benefit too.
What Else Should You Know?
Now, you may also come across such terms as polyfoam, latex foam, and latex-like foam.
These are not the variations of memory foam, but it's important to differentiate them from each other as well as from memory foam.
Don't worry, I'll be brief.
Polyfoam is a shortened version of polyurethane (PU) foam. It is less dense and less viscous compared to memory foam. It usually has slightly higher resilience and response time, so don't expect it to be as hugging as traditional memory foam.
Latex foam is actually just latex. The thing is, when layers of latex are being made, either through Dunlop or through Talalay method, the material is mixed with air to create foam. Thus, in terms of the way it is created, latex is foam too, which is why you may come across the term latex foam. But keep in mind that it has nothing to do with polyurethane foam or memory foam. Especially in terms of feel.
Now, latex-like foams are somewhere between latex and polyfoam. They are made with polyfoam but have a more resilient, springy feel, similar to that of latex. Most of the time, they are proprietary formulas, and companies don't disclose how exactly they are made. Energex™ and Avena™ are the most known examples as of now.
Also Read:
Best Soft Mattresses For Side Sleepers In 2020
The 7 Best Innerspring Mattresses For Side Sleepers On The Market
The 7 Best Hybrid Mattresses For Side Sleepers
Best Mattress Toppers For Side Sleepers
The 7 Best Mattresses For Side Sleepers With Lower Back Pain In 2020
Conclusion
Finding the perfect memory foam mattress that will offer you the ultimate relaxing sleeping experience is tough. Some models are too firm, others aren't suitable for hot sleepers, and the rest don't offer enough support.
Thankfully, each of the eight mattresses I've tried has greatly impressed me with its performance. However, there were two mattresses that stood out for me the most.
Want to know which ones?
Cool Bliss by Plushbeds and Loom & Leaf.
Both these models offered me the most comfort and were extremely efficient at revitalizing my body. I've greatly enjoyed sleeping on these mattresses, and I'm sure you will too!
Now, I'd like to listen to your opinion:
What do you think is the best memory foam mattress and why?
Leave a comment and let me know!
Product links on Happysleepyhead are referral. We get a commission on purchases made through our links at no additional cost to you. More information in my disclosures.