4 Best Night Therapy Mattresses for Your Therapeutic Sleep — Reviews and Buyer's Guide
by | Last Updated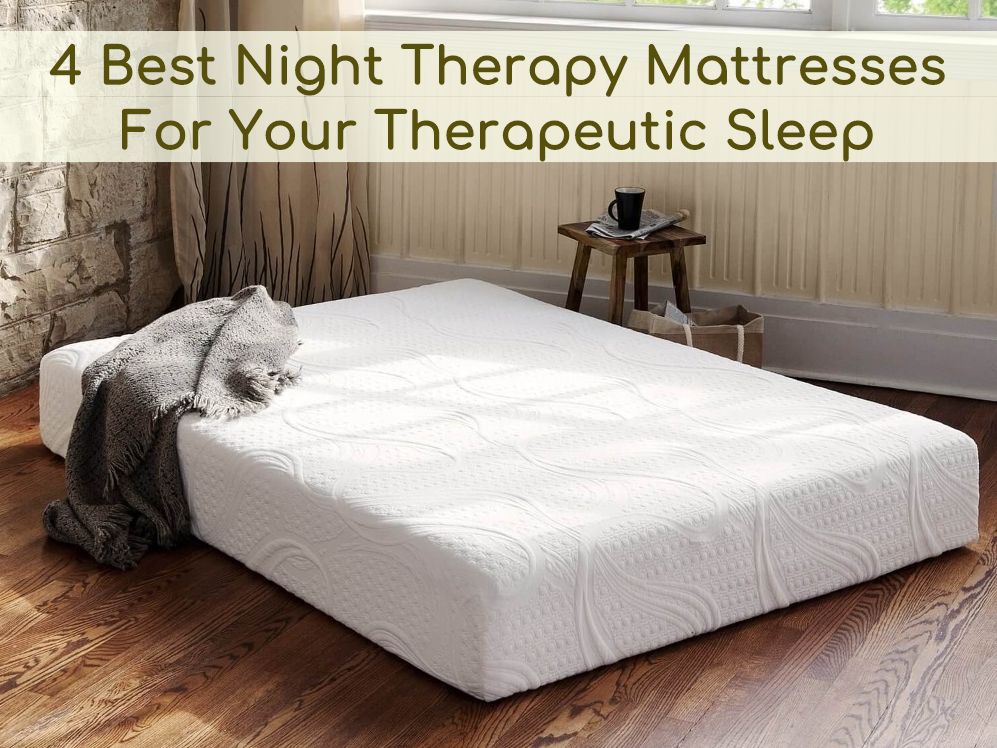 So, you need a new mattress.
But how do you choose the right one on a market that is flooded with such a wide variety of brands?
Easy! After you read this article, there's going to be one less brand unknown to you.
Today I will share my reviews of 4 best Night Therapy mattresses as well as the key things you should know about this brand, to help you find your ideal fit.
Model
Type
Layers
Thickness
Rating
Memory Foam Therapeutic Comfort Mattress
Memory foam
jacquard cover;
memory foam;
support polyfoam;
high-density foam base.
8 inches
Spring Pillow Top Mattress
Innerspring
jacquard cover quilted with microfiber;
memory foam comfort layer;
support polyfoam;
high-density foam;
pocketed springs.
10 inches
Deluxe Euro Top Box Spring Mattress
Innerspring
jacquard cover quilted with microfiber;
memory foam comfort layer;
support polyfoam;
high-density foam;
pocketed springs.
13 inches
Euro Box Top Mattress + SmartBase
Innerspring
jacquard cover quilted with microfiber;
memory foam comfort layer;
support polyfoam;
high-density foam;
pocketed spring system.
12 inches
Our Reviews of 4 Best Night Therapy Mattresses
Best Night Therapy Memory Foam Mattress
Night Therapy Memory Foam Therapeutic Comfort Mattress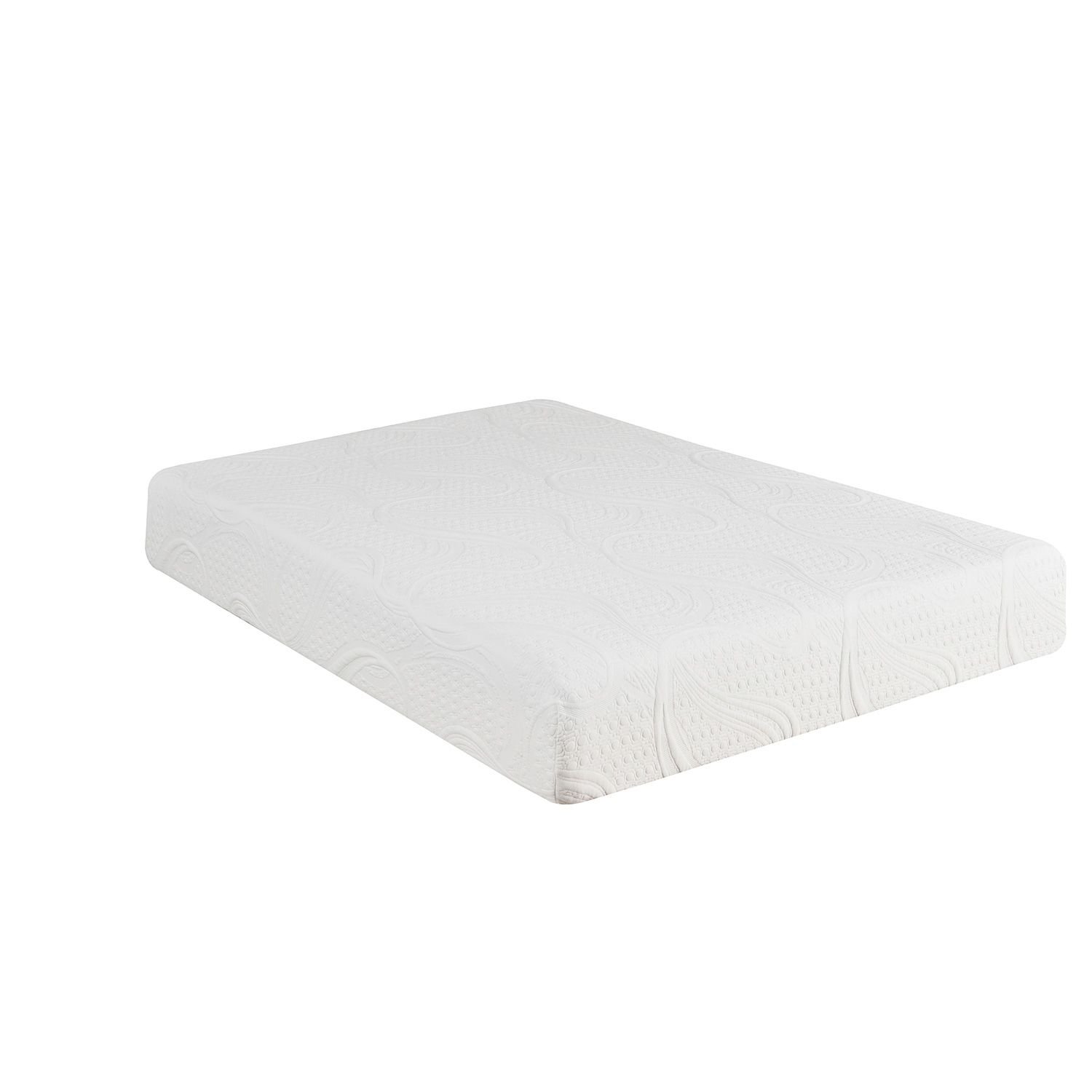 I want to start my review of the best Night Therapy mattresses with this memory foam model. Just like all mattresses of this brand, it offers good value for money, but the best thing about it is the typical memory foam feel it provides.
The top memory foam layer with a density of three pounds per cubic foot provides a decent amount of hug and conforms to all your curves very well. The middle and bottom layers ensure proper support and sturdiness to the entire construction
This Night Therapy memory foam mattress has a medium-firm feel, so it's great for average weight sleepers who love sleeping on their back and stomach. Also, it doesn't provide too much sinking, so you can freely move around the surface.
My only complaint is that this mattress may still sleep not despite the use of open-cell foam. If you live in hot climates or just tend to get hot during sleep, this might be not a good option for you. However, given such a low price, you can easily invest in a cooling topper to pair with this model.
I believe that the strongest point of this mattress is how it gently cradles you and easily adapts to your sleeping position to maintain your spine alignment and keep your muscles from straining.
I bet all fans of memory foam will love this bed for a balanced firmness level and a nice hugging feel it provides. I personally enjoyed every night sleeping on it.
Check out this mattress on amazon
Night Therapy Mattress for Back Pain Sufferers
Night Therapy Spring Pillow Top Mattress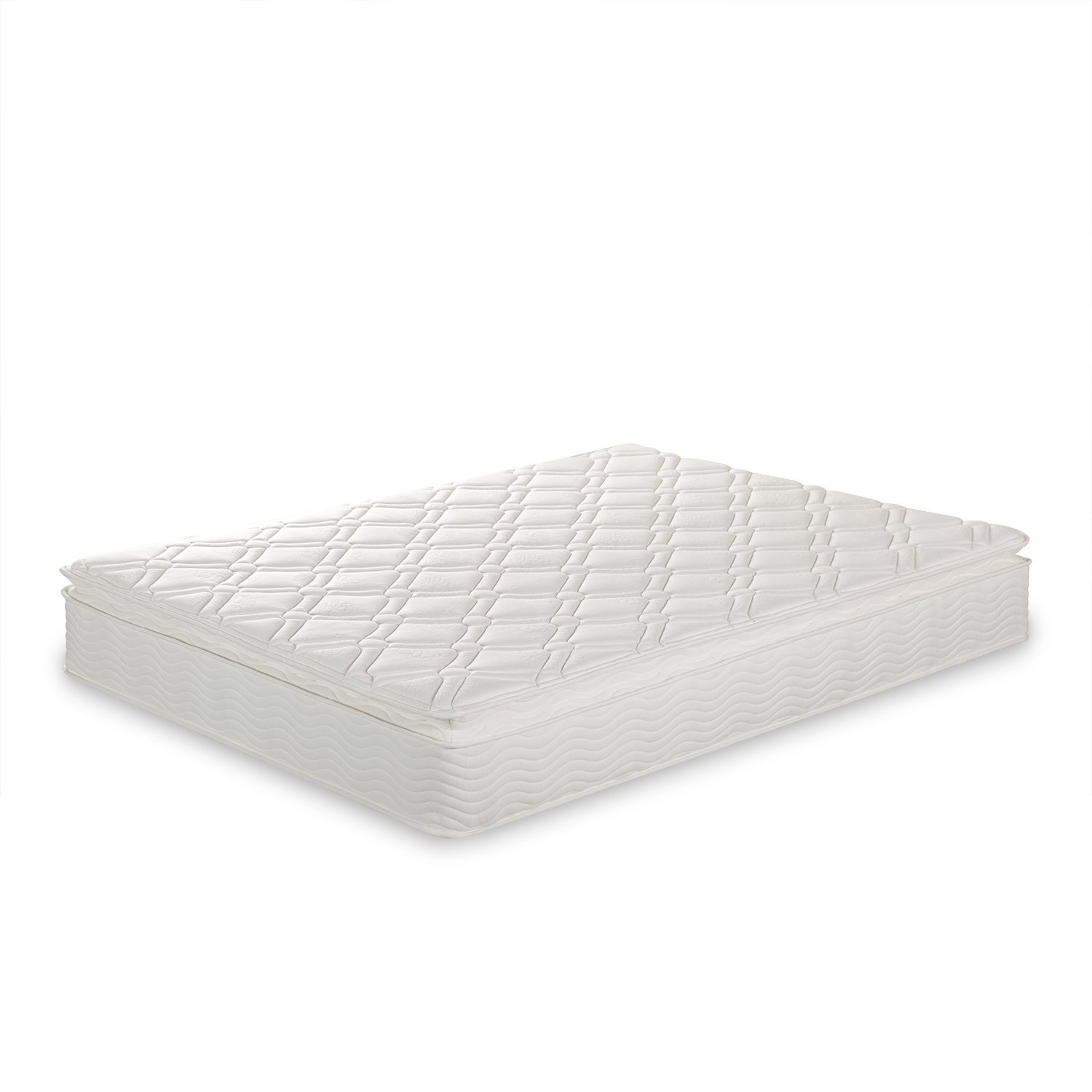 Another contestant in my selection of top-rated Night Therapy mattresses has innerspring construction. Thoughtful design and balanced support make this model ideal for those who struggle with chronic or acute back pain.
The foam top layers are cushy enough to eliminate the possibility of pressure points. At the same time, they don't feel like quicksand, which is great for people with different types of pain.
The individually wrapped coils enhance supportive properties of this Night Therapy mattress for back pain and provide good edge support, which is crucial if you share a bed with your partner. Besides, the spring block makes the whole construction more breathable. No wonder I didn't experience any heat-related issues when testing this mattress.
The downside of this bed is that the pillow top doesn't feel as cushy as expected. In fact, I noticed a slight flattening after only three nights of sleeping on it. This is something to keep in mind if you're a fan of thick, padded pillow tops.
Overall, I believe that this innerspring mattress will be an excellent choice not only for back pain sufferers but also for any person that values high-end comfort and support.
Check out this mattress on amazon
The most suitable for Heavy Sleepers
Night Therapy Deluxe Euro Box Top Spring Mattress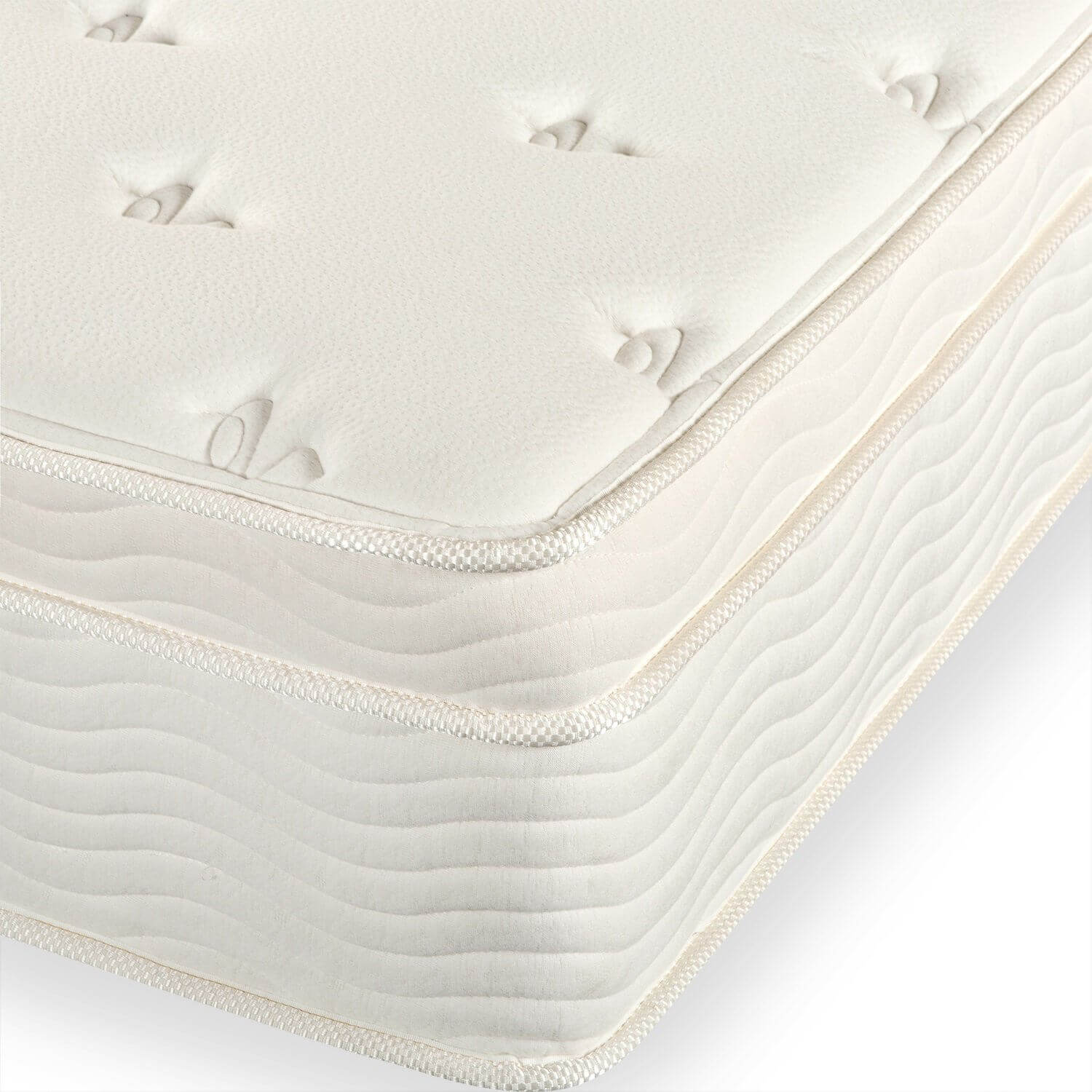 And here's another innerspring model on my list of the best Night Therapy mattresses. Given its construction, I believe that this one will be the right choice for anyone seeking enhanced support without excessive sinkage.
The base of this mattress has a pocketed spring block, with each coil responding to pressure independently. This model is the thickest in the line-up, which makes it a good fit for heavy sleepers, as the responsive design can compensate for all their problem areas and effectively support higher loads.
Now, the microfiber pillow top and upper foam layers balance out the responsiveness by adding some sinkage to relax pressure points. I should say this results in a medium-firm feel overall, which is a comfortable level for most sleepers.
My biggest dislike is that this mattress, despite its thickness and pillow top, may be still too firm for those of you who have some types of pain, such as shoulder pain. It may lack cradling for your painful areas, so you may want to consider getting a softer bed.
Overall, this bed is perfect for any large person or a heavy couple in need of uniform and long-lasting support for a reasonable price. But note that my weight is about 170 pounds and I had a good sleep on this bed too.
Check out this mattress on amazon
Great Night Therapy Innerspring Mattress
Night Therapy Spring Euro Box Top Mattress + SmartBase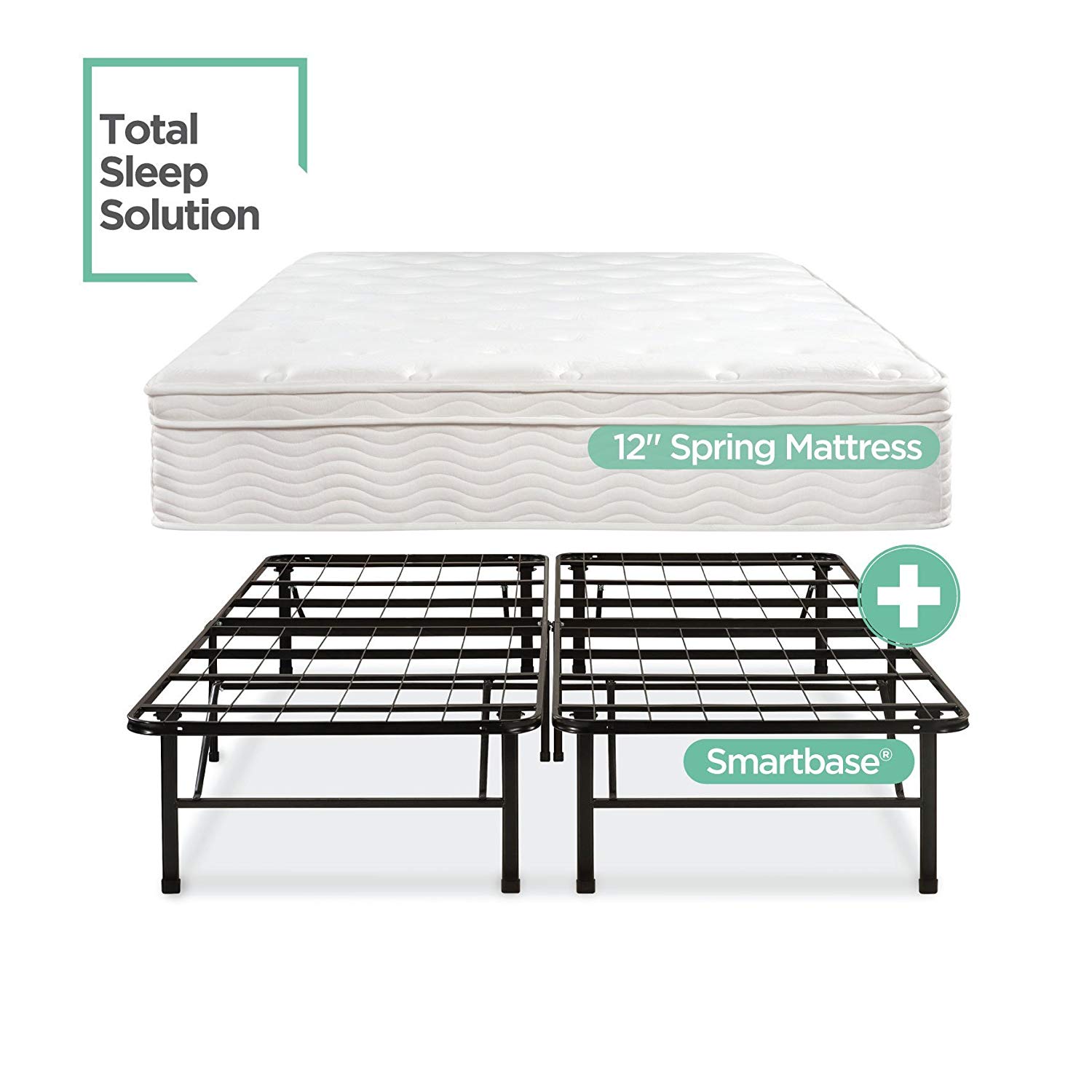 Now, I couldn't miss the opportunity to include such a nice deal. With this offer, you get one of the top-rated Night Therapy mattresses and a bed frame to put it on. This is a decent setup that can last for years and will cost you only $650 for the Queen size.
The mattress itself is very supportive and has a bouncy feel. It will make an excellent sleeping surface for back and stomach sleepers or heavy users. With some decent edge support, it's also a good choice for couples. Another cool thing about this innerspring Night Therapy mattress is that it doesn't make you hot.
Now, you get this mattress with the SmartBase frame. Besides being an additional support layer, it can serve as a storage space for boxes and large items, which is a plus if your bedroom is small.
The biggest flaw of this bed is a pretty strong factory odor. I felt a similar smell when testing other Night Therapy models, but it disappeared rather quickly. With this model, I had to wait for four days until the smell becomes bearable at the least.
What I loved the most about this mattress was its responsive feel. Despite the top foam layers, it still feels bouncy and doesn't make you feel stuck. I believe this model will be great for those who prefer floating atop the bed rather than being hugged by it.
Despite the flaws, I think you will love this model if you're a fan of traditional innerspring beds or if you want a more responsive mattress that won't drown you in its plushness.
Check out this mattress + SmartBase on amazon
Brand's History and Reputation
So, you've probably heard about Zinus mattresses.
Night Therapy is a line-up of mattresses by Zinus. When creating this brand, the company aimed to provide users with therapeutic sleeping solutions, which can be extremely important for those who suffer from different types of pain or sleep-related disorders.
The primary manufacturing location of Night Therapy mattresses is China. The brand has a full-cycle factory in Xiamen, with separate facilities for making foams and springs and laboratories for testing new products.
According to mattress reviews on the Web, Zinus is one of the most reliable brands on the market. One of their strongest points is that they offer beds with great value for money, and each mattress in Night Therapy line-up follows this tradition.
Types of Mattresses Available in Night Therapy Line-Up
Now, let's talk about the mattress types that users can choose from.
Night Therapy offers memory foam mattresses and pillow-top innersprings. Let's see what you can expect from each type.
Foam Mattresses
Foam Night Therapy mattresses are made of foams of different density and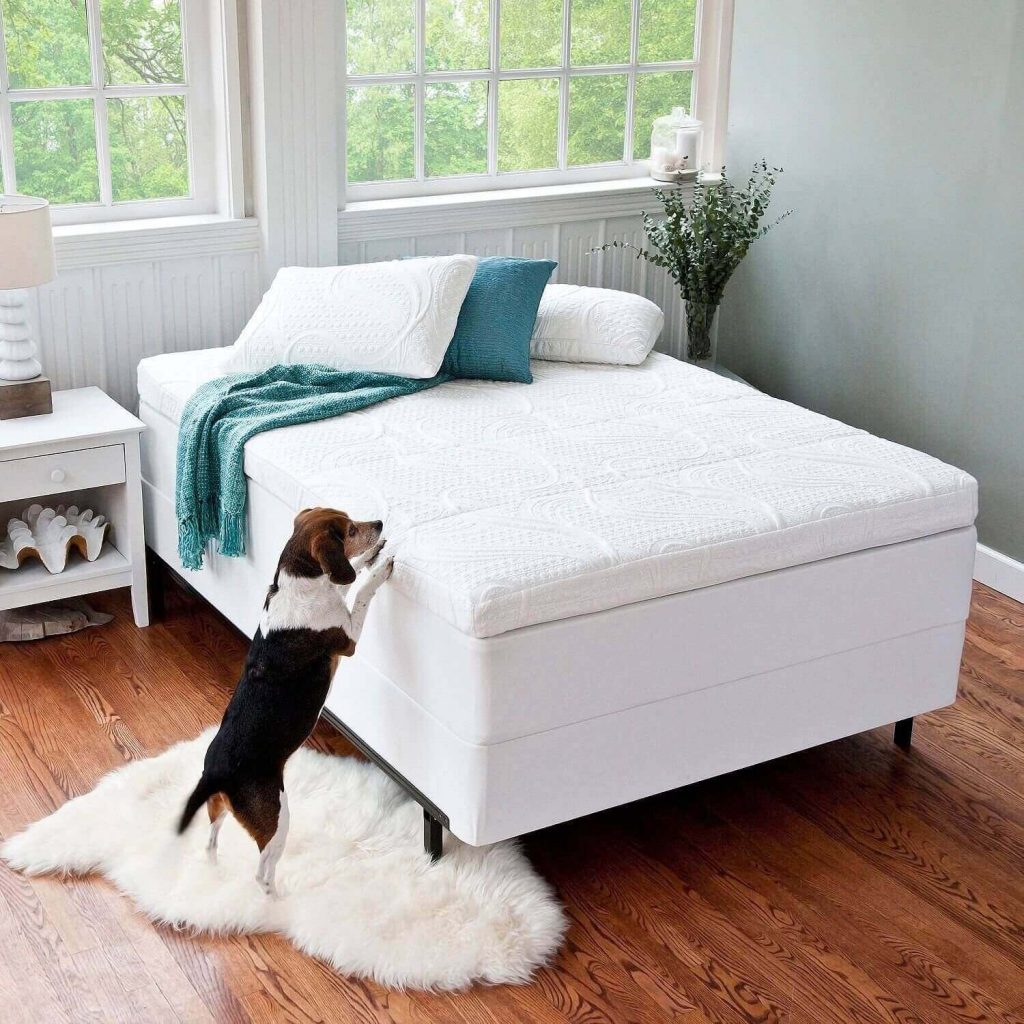 structure. This material is very popular on the market due to several advantages:
excellent cradling properties;

pressure relief;

good motion absorption;

ability to adjust to body curves and protruding parts.
Night Therapy foam beds often use foams infused with charcoal or green tea extract for better odor resistance and antimicrobial properties.
Innerspring Mattresses
An innerspring mattress combines a spring block base with several foam comfort layers or a pillow top. Their highlights are:
bouncy feel and responsiveness;

breathability and good cooling properties;

targeted pressure relief;

proper edge support.
Innerspring beds are a preferable choice for those who love sleeping on their back and stomach as well as for heavy sleepers who seek enhanced support and resistance to sagging.
What Materials Does the Brand Use in Manufacturing?
Now, here are a few words about the brand's signature materials that help the manufacturer achieve its primary goal — which is to assure healthy, rejuvenating sleep:
Jacquard cover.

The Night Therapy mattress cover is made from breathable and hypoallergenic polyester blends.

Microfiber pillow tops

. Microfiber fabric wicks away moisture from your body. Moreover, it has anti-static properties and provides additional padding to help you relax during sleep.

Foams.

The density of Night Therapy foams varies from 2 to 5 pounds per cubic foot. Thus, the combination of foams with different densities results in a mattress with a medium feel and balanced support.

Springs

. iCoil individually wrapped spring system offers users pinpoint support in all areas and evenly distributes the body weight.
When choosing a mattress, refer to your usual sleeping position. Side sleepers find softer mattresses to be the most comfortable, while back and stomach sleepers, as well as heavier people, may prefer spring beds with a firmer feel.
Night Therapy Mattress' Pros and Cons Explained
Now, I've read and analyzed hundreds of Night Therapy mattress reviews to see what people love and complain about referring to this company's products. Having combined them with my own observations, I've listed the main advantages you should know about: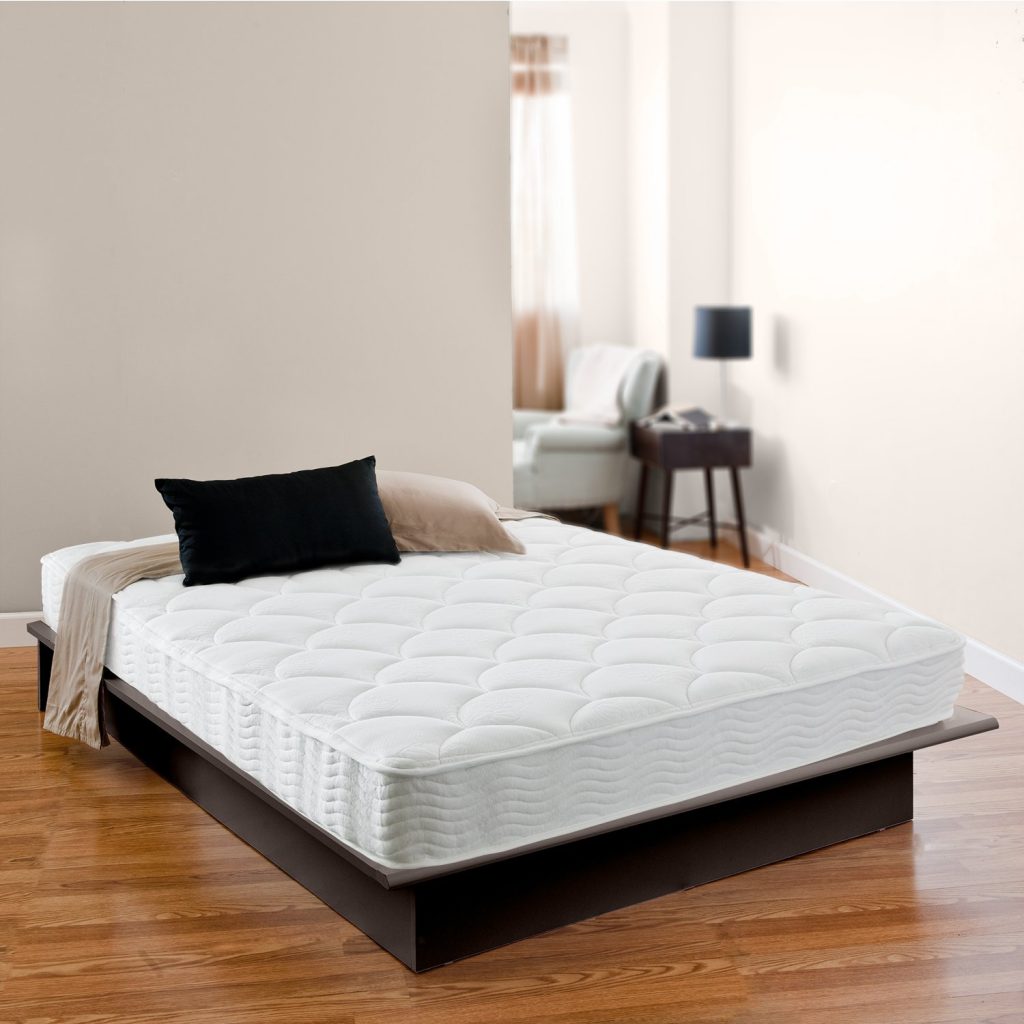 Great value for money.

A high-end Night Therapy mattress with excellent materials will cost you around $800, while the entry-level model of many well-known brands may cost around $1,000-1,200.

Support and comfort

. This brand's mattresses are constructed to provide targeted support and pressure relief in different sleeping positions and adapt to your body curves. I should say they perform much better in this regard than I expected, especially given the low price tags.

Motion control.

Both foam and innerspring mattresses of this brand are great for couples or people with pets. They offer a balance between the pressure response and cushioning.

Breathability

. All mattresses I've tested sleep rather cool, compared to their competitors in a similar price category. Thanks to the construction, particularly spring blocks and open-cell foams, there's an enhanced airflow between your body and the mattress, as well as inside the layers.

Certification

. Night Therapy mattresses use CertiPUR-US approved materials, which means they meet certain standards for VOC emissions, content, and durability. Thus, you can be sure that the mattress won't cause you any harm in the long run.

Good warranty and sleep trial

. The company gives you a 100-night trial to find out if the mattress is right for you. In case of any defects, your buyer's choice is protected for ten years since the day of purchase.
But Night Therapy mattresses obviously aren't perfect, and they do have some drawbacks I'd like to mention:
Potential off-gassing

. Although the brand uses certified foams, that doesn't mean they're crystal clear. Foam is made as a mixture of chemicals, which almost always results in a specific odor. With Night Therapy, you can expect the sharp smell for the first 4-5 days. It's not likely for off-gassing to linger on any longer.

Slow unfolding time

. Night Therapy mattresses come in a vacuum sealed box, and you need to give them some time to fully expand. Although the company claims 48 hours would be enough, the mattresses I was testing had spent about 4 days lying flat until they reached the expected thickness.
Some users reported that their Night Therapy mattress felt firmer than expected. If you happen to face this issue too, remember that you can return your mattress within the first 100 days since purchase.
Whom Do Night Therapy Mattresses Suit the Most?
With all the information provided above, one can highlight a few types of sleepers for whom these mattresses will work best. They are:
The ones who have allergies or skin sensitivity

. The brand uses certified and hypoallergenic materials that won't lead to hypersensitivity, breathing problems, and other allergic reactions.

The ones recovering from surgery or suffering from different types of pain

. The ability to support your body and adapt to your sleep position is the strong point of Night Therapy mattresses.

The ones who tend to sleep hot.

The open-cell structure of foams and use of springs offer better breathability than many of the competitors in the same price range.

The ones on a budget

. Thanks to the China-based production facilities and a number of other factors, the company is able to offer products of decent quality at very reasonable prices.
Also Read:
Best Mattresses For Side Sleepers – Buyer's Guide And Top Picks
Best Mattresses For Stomach Sleepers – Buyer's Guide And Our Picks
Conclusion
So, now you know about one more reliable mattress brand.
I honestly believe each of the reviewed models is worth to become your next bed.
My personal favorite among them is the Night Therapy Spring Pillow Top Mattress. Its supportive and pain relieving properties make it a good fit for most sleepers, from office workers to people recovering from surgery or illness. So, I really recommend it to everyone.
However, if you're not a fan of innerspring construction, you may love the Night Therapy Memory Foam Therapeutic Comfort Mattress. As the name implies, the thoughtful design of this mattress will offer you a perfect amount of cradling and even support to keep your spine aligned during the night and provide a therapeutic effect on your body.
So, what are the main things you're expecting from a mattress? Does any model from this list meet your demands? You're welcome to share your opinion with us!
Product links on Happysleepyhead are referral. We get a commission on purchases made through our links at no additional cost to you. More information in my disclosures.