Purple vs. Tuft and Needle Mattress Review
by | Last Updated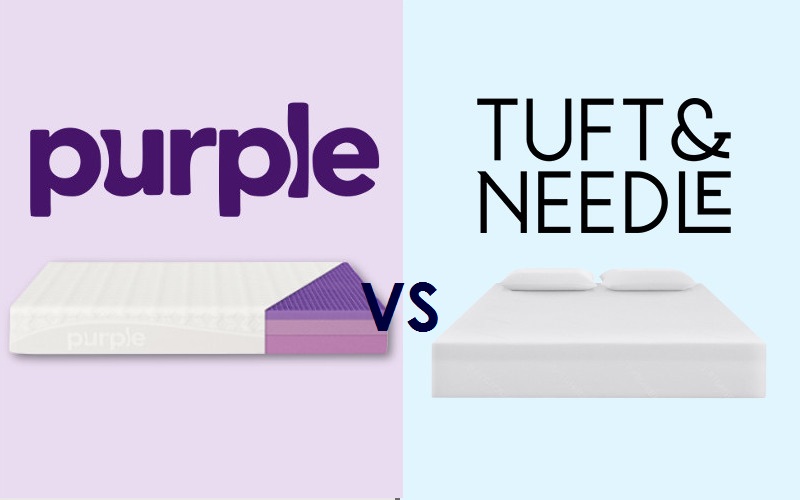 I'm sure you won't fight me on this one: shopping for a new mattress is hard. It's exhausting to study and compare all of the options on the market, read endless lists of specifications, and scroll through thousands of reviews.
Well, don't give up just yet. There are companies that call their mattresses "exceptional", so maybe one of them can become the best mattress of your life and help you get back on track with your sleeping schedule.
In today's review, we will take a close look at two popular mattresses, Purple vs. Tuft and Needle. Let's be extra meticulous and find out, which one can make you sleep like you're in a cradle.
"Sleep is probably the coolest way of meditation."
I think we can all agree that construction is what matters the most when it comes to picking a new mattress. And there are so many things that can go wrong! Just imagine:
You get a very supportive mattress that makes your spine perfectly aligned, but it appears to be made with chemicals, causing allergic reactions and being a threat to your health. Or you find a 100% organic
mattress that costs a few thousand dollars, but it turns out to be super uncomfortable. That's why we should be very serious in this part of the review.
Since we're talking about Purple vs. Tuft and Needle, let's take a look at what they're made of.
Purple claims that there's actual science behind their product. I don't know how many real scientists worked on this mattress, but the results are rather surprising :
The base layer of the Purple mattress is 4" thick. It's a poly-foam layer that provides support for your body. There's really nothing special about it, so you've probably already guessed that it wasn't the base layer that surprised me.
The comfort layer plays a transition role and allows your body to not feel the extra firmness of the bottom layer. It's also made of polyurethane foam.
The top layer . It's made of hyper-elastic polymer and has a grid-style design (and it's actually purple!). It's stretchy, bouncy, and feels different. It didn't remind me of any standard mattress type I've tried before because it has a unique feel. The top layer was designed for pressure relief and cooling, which, in my experience, work pretty well.
Ready for your new mattress? Click here to get Purple now!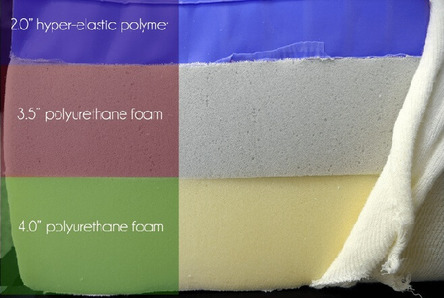 As for Tuft and Needle , this company is a bit more humble and offers a mattress for all the minimalists out there:
The base layer is made of high-density poly-foam and is quite firm and supportive. It was designed to be durable and support the body properly.
The top layer is made of high-density adaptive foam, which is proprietary Tuft and Needle foam. It hides a couple of unusual components in it, such as graphite and gel, which are added for a cooling effect. This combination is supposed to draw the heat away from your body and disperse it. As my experience has shown, this mattress does help you sleep cool, but the effect is not that impressive, to be honest. Of course, you won't feel like you're sleeping in a room with the AC working.
Feel like this is a good option for you? Order your Tuft and Needle here!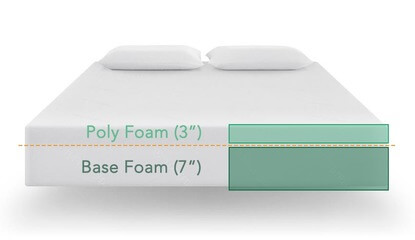 "There's always time for sleep."
This part of my Purple vs. Tuft and Needle review is all about the cover. You may think that it's like the wrapping on a candy, but the truth is, it's much more important. Depending on what your mattress cover is made of, you sleep either hot or cool, either have or don't have allergic reactions, like a rash all over your body from contacting a cover made of harmful materials.
So, let's start with Purple . If you're thinking that its cover is actually purple, I have to disappoint you: it's snow-white. It's made of breathable fabrics, including polyester, viscose, and poly-lycra. It's soft to the touch and didn't cause any rash on my body.
As for Tuft and Needle , their cover is also white, breathable, and soft. It's made of nylon and polyester and has an OEKO-TEX certification, which proves that it doesn't hide any harmful materials in it. So, if you're prone to allergies, you won't have any troubles with this mattress.
I recommend getting a mattress protector for each of these mattresses, especially if you enjoy a good book and a nice cup of tea in your bed from time to time.
Check out our in-depth review of Purple mattress.
Firmness and How It Feels
As you've probably guessed, this part of my Tuft and Needle vs. Purple comparison is going to be about firmness of each mattress. Now, I personally take mattress's firmness ratings very seriously as it's what influences the condition of my back and the quality of my sleep. So, let's dive right into.
Purple, being an unusual mattress, has an unusual feel. It's bouncy and almost squishy. In terms of firmness, it's somewhere around 7 on a scale from 1 to 10, but it feels more like 6 or even 5 because of the top layer's unique feel. It provides a decent level of support and a great level of pressure relief, but it might be too soft and not supportive enough for heavier sleepers.
Contestant number two, Tuft and Needle, is also 7 on a scale from 1 to 10, but it feels firmer than Purple. Despite being an all-foam mattress, it doesn't envelop around your body, making you feel like you're stuck. But it might not be suitable for heavier sleepers as memory foam doesn't support all body types equally well.


This part of my Purple vs. Tuft and Needle review might interest people who have to deal with back issues . The levels of support each mattress provides can impact our well-being directly, so let's pay attention to them.
"Some people say that to get the best sleep you need to work hard all day and get very tired. In reality, all you need for the best sleep is a good mattress and no coffee in evenings."
Purple , as they claim, provides a combination of support and pressure relief. I found this to be true. However, because of its soft top layer, the mattress won't be able to support heavier sleepers properly and they might even find it to be too soft.
As for T&N, being a rather firm model, this mattress does provide a good level of support. It distributes the body weight evenly, which means you won't feel any pain in your pressure points. One thing to keep in mind though:
As an all-foam mattress, Tuft and Needle won't be enough for overly heavy sleepers. And because it has only two layers, you might feel more of the firm base layer than you want.
Check out our in-depth review of Tuft and Needle mattress here.
Have you ever found yourself waking up in the middle of the night because of your partner's tossing and turning, not being able to fall asleep after that? If your answer is " Yes ", this part of my Tuft and Needle vs. Purple review is for you .
In terms of motion isolation, T&N shows better results. Sleeping on Purple, you might get disturbed a little by your partner, but on Tuft and Needle, you won't be awakened that easily.
Note:
The motion isolation levels of both of these mattresses will depend on your and your partner's weight .
"Koalas sleep 22 hours a day. And they don't even have beds!"
Since we're talking about memory foam mattresses, it's obvious that the levels of sinkage will depend on the weight you put on each of them. Tuft and Needle , being a bit firmer than Purple, will allow less sinkage (if you're an average sleeper). With Purple , you'll experience just a couple of inches sinkage level. So, if you're not overly heavy and prefer a bouncy mattress, these two will work for you.
Don't like to be enveloped by your mattress? Click here to order Purple, and here to get your T&N!
This part of my Purple vs. Tuft and Needle comparison is for people who are concerned about the materials of each mattress. When you receive your mattress, unpack it, and feel a strange smell , that doesn't mean anything good.
But with both Purple and T&N , you don't need to worry. They didn't smell like something chemical when I opened the boxes. Both just had a slight odor of a new mattress, which disappeared within a day or two.
Delivery terms and a shipping process can be a real nightmare , which is why I want to dedicate a whole section of my Purple vs. Tuft and Needle review to this matter.
Purple ships for free to 48 states. You can also order a mattress from them if you live in Hawaii, Alaska, or Canada, but the delivery costs will depend on the final destination.
As for Tuft and Needle , they ship for free to 48 states, plus Canada (except Quebec), Hawaii, and Alaska. If you live in Rhode Island, California, or Connecticut, you'll have to pay a recycling fee according to the states' law.
The returns are rather easy and worry-free with these two companies. Both Purple and T&N will find a local donation center and arrange for them to come by your place and pick your mattress up, after which you will receive a full refund .
When it comes to the warranty and a trial period, both Purple and Tuft and Needle offer the same conditions: a 100-night trial and a 10-year limited warranty . These are pretty standard numbers for the majority of mattress manufacturers. Some of them might offer a 15-year warranty or even a 20-year one. But honestly, who's going to use a mattress for 20 years?
Which One Is Good for You?
I hope my Purple vs. Tuft and Needle review will help you make the wisest choice . So, to make sure you know which mattress to order, let's see which one will be a great option for you.
You will love Purple if you:
Tuft and Needle mattress is a great option for people who:
Click here to find out more and how to order YOUR Purple Mattress and here for Tuft and Needle.
So, here's what we've got:
Despite being very different, Purple and T&N are both decent mattresses.
They are comfortable and suitable for an average sleeper, they provide decent levels of support , and they sleep cool . In terms of the overall comfort, they both rate about 4.5 stars but might feel differently. Purple is a unique mattress, so I recommend it for people who aren't afraid to experiment . T&N , on the other hand, is a more humble model, so it will be perfect for people who don't want luxury and appreciate simplicity .
Are you ready to experiment with Purple, or do you prefer traditional mattresses like T&N? Let us know in the comments.
Product links on Happysleepyhead are referral. We get a commission on purchases made through our links at no additional cost to you. More information in my disclosures.