Tuft & Needles Mattress Review
by | Last Updated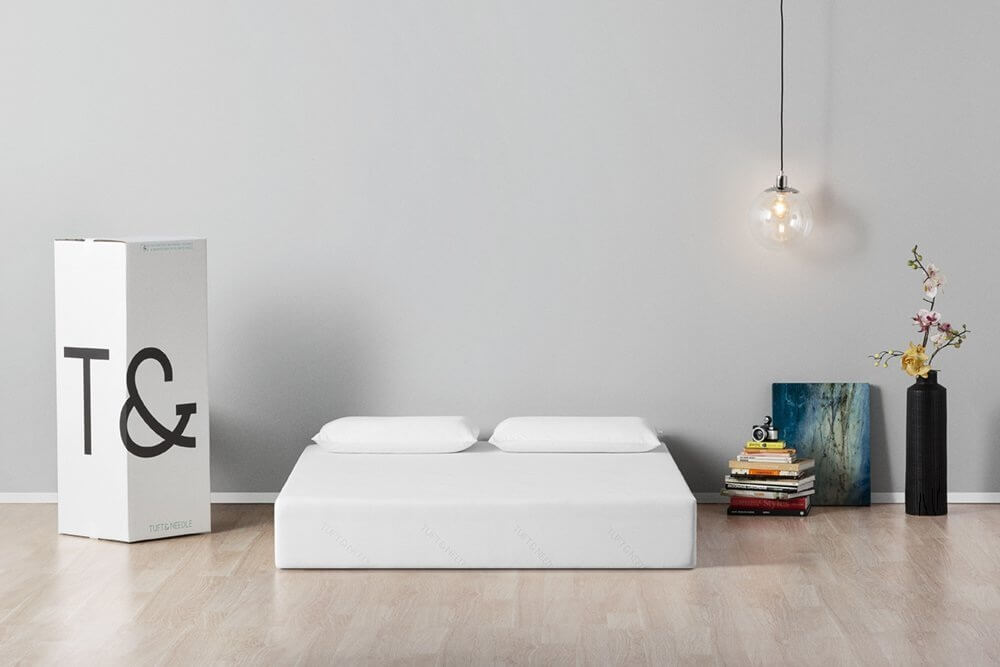 If you're tired of reading review after review that fail to answer your questions, then read this Review of the Tuft & Needles Mattress and get the answers you deserve!
People are typically in the market for a new mattress for one of two reasons:
Either their mattress is old and worn out; they roll into the middle OR
They hate getting out of bed because they feel achy, tired, unrested OR
Both…
Do either of these sounds like you? If you answered "yes", then you have come to the right place to read up on one of the most exceptional mattresses available online – The Tuft & Needles Mattress.
Your sleep is important and a mattress is an investment – You want to buy the right one…RIGHT?
Then I think you will agree with me that getting a new mattress that is "just right" for you can have a great impact on your physical and mental well-being!
SO, BEFORE YOU BUY…
…be sure to read this complete Review of The Tuft & Needles Mattress!
Inside, is a complete review, including the great qualities, the good qualities, and the poor qualities. This information provides a good foundation (no pun intended) to help you decide if the Tuft & Needles Mattress is for you.
If you are planning on purchasing a new mattress soon, then get all performance details, and ratings on the Tuft & Needles Mattress Review.Decide for yourself!
The National Sleep Foundation studies find that:
50 to 70 million Americans are affected by chronic sleep disorders
and intermittent sleep problems that can significantly diminish health,
alertness and safety. Untreated sleep disorders have been linked to
hypertension, heart disease, stroke,depression, diabetes and
other chronic disease…
…Sleep problems can take many forms and can involve too little sleep,
too much sleep or inadequate quality of sleep.(NSF)
Having the right mattress that helps you fall into a restorative slumber is vital to your health. Following is a deconstructed analysis and review of the Tuft & Needles Mattress, with valuable information to help you make an informed decision.
How it's made: The Tuft & Needles Mattress is designed with proprietary foam, a mix of the best latex and memory foams. This combination, T&N Adaptive Foam, recovers quickly, providing a dense mattress for the ultimate comfort and support.
WICKING
A combination of gel and graphite is used to disperse your body heat into the mattress and away from your body
BREATHABLE
The engineered materials allow air to flow through the foam cells, speeding up the heat transfer process
NO MORE "MELTING" INTO THE MATTRESS
The fairly high support layers keep me closer to the surface with little sinkage and cool, comfortable support.
My mattress no longer "smothers" me. Waking up refreshed and restored, ready for my dive classes is important to me. No more leg cramps, no more sore back, and plenty of smiles to go around!
According to some other customer reviews of the Tuft & Needles Mattress:
Less than 5% of owners reported significant heat retention affecting their quantity or quality of sleep, whereas, an additional 10% of owners reported that although the mattress sleeps a little warm it had little to no effect on either the quality or quantity of sleep.
The Tuft & Needle mattress has an overall 79% owner satisfaction, higher than the average of all other mattresses at 73% . Women tend to be less satisfied more often than men. The basic reason appears to be that women under 130 lbs. don't weigh enough for the mattress to properly conform and support their bodies.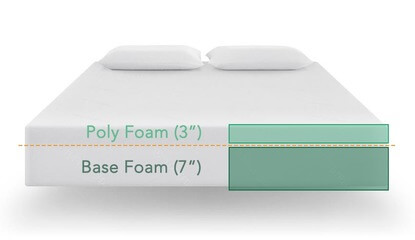 The breathable, polyester and nylon blend woven cover on the T&N Mattress is designed to allow maximum air flow through the foam cells, thereby boosting the rate of heat dispersement through the mattress. It's plush, soft feel is very attractive and inviting.
Everyone experiences a mattress differently.
What I found was that the Tuft & Needles mattress tends to conform and mold effectively to one's body, resulting in above-average distributed support and pressure-point relief.
Given its firmness ( I rated it 7.5-8.0/10) , it does not "smother" the sleeper; this mattress tends to sleep fairly high, and may require a loftier pillow for optimal comfort. The Tuft & Needles mattress has limited bounce, which is ideal for me, but some couples may find less than accommodating.
If you like super-firm support, this mattress was designed with you in mind! However, if you prefer more bounce or box springs, you may not find this mattress suitable for your needs.
Tuft & Needles Mattress provides the same quality and firmness in all their mattresses, regardless of size. You get Free Shipping, and a No-Hassle, Full Money Back guarantee during your 100 day trial period! Tuft & Needles makes it easy – there really is no reason NOT to try it!
NOTICE TO BUYER: If you purchase your mattress through Amazon, you only get a 30-day trial and the bed must be returned to Amazon (vs. being donated to a local charity). Hold on to your packing materials.
The Tuft & Needles mattress does a good job of minimizing movement and preventing you from disturbing another person in the bed.
Although on the upper end of the scale in firmness, the T&N mattress conforms and molds quite effectively to one's body, providing above-average distributed support and pressure-point relief.
Durability / longevity
NOTE: Support may deteriorate with age and use especially for large people and couples. A small number of T&N owners, approx. 9%, reported sagging and/or support loss after a few years. The Tuft & Needles lifespan is estimated to be fair – about 6 years with regular use.
Tuft & Needles Mattresses performs well on almost any platform, including:
Box springs
Slatted frames (4" apart)
Platform Frames
Bunky Board
Non-Adjustable Frame
Adjustable Frame …even the floor!
Invest in a quality frame – this can extend the life of your mattress.
NOTE: An improper support system may void your 10-year warranty.
I tend not to move or turn much in my sleep, so motion transfer is not an issue for me. But when I do turn over, I fall right back to sleep. I find that I am comfortable on my back, sides, or on my stomach. I try not to sleep too close to the edge as it does not offer good support. I learned this the hard way!
Couples will find the minimal motion transfer level and constant support to be 2 of the best features.
As part of my Review of the Tuft & Needles Mattress, I conducted a sinkage test and sharing the results. I am 5'11" and weigh 165 lbs. Your height and weight will affect your results.
Laying on my back: 1.0"
Laying on my side (hips): 1.5"
Laying on my side (shoulder): 1.5"
Laying on my stomach: 1.0"
Sitting on the edge: 2.5-3.0"
Standing in the middle: 2.5-3.0"
If you are a lightweight, you may experience very little or no sinkage; if you weigh in on the heavy side, you may experience a fair amount of sinkage.
Once my mattress fully "inflated", there appeared to be a slight odor that disappeared or became unnoticeable after a few days. However, a small percentage of owners (4%) report some long-lasting off gassing odor. Your experience will differ based on your sensitivity to odors. On average, most owners reported a 2 week break-in period.
Now here's the downside!
Unlike other mattress companies, Tuft & Needles does not offer any financing at this time. However, they do accept all the major credit cards: Visa, MasterCard, Discover, and American Express.
Also, they do not offer White Glove (set up) services. You will need to arrange for help if you can't handle the weight (50-94#).
The absolute best feature is …
…the consistent firmness throughout the mattress. No matter how you toss or turn, what little sinkage there is, it is uniform. You don't get the feeling that you're "falling into" the mattress in certain areas or land in any "hot spots".
The one thing I don't like about these mattresses…
…Some T&N owners have reported that within a few months the top layer loses its firmness, resilience and shape. This seems to be more common with couples and larger people. So far, I have not noticed any signs of loss of integrity.
The T&N motto says it all: "We charge what we need, not what we can.®"
Choose from six sizes!
TWIN
TWIN XL
Mattress Dimensions: 75"L X 39"W X 10"H
Shipping Box Size: 16"L X 16"W X 44"H
Approx. Shipping Weight: 50 Lbs.
Mattress Dimensions: 80"L X 39"W X 10"H
Shipping Box Size: 16"L X 16"W X 44"H
Approx. Shipping Weight: 52Lbs.
FULL
QUEEN
Mattress Dimensions: 75"L X 54"W X 10"H
Shipping Box Size: 16"L X 16"W X 44"H
Approx. Shipping Weight: 63 Lbs.
Mattress Dimensions: 80"L X 60"W X 10"H
Shipping Box Size: 19"L X 19"W X 44"H
Approx Shipping Weight: 72 Lbs.
KING
CAL KING
Mattress Dimensions: 80"L X 76"W X 10"H
Shipping Box Size: 19"L X 19"W X 44"H
Approx Shipping Weight: 94 Lbs
Mattress Dimensions: 84"L X 72"W X 10"H
Shipping Box Size: 19"L X 19"W X 44"H
Approx Shipping Weight: 94 Lbs.
check the price on amazon
Free Shipping AND 100 days to try it out!
Remember: If you buy through Amazon, you only have 30 days and MUST return the mattress to them.
Contributions
Tuft & Needles prides themselves on manufacturing their mattress in the USA. This supports local economies while providing more control over their product development and quality.
Returns = Donations
T&N are experts at finding donation locations. They work together to donate every returned mattress to a local charity or nonprofit organization.
Community Support
Tufts & Needles also provide new mattresses to local charitable organizations such as schools and homeless shelters.
One of the best aspects of the Tuft & Needles mattress is its warranty – 10 years non-prorated.
The Tuft & Needles mattress is recommended for you if:
You are average weight and height
Enjoy a mattress that allows you to sleep on top of it with minimal sinkage
Want peaceful, restorative sleep
Want to try it before you keep it
Sleep with someone who tosses & turns/you toss & turn
Enjoy receiving the best value for your money
Want a non-prorated 10 Year warranty
But not if:
You are above average in weight – may experience too much sinkage
You are a petite, lightweight – the mattress may be too firm possibly requiring an additional topper
You are super-sensitive to even the slightest odors
Live in an upper story apartment with no elevator
You enjoy having a mattress that swaddles you
Like flipping your mattress for more even wear; you can only turn the T&N (head to foot)
Here are some additional Pros & Cons for consideration:
What's your sleep worth?
Try it out for 30 days AND start getting the quality of sleep you deserve! If you are not 100% satisfied, Amazon (or Tufts & Needles) will cheerfully refund your money with no hassle! So, go ahead!
Firmness

Off-Gassing

Sinkage

Comfort

Warranty

Return Policy

Customer Service

Ease to set up

Pricing
Summary
Here is a Quick Summary of my Tuft & Needles Mattress review
After having slept on the Tuft & Needles mattress for 30 days, it has become evident that I made the right choice in choosing the best mattress for me.
In addition to being "just right" firmness, I enjoy the luxurious feel of the cover and the support is exactly what I had been looking for in a mattress. For my budget, the price point is excellent. Overall, it's perfect for me!
Are you close to making a decision on this mattress? Tell us what you think about T&N in the comment section.
Product links on Happysleepyhead are referral. We get a commission on purchases made through our links at no additional cost to you. More information in my disclosures.