My Pillow In-Depth Review
by | Last Updated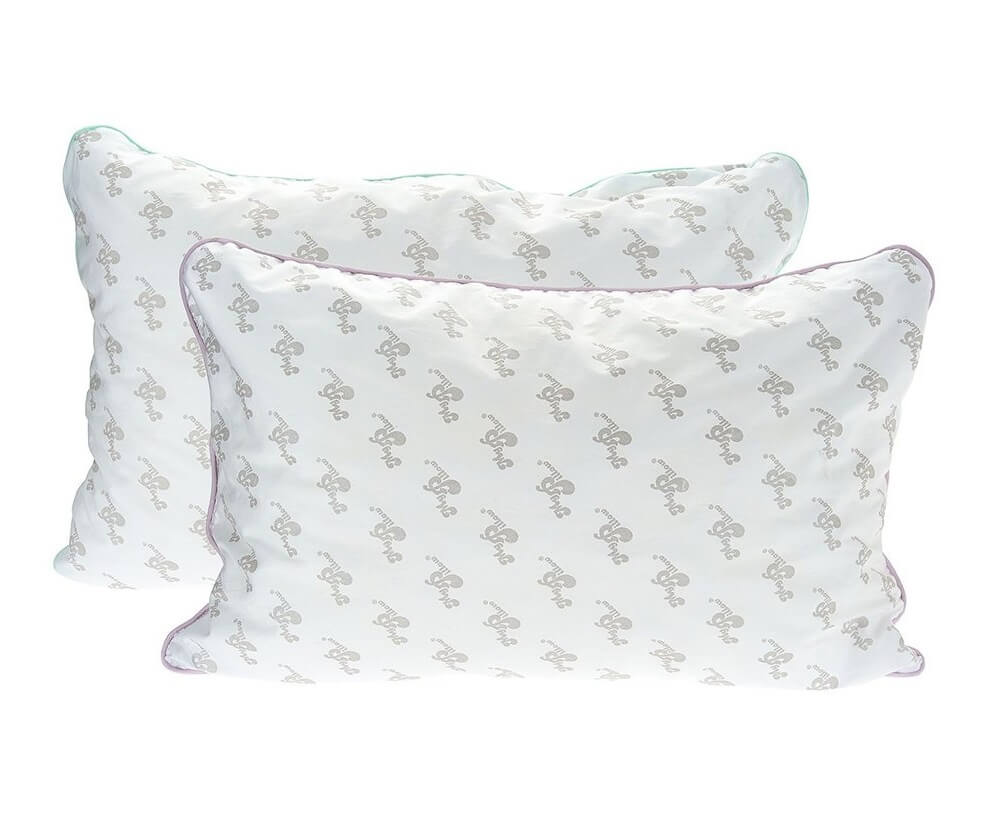 There's no denying that we all love to sleep. Indeed, what can be better than resting your head on a heavenly comfortable pillow after a long and exhausting day?
But where can you get that incredible pillow, which will be able to support your neck, head, and spine properly without making you feel uncomfortable?
It looks like My Pillow manufacturer aims to give you the best sleep of your life. Or do they simply want to sell as many pillows as possible? In today's My Pillow review, we are going to find out whether it's the best pillow you could find on the market or just an overhyped, masterfully advertised product.
To estimate how good a pillow is, we need to take a close look at what it's made of. So, let's start this My Pillow review with its construction.
"The overwhelming majority of pillows today are soft; but during the old times, people used to sleep on wooden and even stone pillows!"
To say that My Pillow is very popular is to understate greatly. You see advertisements everywhere, the company receives new awards again and again, and even some of your friends may have already bought it. If you're on this page, that can mean one thing:
You need a new pillow and you've heard about My Pillow somewhere.
Because this pillow is so famous and well-marketed, you must be wondering what miracle material it is made of. The answer might disappoint you: it's not a miracle but shredded polyurethane foam. Surprisingly, I didn't find any info on the pillow's filling on their official website and had to investigate it myself. The website only tells you about their Patented Interlocking Fill.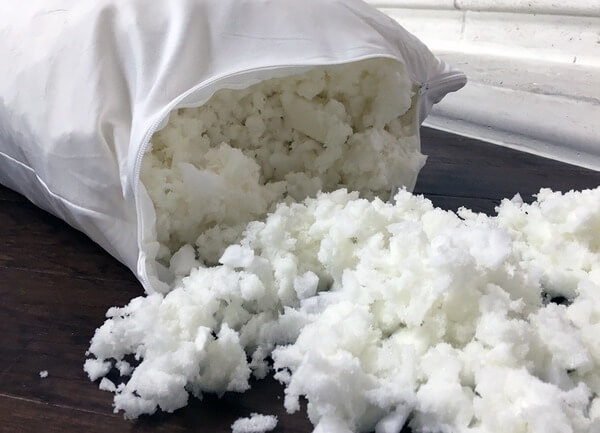 As I've already mentioned in this review of My Pillow, the company's website doesn't say anything about its filling materials. The same goes for the cover.
"It's been proven that getting a good pillow can improve your sleep quality immensely, thus making you more productive and healthy."
When I received My Pillow, I found out that the cover was made of pure cotton. That's a big plus because cotton is an all-natural, breathable, hypo-allergenic fabric that doesn't sleep hot.
Ready to order? Click here to get your own My Pillow!
The cover is white (combined with a pillow's logo all over it), so I recommend not only using pillow cases but also getting a waterproof pillow protector. It will make the product more durable, prevent you from staining it, and will make the cleaning process easier.
Firmness and How It Feels
"The comfort lifetime of a pillow depends on its filling. Feather pillows stay comfortable for 8 years on average, down pillows – from 5 to 10 years, and polyester ones from 6 months to 2 years."
This part of My Pillow review is all about comfort and how this pillow feels. Those are the most important criteria, don't you agree? It's what our sleep depends on. It's what can affect your mood, productivity, and levels of energy during the day.
Now, My Pillow gives the customers a choice and offers 4 different types of pillows with different fill levels. This is done in order to make the pillow customizable and able to fit pretty much anyone.
So, the firmness of your pillow will depend on the amount of filling. I got myself the White option (there are also Yellow, Green, and Blue available), which is a middle variant and has a medium amount of filling.
When it arrived, the first thing I've noticed was its lumpiness. Those lumps looked really uncomfortable and I started imagining what a nightmare it's going to be to sleep on that pillow. To my surprise, it wasn't that bad. I could still feel some lumps, and sometimes they were quite annoying but didn't cause too much discomfort.
On a firmness scale from 1 to 10, I think My Pillow rates 4. It's soft and thin and allows your head to kind of sink into it. Because the foam in the filling is shredded, it creates a hole for your head and cradles the neck, allowing the spine to align properly. Again, the firmness level will depend on the filling amount that you choose. The Yellow option is the softest one, the White is medium, the Green is moderately firm, and the Blue is the firmest kind.
The manufacturer recommends putting your pillow into the dryer to let it fluff up. In my opinion, it's better to do it regularly, as the pillow tends to flatten with time.
Check Out My Pillow On Amazon
I want to cover all of the aspects in this My Pillow review, so let's talk about off-gassing. While some people might not consider it like a too big of a deal, others are very cautious about the smell of the new products, especially pillows that we sleep on. People who are prone to allergies often suffer from off-gassing when they buy new things.
With My Pillow, you won't have to face this problem. It did have a slight odor when I opened it, which reminded me of the smell of a brand new thing, nothing more. I didn't feel any chemical scent, nor the smell of the foam.
But I want to suggest a helpful tip: if you, for whatever reason, don't like the smell of your new pillow, put a dryer sheet with it when you decide to fluff it up in the dryer. This way, your pillow will smell the way you want it to.
"Pillows can be used not only for sleep. The biggest pillow fight in history was in Dodgeville, WI, in which 2,773 people participated."
The company offers a trial period, during which you can sleep on your new pillow and return it in case it's not comfortable enough. You can try ordering a softer or firmer option, but before doing that and before returning your pillow, try to take some filling out of it. You can make your pillow perfectly customized according to your own preferences.
Another important thing I want to mention in this My Pillow review is that with this pillow, you won't sleep hot (unless you use synthetic linens, which I highly advise not to do). Because the foam filling is shredded, allowing the air to circulate freely, and because the cover is 100% cotton, you will really sleep cool.
Taking Care of Your Pillow
When My Pillow becomes yours, you need to think about how to take care of it. If you're reading this My Pillow review and wondering: "Should I wash it? How often? What should I do not to ruin it?", let me help you.
"Within 2 years, one-third of a pillow's weight becomes built up of dead skin cells, sweat, dust, and dust mites if not washed regularly."
To avoid sleeping on a nasty dirty pillow, I recommend you wash yours every 3 or 4 months, even if it seems clean. And here's what manufacturer says:
you don't have to wash it on a delicate cycle;

both warm and cold water will do;

wash two pillows at the same time for a balance (шf you only have one, add some towels);

you can wash it with the rest of your laundry;

avoid using a fabric softener;

you can dry it on high heat;

and don't worry about over-drying.
The Best Thing About the this Pillow
It wasn't hard for me to choose the best thing about My Pillow. Want to know what it is? It's the way the pillow manages to cradle the head. Also, I'm not sure about the firmer models, by my White pillow allowed my head to sink into it deep enough to keep my spine aligned. I didn't experience any stiffness in the morning thanks to this helpful feature.
The Worst Thing About this Pillow
The absolute worst thing about this pillow is, in my opinion, its cheap filling. The picture looks even worse when you remember all the hype around it, all those endless advertisements, and all those promises. I mean, shredded poly-foam doesn't cost that much, and it certainly is not magical. With this pillow, the expectations are too high, and the filling isn't good enough to meet those expectations.
Now, this part of the review of My Pillow is meant to help you decide whether it's going to work for you or not. Keep in mind, though, I describe my personal experience with the White filling option. Other variants might feel differently and have different pros and cons.
Is this Pillow Right for You?
"Sleeping on the same pillow for years is not only uncomfortable but can also cause different health issues. For example, because of the dust mites in your pillow, which appear there within time, you might develop allergies or even asthma."
Now, I understand that we all have different preferences and expect different things from the products we buy. That's why let me offer you my help and point out who will enjoy My Pillow the most.
So, My Pillow will be a great option for you if you:
are not a

side

sleeper;

appreciate the

support

and proper

spine alignment

;

aren't concerned about your pillow's filling not being

100%

natural;

want to have a couple of

firmness options

to choose from;

don't mind small lumps

.
Check Out My Pillow On Amazon
At the end of this My Pillow review, I want to point at the most important factors once again and rate them to give you a better understanding of what this pillow can do for you:
Comfort

Materials

Support

Cooling

Smell

Company reputation

Delivery

Warranty

Trial
Summary
I must admit: not being a huge fan of pure foam mattresses, I expected less from the Pressure Relief Memory Foam model by Zinus. It pleasantly surprised me, to be honest, and now I can surely say that it's one of the best mattresses in this price category.
It is bouncy, supportive, and comfortable in all sleeping positions. It didn't make me sweat during the night, it didn't make my neck hurt, and it helped me relax completely thanks to its pressure relieving properties.
Even though this mattress is simple and far from being super luxurious, do not hesitate to try it out. It has the potential to improve your sleep and help you get back on track with your sleeping schedule.
Isn't it what you're expecting from a new mattress? What matters for you most and how is Zinus good at fulfilling your sleeping needs? Comment down below!
Product links on Happysleepyhead are referral. We get a commission on purchases made through our links at no additional cost to you. More information in my disclosures.