My Honest Purple Mattress Review
by | Last Updated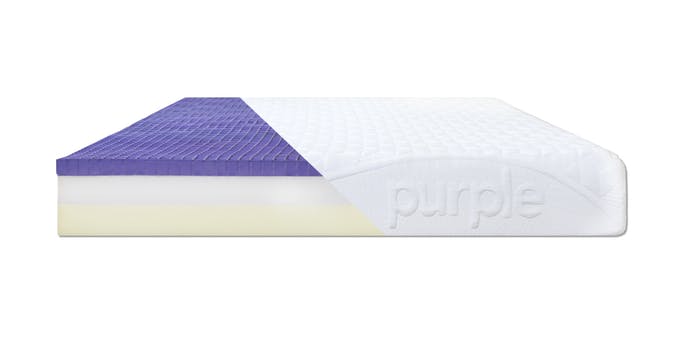 I'm sure you won't argue with me when I say that sleep is very important. And it's such a headache to look for that perfect mattress, on which you could feel comfortable in any position, hide under the warm blanket all day without feeling sore afterward, and sit with a good book before falling asleep.
What if I told you that there's a mattress that can satisfy all of these requirements? The Purple company makes unique (some might even say extraordinary) mattresses that look like a whole new level.
So, in this Purple Mattress review, we'll see what makes this mattress so special.
When it comes to construction, I get very serious. I mean, it's the most important part, isn't it? It's the essence of the mattress; it's what makes it good or bad.
As for the Purple mattress, I can surely say that its filling surprised me. It has three layers, so let's take a closer look at them:
a

foundation layer

is 4 inches thick and is made of polyurethane foam. It provides great

support

, which is pretty standard for most mattresses;

the next one is a

comfort layer

. It's a poly foam layer, which allows your body to have a

smooth

transition from the top to the foundation layer;
and the cherry on top – a hyper-elastic polymer layer. This is what makes these mattresses unique as this component not only looks different but also feels different. Everything about it is extraordinary: the stretchy polymer material, the grid-style of it, and even its color – purple. This layer was originally designed to provide a cooling function. Its grid formation allows the air to flow freely without locking the temperature inside. With this mattress, you don't sleep directly on the foam, which means you won't get hot.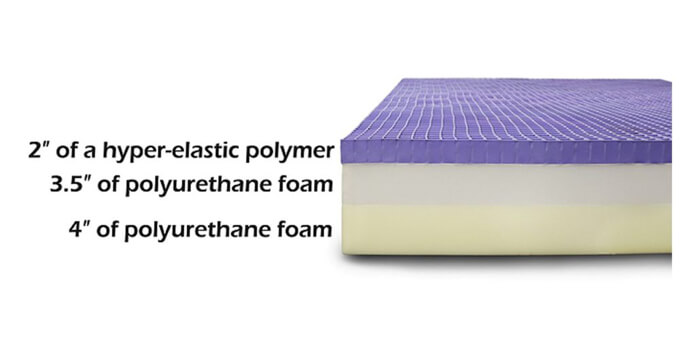 "Temperature is crucial. When it's too hot, you can't sleep. When it's too cold, you can't sleep either."
But it gets better. The top layer doesn't only provide the cooling effect, it also provides great support. The material it's made of is adaptable and releases pressure from your body, aligning the spine. To me, it sounds like a perfect recipe for a good night's sleep.
Keep in mind that the manufacturer recommends using stretchy sheets on the mattress if you want to see its full potential and superb performance.
The first thing I've noticed about this mattress is its snow-white cover. It looks amazing. But in order to be completely honest in my Purple Mattress review, I need to note that I feel like it might be a problem in the long-term perspective. We all know that it's hard to clean white fabric, especially on the mattress. However, this issue can be easily resolved by getting a mattress protector.
As for the materials, the cover is made of the combination of viscose, poly, and polyester-lycra. These fabrics are breathable, which only adds to the cooling effect. Plus, they feel nice: very plushy and soft.
Firmness and How It Feels
I've mentioned at the beginning of my honest Purple Mattress review that it's a unique product. That's why it feels different. Not odd, just different. It reminds me of neither foam nor latex mattress. The top layer is very responsive and bounces back pretty fast after applying pressure to it.
Another important aspect I want to mention in my review of Purple Mattress is its firmness. This is when it gets tricky: the mattress is relatively firm, I'd say 6-7 out of 10, but because of its unique top layer material and high level of pressure relief, it doesn't always feel that firm. So, some people might find it not firm enough.
"Sleeping less than 7 hours a night makes your chances to catch a cold 3 times higher."
Also, if you're a heavier sleeper, you might sink deeper through the elastic top layer, which means you will sleep closer to the foam. As a result, it might feel firmer and hotter.
The combination of two foam layers and the top hyper-elastic polymer layer is supposed to provide hard-mattress-like support and soft mattress pressure relief. As for me, I did find this mattress to be rather supportive. But, as I've mentioned before in this Purple Mattress review, the top layer might not be firm enough for heavier sleepers, so the support level will depend on your weight.
Here's a kicker though:
The top layer responds differently to different body parts.
Larger and heavier parts of the body (for example, hips and shoulders) sink a bit deeper into the mattress while the spine remains properly aligned and supported.
"One in four married couples sleep in separate beds."
To make my Purple Mattress review as honest as possible, I decided to do the motion transfer test. You're probably wondering how it's unusual top layer performs and whether it's suitable for couples.
Now, it didn't show as great results as traditional memory foam mattresses do (the high-quality ones, of course), but the outcome was still pretty satisfactory. You might get disturbed by your partner a little, but not too much. Yet, if you easily respond to your partner's movements, you might prefer getting an all-foam mattress.
"Sea otters hold hands when they sleep in order to not drift away from each other."
Even though the mattress materials are very responsive, the level of sinkage will depend on your weight. If you're a lightweight sleeper, you won't feel that much of a sinkage. Instead, you'll experience little body contouring levels. If you are a medium weight person, you will sink a bit deeper, but I doubt that you will distinctly feel the foam layers. And if you're a heavier sleeper, there's a chance you will experience a decent level of body contouring by the mattress, thus sinking deeper into the material. In this case, you might want to pick a memory foam or innerspring mattress.
"If you're feeling tired or sluggish, a 20-minute nap is all you need to refresh."
Another aspect I want to mention in my Purple Mattress Review is the one that concerns a lot of people, especially those who suffer from allergies or are sensitive to smells – the off-gassing.
Here's the deal:
The manufacturer claims that all the materials used to make the mattress are non-toxic, hypoallergenic, and antimicrobial.
And you know what? I believe this is true. Because when I opened the packaging, I couldn't smell anything. No harsh chemical smell, no plastic odor. Nothing. I could feel a slight kind of soapy scent, which indicates that the product was brand new. Other than that – no off-gassing whatsoever.
And get this:
The top layer is made of the recyclable material, so if you care about the environment, this fact might buy you over.
Something Else to Consider
The company conducted the experiment with raw eggs to prove the pressure relief capabilities of their product, which I decided to recreate for the sake of my honest Purple Mattress review.
The raw egg test didn't go as planned, but I think it's because I did it in a different way than the company did. First of all, they glued the eggs to the glass and dropped them onto the mattress with its cover removed. Me, who probably lacks scientific precision, decided to put an egg in a plastic bag and on the mattress with its cover on, and then drop the book on top of it (a heavy dictionary, to be precise).
As you've probably already guessed, my egg was destroyed. I think it's because in the company's experiment, the eggs fit perfectly into the hollow squares (as the top layer is grid-like), while in my case, the egg just got flatten on the cover surface.
I don't know how much science there is in the raw egg test, but you can watch a video on the company's website. After you do, you might decide to get the Purple Mattress for yourself.
The Best Thing About the Purple Mattress
You probably won't be surprised when I say that the best part of this mattress is that innovative top layer. To be more specific, the cooling effect it provides. Seriously, it's like this mattress is capable of breathing. I tested it during the hot days and didn't even turn on the air conditioner at night. So, sleeping cool is definitely possible with the Purple Mattress.
The Worst Thing About the Purple Mattress
Even though it might sound rather contradictory, the unique top layer might also be the worst part of the mattress. Let me explain. Even though it's very responsive and adaptive, for some people it might be too soft. Also, because it's rather unusual, some people might not understand it and find its squishy feel to be weird.
The company ships from Utah, USA, to the 48 states for free, directly to your door. The mattress is vacuum-sealed and put into the vinyl tube for an easier transportation.
There are other shipping options available: to Alaska, Hawaii, and Canada. But the price will depend on the distance.
The company offers a 100-night trial period, which allows you to return the mattress for a full refund in case you don't find it good enough. They will find a local donation center in your area and arrange for them to come and pick your mattress up. Thus, you won't have to worry about shipping it back.
Is Purple Mattress for You?
The Purple company brings something new to the table. And even though the Purple Mattress has many pros, it's not for everybody.
In my opinion, you will love this mattress if you:
appreciate sleeping cool;

need good pressure relief;

are sensitive to smells or have allergies;

are of light or medium weight;

enjoy sleeping in multiple positions;

don't need to sleep on a firm surface.
Purple Mattress Review
Comfort

Materials

Support

Cooling

Smell

Company reputation

Delivery

Warranty

Trial

Motion transfer
Summary
In general, I am satisfied with the Purple Mattress. It's not for anyone, but it is something new and exciting. I loved the cooling effect and pressure relief levels. This mattress is not for everybody (I don't think that this mattress is the best for heavy people) but it's definitely extraordinary and worth trying.
How do you find sleeping on the Purple mattress? Does it really sleep cool? Feel free to describe your experience below.
Product links on Happysleepyhead are referral. We get a commission on purchases made through our links at no additional cost to you. More information in my disclosures.