The 8 Best Mattresses For Lower Back Pain Sufferers in 2020 – Buyer's Guide And Reviews
by | Last Updated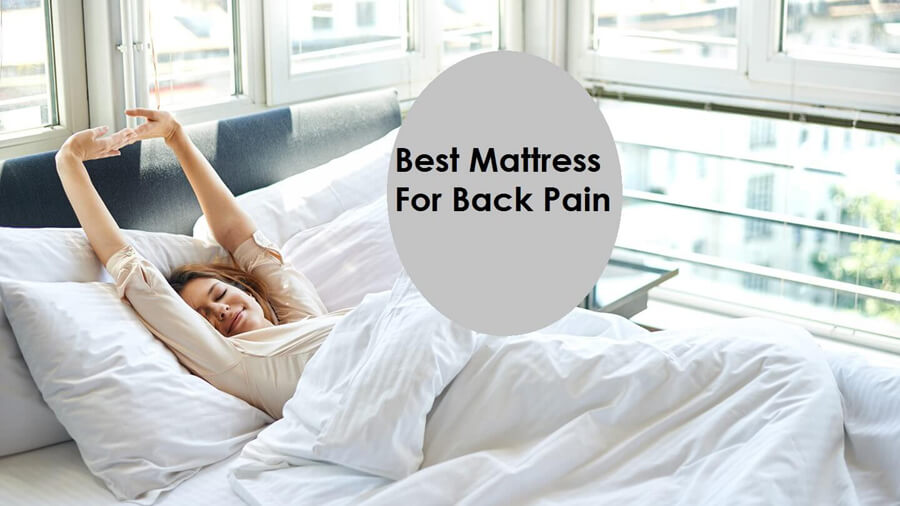 Back pain is a problem that nearly everyone suffers from at some point in their life. Regardless of the cause, one of the most effective ways of dealing with this issue is purchasing a proper mattress.
Why is it so important?
Because a high-quality mattress allows you to maintain the correct posture, relieves stress from your spine, and allows your muscles to relax.
However, choosing a bed that will suit your exact needs isn't easy…
And that's why I've come up with a list of 8 best mattresses for lower back pain sufferers that will offer you the ultimate good night's rest!
Name of the Company
Mattress type
Layers
Warranty and Trial
Rating
Helix Mattress
Memory Foam
Cover
Top Layer
Transition Layer
Micro Coils Layer
Base Layer
(The layers are customizable)
100-Night Trial
10-Year Warranty
Nectar
Memory Foam
Tencel Cooling Cover
Quilted Gel Memory Foam
Gel Memory Foam
Adaptive Hi Core Memory Foam
Breathable Base Layer
365-Night Home Trial
Lifetime Warranty
Amerisleep
Memory Foam
Celliant Cover
Bio-Pur Comfort Layer
HIVE Transition Layer
Bio-Core Foam Foundation
100-Night Trial
20-Year Warranty

Saatva
Innerspring
Cover
Euro-style Pillow Top Layer
Memory Foam Layer
Individually Wrapped Coils Layer
Transition Coil Layer
Base Layer
120-Night Trial
15-Year Warranty
Bear Mattress
Memory Foam
Celliant Cover
Graphite-Gel Foam
Responsive Comfort Foam
Transitional Performance Foam
High-Density Support Foam
100-Night Trial
10-Year Warranty
Leesa
Memory Foam
Avena Foam
Memory Foam
Base Foam
100-Night Trial
10 Year Warranty
Casper
Memory Foam
Comfort Layer
Contour Layer
Transition Layer
Foundation Layer
100-Night Trial
10-Year Warranty
Alexander Signature Hybrid
Hybrid
Gel Infused Memory Foam
TitanChil Endurance Foam
Copper Infused Energex Foam
SmartFlow Support Foam
Pocketed Support Coils
100-Night Trial
Lifetime Warranty
Helix Mattress – Editor's Choice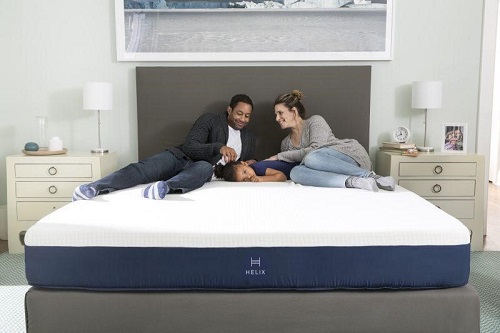 Helix definitely deserves to be considered the best mattress for lower back pain sufferers. It offers a fully customizable sleeping experience. As a result, you have a mattress with the softness, support, and temperature regulation that was tailored specifically to your needs!
Let's examine the defining characteristics of Helix:
The top two layers of this mattress are made of memory foam and serve to provide pressure relief.
The Micro Coil layer is responsible for creating the cooling effect and adding some bounce to the construction.
This mattress costs slightly more than similar models due to its customizable nature.
Most customized mattresses made by this brand are medium firm. However, Helix produces extremely soft and ultra firm models as well.
The best part about this mattress is the customization. It was extremely gratifying to have control over how exactly my Helix was going to feel. All I had to do was complete a simple sleep quiz. Next, the manufacturer analyzed my answers and designed a mattress specifically for my needs. This way, I could be sure that my upper back will get the support it needs to stop hurting.
The worst thing about Helix is that it doesn't offer the classic sinking feeling that most people expect from memory foam. This is the case because this mattress isn't made of classic foam and doesn't contain latex. Thus, Helix isn't suitable for people who love highly snuggling mattresses.
Take a look at the following pros and cons:
Here's the deal:
I was pleasantly surprised by Helix. It offered me the exact level of firmness and support I was looking for. If you need a customized mattress that won't cost you a fortune, then I'm certain you'll enjoy Helix as well.
check out helix mattress on helixsleep.com

Nectar is a solid addition to any list of top rated mattresses for lower back pain sufferers. This memory foam model offered me great airflow, nice weight distribution, and molded to the shape of my body perfectly.
"The elastic properties of memory foam enable mattresses made of this material to conform to the pressure points on the spine. They make the sleeping process more relaxing and softer when compared to innerspring models."
Let's look at the most important features of this mattress:
Nectar's top layer is made of gel memory foam and serves to adapt the mattress to fit your curves.
The second layer is designed to add firmness and support your weight.
The bottom layer is the thickest one and provides the sturdiness of the entire construction.
Nectar is slightly firmer than most memory foam mattresses, standing at 6.5-7 out of 10 on the firmness scale.
Out of all the great features offered by Nectar, the one I've enjoyed the most is the breathability. Night sweats were never an issue with this mattress. I woke up each morning feeling refreshed, even though usually I'm quite a hot sleeper.
The biggest drawback of this mattress is the off-gassing. I believe it's the manufacturer's duty to find ways to deal with this problem, so I was rather disappointed with how strong the odor was when I first unpacked Nectar. Thankfully, this problem was temporary, as the smell dissipated completely just after two nights.
Consider these pros and cons before making a decision:
Nectar is definitely one of the best foam mattresses for back pain I've tried. It provided awesome breathability thanks to the ultra-dense memory foam and woven cover. This inexpensive mattress felt especially nice under my lower back, as the foam shifted perfectly to avoid putting any pressure on that area.
check out nectar mattress on nectarsleep.com
Amerisleep AS3 – Best Zoned Support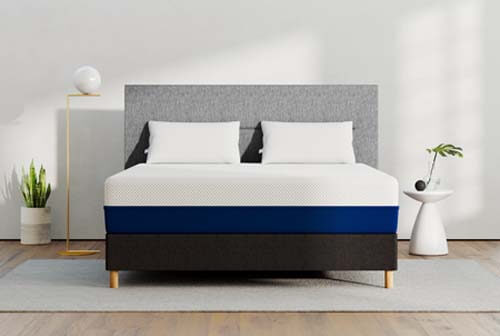 If you have lower back pain, you may need a mattress that can contour your lumbar spine better and keep deep muscles relaxed to prevent overstretching. And this is the exact reason why I've included Amerisleep AS3 in my review of the best mattresses for lower back pain.
It features the brand's proprietary HIVE technology that offers you better contouring. The transitional layer has a hexagon pattern divided into five zones. The spacing between hexagons is wider in certain zones, so the mattress can adjust to your body curves more precisely and give you a good hug around the lower back and hips.
Let's see what's hidden under the removable Celliant cover:
The top comfort layer is made of proprietary Bio-Pur memory foam, which has quick motion response and doesn't mess with your movements during the night.

The transition layer utilizes the aforementioned HIVE technology, ensuring

proper spine support

and exceptional cradling.

The dense foam base contributes to overall

sturdiness

and low motion response.
The best feature of the AS3 mattress, in my opinion, is how effective its zoned layer is. I'm a side and back sleeper, and the mattress offered me great spine support and relaxation in each of these positions.
What I didn't like, though, was some heat retention. The mattress slept a bit hot, which could be a problem if you live in Southern regions. But it's still cooler than many other foam mattresses I've tested.
Other pros and cons to consider before making a purchase are the following:
Overall, I enjoyed testing the Amerisleep AS3. It's supportive and cradling at the same time, so it can be a great choice for those with lower back pain.
check out amerisleep as3 mattress on amerisleep.com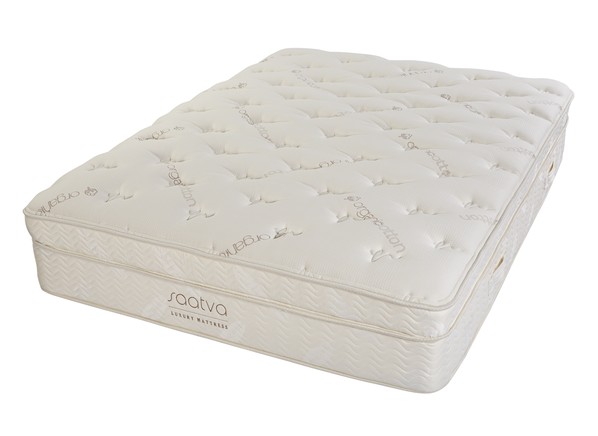 Saatva definitely deserves to be considered among the best mattresses for lower back pain sufferers. This highly-durable innerspring mattress has luxury look and feel and is made mostly of organic materials.
Here are the most notable traits of this model:
Saatva has a unique coil-on-coil layer build that adds more support and bounce to the mattress.
The included wrapped coils are used to prevent sagging and react to your body's contour.
The foam used in Saatva makes the mattress plusher.
It's offered in three firmness options: Firm, Luxury Firm, and Plush Soft.
The absolute best feature of Saatva is the back support it offers. This mattress provided terrific weight disposition. It offered more support for my lower back while sinking a bit in the hips region. Such a position aligned my spine perfectly and cradled me into sleep every night.
The thing that displeased me the most with Saatva was the motion isolation. There were several times when I or my wife had to get out of bed and the other person was disturbed by the movement. Thus, this mattress is better suited for single people and those who aren't light sleepers.
The primary pros and cons of this mattress include:
I'll be honest:
Thanks to the level of comfort Saatva offered my spine, I started sleeping more and more on the back. It did wonders for bringing me pain relief and improving my mood in the morning.
check out saatva mattress on saatvamattress.com
Bear Mattress – Best Cooling effect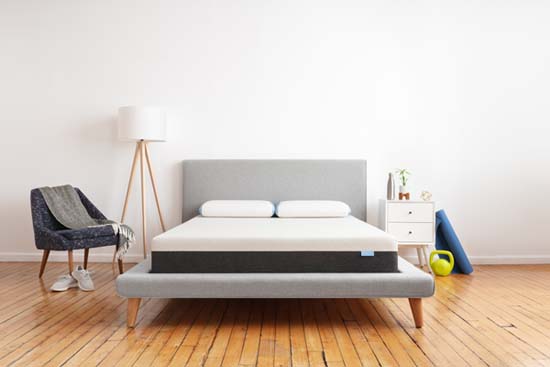 The Bear mattress is a memory foam option for athletic people who are suffering from lower back pain. It's satisfyingly firm, made with unconventional materials, and has a positive effect on your blood flow.
Let's check the primary characteristics of this item:
The cover is very soft and made with Celliant, which excels at improving your body's blood flow.
The top memory foam layer offers pressure relief and has some bounce to it.
The middle layers of the Bear mattress provide support and prevent sinking.
This mattress is medium firm, appealing to the largest demographic possible.
My favorite thing about the Bear is definitely the Celliant infused cover. Not only is it very pleasing to the touch, but it also offered great temperature control. Besides, the blood flow improvement was a great bonus for me since it perfectly suits my active lifestyle.
The thing I didn't like the most about the Bear mattress is the edge support. I roll around a lot when I'm sleeping so I tend to move closer to the edge.
Examine the most important pros and cons of this item:
Bear mattress offers top-notch spine support while keeping the surface temperature in check. This option is especially great if you're leading an active lifestyle and need to recover a lot of strength efficiently.
check out bear mattress on bearmattress.com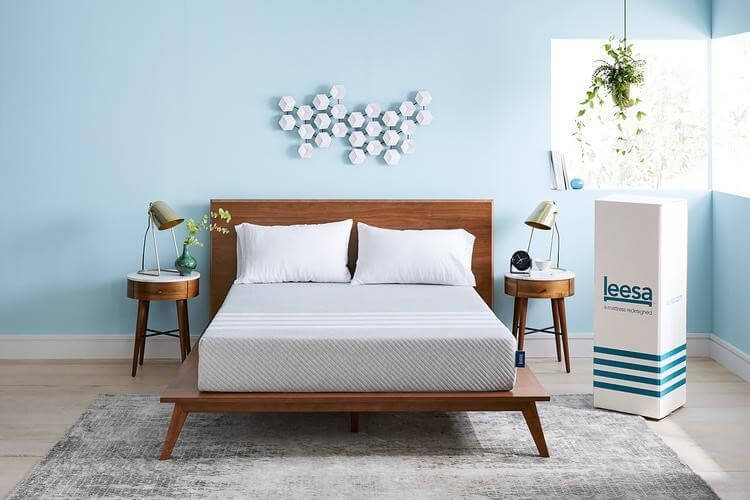 Leesa is worthy of being included on the list of top-rated mattresses for lower back pain sufferers for lots of reasons. It offered comfortable firmness, relieved pain from my lower back, and aligned my spine perfectly. Moreover, Leesa provided the cooling effect expected from modern memory foam mattresses.
Let's see its main characteristics:
This mattress is 7 out of 10 on the firmness scale.
Leesa has a high-quality polyester blend cover that prevents the mattress from becoming hot.
The Avena foam is a unique layer that has similar properties to latex and responds to pressure.
Two other foam layers serve as Leesa's foundation and are responsible for giving the shape to the item.
The best thing about Leesa for me is its above-average firmness. It offers the comfort and support memory foam it is known for while also not sinking too much. I dislike the feeling of being sucked in by my bed and that was never a problem with this mattress.
The worst thing I managed to find about this mattress is that it isn't suited for heavier stomach sleepers. Leesa is firmer than most memory foam mattress so it's harder on your body. Thus, instead of helping a stomach sleeper with back pain, it can actually make it worse.
"Several studies have proven that after a few weeks of sleeping on a high-quality memory foam mattress, you'll notice a significant reduction of your back pain. Moreover, such mattresses help you enjoy calmer sleep and guarantee a better mood in the morning."
Take a look at these pros and cons:
Leesa is an awesome bed-in-a-box model that offers luxury comfort to anyone who's dealing with back pains. It's satisfyingly firm, stays cool through the night, and the Avena foam adds a bit of an innerspring feel to it.
check out leesa mattress on leesa.com
Casper – Best Pressure Relief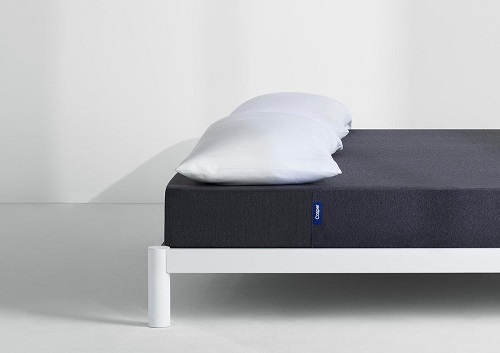 Casper is a worthy candidate for the best mattress for dealing with back pain title. It offers a cool, nurturing sleeping environment, and is great at adapting to the shape of your body. This mattress is especially great for couples because of the top-notch motion isolation.
Now, let's take a look at the primary features of this model:
Casper contains 4 layers, all of which are made of foam.
The responsive foam layer is designed to take the heat from your body away from the surface and maintain a cool temperature.
Casper is a midrange priced model that possesses the characteristics of high-end mattresses.
It's rated 6 out of 10 on the firmness scale, which is ideal for most people.
The thing I've enjoyed the most about Casper is how well-tailored it is to all kinds of sleeping styles. Whether I've slept on my back, stomach, or side, it offered just the right balance between being soft and supportive. This is especially important if you're suffering from back pain since you can't be expected to lie still at all times.
My biggest disappointment with Casper is the lack of any kind of bounce to it. I understand that it's a memory foam mattress, but it sinks a bit too much for my taste. That being said, this sacrifice was needed to provide superior motion isolation.
Here's a list of Casper's pros and cons:
Here's the bottom line:
Casper is one of the best mattresses for stomach sleepers with back pain. It's pleasantly soft and molds to fit the shape of your body perfectly. Moreover, this mattress is offered at an attractive price and brand's customer service is dutiful and very responsive.
check out this mattress on amazon
Alexander Signature Hybrid – Best for Average Weight Sleepers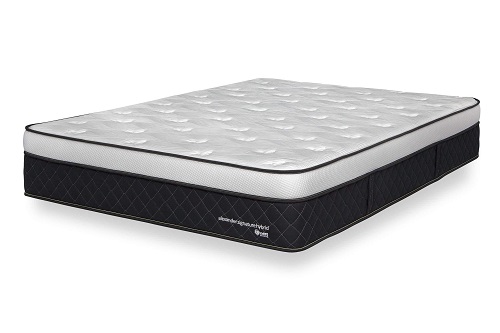 The last spot on this list goes to the Hybrid mattress by Alexander Signature. It immediately caught my attention with its stylish, sleek design and broad functionality.
It gets even better:
The performance offered by this mattress is also on par. It combines a lot of appealing features while providing a luxury level of comfort.
Here are the most interesting characteristics of the Hybrid:
The cover and top layer of the mattress are made of gel-infused memory foam.
The second layer is infused with copper and plays an important role in driving the heat away from the cover.
The third layer is made of pocketed coils that react to the pressure of your body.
You can purchase the Hybrid in one of three firmness types: Plush (3), Medium (4.5), or Luxury Firm (9).
The thing I've liked the most about this model is its construction. Alexander's Hybrid offered me the advantages that are usually missing in foam mattresses. It's noticeably cooler and provides a better response to my body.
The biggest problem I've had with this Alexander Signature mattress was the initial odor. Even though it's a hybrid model, it still contains a lot of memory foam that produces chemical off-gassing. Thankfully, the odor disappeared after a week or so and was never a problem again.
Let's examine the most notable pros and cons:
Alexander Signature Hybrid mattress allows you to enjoy both the support of a foam model and the cool sturdiness of a traditional mattress.
check out alexander signature mattress on nestbedding.com
Factors We Look At
Evaluating the quality of a mattress is a task that requires a lot of effort and dedication. Some characteristics carry more weight than others. That's why it's vital to pay attention to the features that are the most important, including:
Layer Structure. The number of layers as well as the materials used for constructing the mattress determine how much support it offers.
Firmness. The firmness of a mattress is particularly important for people who suffer from back pain. Having a model that is too soft or too firm will only pile on the problem instead of solving it.
Sinking. A good mattress should offer slight sinking without hugging your body too much.
Temperature regulation. A cool and revitalizing sleeping environment is essential for healing your body.
Warranty and Trial. It takes some time to find out if a specific mattress suits you, which is why options with a longer trial period are better.
What Causes Lower Back Pain Problems?
Back pains exist in different shapes and forms and can be caused by a broad variety of reasons.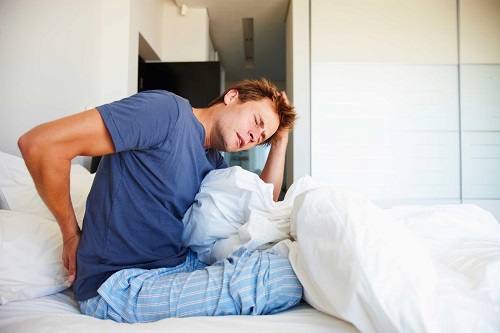 Here's the thing:
While purchasing a high-quality mattress is surely the right step in dealing with this problem, you also have to know what caused it. The most common reasons behind back pains include:
Older age
Sleeping on a bed that doesn't offer adequate support
Frequent standing or sitting for prolonged periods of time
Bad posture
Back strains
An excess of physical activity
Accidents and injuries
"Back pain causes, such as strains and injuries, require some time and proper care to heal. Meanwhile, pains caused by bad posture or incorrect sitting conditions demand a change of lifestyle. Regardless of the reason behind your pain, a proper mattress will help you deal with this problem and significantly lessen the discomfort you experience."
What Mattress Type Is the Best for Lower Back Pain Sufferers?
With more than 80% of the US population dealing with back pains at some point in their lives, the importance of picking the right mattress type to sleep on is now higher than ever.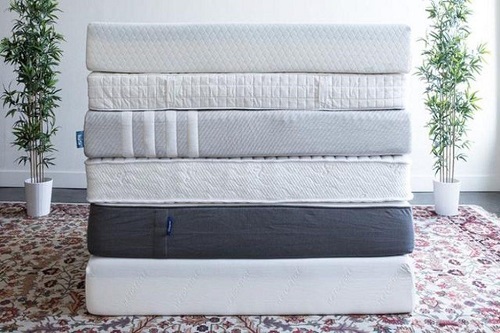 Now:
Not so long ago, most doctors recommended a very firm mattress to sleep on. As a result, people mostly bought innerspring beds for their homes. However, as time went on, scientists have proven that an excess of firmness puts more stress on your back and can make the pain even worse.
Here's the kicker:
Nowadays, it's an accepted fact that the best type of mattresses for dealing with neck and back pains is memory foam. They offer both softness and support needed to deal with this issue. Alternatively, you can purchase a hybrid or latex mattress since they share similar properties.
What Is the Most Appropriate Firmness for Lower Back Pain?
Let me start with saying that most people with back issues are recommended to sleep on their back in order not to make their condition even worse.
If you want to be a hundred percent sure this position is safe and recommended for you as well, consult with your doctor. And when they advise that you do sleep on your back, you might want to train yourself to do that (in case you used to sleep in a different position before).
"If you suffer from back pain when sleeping on your current mattress, pay attention to hybrid and innerspring mattresses with a zoned coil system. They are designed to provide better spinal alignment and reduce pressure from your pressure points more effectively."
Now, for back sleepers with back pain, the ideal firmness level would be somewhere around 7 on a firmness scale from 0 to 10. Different manufacturers have different scales of evaluating the firmness levels. That's why it makes sense to read customer reviews before making a purchase in order to see how that particular model performs for other back sleepers with back pain.
What if your doctor doesn't recommend that you sleep on your back? Or, what if you don't want to force yourself to change the way you sleep?
Don't worry, you can still get back pain relief when sleeping on your side or stomach!
In the first case, you should go for a softer mattress (like 6 or even 5 out of 10 on the same firmness scale), and in the second case, consider a firmer bed (that is, 7,5-8 out of 10).
Now, there's one more little thing you've probably forgotten to consider when deciding on a firmness level:
Your weight.
Although the technical characteristics of a mattress remain the same, the perception of its firmness might differ from user to user in correlation with their weight.
For example, heavier sleepers tend to sink in deeper, so they usually perceive the surface somewhat softer than an average sleeper. At the same time, people who weigh less than 120 pounds, tend to remain on the surface without much sinking, which is why a medium mattress might feel firmer for them.
So, keep your weight and sleep positions in mind when shopping for a new mattress to relieve back pain.
Product links on Happysleepyhead are referral. We get a commission on purchases made through our links at no additional cost to you. More information in my disclosures.