The 6 Best Futon Mattresses For Everyday Sleeping in 2020
by | Last Updated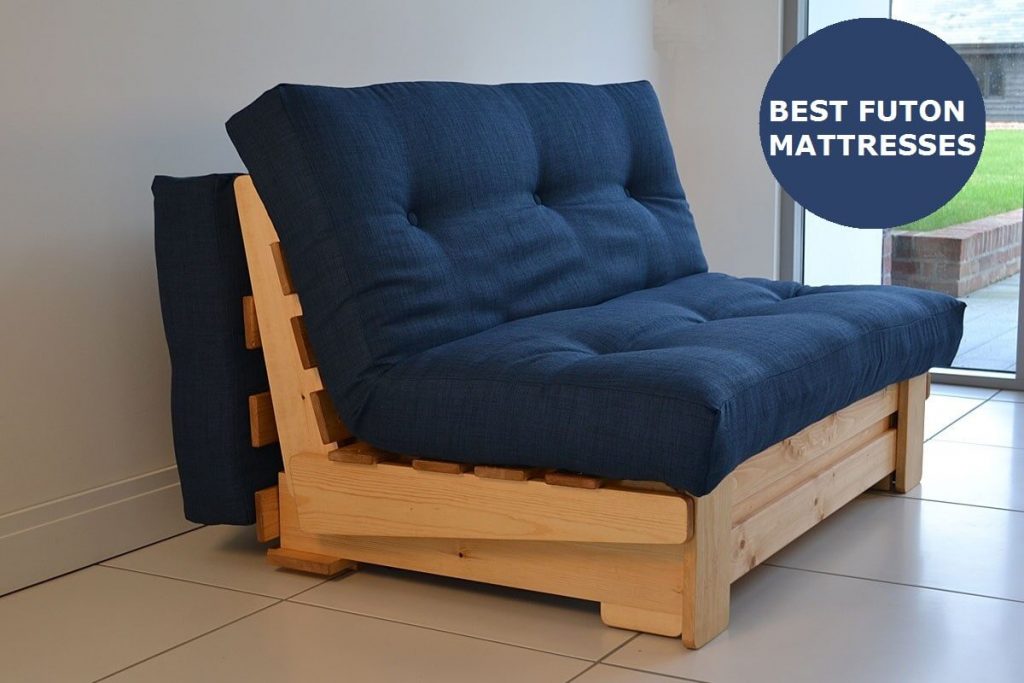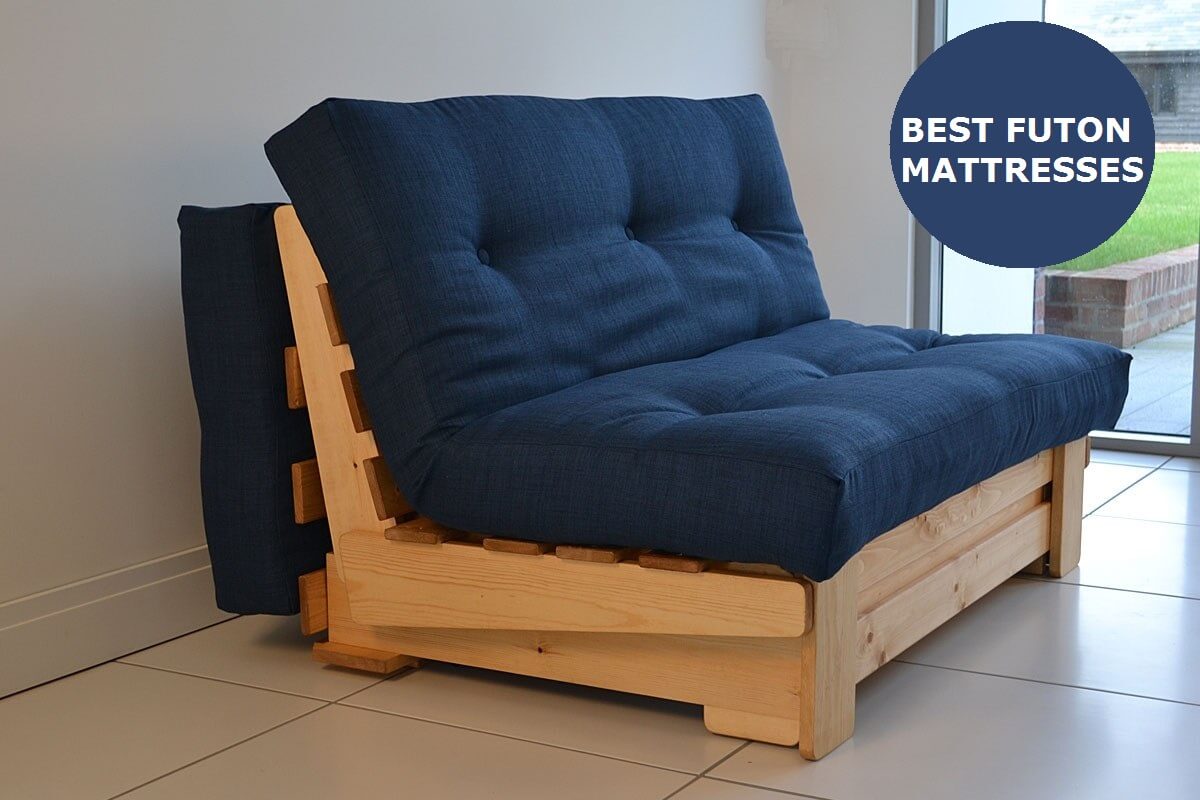 When overnight guests unexpectedly come over, sometimes I feel like sending them back.
You don't think I'm a terrible person, do you?
Don't hate me.
It's just that my apartment isn't that big, and I can't afford to provide guest rooms for my friends.
What I can do, however, is offer them a comfortable futon, which doesn't take up too much space but remains multi-functional. To help you with your unexpected guests, I've prepared 6 best futon mattresses for everyday sleeping, each of which might pleasantly surprise you.
DHP 8-Inch Independently Encased Coil Futon Mattress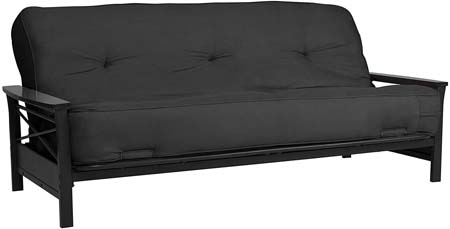 The DHP futon mattress can make a great purchase for you if you're in the market for a really long-lasting bed. Thanks to a coil system inside, this futon can offer you a uniform sleeping surface and is more immune to sagging compared to all-foam models.
So, the DHP measures 8 inches high and resembles the feel from a standard foam mattress pretty closely. Along with the coils, the mattress also features a layer of foam that has a medium to medium-firm feel, and a layer of polyester fiber padding under a microfiber cover.
I tested this futon for 4 nights, and it didn't make me sleep hot on any. So, the DHP is a good fit for anyone who tends to overheat during sleep.
The thing I loved the most about this mattress is the coil base that makes it long-lasting and sturdy. You can easily use this futon as a regular sleeping place without worrying that it will become unsupportive.
But the thing that bothered me a bit was the strange smell that the mattress had for the first couple of days. Even though it completely dissipated, it smelled like mold, which made me think that the manufacturer doesn't store the products properly.
So, if you need a futon that can offer you decent support and feel more like an actual mattress, you should definitely go for the DHP. It will serve you well for years to come, without sagging.
check out this mattress on amazon
Best Memory Foam Futon Mattress
10-inch Cotton Twill Futon Mattress by Mozaic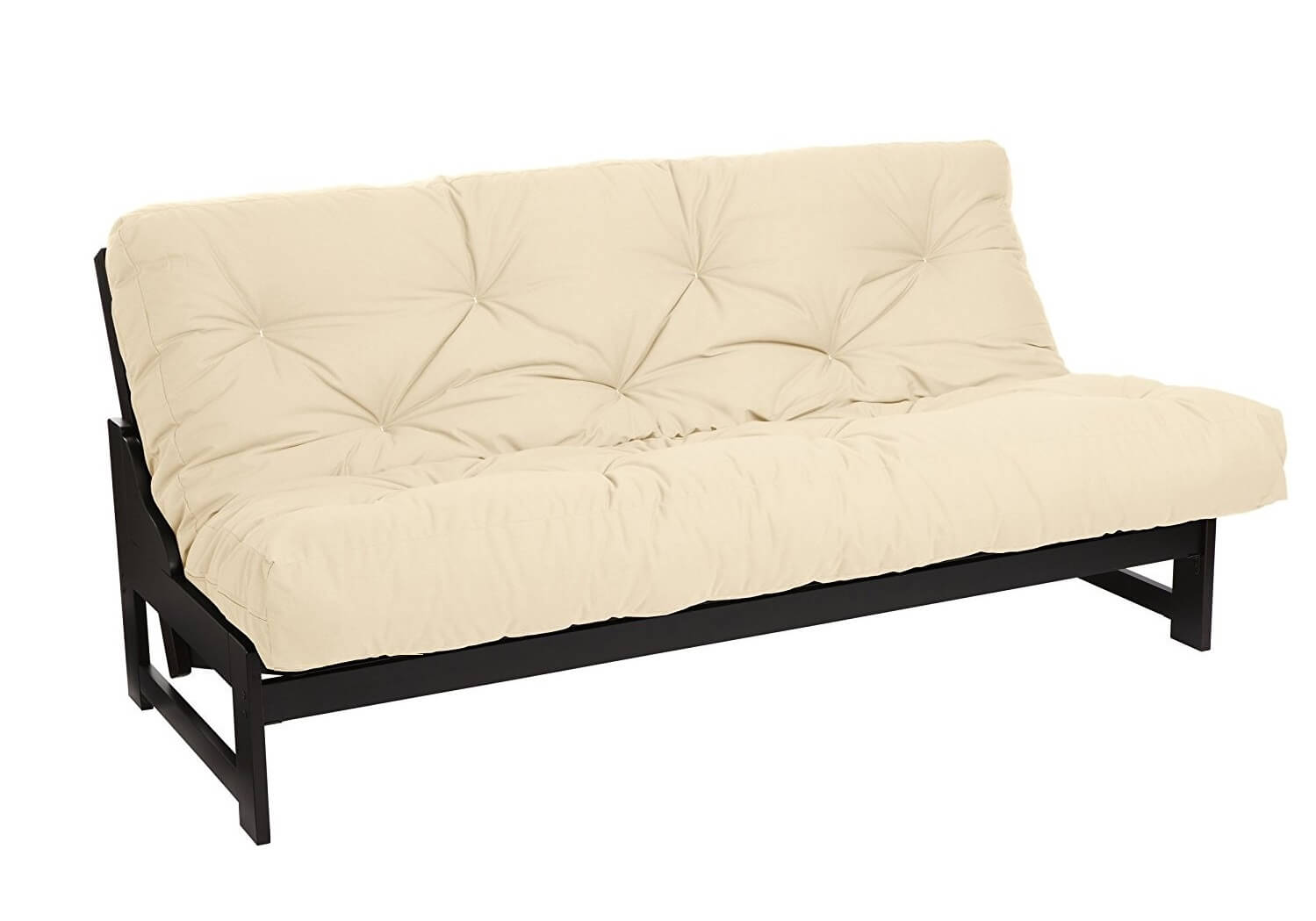 This is another item on our list that can become the most comfortable futon bed for your home. It is soft and supportive at the same time and can fit any Full-sized futon frame.
It gets even better:
This futon feels like a real bed! It is thick and filled with dense memory foam. It is responsive and supportive, with just the right amount of cradling. This top-rated futon mattress is an awesome option for people who want something compact yet as close to a regular bed as possible.
Now, let's look at its main characteristics:
The

filling

is memory foam, which is dense and supportive, plus the cotton blended fiber.

The

cover

is made of cotton twill, which is soft and plush to the touch.

The mattress comes in

6 colors

, so you will be able to fit it in any interior.
It is 10 inches thick, which is meant to support even the heavier sleepers.
What is really great with that mattress?
The best thing about this model is how thick and comfy it is. There are no coils, so you won't feel any lumps. Moreover, the mattress is thick and dense enough to prevent you from sinking in, providing a decent level of support. The foam is also rather firm, which means it is suitable for larger users.
What is wrong with that mattress?
The worst thing I've noticed about this mattress is the off-gassing. This is a common issue for many memory foam products, but it might concern some allergy-prone and sensitive users. The odor disappeared in two days, after which I was able to sleep on this mattress.
Overall, I enjoyed sleeping on this futon mattress. It is firm and supportive but doesn't feel too stiff. It does belong to the pricier category, but it also has a lot to offer.
check out this mattress on amazon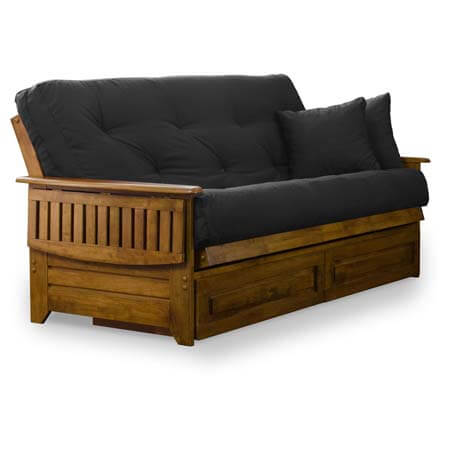 Here's an option for those who don't like to bother shopping and prefer ready-to-use solutions. This Nirvana Futons model comes as a set: it includes a sturdy futon frame, roomy drawers you can use for storage, and the mattress itself. So, you will only need to click the order button once rather than three times if buying each of these items separately.
So, let's see what we've got here:
The

durable hardwood frame

has a rustic look and reclines into three positions: sofa, lounger, and bed.

The

8-inch thick futon mattress

has a foam core and breathable fiberfill.

The plush microfiber cover is

available in 10 colors

to fit any interior.
The futon itself comes in two sizes — Full and Queen — which both can easily accommodate two average adults.
The greatest thing about this model is that it's more than a futon mattress. It's a complete set you just order and install in your home without worrying whether the mattress will fit the frame and vice versa.
As for the drawbacks, switching the positions of the frame can be a bit difficult. The mechanism doesn't work very smoothly, so you might get stuck with only one position. Which, however, shouldn't be a problem if you're not really planning to use all positions.
I think that this top-rated futon mattress set can be a good purchase for anyone who doesn't want to spend time trying to find a matching frame to their futon. It's pretty sturdy and durable, so it will serve you for a long time.
check out this set on amazon
Best for Occasional Guests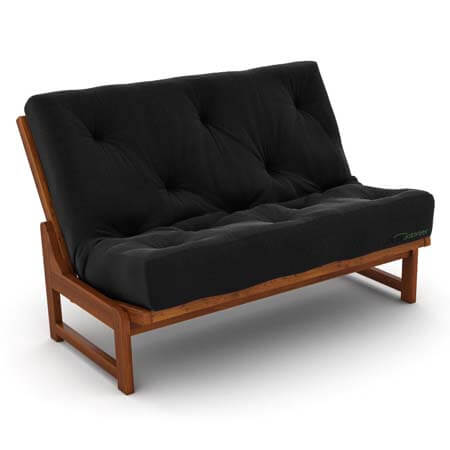 Another model by Nirvana Futons can make the best futon mattress for those who love hosting guests and need something to offer them as a sleeping spot. This futon is 10 inches thick and comes in a variety of sizes, so you can easily find an option to accommodate a couple of adults or kids.
Now, let's outline its main features:
The futon

has a medium feel

, which is optimal for most types of sleepers.

The filling of the mattress is made of

dense foam and breathable poly-cotton fill

around it.
The cover of the mattress is available in 10 basic colors and made of durable and soft microfiber fabric.
I really love this futon mattress for the level of comfort it provides. Plus, there are many sizes available, so you can find what will best work for you and your occasional guests.
The thing that bothered me a bit is the lack of proper thermoregulation. Even though this futon is made of temperature-neutral materials, it still traps some heat. So, if you're prone to hot sleeping, you may consider other options.
Overall, this futon would make a great choice for people who love all things straightforward: this mattress simply does its job, whether it's being a comfy sleeping spot or a sofa for occasional friend gatherings.
check out this mattress on amazon
"Classe" Japanese Traditional Futon Mattress by Emoor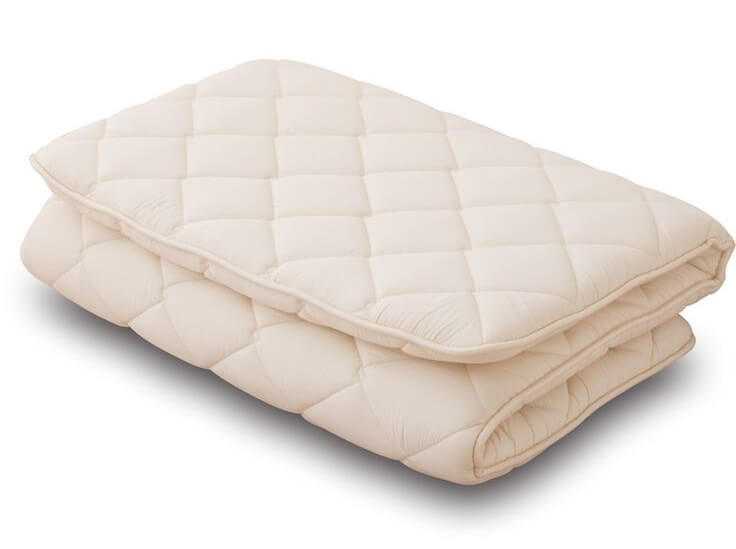 This classic model deserves the right to be among the best futon mattresses. It is soft, comfy, and high-quality. However, what makes this futon mattress a good "catch" for you is its versatility and flexibility in use. "Classe" works on the floor and on different frames, which means there are many ways that you can use it in. Additionally, this model is super easy to fold and store away. It can provide you with a nice sleeping area without taking too much space.
Let's take a look at its main characteristics:
It comes in

6 sizes

: Twin, Twin-short, Full, Full-short, Queen, and Queen-short.

There are

11 colors

available.

The

filling

consists of the anti-bacterial polyester blend with the Teijin MightyTop Eco material.
The cover is made of 100% cotton, which is natural and breathable.
What is really great with that mattress?
The best thing about this model is how comfortable it is. I didn't expect it to be so stuffed and dense, being filled with just simple fabrics. It is designed to be used on the floor, but it provides enough cushioning to make you feel like you're sleeping on a firm mattress. Plus, I think it can be used on a futon frame since it comes in many different sizes.
What is wrong with that mattress?
The worst thing I've noticed about this model is its insufficient thickness. To me, 3 inches is enough, given the fact how dense this futon mattress is. However, some sleepers might want it to be taller or require more cushioning, so it's just a heads-up for you.
To be honest with you, I loved sleeping on this futon mattress. Its classic design and soft cotton cover are meant to make it the best futon mattress for sleeping both on the floor and on the futon frame.
check out this mattress on amazon
Best Futon Mattress for Firm Sleeping Lovers
Au Natural All-Cotton Futon Mattress by Epic Furnishings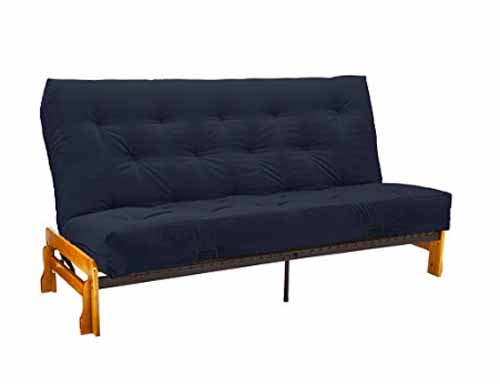 If you're looking for a futon mattress that is the closest in its feel to a standard bed, the Epic Furnishings model might be your choice. This futon is eight inches thick and can cradle even a side sleeper without leaving them sore and stiff the morning after.
The fill of this futon mattress is made from natural cotton batting, which is hypoallergenic and breathable. This futon won't leave you sweaty and overheated; instead, it will feel like a cool cloud.
Now, let's switch to its main features:
You can choose between

microfiber suede or twill cover fabric

.

It comes in

four sizes

: Twin, Full, Queen and King;

It has an impressive color palette:

seven natural colors

that will fit any interior!
The batting inside the futon is additionally compressed for better durability and supportive properties.
But even despite this flaw, this futon is still great for firm sleeping lovers. It is soft and offers you cooler shut-eye without disruptions and stiffness.
Now, the worst thing about this futon bed is that it may come thinner than 8 inches. Although I didn't encounter this issue personally, many users report that it fails to decompress fully, resulting in only 5-6 inches of height.
Overall, if you need a durable futon that will ensure the quality of sleep similar to that of a regular bed, this model is a go-to choice for you.
check out this mattress on amazon
Is There Anything Else?
If you want to enjoy all of the benefits a good futon bed can offer you, you might be wondering "Is there anything else I should get for my new mattress?"
Well, one of the options is getting a futon pad. Of course, it's not a necessity. But a futon pad can actually come in handy when you need to:
Adjust the comfort level of your futon mattress

. When it comes to mattresses, sometimes it's hard to find the perfect one. The one that would support your body weight properly while allowing you to relax and feel super comfortable. If you happen to get a new futon that doesn't feel heavenly comfy, you can adjust it using a futon pad. They come in different thickness and material options. Therefore, you have the freedom to alter the feel of your mattress.

Prolong the life of your bed

. A futon pad will protect your mattress from occasional spills and stains. It will also prevent the surface of the mattress from wearing out too fast, which means your new bed will serve you longer. This can also help you save some extra money.
Keep in mind that getting a futon pad has one drawback to it. It might make your futon look a bit bulkier. Therefore, if you have a limited living space, you might want to avoid getting a pad. Instead, you can look for a waterproof cover (if you want to protect your futon mattress) or a comfy blanket (if you need to adjust the comfort level of your bed).
Why You Should Definitely, Certainly, Necessarily Buy a Futon
Here's the deal:
Futons are considered to be among the most minimalistic pieces of furniture and bedding (especially those models that are supposed to be placed directly on the floor). But, apart from being minimalistic, futons can bring you lots of benefits:
They are

easy to fold and store

. If you need to move or take your futon mattress with you to stay somewhere overnight, portability won't be a problem for you.

They can give you a chance to make your room a

multi-purpose

one. If you're living in a small space and can't use a room strictly as a bedroom, a reversible futon bed can help you with that. It can serve as a sofa during the day and as a bed during the nighttime.

They allow you to find your

perfect comfort level

. For instance, you can layer a couple of futon mattresses if you prefer more cushioning.

They are affordable

. Futons are cheaper than regular mattresses, even if you have to buy a futon frame separately.
Something to Think About: Facts You Should Consider Before Buying a Futon
Now, you might think that there's nothing special about a simple futon mattress and that picking one won't be a problem. Perhaps you're right, I'm not going to argue. However, there are some important factors you should take into consideration:
Thickness

. This feature is important since it can influence the comfort levels. If you're used to sleeping on a firm surface, you don't need a really thick futon mattress. However, if you want more padding, a thicker and taller mattress will be a better option.

Use

. If you need a futon for occasional guests and don't plan to use it regularly, there's no need to invest in a super expensive luxurious model.

Size

. This one is obvious. The size will depend on how much space you have and how many people are going to sleep on the mattress.

Cover

. It should be durable and pleasant to the touch, but don't forget about the color as well. You want your new futon bed to fit in your home's interior, right?
FAQ for Futon Mattress Buyers
How long does a futon mattress last?
If you give your futon mattress proper maintenance, it may last as long as a standard mattress lasts, which is around ten years. However, due to the use of softer foams and fills, the typical lifespan of futons is about 5-7 years.
How to care for a futon mattress?
Since futons are basically sofas, they need more frequent cleaning, compared with standard beds, to prevent debris build-up. The easiest way is to use a vacuum cleaner. Just unfold your futon and thoroughly run the vacuum over its surface, then flip and repeat.
You can also use baking soda to get rid of odors. Sprinkle it over the futon and let it sit for about an hour, then run a vacuum. Voila!
Speaking of spot cleaning, instructions may vary depending on the cover fabric material. Generally, warm water with a mild soap should be fine for bloating spills and stains.
Can I use a futon mattress with an adjustable bed foundation?
Futon mattresses can fold easily, so technically, you may use them on adjustable frames. However, the downsides may darken your experience. First, futons are significantly lighter than other mattresses, so they may slide off the bed frame. Second, they also are pretty thin, so you may feel every slat or coil during your sleep.
What is the weight capacity of a futon mattress?
Typically, the weight capacity of a futon mattress will vary depending on its size and construction. For example, a Queen-size futon sofa can easily hold up to 600 lbs. King-sized models may cope with up to 750 lbs.
Just keep in mind that futons are designed to hold at least two adult sleepers of average weight, so their capacity should be around 300 lbs at the least.
Can a futon replace a bed?
While the final answer may depend on the quality of your particular model, most futon mattresses can be used as a permanent sleeping spot. They can offer decent cushioning and comfort to average sleepers but might be too thin for large individuals.
Is it OK to use a mattress topper with a futon?
Totally. A mattress topper is basically an additional comfort layer to your bed. Thus, you can add it to your futon mattress if it doesn't fully suit your preferences. Just be sure that your topper will fit a futon frame and will create a uniform sleeping surface.
Conclusion
To be completely honest with you, I used to feel quite skeptical about futon beds. I just didn't believe they could be comfortable. However, after testing out these 6 futon mattresses, I have changed my mind completely.
Want to know which one was the most comfortable? To me, it was the DHP 8-Inch Independently Encased Coil Futon Mattress. It's a basic mattress for guests or yourself but a very comfortable one. I love coils. They make this mattress bouncy. It's definitely the best value for money!
Do you think you'll be using a futon mattress a lot in your home? If yes, tell us which particular model seems the most appealing to you.
Product links on Happysleepyhead are referral. We get a commission on purchases made through our links at no additional cost to you. More information in my disclosures.