Unbiased Bear Mattress Review + 50$ OFF Coupon
by | Last Updated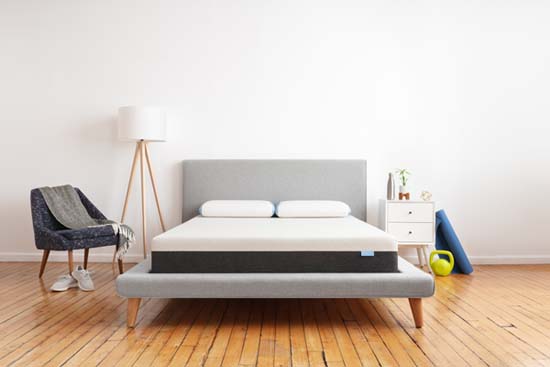 Today, more studies than ever confirm the importance of getting a goodnight's sleep. When well-rested, the world is your oyster! When you feel good, it shows! Right?
If you are :
Not coping well with stress…

Making a lot of errors…

Can't stay focused…
STOP!
Make it easy on yourself! Read this complete Review of The Bear Mattress before you buy. This review will provide you detailed "inside information", the good and the not-so-good, to help you decide if this is the right mattress for you.
So…If a new mattress is on the horizon for you, read this top-to-bottom Bear Mattress Review for all the performance details, ratings and much more…then decide for yourself!
How do they build it? The Bear Mattress is designed for faster recovery. As a training coach, a normal day for me is spending 10-12 hours on my feet, in the gym, and on the field; it can be brutal on the body! I need to wake up restored and refreshed the next day and the Bear Mattress provides me exactly what I need.
According to Bear Mattress, LLC, their mattresses provide:
"Improved Muscle Recovery.

..clinically-proven Celliant®
fibers promote circulation leading to an increase in oxygen
levels and to faster muscle recovery
Enhanced Spinal Alignment…

Graphite Gel + Response
Foam combine to help with spinal alignment and pressure
point relief.
Increased Energy…

The Bear Mattress helps you fall asleep
faster resulting in increased energy so you can be at your peak
performance every day."
The Celliant® fiber technology of the cover takes the infra-red energy your body creates and redirects it into the mattress and back up to your body, helping to increase your circulation, cell performance, and recovery, which then leads to quicker healing, lowers pain quicker, helps you fall asleep faster. The best part is that infrared does not add any heat! My energy level is spot-on every morning!
Here are some of the superior characteristics that make Bear Mattresses unique:
Improved thermal-conductivity
The open-cell high air-flow design of Graphite Gel Foam enhances airflow, producing a breathable and odorless foam (no off-gassing)
Bear Mattresses have 2 layers of RESPONSE FOAM, a highly responsive polymer that provides excellent pressure point relief. It's memory foam with a bounce
The high density of the Graphite Gel Foam provides the right amount of support for all body types
Through research and engineering, Bear Mattress, LLC has concluded that 4 layers of foam deliver the ultimate in support and responsiveness!

The Cover – Amazing Technology!
According to Celliant.com , and as one of my favorite features, this cover is very innovative…
"Decades of development by leading experts in medicine, physics and biology…has resulted in a proprietary fiber that is…a potent mix of thermo-reactive minerals.
Powered by our own metabolism, it is more hybrid engine than textile. It recycles and converts radiant body heat into something that gives the body a measurable boost—infrared energy
…Millions of these minerals [particles] are extruded into a resin that is loaded directly into the core of our fibers."
It's NOT tear resistant! Be sure you invest in a good mattress protector, such as the one Bear offers. The protector is also 100% waterproof! I've had this mattress, protector, and pillows for over a year and they still look brand new. (Pssst…I use pillow protectors as well!)
Another incentive I found, was that you can bundle these products and save an additional 5%!
Firmness and How It Feels
How a mattress feels to somebody is as unique as the person themselves.
What I can tell you is that, for this Bear Mattress Review, I rated it a 7.5/10 in firmness – this works out rather well for me. With 4 layers of foam, I don't wake up when I roll over and I enjoy the softness and slight "wrapping" of the mattress. If you are into ultra-firm support, this is not the right mattress for you.
Regardless of what size mattress you need, Bear Mattress provides the same quality in all of them. With the No-Risk, Fully Money Back guarantee (first 100 Days), there's no reason NOT to try it! You can also buy through Amazon with the same benefits!
By the way, I financed my bundled purchase of the King mattress, protector, pillows & frame through Affirm for only $325/month! It's easy-just click-through to them on the order page.
Mattress support is important to any mattress' performance.
The Bear Mattress will perform well on most any platform, including:
Additionally, investing in a quality frame for your mattress can extend the life of the mattress.
If your mattress is improperly supported, it may void your 10-year warranty.
I like a lot of room when I sleep. Even though I am not one of those "active" sleepers; however, I do tend to "travel" a little and find myself at the foot of the bed quite often. I find the motion transfer to be almost non-existent. Couples would enjoy the consistent support with just enough of a "bouncy" feel.
This part of my Review of the Bear Mattress shows you the suppleness of the mattress. I am of average height (5'10") and weight (185 lbs.)
Laying on my back: 1.5"
Laying on my side (hips): 2.0"
Laying on my side (shoulder): 2.0"
Laying on my stomach: 1.5"
Sitting on the edge: 2.5"
Standing in the middle: 3.0"
Keep in mind that your height and weight will affect your results. If you weigh considerably less, you may experience very little or no sinkage; if you weigh more, it may not be the ideal firmness for you.
The materials and creative technologies used in the manufacturing of today's mattresses have contributed significantly to the reduction in off-gassing.
When I received the mattress, I found a slight odor, but after airing out for a day, I barely noticed it.
Now here's the downside!
This mattress has made all the difference in my attitude, performance, stamina and overall outlook on life in general. When you feel good and you get enough recuperative sleep, it shows!
The downside is that whenever the folks visit, I have to give up my bed to them and sleep on the sofa! They love it! They wake up refreshed and energized and in the meanwhile, I am so sore it's all I can do to finish a 9-hole round of golf with Dad. I am seriously considering buying a sleeper-sofa and putting a Bear Mattress on it!
The absolute best feature is …
…that they financed the whole thing! Cash flow was a major concern for me, so being able to finance the whole package was a tremendous help.
The one thing I don't like about these mattresses…
…is the fact that they weigh so much. Though density is a good thing, having ordered a King, I wish I had ordered the White Glove Service, which is FREE when you order the adjustable bed.
Having overlooked this one detail, I ended up hiring two young men from the complex to carry it up to my 3rd floor flat. Cost me $50! Won't be making that mistake again!
Upfront pricing! No hidden costs!
Bear Mattress is fairly priced in comparison to other brands. Compare for yourself!
Choose from six sizes!
TWIN $540
TWIN XL $640
Mattress Dimensions: 75"L X 39"W X 10"H
Shipping Box Size: 16"L X 16"W X 44"H
Approx. Shipping Weight: 50 Lbs.

Mattress Dimensions: 80"L X 39"W X 10"H
Shipping Box Size: 16"L X 16"W X 44"H
Approx. Shipping Weight: 52Lbs.

FULL $740
QUEEN $840
Mattress Dimensions: 75"L X 54"W X 10"H
Shipping Box Size: 16"L X 16"W X 44"H
Approx. Shipping Weight: 63 Lbs.

Mattress Dimensions: 80"L X 60"W X 10"H
Shipping Box Size: 19"L X 19"W X 44"H
Approx Shipping Weight: 72 Lbs.

KING $940
CAL KING $940
Mattress Dimensions: 80"L X 76"W X 10"H
Shipping Box Size: 19"L X 19"W X 44"H
Approx Shipping Weight: 94 Lbs.

Mattress Dimensions: 84"L X 72"W X 10"H
Shipping Box Size: 19"L X 19"W X 44"H
Approx Shipping Weight: 94 Lbs.

Free Shipping AND 100 days to try it out!
Even if you financed your purchase or purchased it through Amazon, if you decide within the 100-day trial period that you are not in love with your Bear Mattress, they will refund your entire purchase! They also ship mattresses to Canada.
Should you decide to return the mattress, instead of shipping it back to them, Bear Mattress works with local charities to donate your slightly used mattress and keep it out of the landfill.
Additionally, Bear donates 1% of all its sales to Good Sports, an organization that helps every child benefit from sports and physical activity.
They have also:
Donated $20M in equipment to over 3200 organizations

Spent $4.1M on new equipment, apparel and footwear

Over 1,000 individual donations to schools & community organizations

Donated to every single state in the US
Their generosity is very commendable!
For Whom It May Be the Most Suitable Mattress?
When shopping for your new mattress, you probably know that there is that one perfect bed that can meet all your expectations and requirements. Is it the Bear Mattress? Let's find out.
You are going to love the Bear Mattress if you:
Need your bed to have good pressure relieving properties. Because this mattress is quite cradling, it will gently hug your pressure points, relaxing and freeing them from tension.

Suffer from back pain and require good support levels. Bear is a medium-firm mattress, which means it can support your body properly and keep it in a neutral position.

Prefer a mattress with a decent amount of contouring and that nice hugging feel. Because Bear is a foam mattress, it provides users with that pleasant slow-hugging feel.

Want a new mattress but are on a tight budget. The company offers the financing option to its customers, which means you can pay for your new mattress in parts. You don't have to invest a large sum of money right away.
For Whom It May Be the Least Suitable Mattress?
Now, no one is perfect. And the Bear Mattress can't satisfy everyone either. It is not suited for people who:
Require an extra-firm mattress. Bear is supportive but cradling, so it doesn't have a very stiff feel. This might make this mattress model unsuitable for people who prefer sleeping on harder surfaces.

Are heavier sleepers. If you weight more than 250-300 pounds, the mattress will allow too much sinkage, which means you might not feel that comfortable and supported. However, you can check out here which mattress is the best for heavy people.
Might experience difficulties carrying the mattress to their bedroom. Bear is rather heavy, so if there is no one there to help you with it, I suggest that you pay a bit more for the White Glove delivery and order only mattresses in a box.
"A quick note: if you buy an adjustable bed frame with your new mattress, you can take advantage of the White Glove delivery for free. This way, you don't have to worry about how you are going to carry your new Bear mattress to your bedroom."
Share their bed with a partner who tends to toss and turn during the night. The Bear mattress isn't that great with motion isolation, so it isn't really suitable for couples who might ruin each other's sleep by disturbing the other side of the bed with their constant movements.

Are sensitive to off-gassing. Because Bear is a foam mattress, it might have a slight odor upon arrival. If you have a sensitive nose, this might be a turn-off for you.
To get a clear idea of what the Bear mattress really is, let's look at the main pros and cons:
Bear Mattress, LLC is proud to build a mattress designed to last beyond the 10-year limited warranty. For more detailed information, click here.
What's your sleep worth? You get 100 days to try it out AND start getting the quality of sleep you deserve! If not 100% satisfied, they will refund your money with no hassle! So, go ahead! Order your Bear Mattress here!
Firmness

Off-Gassing

Sinkage

Comfort

Warranty

Return Policy

Customer Service

Ease to set up

Pricing
Summary
The Celliant® fiber technology of the cover takes the infra-red energy your body creates and redirects it into the mattress and back up to your body, helping to increase your circulation, cell performance, and recovery, which then leads to quicker healing, lowers pain quicker, helps you fall asleep faster. The best part is that infrared does not add any heat!
Product links on Happysleepyhead are referral. We get a commission on purchases made through our links at no additional cost to you. More information in my disclosures.