Best Mattress Toppers for Side Sleepers: Top 7 Picks for the Best Sleep of Your Life
by | Last Updated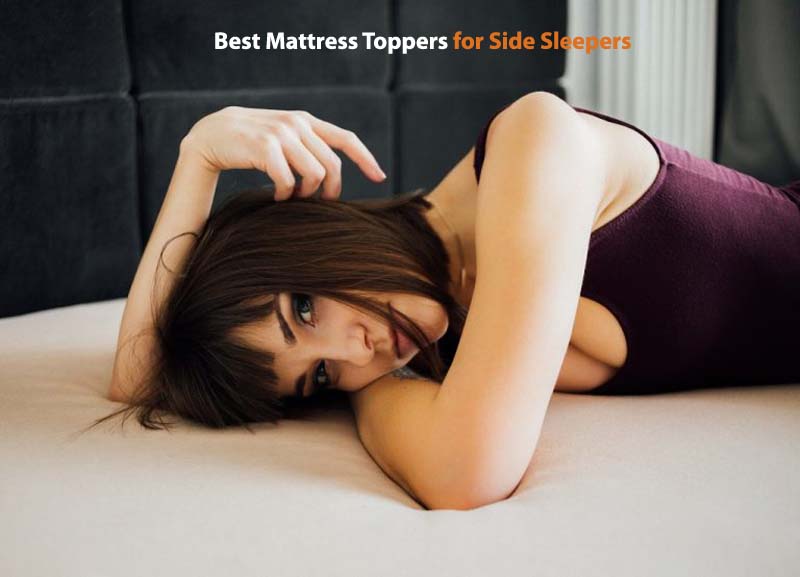 If your mattress isn't making you happy anymore, things need to change.
That's when a good bed topper can help, right?
I know you don't want to buy just any topper because you know that your sleeping position should be taken into account. As well as some other factors.
So, if you're a side sleeper – good for you, because today I've prepared 5 best mattress toppers for side sleepers. Let's see what they have to offer.
[table id=85 responsive=collapse datatables_row_details=true datatables_row_details_columns="A-G" /]
Best Memory Foam Mattress Topper for Side Sleepers
LUCID 4-Inch Gel Memory Foam Mattress Topper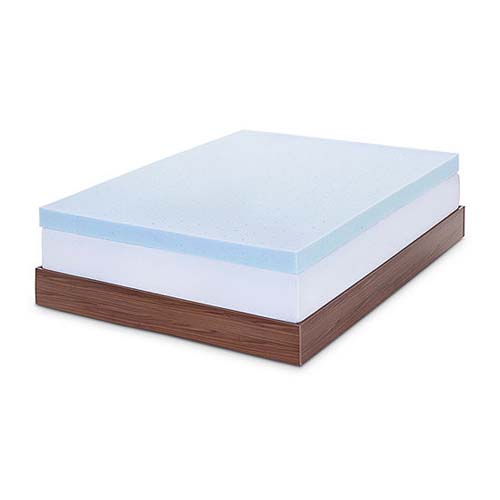 The next contestant to be titled the best mattress topper for side sleepers is this 4-inch gel-infused model by Lucid. Featuring a plush foam composition, this topper offers enough cradling, close conforming, and that pleasant hugging feel we all love about memory foam.
Here's the thing:
Even though this is a foam topper, it's not likely to make you sleep hot. This model has a special ventilated design (with open cells all across its surface), which allows for air circulation and contributes to the thermoregulation (reinforced by the gel component, by the way).
But what makes it a great memory foam mattress topper for side sleepers are its pressure relief properties. This model by Lucid nicely adjusts to the body and cradles the protruding parts, which is essential for side sleepers.
"Side sleepers often deal with pelvis rotation during sleep, which results in spinal twists. This is what makes sleeping on your side potentially harmful for your health. Still, there's something you can do to prevent the pelvis rotation. Simply get a pillow and place it between the knees. This will help your body (and, consequently, spine) remain properly aligned during the night."
The absolute best things about this bed topper are its conforming, contouring, and pressure relieving properties. It is squishy and pleasantly cradling, which is ideal for side sleepers.
When it comes to drawbacks, the biggest one about this topper is its softness. Now, I know that some of you might not actually consider this a flaw. However, for heavier users and for people who need firmer support, this topper just might allow too much sinkage due to its plush feel.
If you are looking for that nice foam feel, this topper might be ideal for you. It is plush, hugging, and it can turn almost any bed into a luxurious cloud.
Check out this mattress topper on amazon
Best Latex Mattress Topper for Side Sleepers
Pure Green 100% Natural Latex Mattress Topper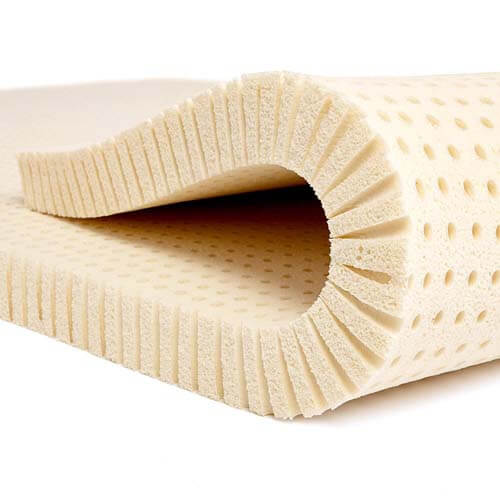 This natural latex model truly deserves to be among the best mattress toppers for side sleepers. It combines everything you need for a night of good sleep: bouncy support, soft cradling, breathability, and a pleasant, unique latex feel.
Now, this particular topper is made from Dunlop latex, which means it is a bit denser at the bottom and fluffier at the top. This actually allows for customization: you can flip the topper over for firmer support if you need it (for example, if you're a heavier user).
It gets better:
Because this is a natural latex topper, it is hypoallergenic and dust mite resistant.
And this is really good news since we know how much stuff our beds can collect within the years of regular usage. This topper won't make your skin irritated or enhance your allergies. It's a safe sleeping environment for you.
The biggest advantages of this bed topper are its material and construction. Even though latex offers quite an unusual feel, it is great for bouncy support and pressure relief. This topper can completely alter the feel of almost any mattress.
The worst part about this mattress topper is its bouncy latex feel. Now, I know that it's supposed to feel like that – springy and resilient, with a decent amount of sinkage. However, for more lightweight sleepers, this feature might make the topper feel too firm.
Even though this latex mattress topper for side sleepers is a bit on the expensive side, it's definitely worth your attention. Latex offers a unique feel, which so many users appreciate (especially those who value support and moderate sinkage).
Check out this mattress topper on amazon
Best Pressure-Relieving Mattress Topper for Side Sleepers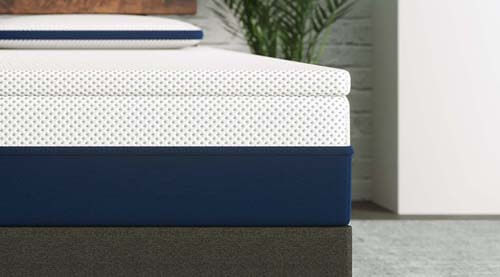 Side sleepers are prone to pressure points in their hips and shoulders. This is why they should get a mattress pad that will be able to mold to their body closely, and the Lift by Amerisleep is in my review of the best mattress toppers for side sleepers exactly because of this.
The Lift uses its patented Hive technology to reduce pressure. The topper surface is covered with hundreds of small hexagons. These hexagons are divided into five zones: head, shoulders, hips, knees, and feet. The space between hexagons in the shoulder and hip zone is a bit wider, so they can offer you more cradling and targeted pressure relief.
Also, the topper is available in two configurations: Comfort (softer) and Support (firmer). So, you can choose the firmness level based on your mattress condition or your personal preferences.
Finally, the Lift topper is encased in a removable Celliant cover, which adjusts to your body temperature and makes your sleep even comfier.
So, the thing I like the most about this mattress pad is definitely its pressure-relieving properties. The topper conforms to your body precisely and offers complete relaxation and proper spine support.
The downside of this topper is a foam smell, which was especially strong in the Comfort option that we tested. This is a common thing for foams, but still, something to keep in mind if you're a sensitive sleeper.
Overall, I definitely recommend this topper for side sleepers, especially those who have chronic hip or shoulder pain. This topper can easily relax your muscles and ensure faster drift-off.
Check out this mattress topper on amerisleep.com
Best Cheap Mattress Topper for Side Sleepers
Linenspa 2-Inch Gel-Infused Memory Foam Mattress Topper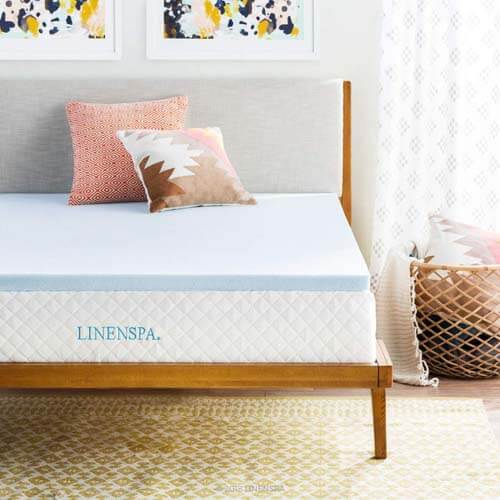 The first item on our list of the top-rated mattress toppers for side sleepers is this cheap but comfy model by Linenspa. This is one of those bed toppers that, despite being affordable and quite simple, can change the feel of your mattress.
Being only 2 inches thick, this particular model would bring in its best hugging and contouring properties for average weight users. It feels plush and resilient, just the way memory foam should feel. It offers close conforming and adapts to the body nicely. Also, this topper is infused with gel, which increases a sleeper's comfort even more by helping with temperature regulation.
"Side sleepers need a mattress topper that could absorb the pressure on their hips, pelvis, and shoulders."
The coolest thing about this model is definitely its reasonable price. This is a great option for people who don't really know what they need (hence don't want to spend too much on a mattress topper). Also, despite being cheap, this model is well made and comes with a good warranty.
The worst thing about this bed topper is that it might not be thick enough for some users. You see, 2 inches of memory foam isn't that stiff, so if a larger user lies on this topper, he or she might sink right through it and hit the surface of their mattress. This is especially disappointing when you have an extremely firm mattress.
Overall, this is a good, affordable mattress topper. I feel like it would work perfectly for an average user with a regular (not overly firm) mattress. It's soft, cradling, and adds a plush feel to your bed.
Check out this mattress topper on amazon
4-Inch Memory Foam Mattress Topper by Best Price Mattress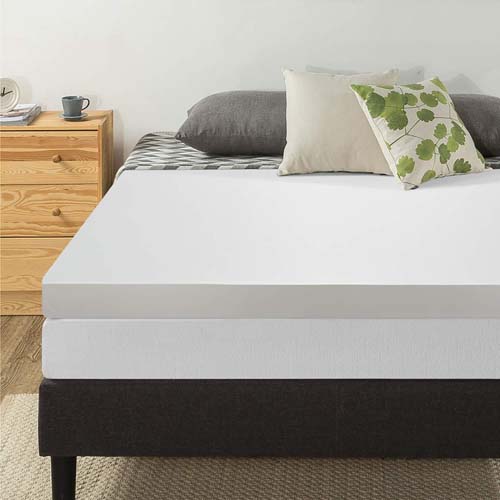 The last item on our list of the best bed toppers is this memory foam model by Best Price Mattress. This topper offers probably the best value for money on the market. It comes with a removable cover and features two layers of foam for improved comfort. It also feels great. And, most interestingly, it comes at a very reasonable price!
Here's what we are dealing here with:
The base layer of this topper is made of 2.5 inches of high-density polyfoam. The top layer is 1.5-inch thick memory foam infused with the green tea extract, which is supposed to provide a relaxing effect and add a fresher feel to the topper. Finally, there's a polyester mesh cover with a zipper for easy cleaning.
Such a combination of layers results in great comfort levels. This topper is supportive and cradling at the same time, which is an ideal combo. It allows for a decent amount of sinkage while the bottom layer serves as a dense base and keeps your body aligned.
"To sleep more comfortably on your side, you can try placing a pillow against your chest. This will prevent your upper shoulder from turning down and twisting during the night, creating a twist in your spine."
The coolest thing about this topper is, of course, the value it offers. Being moderately priced, it comes with a ton of benefits. That's a great deal, isn't it?
The most disappointing thing about this bed topper is the off-gassing. Foam tends to have a noticeable odor, and this item is not an exception. However, it may be too much for some users, especially the ones sensitive to odors. It might linger for quite a while too. Just something for you to keep in mind.
Despite some flaws, this topper has the potential to give you the best sleep of your life. It comes with a nice set of features and doesn't cost much. To me, that's a win-win!
Check out this mattress topper on amazon
Best Cooling Mattress Topper for Side Sleepers
Sleep Innovations Gel Memory Foam 4-inch Dual Layer Mattress Topper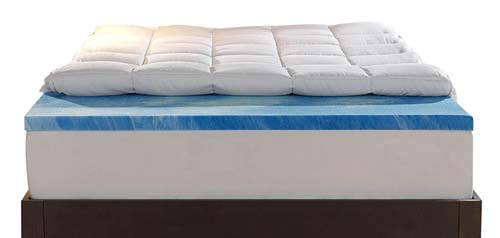 The next item I want to share with you is this 2-in-1 mattress topper by Sleep Innovations. It features two parts: cradling but supportive memory foam layer plus soft and squishy comforter-type topper. Such a combo results in a unique, luxurious feel, which can win many sleepers over.
Now, this is the best mattress topper not only for people who want that luxurious feel but also for sleepers who want customization. It features two parts, each of which is 2 inches thick. You can use both of them or try each layer independently to find the most comfortable setup.
The top layer is filled with fiber. It is very soft and feels almost like a cloud. But the gel-infused memory foam bottom layer is what makes it a great cooling mattress topper. The two layers are held together by a machine-washable cover, so you don't have to worry about them staying in place during the night.
The absolute best thing about this model is the luxurious feel it provides. The combination of pressure-relieving foam and fluffy fiber results in heavenly comfort. It gets better: you can experiment with the two layers to see which setup works for you. I believe that such customization is always a great bonus!
This probably depends on each individual batch, but sometimes this topper comes with a rather flat top layer. The one we tested was just fine, with the promised 2 inches of fiber filling. However, some customer reviews note that their toppers were not thick enough. This might be a disappointment for some sleepers, as returning is always a hassle.
To be honest, I thought this mattress was too expensive. Until I actually tried sleeping on it. The way this topper feels made me realize that it's worth every penny. And I'm sure you are going to feel the same way.
Check out this mattress topper on amazon
Best Dual-Layer Mattress Topper for Side Sleepers
Another contestant in my review of the best mattress toppers for side sleepers is the UTTU. The model features two-layer construction, which makes it unique in many ways. The UTTU mattress pad can really enhance your sleeping experience and bring peaceful sleep back into your life even if you own an ancient mattress.
So, under a soft and breathable polyester cover, which is also removable and washing machine-friendly, you'll find two layers.
The first one is 1-inch thick Red Respira Foam with great breathability and high rebound that won't mess with the ease of moving. Right below lies the layer of the proprietary UTTU Dynamic Foam that can offer you a great hug and relieve the pressure points in your hips and shoulders.
Overall, the topper has a medium to medium-firm feel and can suit side sleepers of any body composition. It will easily help you get comfy on a nightly basis.
So, the thing that I loved the most about UTTU mattress topper is its design. The combination of breathable and cradling layers works really great for side sleeping and ensures peaceful and uninterrupted sleep.
What disappointed me a bit, though, was the quality of zippers on the cover. We almost broke one of them while trying to put the cover back on after the wash test. So, keep in mind that you should be gentle with them.
Despite some minor flaws, the UTTU mattress topper may be a worthy purchase. It's a good option for those who have an old bed but aren't ready to replace it yet, as well as those who struggle with hot sleeping.
Check out this mattress topper on amazon
Why Not Buy Just Any Topper?
Side sleeping is considered the second healthiest position. But why should you take this into account when choosing a topper? Because side sleepers tend to suffer from hip and shoulder pain, body tension, and incorrect spinal alignment. And all of these issues can be caused by sleeping on an inappropriate surface.
"A mattress topper is a layer of extra material placed on top of your bed. It has the ability to modify the properties of your old mattress, making it harder, softer, thicker, more cradling, more supportive, etc. depending on the type."
When lying on one side, some parts of your body protrude more than the others (like shoulders, knees, and hips), which causes pressure on them.
That's why all side sleepers need special toppers.
You need something cradling, something that will allow your pressure points to sink in without making them tense. At the same time, your topper needs to be supportive in order to help your body maintain a proper, neutral spinal alignment.
So, What Is the Best Mattress Topper for Side Sleepers?
Look, you can go through thousands of different toppers and designs (and yes, there are thousands available on the market these days), but when it comes to quality (and being suitable for side sleepers), a good bed topper means the one that is:
Supportive

. As simple as it is, proper support means proper spinal alignment. When your topper is not supportive or allows for too much sinkage, there might be curves in your spine, which can lead to pain and other issues.

Cradling and pressure relieving

. Again, because some parts of your body protrude more when you are lying on your side, your topper needs to gently hug and cradle them, allowing the pressure points to sink in instead of pushing them against the sleeping surface.

Not too firm

. A medium-soft topper is probably the most optimal solution.

Thick enough

. Because you want your topper to improve the comfort and feel of your mattress, it needs to be thick enough to actually keep you above the mattress. A thin topper will allow too much sinkage, which means your body will rest on the old mattress. So, what's the point in getting a topper then, right?

Temperature-neutral

. Sinkage often makes users feel like they are hugged by the topper material, which results in hot nights. Therefore, a good topper needs to allow for airflow and ventilation (or has to be made of temperature-neutral materials).

Durable

. This one is pretty obvious, isn't it? Once you have found your perfect topper, you want it to serve you for a long time.

Easy to clean

. Usually, the best option here is a topper with a removable, machine-washable cover.

Safety certified

. You are going to use your topper every night. Of course, you want it to be safe for your health. Check for such safety certifications as

CertiPUR-US, Oeko-Tex, GOLS, etc.
Also Read: Best Egg-Crate Mattress Toppers
You Asked, We Answered: FAQ
Can I keep using my regular sheets once I get a mattress topper?
If you are using deep-pocket sheets, they are most likely to fit your bed with a new mattress topper. However, if your sheets are regular, they might not be big enough to reach the edges of the mattress once the topper in used. You might want to try getting bigger size sheets.
Should I put a mattress topper under or over a mattress protector?
I believe it's best for you to try both methods and rely on your feeling of comfort. Some people put their protector over their topper just for the sake of keeping the latter clean. But you should note that depending on what materials your bedding items are made of, what their firmness is, and some other factors, their different order may result in a different overall feel of your bed.
Will a bed topper help me with back pain?
Theoretically, yes. This depends on each individual case. But in general, mattress toppers can help with such issues as back pain, stiff shoulders, hip pain, etc. This is possible if you get a suitable topper for yourself – that is, something supportive enough for proper spinal alignment.
My mattress makes me sleep hot. Can a topper fix this problem?
A bouncy latex topper will keep you above your mattress surface, which can help with temperature regulation.
If my old mattress is saggy, will a good topper give me the needed support to fix this?
Not really. A mattress topper is an extra layer for your mattress. It can change the way your bed feels, but it cannot fix an old mattress. Because your bed will serve as a base for your new topper, you will still feel its sags.
Will a mattress topper work for a heavy person?
Yes, but make sure you pick a thick one. Also, latex toppers are more resilient and less sinking than memory foam, so they might be more suitable for heavier users.
Conclusion
I understand we are all different and have our own preferences.
But I believe that each of these mattress toppers can be an ideal solution for any of you. And while they are all great, I have my personal favorites.
For someone who wants a bouncier, a bit firmer support and a good deal of pressure relief, I would recommend the Pure Green Natural Latex Mattress Topper. It does cost a bit more, but trust me – it is great in terms of comfort. This bed topper will support your body while gently cradling the protruding parts.
For those who want something softer, with a pleasant hugging feel, I suggest trying the 4-Inch Gel Memory Foam Mattress Topper by LUCID. It is squishy and contouring, which is ideal for pressure relief and sleeping on your side. Plus, it's soft and feels like a cloud.
So, do you think your mattress needs a new topper? Which one are you considering? Share your thoughts in the comments!
Additional Resources:
Best Mattress Toppers For Back Pain Relief
Product links on Happysleepyhead are referral. We get a commission on purchases made through our links at no additional cost to you. More information in my disclosures.