5 Best Adjustable Beds for Seniors – Reviews and Buyer's Guide
by | Last Updated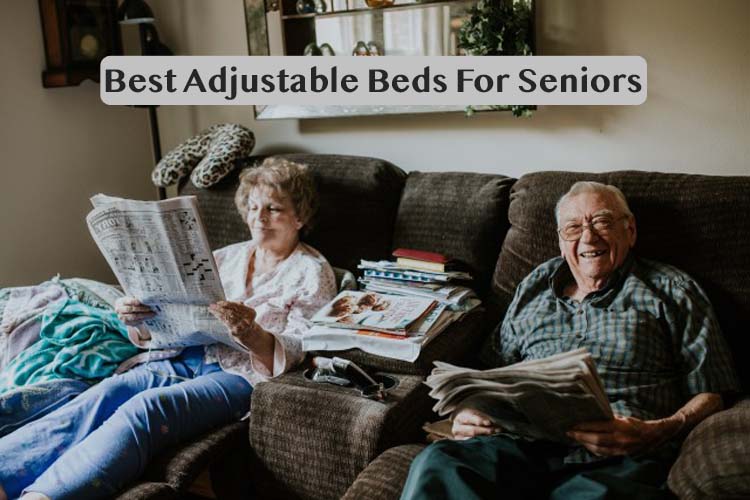 Our physiology makes us more dependent on sleep as we age.
Chronic conditions or pains may significantly lower the quality of rest of a senior person.
However, adjustable bases may be very beneficial for older adults, as they allow to create suitable sleeping surface considering their needs.
In this guide, I will give you my reviews of 5 best adjustable beds for seniors and share some key points you should pay attention to when shopping.
| Model | Sizes | Weight Capacity | Warranty | Rating |
| --- | --- | --- | --- | --- |
| Blissful Nights | Twin XL, Full, Queen, King Split, Cal King Split | 750 lbs | 10 years | |
| Classic Brands | Twin XL, Full, Queen, King, King Split | 1,000 lbs | 3 years | |
| LUCID | Twin XL, Full, Queen | 750 lbs | 10 years | |
| iDealBed | Twin XL, Full, Queen, Queen Split, King, King Split, Cal King Split | 850 lbs | 3 years full coverage; 10 years prorated | |
| Saatva Lineal Base | Twin, Twin XL, Full, Queen, King, Cal King | 850 lbs | 5 years full coverage; 25 years prorated | |
Our Reviews of 5 Top-Rated Adjustable Bases for SeniorsBest for Quiet Design
Most Affordable Pick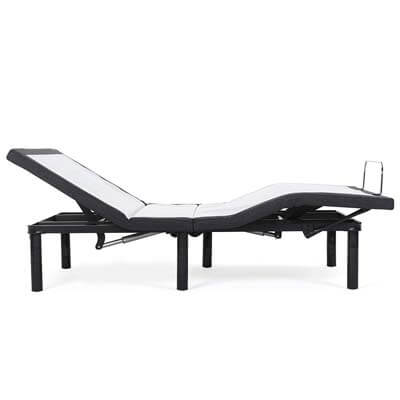 I will begin my list of top-rated adjustable beds for seniors with the most affordable option. This model by Blissful Nights packs all the necessary features to provide better sleep for an older adult at a reasonable price tag.
So, this adjustable bed allows you to elevate its head and foot section with an included wireless remote control. Both parts have independent motors, so you can make smoother adjustments based on your needs.
Another great thing about the Blissful Nights bed base is that it doesn't require you to spend hours on assembly. All you need to do is screw the legs in — they have an adjustable height, meaning they can fit any bed frame you use — and plug your bed base into an outlet. That's it.
Despite this minor inconvenience, the Blissful Nights is literally perfect. What this adjustable base offers for the price is more than enough to create a comfortable sleeping — or reading — place for the majority of older sleepers.
My only complaint about this bed base is the transition speed. Both sections move incredibly slowly, so one needs to be patient when switching from the lowest incline to the highest.
If you're looking for a no-frills bed base that combines quality, all the important functions, and affordability, opt for the Blissful Nights.
check out this bed on amazon
Best Multifunctional Base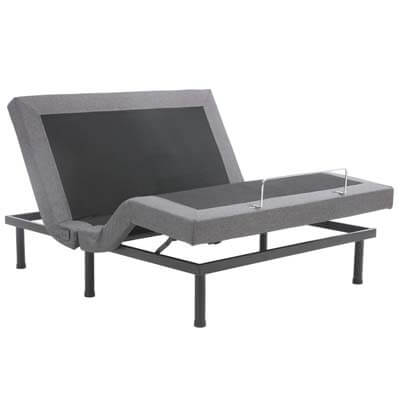 Another model in my review of the best adjustable beds for seniors is this model by Classic Brands. It's available in 5 mattress sizes (including one split option) and is very multifunctional, so it can serve as a comfortable sleeping surface for literally anyone.
Now, I love that this bed base has a massage function. Thus, before you drift off to the Land of Nod, you can enjoy a relaxing massaging session. Massage sensors are located in the neck and calf areas, which is great for alleviating leg swelling and some neck pain issues.
The Classic Brands adjustable base also has a Zero-Gravity setting. Zero-Gravity allows you to elevate your legs at heart level, which improves blood circulation and reduces blood pressure.
The best thing about this model is its functionality. You will love the functions it offers and the ability to regulate them to your liking.
The thing I didn't like about this bed base is that the remote may glitch and freeze, which turns switching positions or using a massage function into a challenge. Many users reported remote issues actually, so it's something you should keep in mind.
Overall, I think this model is a worthy purchase. It comes with all the features a senior may need in order to feel comfortable in their bed. And it's not very expensive.
check out this bed on amazon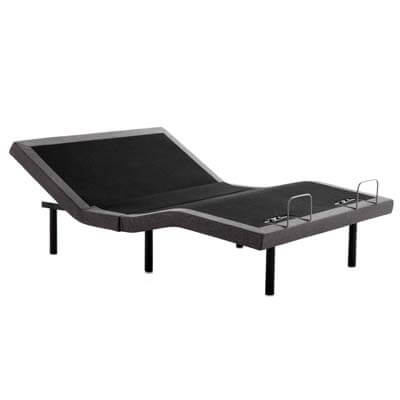 The LUCID is a top-rated adjustable bed for seniors for a straightforward reason: it has the most silent construction which can be easily customized to your liking. But that's not it.
The head section can be elevated up to 60 degrees, so a senior can read and watch TV in comfort. The leg section can be lifted to 45 degrees, so individuals with swelling or other painful conditions will be able to rest and relax.
Now, the LUCID bed base has a programmable memory option. This means you can set up the bed for a senior user and save the settings, so they won't struggle with adjustments themselves.
The overall weight capacity of 750 lbs makes this combo great for heavy sleepers or couples. And the foldable hinge construction allows even older adults to assemble it with ease. Just screw in the legs and unfold it, and you're all set.
But a totally silent construction is definitely the most outstanding feature of this base. Since older people often have sensitive sleep, a silent design won't bother them and will help make their shut-eye more restorative.
However, one thing that can wreck the experience of using this base is that the USB ports are located on the bottom part of the head section, so it's not comfortable to use them. But as senior people typically don't use gadgets, this shouldn't be a major inconvenience.
Overall, I would recommend this adjustable base for any sleepers. The Queen size I was testing performed super well and has all the functions you — or your older relative — may need.
check out this bed on amazon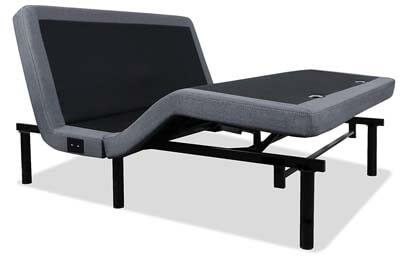 The iDealBed adjustable base literally stands for its name, which is why it's in my review of the best adjustable beds for seniors. This foundation can help your older relative combat some sleep issues, such as snoring and trouble breathing, and provide them with heaven-like sleep.
The iDealBed has a versatile massage option with four modes and three intensity levels. You can also set the timer from 10 to 30 minutes and just slip into the Morpheus embrace — the bed base will switch off automatically.
Another great feature is the anti-snoring setting. Although neither my wife nor I are snorers, we enjoyed sleeping in this setting the most. It allows you to breathe much easier by creating a slight incline in the upper section.
What I really love is that this bed base can be useful for seniors with sleep apnea and snoring. The settings of this base are very versatile and allow older people to get the desired relief.
The only possible downside of this bed base is the noise. I believe that sensitive sleepers might find the sound of this bed's motors a bit annoying.
So, if you or your older family member suffers from any sleep-related issues, don't skimp on their health and purchase this bed base.
check out this bed on amazon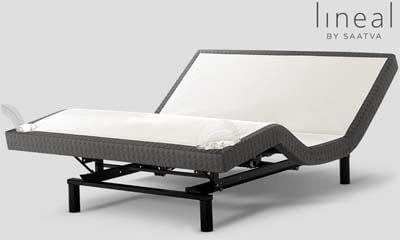 And the last candidate in my selection of top-rated adjustable beds for seniors is the Lineal model by Saatva. This adjustable base has a wall-hugging mechanism, so it will be an excellent purchase for those who want their nightstand and all the things on it to always be within easy reach.
The Saatva Lineal can offer you a full body massage session, which can be great for older sleepers with different types of pain.
Also, the Lineal base has a Zero-Gravity setting allowing you to switch into a weightless sleep position in seconds. It improves lymphatic drainage and contributes to heart health by lowering blood pressure. Thus, with this adjustable bed, your sleep will become more therapeutic.
The most prominent feature of the Lineal is its wall-hugging mechanism. Most cheaper bases do not have it, so when they put you into an upright position, you appear to be somewhere in the middle of the bed. This means your nightstand and a remote/a glass of water/or anything else you put on it are left behind and out of reach. But with this base, you will stay in the head of the bed, meaning you can easily use your nightstand.
The only drawback of the Lineal is its price. Saatva is a reliable brand, and their products are always of the highest quality and last long. Hence higher prices. So, if you're not ready to spend more for a fancier bed, you probably should look elsewhere.
Overall, I liked the Saatva base, and I believe that it will work great for any sleeper who can afford it. It's a comfortable and very versatile model.
check out Saatva Lineal Base on SaatvaMattress.com
Types of Adjustable Bases for Seniors
Today, older adults can choose between two main types of adjustable beds:
Sleep-to-stand beds (or pivoting beds)

. A sleep-to-stand bed is basically something in between a

sleeping recliner chair

and a standard adjustable base. This bed can go from completely flat to a sitting position and can be good for older people who have limited mobility or use a wheelchair to move around. Their main difference from a regular adjustable bed is that the mattress and the bed base are sold as a single element and move together.

Elevating beds

. Elevating adjustable bases are the most common option. They allow you to independently (or not) elevate the head and leg section in different angles and create configurations for a more peaceful sleep or relaxed reading time.
How Senior People Can Benefit from Using an Adjustable Base?
An adjustable bed base has numerous benefits and functions designed specifically for people with different health issues to make their life easier. Since getting older typically brings health conditions, seniors can greatly benefit from sleeping on an adjustable bed base.
Let me tell you how exactly.
Zero Gravity Option
Many of the modern adjustable bases feature a Zero-Gravity setting. It's a configuration that allows you to lift your legs up to the heart level so that you won't feel their weight. Many healthcare practitioners agree that the Zero-Gravity position has the following benefits:
Improved lymphatic drainage. Legs elevation may reduce swelling in calves and promote blood flow.
Lowered blood pressure

. In a zero-gravity position, it is easier for your heart to pump blood, so the overall cardiovascular system works in a more relaxed mode.

Muscle relaxation

. When your legs are lifted, leg muscles relax faster, allowing you to fall asleep faster, too, and sleep deeper.
"Since we're all different, so are our sleeping preferences. That means a Zero-Gravity position may not work for everyone and may even cause discomfort in some sleepers."
Easier Breathing
Snoring and sleep apnea are incredibly common in older adults. They can cause a lot of problems and are potentially life-threatening because they're closely connected with heart failure and stroke.
Adjustable bases often have an anti-snoring setting that can help senior sleepers keep their airways open.
Also read: 6 Best Mattresses For Sleep Apnea — Reviews & Information
"Older sleepers with lung diseases can benefit from an adjustable base too. Elevation of the upper body puts the pressure off their chest and allows them to breathe more easily."
Gastric Issues Prevention
An adjustable base may also prevent acid reflux, heartburn, or GERD.
These diseases have one symptom in common:
The stomach juices enter into the esophagus and provoke pain and burning sensations. By lifting the upper section of your adjustable base, you will put the esophagus higher than the stomach, so the gastric juices stay inside and don't irritate the esophagus tissues.
Pain Relief
Finally, many senior people suffer from different aches and pains, such as:
arthritis;

fibromyalgia;

hip pain;

lower back hernias;

etc.
Sometimes, the ability to shift the bed sections allows to create a more relaxing sleeping surface for older people with pain and provide them with a more therapeutic sleep.
Also, some models have a massage function that can additionally relax stiff muscles as well as the nervous system.
Also Read: Best Mattresses For Arthritis And Fibromyalgia Sufferers: Have The Pain-Free Sleep Every Night
Checklist for Buying an Adjustable Bed for Seniors
Now, let me walk you through the list of the key things you should consider before purchasing an adjustable bed base for an older adult.
Motor and Controls
All the adjustable bases use an electric motor for shifting sections. However, they differ by the type of power supply they use:
AC beds.

To use this type of beds, you need to plug them in a socket. They typically are more energy-consuming, and you can only put them in a place that is limited by the cord length. But AC motors also are more durable and require less maintenance.

DC beds

. These beds operate on battery power, so you need to recharge them regularly. DC motors are more compact and cheaper, but they're more prone to damage as well.
"The type of motor impacts the level of noise it will make when transitioning between positions. AC motors generally are louder, which might be annoying for some users."
Speaking of controls, the wireless options are better, as they're more flexible. However, they also require batteries, whereas the wired remote runs directly from the electricity.
Also, be sure that the programs are relatively easy for an older person to remember, and that the pictograms or letters that mark the buttons are larger.
Weight Capacity
Lifting capacity is another essential thing to consider. Basically, every motor has a weight limit it can handle before it burns out.
Quality adjustable bases usually have the minimum weight limit of 600 lbs, which is enough for a heavier single sleeper or an average couple. Note that the weight capacity includes the mattress, so be sure to count it in as well.
Type of Mattress You're Planning to Use
Most mattress brands state that their products work well with adjustable bases. However,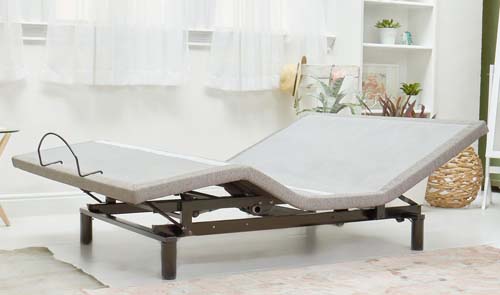 the reality can be a bit different, and your mattress type may influence the overall feel you get from the adjustable base.
Here's how each mattress type performs with an adjustable base.
Memory foam

. My honest opinion is that the most suitable mattress for an adjustable base is a

memory foam mattress

. This material is pretty flexible and adaptive, so it will adjust to the bends in different positions with ease.

Latex.

Latex is another suitable option for adjustable bases. It's more durable than foam, so you can expect even better longevity. However, latex mattresses rarely are cheap, so it's not a choice for those on a budget.

Hybrids

. Hybrid beds that use pocketed coils are more flexible compared to those featuring a solid block. So technically, they can pair with an adjustable base pretty well, without much resistance in bending points.

Innerspring

. Innerspring mattresses, especially models with a solid block, aren't the best choice for adjustable beds. Springs will build too much tension in the bent areas and may contribute to soreness and pain.
Additional Functions
Finally, consider additional functions that can be beneficial for older sleepers:
Illumination

. LED-lighting from the under-bed area can be very helpful when an older person encounters the need to visit the bathroom at night.

USB-ports

. Some models allow charging gadgets, such as a phone or an electronic book, without getting up from the bed. Some medical equipment seniors use might also be charged with a port.

Split base

. If a senior person shares a bed with a partner, they may have different needs in terms of pain relief and comfort. A split adjustable base is a great solution, as it will allow them to set their preferences separately and get good sleep without interrupting each other's comfort.
Final Word
So, you now know a lot about adjustable bases and are able to choose the best one, whether for yourself or your older relative.
All five models reviewed in this guide will cover the basic needs of a senior person. But each of them has different features and pros and cons, so choose carefully.
The base I personally enjoyed testing the most was the iDealBed. I'm impressed with its versatility and sensitive settings that allow you to create a configuration for literally any sleeping problem.
However, if you don't want to overpay for all the bells and whistles, then the Blissful Nights base may be the one you're looking for. It packs only the essentials, has a sturdy construction, and offers great value for money.
So, have you already defined your favorite among the five adjustable beds reviewed? What mattress are you going to use with it? Feel free to share or ask questions in the comment section!
Product links on Happysleepyhead are referral. We get a commission on purchases made through our links at no additional cost to you. More information in my disclosures.