Best Full Size Mattress: Top Brands Comparison and a Comprehensive Buying Guide
by | Last Updated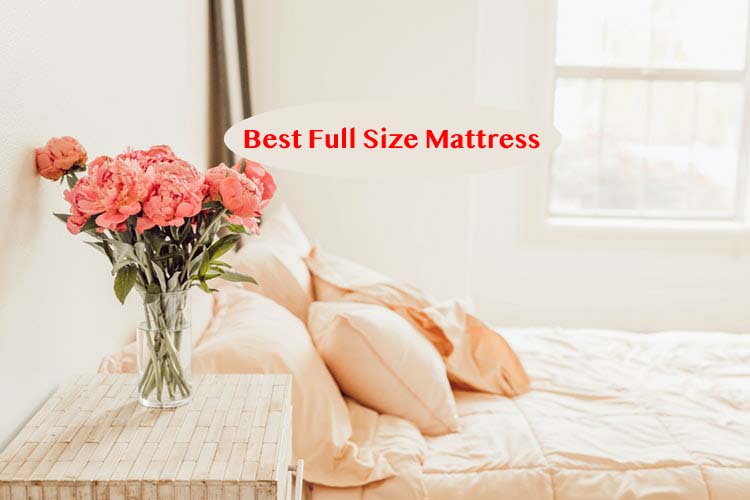 Want to organize your ideal bedroom but don't have enough room to set up a Queen-sized bed?
I've got an idea for you!
A Full Size mattress is no worse in terms of comfort and can even accommodate a couple without feeling too crowded.
So, I have reviewed 5 best full size mattress and collected some tips on choosing your perfect model.
You're invited to check them out right below!
Model
Type
Layers
Trial & Warranty
Rating
Cool Bliss by Plushbeds
Memory foam
stretch knit cover;
gel memory foam;
natural latex;
convoluted foam;
high-density polyurethane foam base
100-night trial;
25-year warranty
Winkbeds
Hybrid
Construction differs depending on the firmness level
120-night trial;
lifetime warranty
Avocado
Hybrid
organic cotton cover hand-tufted with wool;
Dunlop latex;
upcycled steel coil block;
Dunlop latex base
365-night trial;
25-year warranty
Saatva
Memory foam
stretch knit cover;
gel memory foam;
natural latex;
convoluted foam;
high-density polyurethane foam base
100-night trial;
25-year warranty
Bear Pro
Memory foam
Celliant breathable cover;
copper-infused foam;
gel memory foam;
quick-response foam;
dense foam base
100-night trial;
10-year warranty
Olee Sleep Galaxy
Hybrid
polyester cover quilted with fiber pillow-top;
memory foam comfort layer;
gel-infused foam comfort layer;
resilient foam transition layer;
a layer of pocketed coils;
dense foam base
30-day trial;
10-year warranty
Our Reviews of 6 Best Full Size Mattresses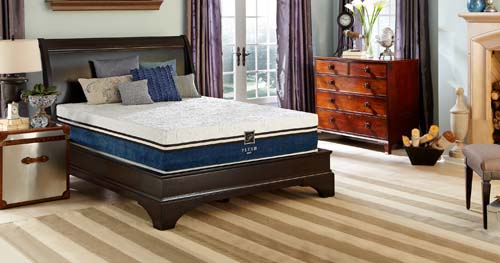 Meet the Cool Bliss by Plushbeds — the mattress that will help you forget about hot sleeping! Its construction is literally designed with refreshing sleep in mind and is the main reason why the mattress has made it to my list of the best full-sized mattresses.
Let's break it down. Right under the knit cover, there's a layer of cooling gel-infused memory foam. It will absorb your body heat and dissipate it while you'll be peacefully resting on a nice and cool-to-the-touch surface.
Below the foam layer, there's a combo of natural latex and convoluted foam. These materials enhance the breathability and have reasonable shock-absorbing properties.
So, as you can see, the most prominent feature of the Cool Bliss is its breathability. This mattress can work even for users who are prone to hot sleeping. It will help you cool down and provide a more refreshing shut-eye.
The main issue of this bed is typical for all mattresses with foam upper layers: the Cool Bliss has weak edges. So, if you plan to sleep on it alone — ignore this; but if you plan to share your bed with someone, you may want to choose another model.
Overall, I enjoyed sleeping on the Cool Bliss by Plushbeds. It's comfortable, temperature-neutral and pretty cradling — what else do you need from a mattress?
CHECK OUT cool BLISS MATTRESS ON PLUSHBEDS.COM
Best for Firmness Variety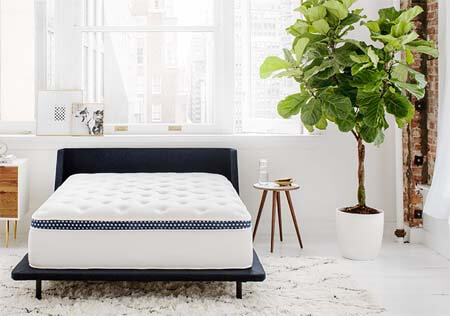 I included the Winkbed in my review of Full-sized mattresses because it's the most versatile option on the market. No matter which firmness level you'll choose, you can expect pretty good support and cradling for your body curves along with awesome durability.
So, the Winkbed mattress is available in four firmness levels with one being specifically designed for heavy users. Depending on the firmness level you choose, you can rely either on a lumbar pad for better support in your lower back area or on a zoned coil system for a more precise adjustment to your sleep position.
Along with that, the Winkbed sleeps neutral due to its hybrid construction, so even if you're a hot sleeper, you won't be waking up sweaty.
The thing I liked the most about Winkbeds is that it literally has an option for any sleeper. So, you will easily find something that will provide you with quality shut-eye.
The weakest point of this mattress is that even its softest variant might lack sinkage and feel too firm. Especially for petite sleepers and those who sleep on their side.
To sum up, the Winkbed mattress is pretty uniform and it relieved my stiff back after a rough day. Plus, it comes in all possible firmness levels to satisfy most sleepers.
CHECK OUT winkbed MATTRESS ON winkbeds.com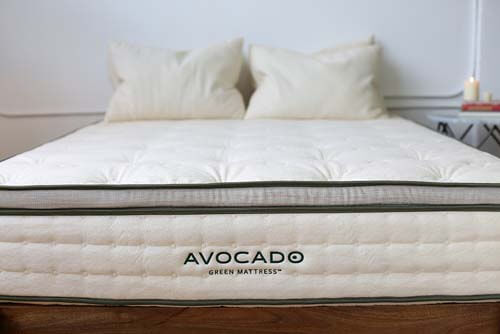 The Avocado mattress, along with being incredibly durable and offering comfort for almost any sleeper, has one more great thing that makes it one of the best Full-sized mattresses: it's completely eco-friendly. The manufacturer uses renewable and upcycled materials with no adhesives.
Now, the mattress features a hybrid construction. The comfort layer is made of natural Dunlop latex that offers a perfect balance between cradling and rebound and can properly hug your pressure points.
Right below, there's a layer of upcycled steel coils. It features an enhanced steel perimeter, for sturdier edges and a uniform sleeping surface. Plus, it allows the air to freely circulate inside the mattress, promoting cooler sleep and ensuring your mattress won't develop mold issues.
The Avocado is wrapped in an organic cotton cover with cute wool rosettes. The threads from these rosettes go all the way down to the bottom of the mattress and hold the construction together, allowing the manufacturer to eliminate adhesives completely.
Thus, the greatest thing about this mattress is that it's totally eco-friendly. If you are concerned about the environment — or if you have some allergies — this all-natural mattress is your perfect fit.
The drawback, however, is the price. Eco-friendly items are rarely cheap, and the Avocado is no exception. If you are on a budget, you may want to choose something more affordable.
I loved sleeping on the Avocado mattress every night of the testing period. And I should say that if you're into all things green, you should definitely try this bed.
CHECK OUT avocado green MATTRESS ON avocadogreenmattress.com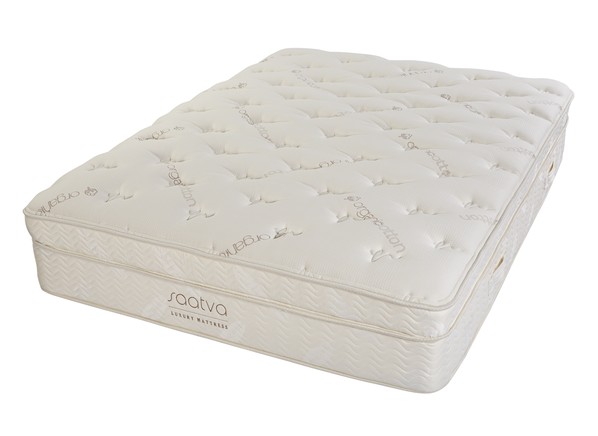 When reviewing this top-rated Full size mattress, I found that Saatva is among the few brands on the market that can offer really sturdy edges. Given the fact that Full is a smaller size, you definitely want to utilize the whole mattress surface, so strong edges are exactly what you need!
The Saatva is an innerspring mattress that features a more advanced construction than other innersprings on the market. There is one layer of pocketed coils and a solid coil block right below it. The former is responsible for more precise contouring, while the latter serves to provide better weight distribution and good motion response.
If you're concerned that this construction might feel too firm for your spine, don't be: a layer of comfy gel-infused memory foam right under the cover will gently cradle your body and give you relief. Plus, there are three firmness options available.
The most significant advantage of the Saatva is its edge support. There's a dense foam enhancement around the perimeter of the mattress, which allows utilizing the entire surface. And that's what makes this bed an excellent option for couples.
The thing that bothered me a bit, however, was motion transfer. Due to two coil layers, the Saatva is very responsive to movements, which can be an important downside if you or your partner are sensitive sleepers.
Durable and supportive, the Saatva mattress gave me and my wife a night of sound sleep. It will make a great pick for couples and those who tend to sleep closer to the edge.
check out saatva mattress on saatvamattress.com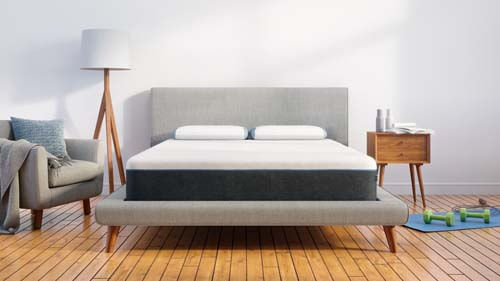 While reviewing this top-rated full size mattress, I was impressed by how great it relieved stiffness in my back after sitting in the office chair all day. The Bear Pro has a real power to improve your sleep and help you recover faster.
The mattress has an all-foam construction with several interesting features. The Celliant cover — which features the technology initially designed for athletes — keeps you cool and provides better muscle recovery and more restorative sleep.
The first comfort layer is made of copper-infused foam. Copper particles not only aid in heat removal but also have great antimicrobial properties, thereby preventing mold development and enhancing durability.
Thanks to the all-foam construction, the mattress features great motion absorption and a decent hug. Also, the medium firmness makes it compatible with almost any sleep position.
What impressed me the most about this bed is that it performs as advertised and does help you sleep better. I woke up refreshed and ready for another challenging day in the chair after testing this mattress!
However, the possible issue you may face is the odor. The Bear Pro may strike you with an unpleasant factory smell once you unpack it. Although it will eventually dissipate, the first couple of nights might be challenging if you have a sensitive nose.
If you're a fan of cradling typical of foam mattresses, the Bear Pro will hug your curves really well. It's an excellent choice for those who want a complete muscle relaxation.
check out bear pro mattress on bearmattress.com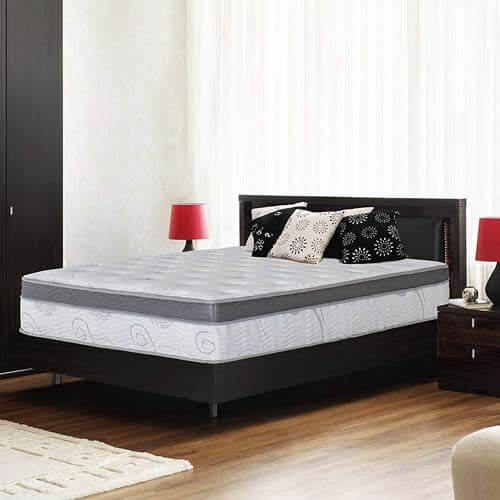 Olee Sleep is on my list of the best full-sized mattresses because it has everything you may expect from a high-end mattress but at an affordable price! This is truly a jackpot, isn't it?
So, the mattress features a hybrid construction and has a soft to medium feel due to the several layers of cushioning foam on the coil block. For this reason, I think that this mattress can make a good pick for petite sleepers and those sleeping on their side.
Along with that, one of the comfort layers is gel-infused foam that helps withdraw body heat and make your sleep less hot.
Now, the coil block is responsible for balanced motion response. The Galaxy mattress is not too bouncy, as the foam layers absorb the motion pretty well, but it also doesn't impede your position shifting during the night.
What I loved about this mattress is that all these great things you've just read about don't come with a four-figure price tag! Olee Sleep makes really affordable but quality mattresses, and this one is no exception.
The drawback, however, is that cheaper materials the company uses may result in incomplete or slow inflation. Keep this in mind if you want to use your new bed right away.
So, I can definitely recommend this bed for people who want to save a bit and get a mattress that can offer you good sleep no worse than more expensive brands.
check out this mattress on amazon
History of Full-Sized Mattresses and Their Features
I will start with a brief historical reference:
Until Queen-sized beds were introduced to the market in the late 1960s, Full (or Double) mattresses remained some sort of a golden standard for couples, while Twin (or Single) beds, as the name implies, were commonly used for kids and single sleepers.
Today, Full Size is sometimes referred to as mini-Queen, meaning that the main — and basically the only — difference between Full and Queen mattresses lies in their dimensions:
Full

measures 54 x 75 inches (although you may come across 0.5-1-inch variations across different Full-size mattresses), leaving 27 inches of the bed space in width per person.

Queen

is 60 x 80 inches and offers you 30 inches of space per person, respectively.
As you can see, the difference exists but it's not very dramatic, so a Full-sized bed can still be a good fit for two adults.
"There's also a Full XL mattress size that measures 54 x 80 inches and may suit taller sleepers or those who love to stretch a bit. However, this size is not common, so it may be difficult to find it."
Also read: Best King Size Mattresses
Who Will Benefit from Sleeping on a Full-Sized Mattresses?
Today, the mattress market is much more diverse, and the Queen-sized mattresses win over the Full-sized ones in terms of popularity.
Still, in some cases, this mattress size can make a good alternative:
For a small bedroom.

You definitely don't want to put a spacious and bulky Queen mattress in a small bedroom and have literally no space to walk around it. Even a couple of inches — such as those 5 inches in length and 6 inches in width that differentiate Queen and Full — can make or break your bedroom space.

For a guest room.

A Full mattress is more than enough to accommodate a single sleeper or a couple for an occasional overnight stay, so it can work as a good option for guest room beds.

For a kid's room.

Older kids and teenagers may need more space than a standard Twin or Twin XL bed to sleep comfortably, so you can offer them a Full one.

For petite sleepers.

If your height is less than 5'5'' and you have petite body proportions, you may feel pretty comfortable on a Full mattress, whether alone or with a partner.
Also, a Full-sized bed is an affordable alternative to larger sizes, which can be a major deciding factor for some users.
Conclusion
Every sleeper has its own unique needs and, apparently, may benefit from different mattress sizes. I tried to collect only the most trusted manufacturers who produce quality mattresses, so you can easily find something you will love.
As for me, I really loved the nature-friendly mattress from Avocado. I'm a huge fan of natural materials, so it's the primary reason I picked it. But aside from that, I really enjoyed the breathable construction and the perfect amount of cradling this bed can offer.
If you're not a fan of hybrids and are more into that classic memory foam feel, go with the Cool Bliss. The best thing about this mattress is that it can keep you cool, despite the foam construction, and adapt to your body shape, providing a truly relaxing sleeping experience.
So, why are you considering buying a Full-sized bed? Which model out of all the aforementioned ones have caught your eye? Share below, I'd love to read that!
Product links on Happysleepyhead are referral. We get a commission on purchases made through our links at no additional cost to you. More information in my disclosures.