Best Mattresses in Canada: Top Picks, Recommendations, and Some Extra Tips and Tricks
by | Last Updated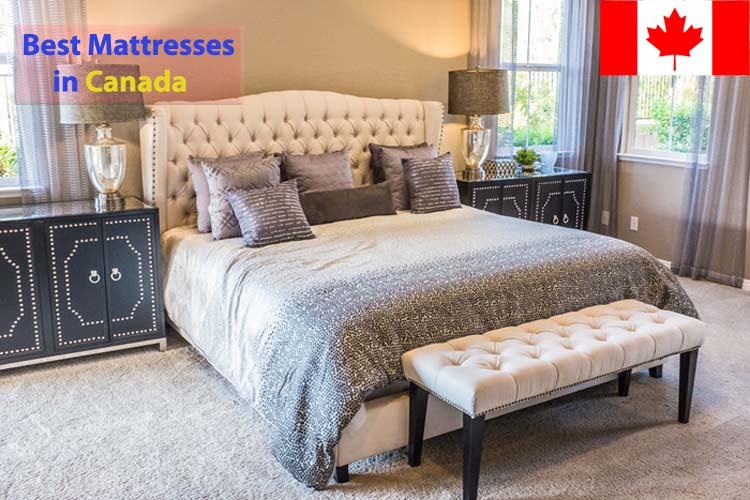 I don't know about you, but I see Canadians as warm-hearted, kind, smiley people. They just seem happy.
And I want them to be even happier.
The thing is, this can be easily achieved by a better sleep. So simple, right?
Today, we are going to look at 8 best mattresses in Canada and see which one will allow for your heavenly restful sleep.
[table id=79 responsive=collapse datatables_row_details=true datatables_row_details_columns="A-G" /]
Top Mattresses Made in Canada
Best Mattress in a Box (Editor's Choice) – Novosbed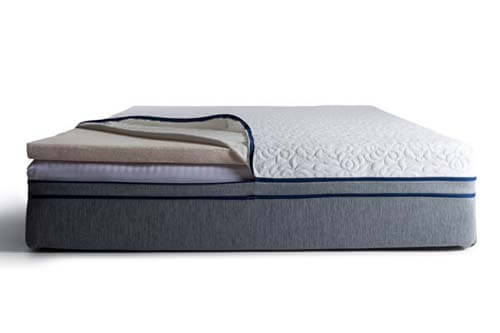 Being a truly Canadian product, Novosbed offers a combination of all the good things you might want in a mattress. It is supportive, comfy, and very nicely made. Additionally, this model is very flexible in use: you can pick among three firmness levels and even get free firmness adjustments after sleeping on it at home.
Novosbed is a memory mattress. It includes the following layers:
The

DuraBase support zone

is dense and works to distribute the body weight evenly.

The

Recore transition zone

offers pressure relief, body contouring, motion isolation, and a smooth transition from the comfort layer to the base of the mattress.

The

Novos comfort zone

is made of squishy and cushioning memory foam.
The Tencel cover is breathable, soft, and even machine-washable.
The coolest thing about this model is how versatile it is. This mattress is perfect for people who don't really know what they need. Novosbed comes in three firmness levels, so there's an option for everyone. And if you don't feel too comfortable sleeping on it, the company offers free firmness adjustments.
The worst thing about this mattress is the fact that it might sleep hot, especially if you are a heavier user and sink in deeper into the foam.
Despite some minor flaws, this model deserves to be among the best mattresses made in Canada. It is very well-made and offers great comfort levels.
Want to see for yourself? Click here to order! Save $100 on Novosbed mattress from Happysleepyhead, no coupon code needed.
Best Budget-Friendly Mattress – The Douglas Mattress by Novosbed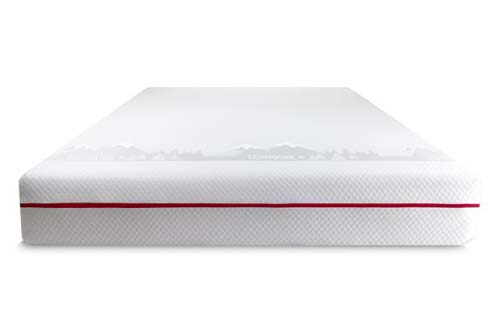 The next item on our list of the best mattresses in a box made in Canada is Douglas. This medium-firm model is one of the most budget-friendly options on the modern market. It combines a smart design, great comfort levels, and a rather reasonable price.
This foam mattress includes the following layers:
The

6-inch support foam layer

functions as a core base and helps with motion isolation.

The

2-inch Elastex foam layer

serves as a transition layer.

The

2-inch ecoLight gel foam layer

provides both soft cradling and a cooling effect.
The CoolSense cover is made from eucalyptus fabric and helps with temperature regulation.
The absolute best thing about the Douglas mattress is, of course, its price. For just 749 CAD (which is around 580 US dollars), you get a great bed, which is nicely made and has an effective layer composition. For such money, this mattress is a real steal.
As for the drawbacks, the most noticeable one is the absence of firmness options. I know, this isn't such a huge issue, especially given the fact that Douglas comes with a trial period. Still, I realize that because of this small flaw, Douglas might not be suitable for many users, and that's quite upsetting.
To be honest, this mattress managed to pleasantly surprise me. It is very comfortable and feels supportive and cradling at the same time. For such a price, it's a real treasure!
Ready to order? Click here! Save $50 on Douglas mattress from Happysleepyhead, no coupon code needed.
Best Luxury Mattress – Logan & Cove by Novosbed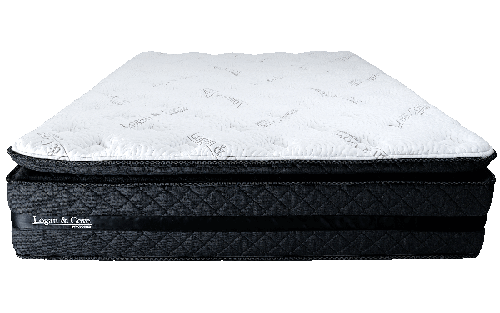 Another cool model by Novosbed, Logan & Cove belongs on the list of top-rated canadian mattresses for a reason. This pillow-top mattress features a combination of support and heavenly soft filling. It feels like a cloud while keeping your body in a correct, neutral position. "Oftentimes, when shopping for a mattress, you might be advised to buy a new box spring as well. However, if your old one is structurally sound, you can use it with any new mattress (just make sure the size is appropriate). Keep in mind, though, that some manufacturers require you to buy a box spring from them to receive the full warranty coverage."
Let's take a closer look at its construction:
The

individually pocketed coils

serve as a supportive base of the bed.

The

2-inch supportive foam layer

adds some cushioning and balances out the firmness of the coils.

The

1-inch contouring foam

is the base layer of the pillow top. It offers a good level of cradling and conforming.

The

1-inch gel foam layer

works to provide a cooling effect while gently cradling the body.

The

silk-blend pillow-top filling

is soft and breathable, which means it can help with temperature regulation too.
The eucalyptus fiber cover feels smooth and silky while being breathable and great at moisture wicking.
The coolest thing about this mattress is its feel. Thanks to the pillow-top + coil system combo, you get a very comfortable bed. It is supportive and can keep your spine properly aligned. At the same time, the pillow-top is soft and cradling, which makes the whole construction feel more balanced.
What might disappoint you the most is the fact that Logan & Cove isn't the best option for side sleepers. You see, this is a medium-firm mattress. And while the top feels quite soft, side sleepers might sink deep into it and hit that supportive base, which probably won't feel too comfy.
If you are a back/stomach sleeper who wants a luxurious feel for a reasonable price, then Logan & Cove would be a perfect option for you.
Are you convinced? Click here to order! Save $100 on Lovan & Cove mattress from Happysleepyhead, no coupon code needed.
Best Motion Isolation – Endy

Being an all-foam mattress, Endy has a lot to offer. It is cradling, great for pressure relief, and comfortable. Additionally, it is perfect for couples! This mattress absorbs motion like no other model.
Now, the construction of this mattress includes:
The

base support layer

made from memory foam, which is dense and serves to ensure the correct posture of your body during rest.

The

middle transition foam

balances out the overall construction and smoothens the transition from the comfort layer to the dense base.

The

Endy comfort foam

is a very cradling and contouring top layer, which creates great motion isolation levels.
The cover is micro-quilted for improved breathability and removable for an easier cleaning process. The material of the cover is a polyester + lycra blend.
What might impress you the most is the motion absorption this mattress is capable of. Even if you and your partner have a large difference in weight, you will not feel a thing during the night, even if one of you tends to toss and turn a lot.
The worst thing about Endy is that it might be too plush for some users. If, for example, you are a stomach sleeper, a heavier user, or simply prefer sleeping on firmer mattresses, Endy will probably be too soft for you.
Overall, Endy is a great mattress. Being Canadian-made, it is durable and reliable. Additionally, it is heavenly comfy!
Curious to test it out? Click here to order!
Top Mattresses That Can Be Shipped to Canada
Best Hybrid Mattress – Saatva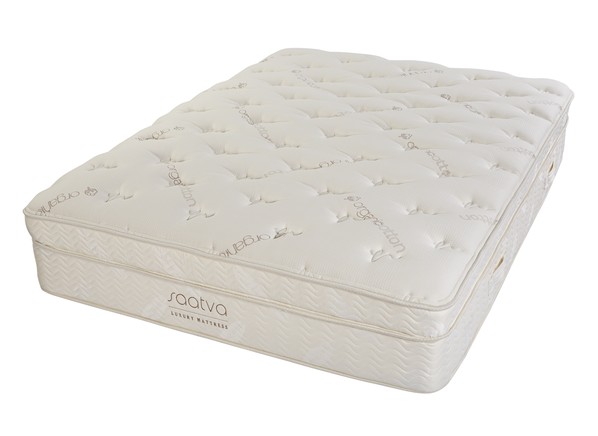 Even though this is an American-made item, Saatva belongs to the top-rated mattresses in Canada. And there are many reasons for that. This luxurious model features a combination of the most popular (and the most comfortable) materials, which work together to deliver that heavenly comfort to every user. "A quick tip: do not accept delivery without checking the mattress and its condition. Of course, this rule doesn't work for bed-in-a-box options. If you get a mattress in a box, unroll it right away and check for any stains or damage. If you found one, call the customer support right away. Thus, you have more chances to prove that the stains weren't made by you (since you've just received the mattress and haven't had the time to use it yet)."
There are three firmness options available: Plush Soft, Luxury Firm, and Firm. Each of them has the same construction (but a different foam feel):
The

steel coil support system

is the base of the bed. It is very supportive and offers a fast response.

The

dual perimeter edge support system

creates a larger sleeping area for you and your partner.

The

lumbar support memory foam

offers superb pressure relief and, at the same time, reduces tension in your back.

The

individually wrapped comfort coils

, being rather small, work to contour and support your body simultaneously.
The euro pillow-top and cotton cover adds some extra padding for your improved comfort. It is soft, smooth, and pleasant to the touch.
The absolute best thing about Saatva is definitely its construction. This is a hybrid model, which means it combines all the best materials for the most comfortable feel. You get the strong support from the coils and that pleasant cradling from the foam. To me, that's a perfect combo.
As for the drawbacks, the biggest one is probably the motion transfer. This mattress is quite bouncy. Therefore, it doesn't absorb the movement that well, which means it might not be suitable for couples.
I personally love hybrid mattresses, and Saatva isn't an exception. This supportive mattress is very comfortable and works well for different sleeping positions thanks to its smart construction.
Feel like this would be a great option for you? Order here!
Best Firm Mattress – Loom & Leaf by Saatva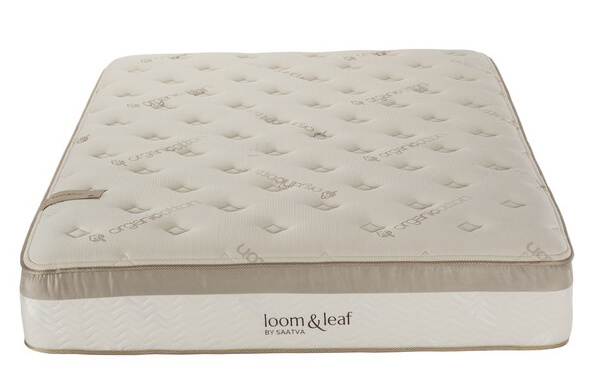 The next item on our list is another popular American mattress. Loom & Leaf is a foam model, but don't think that it sleeps hot. In fact, this mattress has great cooling properties thanks to the smart material blend.
Let's take a closer look at its construction:
The

multi-layered base

features three layers, each of which serves to provide proper support for your body and the base for the overall construction.

The

memory foam layer

offers a nice contouring effect and generous cradling, perfect for pressure relief.

The

Spinal Zone gel layer

is the cherry on top: this top layer provides a cooling effect while also being quite bouncy and responsive.
The organic cotton cover is breathable, soft, and pleasant to the touch. And it gets better: it is natural, which means it's suitable for allergy-prone people.
What you might love the most about this model are its cooling properties. That gel layer is a real game changer. While being hugging and cradling, the mattress doesn't sleep hot. In fact, it might even help you cool down during a warm summer night.
The worst thing about Loom & Leaf is its weak edge support. Therefore, if you share your bed with a partner and need a larger sleeping area, you might want to go with a larger size when buying this great mattress.
Loom & Leaf definitely has a lot to offer. This memory foam mattress has the potential to alter your sleep for good and serve you for many years.
Want to see for yourself? Click here to order!
Best Value for Money – Bear Mattress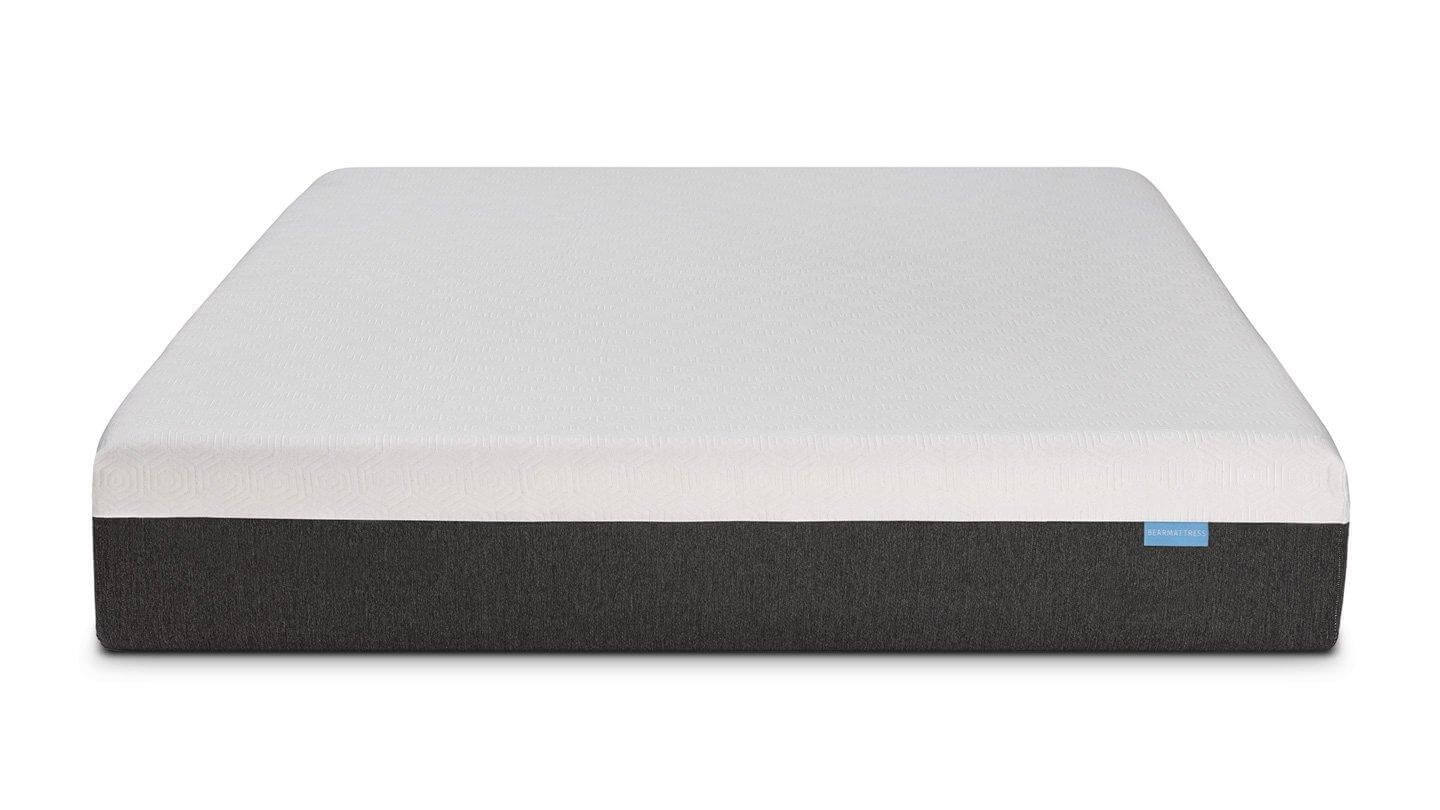 The last item on our list of the best mattresses in a box in the US and Canada is Bear. This particular model is a real steal if you ask me. Featuring a smart and effective construction, it is sold at a rather reasonable price, which makes it an awesome option for people who are looking for the best value for money.
Let's look at the construction a bit closer:
The

support layer

is made from high-density foam.

The

transitional foam layer

helps with pressure relief.

The responsive

comfort foam

offers a nice amount of bounce.

The

cooling

graphite- and gel-infused foam is used for temperature regulation.
The Celliant cover makes for better air circulation.
Now, what you will love the most about this Bear mattress is the value for money it offers. I know you might think, "$900 for a Queen isn't such a great deal…" However, given this mattress's quality, comfort levels, and the fact that this price includes shipping to anywhere in Canada (plus taxes and customs fees), I think you'll agree that this is the best value for money you can find on the market these days.
Want to know the worst part too? Well, the biggest drawback of this mattress is the absence of different firmness options. This means Bear is suitable for a certain group of people and cannot be considered a universally comfortable mattress.
To be honest, this mattress managed to impress me. It is comfortable and offers a balanced combo of support and cradling. And don't forget about the value that it offers!
Want to test it yourself? Order here! Get 50$ OFF as a Happysleeyhead reader with coupon code HappySleepyHead
Best Edge Support – Helix Midnight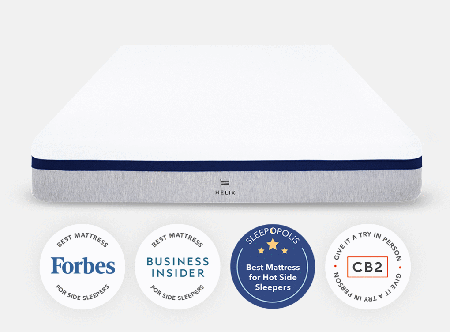 Helix features a wide lineup of mattresses in a box that are suitable for almost everyone. But I've chosen the Midnight for my review of the best mattresses in Canada because of its outstanding edge support. This mattress ensures that you get the desired level of comfort even if you love sleeping closer to the side, and both you and your partner will have enough space to get comfy during the night.
Now, let's take a peek at the layers:
The

base layer

features the proprietary Helix DuraDense foam that contributes to durability and supports the layers above.

The

pocketed coil system

ensures proper body weight distribution, precise contouring, and good airflow.

The

transition layer

is made of high-grade polyfoam that provides slight rebound and uniform support.

Finally, the

comfort layer

features memory plus foam that molds to your body and supports the natural spine alignment.
All this goodness is encased in the Helix Soft Touch cover that enhances the cooling effect and is incredibly pleasant to the touch.
The most prominent feature of the Helix Midnight is definitely its sturdy perimeter. The pocketed coils work really well here and give you the uniform surface that can support almost any sleeping style.
The drawback, however, also lies in the coils. Although the foam layers above can absorb some shock, the mattress is still pretty bouncy and may not be a good pick for active sleepers.
Overall, I enjoyed sleeping on the Helix Midnight. I think it can be a decent purchase for couples and those who want to have the entire mattress surface at their disposal.
check out helix midnight mattress on helixsleep.com
Factors We Look At
Here's the deal:
With new mattress companies emerging in both Canada and the USA, the amount of info and marketing claims is overwhelming. Luckily, we know how to sift through all that info. Here are the most important aspects we pay attention to:
Comfort

. Obviously, this factor is crucial. The first thing a mattress should be is comfortable, and we make sure to test each of them and how they feel.

Shipping

. No matter whether you're buying from a Canadian brand or ordering from a US-based company, you need good shipping terms. We always try to pick only the companies that offer a fuss-free delivery service for a reasonable price (or for free, which is even better).

Support

. We all know that without proper spinal support, our sleep cannot be healthy. Therefore, when searching for the

best mattresses in Canada

, we always pick the ones that can distribute the user's body weight evenly and help with spinal alignment. Even when it's a soft mattress.

Company reputation

. Buying from trustworthy brands ensures your safety in case something goes wrong.

Materials safety

. We

spend a lot of time sleeping

. Naturally, we all need our mattresses to be safe for our health. That's why we always check the safety certifications of each mattress model.

Value for money

. No matter how much you pay for your new mattress, you want to get a good deal for the money. That's why we choose only the models that have a lot to offer for the price. If we recommend a cheap option, we make sure that it's still comfortable and worthy of your attention. If we suggest an expensive mattress, you can be sure that it's a really luxurious model, which will offer superb comfort levels.

Warranty and trial

. Here's the deal: a sleep trial is a very helpful bonus, even when buying from a physical store. It allows you to test the mattress for a few nights and really see whether it works for you or not. As for the warranty, the longer it is, the better. A good warranty keeps you safe for years and guarantees the quality of your new mattress.
Reviews

. One mattress cannot suit everyone, so we always read other people's reviews to see whether it's suitable for different body types and users' preferences.
How Does Your Mattress Affect Your Life?
Without proper sleep, we lose energy, concentration, and eventually, our health.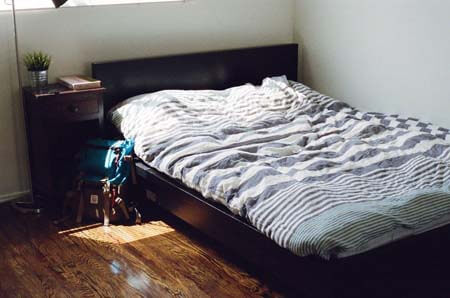 And without a good mattress, we can't get a healthy, restful sleep. Sounds pretty logical, doesn't it?
But do you want to know how exactly a mattress might affect your sleep and well-being in general? Here are some interesting facts, which might inspire you to start looking for a new bed right away:
Sleeping on an old mattress leads to

back pain

. This one is pretty obvious, isn't it? When your mattress is old, lumpy, or saggy, it cannot support your body weight properly. Consequently, it cannot help with the correct spinal alignment. This leads to such unpleasant things as lower back pain, sore neck, and even headaches.

A new mattress can

reduce your stress levels

. Good restful sleep helps people relax. So, as you have guessed, a new comfy mattress can improve your well-being, make you sleep better, and reduce your stress.

Sleeping on an old mattress will probably

enhance your allergies

. Our mattresses collect pretty much everything: dead skin cells, tiny hairs, sweat, dust, small debris, fluids, and so on. And all that nasty stuff inside can make your allergies (if you are prone to them) enhance noticeably.

An uncomfortable mattress can be bad for your…

brain

. Yes, your brain. Lying on an old, uncomfortable mattress means low-quality sleep. And when you don't get enough sleep, your brain doesn't function as well as it used to. You lose focus and lack concentration. It gets harder to memorize things. You become less creative and more irritated. The list can go on, but you get the picture, right?

An old mattress can lead to

chronic insomnia

. It's simple: when your bed doesn't feel comfortable, you can't sleep. And when you can't sleep every night, this turns into a serious condition.

Bad sleep can make you

gain weight

or go back to your old (bad) habits. Insufficient sleep is directly linked to your stress levels. And increased stress levels lead to people gaining weight, drinking more alcohol ("just to relax"), and starting to smoke even after quitting.
Buying a Mattress in a Box in Canada
Here's the deal:
If you feel a bit stressed out when shopping for a new mattress, that's okay.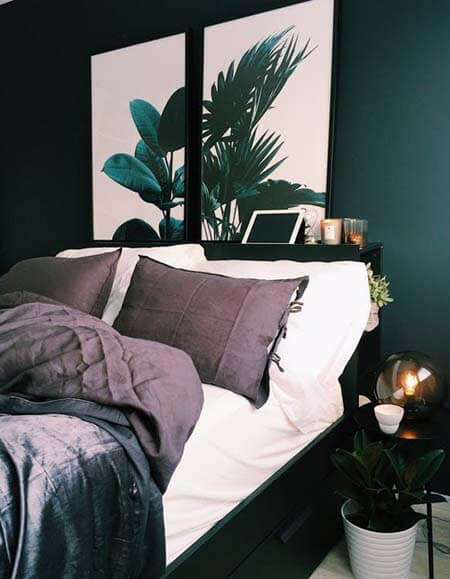 It's a serious investment, which involves a lot of thinking and doing a thorough research. And I'm here to help you with that.
If you don't know where to begin or what steps to take, here's a simple buyer's guide for you:
Determine the budget

. Figuring out how much you can spend can make the picking process easier. Once you know what portion of your budget you can spend, you get a certain selection of mattresses, which belong to this price category. However, you should also consider some extra expenses like shipping (if it isn't free), taxes, and perhaps a set of new sheets.

Decide on the needed size

. The bigger the mattress, the more expensive it is. Therefore, you don't want to pay more if you don't need a larger bed.

Consider the mattress type

. There are so many mattress materials available these days, so you need to figure out which one will work the best for your specific needs and preferences. To do that, keep reading and learn the peculiarities of each type.

Think about your favorite sleeping position

. It will determine the type of the mattress that you need. For instance, back and stomach sleepers need a firmer surface. At the same time, side sleepers require softer beds, the ones that will cradle the protruding parts of their body.
"If you are buying a mattress, which is going to be delivered in its full size, don't forget to measure your living space first. You need to make sure that your doors and hallways are wide and tall enough to fit a mattress. Otherwise, the delivery process can turn into a real headache."
Check the warranty and the trial conditions

. This aspect is very important, and you know that. The longer the warranty, the safer you will feel when using your mattress. And a good trial period will give you a chance to return the mattress in case it doesn't work for you.

Compare different models and read other people's reviews

. This will help you figure out how each model performs for different body types and under different circumstances. Perhaps some other user's experience will save you from purchasing an uncomfortable or low-quality mattress.
Don't hesitate to ask questions. If you need to specify some aspects, you can always contact customer service. Their job is to help you, so don't feel hesitant. Sometimes it's better to talk to a real person and ask them about the product than just read the specs on their website.
Mattress Types
We can talk about mattress materials for hours. But I know that you don't have that much free time. So, let me share the most important points concerning each type: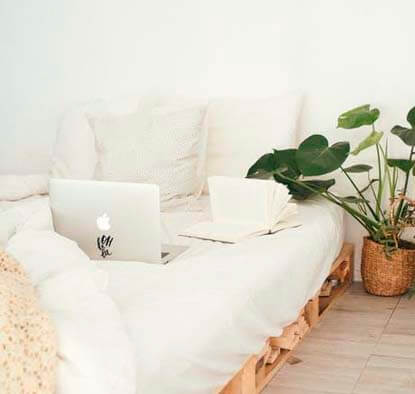 Memory Foam

. This type has a hugging, oftentimes sinking feel. Foam is cradling and works perfectly for people who need good pressure relief. As for the downsides, it oftentimes has a slight off-gassing, tends to sleep hot, and doesn't offer good edge support.

Innerspring

. Innerspring mattresses are very supportive and bouncy. They let you float on top of your bed instead of sinking into it. They are relatively cheap but don't have a really long lifespan. Innersprings don't sleep hot but can be quite noisy because of the squeaky metal components.

Latex

. What's great about latex mattresses is their natural origin. It offers a quick response, good support levels, and good conforming. Latex is noiseless, sleeps cool, and great at motion isolation. However, latex mattresses offer a mediocre edge support and tend to be rather pricey.

Hybrid

. This type features a combination of the previous materials (sometimes just the two, sometimes all three). And here's the kicker: there is a huge number of different hybrid options, which means there's a perfect bed for almost everyone. On the other hand, such mattresses are quite expensive.
Picking the Right Mattress Size
As I've said before, the bigger the mattress, the more it will cost. So, if you don't want to spend more than needed, you should find the perfect size for yourself. Here are the main modern mattress sizes:
Benefits of Buying Mattresses Online
Buying online can be risky.
But when it comes to mattresses, there's not much to worry about these days. Modern manufacturers do everything they can to ensure a fuss-free shopping process, even if you order from the US or buy from canadian mattress makers, which doesn't have any physical stores.
Just check out the benefits of the online mattress shopping:
In the majority of cases, companies ship their mattresses directly to your door.

You can test the mattress for days (and months) and return it if it doesn't feel comfortable enough.

You don't have to deal with an annoying sales person, who follows you around the mattress showroom.

Mattresses that are sold online are usually cheaper than the ones in physical stores.

You have all the time to compare different models and can read real users' reviews in the process of shopping.
Caring for Your New Mattress
Obviously, a mattress isn't your ordinary household item.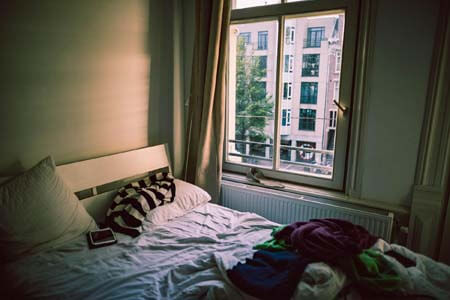 You can't just throw it into the washer and make it sparkly new. Taking care of your mattress requires special steps.
But here's the thing:
Those steps aren't difficult to follow.
Just don't forget to:
Regularly rotate your mattress

. This way, it will wear more evenly, which means no dents or lumps in your bed.

Vacuum it.

Once a week is perfect. Once a month is enough. This will help you get rid of the dust and other particles, which love to hide inside the mattresses.

Invest in a mattress protector

. A waterproof one would be a great solution. It will protect your bed from occasional spills, sweat, and other fluids, thus prolonging its life and keeping your sleeping environment safe for your health.

Air the bed out regularly

. Just strip it and leave in a well-ventilated room for a couple of hours.

Avoid jumping on your bed

. I know, it's so much fun. But this activity can seriously damage the materials inside your mattress.

Clean the spills right away

. Don't waste your time and don't let the moisture soak in.
These simple rules will keep your mattress fresh and intact. And you will be able to enjoy your restful sleep for many years!
Conclusion
This is crazy, but there are so many good Canadian and US-based mattress companies these days that it might be hard to pick just one model. If only mattresses were cheaper, I would sleep on a new one every month!
But for now, let's talk about our top picks. Want to know, which models impressed me the most?
Well, if you want to buy from a Canadian company, I highly recommend the Novosbed Mattress. It is nicely made, doesn't cost too much, and has a very pleasant, gentle and cradling feel. It is perfect for pressure relief too!
As for the American mattresses, my all-time favorite is Saatva.
And it gets better:
This mattress is very comfortable! It has a bit firmer feel and even features a new innovative cover technology.
So, have you already picked your personal favorite? Do you prefer buying from Canadian mattress makers or are you ready to order from the US? Let us know in the comments!
Product links on Happysleepyhead are referral. We get a commission on purchases made through our links at no additional cost to you. More information in my disclosures.