The 7 Best Hybrid Mattresses in 2020 – Reviews and Buyer's Guide
by | Last Updated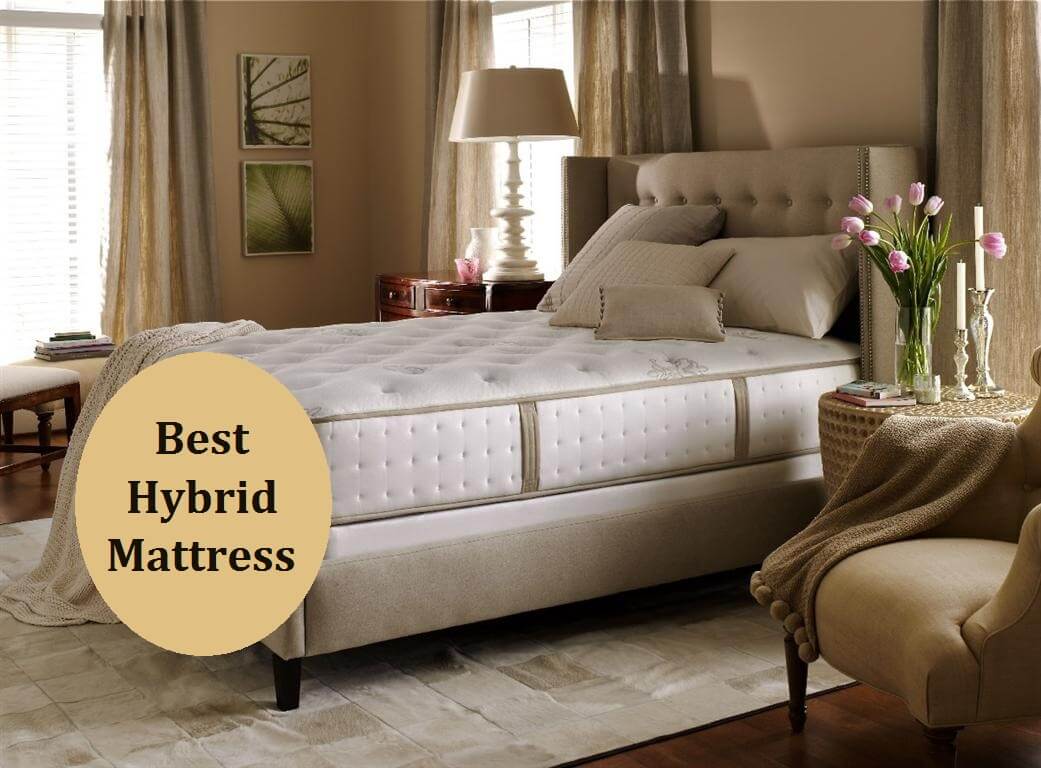 When you see the word "hybrid", what are your immediate thoughts?
I don't know about you, but I associate the word "hybrid" with the words comfort and variety.
Why?
Because hybrid beds oftentimes offer the smartest, the most comfortable combinations of layers and materials. And that's why we are going to look at the greatest of them today.
So, let's see which best hybrid mattress can alter your sleep!
[table id=41 responsive=collapse datatables_row_details=true datatables_row_details_columns="A-G" /]
Helix Midnight – Editor's Choice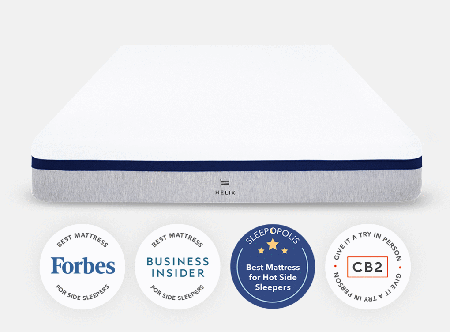 If you want a mattress with probably the best edge support in the whole segment, then the Helix Midnight might be exactly what you're looking for. It comes with reinforced and sturdy edges. And what's more, you don't have to give all the money in the world for that.
Here's a quick look at the construction:
Dense foam pad.

This pad serves as the foundation for all the layers and absorbs some amount of shock from the coils.

Pocketed coil system.

The coil block is zoned for closer contouring, with reinforcement around the perimeter, which contributes to excellent edge support.

Polyfoam transition layer.

Polyfoam has great rebound and aids in the body load distribution.

Memory foam comfort layer.

Helix uses its proprietary memory foam, which is more cradling and temperature neutral. And these are, basically, two main things you need for a comfy sleep.

Breathable two-touch cover.

The cover material helps wick away moisture and enhances air circulation.
I really liked the level of edge support this bed can provide. If you share a bed with someone, you can easily utilize the whole mattress surface without being afraid to roll off in your sleep.
But the downside of the model is lack of motion isolation. The coils are quite responsive to movements, which might disrupt your sleep if your partner is an active sleeper.
Even though the Helix Midnight has some flaws, I enjoyed sleeping on it. It feels sturdy yet contours your body in every sleeping position you choose.
check out helix mattress on helixsleep.com
DreamCloud – Best Edge Support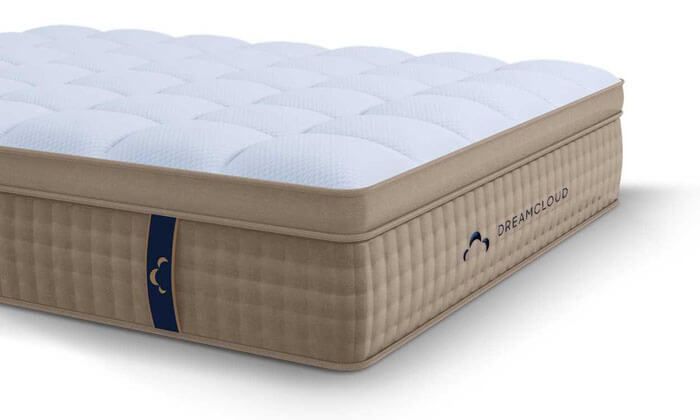 DreamCloud certainly is a worthy contestant to be called the best hybrid mattress. It uses premium memory foam, supportive and durable coils, and the softest cashmere cover. It also comes with an awesome trial period. This mattress offers just the right amount of dynamic support and soft, gentle cradling, which help immensely with pain relief.
Let's look at the layers a bit closer:
High-density memory foam base

. It serves as the core of the bed and adds some motion isolation properties to the mattress.

Five-zoned coil system

. The patent-pending "Best Rest" micro coils are foam-encased and serve to provide superb support and some extra motion isolation.

Dense and soft memory foam layer

. It offers both support and cradling for your body.

"

Dream Plush" supporting memory foam

. This layer easily adjusts to the shape of your body and provides some extra comfort and contouring.

Natural latex layer

. It serves to add a bouncy feel to the mattress and responsive cushioning. Additionally, latex is hypoallergenic and doesn't sleep hot.

Soft quilted memory foam

. This is a comfort layer that provides a decent amount of padding for superb comfort.

Gel-infused memory foam layer

. It offers conforming support and a cooling effect.

Cashmere blend Euro top

. The hand-tufted cover uses a cashmere + polyester fabrics blend. It is super soft and pleasant to the touch. Additionally, it doesn't sleep hot.
The absolute best thing about DreamCloud is how good it can be for relieving back pain. Because this hybrid mattress has a smart multi-layer construction, it offers the best properties of each material used. As a result, this mattress keeps the spine aligned properly and offers great pressure relief, which helps with back pain immensely.
The worst thing about this mattress is the lack of flexibility. Let me explain:
I feel like DreamCloud might not work well for all users, side sleepers in particular. It offers a rather bouncy cradling, which means it might be too responsive and not hugging enough for side sleepers.
"Some sleepers wonder 'How often am I supposed to replace my mattress?' Usually, the experts recommend doing so every 7-8 years. However, I personally believe that you should get rid of your old mattress the second it starts feeling uncomfortable. And don't wait for those years to pass. Your sleep and well-being are far more important. So, in case your mattress feels like trash after a couple of years, I say toss it away."
check out dreamcloud mattress on dreamcloudsleep.com
Winkbeds – Biggest Firmness Variety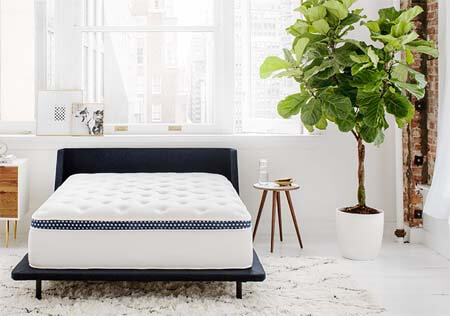 This mattress is nicely made, features a very smart construction, and offers great comfort levels. Additionally, the Winkbeds mattress comes in a good firmness variety. You can pick among four different firmness levels, which means there's probably a perfect option for any user.
Moving on to the construction. Depending on the firmness level, the mattress includes different combinations of the following layers:
Supportive spring core

. It features individually encased coils, which serve as the foundation of the bed and help with proper weight distribution. Additionally, the coils add ventilation to the overall construction. In different mattresses, the innerspring layer also features lumbar and different support zones for optimal comfort and to keep your body in a neutral position.

Latex or foam comfort/transition layer

. The Plus version uses latex, while other three firmness options implement foam. This layer provides a smooth transition from the comfy pillow-top to the supportive base. Latex offers some bounce while memory foam is more hugging and cradling.

Micro Air-Springs

. Placed right under the pillow-top, these individually wrapped springs provide some extra breathability and more support for your spine.

Euro pillow-top

. Depending on the firmness option, it can be extra plush, medium-firm, and firm. This comfort layer serves to provide cradling and padding for your body, making sure you feel like you're sleeping on a cloud.

Tencel cover

. Derived from Eucalyptus trees, Tencel is natural, silky soft, great at moisture wicking, breathable, and cooling.
The coolest thing about Winkbeds is the firmness variety it comes in. There are four different options, which means you'll surely find the one that is perfect for your favorite sleeping position. Winkbeds allows users to find something suitable for their particular needs and preferences. And I believe that's very valuable.
As for the drawbacks, the biggest one is the motion isolation level. Because each model (no matter what firmness level you pick) features a rather bouncy coil system, this mattress doesn't absorb the movements very well, which means it might not be good for couples who need decent motion isolation.
check out winkbed on winkbeds.com
Avocado Green Mattress – Best Organic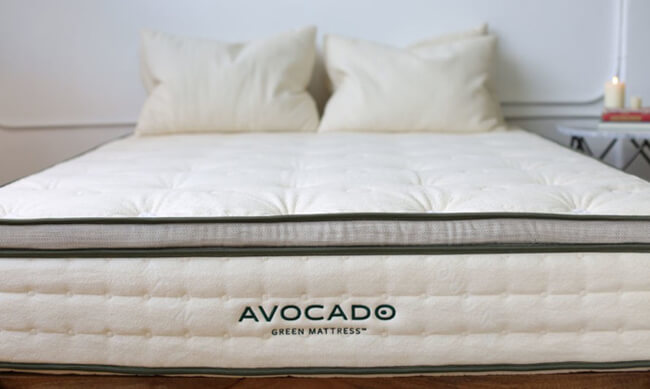 If you dream about 100% natural material which will be extremely soft for the skin, I would recommend casting a look at this awesome hybrid mattress. The mattress produced by Avocado worth you're your attention as it is able to propose you exceptional quality of non-toxic materials handcrafted in the USA. Besides being natural and completely safe for you, Avocado is very comfortable. It offers a nice balance of support and cradling, which helps with pressure relief and allows users to relax completely during sleep.
Now: Layers
Looking closer at this mattress, you can find out the following:
Eco-side of the cover is proved by GOTS-certificate and breathable cotton can present you a smooth feeling.
100% natural Joma® New Zealand Wool meets you on the top layer. The proper level of temperature is guaranteed to you for calm sleep.
100% natural Dunlop Latex layer is the next step. It can offer the consistent support required for everyone.
Coil system is on the third level improves proper air flow, reduces motion transfer, gives necessary support to your spine.
One more layer made of 100% natural Dunlop Latex has a good firm option and plays a foundational role.
What is really great with that mattress?
Eco-friendly components without chemical adhesives look after about your dreams. Combination of certified latex and coil system provide a pleasant feeling of comfort along with necessary support.
What is wrong with that mattress?
I didn't like firm feeling while I was sleeping. It is too firm for stomach sleepers.
check out avocado mattress on avocadogreenmattress.com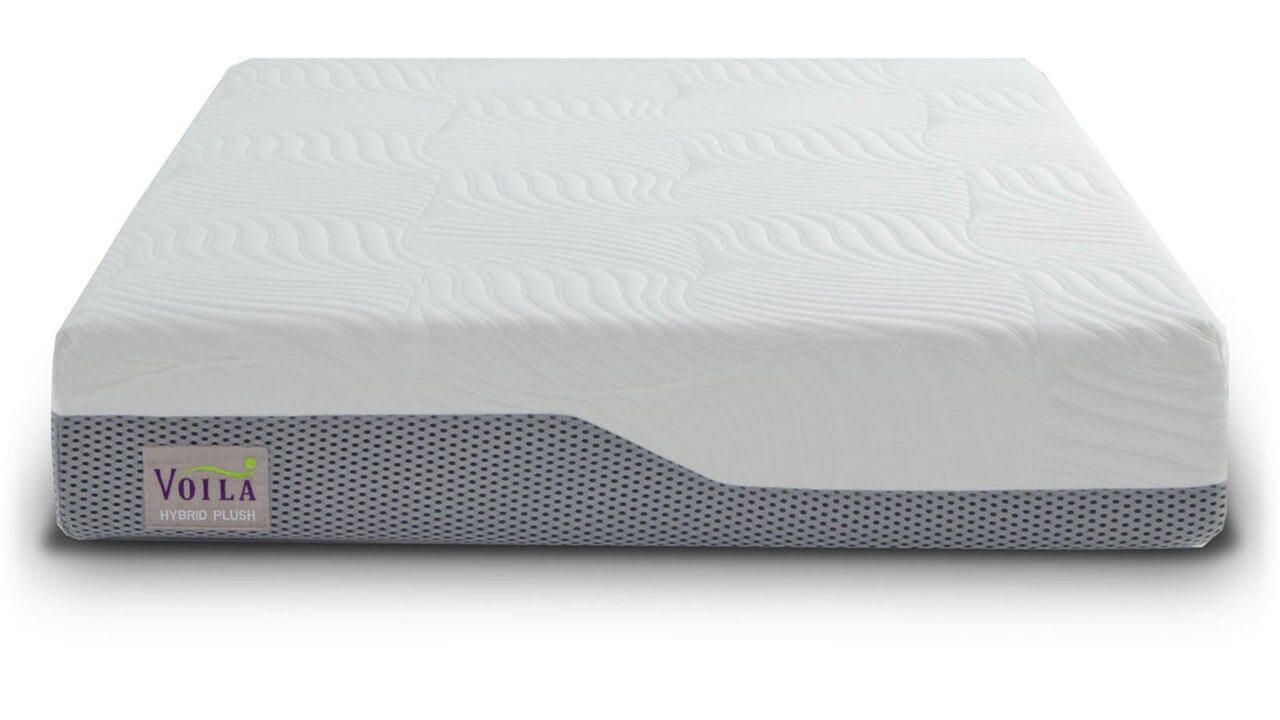 Voila is able to offer construction with high-quality breathable fabrics, and latex that gives a bounce. Five zone pocket coil innovative technology adapts to the weight of your body. It offers just the right amount of support to keep your spine properly aligned and enough cradling to gently hug the protruding parts of your body.
Now: Layers
The cover is made of mesh from the side and stretchy polyester in general. It is quite thin that means more breathability of material. You will not wake up during the night anymore because of heat.
Gel memory foam in the top layer creates excellent pressure relief and has a slower response.
Polyfoam of the second layer provides proper edge support for your comfort feeling at the side of the mattress. You can change sleeping position easily thanks to latex layer which has a great bounce.
Motion transfer will be reduced thanks to pocketed coils layer. I found more wonderful support for heavier people when coils are specially zoned. Coils have long durability comparing to foam versions.
Dense polyfoam layer helps to support all above layers.
The mattress is able to propose you three versions of firmness: plush, medium and firm, but the main feeling from it was the middle option. I found that it is more comfortable for side sleepers than for back and stomach ones. It can be too soft for them in the area of back pressure for stomach sleepers and vice versa.
What is really great with that mattress?
As a side sleeper, I found great the mattress designed by Voila. Heavier people will be satisfied as well. It is ideal for those, who like the combination of proper support provided by pocketed coils and pleasant feeling from foam layers.
What is wrong with that mattress?
I have found the medium version too much firm for me, it is really inconvenient for uninterrupted dreams. You can also notice some odor within 2 days after arrival.
check out voila mattress on voilabox.com
Brooklyn Bowery by Brooklyn Bedding – Best Cheap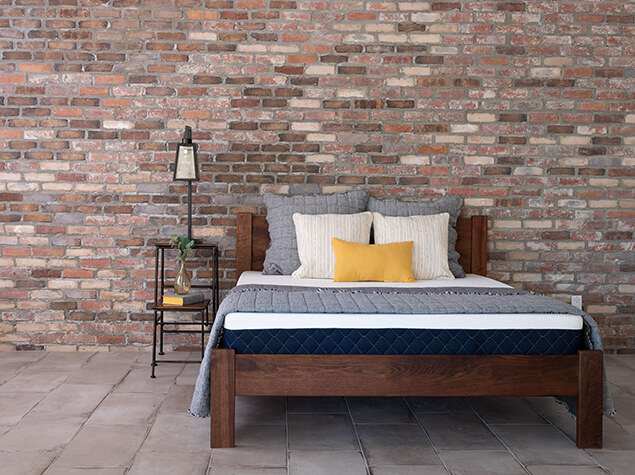 What's common between heavenly comfort, thoughtful design, and a great price? The answer is simple: all these features are united in the Brooklyn Bowery mattress! For less than 800 dollars, you'll get a high-quality bed suitable for almost anyone.
The construction of this mattress has the following layers:
High-density foam.

The foam acts as a base for the coils by supporting them and absorbing some amount of load.

Ascension encased coils

. More than a thousand coils provide uniform and responsive contouring and motion isolation.

Transitional foam layer

. This one eliminates all the disturbances from a coil block and offers additional support.

Quilted top with gel memory foam

. This layer gently conforms to your body and relaxes pressure points while you sleep. Gel infusions work great at withdrawing body heat and keeping you cool throughout the night.
I'm impressed by the excellent value for money that the Brooklyn Bowery provides. Brooklyn Bedding is a well-known brand, so you can be sure that you'll get a high-quality mattress that won't harm your health in any way.
The only drawback that I want to mention is that the Brooklyn Bowery is available only in one firmness option. Even though it's a medium firmness, which technically may suit most sleepers, the fact of a limited choice is still a bit disappointing.
check out brooklyn bowery mattress on brooklynbedding.com
Brooklyn Signature – Best Value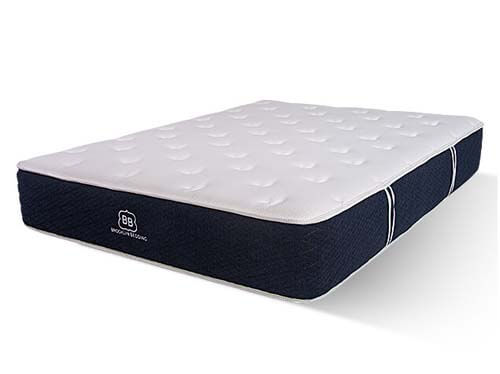 The next item on our list definitely deserves your attention. Brooklyn Signature is a great mattress. It is nicely made, comes in three firmness levels, has a well-thought-out design, and doesn't cost that much. For the price of a regular, average mattress, you get a comfortable and high-quality hybrid. To me, that's a real bargain!
Here are the layers and the construction for you to consider:
Base support foam layer

. It is 1 inch thick. The foam is rather dense and helps reinforce the core of the mattress.

Pocketed coils

. This layer is 6 inches tall. The coils are individually encased and offer a reactive support.

TitanFlex high-density foam

. Being 2 inches thick, this is a transition layer, which delivers good compression support and gentle contouring.

TitanFlex gel-infused foam layer

. Measuring 2 inches in height, this layer is responsive and effectively adapts to your body shape. Additionally, it offers a cooling effect.

Quilted top with gel memory foam

. This layer is 1-inch tall. It works to provide a cooling effect as well, plus some extra comfort and bouncy cradling.
The absolute best thing about this mattress is its value. Trust me, it's hard to find a mattress this good for such a price. Hybrids tend to be more expensive than regular beds, but Brooklyn Signature is an exception. And don't let its reasonable price scare you away:
The mattress is high-quality and comfortable.
The worst thing about this model is the off-gassing. While the mattress packs a ton of cool features, its odor upon arrival can be a disappointment for some users. However, let me calm you down right away:
The off-gassing isn't chemical or overpowering. And it tends to disappear within a day.
check out brooklyn signature mattress on brooklynbedding.com
Alexander Signature Hybrid from Nest Bedding – Best for couples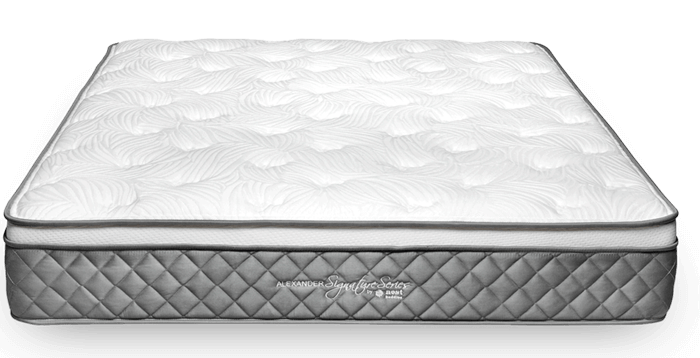 If you desire to get a foam mattress without the sinking in feeling, then you will be loved this great hybrid mattress designed by Nest Bedding. Let's find out the advantages and disadvantages prepared for us by Alexander series.
Additionally, if you share your bed with a partner and need good motion isolation, this mattress will be a great option for you. Alexander Signature effectively absorbs movement, so you and your significant other can sleep calmly without waking each other up.
"If you are planning to buy a coil + foam mattress, pay attention to the foam layer. If it's thinner than 1.5 inches, your mattress will be very supportive and rather bouncy. Something between 1.5 and 3 inches will feel cradling but supporting, with a slow-hugging feel but without the sensation of being stuck inside the mattress material. And if the foam comfort layer is thicker than 3 inches, you will get a very cradling, hugging bed, with little bounce and a generous amount sinkage."
Now: Layers
The cover looks pleasant thanks to its soft pattern. If you are interested in texture, you can be sure that polyester and rayon make you sleep smooth.
The top layer improves airflow for cooler dreams. The quilted foam is purposely designed to relieve undesirable pressure points.
Next layer provides comfort and cooling performance thanks to density gel foam infused with copper.
Foundation support in the transitional layer is possible due to SmartFlow foam with the cooling effect.
5 zone edge support pocketed innerspring coils that act as the foundation layer and provides deep compression support.
What is really great with that mattress?
If you sleep with partner, like me, and your weight is in normal weight range, then you can rely on uninterrupted sleep with this mattress.
Thanks to advanced technologies based on the combination of copper-infused foam, ventilated foam and pocketed coils, you are guaranteed comfort and needed support.
What is wrong with that mattress?
Unfortunately, it will be not convenient for those couples who have heavy weight because of too much motion transfer.
check out alexander hybrid mattress on nestbedding.com
Factors We Look At
Among the hundreds of mattress models, finding the best ones can be a challenging task. It is important to sift through the information and the overflowing marketing claims in order to see the real value of each bed.
Thankfully, we know how to do that. We pay attention to many details, big and small. But here are the factors we prioritize:
Quality and durability

. Obviously, these aspects are important (and mutually connected). A high-quality mattress will serve you longer than a mediocre model. That's why we pick only the well-made mattresses, which have proven their durability.

Materials used and design

. This is what influences the comfort levels a mattress can provide. And because hybrid mattresses come in various designs, we know that there are always great options and construction variants for different users.

Warranty

. The longer the warranty, the more the manufacturer is sure of their product's quality. Besides, a good warranty will make you feel safe when using your mattress during a long term.
"A quick note: Many companies offer a financing option to their customers. Sometimes you can even get 0%, depending on the conditions and your credit history. Therefore, if you are currently on a tight budget but need a good mattress, there is a way to get it."
Helpful extras

. I know that bells and whistles aren't always important, but we pick the needed ones. For instance, a cooling effect, a special structure for an improved ventilation, or a two-sided design with different firmness levels. Such extras are not a necessity, but they definitely influence your comfort and can be very handy.

Comfort levels and how a mattress works for others

. Comfort is a subjective notion. That's why we always check how one mattress works for different people. We take their weight, body shape, sleeping positions, and personal preferences into consideration. Why? Because there is no mattress to suit everyone. We test the beds in order to give the best and the most precise recommendations for different users.

Drawbacks

. Obviously, no mattress is perfect. That's why we look at each model's weaknesses and consider the drawbacks that can be overlooked (or can be overpowered by positive features).
Hybrid Beds: Pros and Cons
Hybrid mattresses are special. Why? Because when making them, manufacturers try to use the best features of the mattress materials and gather all of their benefits in one model.
However, a hybrid might not be for all. These beds have their weak sides as well. So, to figure out whether this mattress type is suited for you, I suggest that you consider both the good and the bad.
Let's start with the positive features since there are many of them:
Hybrid mattresses unite the

best features

of different materials, which results in great comfort levels.

Hybrids usually use innerspring systems as their core, which means they offer superb

support

and can help users with the proper spinal alignment.

Usually, even when using coil systems, hybrids are much

quieter

than regular innerspring mattresses.

Hybrids oftentimes have a very

unique

feel, which many users enjoy.

They offer

great edge support

, which means users have a larger sleeping area (great for couples).

Hybrid mattresses tend to

sleep cool

thanks to the air circulation in the support coil systems.

They are great at

motion isolation

, in the majority of cases.
Moving on to the drawbacks:
Because hybrid mattresses oftentimes feature a complex design and higher quality materials, they tend to

cost more

than average mattresses, which means they might not be suitable for some people.

Oftentimes, the coils can be

noisy

. However, some manufacturers encase them in foam, which minimizes the noise

Hybrids are rather

heavy

, so carrying one to your bedroom might be a real struggle.

Off-gassing

can be present if there's memory foam used in a hybrid mattress.
Things You Should Consider
Even though we do our extensive research, there are some things you need to consider too when shopping for a new mattress. You see, while we know a lot about mattresses, we don't know anything about you. So, based on your particular circumstances, pay attention to the following aspects: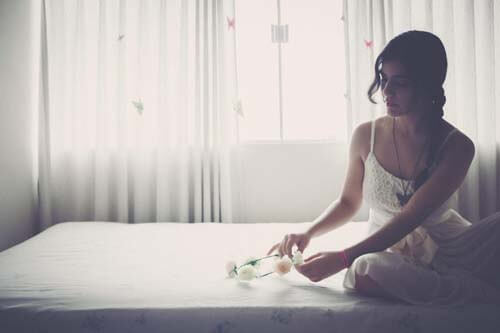 Size

. Usually, it is advised to get a mattress, which is at least 4 inches longer than the tallest user who's going to sleep on it. Also, if you share your bed with a partner, consider getting a wider mattress as well. You want to have enough space to move around and change positions during sleep without disturbing your significant other.

Thickness

. This aspect will depend on two things: your personal preferences and your weight. If, for instance, you weigh more than 250 pounds, you should get a mattress at least 10-12 inches thick. However, if you are an average sleeper but prefer a thick mattress, feel free to pick a 12-inch one too.

Firmness level

. We recommend different firmness levels to different users and for various sleeping positions. Your job is to determine your most favorite sleeping pose and figure out the firmness level that would work the best for your particular needs.

Base

. Not all mattresses will work for your bed frame. Therefore, it is always important to clarify this aspect when buying a new mattress. Simply contact a company's customer service representative or search on their website the information about base compatibility.

Turning

. Some mattresses require to be turned regularly, but many users omit this part and end up with a saggy bed. To avoid that, check this aspect before making a purchase.
What do you think about hybrid mattresses? Do you believe that they are worth paying a bit more? Share your thoughts and opinion in the comments!
FAQ for Hybrid Bed Users
Which bed foundation works best for a hybrid mattress?
Since hybrids are the most innovative beds on the market, their design allows using any bed foundation you like, even the floor (just be sure that your warranty doesn't go against this option).
Do hybrid mattresses squeak?
When it comes to making annoying noises, yes, technically, hybrids may become squeaky over time. But you can postpone this moment by providing a sturdy bed base and caring for your mattress correctly.
Is a hybrid mattress good for side sleepers?
Typically, hybrid beds with memory foam layers can provide enough cushioning for an average side sleeper. But your overall comfort will depend on the construction of the mattress, as coil systems usually feel firmer and resist more to your body weight. Thus, the best way to find out whether a bed is suitable for your sleeping style is to make the most out of your trial period.
Do hybrid beds sleep hot?
Even though a hybrid mattress construction allows for airflow between the layers, some hybrid beds may sleep hot. Especially models that use memory foam as a comfort layer and offer quilted tops. To get a comfortable sleep without getting hot, you can opt for hybrid beds with latex layers, but keep in mind that they're usually pricier.
How thick should a hybrid mattress be?
The perfect thickness of your mattress depends on many factors: your sleeping position, weight, back issues, etc. Also, the thicker the mattress is, the more comfort layers it can pack inside, and as a result, the pricier it would be. So, the general answer to this question is: rely on your overall feel and the level of the comfort you want to get.
Conclusion
Companies, who try to remain up-to-date with evolving technology, have explored the world of hybrid mattresses. Such types of a mattress are able to propose to you diverse options of fascinating combinations such as coils system and foams, foam and latex, latex and coils.
Above reviews of the best hybrid mattresses are purposely created into your consideration. Just decide on the particular mattress.
I would be persistent to propose you mattress designed by Avocado if you prefer only organic materials. Nest Bedding is a reputable company which made their best with Alexander Signature Hybrid mattress. The fascinating combination of foam and coils gives respective support and undeniable comfort throughout the night.
Have you made up your mind? Are you ready to make a purchase? Which one are you leaning towards? Comment down below!
Additional Resources:
The 7 Best Mattresses For Side Sleepers With Lower Back Pain In 2020
Best Soft Mattresses For Side Sleepers In 2020
The 8 Best Memory Foam Mattresses In 2020
The 7 Best Innerspring Mattresses For Side Sleepers On The Market
Product links on Happysleepyhead are referral. We get a commission on purchases made through our links at no additional cost to you. More information in my disclosures.