Best Soft Mattresses for Side Sleepers in 2020
by | Last Updated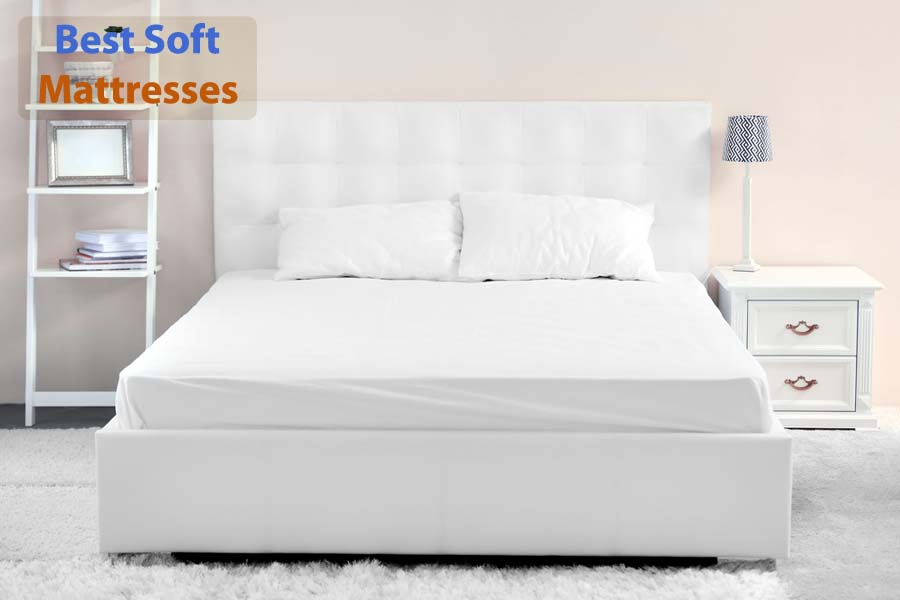 Do you know that plushy, cloud-like feeling when you get into your bed after the long, hard day and it gently hugs your body, relieving the stiffness you've accumulated during the day?
To me, nothing can be better than that. But I know something that can be worse:
A bed that sucks you in like quicksand.
That's what you'll get if you happen to choose a mattress that's way too soft. Luckily for you, I've found 5 best soft mattresses for side sleepers with great support levels and a very plush feel at the same time. Read on to get familiar with them.
Brand
Type
Layers
Warranty and trial
Rating
WinkBeds
Hybrid (Coils + foam)
2" memory foam support base;
7.5" individually wrapped pocketed coils;
1" lumbar support pad;
2.5" foam-encased pocketed coils;
3" pillow-top memory foam.
120-night trial, lifetime warranty
Nolah
Memory foam
7" high-density memory foam base;
1" support high-resilience foam;
2" cooling AirFoam.
120-night trial, 15-year warranty
Layla
Memory foam
1" copper-infused memory foam;
4.5" support memory foam core;
2" convoluted memory foam;
3" copper-infused memory foam.
120-night trial, lifetime warranty
Botanical Bliss by Plushbeds
Latex
Three 3" Arpico Dunlop latex layers;
1" wool comfort layer.
100-night trial, 25-year warranty
Puffy
Memory foam
6" polyfoam support core;
4" gel-infused memory foam.
101-night trial, lifetime warranty
WinkBeds – Editor's choice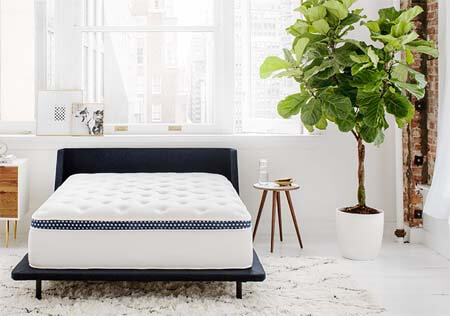 The first item on our list of the best plush mattresses for side sleepers is this model by Winkbeds. To start off, it's a hybrid mattress that offers you benefits of two materials — coils and memory foam. Featuring a unique construction with two spring units and three layers of foam, this mattress is very adaptive, responsive, and cradling at the same time.
And the best part is:
It doesn't sleep hot! Even though it has a memory foam pillow top.
For the sake of this review, I chose the softest option available at Winkbeds, and it felt between 4 and 5 on a 10-grade firmness scale. To me, that was really soft, even too soft I should say. But the company has three more options to choose from. The Luxury Firm one should also feel very soft but a little more supportive.
Here's a look inside:
The

2-inch memory foam

support layer acts as the base for the springs.

The

7.5-inch spring core

features individually wrapped coils that support the whole construction, make for appropriate weight distribution, and add some ventilation.

The

1-inch lumbar support pad

provides more support for the lumbar zone of your spine and prevents sagging of the mattress under that part of your body.

The

2.5-inch micro coils

are individually encased springs that add support and promote airflow.

The

3-inch Euro pillow top

provides cushioning for your body and cradles it so that you could feel all the benefits of sleeping on a

soft mattress

.

The

cover

is made from the Tencel material, which offers excellent moisture-wicking properties, breathability, and a very nice to the touch feel.
The worst part about this model is the motion transfer. It's not as bouncy as most innersprings, but the motion isolation levels are lower than I expected from a good hybrid mattress. That's likely because of the smart construction that includes two coil units. So, just keep in mind that you get a more breathable, supportive, and responsive mattress at the expense of motion isolation.
The coolest thing I've found about the Winkbeds mattress was the edge support it offers. You get to enjoy the benefits of the memory foam feel provided by the top layer, but the support at the edges stands out compared to all-foam models. People like me, who sleep with a partner, or individuals who tend to move closer to the edge during the night will definitely love it.
Being a hybrid model, this mattress by Winkbeds offers both a good amount of sinking and a bouncy feel, which makes it great for pressure relief, for sex and even for hot sleepers.
Feel like this can be a suitable option for you? Order this mattress here!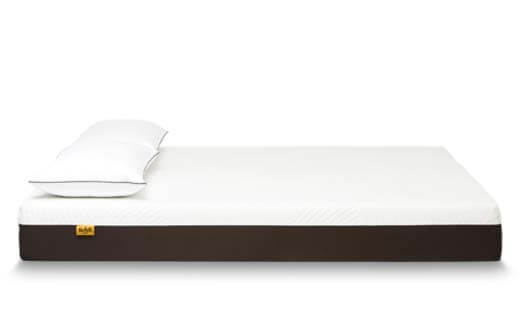 The Nolah Original belongs on the list of the best soft mattresses for side sleepers thanks to the balance between pressure relief and back support. Despite being an all-foam model, it has some bounce and doesn't trap heat. It's also good for couples, as it offers great motion isolation levels.
"You must have heard about viscose before, but it could have had a different name — rayon. This fabric is often used in bedding production because it's very breathable. You may find it blended with polyester for improved air circulation, as polyester isn't really breathable on its own."
This model offers a medium feel that scores about 5.5 out of 10. It's a good plush mattress that envelops your body but doesn't suck you in, at least if you're an average or lightweight user.
Let's have a closer look at its construction:
The

7-inch support layer

acts as a thick and sturdy foundation of the mattress.

The

1-inch transitional layer

is made from Avena foam, which has a bouncy nature and quickly responds to your body's curves and pressure points.

The

2-inch comfort layer

is made from the company's proprietary AirFoam, which is similar to an ordinary memory foam in terms of cradling but is more breathable.

The

cover

is a blend of polyester and viscose, which makes for better airflow and a pleasant feel.
The worst thing about this model is the edge support. When I tried lying on the edge of this mattress, I didn't feel secure at all. However, it's not really surprising given the fact that it's a memory foam mattress.
The best thing about the Nolah mattress is definitely the value for money it offers. Having a decent construction that allows for proper spinal alignment, great contouring, and breathability, it's actually one of the best mattresses under $1000. It's your perfect choice if you want a good-quality product without many bells and whistles.
The Nolah Original is a new generation memory foam soft mattress that provides better support and sleeps cooler than average memory foams. If you're out there looking for a generous amount of cradling but don't want to feel stuck in your mattress, this model is for you.
Want to test it yourself? Order here!
Layla – Best for pressure relief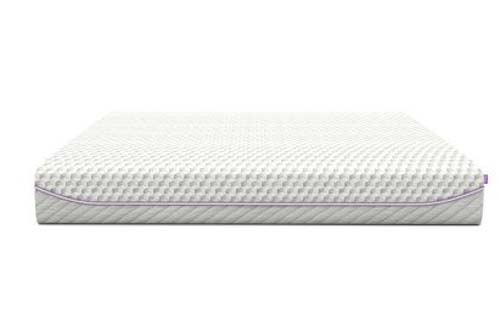 This model by Layla is a firm and a soft mattress in one. Featuring a flippable design, it can suit pretty much any user, whatever their sleeping preference. Made exclusively from memory foam, it provides good sinkage levels, which makes it one of the best for pressure relief.
But here's the kicker:
Unlike other all-foam models, the Layla mattress sleeps much cooler due to its breathable construction.
"Copper is known for its conductivity, which can be put to use in any industry where heat transfer is required. Mattress manufacturers add this metal to their products to offer better temperature regulation, so you will sleep cooler on a copper-infused surface. Besides, copper has great antimicrobial properties"
Have a look yourself:
The

1-inch memory foam

serves as a top layer when you flip your mattress to use its firmer side. It is infused with copper for a cooling effect and antibacterial properties.

The

4.5-inch foundation

features high ILD (Impression Load Deflection) rating, which means it's firm and supportive.

The

2-inch transition memory foam layer

is convoluted, meaning it

creates sort of hollows in the entire construction to promote airflow.

The

3-inch memory foam

serves as a top layer when you want to use a softer side. It provides excellent pressure relief thanks to the cradling, plush feel. And it's copper-infused too.

The

cover

is 100% polyester on one side and 66% polyester, 30% viscose, and 4% lycra on the other side. The latter features a special Thermogel agent, which eliminates heat buildup. You can remove the cover but it's not machine washable; you should only dry clean it.
Layla offers just one model but they've designed it to be flippable. One side feels somewhere between 4 and 5 on a firmness scale, while the other feels like an 8. For the sake of this review, I was obviously testing the softer side. Considering my 160 pounds of weight, it felt closer to a 5 for me, but to heavier sleepers, it will likely seem softer.
What I loved about this mattress was its ability to keep my body in a neutral temperature. While most memory foam mattresses don't manage to perform this role well enough, this model by Layla features a breathable construction, where three out of four layers work together to reduce heat buildup.
What I didn't like about this model is that it goes into extremes way too much. Let me explain:
While an average or lightweight user will probably feel pretty comfortable on the soft, cushiony side, heavier sleepers will likely sink in too deep and lack decent support. If they choose the other, firmer side, their body will easily go down through the thin 1-inch layer and meet the firm support base, which won't feel comfortable either.
Testing the Layla mattress was a pleasure. I enjoyed its pressure relief and conforming properties a lot. If you're not a heavy user, you will love sleeping on this mattress too.
Ready to give it a try? Order here!
Botanical Bliss by Plushbeds – Best Luxury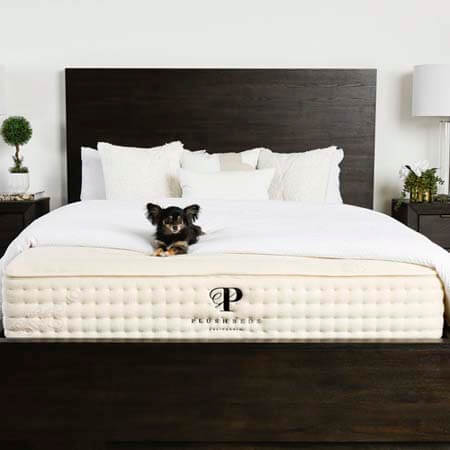 Another mattress competing for the place among the best plush mattresses for side sleepers is this luxury model by Plushbeds. Being made from natural, organic materials, it's a truly premium product of superior quality.
This model offers an excellent variety of firmness options, and they don't come down to just firm, medium, and soft, so you'll have a lot to choose from. You can actually choose the construction of your mattress yourself! There are three thickness options available, and each of them has something different inside.
And that's not it:
The company makes each mattress right after the order is placed rather than selling pre-made items, so you can actually request any firmness level.
I chose the 10-inch model, and here's what I got:
The three

3-inch base layers

are made from certified Arpico Dunlop latex. They are all calibrated to a different firmness level and are not glued together, meaning you can rearrange them if you want to change the feel.

The

cover

is 100% cotton and is knit rather than woven, which makes for better breathability. It is also quilted with wool for a softer and more cushiony feel. Wool is a naturally breathable material that helps your body regulate its temperature during the night.
The model I tested was about 5 out of 10 the way I arranged it. However, the same mattress could be calibrated to feel like 6 and even 7 out of 10.
What might impress you the most is how bouncy this mattress is. It's not too springy, and it doesn't envelop you either. It offers just the right amount of bounce, which I guess will be much appreciated by those of you who are not fans of sleeping "in" a mattress.
It was, honestly, quite hard to find any major drawbacks about this model, but I guess it could be the price. I mean, if you value the natural components, which are the main factor affecting the price, you might be willing to pay $1,800 for that. But if that doesn't make much difference to you, you will probably feel like you're overpaying.
Overall, the Botanical Bliss by Plushbeds is a luxury mattress made from organic high-quality materials. If you feel like investing in a high-class product, it's an option to go.
Feel like you can sleep comfortably on this mattress? Order it here!
Puffy – Best for Combo Sleepers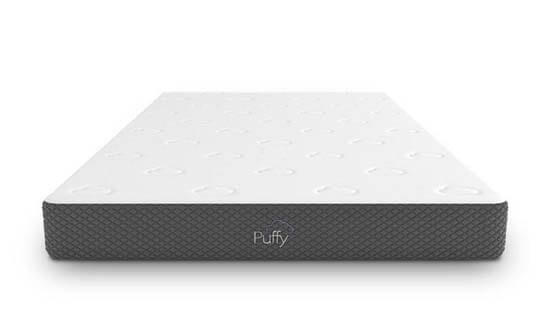 This model feels comfortably supportive and soft enough to ensure that even people who change positions during the night, turning from side to back and vice versa, will enjoy their sleep.
It's an all-foam mattress, and it consists of two layers only:
The

6-inch polyfoam base

is a firmer supportive layer that is responsible for proper spinal alignment.

The

4-inch gel-infused memory foam

is cradling and very adaptive to provide pressure relief in all the right points. It has an open-cell structure that, along with the cooling gel, keeps your body in a neutral temperature.

The

100% polyester cover

is smooth to the touch and features a breathable pore structure. You can remove it and put it in a washing machine for cleaning.
The company produces two mattresses: the Puffy and the Puffy Lux. I was testing the first one, which felt around 6 out of 10 on a firmness scale. You might want to check out the other one if you want an even softer mattress.
The greatest thing about the Puffy mattress is the hugging feel it provides. Its memory foam layers are really responsive. They adapt to your body's shape and weight and cradle your pressure points, which makes this model particularly comfortable for side and back sleepers.
The biggest drawback I could find was the Puffy's price. Don't get me wrong, it's not the most expensive model on the market. But considering its quite a basic structure, I feel like this mattress is a bit overpriced. Other models with a similar price tag feature a more complex construction, which justifies their cost.
Despite being rather simplistic, the Puffy can make a very comfortable plush mattress for people who don't mind and even enjoy the feeling of sinking in. Just make sure the price works for you.
Can't wait to try it? Click here to order!
Factors We Look At
The mattress industry is booming now. Many brands you've heard today have appeared just within the last two or three years. With such a great variety of companies and models that these companies offer, finding the right mattress can become quite a task. Unless you know exactly what to look for and which factors to consider. Here's what we pay attention to:
Construction

. Be it a memory foam, latex, spring, or a hybrid model, we make sure it features a smart construction that provides both support and pressure relief.

Firmness levels

. Or, softness, to be exact. For this review, we've chosen some of the softest models available on the market. You will find more information on why firmness levels matter below.

Material safety

. Some people prefer 100% green products, while others are not too concerned whether their mattress is organic. What we all want, though, is to be sure our sleep is safe, which is why a mattress should be certified. We check all the certifications to ensure your safety.

Value for money

. Whether you're willing to invest in a luxury mattress or to save a bit by going for an affordable model, you surely want a worthy deal. We consider lots of different factors — such as breathability, motion transfer, edge support, noise, off-gassing, and much more — to decide whether this or that model offers good value for the money.

Warranty and trial

. We count these factors in not only because they make you feel secure when ordering, especially from one of the newer companies. They also allow us to suggest how durable a mattress is. It's not a rule but rather a tendency that the longer the warranty the higher the quality of a product.

Reviews

. Experiences of other people matter — especially when it comes to softness — because the same mattress can feel different for users of different weight.
Firmness Levels Explained
Although firmness is quite a subjective thing, a universal firmness scale exists to help mattress manufacturers and their customers communicate about how soft or firm a mattress feels. This scale is roughly divided into 10 levels, with 1 being the softest and 10 being the firmest.
Now, look:
The world's comfort standard is considered somewhere around 6 out of 10. That's what 80% sleepers would choose.
The rest of the world would go either for a softer mattress (4 or 5 out of 10) or for a firmer one (7 or 8 out of 10). Firmness levels lower than 4 and higher than 8 are considered to be generally uncomfortable. This means that whatever your body weight and sleeping preference are, you're very unlikely to have a good sleep on such a firm or such a soft mattress.
Does Soft Mean Not Supportive?
The short answer:
Absolutely not!
The longer answer:
There's a common disambiguation as for the connection between support and firmness. Some people think that these two notions are synonymous and interchangeable, which, if true, would mean that only firmer mattresses could guarantee proper body support.
Thank goodness it is not true!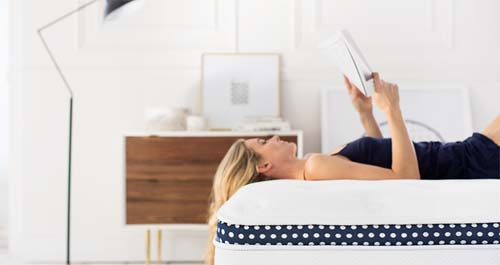 So, let's make it clear:
Mattress support is defined as the ability of a mattress to align your body and distribute your weight evenly, taking the pressure off your pressure points.
Mattress firmness defines as how firm or plush a mattress feels.
"Generally, support comes from the bottom layers of a mattress, while a softer or firmer feel is ensured by the comfort and top layers. That's why a soft mattress can provide adequate support — it just needs to have a supportive base and plush upper layers."
Soft Mattresses: Who Are They Good For?
Considering how important sleep is, you should choose a sleeping surface very carefully based on your body weight and sleeping preferences. So, how can you know that a softer mattress will work for you?
Sleep science has the answer:
You will feel comfortable with a mattress that ranks 4 or 5 out of 10 if you're an average or lightweight side sleeper.
Side sleeping puts great pressure on your hips and shoulders. The amount of cradling that plush mattresses offer is perfectly enough to eliminate this pressure and help your body fully relax during the night.
Heavier side sleepers are likely to sink way too deep into the mattress, which will cause discomfort. A mattress that feels like a 5 for average sleepers might feel like a 3 for heavier ones. So, larger individuals would be better off with a medium firm mattress (6 or 7 out of 10) if they want to enjoy that soft feel.
Some back sleepers, particularly the ones who love to be hugged by their mattress, might find soft mattresses satisfyingly comfortable too. But it's not easy to generalize about this, as it all comes to personal preferences. The good news is that most manufacturers give you some time to understand if their mattress works for you by providing 3-4-month trials.
Soft Mattresses: Who Are They Bad For?
Now, you should totally reject the idea of buying a plush mattress if you're a stomach sleeper, especially if you weigh more than 200 pounds. In addition to discomfort, you might earn yourself some spinal problems when sleeping on a soft surface.
If you don't like the hugging feel that most soft models provide, you shouldn't consider them too.
And again, plush mattresses are not designed for heavier sleepers. If you are one and still want your mattress to feel soft, you should choose a medium firm model.
Which Materials Can Offer the Soft Feel?
You understand that different materials offer different qualities, don't you? Here's a breakdown of the main ones in terms of softness:
Memory foam

. This is the most common choice for a soft mattress not because it offers more softness but rather because people who're out there looking for more softness love the sinking feel typical of memory foam — that is, when your mattress gently envelops you, providing pain and pressure relief. The variety of models is very wide. Besides, many manufacturers develop their proprietary blends to mitigate the well-known issues of standard memory foam (such as heat retention, weak edge support, or odor).

Latex

. Despite its bouncy nature, latex can be very plush and cradling too. You will want to go for lower ILD rating and lower density for a really soft feel.

Innerspring/hybrid

. Different modifications of a good old innerspring are available both in stores and online, which means there's a very wide choice, and it should definitely include some softer models. As a mattress component, coils are even more bouncy than latex, but in hybrid models, the levels of bounce can be minimized with help of memory foam comfort layers. So, you can get a plush option with this material too.
"The type of spring coils is one of the main factors defining the quality and durability of an innerspring/hybrid mattress. The worst option you could go for is Bonnell coils. They are the least expensive yet the least durable option."
Some Issues You Might Face as an Owner of a Soft Mattress
There's no perfect mattress no matter how hard you'll be trying to find one. A number of potential weak points can be found with each mattress, but it all comes down to the materials and construction of every model.
So, your soft mattress might be: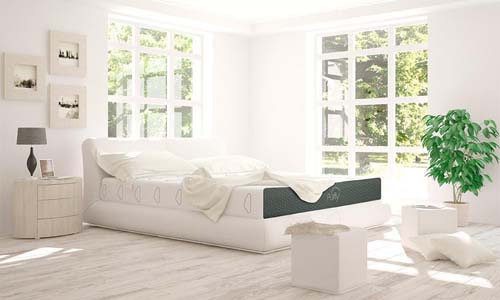 Too thick

. In many cases, making a mattress softer will require more cushioning — that is, more layers and a bigger mattress's height in the end. While most people won't mind it, some individuals will claim that a very thick mattress isn't aesthetically pleasing. So, before making a purchase, pay attention to the thickness of the whole construction and try to imagine it in your bedroom. Will it look too bulky? If not, go ahead and buy it.

Prone to sagging

. More cushioning might also make your mattress more susceptible to sagging, especially if it's a memory foam model. Over time, memory foam tends to lose its ability to retain shape and becomes prone to forming impressions on the surface.

Awkward to move around

. Soft memory foam mattresses are less bouncy and, as a result, might be inconvenient to move around. If you prefer sleeping "on" a mattress rather than "in" it, you might want to look for a soft latex mattress to avoid this issue.

Heavy

. Again, since softer models are thicker, they are also heavier. But this shouldn't bother you much unless you plan to move your mattress around frequently.

Hot

. Sinking deeper into the mattress is often connected to sleeping hot. Sometimes it proves so, and sometimes it doesn't. Basically, this comes down to the components of a mattress and how they are organized.
Conclusion
So, these are the top picks among soft mattresses. Each of them provides a very plush, cushiony feel and decent support, which will be very appreciated by side sleepers.
Now, even though all these mattresses perform great, I have two favorites. The first one is the Layla. It offers excellent pressure relief and sleeps cooler than similar all-foam mattresses from competitors. And still, it has that enveloping feel as if you're sinking into your mattress, which, I know, is not to everyone's liking.
So, if you want softness combined with better bounce (especially if you want your mattress to be good for sex), pay attention to the soft model by Winkbeds. With the levels of comfort, great edge support, and excellent breathability this mattress provides, it has become my second favorite.
What about you? Which mattress do you think will suit your body type and your sleeping preference? Feel free to answer in the comment section below.
Additional Resources:
Best Medium Firm Mattresses – Buyer's Guide and Reviews
The 8 Best Memory Foam Mattresses For Side Sleepers In 2020
The 7 Best Innerspring Mattresses For Side Sleepers On The Market
Product links on Happysleepyhead are referral. We get a commission on purchases made through our links at no additional cost to you. More information in my disclosures.