Best King Size Mattress to Get the Sleep You Deserve
by | Last Updated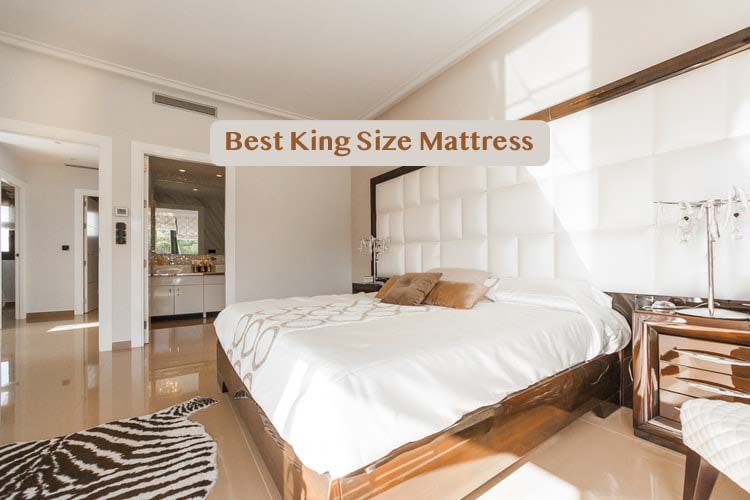 If you're browsing through the Web, looking for a King-sized bed, the chances are that you're either in a relationship or taller than 5'5''.
Whatever the case, you absolutely shouldn't skimp on comfort during sleep!
That's why I've created this review of 7 best King-size mattresses that all claim to be able to offer you a truly royal sleeping experience. So, let's find out whether they stand up to their claims!
Model
Type
Layers
Trial & Warranty
Rating
Botanical Bliss by Plushbeds
Latex
organic cotton cover;
organic Joma wool;
soft Dunlop latex;
medium Dunlop latex;
firm Dunlop latex base
100-night trial;
25-year warranty
Winkbeds
Hybrid
Construction differs depending on the chosen firmness
120-night trial;
lifetime warranty
Amerisleep AS3
Memory foam
Celliant cover;
Bio-Pur memory foam;
HIVE foam transition layer;
high-density foam base
100-night trial,
20-year warranty
Nolah 12
Foam
organic cotton cover;
cooling foam comfort layer (Soft side);
high-resiliency foam support layer;
dense foam base;
cooling foam comfort layer (Firm side)
120-night trial;
lifetime warranty
Dreamcloud
Hybrid
polyester pillow-top quilted with foam;
gel-infused memory foam;
foam transition layer;
individually wrapped coils;
dense foam base
365-night trial;
lifetime warranty
Saatva
Innerspring
organic cotton cover quilted with fibers;
memory foam lumbar pad;
a layer of individually wrapped coils;
steel coil unit;
dense foam base
120-night trial;
15-year warranty
Bear Mattress
Memory foam
Celliant cover;
graphite-infused memory foam;
responsive foam support layer;
high-density foam base
100-night trial;
10-year warranty
Our Reviews of 6 Best King-Size Mattresses
Best King Mattress — Editor's Choice
Botanical Bliss by Plushbeds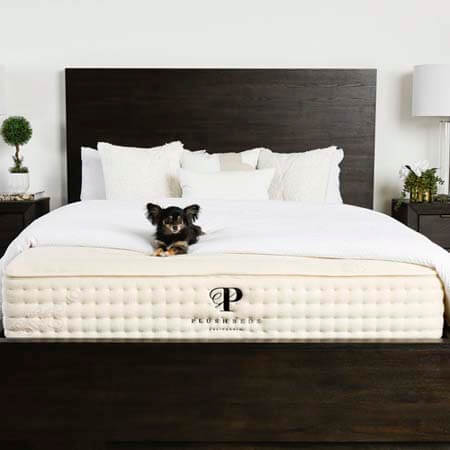 There's no better mattress than the one made of natural and durable materials, such as latex. That's why I've included the Botanical Bliss by Plushbeds in my list of best King-size mattresses.
The model features three Dunlop latex layers, each with a different firmness level, packed under an organic cotton cover and a layer of Joma wool. Wool acts as an additional breathable pad and wicks away moisture, thereby keeping your slumber dry and cool.
Another great thing about this bed is that you can change the firmness level to meet your demands. Just swap the softer upper latex with the medium latex layer if you want a mattress with — you guessed it! — a medium feel.
The strongest point of the Botanical Bliss is its overall design. The all-latex construction offers numerous benefits: it's breathable, quick to bounce back when you remove the pressure, and not limiting your movements. Plus, latex is loved for its ability to conform to your body in every sleep position.
The downside to this model is typical for all latex mattresses. I'm talking about the price. And since King-sized beds are typically the priciest in the lineup, the cost of this mattress might make your credit card cry.
I loved testing the Botanical Bliss. If you don't mind spending more, definitely go for it. This mattress can take your sleeping experience to the next level!
CHECK OUT Botanical Bliss MATTRESS ON PLUSHBEDS.COM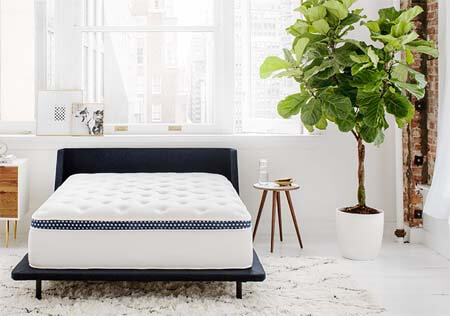 Another option on my list of best King-size mattresses is the Winkbed. And I love the strong edge support that this bed provides, no matter which firmness level you choose. This makes the mattress a perfect purchase for couples or those who love to sleep closer to the edge.
So, the Winkbed is available in four firmness configuration: Soft, Medium, Firm, and Firm Plus. The latter is designed for heavy sleepers in particular. All the options feature hybrid construction, which allows them to provide a decent amount of support and contour your body curves.
Along with that, the manufacturer cares about your spine health. Models from Soft to Firm have a zoned coil system to offer you more precise contouring, whereas the Firm Plus configuration features an additional lumbar pad that prevents lower back issues.
What I loved the most about the Winkbed, though, is edge support. The mattress has rows of stronger springs around the perimeter. So, if you need to utilize the whole surface for sleeping, The Winkbed is a perfect choice.
The problem with this mattress is that even the softest option may lack sinkage, especially if you're a petite side sleeper. This may cause pressure to accumulate in your pressure points, leading to stiffness and pain.
Overall, I loved the Winkbed mattresses for all of its qualities — and for the sound sleep they result in. If you need a durable bed that will allow you to use the entire surface for you and your partner, this mattress might be your go-to option.
CHECK OUT winkbed MATTRESS ON winkbeds.com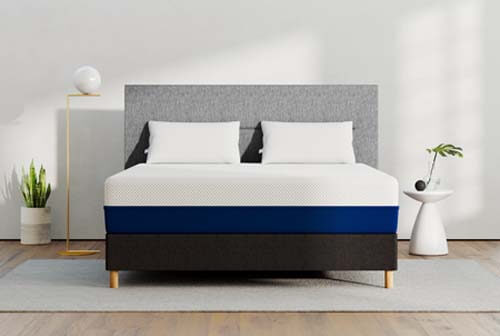 One more option in my review of the best King mattresses is the Amerisleep AS3. It's the brand's best-selling model for a reason: the AS3 molds to your body shape in any sleep position and eliminates all your possible discomfort.
This is achieved thanks to the brand's proprietary HIVE technology. The transitional layer of the mattress has a hexagonal pattern and is divided into five zones. The space between hexagons is wider in certain zones, which results in a more pronounced hug and enhanced pressure relief.
No matter which sleeping position you prefer, the Amerisleep can ensure a cool sleep for you. Its upper comfort layer is made of Bio-Pur memory foam with an open-cell structure. It retains less heat than other foams and can guarantee better breathability. Also, the Celliant cover has great moisture-wicking properties and adjusts to your body temperature.
What impressed me the most about the AS3 is how adaptive it is. Thanks to five zones and HIVE technology designed for spine support, you won't feel any morning stiffness or painful sensations during sleep.
As for drawbacks, I'd mention weak edges. I share a bed with my wife, and when I get closer to the side, I don't feel secure. You can try to improve this issue, though, by investing in a good mattress foundation.
Overall, I can say that the Amerisleep is a fairly good choice. Despite some minor flaws, it can offer proper support for your spine and pressure relief for your muscles in any position.
CHECK OUT Amerisleep AS3 MATTRESS ON amerisleep.com
Best for Back Pain Relief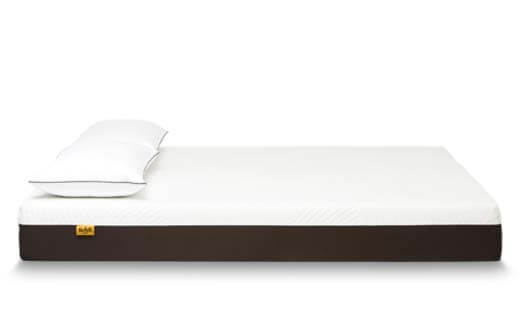 Moving further to the next candidate. The Nolah Signature 12" has claimed its place in my review of best King size beds because of how well it can help you deal with any sleep-related pain, thus bringing sound sleep back into your life.
So, the mattress has an all-foam construction and is well-made. The manufacturer combines its cooling Airfoam, which offers a great hug and sleeps neutral, with resilient foams for better motion response.
Along with that, the Nolah Signature has a dual-sided design, so you can choose either Soft or Firm side and adjust the mattress to your particular pain issues. I tested both sides and found that each of them helps you keep proper spine alignment and doesn't restrain position shifting during the night.
So, the thing that impressed me the most about this bed is how easily it can relieve pain and muscle stiffness. I purposely tested it after an intense gym session and was able to peacefully drift off as soon as I laid my head on the pillow.
But there's also a downside: the Nolah Signature can take quite a time before it expands completely. The manufacturer suggests you leave it up to 48 hours before you can sleep on it. I support that because ours took two days precisely.
So, I definitely recommend the Nolah Signature for back pain sufferers. It's a cradling bed that won't sleep hot and will support your natural spine alignment throughout the night.
CHECK OUT Nolah Signature 12 Mattress ON nolahmattress.com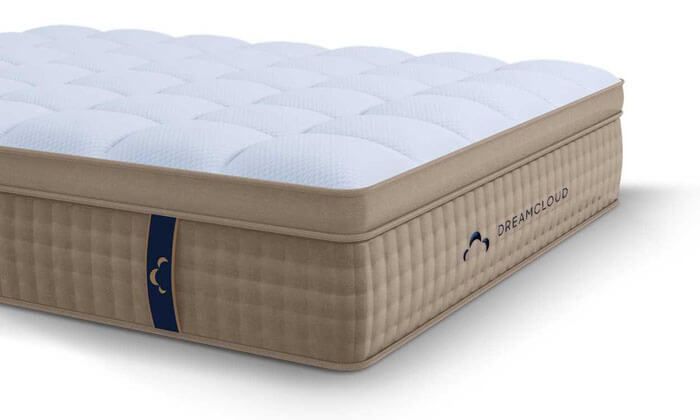 If you're struggling to find the best King-size mattress with a soft feel, stop right there because I've got a Dreamcloud bed for you. It literally stands for its name and feels like a cloud that will take you to the Land of Nod in minutes.
The Dreamcloud is a hybrid. On top of rigid and supportive coils that distribute your weight evenly around the surface, it has three cradling comfort layers. A polyester pillow-top paired with a layer of gel-infused foam and the transitional foam pad create a soft cushion that offers you a decent hug in any sleep position.
Speaking of coils, they have a pretty simple construction and create a uniform and responsive sleeping surface without being annoyingly bouncy, which might be a plus if you share a bed with someone.
So, I'm really impressed with how the Dreamcloud combines firmer coils with softer upper layers. If you need a mattress that feels like a feather bed and offers heavenly sleep, you definitely should go with this one.
The excessive softness, however, can also be a problem if you're a hot sleeper. Even though the Dreamcloud is made of temperature-neutral materials, sinking too deep in mattress layers makes you more prone to getting hot at night.
Both I and my wife enjoyed sleeping on this bed. Its construction results in a really good hug for all your pressure points, while the soft feel helps your muscles relax completely so that you wake up refreshed.
check out dreamcloud mattress on dreamcloudsleep.com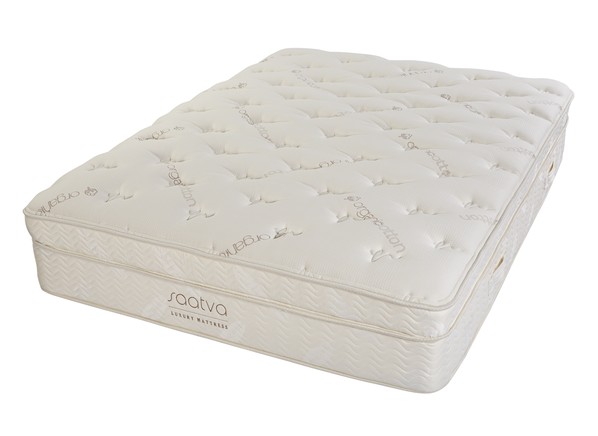 While reviewing King mattresses, I couldn't resist adding the firmest option along with the softest one. Because we all have different needs, right? So, thanks to the Saatva's innerspring construction, you can expect a really firm and even surface. But there's much more to it.
The main feature of the mattress is its 'coil-on-coil' design resulting in incredible supportive properties. The first layer of coils is individually wrapped for pinpoint spine support and close conforming to your body.
The second layer is made as a solid steel coil unit and is responsible for sturdy edges, good motion response, and great durability of the mattress. Also, the Saatva features a pillow-top quilted with foam for additional cradling and pressure relief.
The most significant advantage of the Saatva mattress is its firm feel. Actually, the company sells this model in three firmness levels, but I was testing the firmest one. And my verdict is, this bed can be a good pick for anyone who prefers floating atop the mattress, as well as heavier individuals and those who love sleeping on their stomach.
The drawback of this mattress is its excessive motion transfer. Two coil layers create a pronounced bounce and can easily mess with your sleep if your partner is an active sleeper.
I think that the Saatva can make a good purchase for sleepers who enjoy snoozing on a firmer surface. Just make sure you don't mind some bounce.
check out saatva mattress on saatvamattress.com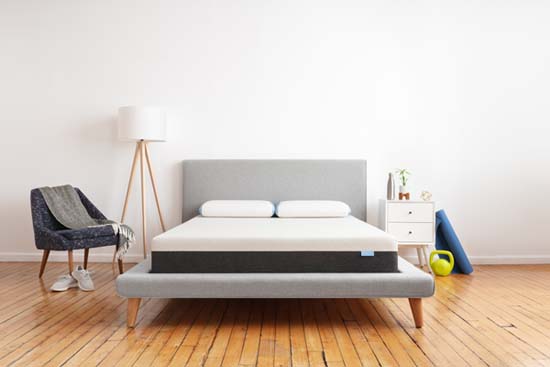 And the last model is in this review to prove that you can find a decent King-sized mattress that won't cost you an arm and a leg but will give you sound and refreshing sleep. The Bear mattress features innovative materials and can help you maintain natural alignment during sleep.
So, the mattress has an-all foam construction with some interesting twists. First, the manufacturer uses the patented Celliant fabric, which is widely used for making athletic clothes. Celliant adapts to your body temperature and creates an optimal microclimate for sound sleep and recovery.
Right under the cover, there's a layer of graphite-infused foam, which enhances the cooling effect and offers you a nice hug for your pressure points. And a layer of resilient transition foam works great at distributing your body load and absorbing any motion.
I really love that the Bear mattress can give you all this goodness for a reasonable price. Getting a supportive, durable and eco-friendly King mattress has never been more affordable!
As for the downsides of the mattress, I should mention poor edge support. But you should also understand that this issue is common for all foam beds.
Overall, the Bear mattress is a great pick for fans of decent cradling and pressure relief who want a King mattress but are on a budget. This is a basic model that simply does its job as stated.
check out bear mattress on bearmattress.com
Where Did the Kings Come From?
Today, King is considered one of the standard mattress sizes, but things weren't always that way.
Up to the 1960s, the dominant bed sizes on the market were Twin (for single sleepers and kids) and Full (for couples). Having only two standardized bed sizes made it possible and easy for people to purchase beds and mattresses form different regions of the country and different retailers, and still be sure that they will fit.
The game changed in 1958, when the Simmons bedding company introduced two larger beds to the market and took them into the mass-production a couple of years later. These beds were named King and Queen. After being mentioned in magazines, they quickly got a popularity boost.
Today these sizes remain the dominant option on the market. And let's be honest:
Queen and King mattresses are indeed much more comfortable for two adults than a Full-size bed.
So, I guess that's the key to their popularity.
What Are the Dimensions of a King Mattress?
A King-size bed measures 76 inches wide and 80 inches long, which makes it the widest standard size available today. Compared to a Queen-size mattress, which offers only 30 inches of width per person, with a King-size mattress, you get as many as 38 inches per person. That's a big plus for those who love stretching in their sleep!
Fun fact:
Thanks to its width, a King bed can easily accommodate even more than two sleepers, especially if they are kids or petite users.
"If you need to compare King and California King mattresses, note that the latter is the longest option available, as it measures 72 inches wide and 84 inches long. If you're taller than 6 feet, or if you allow your pets to sleep with you, then a CalKing bed might be a better pick for you."
Also read: Best California King Mattresses
Things to Keep in Mind When Buying a King Mattress
Now, when choosing a new mattress, you should definitely consider your personal preferences and your body's sleep needs.
But that sounds too vague, doesn't that?
So, I've prepared a detailed list of the key things to keep in mind for your convenience.
Your Sleep Position
Do you sleep on your side, back, stomach, or all of these? Your sleep position defines the firmness level and the amount of sinkage you want your new King mattress to have. Here's a quick checklist:
If you're a

side sleeper

, go for a softer option that will properly cradle your hips and shoulders so that your whole spine is aligned.

If you

sleep on your back

, your ideal level of firmness is medium.

Stomach sleepers

are recommended to give their preference to firmer beds, to avoid sinking too deep into the mattress and misaligning their lower back.
That's not it, though. Since your weight affects your perception of firmness, here's a rule of thumb:
Heavier individuals should go with firmer mattresses, while petite sleepers are advised to choose softer models.
Your Sleep Partners
If you are buying a King because you want to share your bed with your partner or/and your pet, you may want to look for models that have low motion transfer so that neither one of you will disturb the others. Mattresses made entirely of foam or those having foam in their upper layers are more preferable here.
"If your partner moves actively in their sleep, their movements might cause you to frequently wake up during the night, which means your sleep will be fragmented. This, in turn, may significantly affect your ability to concentrate the next day, as well as memorize things and process information properly."
Bedroom Size
If you're reading this guide, you are probably ready to welcome a King mattress into your home.
But what about your bedroom? Is it ready too?
Ideally, it should be at least 13 x 13 inches to accommodate such a large bed without feeling cramped. So, it's a good idea to measure your bedroom before shopping.
Pricing
Another thing you need to know about King-sized beds is that they — along with California King models — are typically pricier. It's quite logical since larger sizes require more materials and craftsmanship, so you should be ready to spend more.
Still, if you're willing to find a good King-sized mattress below the $1,000 price tag, check out this article.
Bedding
Large mattresses require larger pillows to sleep comfortably. That's why many pillow manufacturers today make King-size pillows along with Queen and Standard sizes. Again, they're likely to be more expensive.
Also, note that King-sized sheets may have a bit lower market demand compared to Queen, so it might be slightly difficult to find a suitable set.
Configurations
Aside from a one-piece King mattress, some manufacturers offer you an option to choose Split King, which consists of two separate Twin halves. If you and your partner have different preferences as for the firmness or overall feel, you can each get yourself a mattress that meets them and sleep peacefully side by side but on different mattresses.
Also, the Split King is a good option for adjustable bed frames, as this way you will be able to elevate the halves independently and won't disturb your partner's sleep.
Who Will Benefit the Most from a King-Sized Bed?
Now, let's make sure you will really benefit from purchasing the best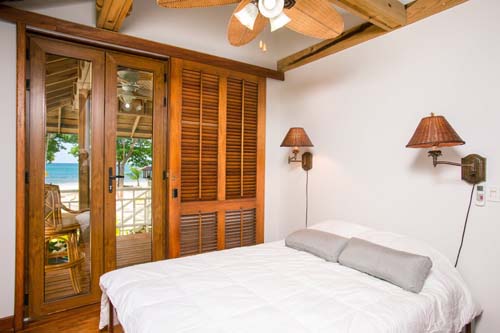 King-size mattress instead of investing in a standard Queen bed. Here's for whom this size is the best option:
Those who share a bed with someone.

It can be not only your partner but also your kid who had a bad dream of your lovely golden retriever. Or, all of the above. The wide surface of a King mattress can help you get comfy with other sleepers beside and still get sound sleep.

Larger sleepers.

Big guys and girls need more room to move during the night. Of course, they may feel pretty comfortable on a Queen-sized bed. But if both partners are on the heavier side, additional space may be needed. Also, King-sized beds typically have larger weight capacity, which is another plus for heavy sleepers. Just make sure to pair your mattress with a heavy-duty bed frame.

Those with health conditions causing back pain or limited mobility.

Certain medical conditions may require a larger sleeping surface to get comfortable — and the wide King-sized bed can offer you just that. Plus, a wider area might distribute your body weight better, and hence, relieve your pressure points more effectively.
Wrapping Up
Even though King mattresses are less popular than Queen, they offer you more room for sleep. So, if that's what you're looking for, purchasing a King-size bed will make sleep more comfortable for both of you, which is definitely great.
All the models I've reviewed in this guide can serve you as a good starting point.
And now, I'll tell you which one impressed me the most. It's the Botanical Bliss. First, because I love natural materials. Second, because this mattress is incredibly comfortable and supports your spine alignment no matter which type of sleeper you are. Finally, latex stays cool and breathable while offering you a decent hug and pressure relief.
However, if you aren't the fan of a spongy latex feel, you may go with the Nolah Signature. This bed conforms to your body and offers you a good amount of sinkage, without making you sleep hot. It can help your muscles relax, which is especially great if you suffer from back pain.
So, why are you looking for a King mattress? What are your essential considerations for choosing a bed of this size? You're welcome to share below!
Product links on Happysleepyhead are referral. We get a commission on purchases made through our links at no additional cost to you. More information in my disclosures.