Best Mattresses for Arthritis and Fibromyalgia Sufferers: Have the Pain-Free Sleep Every Night
by | Last Updated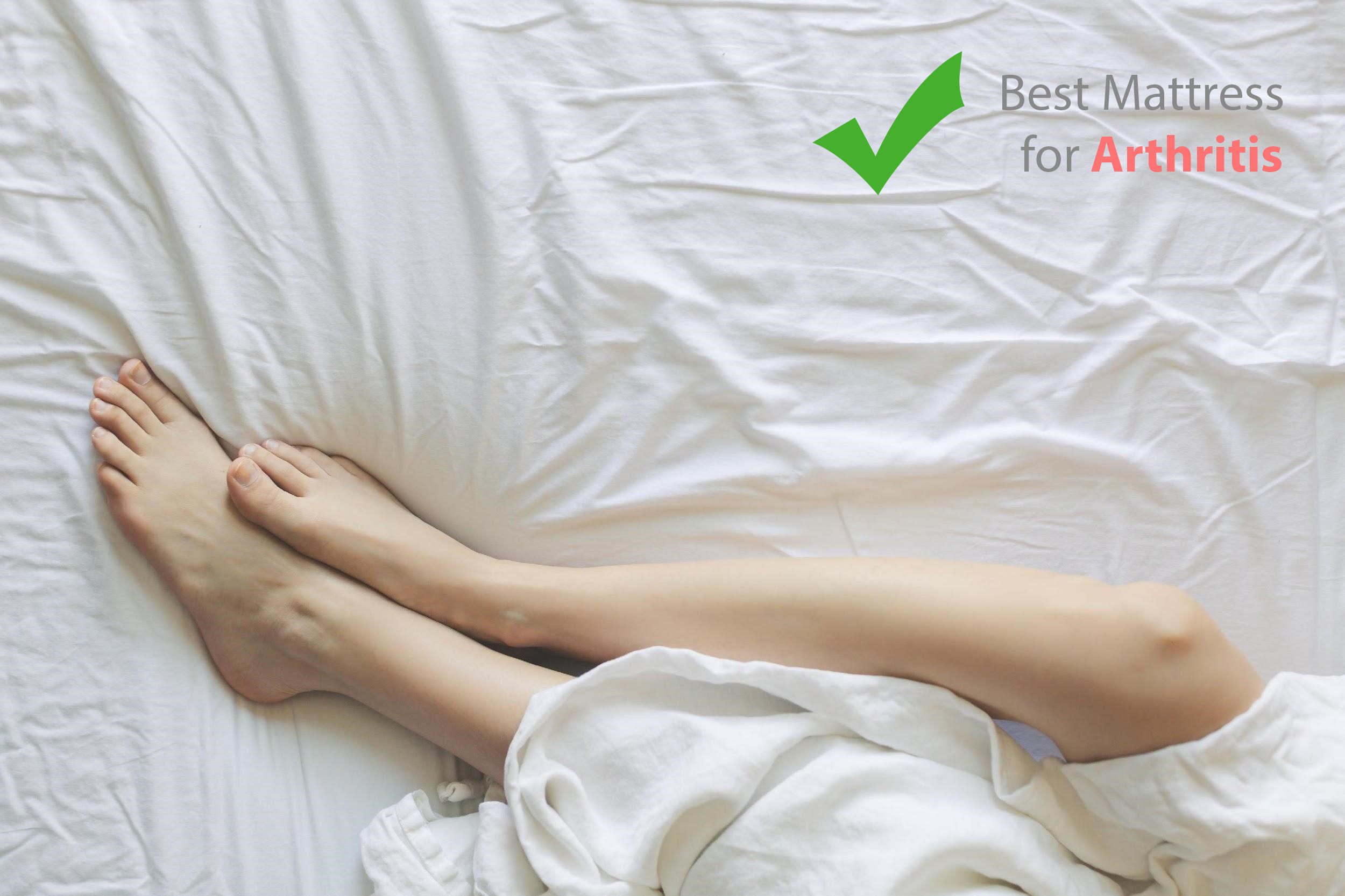 So many people suffer from back pain these days. Doctor's offices become overcrowded.
And among those people, there are those who suffer from arthritis and fibromyalgia.
For such people, sleeping on a good mattress is an absolute necessity.
If you are one of them, take a look at this list of the best mattresses for arthritis and fibromyalgia. Maybe one of these models will make your nights more comfortable and relaxing.
Company Name
Mattress Type
Layers
Warranty and Trial
Rating
Loom & Leaf (by Saatva)
Memory foam
Dual support layer;
5-lb memory foam layer;
Cooling gel layer;
Quilted cotton cover.

15-year warranty, 120-day in-home trial.
Bear Mattress
Memory foam
High-density support foam;
Transitional performance foam;
Responsive comfort layer;
Cooling graphite-gel memory foam;
Breathable Celliant cover.

10-year warranty, 100-night trial.
Natural Bliss
Latex
Organic cotton cover;
Fiber flame barrier encasement;
Talalay latex comfort layer;
Dunlop latex base.
100-night trial;
25-year warranty
Avocado Green Mattress
Innerspring + latex
Base support core (fabric-encased coil system);
Double latex layer;
Wool padding;
Cotton cover.

25-year warranty, 100-night sleep trial
WinkBed
Hybrid
Tencel cover;
Hypersoft foam comfort layer;
Gel-infused foam comfort layer;
Pocketed microcoils;
Lumbar supportive pad;
Pocketed steel coil system;
Dense foam base.
120-night trial;
lifetime warranty
Puffy Mattress
Memory foam
Firm core support foam;
Cooling cloud foam layer;
Polyester cover.

Lifetime warranty, 101-night sleep trial
The Most Suitable Mattress for Shifting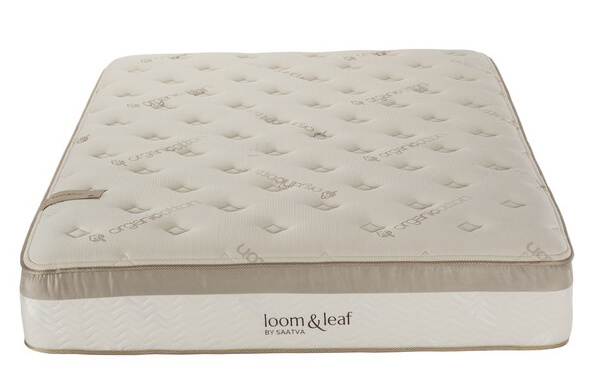 Being among the top-rated beds for arthritis, Loom & Leaf offers a lot to people who cannot sleep well because of the pain. Particularly, it offers a great structure for shifting during the night.
This particular model has 4 layers: two supportive base layers, a 5-lb memory foam layer, and a cooling gel layer with the company's proprietary Spinal Zone Gel area. There is also a quilted cotton cover, super soft and pleasant to the touch.
The mattress is supportive but provides enough cradling without making you feel like you are stuck in the foam. It is great for pressure relief and proper spinal alignment.
The absolute best thing about this Loom & Leaf mattress is how great it is for shifting during the night. It has just the right balance of firmness and padding, which makes it super easy for arthritis patients to move around in bed trying to find the most comfortable position.
The worst thing about this model is its mediocre edge support. It might be a huge drawback for people who tend to roll over to the edge of the bed during the night.
Now, here are some pros and cons for your consideration:
Overall, this is a great mattress, worth every penny. It helps with back pain and pressure relief, which makes it one of the highest-rated mattresses for arthritis and fibromyalgia sufferers.
check out Loom & Leaf mattress on loomandleaf.com
Mattress with the Best Cover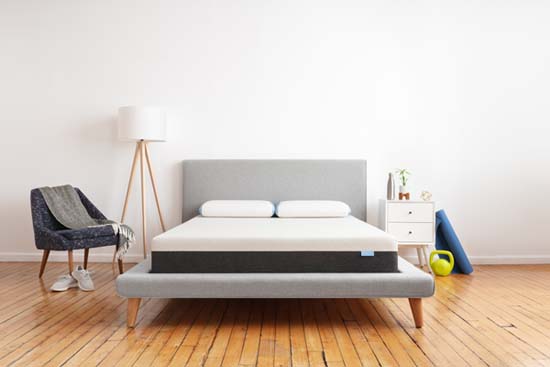 Another item on our list is this minimalistic-looking model mattress. However, don't let its appearance fool you. It is super comfortable and has a couple of tricks up its sleeve.
Now, the Bear Mattress has 4 foam layers (including a cooling one). It is sturdy and supportive, which makes it suitable even for heavier sleepers. The transitional foam layer ensures that your pressure points are not pressed against the firmer supportive base. And the top graphite-gel layer provides a cooling effect.
The best (and the most interesting) part of this mattress is its cover. Being made of the proprietary Celliant fabric, it helps with your body's recovery and well-being. It harnesses the body's energy and turns it into the infrared light. Which, consequently, helps your body heal and feel better.
Because the Bear Mattress is rather bouncy, it offers a mediocre motion isolation, which may be a huge drawback for people who sleep with a partner and don't want to disturb them during the night.
Now, let's move on to the pros and cons:
If you sleep alone (or your partner is a sound sleeper), you should definitely consider this top-rated bed for arthritis. It has all the chances to improve your sleep quality.
"If you are on a tight budget but need some bed improvements, you can invest in a good mattress topper. It will cost less than a whole mattress but will provide an additional comfort layer. There are cooling, supportive, padded toppers. Whatever you need, chances are you will find a suitable topper."
check out bear mattress on bearmattress.com
Best Low-Profile Mattress for Arthritis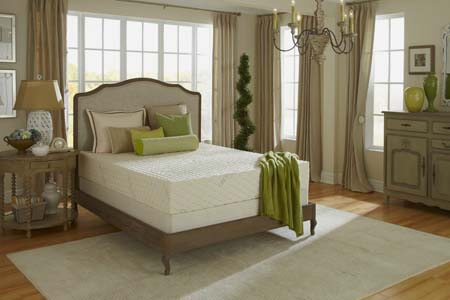 The next option on this list of the best mattresses for arthritis is the Natural Bliss by Plushbeds. The name stands for itself: this 100% latex mattress can offer you a truly blissful sleep even though it's only eight inches thick!
The upper comfort layer of this mattress is made of Talalay latex and the base is made fo Dunlop latex. Both of these materials adapt to your body shape, alleviating pain in joints and spine. And the low-profile construction allows you to get in and out of bed more easily without feeling any discomfort. Note that there also are 6-inch and 10-inch options available.
Also, latex is naturally very breathable and sleeps cool. So, with this mattress, your shut-eye will be more restorative.
The coolest feature of the Natural Bliss is its construction. First, it is all-latex, which means cradling and support without limiting your motion. Second, it isn't too thick, so you may use it with a higher bed frame and still feel comfortable getting in and out of bed.
The main issue, though, is a noticeable latex smell. This is normal for new latex mattresses, but might be a bit annoying for sensitive sleepers at first.
It's time to look at the pros and cons:
Overall, if you can afford a latex mattress, go for this one. It offers a good balance between bounce and contouring and can provide excellent pain relief.
check out natural bliss mattress on plushbeds.com
Best Natural Mattress for Arthritis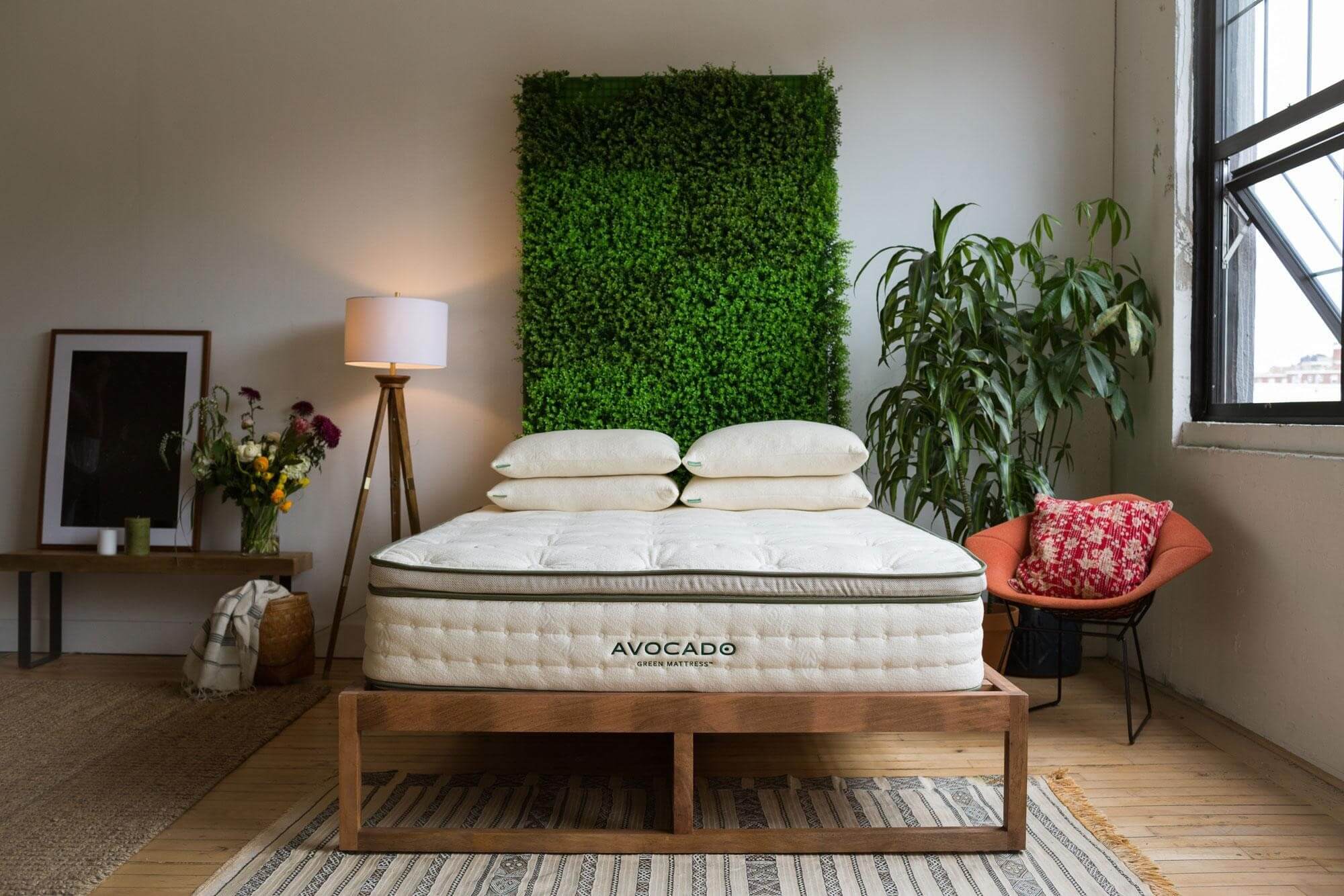 The name speaks for itself: this mattress is natural and safe. Additionally, it is very comfortable. This makes Avocado one of the most suitable mattresses for joint pain and arthritis.
This mattress features a mixed construction. The base is compiled of the pocketed coil system, which is divided into 3 zones for better support and reduced motion transfer. The next layer is the natural Dunlop latex. It is bouncy, cradling, and can help relieve pressure from the joints. Finally, the padded layer of wool finishes this ensemble.
Without a doubt, the perfect thing about Avocado is its natural materials. It is truly a green mattress. There are no chemicals and harmful fire retardants, only the safe materials. This is a great option for people who appreciate both comfort and safety.
The worst aspect concerning this model is its price. Of course, such natural materials do cost a lot more. And this makes Avocado unsuitable for people who are on a tight budget.
"Your sleeping position can determine what mattress you need. If you are a back sleeper, firmer models are more suitable for you. Side sleepers need more cushioning to cradle their pressure points, so a medium-firm mattress would be a good choice."
Now, consider the following pros and cons:
Obviously, this isn't the cheapest model. However, this mattress is really worth every penny.
check out avocado mattress on avocadogreenmattress.com
Best Position Versatility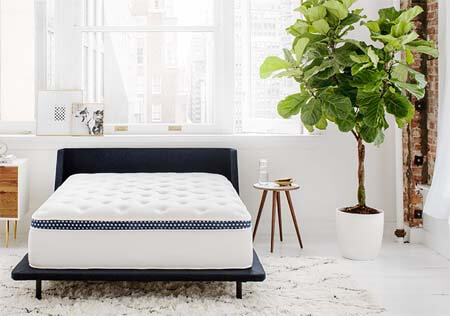 Another top-rated mattress for arthritis is the WinkBed. This model is available in four firmness levels, but I was testing the Luxury Firm one, which measures at 6.5 out of 10.
The WinkBed has a hybrid 'coil-on-coil' construction. The first layer of microcoils is hidden under two softer foam layers and ensures precise conforming to your body.
The second layer of pocketed coils serves as a core of the mattress and provides a sturdy sleeping surface with a bit of that 'floating' feeling.
And between these coil layers, there's a lumbar pad that helps distribute the load from your body more evenly, maintaining natural spine alignment and relaxed muscles.
The strongest point of this mattress is that it can work for different sleeping positions. The individually pocketed coils allow for very close conforming, so your body can be comfortably hugged by the mattress whether you are on the stomach or the back.
What might disappoint you, though, is that this mattress won't work for petite sleepers. It can make them feel too much resistance in the pressure points, aggravating pain instead of relieving it. So, lightweight sleepers are recommended to look for models providing more cushioning.
Overall, this model of WinkBed can make a great purchase for people with arthritis who change positions during sleep. Just make sure you are not too petite for this mattress
check out winkbed mattress on winkbeds.com
Top-rated Mattress for Arthritis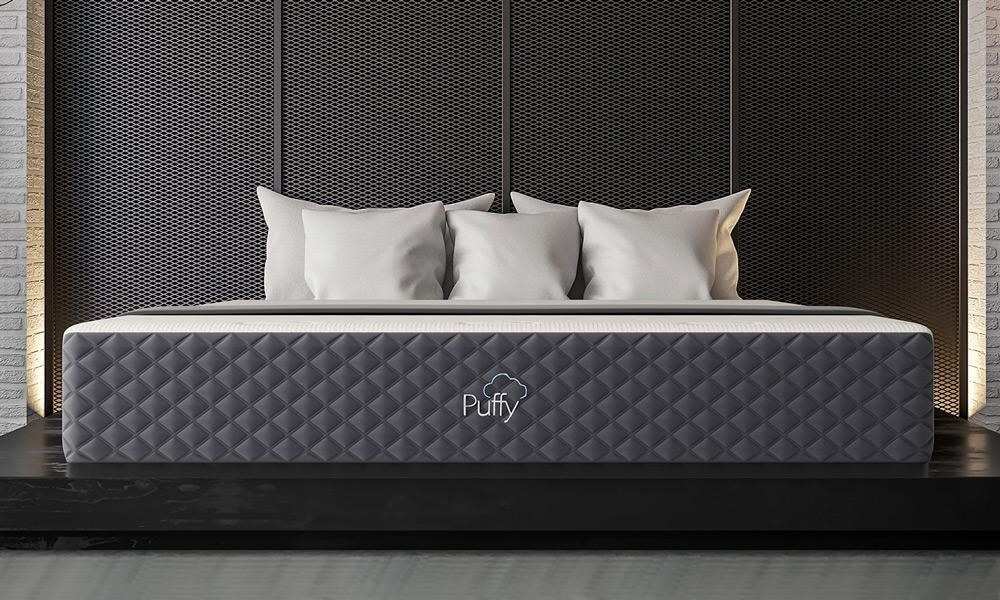 The last item on our list is this simple yet comfortable model. Puffy is cradling and responsive, which makes it ideal for pain relief.
It features only 2 layers: a 7-inch bottom base and a 3-inch top cooling foam. The top layer is the patented Cooling Cloud, which serves to provide a cooling effect and some padding, offering a smoother transition to the supportive base layer.
The coolest thing about this model is its firmness level. Being right in the golden middle, it is enough for a proper spinal alignment and back support. At the same time, the mattress is soft enough to hug and contour your body, making you feel comfy.
The worst aspect of Puffy is the sinkage it provides, which might not be suitable for heavier users. They might end up sleeping directly on the firm base layer, which can be rather uncomfortable.
"Sleeping on a soft mattress when you have arthritis or fibromyalgia is not recommended. You see, you need proper support to keep your body and spine in a neutral position."
Let's move on to the pros and cons:
This model is definitely worth your attention. It is squishy and comfortable, which is great for back pain and arthritis.
check out puffy mattress on puffy.com
Factors We Look At
Arthritis and fibromyalgia are nasty health conditions. The worst part about them is, of course, the pain they cause. However, another challenging aspect is the fact that their symptoms may occur pretty much in any part of your body. Arthritis affects joints, and fibromyalgia can reveal itself in muscles, bones, and comes with a ton of other symptoms and pain spots.
That's why picking a proper mattress for such conditions is so important. And you should take this task very seriously. Here are the factors to consider when searching for the best mattresses for arthritis and fibromyalgia:
The level of support. Even if the mattress is a softer one, it still has to have a solid, supportive base/foundation. It is responsible for providing the proper support for your body and keeping the spine aligned properly.
The pressure relieving properties. This aspect is crucial when it comes to arthritis. A good mattress should provide enough cradling for your joints to reduce the stress in them.
The temperature properties. We always appreciate when a mattress doesn't sleep hot and allows for a good air circulation. This can contribute to the overall comfort of the bed.
The ability to shift. People with arthritis and fibromyalgia need enough space to change their sleeping position and shift during the night. The mattress should be large and firm enough for that (it is harder to shift your body on a soft bed).
Warranties and the return policy. To be honest, everyone's pain is different. And it might be very hard to find that one perfect mattress for your particular health issue. Therefore, we always pick the companies that offer nice return conditions. In this case, if you don't feel comfortable sleeping on your new mattress, you can simply return it and try a new one.
What Relieves Fibromyalgia Symptoms
Fibromyalgia reveals itself in different symptoms and almost all parts of the body, which makes it even harder to treat it. However, there are some ways to feel at least a bit of relief:
Yoga and light exercising are believed to help with chronic pains. Gentle poses and light movements help people relax their muscles and release the tension from the body.
Taking pain relievers is probably the most popular option. Medicine can work relatively fast, reducing inflammation, minimizing pain, and even improving the patient's sleep quality.
Sleeping on a good mattress. When your body is hurting, a comfortable mattress can make the experience more bearable. Usually, great mattresses for arthritis are also suitable for fibromyalgia patients too. They are supportive enough to keep your body in a relaxed, neutral position but have the proper amount of cushioning to allow for muscle relaxation and pressure relief.
Physical therapy has proved to be effective in this case too. It strengthens the muscles and reduces pain.
Massage therapy is really good for pain relief too. It helps your muscles relax.
What Relieves Arthritis Symptoms
Arthritis is hard to deal with. This annoying condition follows you everywhere and can "attack" you with symptoms at any time. However, there are some things, doing which is good for dealing with this nasty condition:
Exercise. It will help you maintain the flexibility in your joints.
Acupuncture. Even though it isn't considered a "traditional" healing method, acupuncture helps with restoring your body's balance and reducing the pain.
Proper mattress. Sleeping comfortably, on a supportive bed can really help you feel better. A good mattress will relieve the pressure from your joints, which will also reduce the pain level.
Hot and cold therapy. Warm and long showers/baths help with muscle relaxation, while cold compresses reduce inflammation and joint pain.
Massage. Again, reducing muscle stiffness and relaxing your whole body helps greatly with arthritis pain.
"While massage is proven to help with relieving arthritis symptoms and pain, you need to be careful with this treatment. The thing is, if you are suffering from chronic pains, you cannot just get any massage. You need to find a medical professional who knows all the nuances of this health condition and what massage techniques are suited for arthritis patients best."
Types of Back Arthritis
This health condition can affect different parts of the body, but back arthritis is probably the most widespread one. So, here are the types of back arthritis that you can bear easier when sleeping on a good mattress:
Osteoarthritis;
Rheumatoid arthritis;
Osteoporosis;
Spinal stenosis;
Osteoarthritis and rheumatoid arthritis are the most common forms of this back condition. There are many possible treatments, but getting yourself the top-rated mattress for arthritis can really improve your sleep quality and overall well-being.
How to Sleep with Arthritis Hip Pain
If you have hip arthritis, you might notice pain not only in your hip but also in your knees, thighs, groin, or even buttocks. And of course, such a condition prevents people from sleeping well.
Don't despair! There are some things you can do to sleep a bit better even with hip pain:
If you wake up from pain, you can try to change your sleeping position. Oftentimes, putting your body into a different pose can somewhat reduce pain.
Sleeping with a pillow between your knees can help you reduce the stress and pressure in your hips.
Putting smaller, wedge-shaped pillows under the hips, as an alternative to the between-the-knees pillow, can provide some extra cushioning and relieve pain. If you don't have such a pillow, you can try to fold a blanket in a wedge shape.
If you are sleeping on your back, putting a smaller pillow or a rolled blanket under your knees will help with the proper spine alignment and hip pressure relief.
Conclusion
There are so many good mattresses, but we are here to pick only the best ones.
Now, if you are a back sleeper or prefer firmer mattresses, my advice is:
Go with Loom & Leaf.
This bouncy, supportive mattress is great for spinal alignment and can offer you enough space to move around during the night.
However, if you want something softer, love that cradling feel of memory foam, and want great pressure relief, consider Puffy. Its foam construction offers good support and gently cradles your body, providing relaxation and pain relief.
Have you already picked your favorite? Which mattress are you thinking of buying? Let us know in the comments!
Additional Resources:
Best Mattresses For Back Pain Sufferers – Buyer's Guide And Our Top Picks
Best Mattresses For People With Scoliosis – Buying Guide & Our Picks
Product links on Happysleepyhead are referral. We get a commission on purchases made through our links at no additional cost to you. More information in my disclosures.