Loom and Leaf Mattress Review
by | Last Updated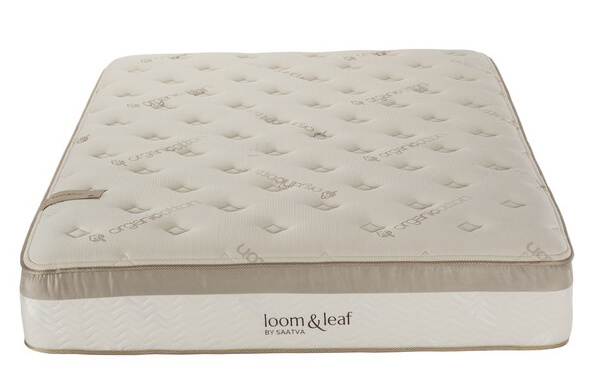 There's hardly one person who doesn't like to stay in bed at least for five more minutes, curl up under a blanket, and enjoy that sweet slumber feeling. And there's no denying that doing all of those things on a terrible mattress doesn't feel good, right?
"Uncomfortable sleep is a real nightmare."
Surprisingly, there are many mattress brands, which we can actually entrust with our good night's sleep. One of them is Loom and Leaf by Saatva.
So, in this Loom and Leaf mattress review, we will take a closer look at their product and see whether it can provide us with a good night's sleep and great afternoon naps or not.
Now, the first thing I want to mention in my article about Loom and Leaf mattress is that this brand is relatively new, which might make some people wonder if this brand is trustworthy enough. I've been sleeping on this mattress for a couple of months now, and my experience shows that the brand really is trustworthy.
To me, new means fresh and cool. And you will see in my Loom and Leaf mattress review that the company totally matches my opinion.
So, let's talk about the best (and the most important) part – construction:
a

base layer

is 5" and is made of

high-density foam

. It's a

support

layer, the foundation of the mattress. It features breathable airflow channels for a cooling effect.

a

transition layer

, which is 2" thick and provides a smooth

transfer

from the top comfort layer to the firm base of the mattress.

a

top memory foam

is 2.5" and is made of viscoelastic. It was designed to provide both

contouring

and

support

at the same time.

a

cooling gel layer

. It combines a

cooling effect

and a special construction for

spinal support

. This is what makes the Loom and Leaf mattress unique: the gel is the same material doctors use in hospitals to cool the burns on people's bodies. Can you imagine how well it works during the hot night?
Needless to say that the cooling effect is working. So, if you hate sleeping hot (like me), click here and order your Loom and Leaf mattress today!
"If you wake up in the middle of the night all sweaty and wet, chances are it's your mattress."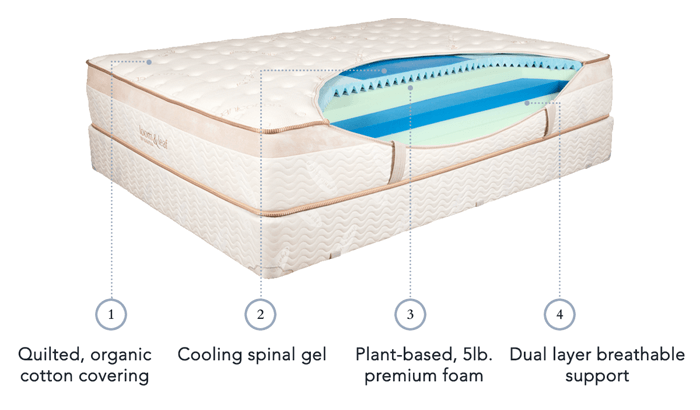 Now, people who frequently suffer from allergies, I strongly advise you to pay attention to this page. The cover is the part that is constantly in contact with our body. If it's made of synthetic fabrics, it can cause allergies, irritate our skin, and make us sleep hot.
But that's not what you're going to read about in this article about Loom and Leaf mattress. Instead, I'm going to tell you about the organic cotton cover that protects the mattress foam and prevents you from having allergic reactions.
Not only the cover is made of natural fabrics, it's also breathable, which only doubles the cooling properties of the mattress.
"Not getting enough sleep can make you feel irritated and moody. And it gets worse: it makes your skin age faster."
So, if you want a mattress that won't cause you to have any allergic reactions, order your Loom and Leaf mattress!
Firmness and How It Feels
This part of the article is also important, especially for people who are concerned about their spine and the back support properties in mattresses.
Now, the brand features two different comfort and firmness levels: Relaxed Firm and Firm. Their policy implies that they don't want to produce soft mattresses with no support and that quicksand feeling. They also don't make mattresses that remind of a concrete floor.
The Relaxed Firm model is neither too hard nor too soft, as the manufacturer states. Many customers prove that this model is the perfect average that provides a "right in the middle" support level. On a scale from 0 to 10, the Relaxed Firm ranges from 5 to 7.
Now, I decided to try out the second option, the Firm model. It's closer to 8 on a firmness scale, but it only means amazing back support. To me, that's what a mattress should be about. It's bouncy and responsive. However, some people might find it too firm, so I think it's a great option only for those who prefer sleeping on a firmer surface. For other tastes, there's still the Relaxed Firm model.
As I've already mentioned before, the mattress is very supportive. I didn't experience any back pain while sleeping on it (and I sleep in multiple positions). So, it's safe to say that the mattress contributes to proper spine alignment in any position.
As you've already read in the "Construction" section, the top gel layer is designed not only to cool but also to support. It features a swirl gel-on-gel design, which I've never met in a mattress before. And the truth is: it's very comfortable.
Many customers state that the Firm option provides better support than the Relaxed Firm. Plus it's better for couples because it doesn't let the heavier partner compress one side of the mattress. So, when choosing between two comfort and support options, keep this aspect in mind.
I probably won't surprise you when I say that the Loom and Leaf mattress performs great when it comes to motion transfer. The mattress foam is high-density, which means your partner won't disturb you by moving around at night.
Again, keep in mind that the motion isolation levels will depend on a specific comfort level you choose. With the Relaxed Firm, you might feel disturbed by your partner during the night, especially if one of you (or both) is a bit heavier sleeper.
Overall, like any other high-quality memory foam mattress, the Loom and Leaf performs great when it comes to the motion transfer.
As I've mentioned before, my Loom and Leaf Firm is pretty bouncy, so it didn't let me sink in. Based on the experience, the Relaxed Firm allows a little bit of sinkage, but not too much.
So, if you prefer to sleep on the mattress and not feel stuck in it, the Loom and Leaf is a great option for you. But if you love that feeling of a mattress contouring your body and kind of hugging you, you should probably look at some other variants, because Loom and Leaf doesn't produce soft mattresses.
"Approximately 50-70 million people in the United States suffer from sleep disorders. Yes, stress plays the main role, but uncomfortable beds and mattresses only add to the problem."
Click here if you love to float on your mattress and get one for yourself today!
Let me just tell you this:
The mattress does not smell.
At all.
And I wasn't even surprised because it was delivered in its full size, not compressed and put in a box. Plus, the materials of the Loom and Leaf mattresses are non-toxic, which also means there will be no off-gassing when you get your mattress delivered.
It's worth noting that the mattress materials aren't 100% organic no matter what the advertisements might say. So, if you want a completely "green" mattress, the Loom and Leaf is not for you.
What might stop you from buying the mattress from Loom and Leaf is that they are only sold online. Yes, you can't try them in the store (but you can return them for free, though, which I'm going to talk about later). But let's look at this from the other perspective.
Do you know why the company chooses to sell exclusively online? Because they want to leave a minimal footprint on the planet. Yes, they have factories, but at least they're trying to be greener. They don't have actual stores, they don't use paper, and they use less fuel for delivery because they don't have to drive from store to store to deliver mattresses and supplies.
So, if that's what's important to you too, order your Loom and Leaf mattress now!
The Best Thing About the Loom and Leaf Mattress
To me, the best thing about this mattress is the cooling effect. I just hate sleeping hot, but with the Loom and Leaf mattress, sleeping cool is possible! The gel layer doesn't absorb any heat from the body, allowing it to stay stable and not to heat up. I don't know about you, but to me this feature is crucial.
And it gets better: the mattress is also super comfortable. It's supportive, bouncy, and it let me sleep well in any position. I usually get some back pain in the mornings if the bed isn't supportive enough, but with the Loom and Leaf mattress I woke up every morning with no complaints.
The Worst Thing About the Loom and Leaf Mattress
I honestly didn't find any fault in the mattress I've been sleeping on, so I had to go through other customer reviews to see what aspects of the Loom and Leaf mattress might be disappointing for some people.
And based on those reviews, the worst thing about this mattress is a chance that it might sag with time, especially the Relaxed Firm model as it is a bit softer than the Firm model. It doesn't happen to all the mattresses, and I guess it depends on how you use them and what your weight is. But it's certainly a point to keep in mind.
Now, let's get to the boring technical stuff. The company offers a 15-year warranty on their mattresses, which means that during the first two years they will replace your mattress for free, and during the years from 3rd to 15th they will repair and re-cover your mattress, again, for free.
As for the 120-day trial, it's an awesome way to test the mattress and see whether it's good for you or not. You will have to pay regular delivery fees, but there's no fee for the mattress pickup and no penalties.
What I can't leave out are the delivery issues. Let me just point out that it's not the company's fault as they cooperate with an outside delivery service. But there are many unhappy customers who mentioned in their feedbacks how problematic the delivery process was. It doesn't happen to everyone, of course, but it's an important aspect to take into consideration.
Is Loom and Leaf Mattress for You?
I realize that not everyone might like the Loom and Leaf mattress as much as I liked it. But you might love it if you:
enjoy memory foam mattresses;

want great back support;

sleep with a partner who tosses and turns during the night;

love to sleep cool;

don't want to sink into your mattress;

aren't afraid to take a risk and order online without trying the mattress in the store.
For whom it may be the least suitable mattress?
One bed cannot suit everyone, that's for sure. And while Loom and Leaf may be a perfect mattress for some sleepers, it might not be the best option for people who:
absolutely have to test their mattress at the store before making a purchase;

prefer a mattress that allows more sinkage;

want a 100% natural bed;

have a very sensitive nose or skin, which gets irritated easily;

want a mattress that will keep its shape for years without sagging;
"A quick note: if you really don't want a mattress that has the potential to sag, you should probably consider an innerspring or latex model. Foam beds have the general tendency to lose their shape after years of usage (more than other mattress types)."
don't want to deal with the return delivery fees;

might experience troubles carrying the mattress to their bedroom (since Loom and Leaf is delivered in its full size, not vacuum sealed in a compact box);

need a mattress with a removable cover.
Comfort

Materials

Support

Cooling

Smell

Company reputation

Delivery

Warranty

Trial

Motion transfer
Summary
In general, I am satisfied with the Loom and Leaf mattress. The motion isolation, the cooling effect, great support levels, and overall comfort really buy me over. It's great that there are two firmness options available, even though the Firm model might feel like too much for some people. I'm sure that this mattress can be an excellent option for many people.
Have you already made up your mind? Share your thoughts on Loom and Leaf in the comments.
Product links on Happysleepyhead are referral. We get a commission on purchases made through our links at no additional cost to you. More information in my disclosures.