7 Different Mattress Types Explained
by | Last Updated
Shopping is always exciting, especially if you're shopping for a new mattress to replace the one that leaves you with a sore back and wrecked mood after each night.
So, what mattress would you like to choose? A bouncy innerspring, a cradling memory foam, or an innovative waterbed?
Oh, I can tell that you're confused now. The current mattress market can be a nightmare for anyone looking for a new bed.
Luckily for you, I've got this comparison guide about 7 main mattress types and their features. So, get cozy and let's dive in!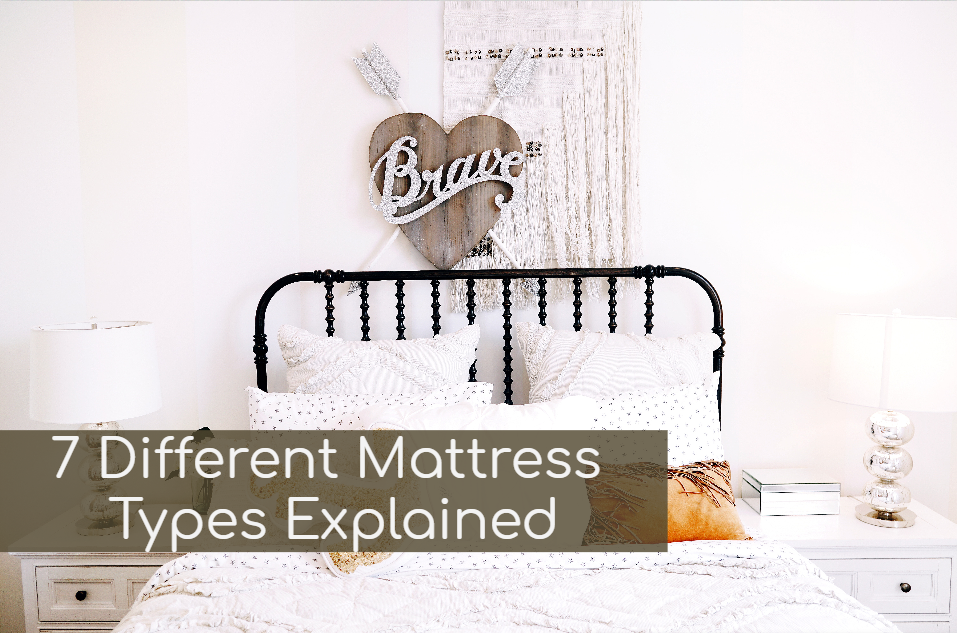 Brief Mattress Comparison Table
[table id=108 /]
Innerspring Mattress
Innerspring is one of the most traditional mattress types you can get today. They were invented in the late XIX century and weren't popular at first, but in the 1930s their sales have blown off the charts.
Today, even though the construction of an innerspring bed remains pretty much the same — a coil block base and a thin comfort layer on top — manufacturers allow offer some diversity:
Solid coil block

. This is a one-piece metal coil system with frames and boards. Typically, continuous coils offer you uniform support and are pretty sturdy.

Pocketed coils

. These are basically coils encased in a cloth. They can be either metal or made of some sort of plastic and typically have no frame around them. Pocketed coils are more flexible than a solid block and allow more precise contouring.

Comfort layer

. Comfort layer of an innerspring mattress can be made from memory foam, polyfoam or latex. The height of the comfort layer typically doesn't exceed 1.5-2".
Sometimes, innerspring mattresses come with a pillow top. This is an additional sewn-in quilted layer with a soft filling, generally fiber or down alternatives. The pillow top provides more cradling and cushioning; however, it tends to quickly lose its shape over time.
An innerspring bed could be a great option if you:
Queen-size innerspring mattresses were introduced to the masses in the 1960s. Until that moment, the most popular mattress sizes were Twin and Full.
Also read: The 7 Best Innerspring Mattresses For Side Sleepers In 2020
Memory Foam Mattress
Memory foam manufacturing process is similar to that of polyfoam (we will get back to the details below), but it uses different additives that make the material more viscous and give it the ability to restore the original shape when pressure is removed.
Today, there are several types of memory foam used in mattresses:
Closed-cell memory foam

. This is the first generation foam, and it is very dense and elastic. Closed-cell foam lasts longer than other types and is generally more durable.

Open-cell memory foam.

Open-cell memory foam is usually less resilient, but at the same time, it's less prone to off-gassing and heat retention than closed-cell memory foam.

Infused foam.

Infused foams are among the most innovative mattress materials. Typically, gel microbeads or copper particles are used for infusion. Their goal is to withdraw body heat and dissipate it into the air; however, copper also has pronounced antimicrobial properties and prevents mold build-ups.
Foam density doesn't reflect how firm or soft the material will be. Instead, look for the Indentation Load Deflection (ILD) measurement. Technically, it describes the amount of pressure you need to form a 25% indentation in the test sample. The lower this number is, the softer the mattress will be.
Memory foam will work for you if you:
are looking for the best mattress for the money;

don't mind some sinkage and cushioning;

need effective pain relief.
Also read: The 8 Best Memory Foam Mattresses For Side Sleepers In 2020
Polyfoam Mattress
Polyurethane foam, or polyfoam, is another compound used for making mattresses. You are probably familiar with its spongy feel if you have a sofa or own a mattress topper with a convoluted design, as these items are where polyfoam is most widely used.
The manufacturing process of polyfoam is less resourceful, compared with that of memory foam or latex, which makes it the cheapest option available on the market.
The main features of polyfoam mattresses are the following:
Cooler sleep

(compared to memory foam). Polyurethane foam has an open-cell structure and lower density. This means that it can trap less heat and may be good for hot sleepers.

Resiliency

. Polyfoam has a higher rebound than other types of foam and can maintain its original shape for a longer time, offering you the support you need.

Less prone to odors

(again, compared to memory foam). The open cell structure and the manufacturing process that doesn't use chemicals with strong odors result in odorless foam that can suit even sensitive individuals.
Also read: The 6 Best Cheap Mattresses To Save Your Money And Get Good Sleep
Latex Mattress
A latex mattress may be your go-to option if you're looking for an eco-friendly mattress type. Latex is basically sap of rubber trees, which is vulcanized with some other additives to obtain a foamy structure.
However, if you compare a latex bed with a foam one, you'll find that latex scores better in many ways:
It's hypoallergenic and dust-mite resistant

. Even though latex has an open-cell structure, the membranes of its cells are pretty dense. Plainly speaking, dust mites just cannot penetrate them and live in your mattress.

It sleeps cool

. Latex is very breathable and can balance out your body temperature during the night and throughout the year.
A latex mattress requires no flame retardants because it's naturally fireproof.
All latex mattresses today are manufactured through either Dunlop or Talalay process.
Although the differences between the final products aren't that dramatic, the manufacturing processes are completely different:
Dunlop latex

. The Dunlop manufacturing process is usually less resourceful: a liquid latex sap is foamed, poured into a mold, and then vulcanized in the oven. After the vulcanization, the foam is thoroughly washed and dried. Dunlop latex is slightly denser, and springs back faster than Talalay.

Talalay latex

. For making Talalay latex, more steps before vulcanization are used, such as vacuum expansion, freezing, and saturation with carbon dioxide. This results in lower density and more elastic feel, which come at higher prices.
But if an average sleeper will barely notice the difference between Dunlop and Talalay latex, why overpay?
Also read: The 7 Best Latex Mattresses In 2020
Hybrid Mattress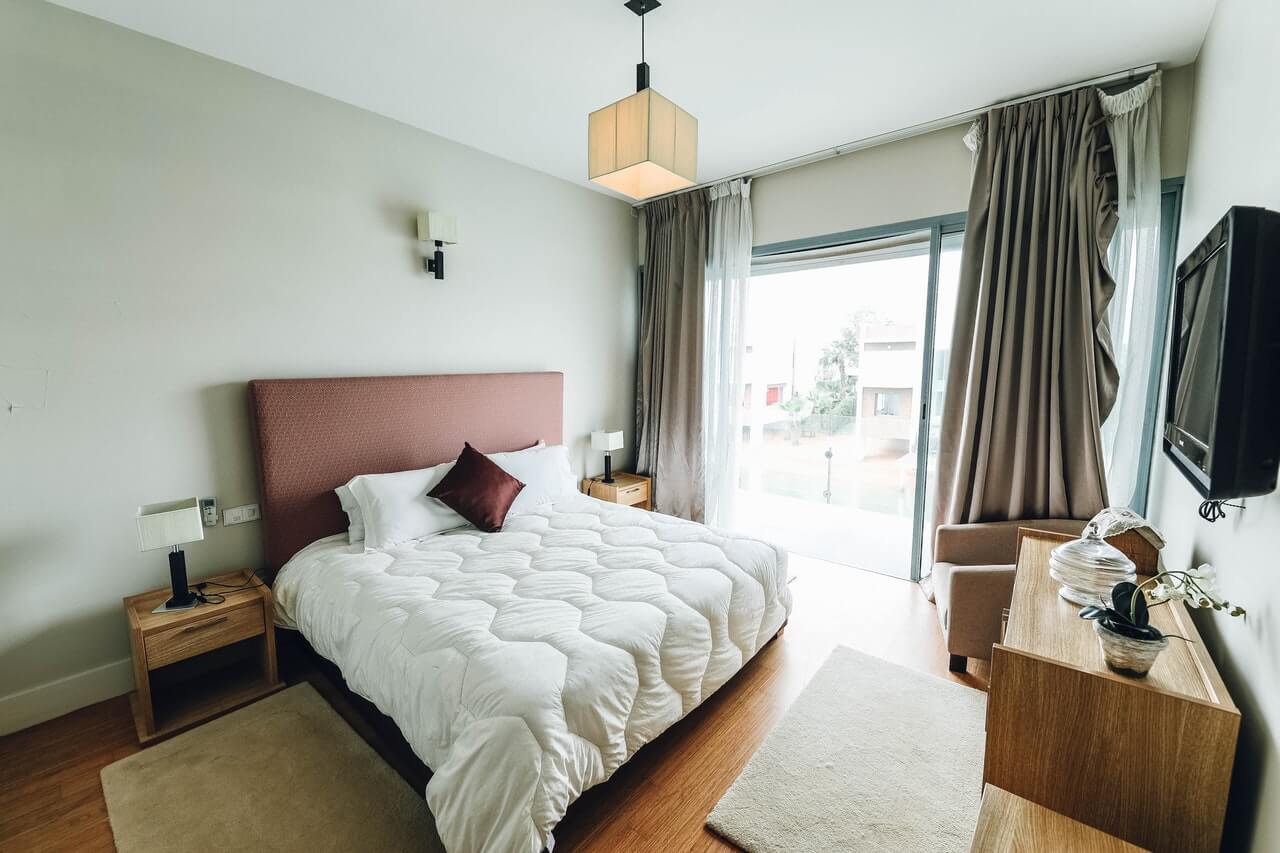 Hybrids are among the newest types of mattresses. Simply speaking, they combine the best of all worlds — mostly foam and springs — but you can find a ton of configurations that include latex, polyfoam, and other materials.
The main benefits of hybrids are:
Balanced structure

. A hybrid mattress typically has at least three comfort layers above the base, which makes it more comfortable in terms of cradling and relieving your pressure points.

Breathability.

Since the supportive core of a hybrid is mostly a coil system, it prevents heat retention during the night.

Versatility

. Hybrid beds can please even the most demanding sleepers because they provide dozens of possible configurations.
Also read: The 7 Best Hybrid Mattresses For Side Sleepers – Reviews And Buyer's Guide
Airbed
Airbeds are the cheapest mattress type compared to others. They're typically used occasionally as guest beds or camping options; however, high-end models aren't inferior to standard mattresses in terms of daily use and comfort.
Below, you'll find the reasons that may make you want to purchase an airbed:
They're cheap

. Seriously, the most luxurious airbed with a built-in pump will cost you slightly more than 300 bucks on average. Would you purchase a good foam bed for the same money? You may need to look hard.

They're customizable

. You can regulate the firmness level by letting some air in or out. Thus, you can adjust an airbed to any sleeping style.

They won't sag

. Well, airbeds without a pump tend to lose some air during the night, but again, you can invest in a model with a pump and forget about this issue.

They sleep cool.

You're literally sleeping on an air cloud, and there are no hot foams under your body.
Airbeds with a pump allow you to assemble a comfortable sleeping spot in less than five minutes.
Also read: The 6 Best Air Mattresses For Everyday
Waterbed
A waterbed is another mattress type for those who want to get fancy. As the name implies, these beds use water as a comfort layer, which provides a calming effect to the sleeper.
All waterbeds fall into two main categories, based on their construction:
Hardside waterbeds

. This type of waterbeds contains water chambers inside wooden frames. These frames help the bed maintain its shape. Hardside waterbeds are typically cheaper than other models.

Softside waterbeds

. These waterbeds use dense foam or heavy-duty upholstery as a frame material and don't differ from standard mattresses at first glance.
Key Features of Each Mattress Type
[table id=109 /]
Are you considering to swap your old mattress for a new one? What type of bed seems to work best for you? Share your thoughts below!