Best Mattresses Under $1000: King Size for a Truly Royal Life (and Sleep)
by | Last Updated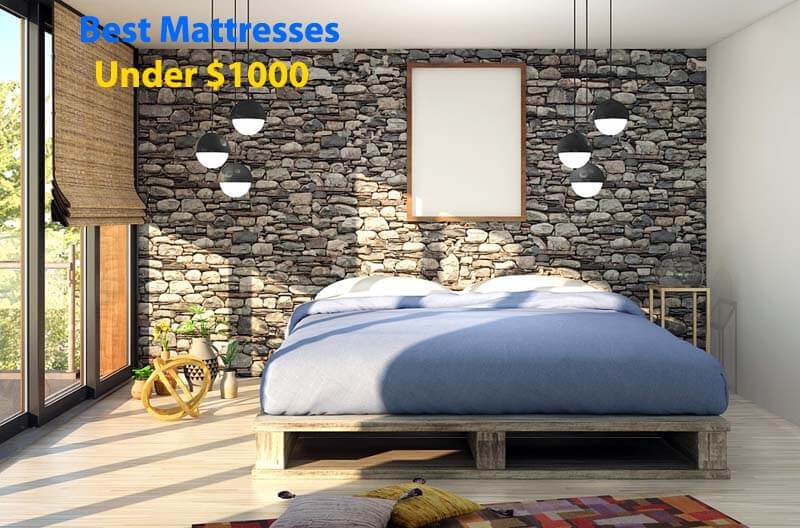 We all want to live like queens and kings.
But how do we achieve that?
Well, maybe we should start with our sleep.
To have rest like royalty, you need a great mattress. And the good news is I've prepared 5 best mattresses under $1,000, each of which can change your life. And you don't even have to pay that much!
Best Mattress Under $1000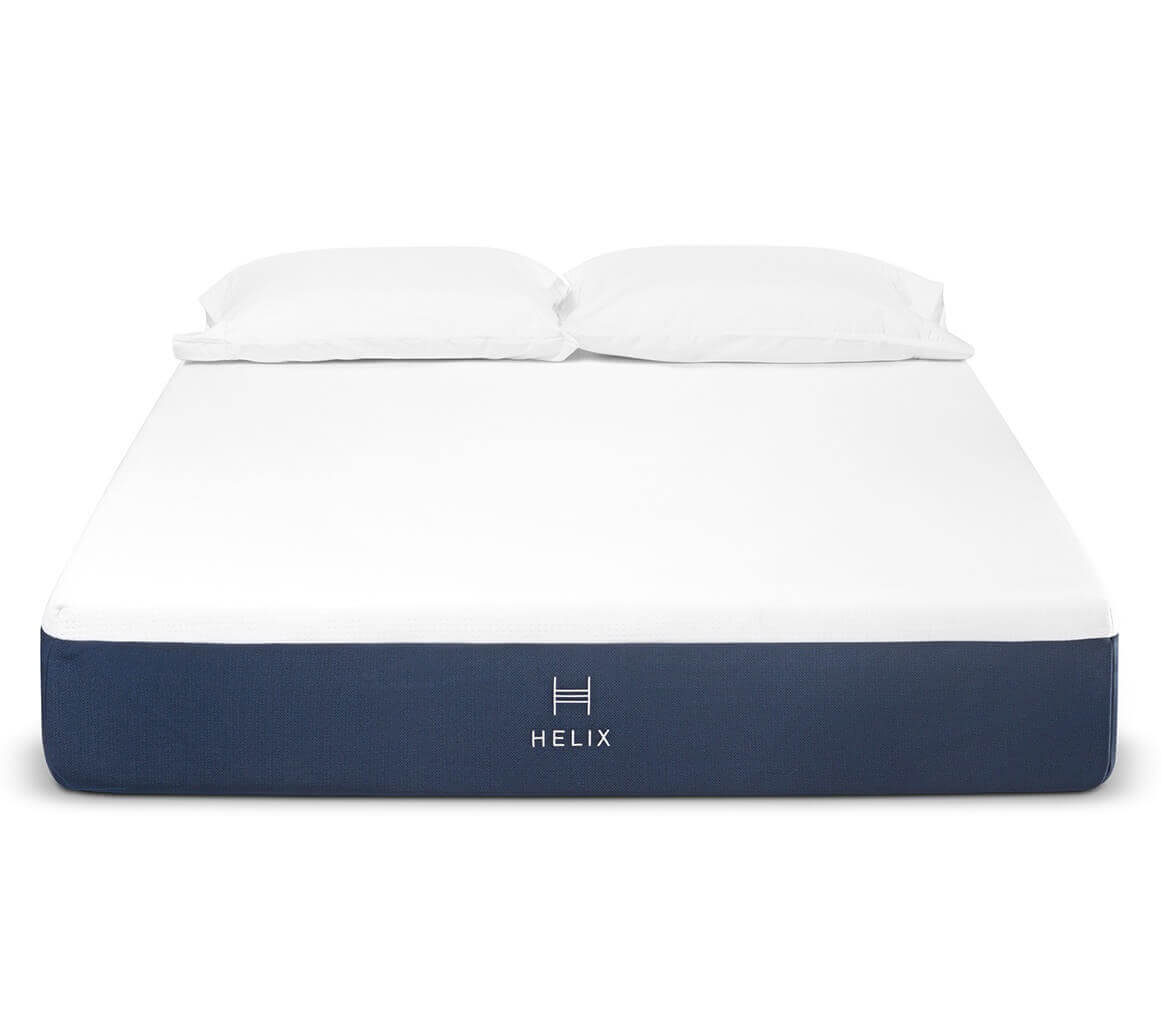 If you are in search of the best Queen mattress under 1,000 dollars to fit your specific needs, you should definitely consider the Helix. These mattresses are suitable for any user since there are numerous different models. Heck, you can even get a bed with different comfort levels on its two sides (in case you and your partner have different preferences).
Now, when it comes to the mattress's construction, it actually depends on each specific model. However, because all the Helix mattresses are hybrids, they all include similar layers:
The

base laye

r is DuraDense foam. It serves as the core of the bed, providing proper support and durability.

The

Body Shape layer

is individually wrapped coils. Being able to support both average and heavier users, this coil system also offers some cradling and evenly distributes the body weight.

The

transition layer

is made from foam. Depending on the mattress model, it can be denser or softer. It serves to provide some extra cushioning and ergonomic support.

The

comfort layer

is foam too. Depending on the model, there can be a couple of comfort layer materials (for instance, the high-grade polyfoam or a special Helix blend called Memory Plus foam).

The

Helix Two Touch Design cover

consists of two layers: 100% polyester fabric on the top and knitted Jersey fabric on the bottom.
The most awesome thing about the Helix is the level of customization it provides. There are models for everyone: lightweight sleepers, heavier users, side, back, and stomach sleepers, someone who loves a good bounce or needs a more generous cradling… Whatever you want your mattress to be, you can get it with Helix. There's even a quiz, which can help you figure out what you need.
The worst thing about this mattress is its questionable durability. What I mean is the unknown lifespan due to the fact that the company started selling their mattresses in 2015. There's simply no long-term evidence of these mattresses' durability.
I am sure that with the Helix you can get the bed of your dreams. The company really seems to care for every user. That's why there are so many options available.
Ready to order? Click here!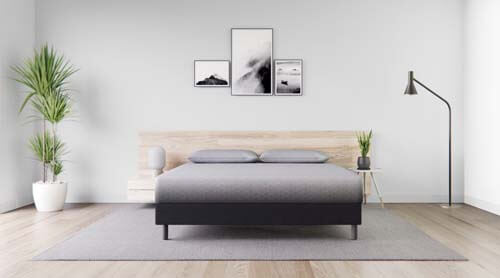 Another candidate in my review of the best mattresses under $1,000 is the Zoma Sports. Initially designed for athletes and those who lead an active lifestyle, the construction of this mattress aims to offer you total body relaxation and quick drift-off.
So, let's see what layers it has:
The

high-density foam base

ensures good motion absorption.

The

Reactiv™ transition layer

provides proper spine alignment and distributes your body weight around the mattress surface.

The

Triangulex™ three-zone comfort layer

relieves the pressure and molds to your body shape to keep the spine curves natural.
All this goodness is wrapped in a breathable mattress cover with perforated weave. It wicks away moisture and helps the air circulate through the mattress layers and remove excess body heat.
The best thing about the Zoma mattress is its contouring properties. The mattress adjusts to your body shape really quickly, no matter which sleeping position you prefer, and keeps the spine perfectly aligned.
The main problem with this mattress is subpar edge support. This is a common issue with all foam mattresses, but it still might be a big turn-off if you're looking for a bed for two sleepers.
Along with those who have a high level of physical activity, mixed sleepers and individuals who sleep hot might also benefit from purchasing the Zoma. This mattress can help you deal with all sleep-related discomfort and get your deserved peaceful shut-eye.
Ready to order? Click here!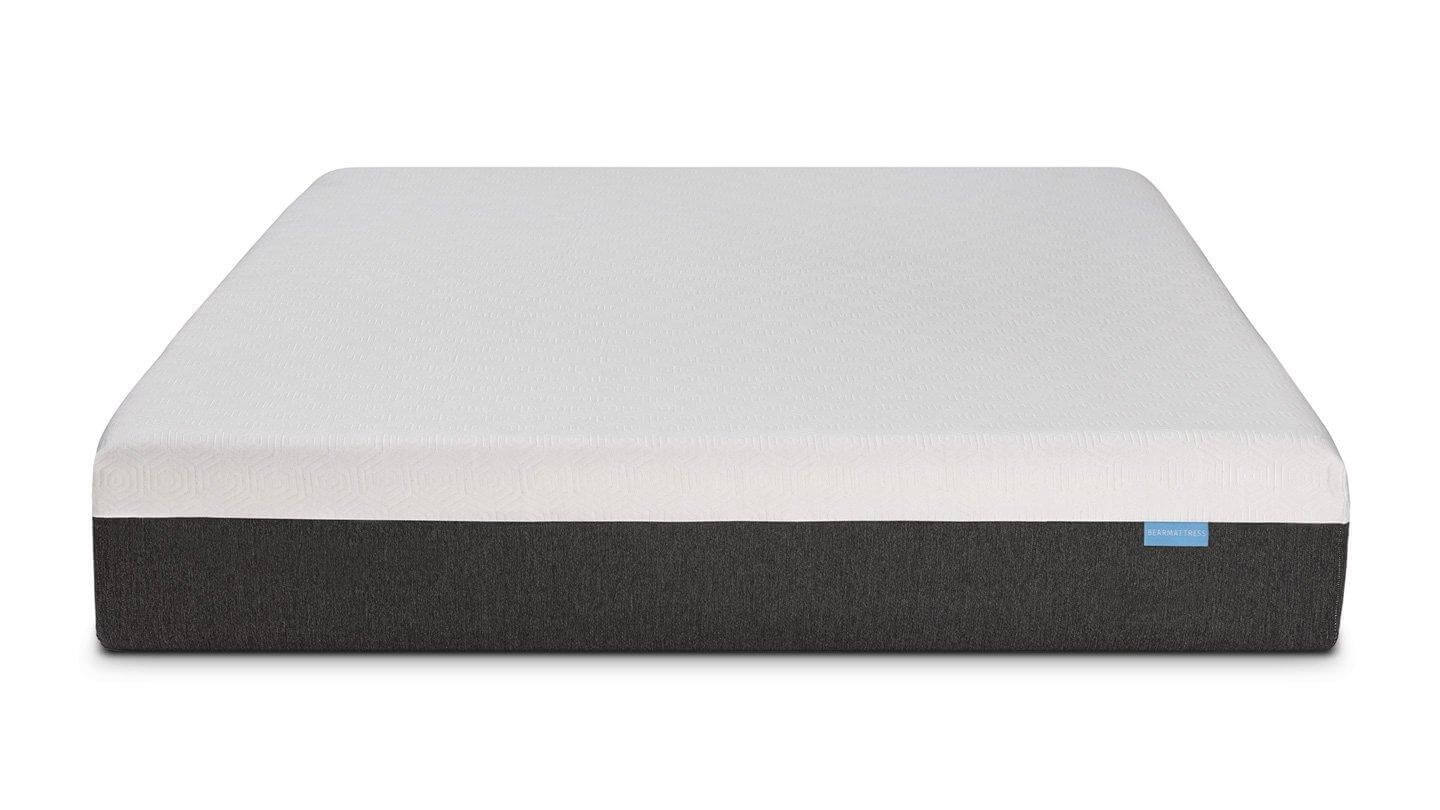 The next model that deserves to be called one of the best King mattresses under $1,000 is the Bear Mattress. If you are looking for a premium bed, this one would be perfect. It features high-quality components and a cool bonus on top.
Now, the construction of this mattress includes:
The

high-density support foam layer

serves as the base for the whole construction.

The

transitional performance foam layer

offers great pressure relief and allows for a smooth transition between the other layers.

The

responsive comfort foam layer

adds a good amount of bounce and prevents the feeling of being stuck inside the foam.

The

cooling graphite-gel memory foam layer

helps users maintain a neutral temperature for superb comfort levels.
The breathable Celliant cover helps your body restore and heal (the Celliant fabric is recognized as a medical device by the FDA).
Obviously, the coolest thing about the Bear is the quality of its materials. All of the foams are made without any harmful chemicals and components (plus, they are safety certified). Additionally, the innovative cover material makes this mattress a truly premium product.
The limited company history (it was launched in 2015) might be a huge drawback for some users. Even though the mattress receives high ratings in the majority of cases, we don't yet know how it performs in the long run.
To be honest, this mattress managed to impress me. It feels great and seems to be rather durable. I am sure you will love it just as much!
Are you convinced? Order here!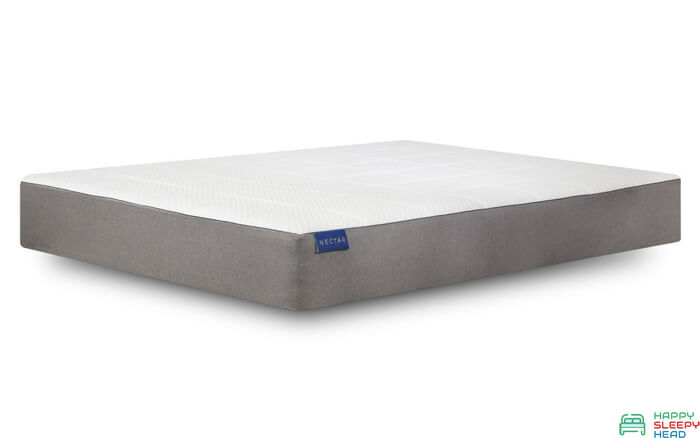 The first item on our list of the best mattresses under $1000 is this all-foam model by Nectar. Being less than $1,000 (King size, don't forget!), it offers everything you might need for restful sleep. However, what makes it stand out from competitors is how heavenly cradling it is. This is a great foam mattress for pressure and even pain relief.
"Did you know that poor sleep quality can lead to depression? It might also influence your concentration and mood. But it gets worse: sleep issues can lead to heart disease and high blood pressure. That's why, when investing in a new mattress, you actually invest in your health."
Now, let's look at its construction:
The

breathable base layer

features special molded channels, which allow the air to circulate. At the same time, this layer serves as the base for the whole construction.

The

adaptive Hi-Core memory foam layer

, Serving as a support layer, provides a healthy amount of bounce and a decent amount of cradling. This results in great pressure relieving properties as well.

The

gel memory foam layer

works to provide your body with both a cooling effect and a contouring support.

The

quilted gel memory foam layer

, offering some extra loft, adds to the breathability of the bed and makes it feel luxuriously comfy.

The

Tencel cooling cover

is soft, breathable, and pleasant to the touch. Tencel is great at moisture wicking and helps with temperature regulation.
The best thing about the Nectar mattress is its construction. To be more exact, the combination of foam layers, which results in great pressure relieving properties. It is cradling and has a pleasant hugging feel while providing a good amount of support. It's a perfect combo!
The mattress itself is a great find. However, what you might have serious issues with is the delivery process. The company simply takes too much time to get your order ready. This doesn't happen to all customers, but the number of unpleasant situations linked to delivery is quite large. Just something for you to keep in mind.
Overall, this mattress has the potential to alter your sleep. It is contouring, conforming, and even a bit bouncy. Even though it doesn't work equally great for all users, the Nectar is great for pressure relief. And with such a trial period, it's definitely worth a try!
Curious to test it yourself? Click here to order!
Best Budget-Friendly Option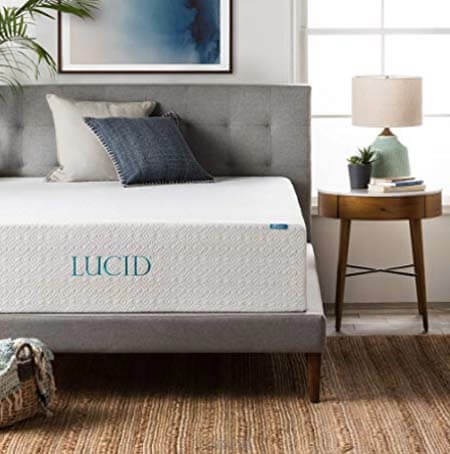 Another candidate that has the right to be called the best mattress under $1,000 is this model by LUCID. Even though it has a simple triple-layer construction, it will surprise you with how well it's made and, of course, will grant you quality shut-eye.
The LUCID has two firmness options: Medium (which works great for back and mixed sleepers) and Medium-Plush (which, I think, would be a great fit for side sleepers).
So, let's take a look at the features:
A combo of

charcoal-infused memory foam and gel memory foam

ensures cooler sleep and the perfect amount of cradling.

The mattress is

available in all sizes

, including Twin XL and California King.

The breathable

Tencel cover

is cool to the touch and doesn't generate static.
The strongest point of the LUCID mattress is its incredible value for money. You get innovative materials and simple yet effective construction that will offer you support for years, and this won't tear a hole in your pocket!
The only problem with this bed is a foam odor that may not go away for as long as a week. It will dissipate eventually, of course, but sleepers with a sensitive nose should consider the fact that they might have to sleep elsewhere until that happens, which could be inconvenient.
Overall, this mattress by LUCID is very decent. Despite some minor flaws, it offers proper support and can easily meet the demands of any type of sleeper without emptying their wallet.
Check out this mattress on amazon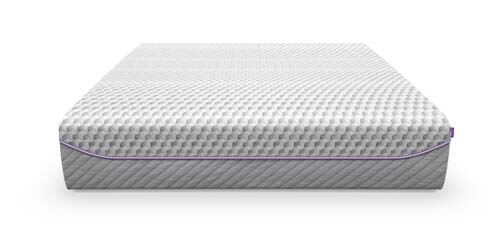 This model is one of the best King mattresses under $1,000 for a number of reasons. It is nicely made, reasonably priced, and super comfortable. However, what really makes it a great find is its flexible design. The Layla is suitable for almost any user or sleeping position thanks to its flippable design, which makes this mattress a 2-in-1 model: a firmer and a softer one. "Usually, when buying new mattresses, our first intuitive wish is to get the plushest bed, something that feels like a cloud. However, soft isn't always good. You should remember that your body (and spine in particular) requires proper support, which will guarantee the health of your back and your overall well-being. Therefore, even if you want a plushy soft bed, try to get something with a dense, supportive core."
Now, here's what else you need to know about this model:
The

filling

consists of three layers of antibacterial polyester blended with 50% TEIJIN MIGHTYTOP (R) II ECO material.

The

cover

is 100% cotton (205 thread).

The mattress is currently available in

two sizes

: Full and Twin.
It comes with a removable mattress cover.
The absolute best thing about the Layla is its flexibility in use. It is suited for different users and sleeping positions. All you have to do to find your perfect comfort level is flip the mattress over. It is a perfect option for those who don't really know what they need or plan to use the mattress for different purposes.
Now, the biggest flaw this model has is the fact that it might not work for heavier sleepers. If you are over 250-280 lbs., this full-foam mattress might not be the best option for you. The soft side wouldn't be supportive enough, and the firm side will allow your body to hit the dense core of the mattress, which won't feel very comfortable.
If you are looking for the best deal among the top-rated mattresses under $1,000, this model might be perfect for you. It allows for versatility in use and feels really comfy. What else is there to wish for?
Want to see for yourself? Click here to order!
Is It Time to Ditch Your Old Mattress?
I know you might be hesitant to get rid of your old mattress. I mean, a new bed isn't the cheapest investment. So naturally, you have doubts.
However, there are situations when you simply shouldn't wait any longer. Here are the signs that show it's time to ditch your old mattress:
You don't feel rested when waking up

. This sign should be the number one concern for you. If you spend your days yawning and feel like a zombie in the mornings, chances are the fault is in your old mattress.

Your mattress is 8 years old (or more).

Now, even if the mattress company offered a 20-year (or even a lifetime) warranty with your old mattress, it cannot remain comfortable for such a long period of time. Usually, mattresses last for around 5-8 years (depending on the type). So, if you've bought your current mattress 8 or more years ago, it's definitely time to get a new one.

You wake up with pain

. Whether it's your back, neck, knees, or head, pain is never a good sign. And if your current bed is making your body hurt, you definitely need to ditch it.
"King measures 76 x 80 inches. It is a perfect size for larger or taller couples. It is also ideal if you and your partner prefer having more free space for your legs and arms. However, keep in mind that a King mattress will take a lot of space in your room, which may limit the number of other furniture pieces you might want to be in there."
Your bed makes annoying sounds

. This happens to old innerspring mattresses: they start making loud squeaky and creaky noises, which can ruin your sleep every night.

Your mattress is saggy

. I mean, if there's an obvious hollow in your bed, it's hardly comfortable.

You experience allergy symptoms

. Chances are the dust buildup inside your mattress is the one to blame. Our mattresses accumulate tons of nasty stuff during the years of use, so if you are sleeping in an old bed, it might cause all those allergic reactions.

Your body has gone through serious changes

. Maybe you have gained a lot of weight. Maybe you've become much lighter. Or maybe you've gone through a surgery. Whatever the case is, your old mattress won't suffice anymore. Your body has changed, so now it has different requirements for a bed. You simply won't feel that comfortable lying on your old mattress, which was perfect for you "old" body.

Your mattress feels more like a hammock

. When your bed cannot support your body properly and keep your spine aligned, it's definitely time to get a new mattress.
Mattresses You Should Avoid
Here's the deal:
You already know what mattress models are among the best ones. However, when shopping on your own, you also need to know what mattresses are the worst (in order to avoid them, of course).
So, try to stay away from:
Extremely cheap beds. If you have a limited budget, it's better to wait and save some money up instead of buying an extremely cheap bed. It simply won't serve you for long. And I honestly doubt it's going to be more comfortable than your old mattress.
"A quick note: many mattress companies offer financing to their customers. So, don't hesitate to check this option too."
Thin mattresses

. Typically, very thin mattresses have low comfort ratings. This is simple: a good mattress has to combine different layers for the maximum comfort, and, consequently, it's supposed to be thick.

Hot memory foam

. Sleeping hot is a common issue for many foam mattresses. And the majority of users hate this flaw. So, try to avoid foam mattresses that don't have any cooling components in the top foam layer. Give your preference to gel or charcoal infused models (or an open-cell foam, as an alternative).

Cheap innerspring mattresses

. Cheap coils are squeaky, which might really annoy you during the night. If you love the feel of spring mattresses, it's better to spend a bit more and get yourself a better-quality mattress. Something that won't be annoyingly loud.

Low-density foam

. Lower-density foam mattresses usually cost much less, and there's a reason for that: they aren't very supportive. Additionally, they tend to sag faster.

Models with a short warranty

. A short warranty period means two things. Number one: you are not protected as a customer. And number two: the manufacturer isn't sure of their product's quality.

Beds with no sleep trial

. Again, this is your customer protection we're talking about: with a sleep trial, you can get a refund in case the mattress doesn't work for you.

Overly soft or firm mattresses

. Too much is never too good. An overly soft mattress will not provide proper support for your body. It won't keep your spine in a neutral position either. At the same time, an overly firm bed will create more tension in your pressure points, which might even make your body hurt.
Mattress Type: Which Material Is the Best?
Now, when it comes to picking a good mattress, one can easily get lost in all the names, types, and specs. I mean, we have so much to choose from that sometimes it gets really overwhelming. Oh, the good old days when people had only one option: spring mattresses. I'm kidding. Having a lot to choose from is a blessing. You only need to figure out which mattress types would be suited for your particular needs. And to do that, let's see both the good and the bad of each type:
Type
Pros
Cons
Memory foam
Great for pressure relief;
Great motion isolation;
Decent lifespan;
Has a pleasant contouring feel
Tends to sleep hot;
Weak edge support;
Off-gassing;
Might be made using chemicals (always check for safety certifications)
Innerspring (coil)
Doesn't sleep hot;
Good bounce;
Supportive;
Durable;
Great edge support
Affordable (in the majority of cases)
Might be squeaky;
Doesn't conform to the body that well;
May sag with time
Hybrid
Tons of options;
Optimal combo of support and pressure relief;
Luxurious feel
Quite expensive;
Heavy and hard to move
Latex
Cooling;
Very durable;
Natural and eco-friendly;
Provides a bouncy support
Rather expensive
Finding a Perfect Mattress When You Have Health Issues
Finding a good mattress is an important task in and of itself. And when struggling with some health or sleep issues, that task turns into a real challenge.
Don't worry, though! I am here to help. Let's see what mattress types are suitable for you if you have:
Arthritis. In this case, you need good contouring and pressure relief. If you are a side sleeper, give your preference to a medium-feel foam bed. For back or stomach sleepers, it is better to get a medium-firm foam mattress.
Fibromyalgia

. Here, you need to find that golden middle: great support and superb pressure relief. Hybrid mattresses are probably the best option in this case.

Back, neck pain

. You need proper support. Try to avoid overly soft beds. However, firm doesn't always mean adequate support either. Choose a bed with a strong/dense core layer.

Hip pain

. In this case, you need a mattress with a generous amount of sinkage and a hugging feel. Foam would be ideal.
"Keep in mind that mattresses usually require some time to break in. This means you need to give your body some time to adjust to the new mattress. Normally, this process takes around 30 days. So, if your new bed doesn't feel very comfortable once you get it, give it some time: maybe it will turn out to be perfect for you."
Asthma (or allergies). Go for something natural or safe. CertiPUR-US certified foams or eco-friendly latex mattresses are a great option. Innerspring beds would also suffice.
Restless leg syndrome

. Motion isolation is crucial here since your own movements can annoy you or your partner. It's better to get something cradling and pressure relieving, like foam or latex.

Osteoporosis

. In this case, you need a mattress that would adapt to the shape of your body and gently cradle your pressure points. Memory foam or softer latex mattresses would be great for such a condition. Mattresses with a special zoning system are also a good option since they work to keep your spine aligned while allowing sinkage for the protruding body parts.
Conclusion
If you're anything like me, you value your sleep quality. And that's why you should get yourself the best mattress.
While you already have 5 great options, let me share with you which ones impressed me the most.
Now, if your budget allows for it, I really recommend the Helix. These mattresses are very nicely made and, most importantly, can be suited for pretty much any user. You can get the perfect bed with the perfect combination of layers for your particular needs.
However, if you don't feel like spending too much and want a more affordable mattress, I would suggest you get the Bear Mattress. It is reasonably priced (even the King size) for such high-quality materials, it features a smart construction (with a top-notch cover), and it feels very comfortable.
So, have you already made up your mind? Are you ready to ditch your old mattress? And what are you going to substitute it with? Let us know in the comments!
Additional Resources:
5 Best Mattresses Under $500 (And A Buyer's Guide)
Product links on Happysleepyhead are referral. We get a commission on purchases made through our links at no additional cost to you. More information in my disclosures.