Nectar Mattress Review
by | Last Updated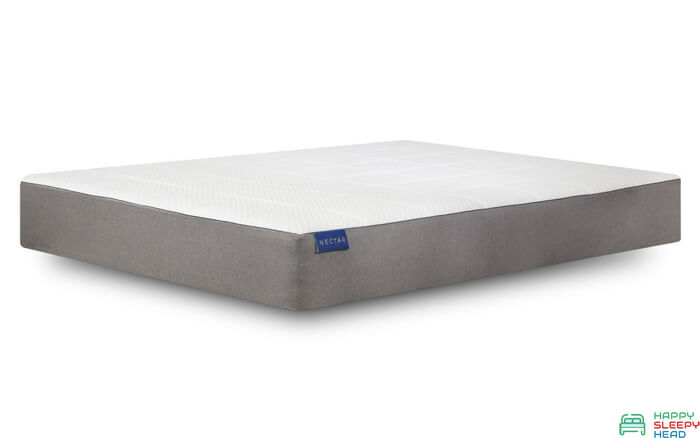 Whether you suffer from allergies that keep you up, insomnia or a sleep disorder, you'll agree that having the best mattress for you is one of the most important elements to getting your rest and a great night's sleep!
Right?
If you :
Feel like you haven't slept a wink…

Have trouble making it through the day without nodding off…

Appear to forget things more frequently…
THESE ARE ALL SIGNS OF NON-RECUPERATIVE SLEEP!
Don't beat yourself up…Instead, read this comprehensive Review of The Nectar Mattress. Inside you will find reviews and ratings for every feature, providing you with detailed information, pointing out the best features and the not-so-great ones. That's the only way you will have the information you need to help you decide if this is the right mattress for you.
So…Before you decide on a mattress, be sure to read this all-inclusive Nectar Mattress Review that includes performance details, ratings and much more…then decide if the Nectar Mattress is the right mattress for you!
How it's made:
If you're as tired of being tired as I was, the Nectar mattress is a must-try. As a high school teacher, I spend many hours on my feet teaching Math and more hours up late at night grading papers. I need a full 8 hours of restorative sleep.
Nectar Mattress' 11" of foam construction is engineered to deliver faster recovery. Now I wake up restored, refreshed and rejuvenated every morning, ready to face the day! The Nectar Mattress is exactly what I needed.
According to Nectar Mattress:
"Our engineering team found this to be the best mattress for isolating motion of all the mattresses they have tested. The Nectar mattress [has] a generous trial period. Again, it's a 365 night trial period which so far is unheard of in the industry."
1" Top Layer – Quilted Gel Memory Foam
"NECTAR incorporates a fully quilted layer of…gel cooling memory foam to provide extra loft and comfort, with better breathability. Quilting is a super premium process most mattress companies avoid due to cost. We think the difference is night and day."
1" Second Layer – Gel Memory Foam
"Our semi-open Lush Foam (™) holds five patents and is the most premium gel foam available. Expensive to produce, usually manufactured for medical uses…gel foam directly absorbs and distributes heat and recovers perfectly to its original untouched state."
3" Third Layer – Adaptive Hi-Core Memory Foam
"No other direct to consumer bed company builds Hi Core Adaptive foam into their mattress. Hi Core foam is heavy and expensive to ship. Premium adaptive foam is the single best inner layer for contouring a mattress to your pressure points."
6" Breathing Base Layer
"NECTAR is built on the densest yet the most breathable base layer of any mattress. Our base measures over a 2.2 ILD rating, which evaluates foam density, and is molded to draw fresh air in through special channels. Other mattresses use a base layer of 1.5 ILD or less. Base quality is the foundation of a good night's sleep, and another reason we can back NECTAR with a Forever Warranty™."
A Summary of Nectar Mattress' superior characteristics
Superb breathability & heat wicking

Combination of gel foams absorb and distribute body heat more evenly

Has the densest, most breathable base

Provides superior body support & weight distribution

Delivers pressure point relief

Ample rebound and bounce

Provides abundant air circulation

Excellent contouring and response time

Bed bug resistant

Provides the support of a firm mattress with the comfort of a pillow top
NOTE: Nectar Mattresses are manufactured in one firmness, regardless of size.
The amazing technology, materials, and construction lend themselves to providing a top-end foam mattress at the most affordable price!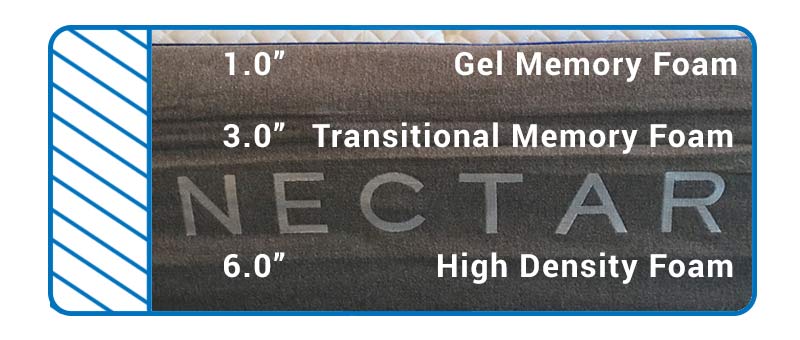 Cover – Cotton & Tencel Cooling
For the majority of people, this mattress will provide the perfect sleep temps; the cover "breathes" and wicks heat while circulating fresh air. To clean, unzip and have it dry cleaned! Additionally, Nectar mattress covers are naturally bedbug resistant – you benefit from a healthy, clean sleeping environment EVERY night!
Here's The Best Part! If it is EVER time for a fresh cover just call NECTAR and they will send out a new one AT NO EXTRA CHARGE!
Firmness and How It Feels
People always want to know how a mattress feels. To be quite honest, a mattress can feel very different from one person to the next.
Since this Nectar Mattress Review is based on my personal experience, I rated it a 6-7/10 in firmness. This seems to be the perfect range for me. Being slightly larger than your average male, I am considered a "heavier" sleeper. With other memory foam mattresses, I tend to compress (actually sink) down to the supporting layers and even base layers.
Although the 4 layers of foam put this mattress at the upper end of the firmness scale, it provides a supple, luxurious feel, with firmer support below. I no longer feel "smothered" or wake up when I change positions. The Nectar Mattress definitely provides the right amount of support for the perfect sleeping environment in any sleeping position; back, stomach sleeping, or (amazingly) on my side.
If you are "above average" in weight and like to sleep on top of the mattress with no sinkage, this may not be the right mattress for you.
ONE FULL YEAR! You get 365 days to decide if you love your mattress. This is a No-Risk, Full Money Back guarantee! So there's absolutely NO reason NOT to try it!
By the way, I financed my purchase of the California King mattress through NECTAR's No Credit Check, 6-month no-interest financing plan! It so easy – just click-through to them on the order page.
And with the Forever Warranty (™), you can't go wrong!
Mattress support is one of the key elements for your mattress to perform at its peak!
The Nectar Mattress will perform best on any of the following support systems:
WORKS WITH ALL SUPPORT TYPES
BOX SPRING
DIVAN BASES
TRADITIONAL FRAMES
ADJUSTABLE BASES
PLATFORM OR FLOOR
Investing in a quality platform for your mattress can extend the life of the mattress.
I use every inch of my Nectar Cal King mattress…it provides the comfort and supports a big fellow like me needs, no matter how I sleep. I find the motion transfer to be minimal with the layers of comfort foam providing what I need to get the recuperative sleep I need. Staying up late writing lesson plans or grading papers can wear you out after a long day with young adults. But the Nectar mattress makes easy work of getting you back on course.
The Nectar is also ideal for those late night rendezvous and amorous couple's activity, providing good push-back and bounce without sinking down to the base.
This part of my Review of the Nectar Mattress shows you its suppleness. I am of average height (5'11") and above average weight (255 lbs.)
Laying on my back: 1.0"
Laying on my side (hips): 1.5"
Laying on my side (shoulder): 1.5"
Laying on my stomach: 1.5"
Sitting on the edge: 2.0"
Standing in the middle: 3.0"
You may experience different results based on your height and weight. If you weigh less, you may experience very little or no sinkage; if you weigh more, it may not be the ideal firmness for you.
The materials developed over the last 5-10 years are truly amazing; combined with the creative manufacturing technologies used in making today's mattresses, the resulting reduction in smell and off-gassing is incredible.
When I setup my new mattress, I found a slight odor (new foam), but after airing out for a couple of days, I barely noticed it.
My biggest problem with this mattress is..
I have to force myself to get out of bed in the morning! It's just that comfortable! But the bills won't get paid if I don't, so it's off to work I go!
This mattress has made a tremendous difference in my attitude, performance, stamina and overall outlook on life. When you get enough restful sleep, you feel good and it shows! It puts the spark back in your step!
The absolute best feature is …
…that they financed the whole thing! Have you ever met a rich teacher? I didn't think so! Being able to finance the whole thing with no credit check and get 6 months interest-free was a HUGE perk for me!
The one thing I don't like about these mattresses…
Although the mattress arrived compactly packed, it weighs so much. Density is a good thing. But I ordered a California King and carried upstairs alone! I would highly recommend investing in the White Glove Service. They receive it, they deliver it, they set it up AND haul off your old mattress. A bargain for the additional $149!
Free Shipping in lower 48 states AND 365 days to try it out!
If you decide within the next year (365 day trial period) that you are not in love with your Nectar Mattress, they will refund your entire purchase!
Nectar Mattress is so confident their mattresses will last a lifetime that they offer a LIFETIME WARRANTY.
So, is Nectar mattress for you?
I highly recommend the Nectar mattress if:
Convinced yet? Did you find this Review of the Nectar Mattress helpful?
Click here to find out more and how to order YOUR Nectar Mattress!
Firmness

Off-Gassing

Sinkage

Comfort

Comfort

Customer Service

Ease to set up (Heavy to maneuver)

Pricing
Summary
Once you find a great mattress that is "just right" for you, you will see and FEEL the beneficial impact on your health and well-being. Forget about waking up with aching muscles in the morning or feeling too tired to get out of bed. If you do not feel recovered in the morning, probably the problem remains unresolved.
So, have you made up your mind? Do you believe the Nectar mattress can be a good fit for your bed? Let us know in the comments.
Product links on Happysleepyhead are referral. We get a commission on purchases made through our links at no additional cost to you. More information in my disclosures.