Novosbed Mattress Review: From Top to Bottom
by | Last Updated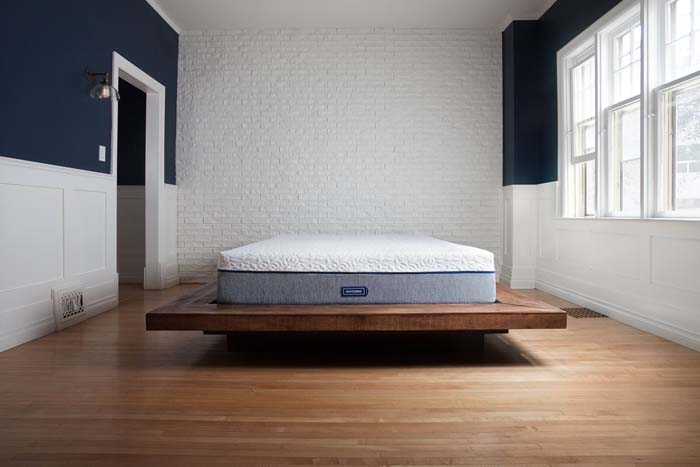 Choosing a mattress that has it all, doesn't cost all the money in the world, and can offer you great sleep for years is surely a difficult task.
Which is why I constantly look for the best models on the market and test them personally. This time I chose the Novosbed mattress to review and break down everything from its construction to shipping conditions.
And I invite you to take a look at my findings.
So, let's start this Novosbed mattress review with the peek inside its layers. The mattress has a simple triple-layer design:
The top comfort layer is made of open-cell memory foam and is 2 inches thick.

Open-cell memory foam has good pressure-relieving properties and offers you better thermoregulation than traditional closed-cell foam.

The middle layer is the same memory foam, but of higher density.

This layer acts as a transitional pad between the upper layer and the mattress base and ensures good motion absorption and proper weight distribution.

The mattress foundation comes in the form of a 7-inch polyfoam layer

. This material provides a sturdy surface and guarantees you good support in any position.
So, nothing fancy, as you can see. The mattress uses common materials in a standard combination, yet the construction feels pretty sturdy and durable.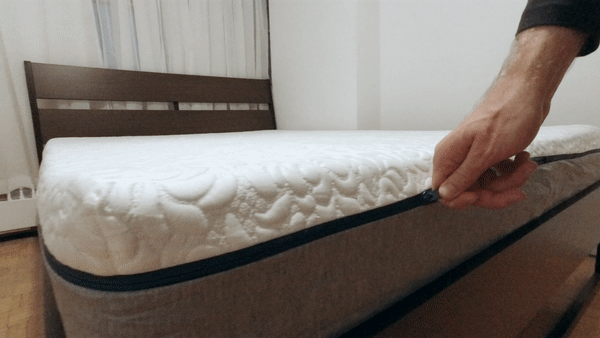 Now, let's take a look at the cover that keeps all the mattress layers together.
The first thing I want to mention is that the cover is removable and washing machine-friendly. So, maintaining the fresh look of the mattress becomes pretty easy.
I did a washing machine test and can say that the cover doesn't shrink or lose its shape if washed according to the manufacturer's instructions.
Speaking of the materials, the cover is made of Tencel lyocell. This is a semi-synthetic material derived from the eucalyptus fibers. Tencel makes a great cover material because of the following features:
It's breathable.

Tencel has a refreshing feel and can keep you cooler on hot nights.

It can absorb moisture

. Tencel fibers are hygroscopic, so they can absorb your body sweat, thus preventing it from making you feel uncomfortably wet.

It's durable

. The combo of natural eucalyptus fibers and synthetic additives results in the material that can easily withstand the years of active use.
Also, the cover is pretty thin and isn't quilted for more fluffiness, so it won't alter the feel of the mattress layers.
Firmness and How It Feels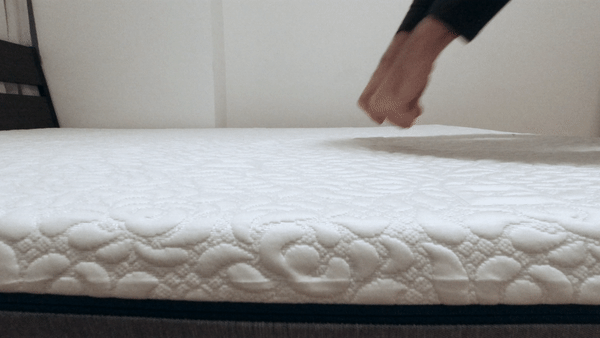 The next part of my Novosbed review is dedicated to one of the decisive factors for choosing a mattress — its firmness.
Although it's a subjective parameter, knowing the firmness layer of the mattress will help you know how comfortable you will feel on it.
So, the Novosbed mattress is available in three firmness levels:
medium-soft;

medium;

firm.
I was testing the Firm option and I would rate it as 7-7.5 out of 10 points on the universal firmness scale. The mattress offers little give and will be a great pick for those who love floating atop the bed instead of sinking into it.
However, even while being quite firm, the Novosbed mattress is still able to give you a bit of that typical memory foam feel. It molds to your body shape and supports the proper spine alignment pretty well.
"If you find that you aren't satisfied with the firmness level after the purchase, you can order an additional foam layer from the manufacturer for free. Thus, you can change the firmness level of the mattress to your preferences without having to return or replace your bed."
Check out this mattress on Novosbed.com

Edge support is an essential criterion for couples. If you share a bed with someone, you surely want both of you to feel comfortable and have enough space to stretch. So, the mattress should ensure that its whole surface is at your service.
Those who are buying smaller sizes like Twin and Full may also want strong edge support to be able to use their mattress to the fullest.
Now, typically, memory foam mattresses fail to give you proper edge support and may even start to sag at the edges over time.
But not the Novosbed model.
In fact, I compared this model to some of the hybrid mattresses I've tested earlier and concluded that the Novosbed mattress offers very decent edge support for a foam mattress.
So, if you love to sleep closer to the edge of the bed or share it with a person who sleeps in the starfish position, the Novosbed can be a good choice.
"Purchasing a sturdy foundation for a memory foam mattress will help you enhance its initial characteristics and prolong the lifespan."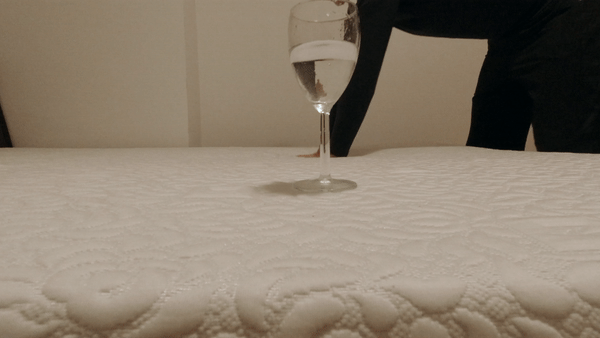 Moving further through my Novosbed review to the next parameter I want to mention — motion transfer.
Movements your partner makes (or a pet, if you let your furry friend co-sleep with you) can become a huge irritant and deplete you of restorative sleep.
Fortunately, memory foam mattresses usually have low motion transfer and can easily absorb sharp impulses that come from the other side of the bed.
The Novosbed, despite using more responsive polyfoam as a base layer, masks the movements very well. While I tested this mattress, our kid slept with us and our dog climbed on a bed a couple of times.
And guess what?
I barely felt anything, and I'm a pretty sensitive sleeper.
"Larger mattress sizes can mask movements even more effectively due to the larger surface area. So, if your bedroom allows, you may consider purchasing a King-sized mattress."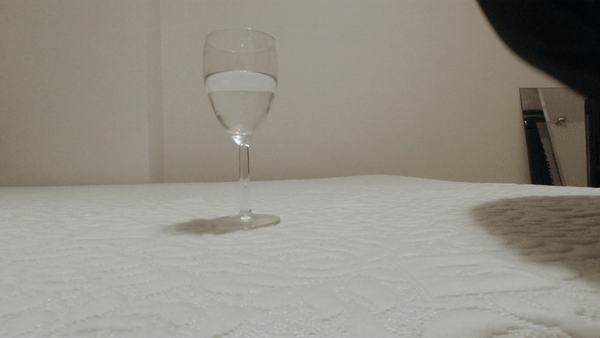 While reviewing the Novosbed mattress, I performed some sinkage tests as well (by placing medicine balls of different weights on the mattress and measuring how deeply they sink). But rather than sharing the technical results I've got, I'd prefer to share my personal experience.
So, we typically expect a memory foam mattress to be pretty cradling.
With the Novosbed (Firm option), the reality is a bit different, though.
First, it's made of really firm memory foam, so it has a less pronounced hug.
Second, the combination of open-cell memory foam used in the upper layers and a high-density polyfoam base results in higher rebound. This means that the mattress regains its shape faster after you remove the pressure applied.
Also, high rebound helps you shift between positions more easily — which can be a big benefit for some — because you don't get that quicksand feel.
Overall, the Novosbed mattress is quite responsive but does offer some sinkage, just enough to make you comfortable on the firm surface.
check out this mattress on Novosbed.com
Now, let's discuss another thing that many users are concerned about.
Yes, I'm talking about the memory foam odor.
The Novosbed is a mattress in a box, meaning that it's delivered to you in a compressed state.
After you rip the vacuum seal, the mattress starts to decompress and the foam cells fill with air.
So, the slight off-gassing after unpacking the mattress is completely normal. All foams tend to have an odor due to the complex manufacturing process that involves a lot of chemicals. And when the air fills their pores during decompression, these odor molecules release into your bedroom air.
Speaking of the Novosbed, it does have an odor. However, in my case, it dissipated in about three hours after I opened the package. We let the mattress expand during the day, and it was completely odorless by the evening.
You can speed up the memory foam deodorization process by airing out the mattress. If the weather allows, open all the windows in your bedroom or turn on the AC to promote air circulation.
Experience in Different Sleeping Positions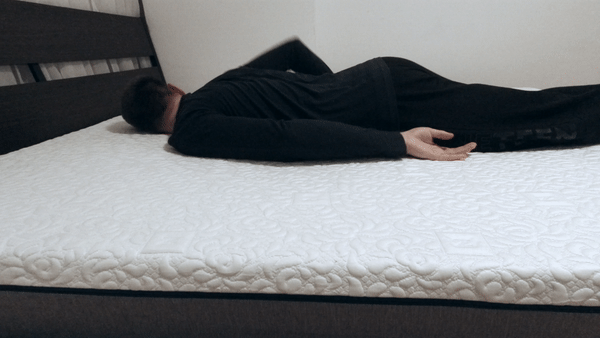 There are only three most common sleeping positions, but you will rarely encounter a solid back, side, or stomach sleeper. Most of us shift between different sleep positions during the night. Still, there probably is the one position you feel most comfortable in.
So, the next part of my Novosbed mattress review is dedicated to finding out how this mattress performs in different positions.
And before we dive in, you should know:
I'm a mixed side and back sleeper, and my wife is a stomach sleeper, so we've got all three main positions covered.
Now, let's see what we found:
Back sleeping.

The official science has mixed reports about this one, but I tend to believe that a medium-firm mattress is the best pick for back sleepers, as long as they don't have any health issues. Although on the firmer side, the Novosbed performs great at supporting your natural spine alignment and even distribution of your body weight around the mattress surface, so it may work for those who sleep on their back.

Stomach sleeping.

The weak point of all stomach sleepers is the lumbar area, so they typically need a firmer mattress to support the natural curve of the lower back and prevent it from sinking too much. My wife said that she felt very comfortable during the testing period. She even ditched the thin pillow that she sometimes uses under her belly to relax the lower back.

Side sleeping.

Since we tested the firm option, side sleeping didn't go well with that. I'm an average-weight sleeper and this mattress didn't offer sufficient cradling for me, so I woke up with stiff shoulders. However, heavier side sleepers might benefit from this firmness option because the firm Novosbed can give in under their weight and offer better sinkage for their shoulders and hips.
Bottom line?
This firmness level is the best for back and stomach sleepers or heavier side sleepers. If this is not you, then you may consider other firmness configurations the Novosbed is available in.
Something You Should Know
There's one more great thing I want to mention in my Novosbed mattress review:
If you purchase this mattress, you take a step towards eco-conscious living!
The brand does its best at reducing the negative impact on the ecology. Here's how:
Closed-loop manufacturing process

. When manufacturing covers, the company recycles almost all the leftover chemicals, meaning that they won't be polluting the soil or water.

Zero-waste policy.

Novosbed tries to repurpose everything that's left after the manufacturing mattresses.

Renewable and durable materials.

The company uses plant-derived foams and manufactures the covers for their mattresses from eucalyptus fibers that are considered a renewable material. Also, the materials have a longer lifespan, meaning that there will be less waste piling up in landfills in the long term.
I'm a huge advocate of eco-conscious living, so I'm impressed by how Novosbed tries to work in that direction.
The Good and the Bad: Overview
Novosbed adheres to the 'price promise' policy, meaning that the price for any mattress isn't tied to sales or promotions and stays the same throughout the year. Thus, you can just visit their website and buy a mattress instead of waiting for a perfect moment.
| | |
| --- | --- |
| Twin | $799 |
| Twin XL | $849 |
| Full | $899 |
| Queen | $999 |
| King | $1199 |
| California king | $1199 |
Check Availability on Novosbed.com
Shipping, Returns, and Warranty
The company offers free shipping to the continental US and Canada. Hawaii, Alaska, Canadian Territories, and some remote locations might require an additional shipping fee. If you don't know whether you live in a remote location or not, you can always contact the support via live chat or phone.
Novosbed offers you a 120-night trial period, which is a pretty common duration for most online retailers. Note that the first 30 nights count as a break-in period and the returns aren't available within this time. The break-in period is needed for you to adjust to the feel of your new bed.
If the mattress doesn't feel great after 30 nights have passed, you can request a Comfort+ kit to adjust the firmness of your mattress. After you receive the kit and install it onto your bed, you have to wait for another 30 nights.
Finally, if after 60 nights you still aren't happy with your purchase, you can claim a return. The company will pick the mattress and offer you a full refund.
The warranty conditions are also pretty standard. The Novosbed mattress comes with the 15-year warranty that covers all manufacturing defects and premature sagging (indentations that occur on a mattress surface within the first 10 years).
Recommendations and Takeaways
Every mattress is designed with a particular user in mind. So, let's sum up who will benefit the most from purchasing the Novosbed (Firm option):
Back and stomach sleepers.

A uniform surface of the mattress will support your spine alignment without creating pressure points.

Heavy sleepers.

Firm mattresses cope better with larger weight. If you're a heavy sleeper, this firm bed will offer you just the right amount of sinkage without creating awkward curves in your spine.

Fans of the floating feel.

If you need a memory foam mattress that doesn't feel like quicksand, then the Novosbed can easily become your bed of choice.
Also, the firm option of this mattress might be a good pick for individuals with limited mobility, as it allows for easy shifting between different positions during sleep and won't cause any difficulties when trying to get in and out of the bed.
About the Company
Novosbed is a Canadian mattress manufacturer with headquarters in Toronto. They launched in 2009 and quickly became a big player on the mattress market, given they are oriented towards both American and Canadian users.
The company strives for innovations and uses cutting-edge materials and technologies for making products. For example, they've invented the concept of the risk-free home trial period. Also, Novosbed tries to stay eco-friendly and reduce the negative impact on the environment by using renewable materials and recycling waste.
Materials and Quality

Overall Comfort

Edge Support

Motion Isolation

Odors

Thermoregulation

Brand's Reputation

Warranty and Trial

Value for Money
Product links on Happysleepyhead are referral. We get a commission on purchases made through our links at no additional cost to you. More information in my disclosures.