5 Best Foundations for a Memory Foam Mattress to Prolong Its Lifespan
by | Last Updated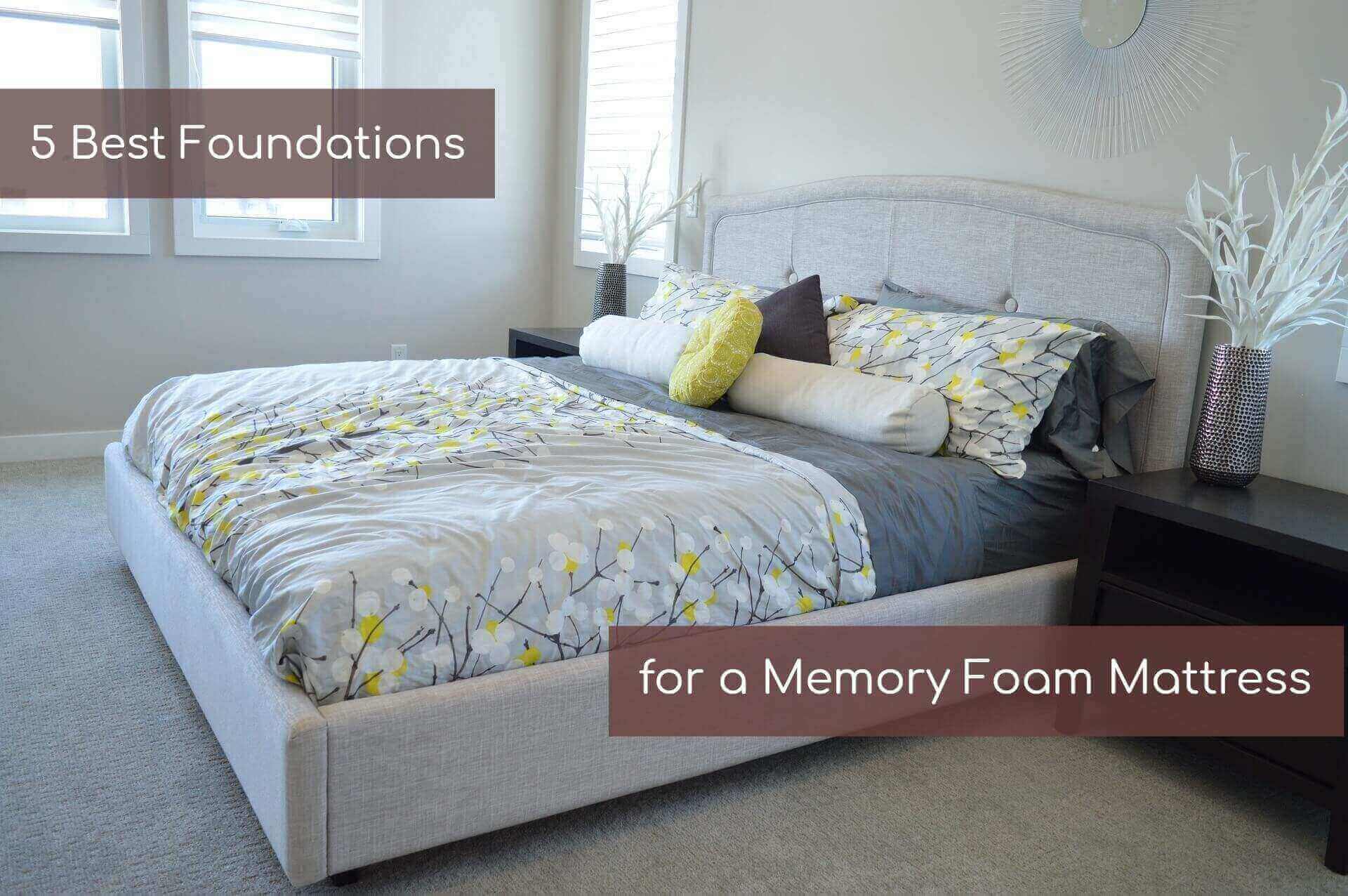 You've spent numerous hours researching and comparing and finally, a brand new memory foam mattress is at your door.
Congratulations! You're halfway through the way to your dream bed now! The next step is to find a supportive foundation for your mattress.
And I'm here to help you with that. After a thorough testing, I'm ready to present to you my reviews of 5 best foundations for a memory foam mattress, along with a few useful recommendations on how to choose the perfect one for you.
[table id=116 responsive=collapse datatables_row_details=true datatables_row_details_columns="A-G" /]
Our Reviews of Top-Rated Foundations for Memory Foam Mattresses
Sturdiest Construction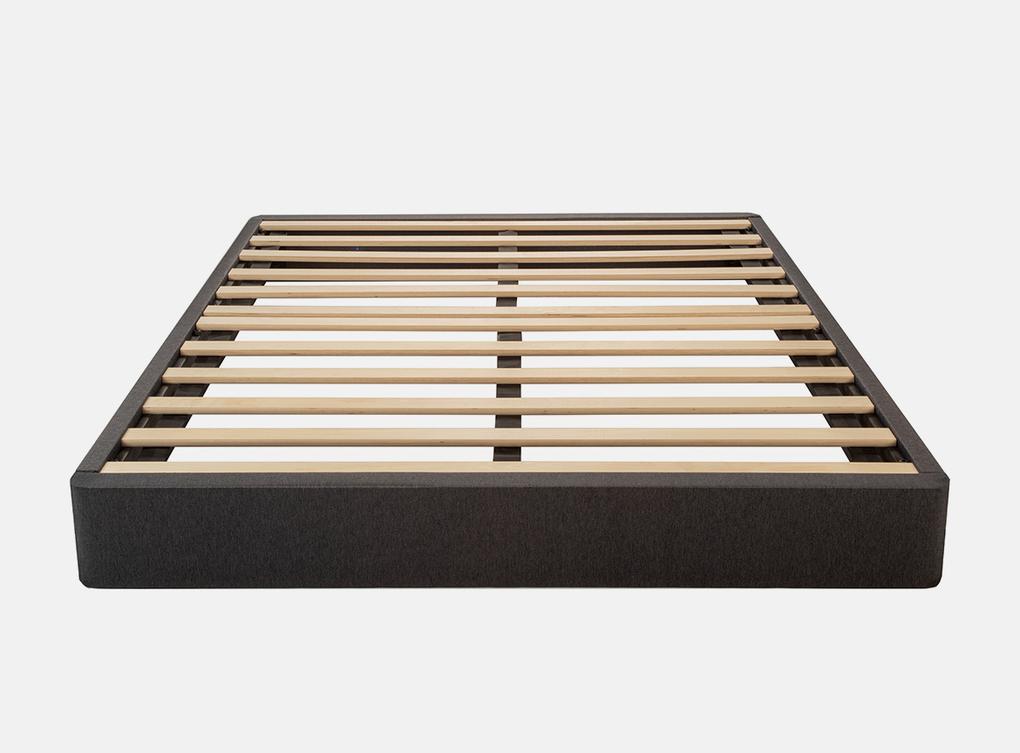 Let me start my review of the best foundations for a memory foam mattress wit the Helix model. It's here because it can provide you with a long-lasting uniform surface that will prevent mattress sagging and promote airflow between the layers.
The foundation is made of mixed materials: the outer frame is made of steel, and the slats are made of birch wood. Birch is considered hardwood, so it has better shock-absorbing properties and can withstand bigger loads.
The foundation is 7.5" tall, so it can support a mattress up to 18" high without feeling awkward. Also, the outer frame has safe round corners, which means you or your children won't accidentally get hurt.
My only complaint about the Helix is that its weight capacity is only 600 lbs, according to the information provided by the manufacturer. It will likely work great for an average couple, but large sleepers may want to look for other models.
The best thing about this foundation is its construction. It is very sturdy so that the foundation stays right where you put it. Plus, it provides even support, allowing you to utilize the entire surface of the mattress without making you feel uncomfortable.
So, I think that the Helix foundation will work great for those who are looking for a sturdy and long-lasting base for their memory foam mattress. Just make sure the weight capacity is enough to support both you and your mattress.
check out this foundation on helixsleep.com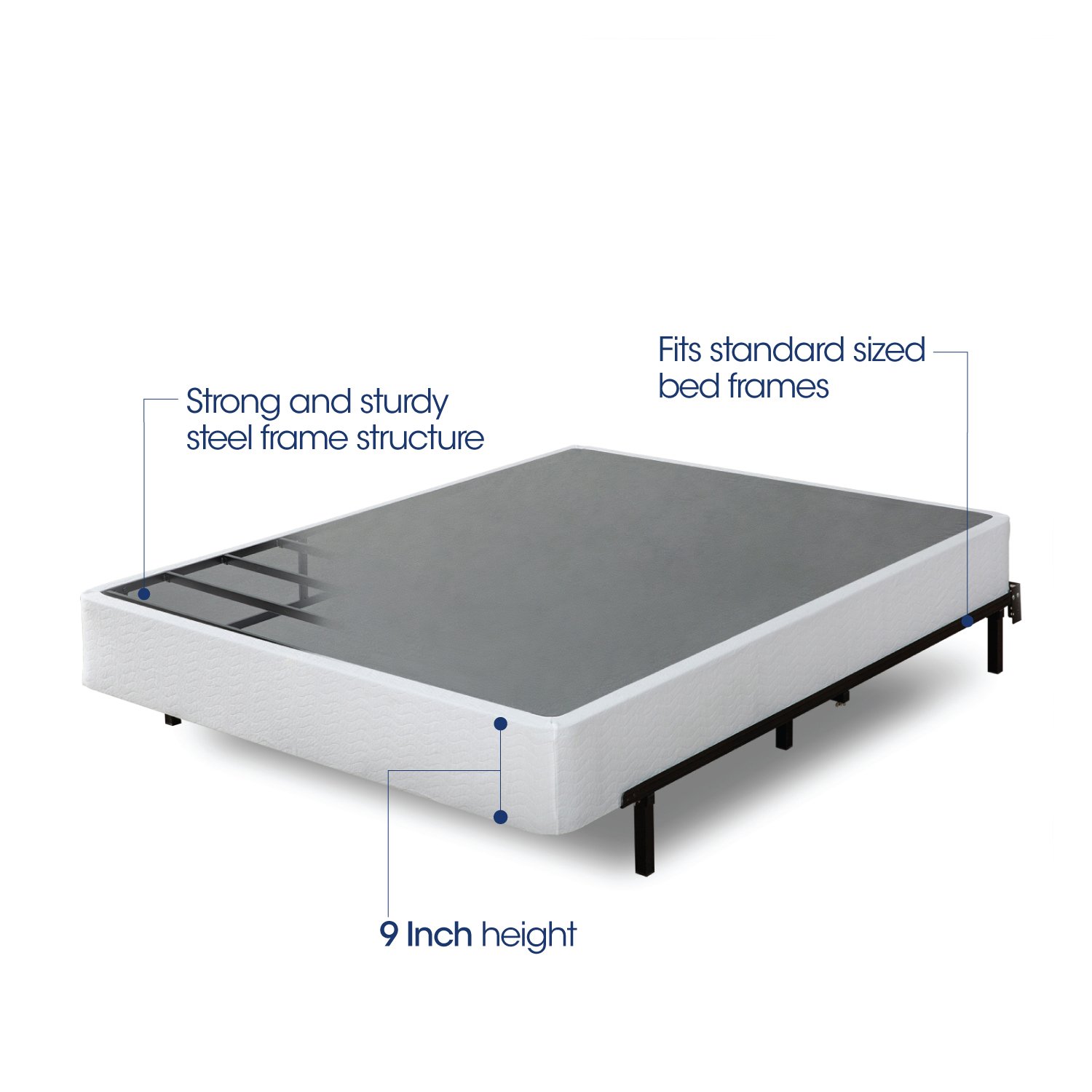 The next contestant on my list of the best foundations for a memory foam mattress is the Armita by Zinus. This is an all-metal model, so if you want durable construction with excellent edge support, stop right here.
The Armita has 9" height, so it should be enough to create the right combination with an average memory foam mattress. Although the slats are spaced pretty wide — almost 4 inches apart — my wife and I didn't feel them during the testing period even though we slept on a softer mattress.
Despite a lot of parts, the assembly is pretty straightforward and took me around 25 minutes. The fabric encasement is zippered, so you just put it onto the assembled base like a duvet cover.
The thing I didn't like about the Armita foundation is the noise it makes. The construction may squeak even if you tighten all the bolts and nuts very precisely. This issue can be solved by using a WD-40 lube, but you will need to keep doing this from time to time, which might be inconvenient.
The coolest thing about this foundation is edge support. I love to snooze closer to the edge, and I felt very secure and supported while testing this model. It can help you reanimate mattress sagging around the perimeter in no time.
I think that the Zinus Artima will make a great purchase for couples and those who just tend to roll over to the edge during sleep.
check out this foundation on amazon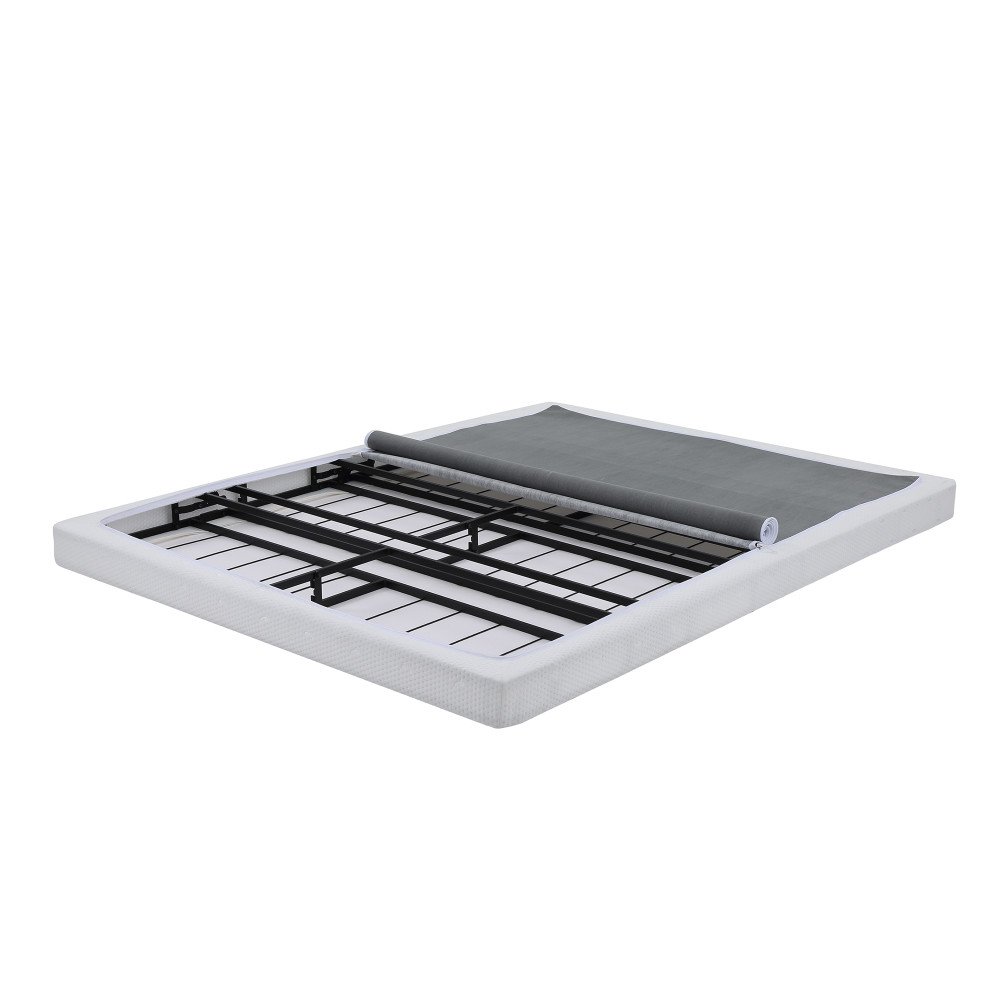 The next contestant to be the top foundation for a memory foam mattress will suit the fans of higher beds. The Hercules has a low-profile construction that won't make your bed awkwardly high or alter the overall feel of your mattress while remaining very supportive.
The height of this mattress base is only 4 inches; thus, you can use it with thick mattresses, up to 20 inches or even thicker. The foundation is made of powder-coated steel and has mesh-like construction that will support the entire mattress, including the edges.
Another great thing is that you don't need tools to assemble the Hercules. Just unfold it and put the cover on.
The only possible drawback of this foundation is that the mesh wires might be welded not securely and therefore might bend. We didn't encounter this while testing, but some users reported this problem, so this might be a defect. Just something to keep in mind.
What I liked the most about this foundation is its low profile. If you need a base for your high memory foam mattress and/or if you use a high bed frame, this model would be a perfect match.
Overall, this bed base can work for literally anyone seeking proper support and good value for money. But if you have a thick mattress or high bed frame, this would be the best option to go with.
check out this foundation on amazon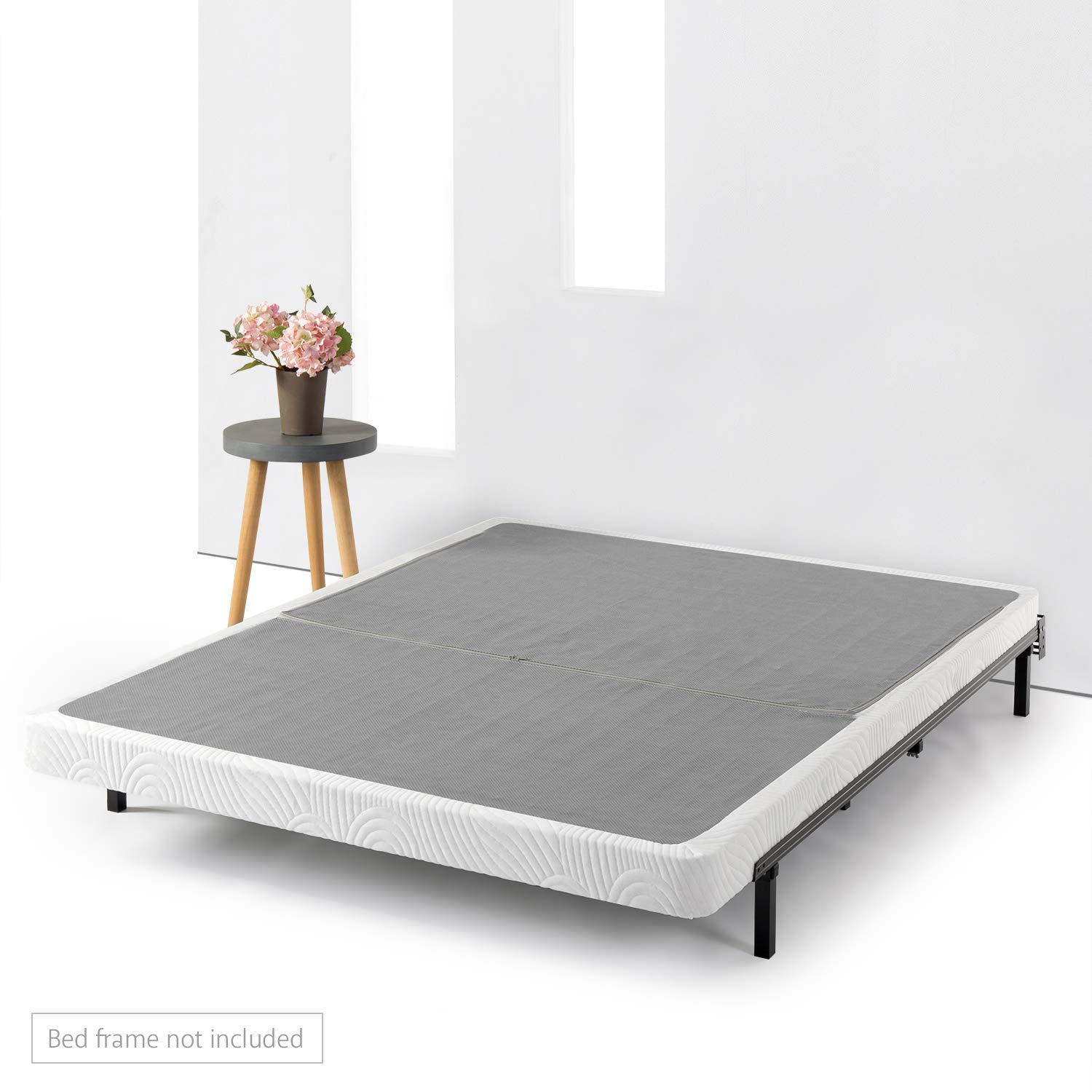 The next candidate on my list of top-rated foundations for a memory foam mattress is this model by the Best Price Mattress. And it really stands for its name! Made of heavy-duty steel and available in all mattress sizes from Twin to King, this is the most affordable pick I could find.
This foundation doesn't require you to spend time on assembly: just put it out of the box, unfold, and it will be ready to use in seconds.
According to the product description, the spacing between the slats is 5 inches, which is the recommended maximum for a memory foam mattress. However, while we tested this foundation, we didn't feel the slats and slept well through the night, even though our mattress was not very thick.
The only issue with this bed base is that the metal slats are thin, so it's hard to tell exactly how much weight it's going to hold and for how long. My wife and I are average sleepers and we didn't encounter any problems during testing. But large sleepers might want to look for an option with a specified weight capacity.
What I loved was the value for money that this manufacturer offers. A budget all-steel mattress base with no assembly required is rare to find, which makes the Best Mattress Price a worthy purchase.
So, this product is totally worth the money. I would recommend this foundation as a great investment not only to owners of memory foam beds but literally to anyone who wants to save some money.
check out this foundation on amazon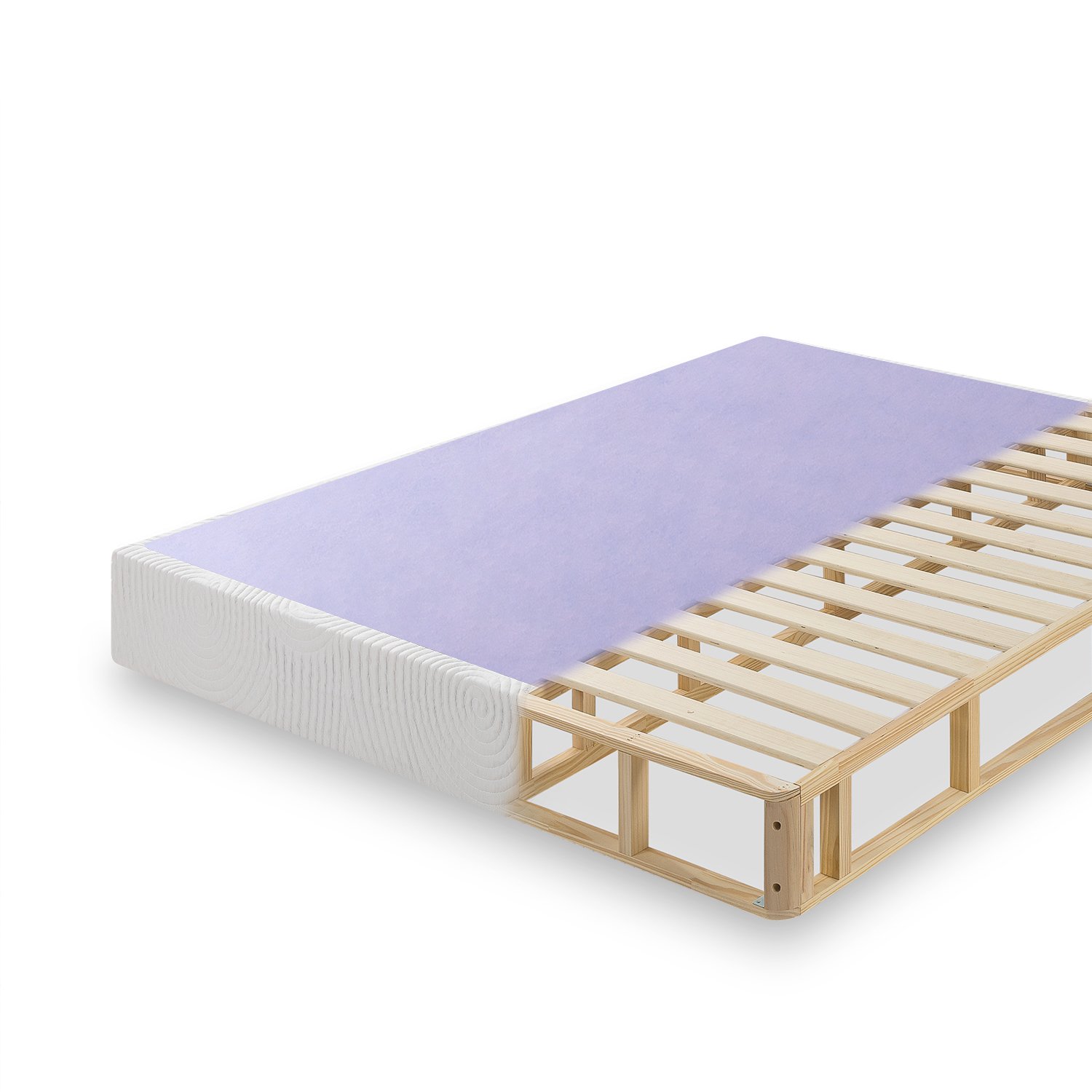 And the last model in my selection of the best foundations for a memory foam mattress is another model designed by Zinus. This foundation is made entirely from wood and offers you utterly noiseless design for a peaceful sleep.
The Edgar is eight inches high and has 13 slats with 3-4 inch spacing between them, which makes a supportive base even for a softer memory foam bed without causing sagging.
Also, the assembly is pretty simple: you just screw the outer frame parts together and then attach slats to it. To make your sleeping experience even smoother, there's a foam padded tape along the central rail to prevent the slats from squeaking. Plus, this foundation comes with a nice purple grey cover that will fit into any interior.
There's the only thing I want to warn you about. Although the wood is fine and sturdy, it looks like it is pine. Since pine is a soft type of wood, it's less resilient and durable compared to others, and I would not recommend this bed base to sexyally active couples or heavy sleepers.
The thing I am impressed with is how quiet the Edgar is. While using it with our mattress, I heard no squeaks or other noises, so I believe that individuals with sensitive sleep will absolutely love this model.
Overall, the Edgar will be the best choice for those who want a really quiet bedtime. Just make sure you don't put too much load on it.
check out this foundation on amazon
Why Do You Need a Mattress Foundation?
Before we dive into specifics, let me tell you one thing:
You don't necessarily need a specific foundation for your memory foam mattress.
In fact, you can even put it on the floor and sleep like that. But of course, there are some drawbacks to it:
your mattress might become

damp or dirty;

it's easier for

dust mites

or other critters to crawl into your bed;

there might be issues with

temperature control

, as colder air tends to stay near the floor.
Overall, if you can afford to replace your mattress more frequently than the standard 7-10 years, you may consider sleeping on the floor.
Now, you may also choose to put your mattress directly onto a bed frame that comes with slats (aka platform bed). This option works best for people on a tight budget and those who don't mind the simplistic and primitive look that most platform beds have.
However, if you want to make your bed look more luxurious and provide an additional supportive surface for your mattress (which would be a particularly good idea for heavier mattresses as well as heavier sleepers), then a foundation is exactly what you need.
Which Types of Foundations Work Well with a Memory Foam Mattress?
All types of mattress support available today can be divided into three main groups: box springs, platform beds, and foundations. Below, I will briefly explain the main differences between them and tell you how well each type will perform with a memory foam mattress.
Box spring

. Box springs include a solid outer frame filled with springs. Technically, a box spring might work with a memory foam mattress, but the thing is, it was designed for innerspring mattresses. Thus, it is not the best choice for a memory foam mattress, as this may result in quicker sagging.

Platform bed. This one is a combo of a bed frame and a mattress base. It mostly looks like a regular bed with legs and may even have headboard and footboard. And it features a slatted surface that you put your mattress on. The main advantage is that you get a lot of under bed space for storage purposes, so it's an excellent choice for small flats. Overall, platform beds are durable and work well with memory foam mattresses. Just be sure to choose a model with no more than 5 inches of spacing between the slats.
Foundation.

Finally, a foundation is something between a box spring (when it comes to appearance) and a platform bed (when it comes to support). You can choose between low and high-profile models depending on the height of your mattress. It is important to understand that both box springs and foundations are supposed to be placed on a bed frame, not directly on the floor, unlike platform beds.
Why Can't You Use Any Foundation with a Memory Foam Mattress?
Of course, you can.
But if you do, you won't be able to enjoy the following benefits:
Cooler sleep

. It's not a secret that memory foam sleeps hot due to a closed-cell structure that traps heat. A mattress foundation may help you solve this issue by allowing the air circulate under the mattress and thus cooling it down and preventing mold.

Prolonged supportive properties

. Since foams have outstanding conforming abilities, they might become saggy more quickly if placed on a surface that isn't completely uniform and supportive. By using a sturdy base, you slower this process and prolong the lifespan of your mattress.

Enhanced edge support

. Edges are the weak points of any memory foam mattress and may become a problem if you share a bed with someone. Foundations typically have strong edges around the perimeter, so they can reinforce the edges of your mattress and give you an opportunity to utilize the whole surface.
If your mattress started to wear out and become saggy, consider investing in a mattress topper for a more uniform sleeping surface, as the foundation alone might not be able to resuscitate your bed.
Tips for Choosing the Right Foundation for Your Memory Foam Mattress
Finally, my review of foundations for a memory foam mattress wouldn't be complete without providing you with a list of the key things that define a good mattress base:
Materials

. Most mattress bases can be made of either metal or wood. Or, a combination of both of these materials. My personal favorite, in this case, is the latter because it offers you a balance between solid edge support and bouncy slats. However, metal foundations are unbeatable when it comes to durability, while those made of wood can keep your mattress perfectly fixed so that it won't slide while you're sleeping.

Weight capacity

. Obviously, the right mattress support must hold your — and your partner's — weight as well as the weight of your mattress. Memory foam beds, although considered the most lightweight, are still pretty heavy. So, it's recommended to opt for at least 600-700 lbs. This should be enough for a single large sleeper or a couple.

Height

. Here you need to consider the height of both your mattress and your bed frame, as the foundation has to be placed between them. If they both are quite high, you need to choose a lower foundation so that the bed wouldn't become too high and uncomfortable to get in and out. But if you have a thin mattress, a high-profile foundation will work best.

Sizes. Thankfully, most brands offer all mattress sizes available on the market, so if you sleep on a

Cal King mattress

, it won't be hard to find a suitable foundation.

Construction and assembly

. A good foundation doesn't have so many parts that you grow old assembling them. Ideally, choose a foundation that doesn't require assembly at all, such as those with a foldable construction.
Since all foams tend to become softer with time, keep in mind that any foundation might slightly alter the feel of your mattress by making it firmer.
Also read: Best Bed Frames For Heavy Person With Anti-Sagging Design
Wrapping Up
So, with a new foundation, you're one step closer to a perfect bed that will help you get a good night's sleep.
As you can see, there's a ton of bed bases you can choose from, and the models in this review are the top picks on today's market.
But my favorite one of them is the Helix. It looks good and will work well with any memory foam bed, no matter how firm or high it is. Besides that, its birch slats can give a little more bounce to your memory foam mattress and the steel outer frame can reinforce the edges of your mattress.
Those who are looking for something cheaper may prefer the Best Price Mattress foundation. It is available in two height options for any type of mattress and can be installed in seconds. And the best thing is, despite affordability, it is well-made and will serve you for years.
Have you used a foundation with your memory foam mattress before? What criteria do you use to determine if a foundation suits your needs? Let us know in the comments!
Product links on Happysleepyhead are referral. We get a commission on purchases made through our links at no additional cost to you. More information in my disclosures.