5 Best Mattresses Under $500 (Queen Size) – Buyer's Guide
by | Last Updated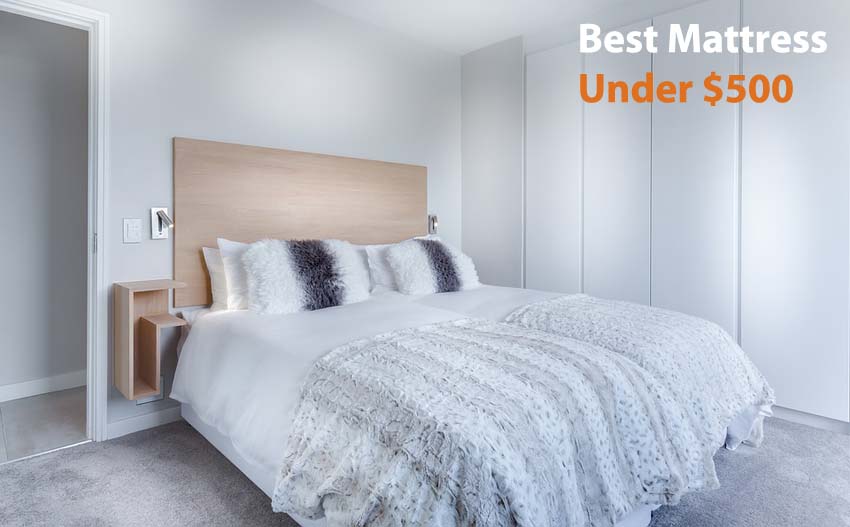 While everyone wants to sleep on a good, comfortable bed, not everyone can afford a luxurious 8-layer cashmere-top mattress.
But who says you can't get yourself an affordable mattress and sleep like a baby?
Trust me, there are many great beds that don't require you to empty your wallet, get a loan, or borrow money from your friends.
Today, I've prepared 5 best mattresses under $500 for you. Let's see if you manage to find your new favorite bed among them.
Best Memory Foam Mattress Under $500
LUCID Gel Memory Foam Mattress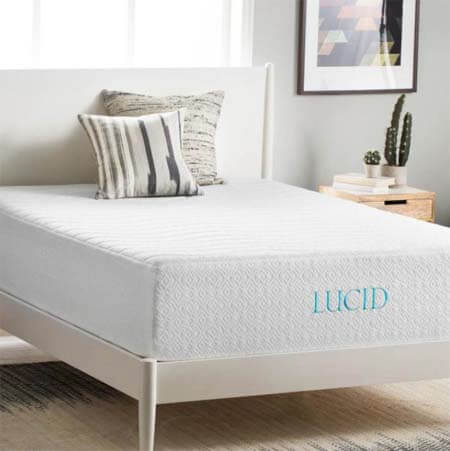 This medium-plush model is a decent memory foam mattress under $500. It offers that pleasant hugging feel and provides close conforming, which are characteristic of memory foam.
Now, this model has three layers: 8-inch supportive high-density base foam, 1-inch bamboo charcoal ventilated memory foam layer and 3-inch gel memory foam. There's also a Tencel cover, breathable and very pleasant to the touch.
This is a medium-plush mattress. It provides a generous amount of sinkage and gently cradles the pressure points. It feels squishy and soft, with a bit of a supportive bounce from the base layer.
The absolute best thing about this model is the plush, hugging feel it provides. This bed feels exactly the way memory foam should feel. It is cradling, hugging, and comfortable. It adapts to your body shape and makes you feel like you are sleeping on a cloud. In two words, it's very comfortable.
The worst thing about the LUCID mattress is its limited lifespan. Despite being rather nicely made, it doesn't keep the consistent feel for years. Some dents or sags might appear quite soon, within the first 3 years or so.
To be honest, this is one of the best mattresses cheaper than $500 I've tried. And yes, it might not serve you for a decade, but it feels super comfortable.
Check out this mattress on amazon
Best Innerspring Mattress Under $500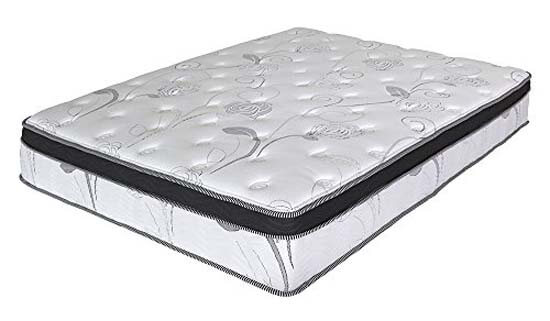 This cool innerspring mattress is technically a hybrid. However, the spring core is what gives it its unique feel. This mattress offers great support levels with a good amount of cradling and pressure relief.
"When picking a new mattress, do not rely fully on the generalized firmness levels. Different beds have a different feel when used by sleepers. For instance, heavier users might find a generally firm mattress not supportive enough, while lightweight sleepers may say it feels like a brick wall. It's important for you to test the mattress upon arrival to see how firm or soft it is for your body type."
The Olee Sleep implements 6 different layers, including a foam base, an innerspring core (pocketed coils), three layers of foam (one of them being gel-infused), and some fiber padding on top for a more luxurious feel. The jacquard cover is made of polyester. It's soft, stretchy, and allows the bed's surface to adapt to your body effectively.
As for the strong sides, this Olee Sleep bed can boast of being very supportive. It's more on the firmer side, which means it will easily distribute the weight of your body and keep your spine in a neutral position. And those extra foam layers on top offer a decent amount of cradling for your pressure points.
When it comes to drawbacks of this mattress, the biggest one is that this bed doesn't last that long. Of course, that's pretty natural for such a price. Still, in a year or two, this mattress might develop sags and lose its consistent feel, which is a disappointment.
If you are looking for a good innerspring mattress for less than $500, this bed by Olee Sleep would probably be perfect for you, especially if you prefer a firmer feel.
Check out this mattress on amazon
Best Cooling Mattress Under $500
DynastyMattress Cool Breeze Memory Foam Mattress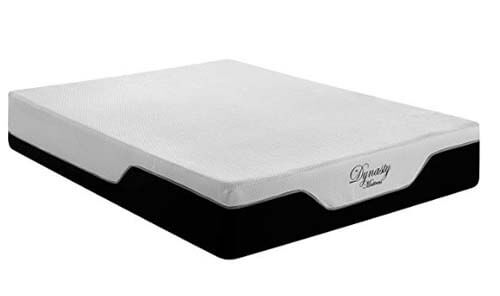 If you don't believe that memory foam does not necessarily sleep hot, you should definitely try this model, as it's one of the top-rated cooling mattresses under $500. It offers the best combination of cradling foam, pressure relief, and a refreshing feel all through the night thanks to its smart construction.
What makes this memory foam mattress stand out from the competitors is the airflow layers used in its construction. On top of the dense supportive core, there are two(!) airflow layers, which feature a jagged design and allow for air circulation. Additionally, there's a 3-inch gel-infused foam layer, which, again, provides a cooling effect.
Obviously, the best thing about this mattress is its cooling properties. While offering you that pleasant hugging feel and pressure relief, the foam layers of the bed do not make you feel all hot and sweaty.
The worst thing about this bed is that it might be too firm for some users, especially those who prefer sleeping on cloud-like mattresses. This is actually a matter of taste. While some sleepers appreciate the support this bed offers, others may complain that it feels like a brick.
To be honest, this mattress managed to impress me. It looks great, offers good support, provides cradling, and does not sleep hot. What else is there to wish for?
Check out this mattress on amazon
Best Mattress for Back Pain Under $500
Zinus Ultima Comfort Memory Foam Mattress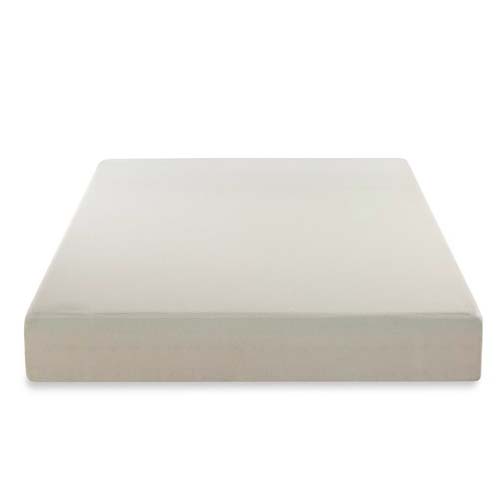 The combination of firm support and gentle cradling makes this model a great mattress for back pain, and it costs less than $500 too! It will easily distribute your body weight, support your spine in a proper position, and offer pressure relief, which can contribute greatly to pain relief.
This mattress has three layers: a 6-inch high-density base, a 3-inch comfort foam layer, and a 3-inch memory foam top layer. This is a 12-inch model, but there are also 8 and 10-inch options available.
"Always pay attention to safety certifications. Even cheap mattresses need to follow the safety standards. And no matter how much a bed costs, it absolutely has to be safe for the users."
Now, we all know that memory foam is a product of petroleum. Well, this mattress actually uses natural plant oils instead of petroleum (not all of it though, just a part), which makes this model a bit more natural and safer for you to sleep on.
The coolest thing about this model is the combination of support and pressure relief that it offers. Such properties make the Zinus an ideal mattress for people who suffer from back pain. It can keep your spine in a neutral position and reduce tension from the protruding body parts quite effectively.
The most serious drawback of this Zinus mattress is the odor that accompanies it. It will disappear, don't worry. But you need to know that it might take quite some time. You might even want to air the room out every day to get rid of it.
Despite its flaws, this Zinus mattress has the potential to become your most favorite bed. It works great to deliver good pressure relieving properties, which makes it a good option for people with back pain.
Check out this mattress on amazon
Best Mattress for Pressure Relief Under $500
Live and Sleep Memory Foam Mattress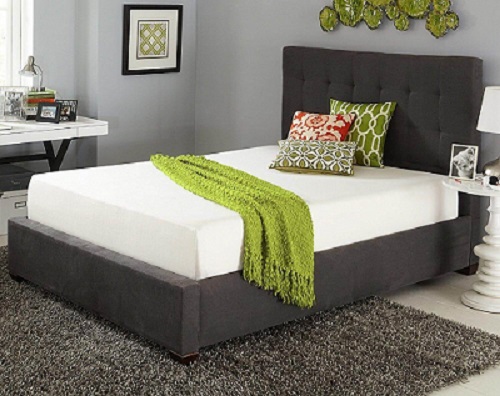 The last item on our list of the best size mattresses under $500 is this simple yet comfortable model by Live and Sleep. Now, it really costs a bit more, but don't worry: we've got you covered. We offer a $50 coupon, which means you can get this cool pressure-relieving mattress for less than $500.
Now, this bed by Love and Sleep has only two layers: a 7.5-inch high-density support layer and a 2.5-inch premium memory foam comfort layer. But don't let this simple construction fool you. This mattress works great to provide enough support and gently hug the pressure points. And because the top comfort layer is rather thick and hugging, this mattress is great for pressure relief.
The absolute best part about this bed is, of course, the way it hugs the pressure points and adjusts to your body shape. It feels pleasantly squishy and provides close conforming. All of these characteristics make this bed by Love and Sleep perfect for pressure relief.
The worst part about this model is that it might be too soft for some users. Because the mattress allows for a generous amount of sinkage, it has a rather plush feel overall, which might not be suitable for some sleepers.
To be honest, I did not expect much from this simple mattress. But it managed to surprise me! Despite having some drawbacks, this bed by Love and Sleep works great to provide decent comfort levels and superb pressure relief.
Check out this mattress on liveandsleep.com
Can You Really Get a Good Mattress Under Just $500?
Yes.
But you will need to do your research.
Not all mattresses are created equal, and this rule applies to mattresses under $500 too. There are good cheap beds, but you first need to sift through hundreds of mediocre ones to get to them.
Besides, everyone's definition of a "good mattress" is very subjective. One model can feel great for some people and be ridiculously uncomfortable for others.
But when you know what to expect from your five-hundred-dollar mattress, which properties different materials have, and how to pick one for your particular sleeping position, you can find a great bed even for such a low price.
"Because manufacturers choose to sell their mattresses directly to customers and eliminate the middlemen, we get more affordable options. There are many high-quality mattresses sold at less than $500."
What to Expect and How Not to End Up Being Disappointed?
Of course, you don't expect a cheap mattress to be made of premium, luxurious materials and have a ton of extra features. Still, even an inexpensive bed can meet your expectations in terms of support and comfort.
And when shopping for such a bed, there are certain aspects you need to keep in mind. You see, once you know what exactly you can expect, you will not end up being disappointed. So, here you go:
Simple construction

. Typically, mattresses for less than $500 have only a few layers (2-3 in most cases).

Limited durability

. Cheap mattresses are usually made with cheaper materials. Now, this does not necessarily mean that your new bed will be a real piece of trash. What this means is that cheaper materials usually don't last that long (compared to more expensive mattresses). So, don't expect your mattress to serve you for 10 years and preserve a consistent feel. Usually, cheap beds are good for the first 2-3 years, depending on the construction.

Modest warranty

(this varies from brand to brand, though). Having an extensive warranty isn't typical of cheaper beds. That's fair, given the fact that they use cheaper materials that do not last as long as more expensive ones. Some companies offer 10 years of warranty coverage, others 15, but you need to expect your cheap bed to have a shorter warranty than that.

Limited special features

. The more features a mattress has, the more expensive it is. That's why beds cheaper than $500 are so simplistic. Some of them are gel-infused, but that's probably the only "special" feature you can count on. Don't expect your mattress to have zoned support, reinforced edges, extra plush layers, etc.

More synthetic materials

. Obviously, because synthetic materials are cheaper than natural ones, beds costing less than $500 typically use them. Which brings us to…

Potential off-gassing

. Those synthetic materials have a specific odor, which will be especially noticeable upon arrival. This aspect isn't critical, though. Just leave the mattress in a well-ventilated room, and the odor will disappear with time.
Again, even among cheaper options, there are those that can satisfy you in terms of comfort and support. It's quite possible for a simple mattress model to have effective construction for pressure relief, proper support, and great comfort levels.
What Are We Dealing With? Types of Mattresses and Their Pros and Cons
You cannot make a good choice without figuring out what material is the most suitable for you.
Modern mattresses come in a variety of types. Let's see which materials are the most popular for cheaper beds and what you can expect from them.
Memory Foam
Most popular material on the market, foam is used for both expensive and budget-friendly mattresses. It can be polyurethane, latex or memory foam, as well as some proprietary blends. Some manufacturers prefer combining different materials, while others stick to one. Memory foam is typically made from petroleum. Interestingly enough, some manufacturers are now using plant-based oils to make foam, which is supposed to be a healthier option.
"Shopping online might seem quite risky since you cannot actually touch and lie on a mattress. The good news is, many mattress companies offer a free trial to their customers, even with cheaper models. This means you can test your new mattress at home, sleep on it, and return it for a full refund if it doesn't feel comfortable enough."
Memory foam mattresses are usually contouring and offer close conforming. They are often used by people who need above-average pressure relief. And just like any other material, foam has its pros and cons.
Innerspring
Innerspring mattresses are widely available too. Besides, they tend to be even cheaper than foam ones. Typically, innerspring beds have some extra padding on top (wool, fiber, or even a bit of foam).
Spring mattresses offer bouncy support and fast responsiveness, which makes them a popular option among back and stomach sleepers. Consider their pros and cons to see whether this mattress type is suitable for you.
Hybrid
Hybrid beds usually feature a combination of coils (for support) and foam (as comfort layers). Latex can also be present, but it's typical for more expensive models.
Hybrid mattresses combine the best features of all materials. They are very supportive but work to provide pressure relief. They are cradling but don't make you feel like you are stuck inside the bed. Still, despite having so many cool properties, a hybrid mattress has its drawbacks too.
"Latex is also a popular material used to make mattresses, but you can rarely find it in cheaper models. Why? Because latex itself is quite expensive (even a synthetic kind). So, when looking for a good mattress for $500 or less, don't expect to find many latex options (especially good ones)."
Frequently Asked Questions
How long do cheap mattresses last?
Compared to an average mattress lifespan, which is 8-10 years, cheaper beds may last you 1-2 years less. The thing is, they are typically made of less resilient materials, which tend to lose their supportive properties and sag faster.
Are all mattresses under $500 made in China?
No. While some brands, such as Night Therapy or Linenspa, have their manufacturing facilities located in China, there also is a number of companies with a US-based manufacturing process.
Besides, the tag 'made in China' doesn't always mean poor quality. US brands who locate their factories overseas make sure the products are made following US standards, which results in decent quality.
Are cheap mattresses harmful to your health?
If you cannot find information about product certifications, chances are it might contain some harmful chemicals and pose a threat to your health. Fortunately, today, even budget mattress brands are able to use certified materials, so their products may be as harmless as those offered by high-end brands.
Can I buy a more expensive but used bed?
When it comes to used beds, no one will tell you how exactly they were exploited. You can't be sure of the previous owner's health condition as well as the conditions in which their mattress was used. The most common scenario is that such a bed may be full of dust mites and/or bed bugs. That's why if you care about your health and comfort, you should always opt for new, unused mattresses.
Product links on Happysleepyhead are referral. We get a commission on purchases made through our links at no additional cost to you. More information in my disclosures.