5 Best Linenspa Mattresses for Rejuvenating Sleep — Our Reviews and Buyer's Guide
by | Last Updated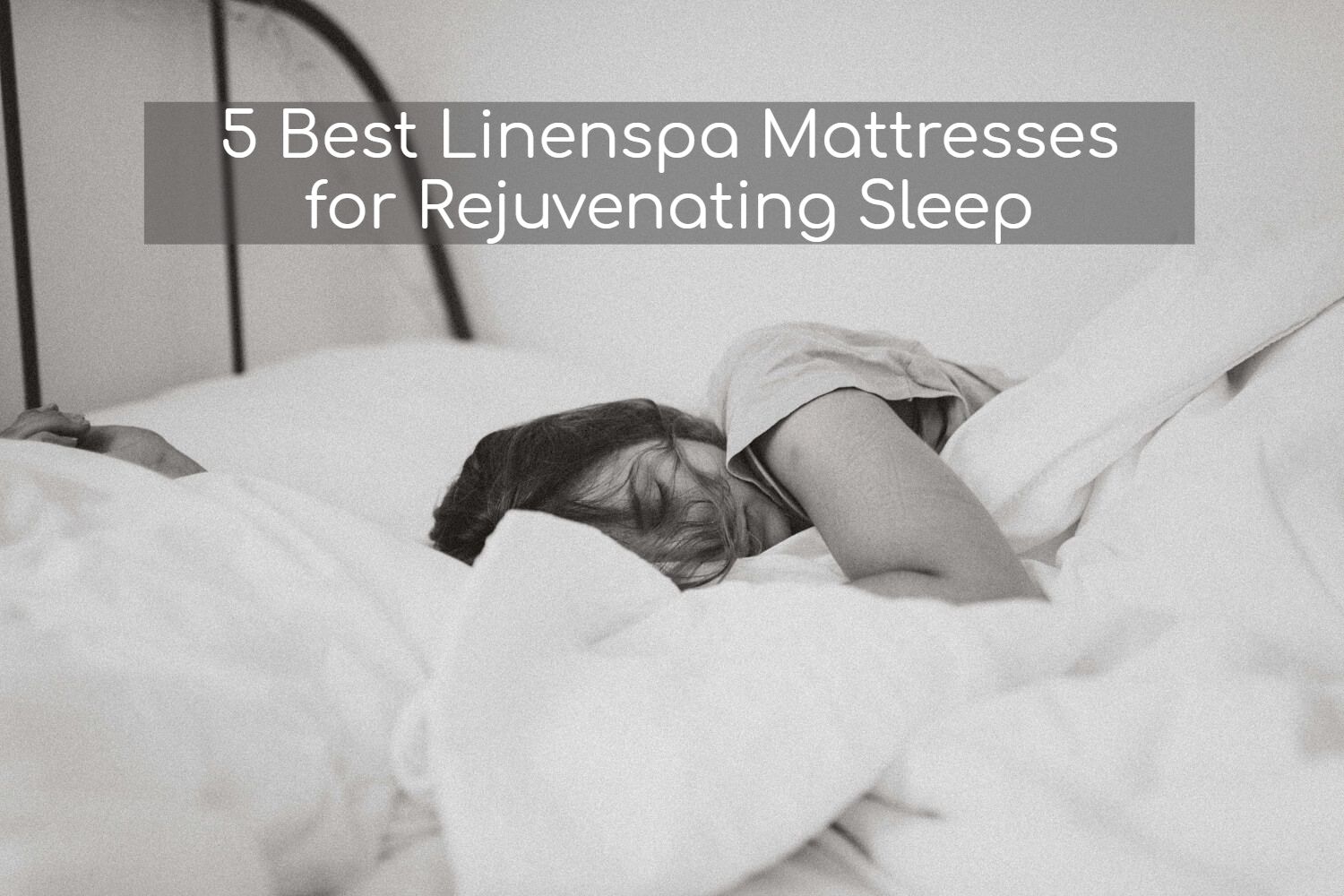 When it comes to buying a new mattress, you'll probably be lost in the sea of well-known brands and newcomers on the market.
Is it even possible to find a high-quality but affordable mattress among them all?
I say yes. Thanks to such brands as Linenspa.
This company seems to have found a balance between price and quality, which resulted in a line-up of simple but comfortable beds that won't empty your wallet. You will see that for yourself in my review of 5 best Linenspa mattresses below.
Our Linenspa Mattress Reviews
Best for Hot Sleepers
Linenspa 10-Inch Latex Hybrid Mattress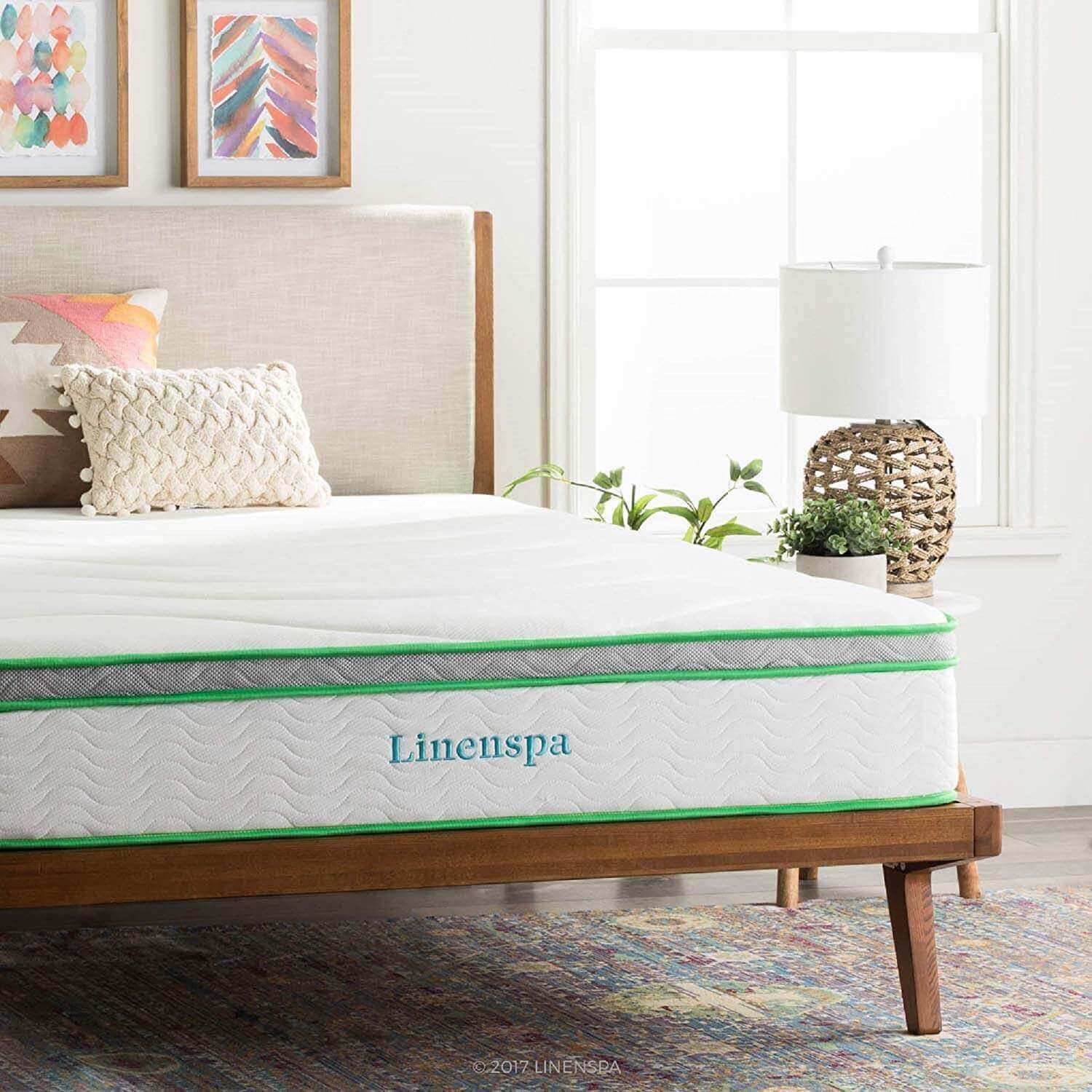 Let me start my review of Linenspa mattresses with this hybrid latex bed. It's here for the medium-firm feel and combination of high-quality materials and thoughtful design.
The pocketed spring system serves as a supportive base of this bed, adapting to your sleep position and compensating for your weight. These coils provide good edge support and a responsive but not too bouncy feel. Thus, you will feel comfortable whether you sleep alone or with a partner.
The mattress has a 3-inch comfort layer of natural latex blended with polyfoam. Along with quilted top, it cradles your body and relieves pressure in all areas, especially if you're a fan of sleeping on your back. Although the percentage of latex is not big, the comfort layers do not retain heat, which means you won't wake up in the middle of the night drowning in your sweat.
The biggest drawback of this mattress is that it may not expand completely. My bed was slightly lower than 10 inches, and the top layer seems to be a bit flatter after two days.
What I love about this bed is how cooling it is. Due to its construction and properly chosen materials, this mattress doesn't trap body heat. No wonder I woke up refreshed every day when testing it.
This Linenspa mattress for hot sleepers is great at doing its job and has a reasonable price, so I believe it can be a good option for many sleepers.
Check out this mattress on amazon
Best for Low-Profile Construction
Linenspa 5-Inch Gel Memory Foam Mattress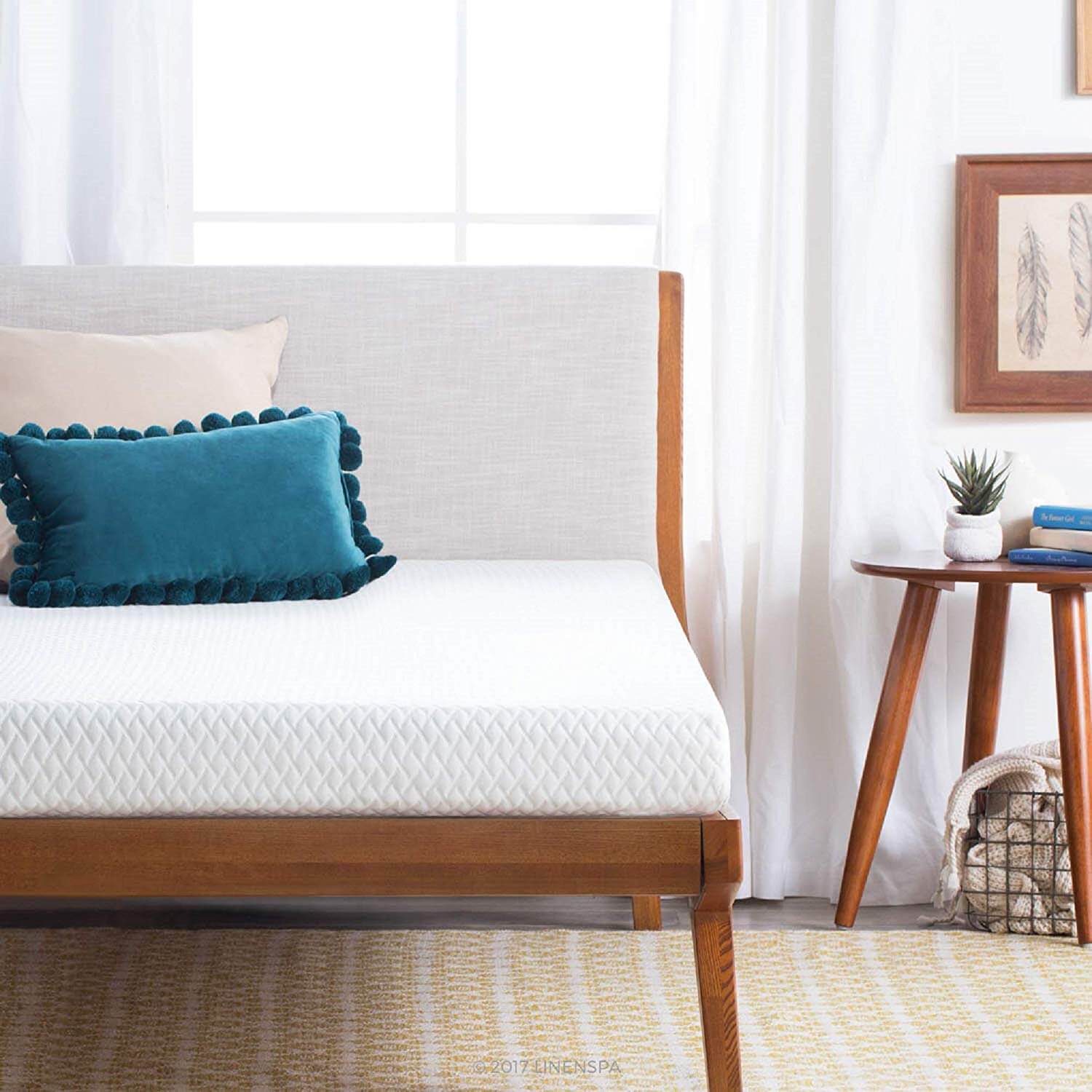 Another bed that I decided to include in my selection of top-rated Linenspa mattresses is this 5-inch thick model. With a low profile and a low price, I believe that it will make a great fit for a bunk bed or a kids bedroom.
Now, this bed has a pretty basic construction. Right under the cover, there's a layer of gel-infused memory foam followed by a dense foam base. The gel infusion allows this mattress to adapt to your body temperature and be less hot than other memory foam models.
The whole construction is pretty sturdy and seems durable. With only five inches of thickness, this low-profile Linenspa mattress is still comfortable and allows some moderate sinkage.
What I didn't like about this model is that it appears to be softer than advertised. Both Amazon and Linenspa websites label it as 'Firm', but in fact, it has more of a medium firm feel. So, if you're searching for a really firm bed, this may not be the one you need.
The thing I appreciate the most about this mattress is its simple, low-profile construction without any bells and whistles. It does have some of that typical foam cradling, which is enough to feel comfortable. But you don't overpay for extra features, which makes it a good choice for guest beds or kids bedroom.
Overall, this mattress might be too basic for a regular bedroom, but I'm sure it will fit into a kids bedroom, guest room, or hospital bed perfectly.
Check out this mattress on amazon
Linenspa 6-Inch Innerspring Mattress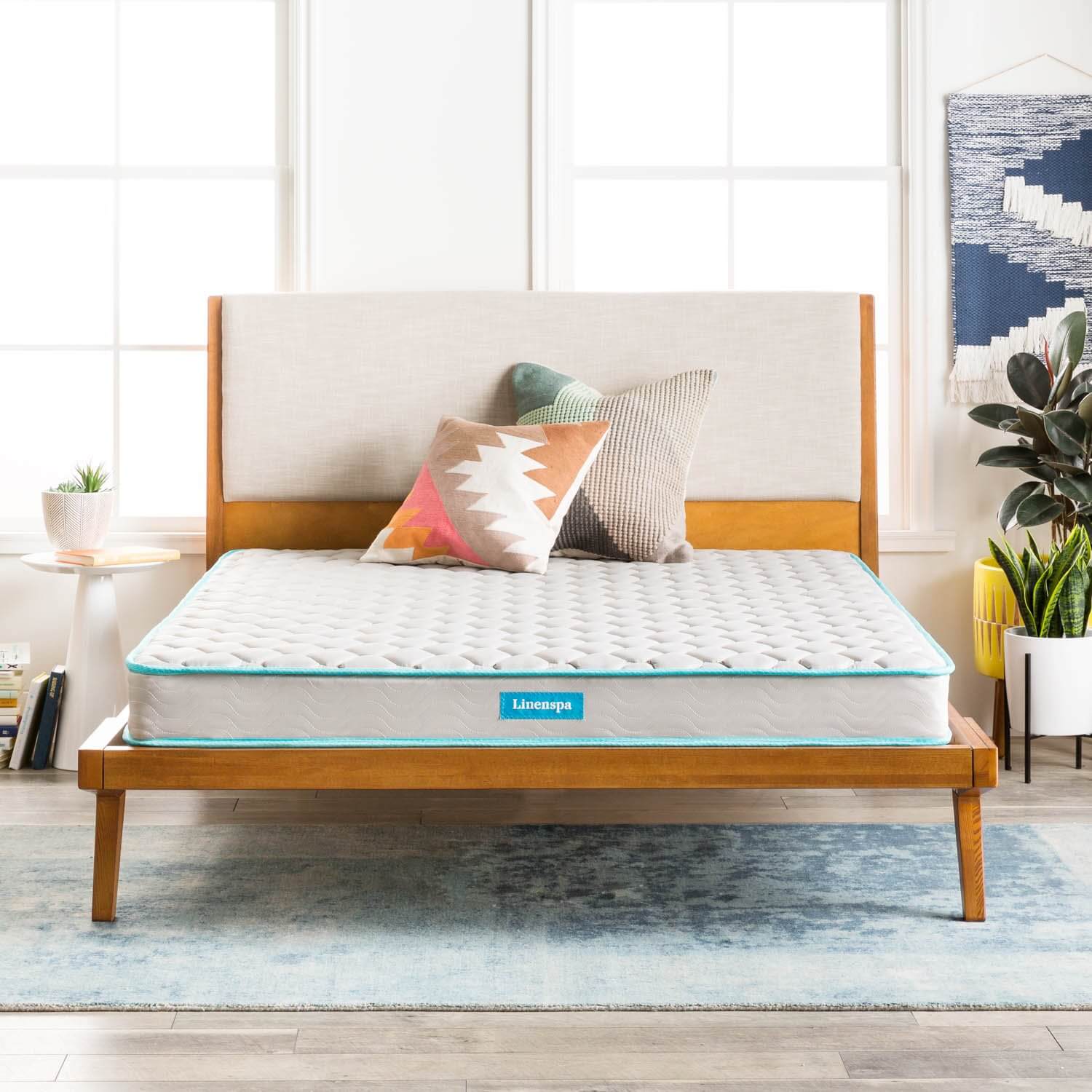 Let's move down my top-rated Linenspa beds review. This innerspring model is here because of how supportive and adaptive it is, especially for heavier users. If you're in the market for a really firm feel, this bed must be your ideal fit.
Now, the significant feature of this firm Linenspa mattress is that it doesn't have any additional comfort layers except the cover quilted with foam padding. Thus, it's similar to those traditional innerspring mattresses that could be found in every home up to a few decades ago. However, thanks to today's innovations, this bed can offer much better support, uniform in all areas.
The coils of this mattress are made of high-gauge tempered steel. This material is extremely durable and supportive and offers you that specific bouncy feel.
Now, the thing I didn't like the most was the subpar motion isolation. I know that it's the weak point of all innerspring mattresses, so it wasn't surprising to discover it in this bed. You should note, though, that the movement was not as noticeable as with some other more expensive models I've tested.
The coolest thing about this innerspring mattress is edge support. Because of this, I believe this Linenspa model will work great for people sleeping with a partner as well as for active sleepers who might roll off the bed in their sleep.
Also Read:
If you prefer floating atop the bed while sleeping and don't mind the bounce, I'm sure you will love this bed.
Check out this mattress on amazon
Linenspa 12-Inch Gel Memory Foam Hybrid Mattress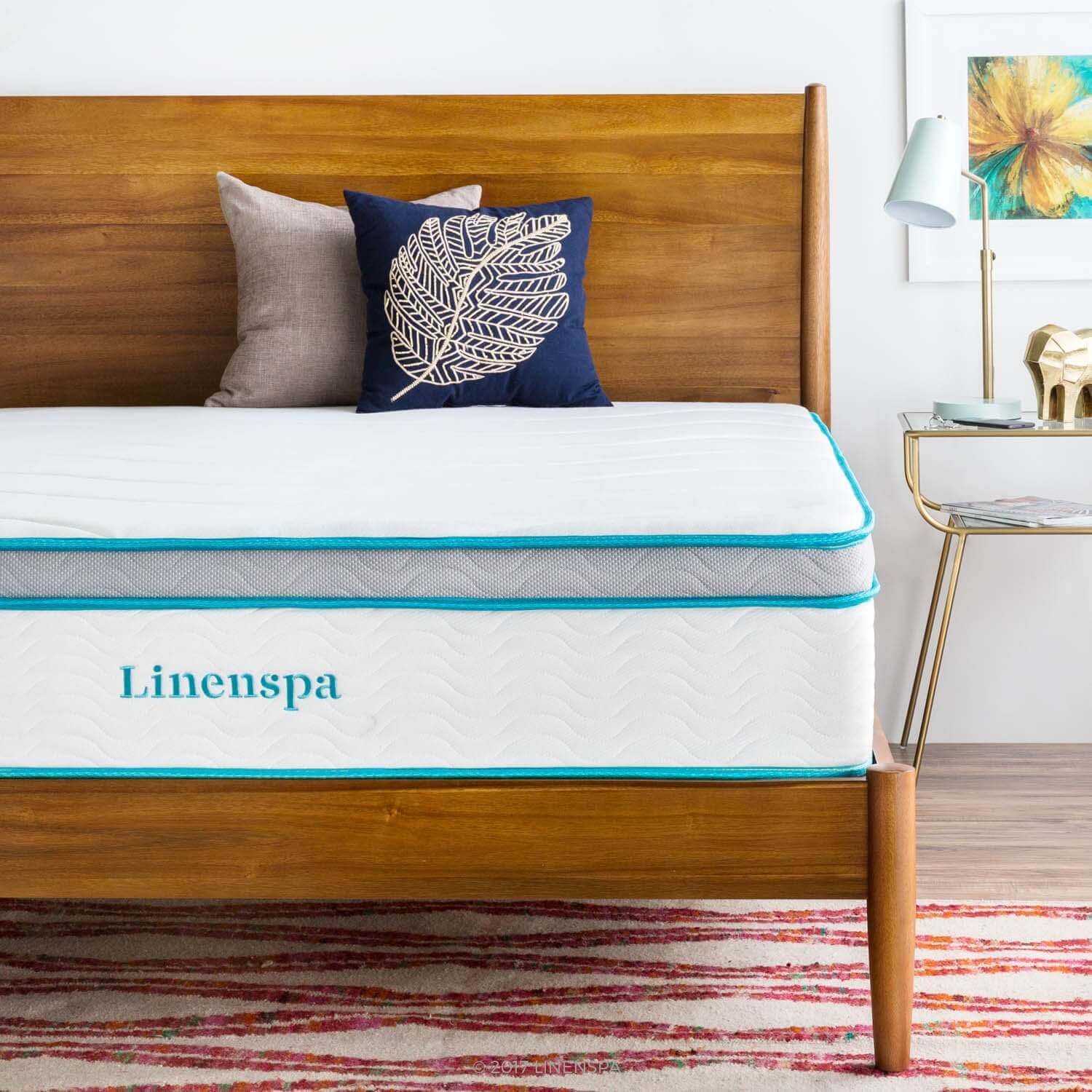 Now, let's take a look at a more plush option. This hybrid model deserves to be in my review of top-rated Linenspa mattresses because of the cloudy cushioning and comfort it provides.
The individually wrapped coils at the bottom of this mattress are great for targeted support of your body in different areas. They help align your spine properly and maintain a relaxed position of your body throughout the night. This Linenspa mattress also has a supportive foam edge around the spring block to reinforce the bed and aid in maintaining its shape for a longer time.
The top layers of foam ensure pressure relief and close conforming to your body in any position. One of these layers is infused with gel beads to withdraw and disperse body heat and make your sleep cooler.
The only flaw of this bed is that despite its sturdy hybrid construction, it may not work for heavy sleepers. The thing is, it's just really too soft for anyone with a weight of more than 150 lbs. For them, softness is a con.
Now, this may sound like a contradiction, but the best thing about this mattress is its softness. If you're an average or lightweight sleeper, you will totally enjoy its plush feel.
Overall, I loved how soft this mattress is. But it's obviously not for everyone. Side sleepers, lightweight people, and all fans of drowning in cushions like me will love this Linenspa bed the most.
Check out this mattress on amazon
Best for Hybrid Construction
Linenspa 8-Inch Memory Foam and Innerspring Hybrid Mattress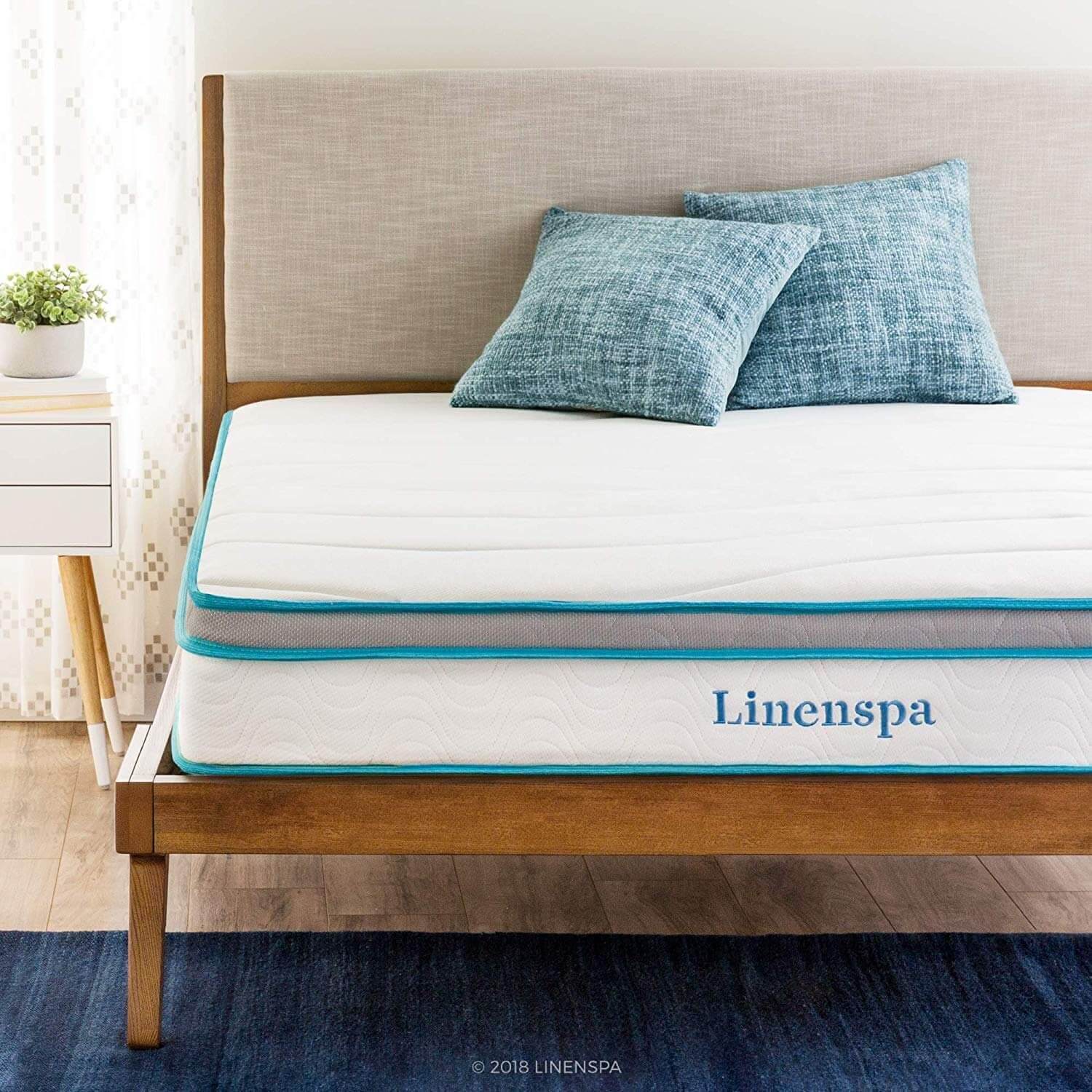 And the last item on my list of the best Linenspa mattresses is, again, a hybrid. It comes in a medium firm option and can satisfy almost any sleeper's needs.
The mattress consists of two layers of foam and a solid spring block. This combo provides a balanced feel and proper support to your body.
The memory foam top aims for cradling your body and maintaining neutral spine alignment in your favorite sleeping position, be it on your side, back, or stomach. It allows some sinkage, but just enough to eliminate the pressure in pressure points, without making you stuck. I'm a combo sleeper, and my wife sleeps on her stomach, and we both felt very supported while sleeping on this Linenspa hybrid mattress.
The only flaw of this bed is the smell. It's pretty intense, and when I tried sleeping on this mattress for the first time, I had to stop the testing mode and switch to a different mattress because of this. The odor diminished two days later, which was good, but it definitely wasn't a pleasant experience.
Now, what I definitely like is that for such a low price, you get a perfect hybrid mattress. It has a balanced feel and offers you both support and sinkage for pressure relief. It's great for both kids and adults and will last for years without emptying your wallet.
For those who want five-star hotel comfort without leaving their room, this mattress is a worthy investment.
Check out this mattress on amazon
Company Information
Linenspa is a major mattress manufacturer well-known around the USA. Founded in 2003, the company claims that its mission is to deliver high-quality, comfortable, and reasonably priced mattresses in every home.
Linenspa is a US-based mattress brand. Their headquarters — where the company makes new models and outlines their design and construction — is located in Utah. However, the manufacturing process is based in China.
Linenspa Mattress Types and Models
The product line consists of several mattress types:
hybrid (coil base + foam or latex comfort layers);

memory foam;

innerspring (spring block + foam pillow-top).
As you see, the choice of mattresses offered by Linenspa can actually please buyers with different demands.
Now, let's talk about models.
There are only six models that the brand offers today:
5'' Gel Memory Foam Mattress;

6'' Innerspring Mattress;

8'' and 10'' Memory Foam and Innerspring Hybrid Mattress;

10'' Latex Hybrid Mattress;

12'' Gel Memory Foam Hybrid Mattress;

Dual-Layered Memory Foam Mattress.
When researching options on Amazon or browsing other online stores, you might come across other models marketed under the Linenspa brand. Note that those could be either older models that are not produced anymore or just misleading marketing.
The price range for a Queen size bed is around $150-400. Some models are also available in less common mattress sizes, such as California King or Twin XL.
Where Can You Buy a Linenspa Mattress?
Currently, Linenspa beds are sold mainly online. The biggest selection can be found on the company's official website, Amazon, and other online retail channels. Sometimes the brand appears in the regular stores but mostly in a limited assortment.
So, you can compare the benefits of online and offline shopping for a mattress, and either wait until your chosen model appears in the nearest mattress store or grab it from an online retailer.
Trial and Return Policy
No matter where you buy a mattress, you need to know the brand's return policy.
Let me outline the main points for you:
All mattresses by Linenspa come with a 30-night trial period. During this period you can return the product and get a full refund.

To return a decompressed bed, find a box big enough to fit it in and put the prepaid shipping label on it. Then you can send a mattress back to the brand's warehouse.

If you don't want to fuss about boxes, then the company has an easier option for you. Find a local charity that accepts mattress donation. Get your bed there under the 'Linenspa' tag and send the picture of a donation receipt to the brand's staff. After that, the company will provide you with a refund.
The time during which your refund will be processed may vary depending on the payment method you choose. For example, if you used PayPal to purchase your mattress, you can get the refund right after you file for it. Credit card users may need to wait for 3-5 business days.
Warranty Coverage
After the trial period is expired, you can make a warranty claim. Linenspa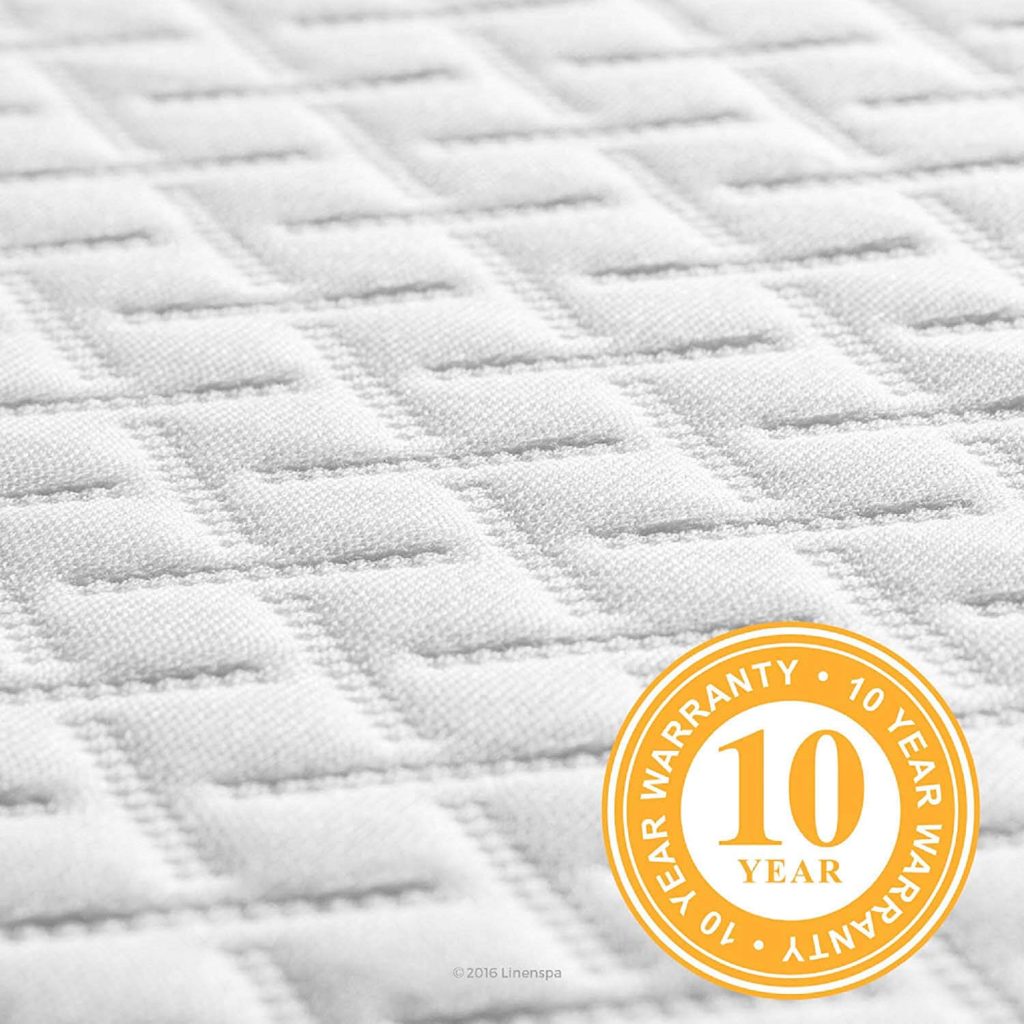 offers its customers 10-year warranty for all beds, which is enough to protect your purchase within the average mattress lifespan.
You can claim your warranty and receive a new mattress if your current bed has workmanship defects or issues with construction and layers. These are standard warranty cases for any budget mattress without extra features.
Remember that spills and stains of any origin will void your warranty, so it's recommended to invest in a waterproof mattress protector and use it since day one.
Shipping Information
There are two shipping options at Linenspa:
free shipping within the US for the order totaling

more than $50

;

flat rate shipping for orders totaling

less than $50

— in this case, an additional

$9.95 shipping fee

will be charged.
Express shipping isn't included, so you must wait for 5-7 days to receive your order in both cases.
The brand will provide you with a tracking number, but you have to wait for around 48 hours for the order to be processed so that your tracking information appears in the database.
What Are the Best Linenspa Mattresses Made Of?
Now, let's talk about what Linenspa puts inside their mattresses: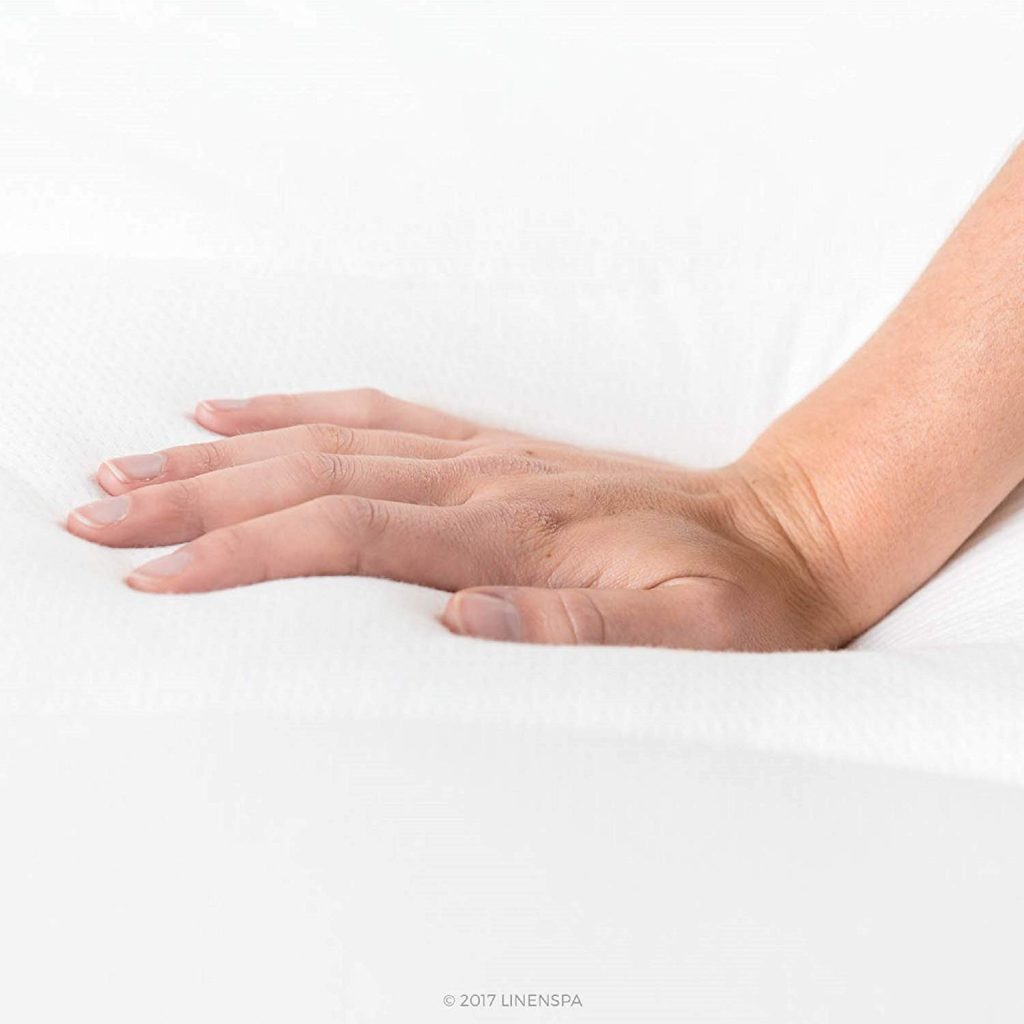 Cover

. The brand uses synthetic materials for a cover fabric. I believe that is bamboo rayon or polyester. The fabric looks rather cheap but is cool to the touch and doesn't seem to provoke skin rashes or allergies. Although some models come with a zippered cover, the company doesn't recommend removing it, as it may ruin the fiberglass fire retardant layer. You can do some spot cleaning with mild dish soap and warm water if you want to wash the cover.
According to Linenspa's customer support, removing and washing the cover will void the warranty. Just something to keep in mind.
Foams

. Linenspa foams have different densities, and their cooling properties vary from model to model. For example, the 12-inch mattress has an additional layer of gel-infused foam, while 6, 8 and 10-inch beds don't have this infusion. I didn't experience any issues with sleeping hot when testing these mattresses, but if you live in a hot climate or just want a more noticeable cooling effect, you may want to consider models without foam layers.

Latex.

One of the Linenspa hybrid mattresses has a blended latex layer for better comfort and breathability. Although it's not a 100% natural latex, this material is bouncy and responsive. Plus, its cooling properties are not inferior to those of pure latex.

Coils.

Both pocketed coils and a solid spring system are made from tempered high-gauge steel. This results in a sturdy base with proper support throughout the whole sleeping surface, including the edges.
All Linenspa materials have CertiPUR-US certification. This means that they don't contain any phthalates, harsh chemicals, and other things that can disrupt your sleep or hurt your health.
What People Will Benefit from Linenspa Mattresses?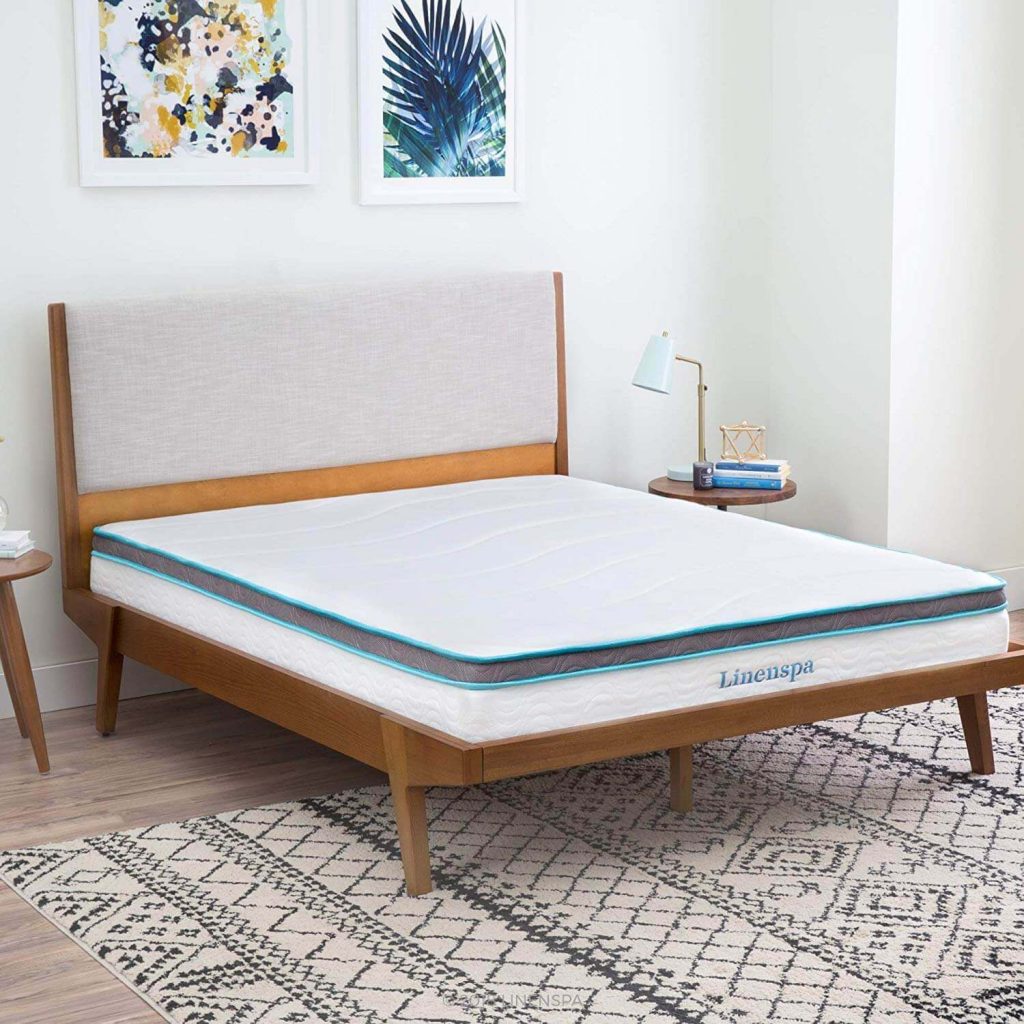 No matter how good a mattress is, it can't work for anyone.
Given all the features and specifics mentioned above, we can suggest that the following groups of people may benefit from sleeping on Linenspa mattresses the most:
Back and stomach sleepers.

According to

Linenspa mattress reviews

, most models in the company's line-up have medium to firm feel. This is great for those who sleep lying flat on their back or stomach.

Heavy sleepers/couples.

Firmer mattresses are good at compensating for the increased load and distributing it evenly around the sleeping surface. So, if you're a large person that doesn't want to sink into the cushy foam, or if you have another sleeper by your side so that the load put on the mattress doubles, Linenspa hybrid beds may work for you very well.

Hot sleepers

. Hybrid mattress construction is more breathable than a foam one. Linenspa hybrid mattresses don't trap heat and can give you a cooler sleep. Models with latex or gel-infused foam layers can also provide a cooler sleeping experience, without sacrificing comfort and cradling properties.

Fans of 'plush cloud' or 'hard floor' feel.

While ¾ of people consider the medium firmness to be the most comfortable, there are fans of extremities (such as me, who loves to drown in cushions). So, whether you're looking for a firmer mattress or a plush one, Linenspa can offer both.

Back pain sufferers

. Hybrid mattresses have the most balanced feel of all beds on the market. Thus, if some areas of your spine need more support and relaxations, Linenspa has a few nice hybrid models. They will offer you excellent pressure relief and will maintain correct spine alignment throughout the night.

People prone to allergies

. Linenspa uses certified materials to make their beds, so if you're suffering from allergies or dermatitis, choose this brand. Also, springs and dense foam layers slow the build-up of dust particles and are immune to mildew, which are the most prevalent allergens found in homes. However, I advise you to invest in a mattress encasement for enhanced protection.
Conclusion
Now you know one more reliable mattress brand that offers great value for money.
It's great we have such companies as Linenspa, because why spend more for the same basic functionality?
If you agree with me on this, you'll surely agree that the best model in the brand's line-up is the Linenspa 12-Inch Gel Memory Foam Hybrid Mattress. Out of all the budget hybrids that I've tested, this bed has the most balanced feel. It's also suitable for literally any sleeping position and body weight. Thus, I'm sure it can work for most sleepers.
My second favorite is the Linenspa 10-Inch Latex Hybrid Mattress. Excellent breathability, good edge support, and a nice bounce are exactly what many of you are looking for. And the best thing is, despite its affordability, this mattress can last for years to come.
Are you looking to buy a Linenspa bed as a replacement for your old mattress? Which model from this list is the most appealing for you? Share your thoughts in the comment section below!
Product links on Happysleepyhead are referral. We get a commission on purchases made through our links at no additional cost to you. More information in my disclosures.