7 Best Pillows for Combination Sleepers with Great Value for Money
by | Last Updated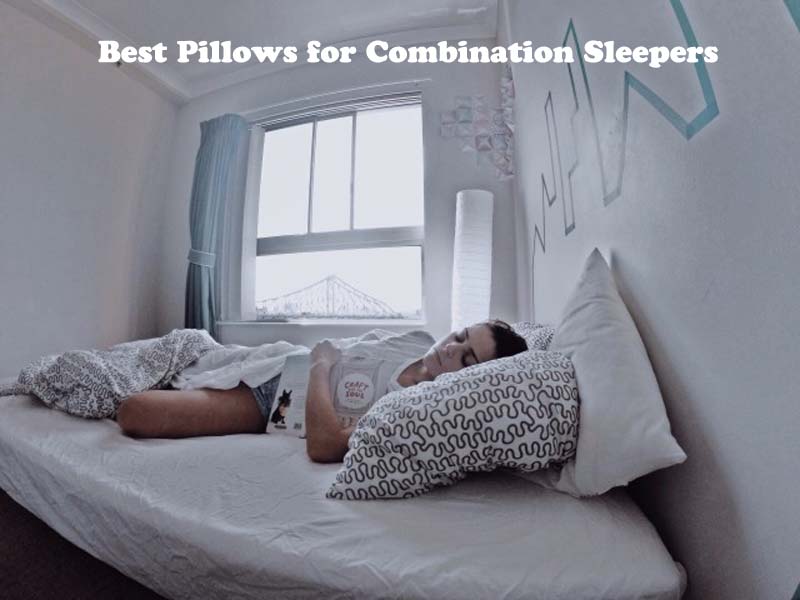 There are thousands of guides on how to choose a perfect pillow.
However, most of them revolve around one particular sleeping position — back, side, or stomach sleeping.
But what if you feel comfortable in each of them and just switch from one to another during the night?
Don't panic! I've got your back.
After nights of testing, I can finally share my reviews of 7 best pillows for combination sleepers. Let's see which one can ensure the most peaceful night.
Model
Materials
Dimensions
Trial & Warranty
Rating
Snuggle-Pedic
shredded memory foam fill
+ bamboo viscose cover
19'' x 26'' (Standard)
20'' x 28'' (Queen)
20'' x 35'' (King)
120-night trial;
20-year warranty
Luxuredown
goose down fill
+ cotton outer case
20'' x 26'' (Standard)
20'' x 30'' (Queen)
20'' x 36'' (King)
Not Specified
Coop Home Goods
shredded memory foam fill
+ interlock fabric inner case
+ bamboo rayon cover
20'' x 30'' (Queen)
20'' x 36'' (King)
100-night trial;
5-year warranty
Pancake Pillow
microfiber down fill
+ gusset sidings
+ 100% cotton outer case
18'' x 26'' (Standard/Queen)
18'' x 34'' (King)
30-day trial & warranty
Perfect Cloud
solid memory foam fill
+ Gusset mesh siding
+ textile knit cover
16'' x 24'' (Standard)
30-day trial;
3-year warranty
Coisum
dense memory foam fill
+ polyester knit cover
15'' x 24.4'' (Standard)
Not Specified
Organic Textiles
100% latex fill
+ organic cotton cover
16'' x 25'' (Standard)
16'' x 30'' (Queen)
16'' x 34'' (King)
30-day trial;
1-year warranty
Our Reviews of 7 Best Pillows for Combination Sleepers
Editor's Choice — Best for Cooler Sleep – Snuggle-Pedic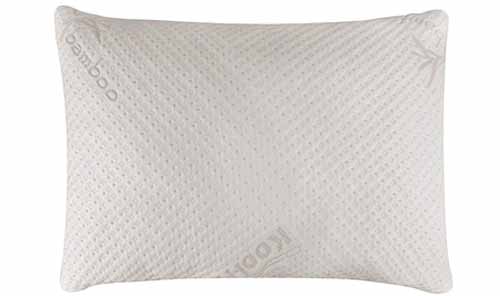 The second model on my list of top-rated pillows for mixed sleepers also has shredded foam fill for better moldability. But unlike other similar models, the Snuggle-Pedic aims to make your sleep as refreshing as the sea breeze.
The foam shreds allow the air to circulate freely inside the pillow, and the perforated bamboo cover additionally enhances breathability and feels incredibly cool.
Now, the Snuggle-Pedic conforms to your head and neck in any sleeping position. It has a zipper on the inner case so that you could add or remove the filling to reach the desired level of support and fluffiness.
The brand also eliminates any hygiene concerns by making both the cover and the pillow washing machine friendly. Just follow the recommendations provided with the pillow, and you'll be happy.
The thing I didn't like about the Snuggle-Pedic is smell. The brand uses infused foams, and they smell nice but strong. I needed a few days to let the odor air out, so keep that in mind.
However, the cooling properties of this pillow are off the charts. The Snuggle-Pedic is cool to the touch and won't allow you to overheat even on a hot summer night.
I believe that the Snuggle-Pedic will be great for mixed sleepers who sleep hot, making them comfortably snuggle in their bed and peacefully drift off.
check out this pillow on amazon
Best for Natural Materials – Luxuredown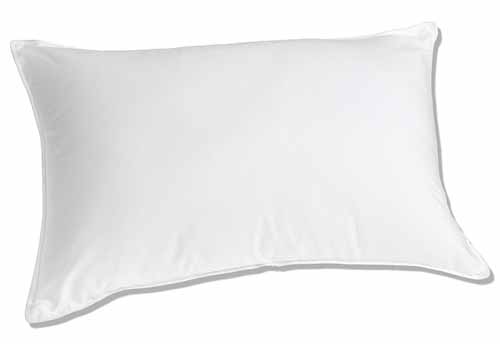 And now we're switching to natural pillows. The Luxuredown is on my list of top-rated pillows for combo sleepers because it is 100% organic and can work great for individuals that have breathing disorders or skin problems.
The feathers and down of white goose serve as a fill of this pillow. It's fluffy enough and can mold to your neck, which is great if you have occasional neck pain. The pillow has medium firmness, meaning it can work for combo sleepers very well.
Moreover, the goose down is breathable and can help your body balance the temperature during the night so that you would feel comfy and cool. Top it with the cotton cover that wicks away moisture — and here comes your own sleeping cloud.
Now, the thing I didn't like about the Luxuredown is its smell. I mean, you can actually smell the goose for a couple of days, which is not very pleasant. So, you may want to keep a scented sachet near your pillow or use a thicker pillowcase.
But the use of natural materials is what makes this pillow a worthy investment. Goose down is very fluffy and moldable, which makes it a particularly good choice for people who have health conditions causing pain, such as arthritis. Plus, it's breathable and hypoallergenic.
Let's jump to the pros and cons:
Overall, I would suggest purchasing Luxuredown to any combo sleeper who wants an all-natural pillow with a good support level.
check out this pillow on amazon
Best for Cradling – Coop Home Goods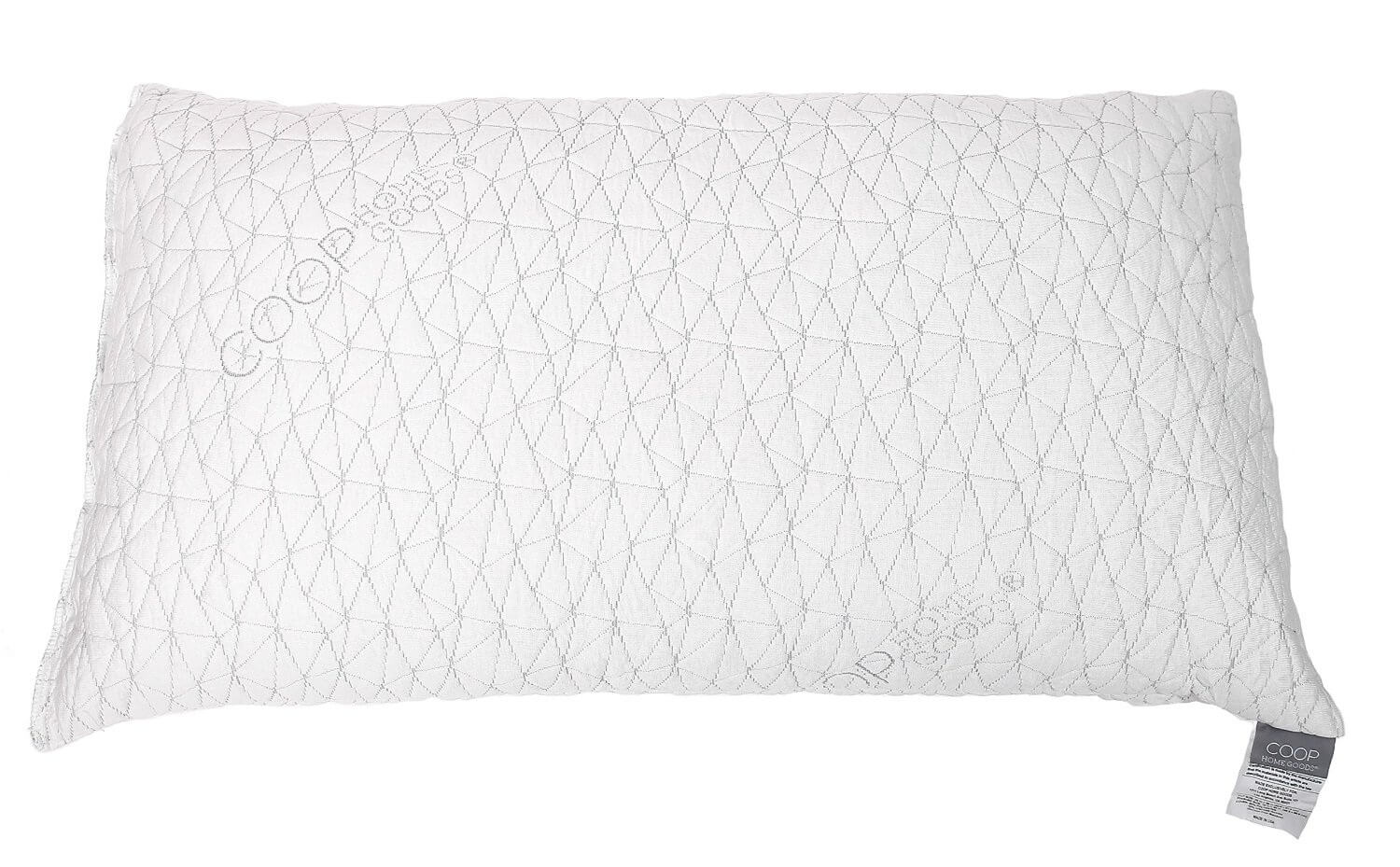 My selection of the best pillows for combination sleepers begins with the model by Coop Home Goods. This pillow will gently cradle and relax your head and neck, leaving a little room for customization, too.
Now, the brand uses its patented fill made from shredded memory foam and microfiber. This results in a very moldable fluffy pillow that can easily support your head in different positions.
Moreover, you can adjust the loft to your liking. I found the default loft to be too high for me, so I just unzipped the inner case and took away some fill — and the next testing night was way better.
Thanks to the shredded foam that traps less heat and the outer case made from breathable bamboo rayon, this pillow sleeps cooler than similar models. The cover is soft to the touch and washable, making the overall maintenance as easy as pie.
However, I think that even with the thinnest loft possible this pillow is still a bit uncomfortable for stomach sleepers. At least, my wife, who sleeps on her stomach, admitted she had a bit of sore neck in the morning, having slept a night on this pillow.
But the greatest advantage of this model by Coop Home Goods is its ability to cradle your head and neck. I was falling asleep in seconds with this pillow and waking up relaxed and refreshed.
So, if you're back and side combo sleeper and want a pillow that will mold to your head in each position, this model will work for you.
check out this pillow on amazon
The Most Customizable Choice – Pancake Pillow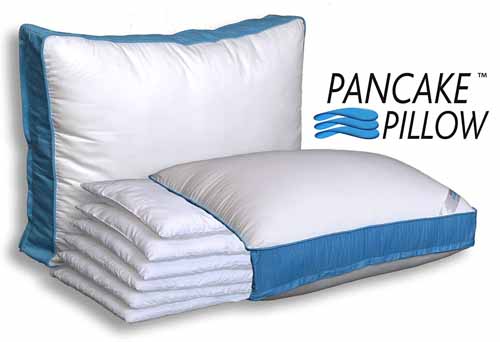 Another candidate to be called the best pillows for mixed sleepers is the Pancake Pillow. This model is, in my opinion, the Queen of customization, because it packs six inserts inside and can meet the most common sleeping demands.
I found that 1-2 inserts are totally enough to support a stomach sleeper (my wife approves), back sleepers need 4 inserts to support their neck, and side sleepers can use a full pack. But as a combo sleeper, you can experiment with the inserts, and I'm sure you will find the configuration to love.
The fill of the pillows is made from down alternative and is very fluffy and soft. I believe that it can help sleepers with neck or shoulder pain feel relaxed. The brand also sells separate pillow cases where you can put the layers you don't use.
So, what could be the downside of the Pancake pillow? Well, my only complaint is that it might sleep hot, as you pack more layers inside. So, if you're a hot sleeper, you may want to choose more breathable options.
But the thing that left me the most excited is the incredible versatility that this pillow provides! You can adapt it to any sleeping style you choose and feel supported and relaxed.
I think that the Pancake Pillow may be adjusted to provide comfort to any sleeper, as long as they don't tend to get hot during sleep or use an AC at night.
check out this pillow on amazon
Best for Memory Foam Feel – Perfect Cloud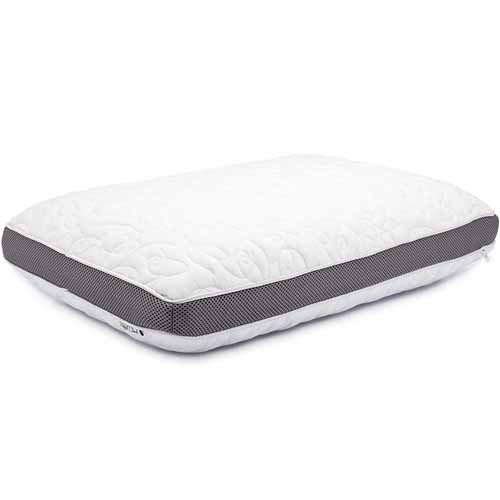 Finding a solid memory foam pillow that won't drown you in your sweat during sleep might be difficult. But this model by Perfect Cloud solves this issue, and that's why I included it in my review of pillows for combination sleepers.
So, this pillow is made of memory foam and is infused with air. That is, its structure allows the air to circulate freely under your head. Mesh sidings enhance that effect for even better breathability.
The loft of the pillow is thick enough to support back and side sleepers without creating tension in their neck and shoulders. And thanks to the moldability of memory foam, the Perfect Cloud will gently hug their head during the night.
My only complaint about this pillow is that it might feel firmer than expected because the foam may feel quite dense at first. You just need to give a couple of days to adjust to this, and obviously, your sleep might not be 100% comfortable during this time.
But the greatest feature of this pillow is the contouring it provides. You will get the classic memory foam feel yet cooler sleep and will get comfortable in almost any position you choose.
I can recommend the Perfect Cloud to people who want more uniform support during sleep, as it comes as a solid piece of memory foam. After you adjust to this pillow, you will be totally happy.
check out this pillow on amazon
Best Pillow for Combination Sleepers with Neck and Shoulder Pain – Coisum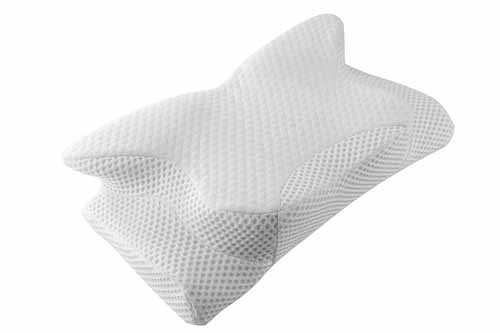 The next contestant in my review of pillows for combination sleepers is designed for those who need a bit more support and relief. The Coisum is an orthopedic pillow you can use when sleeping on your side or back to ensure yourself a therapeutic sleep.
The upper side of this pillow has two so-called horns which help position your neck and head properly if you're a back sleeper. The lower side is intended to support the cervical region while you're sleeping on your side. But I should say I felt pretty comfortable on each side in both positions.
The Coisum is made of durable memory foam for close conforming. It also has an inner polyester protector and a washable bamboo cover with perforation and mesh gussets for better breathability.
Now, the downsides. I cannot say this about my pillow but some user reviews mention that Coisum foam isn't as resilient as promised, so the pillow might flatten in the first year of use.
But the pain relief that this pillow can provide is just perfect. I was testing it after a rough day and my neck hurt so badly. The morning after I barely noticed any symptoms and felt that my shoulders straightened up a bit as well.
If you live a sedentary life or suffer from neck pain, the Coisum pillow will make a worthy purchase for you.
check out this pillow on amazon
Best Latex Construction – Organic Textiles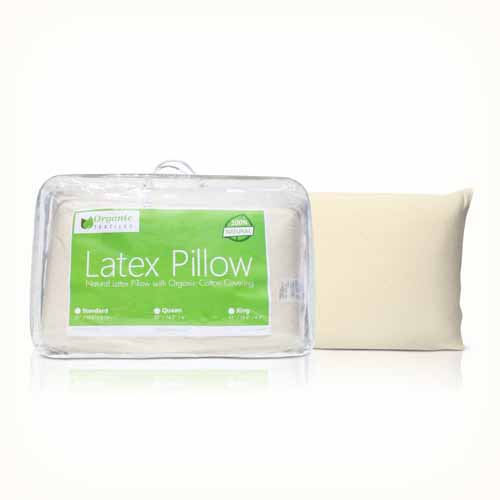 And the last model on my list of top-rated pillows for mixed sleepers is this latex model by Organic Textiles. This pillow can easily provide you pinpoint support in any sleeping position you prefer because it comes in four different firmness options!
Now, latex is more dense and spongy than synthetic foams, meaning the pillow may feel a bit firmer at the beginning. But after a couple of nights, it will mold to your neck profile and provide you the comfort and relief that you need.
Nothing beats latex when it comes to cool sleeping. This pillow stands out even more by providing better airflow thanks to perforations along the surface.
Still, this pillow isn't perfect. I noticed that the medium-firm option — which I've found to be the most comfortable for combo sleeping — may offer a bit uneven support on both sides. This might have been just a defect, but it's still something to keep that in mind.
What I love the most about this model by Organic Textiles is that you can get an all-latex pillow with great contouring properties for less than $65 for a Queen! If you're a fan of latex, this should be a go-to option for you.
I believe that this will be a great pillow for combo sleepers with allergies or those who are concerned about the ecology.
check out this pillow on amazon
Combination Sleeping Explained
So, the term 'mixed sleeper' basically refers to any person who switches between at least two sleeping positions during a single night. A major part of the global population is comprised of combination sleepers. And it's not surprising, as it would be quite uncomfortable to spend the entire night in one position.
Now, let's talk about what makes the best pillow for combination sleepers depending on the position you sleep in the most: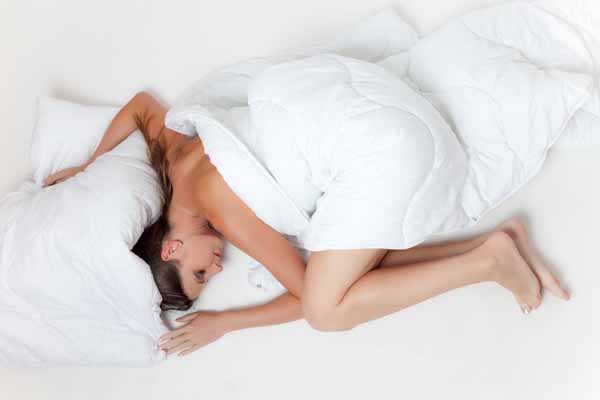 Back sleeping

. In this position, your neck and spine have the most natural alignment without awkward twisting, so all your pillow has to do is to maintain this position. Usually, pillows with medium height and firmness are the most suitable in this case.

Stomach sleeping. Stomach sleepers are a rare breed, however, they do require the same support for their neck during sleep. A perfect pillow for stomach sleepers is thin and moldable so that it would offer the needed support in the cervical area without straining neck muscles.
Side sleeping

. Sleeping on the side is the most common position. However, it can put a strain on the several areas of your body, including the neck. A

good pillow for side sleepers

needs to be higher and firmer so that it could keep your neck parallel to the mattress.
As you can see, the right pillow for combination sleepers should be able to provide the comfort and proper neck support in all sleeping position you choose. And actually, it's not that hard to find your perfect one once you know your personal needs.
The Best and the Worst Types of Pillows for Combo Sleepers
There are dozens of different types of pillows on the market today and all of them have their pros and cons. Below, I will try to explain the most and the least suitable types for mixed sleepers, according to my experience and some reviews of pillows for combo sleepers that I found on the Web.
Down and Down Alternatives
I personally think that it's the best pillow type for combination sleepers, especially for those who don't track their sleeping positions during the night. Down pillows have several benefits:
you can fluff and mold them to your liking;

they sleep cool;

they're hypoallergenic;

they often have an adjustable loft.
The most common drawbacks of these pillows include;
formation of lumps;

flattening;

quicker dust build-up (if not maintained properly).
Doctors often recommend down pillows for neck pain relief. Thus, if you're struggling with some pain issues, this might be a good option for you.
Shredded Foam
Another great material in pillows for combo sleepers is shredded foam. Just like down and down alternatives, this material is fluffy and moldable. I personally love such pillows for they literally form a relaxing cloud around my head.
However, shredded foam isn't devoid of some flaws:
although it traps less heat, it still may sleep hot, similarly to non-shredded foam;

stronger chemical odor thanks to a more open structure.
Look for GreenGuard, CertiPUR-US and other certification tags. The foam may still have some smell, but you can be sure that it isn't harmful to you at least.
Buckwheat
If you want naturals materials that will nicely mold to your head, then a buckwheat pillow is perfect for you. Buckwheat hulls are odorless and breathable, so you won't sleep hot. Besides, they can offer you some sort of a micro-massage, which may have an additional therapeutic effect.
However, the two things that might turn you off these pillows are their weight and the noise that the hulls make when you try to fluff the pillow. The latter can be really annoying, but some people, conversely, like it.
Latex
Latex is another natural material with plenty of benefits, such as breathability, dust-mite and mold resistance, and close conforming.
Yet, latex pillows typically don't come in a low profile, so they'll likely be too high for stomach sleepers.
Memory Foam
Memory foam pillows are among the most popular on the market. They come in a variety of firmness options that can satisfy the most common demands. Speaking of mixed sleepers, though, there's a bit of a lottery if you decide to choose the memory foam pillow. Most of them are suitable for one particular sleeping position and won't work well in others.
Make the most of trial and return policies. That is if you feel the pillow is not right for you, do not hesitate to return it. Otherwise, you risk developing some spine issues.
Benefits of Sleeping on the Right Pillow
A pillow is the second most important item in your bedroom, with the mattress being the first. If you choose the one that will match your mixed sleeping style, it will provide you with plenty of health benefits, such as:
Better sleep

. You may get your eight hours of ZZZ, but if you wake up multiple times during the night, that doesn't sound like optimal sleep. The right pillow can solve these issues and make your nighttime rest less interrupted.

No morning headaches

. Many customer

reviews of combination sleeper pillows

mentioned that users got rid of the annoying tension headache in the morning. So, if you think that your head explodes because of your unbearable boss or a newborn at home, you may actually just try changing your pillow to the more suitable one and see if this works.

Better posture.

Are you surprised? Actually, the right pillow can improve your posture and alleviate slouching by maintaining the spine aligned and relaxed throughout the night.

Reduced snoring

. Back sleepers tend to snore more than others. However, the right pillow that holds its shape can create the right incline to keep your airways open. Thus, it can reduce snoring symptoms. Note that this isn't a complete solution, and you still need to visit a doctor.
What Makes the Best Pillow for Combination Sleepers?
So, you've seen my reviews and made it to this point in reading this guide. Let's recap some key qualities that you need to look for when searching a pillow for a mixed sleeper on your own:
Loft.

The height of the pillow is the trickiest part because what works perfectly for a stomach sleeper may be awful for a side sleeper. That's why you need to spend some time testing or purchase the model with the room for customization and adjustable lofts.

Firmness

. Different sleeping positions require different firmness as well. Although according to online user

reviews of pillows for combination sleepers

, the medium-firm level remains the most comfortable for almost all sleepers, you still need to track the position you sleep in more frequently. Keep a sleep log for at least a week, and this will significantly narrow down your search in many aspects.

Durability

. Combo sleepers utilize their pillow more actively, so it has to be durable to withstand it. Many brands make their pillows washable and dryer-friendly, which is a plus for easier maintenance and longer lifespan.
How often you switch your sleeping position during the night is another important thing to consider. If you wake up trying to adjust your pillow every time, then simply choose the moldable one to ease your struggle.
Final Word
Hopefully, this review of pillows for combination sleepers will serve as a good cheat sheet for you during your research. All the models in here offer great value for money and can provide you the support and relief an average combo sleeper needs.
And now I will point out my personal favorite.
It's the Snuggle-Pedic. This pillow is durable and conforms to your head in any sleeping position. It also features temperature neutral materials to keep you cool even on a hot summer night.
But if you need a more natural yet still cradling option for your sore neck, the Luxuredown might be the pillow you need. Despite some minor flaws, it offers great support and is very moldable.
What sleeping position brings the most comfort to you as a comfort sleeper? Do you think that any of the models above can meet your demands? Share your thought below!
Product links on Happysleepyhead are referral. We get a commission on purchases made through our links at no additional cost to you. More information in my disclosures.