The 6 Best Pillows For Stomach Sleepers You Can Buy Online
by | Last Updated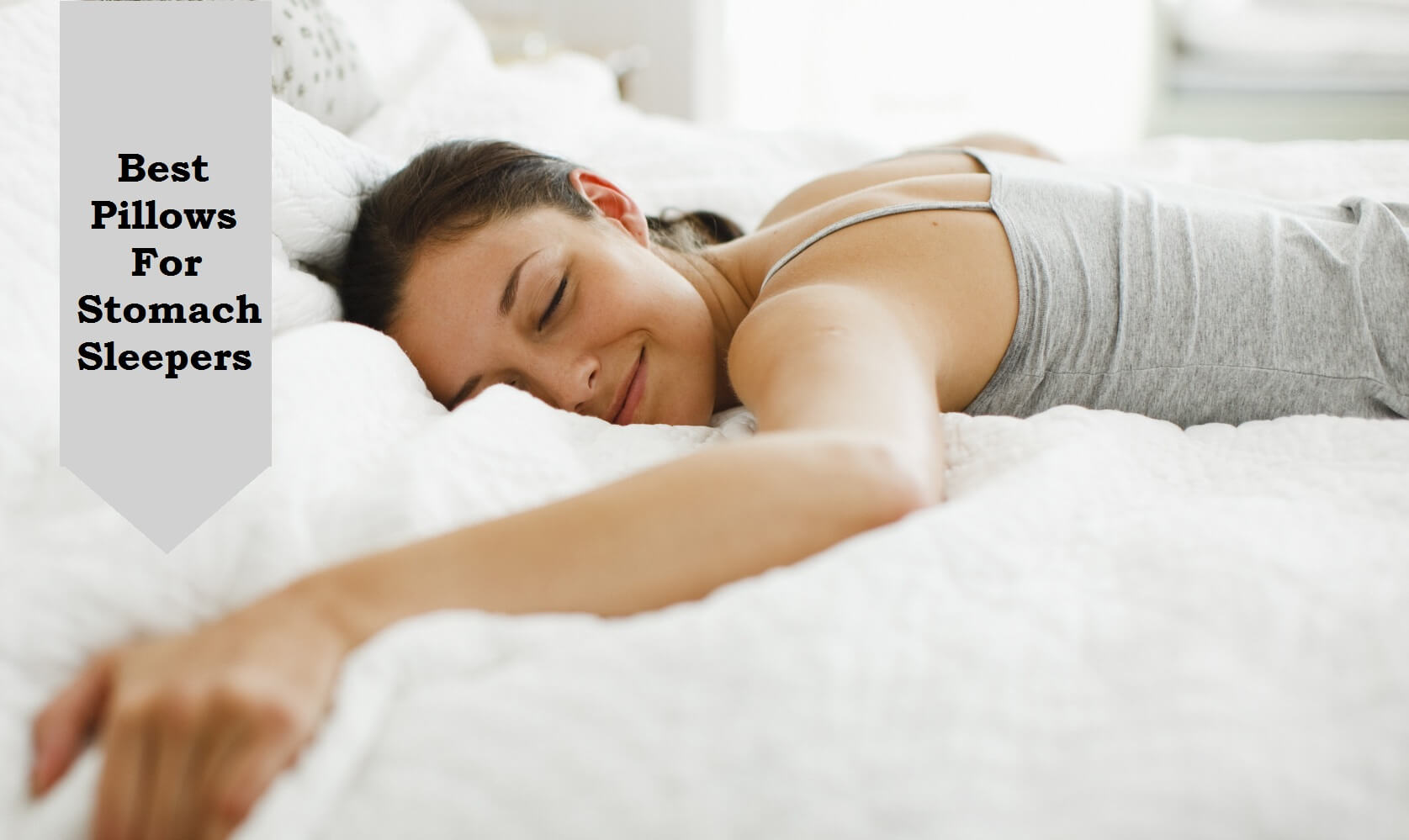 If you are a stomach sleeper:
Are you spending unnecessary time fluffing your pillows?

Are you getting frustrated every night trying to position your pillows "Just Right" ?

Do you suffer allergies from down pillows, waking up stuffy every morning?

Are you sneezing often due to dust mites?

Are you losing lots of sleep because you can't get comfortable?
If you answered "YES" to any one of these questions, it's time for a new pillow!
Finding the best pillow for stomach sleepers can be a daunting task. One is too soft, another one is too firm, one is too small, one is too big, and so on…
Here, we take the mystery out of shopping for the "perfect pillow" with our review of the 6 top rated pillows for stomach sleepers.
Best Cooling Pillow for Stomach Sleepers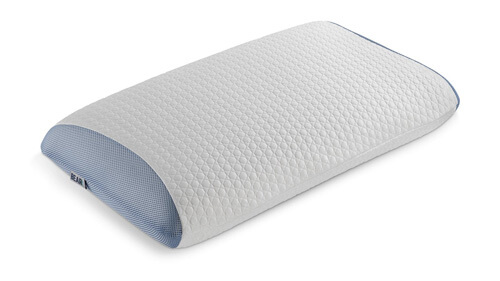 This top-rated pillow for stomach sleepers is medium high and medium firm, which makes it suitable for sleepers in different weight categories, even lightweight ones. Besides, combo sleepers who sleep both on their stomach and on their back will feel quite comfortable on it due to the medium loft. "Only 7% of Americans sleep on their stomach, with their head turned to the right or to the left and arms wrapped around a pillow."
The pillow is very conforming and soft to the touch. Being made from a breathable one-piece polyfoam and a cooling blend cover with mesh panels, it will ensure you don't get sweaty during the night. I was really amazed by how cool to the touch this pillow is.
The company offers a 2-year warranty and a 100-night sleep trial with a 30-night break-in period.
The best thing about this pillow is the combination of bounce and cradling it offers. The proprietary polyfoam, which serves as the filling, was designed to provide a bouncier response, similar to latex pillows. Still, it is foam so it's very conforming.
The thing that disappointed me the most was the lack of moldability. If you're anything like me, which means you love snuggling with something in your sleep, this pillow is probably not the best option for you. It's a solid piece of foam, so there's not much you can do with it in terms of snuggling and fluffing.
Best Pillow for Stomach Sleepers with Neck Pain
Coop Home Goods Eden Pillow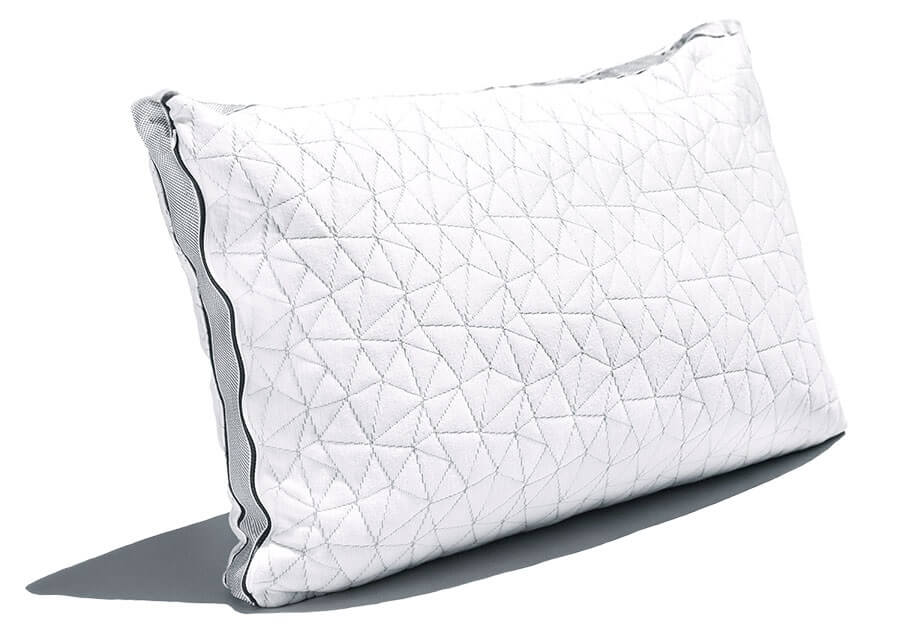 The Eden pillow by Coop Home Goods is one of the most customizable pillows on the market. It allows you to adjust the loft depending on your weight, the type of your mattress, and other things you factor in. The pillow comes overstuffed, so you just need to remove as much filling as you need, then mold it to give it the shape you like.
Here's the deal:
This Coop's pillow offers great shape retention properties. It won't get flat over time, which makes it suitable even for heavier sleepers.
I've been sleeping on this pillow for a couple of days, and I should say it was able to adjust to my head and neck rather quickly, providing above-average pressure relief. In addition to that, it sleeps rather cool, thanks to the shredded memory foam filling and the bamboo rayon cover.
You can try this pillow for 100 nights. It is covered by a 5-year warranty.
The coolest thing about this pillow is how soft and snuggly it is. Its bamboo cover is really nice to the touch. And the pillow itself feels rather soft – I would say about 5 out of 10. So, it's a perfect option for stomach sleepers.
The worst thing I've noticed about the Eden was the initial off-gassing. It eventually disappeared, of course, but have been rather strong for quite some time. Even though I put the pillow in the fresh air.
Feel like you can get rid of neck pain with this pillow? Then order it here!
Best Pillow for Heavier Stomach Sleepers

This pillow has made it to this list because of the unique blend of materials (memory foam + down alternative) used to give it a balanced feel of support and softness. It's designed as a pillow-in-pillow, meaning it comes with insert layers you can add or remove for your comfort. "Sleeping on your back is considered to be the most beneficial position for your health, as it ensures natural alignment of a body. Besides, it's great for your face, as you don't spend the whole night being pressed into the pillow and your face is enjoying being out in the air instead."
And the best part is:
It can be configured to be firmer in order to accommodate a heavier sleeper with a bigger head and wider shoulders.
Besides, it's quality made and feels really durable, so I believe it won't sag as quickly as other pillows would when accommodating sleepers with above-average weight.
Helix is protected by a 3-year warranty and a 100-day trial period.
The most amazing thing about this pillow is how versatile it is. I used it without insert layers — which is the thinnest configuration — when I was testing it on my stomach. It was perfectly cradling and supportive. Then, I added one layer, and it still was comfortable, but I feel it would be more suitable for back sleepers. Thus, it's a great option if for people who switch positions occasionally.
The thing I disliked the most about this pillow was the lack of cooling effect. I can't say it sleeps hot, but I didn't notice any significant cooling when sleeping on this pillow. However, Helix has another modification of this model that features a special outer fabric for better temperature regulation. Maybe I should have tried that one.
Best Moldable Pillow for Stomach Sleepers
eLuxury I AM Stomach Sleeper Pillow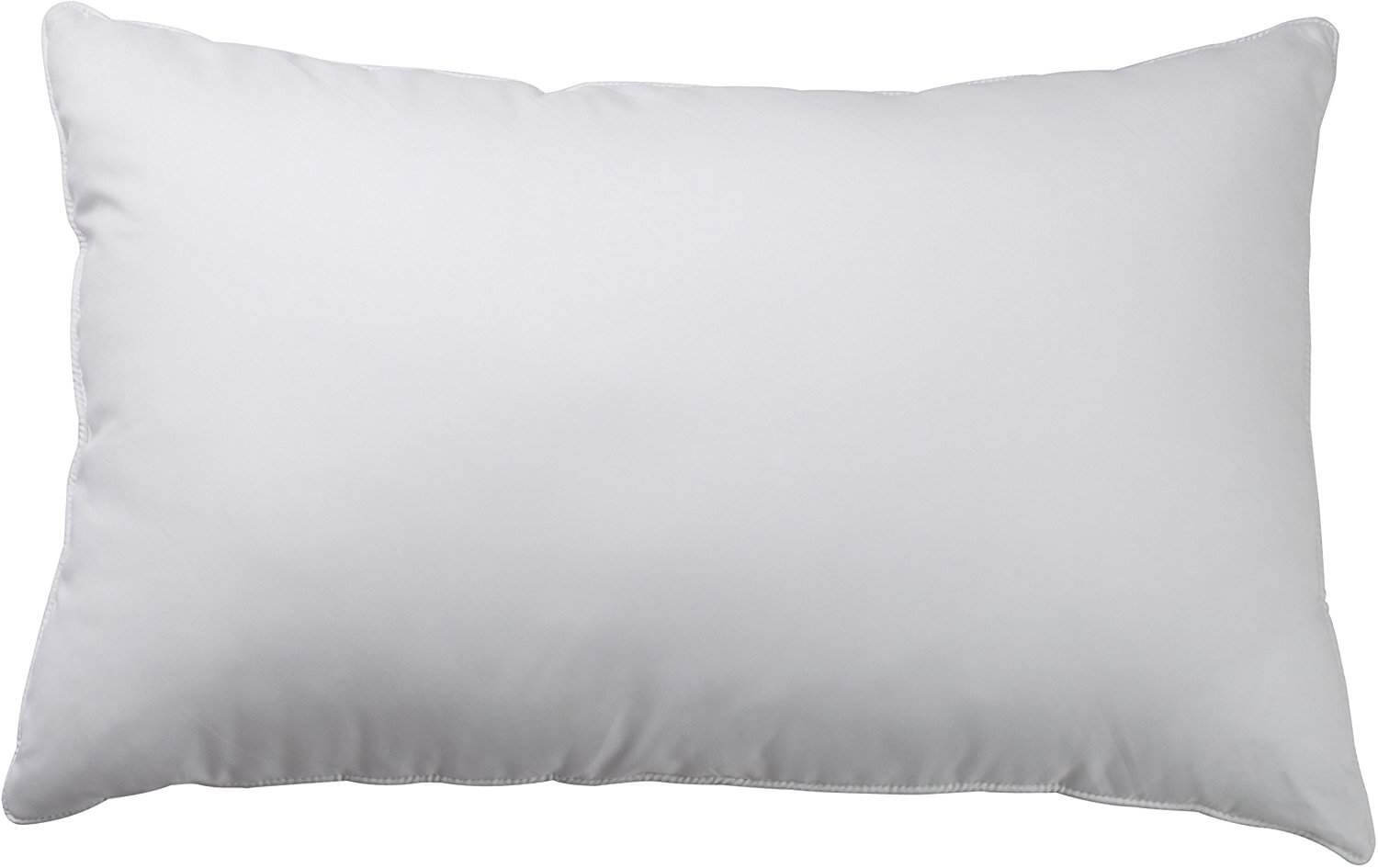 eLuxury Supply designed this pillow specifically for Stomach Sleepers. Their I AM series targets specific sleep types to ensure you get the most comfortable restful night of recuperative sleep. This one is amongst the 6 top rated pillows for stomach sleepers; the eLuxury I AM Stomach Sleeper Pillow made the final cut into this review.
Constructed of 100% cotton, the Never Flat(™) fiberfill filling provides just the right amount of head and neck support. With its Soft/Medium rating, you will wake up feeling refreshed and energized. Additionally, the Never Flat(™) fiberfill is machine washable and dryable, returning it to it's original shape and loft.
And the best part is:
This pillow is so easy to fluff!
It's lightweight and moldable. So, if you're into snuggling with your pillow, it's an ideal option for you. It won't take you any effort to hug it and shape it the way you want during your sleep.
Your sleep – your pillow. Your comfort is the ultimate deciding factor. The soft/medium firmness of this pillow makes it a very popular choice. In my opinion, this pillow provides just the right amount of support for your head if you are a true stomach sleeper.
What is really great with that pillow?
The luxurious feel and softness of 100% cotton, along with it's easy care (machine washable/dryable) make this an excellent choice.
What is wrong with that pillow?
This pillow is rated as a soft/medium firmness; some people claim there is too much loft in these pillows.
check out this pillow on amazon
The Pancake Pillow Luxury Pillow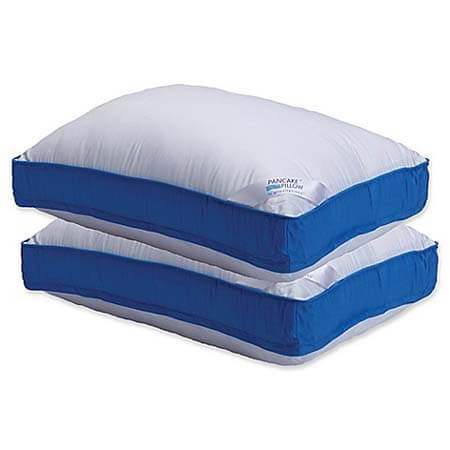 Apart from being an embodiment of adjustability, this pillow also comes with a breathable, hypoallergenic cotton cover. It features a zipper across its three sides, which makes it very easy to add or remove insert layers.
And here's the deal:
You can purchase an extra pillowcase and make two or even more pillows out of one by putting the spare layers in there.
It's the same pillowcase the manufacturer uses for the original pillow, and it's sold on Amazon for only 15 bucks!
No more: "it's too hard" or "it's too soft"; The alternative down-filled baffles allow you to build it to your complete liking. With a 3" gusset, you can add up to 6 layers and feel like you're sleeping on Cloud 9. These pillows have the look and feel of a luxury hotel pillow.
With an overall 84% approval rating, it's rather difficult to find anything "wrong" with this pillow – what it boils down to is a matter of personal preference. Stomach sleepers don't need much in the way of loftiness to keep the spine aligned. This pillow offers you 6 levels of comfort – what more could you ask for?
What is really great with that pillow?
Yes, for ANYONE! Side sleeper, stomach sleeper, back sleeper. This is as close to the perfect pillow and a heavenly night's sleep as you will get. There's no question as to why this made the Review of the 6 Best Pillows for Stomach Sleepers.
What is wrong with that pillow?
The least desirable feature of the Pancake pillow is its softness. Some people just don't care for something that "cuddly" and "smooshy". Most stomach sleepers need just a hint of pillow – while others prefer more firmness.
check out this pillow on amazon
Best One-Piece Memory Foam Pillow for Stomach Sleepers
Cradle Me Thin Memory Foam Pillow – Plush Slim Soft Luxury Pillow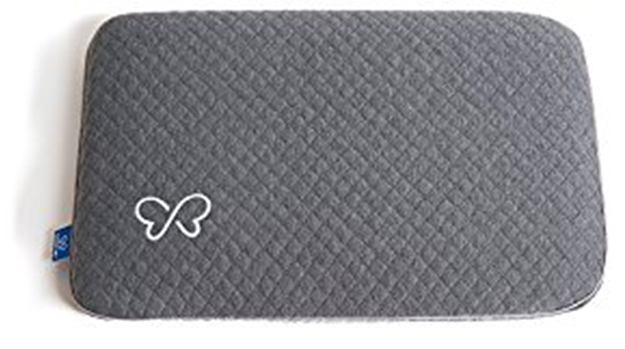 With a 90% 5-star rating, this pillow is rated amongst the top 6 pillows for stomach sleepers and one of the best on the market for back sleepers as well. It's slim design (2.5"-3" profile) provides excellent neck and head support .
The pillow is made from a solid piece of high-grade memory foam, so you don't have to worry that you will feel chunks of the stuffing like with some shredded memory foam models. It provides a supportive, even surface for stomach sleepers to enjoy a restful sleep.
The quilted cover allows for some really great airflow, so I could say this pillow can be the coolest place to rest your head at night.
What is really great with that pillow?
This pillow is constructed of 100% molded memory fold that holds its shape. Since it is not filled with shredded memory foam like other brands, no fluffing is necessary. It is supportive, plush and best of all, cool, gently cradling your head for a good night's sleep.
What is wrong with that pillow?
Some people may be sensitive to the the slight odor of new memory foam. However, this disappears within a day or so.
check out this pillow on amazon
The Pros and Cons of Sleeping on Your Stomach
Most experts don't approve of sleeping on a stomach because it doesn't offer many benefits. Actually, there's only one real advantage: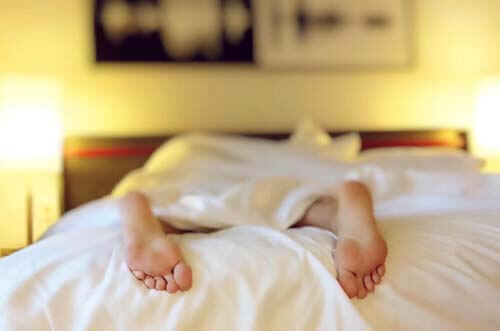 Stomach sleepers usually snore less (compared to back sleepers).
But the number of disadvantages is three times bigger:
Tossing

. Stomach sleeping is naturally uncomfortable for your body even if you're used to it. Chances are you turn and toss a lot in your sleep until you find a fairly comfortable pose to rest. This means your sleep is of lower quality.

Lack of pressure relief

. There's actually lots of weight put on our stomach during walking, sitting, and other daytime activities. Side and back sleeping helps with releasing that pressure during the night, but stomach sleepers don't experience such a pressure relief. Honestly, they hardly feel any pressure relief at all.

Neck pain

. You don't lie with your face buried right in the pillow when sleeping on your stomach. You probably turn your head either to the left or to the right side, which increases your chances to wake up with

neck pain

in the morning.
To me, those would be enough to at least try to learn to sleep in a different way. But this is up to you, of course. Just keep in mind that all the cons combined can lead to bad posture and serious back problems in the future.
"If you can't or don't want to do anything about changing your sleeping position, you can at least try to eliminate its harm to your health. To do that, when sleeping on a stomach, put a pillow under your hips and lower belly so that your lower back would be lifted in a similar way it would curve naturally."
What Are the Best and the Worst Materials for a Stomach Sleeper Pillow?
Although the main criteria that make the most suitable pillow for stomach sleepers are its firmness and thickness, the materials matter too.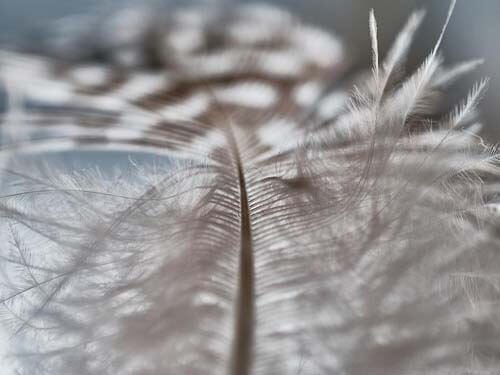 The following ones will work great for you:
Down and feather

. These are soft and lightweight. You will easily fluff them, and they are rather snuggly to hug during the night. However, they are usually quite pricey and

may cause allergies

.

Memory foam

. These are very conforming yet supportive. If it's shredded memory foam, you can adjust the loft by removing some filling until you find the perfect height. Nevertheless, they are often not very durable and have a strong memory foam smell, which takes time to air out.
Now, here are the worst options for a stomach sleeper pillow:
Buckwheat

. These are adjustable and conforming but often turn out to be too firm for stomach sleepers.

Latex

. These often appear to be too thick and too dense.

Down alternative

. Although very soft and lightweight, like down and feather pillows, alternatives have a shorter lifespan and lose their shape quicker.

Polyester

. Probably the cheapest option on the market, these are usually too thick and have poor shape retention properties.
Note that it's still possible to find a quality pillow made from one of these materials, on which you will feel quite comfortable as a stomach sleeper. But that's very rare.
What is the ideal pillow for stomach sleepers?
Your comfort is the ultimate deciding factor! You may have to try a few pillows before you find the one that works best for you. Here we have reviewed the 6 best pillows for stomach sleepers to narrow it down – hopefully, you will find this information helpful. Here are 10 tips to keep in mind when deciding:
If you have a soft mattress, it would be best to choose a medium/firm pillow to help hold your head up; If your mattress is on the medium/firm side, you may want to look at pillows that are soft/medium firmness.

Check for the quality of the material and seams; check how easily the pillow fluffs out or if you can place it in the dry to restore loft.

If you sleep "hot", choose a pillow that is well-ventilated to keep you cool at night.

One of the best features to look for is ease of care, i.e. is it machine washable/dryable?

If you are of small stature, check the size of the pillow – a standard may work better than a queen or king for you.

If you like lots of pillow under your head/face, then opt for a Queen or King size.

Check the satisfaction warranties to ensure the pillow is returnable in the event you don't like it.

If you like to "poof" up your pillows, don't choose one that is made from molded memory foam – the shredded foams, downs and down alternatives will work better for you.

If you prefer natural, try the eLuxury Down Pillow reviewed above. Or you can choose the down-alternative Pancake Pillow if you prefer not to deal with real feathers.
Keep a close eye on your return-by date to ensure you don't get stuck with something that is not working for you.
Conclusion
If I had to recommend just one pillow, it would have to be the eLuxury I AM A STOMACH SLEEPER Pillow due to it's Never Flat (™) fiberfill. Its soft/medium rating and 100% cotton construction makes this one of the most comfortable pillows for stomach sleepers, helping you wake up refreshed and pain free.
Have you already picked your favorite pillow? Tell us which one in the comment section!
Product links on Happysleepyhead are referral. We get a commission on purchases made through our links at no additional cost to you. More information in my disclosures.