The 7 Best Cooling Pillows for Night Sweats in 2020
by | Last Updated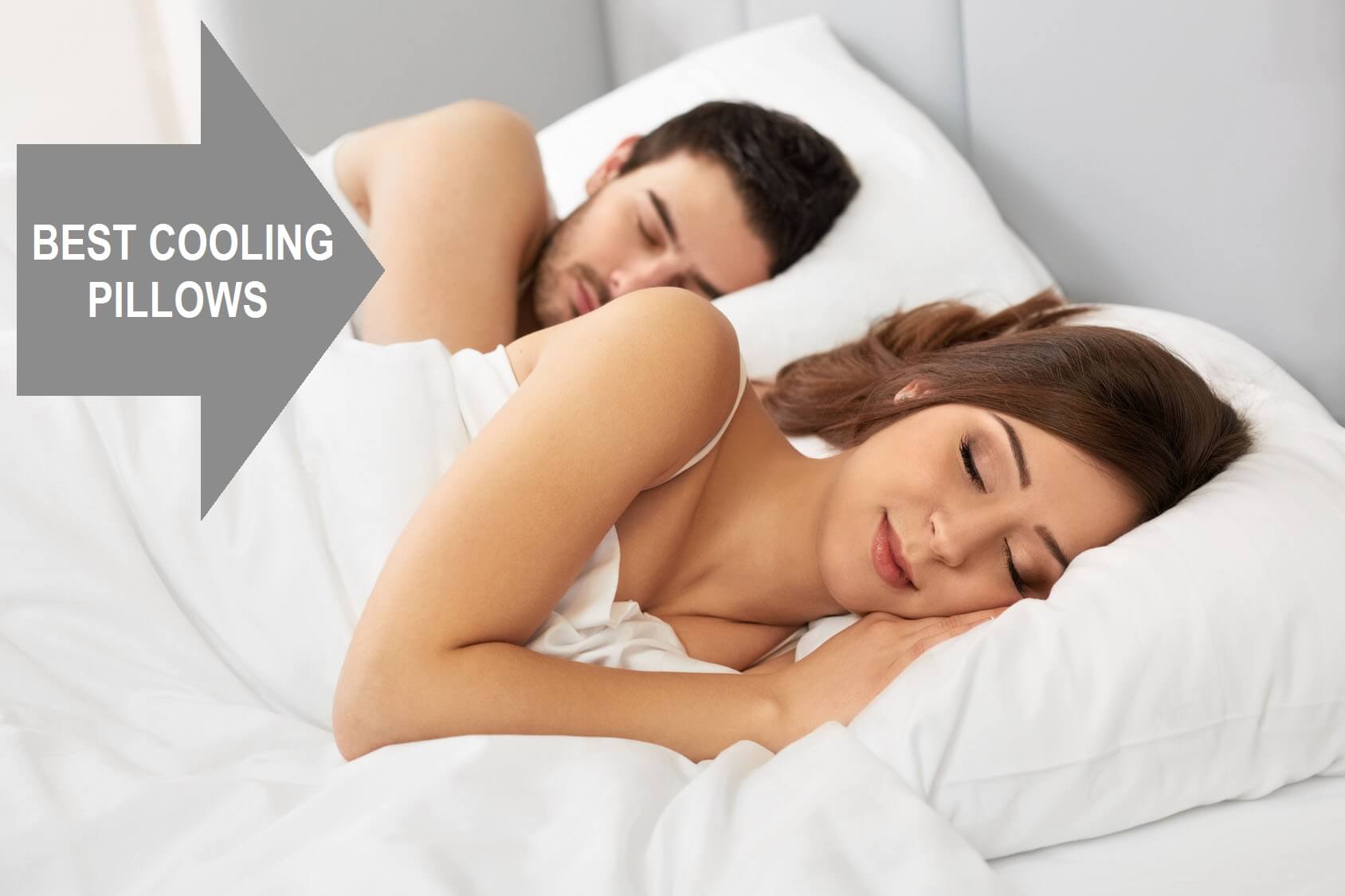 We all can agree that nothing is more important than a good night's sleep.
But what if a warm pillow gets in your way?
The answer is simple: toss it away!
Get yourself a pillow that will grant you the greatest snooze of your life.
And to aid you in this task, I've prepared a list of 7 best cooling pillows, each of which can surely become your favorite thing in the bedroom.
Best Organic Cooling Pillow
Organic Textiles All-Natural Premium Latex Pillow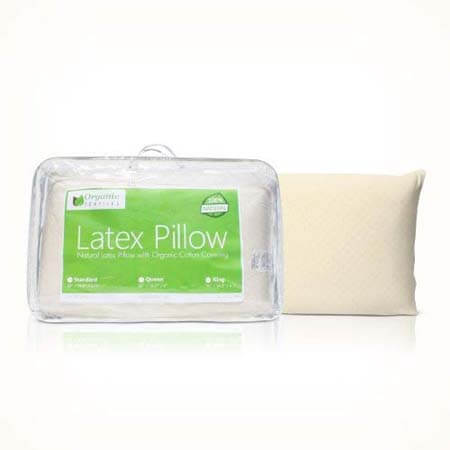 Nothing says 'cool sleep' clearer than a natural latex pillow. And Organic Textiles knows that too. Their latex pillow is made without any synthetic additives and is available in four firmness options. So, you can choose the most suitable model depending on your sleeping style and preferences.
Natural latex is much more durable than memory foam or polyfoam. Thus, this pillow will serve you longer. The company states that it can maintain the initial shape for 5 years, which is very promising.
Other features of this pillow include:
The

removable cover

is made of organic cotton.

Three sizes are available:

Standard, Queen, and King.
The most noticeable advantage of this latex pillow is its breathability. Latex naturally sleeps cool, and the manufacturer enhances this effect even more by adding perforation.
The only thing that I didn't like about this pillow is that it runs slightly smaller than described. The standard Queen size measures 20 x 30 inches, and this pillow is 16 x 30 inches. Keep this in mind when placing your order — and when buying pillowcases.
Consider the following pros and cons:
Despite the issue with sizing, this model by Organic Textiles is simply great. It's supportive, long-lasting, and cool, so you can be sure about the quality of your shut-eye.
check out this pillow on amazon

This model is an upgraded version of the Helix pillow. Its cooling cover is what makes it one of the best cooling pillows on the market. Made from knit polyethylene fibers, it not only helps you stay cool through the night but also looks very neat and minimalistic. It managed to fit into my bedroom perfectly.
The materials on the inside feel high-quality because that's what they are. I would fairly name this item the top-rated luxury cooling pillow, as it looks, feels, and truly is a luxury model.
Here are the main characteristics:
There are

two sizes

available (Standard and King).

The pillow features 2 removable layers made from memory foam and down alternative to

adjust the height

.

The cover is made from a

knit polyethylene fabric

, which allows the air to circulate freely.

There is a 1.25-inch

gusset

under the cover, on the top and bottom sides of the pillow.
The company offers a 100-day trial period and a 3-year warranty.
The thing I liked the most about this pillow is the combination of support and softness it can offer in multiple positions. You can take either one of the additional layers or the both of them to make the pillow perfect for you personally.
The worst thing about this pillow is its shape retention. Typically, memory foam and down alternative pillows require frequent fluffing and tend to flatten out over time. I didn't notice it with Helix, but I wasn't using it long enough to judge. And since it's a relatively new model, there are no long-term reviews to judge by other people's experience.
Consider the following pros and cons:
To tell you the truth, I was skeptical about this pillow because of its cost mostly. But after having some of the best nights of my life sleeping on it, I don't think it's overpriced anymore. Of course, there are cheaper alternatives, but this pillow is worth every dollar for it's breathable, supportive, and conforming.
Feel like this is your perfect pillow? Order it here!
Best Cooling Pillow for Night Sweats
Domus Pillow by Urban Bloom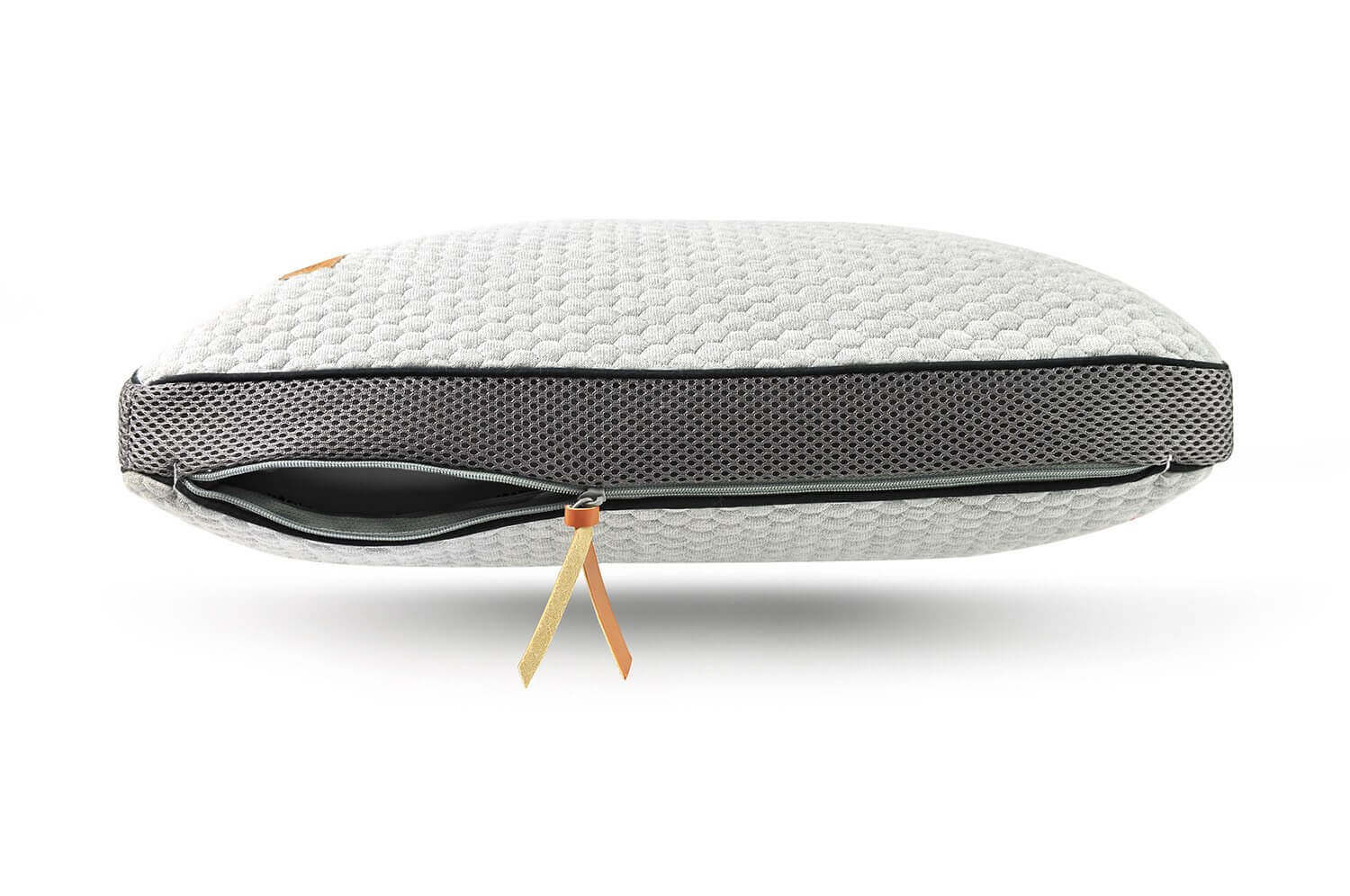 Here's the deal:
At first, I was a bit skeptical about how comfortable such a sturdy pillow can be, but I was pleasantly surprised by its feel. The gray knitted cover did provide a great deal of comfort, while the pillow itself adjusted perfectly to the shape of my head.
What I really like about this model is the ventilated structure of its memory foam core. There are holes across the entire piece, which promotes better airflow and makes this model the most suitable cooling pillow for night sweats. If you still manage to get a little sweaty, you can remove the cover and throw it in a washing machine to easily ensure a hygienic sleeping environment.
Check out its main features:
The cover features a

ziplock

that allows you to change the amount of filling.

The gray knitted cover creates a

luxurious look

with leather detailing.

The cover can be washed separately, which makes the process of looking after the pillow much easier.
What is really great with that pillow?
The coolest thing about this pillow is how firm and supportive it is. If you're anything like me, you also want both: comfort and health benefits. And this pillow gave me both. It kept my neck in the right position, helped me relax the muscles completely, and simply felt great to the touch.
What is wrong with that pillow?
The most unappealing feature of this model is the slight off-gassing. Thankfully, it was gone in less than a day. So, if you have a sensitive nose, you'll have to air the pillow out for a couple of hours before starting to use it.
This item looks stylish, provides a great level of comfort, and can be a perfect option for people who appreciate supportive and firm pillows.
check out this pillow on amazon
Excellent Cooling Wool Pillow
PlushBeds Natural Luxury Handmade Wool Pillow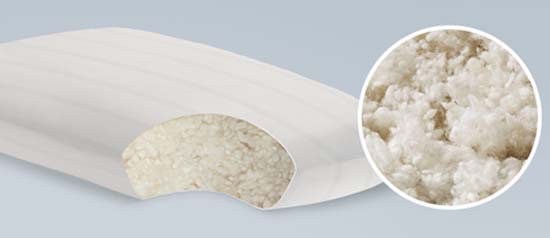 Another contestant to be called the highest-rated cooling pillow is this wool model by Plushbeds. It's great for allergy-prone people, as wool is a natural material resistant to mold and dust mites.
Every pillow is stuffed to your liking, and there is a zipper on its cover to help you adjust the height. Thus, it's fair to say this model can suit anyone. The thing is:
You need to be ready to take time for experimenting in order to finally find your perfect thickness.
This is particularly suitable for people who don't know for sure whether they sleep on their back, side, or stomach most.
"Wool is a naturally moisture-wicking and breathable material. Unlike memory foam pillows, wool pillows don't require additional components, such as a cooling gel, to provide the cooling effect. This makes them a natural option for people with sensitive noses and allergies."
The key points about this model are:
Three sizes

are available.

The cover is 400-thread count

cotton sateen

.

The filling is chemical-free,

pure virgin wool

.
Every pillow is hand-stuffed and you can choose the thickness level.
The coolest thing about this pillow is how natural it is. Made from 100% wool, it's a great option for people who prefer all-things-natural. Besides, the company is very transparent about the process of growing sheep and gathering wool, which I find really great, as I'm against animal abuse.
The worst thing I've found about this pillow is its firmness. Wool is less conforming than, for example, memory foam, which is why the pillow might seem too firm for some users, especially stomach sleepers.
Get yourself familiar with the pros and cons:
Honestly, I enjoyed sleeping on this pillow quite a lot, and it felt perfectly supportive to me, although I wish it were a bit softer. If you have no problem with a firmer pillow, this is your best option!
Ready to start sleeping cool? Click here to order your Plushbeds pillow!
Best Cooling Memory Foam Pillow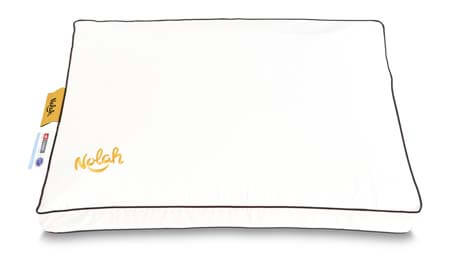 This pillow has made it to this list because of its proprietary memory foam filling. Nolah has designed their own memory foam formula that is much more breathable and cooling than the one used by many of its competitors. It's not surprising then that they've called their blend AirFoam – it allows the air to circulate through the pillow and cool down your body during sleep.
Apart from the cooling filling, the pillow comes with a breathable cotton cover for even better temperature regulation.
"Did you know that ancient Egyptians used pillows for different purposes than we do today? It is said that the reason they slept on pillows was primarily to have their heads higher above the sleeping surface so that insects couldn't crawl into their ears or noses during the night."
Here's a brief overview of its main features:
The removable and washable cover is a mix of cotton and a

cooling phase-change material

.

The proprietary

AirFoam

filling is very supportive but quite soft at the same time.
The pillow is protected by a 2-year warranty. There's a 120-night trial with an obligatory 30-night break-in period.
The best thing about this pillow is how it cradles your head and neck. I was able to relax completely when sleeping on it. Being made from memory foam, it has naturally great conforming properties. That's what I love about memory foam pillows, and this one wasn't an exception.
What I didn't like about this model was the lack of customization options. If you toss and turn in your sleep a lot, like me, you would be much more comfortable with a queen or king size. But this model is only standard-sized. Besides, only one firmness option is possible and you can't adjust the loft. Actually, it's not much of a drawback. It just means this pillow is not for everyone.
Here are the main pros and cons:
This pillow works very well to keep a sleeper cool. It conforms to your head and neck, helping your muscles relax. Note that this model is not adjustable and is most suitable for back sleepers.
Want to give it a try? Place an order here!
Great Cooling Latex Pillow
Avocado Green Pillow by Avocado Green Mattress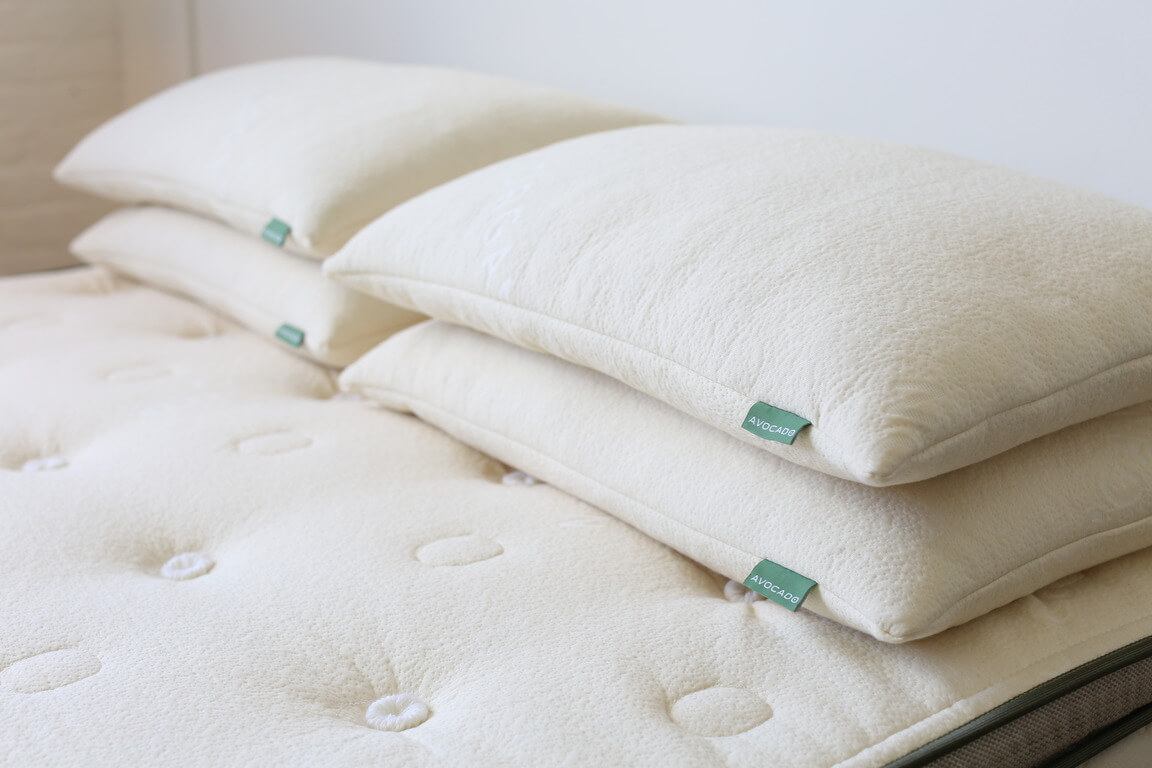 "What is that you say? A 100% organic pillow?! Let me give it a try!"
That was my first reaction when I saw this option, and try it I did. Surprisingly, I wasn't disappointed, as this pillow turned out to be very comfortable.
Although latex is naturally a more breathable and cooler material compared to, for example, memory foam, gel-infused memory foam is its decent opponent. However, some people hate the sinking feeling that cool memory foam models provide. If you're one of them, this model by Avocado Green can be your cooling latex alternative.
Let's see its main characteristics:
The cover consists of

natural latex

and

cotton

.

The filling is made from organic

Kapok fiber

.

The interior structure of the pillow allows for

excellent airflow

.
You can choose from three sizes (Standard, Queen, and King).
What is wrong with that pillow?
The worst thing I've noticed about this pillow is how thick and sturdy it looks. However, this small issue can be resolved by simply taking some of the filling out. So, when the pillow arrives, don't be alarmed by its size. You can fix it in no time if you don't like it.
What is really great with that pillow?
The coolest feature of this pillow is how customizable it is. It not only comes in three different sizes but also allows the users to adjust the amount of filling, which means it can be easily customized according to your preferences.
This cooling pillow really found a place in my heart. Not only is it made from natural materials, but it also has both softness and support to provide you with a good night's sleep.
Want to try it yourself? Order it now!
The Most Suitable Cooling Pillow for Combo Sleepers
Premium Pillow by Tuft & Needle
This pillow has all the right to be on this list. It is safety certified and features the unique adaptive foam filling, which provides both support and cradling effect for your head and neck.
Here's the thing:
This foam is responsive and rather firm, which most side sleepers would appreciate a lot.
However, it's 5-inches thickness and softer feel make it a great pillow for combo sleepers who turn from one side to another and often switch from side to back sleeping throughout the night.
Let's take a look at its main features:
Made from the

new-generation memory foam

that feels softer and more comfortable.

The infused

cooling gel

provides heat resistance.
The pillow is very lightweight and pleasant to the touch.
What is wrong with that pillow?
The worst thing about this pillow is that it might be too thin for some users. Because the foam in the filling is quite soft, and the pillow itself isn't too stuffed, some sleepers (especially the heavier ones) might find it to be too thin and not supportive enough.
What is really great with that pillow?
The best thing about this item is the cooling effect it provides. The pillow's design allows the free airflow, which makes it super breathable. I tested it without my AC being on, and it did its job really well: I didn't sweat at all during sleep.
Overall, I enjoyed using this pillow. It is soft, cradling, and supportive enough. Plus, the cooling effect it provides is simply undeniable.
check out this pillow on amazon
Cooling Pillow for Side Sleepers
Cool Pillow by Eight Sleep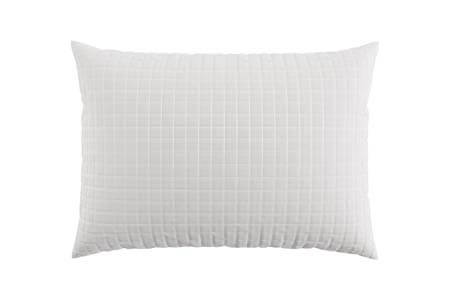 Eight Sleep have named this model "The Cool Pillow", and this name does suit it. It will help you forget about night sweats for good.
This pillow features an unusual, adjustable design. There are three layers you can not only add or remove to adjust the height but also put in a different order to find the perfect firmness for you.
But here's the thing:
Despite this adjustability, I personally have found the pillow to be most comfortable when I was sleeping on my side. It's thick and supportive enough to let me call it the best cooling pillow for side sleepers.
"All pillows, regardless of what they're made from, have a limited lifespan. While most memory foam pillows will last around 3 years, latex, feather, and down pillows can remain in good condition for up to 5 or even 10 years. However, experts recommend changing a pillow every three years even if it still works well."
Let's see its main characteristics:
The pillow features a

cotton cover

and a

shredded memory foam filling

, which make for great air circulation and cooling effect.

Three layers inside the shell allow you to

adjust the firmness and height

.
The manufacturer provides a 10-year warranty and a 30-day trial.
What I liked about Eight Sleep pillow the most was its adjustability. For people who are unsure what position they sleep in or for combo sleepers, who change positions during the night, this is a perfect option. It's really comfortable for side sleeping, but I believe it can suit any sleeping preferences.
The most annoying thing you might notice about this model is the off-gassing typical of the memory foam pillows. Compared to other memory foam pillows I have tried, this one has a bit stronger odor, which might take quite some time to disappear. It did eventually air out, so it's not much of a big deal, just something to keep in mind for people with sensitive noses.
Pay attention to the key pros and cons:
The fact that you can configure this pillow to suit your personal preferences makes it one of the most customizable models on the market. I had fun testing it and was able to find my comfortable configuration rather quick.
Want to get one for yourself? Click here to order!
What Material to Choose For Your Pillow
When picking among the great cooling pillows, there are three main material options to choose from:
Memory foam;

Gel fiber;

Natural materials (buckwheat or bamboo).
You may be thinking: "Well, which one is the best?"
Let's take a closer look at all three of them:
Memory foam.

Such pillows adjust to the form of your head and neck, which contributes to the

pressure relief. However, memory foam pillows are usually quite dense and heavier

than their alternatives. There are also pillows that are made from the

shredded

memory foam. Such an option is more

lightweight

and is easier to mould to your liking. Another benefit of this design is that it allows

better airflow

, thus offering a more efficient cooling effect.
Gel fiber.

This material provides

great airflow

and can be

easily washed

. Such pillows offer

excellent support

for your head and are also

softer

than the memory foam ones. They are pleasant to the touch and feel just like a regular pillow.

Natural materials.

For the cooling effect, the most popular natural pillow filling is either

bamboo

or

buckwheat

. They both are

eco-friendly and hypoallergenic

, which makes these types of filling perfect for people who are sensitive to smells, chemicals, and some other materials.
"Gel pillows are usually made with an incorporated gel pad or foam, as they both serve to keep your head cool during the night. You can also find pillows that use gel inserts that can be put into the pillowcase."
Why Do You Have to Buy a Cooling Pillow?
First of all, if you're anything like me, then having a hot pillow under your head is almost like sleeping in an oven.
But it gets even worse:
You can't relax completely, and you wake up in the middle of the night to flip the pillow to the other side.
Luckily, most of these problems can be solved by buying a pillow with a cooling effect. For me, such a pillow is essential during long summer nights, and even more important for anyone who resides in a hot climate.
Want to know the best part?
Several studies suggest that a cooling pillow not only offers more comfort but also can help people with insomnia or other sleep disorders.
Are There Any Cons to Buying a Cooling Pillow?
There always is something to oppose every great decision in your life, even if it's a decision to purchase a cooling pillow. Here are the main factors you should consider:
Cost

. Compared to regular pillows, cooling ones are placed on the more expensive side of the price scale. The reason for that is mostly the use of additional materials, such as a cooling gel or a natural bamboo layer, which requires additional expenses on a manufacturer's side.

Weight

. Cooling models ‒ latex and foam ones in particular ‒ tend to be heavier than non-cooling ones. This is not a major drawback, but it can make it harder to fluff and adjust the pillow to your position during sleep.

Off-gassing

. The majority of pillows with a chill-down effect are made from memory foam. It is known for its

chemical odor

, which can sometimes remain really strong before airing out completely. Or, it may never fully disappear at all. That's quite possible for low-quality models.

Maintenance

. Cooling pillows that feature a one-piece design typically don't tolerate machine washing. Of course, you can clean them manually, but it's not always as effective.
Apart from that, you should keep in mind that the choice of cooling pillows on the market is somewhat limited. Even those models that are advertised as having cooling properties might not always sleep cool in reality.
"If you're prone to excessive sweating during the night, a cooling pillow might be not enough. Consider getting a cooling mattress and breathable sheets too."
Why Do You Sleep Hot?
If you're living in an area with a hot climate, it's quite natural that you sweat at night. But what if you don't? What are other reasons people get hot during sleep?
Well, apart from being affected by physical surroundings, your body's temperature may also be affected by different health conditions. Here are just a few of them:
idiopathic hyperhidrosis;

menopause;

HIV;

tuberculosis;

bacterial infections;

hypoglycemia;

lymphoma;

hormone disorders.
You can also sweat because of medications. Aspirin and other drugs taken to lower fever often cause sweat. Besides, sweating is a common side effect of antidepressant treatment.
With all of that being said, visiting a health professional is highly advised if your night sweats are not connected to the physical environment and have become an ongoing issue.
Conclusion
Picking among so many great options was not an easy task for me. All seven pillows have pleased me with their heat resistance properties, and thus deservingly found themselves on this list. However, there was one item that stood out for me the most, and it's the Avocado Green Pillow.
Why should you choose it too? The pleasant color, the fact that manufacturers only use environmentally friendly materials, the ability to refill it to your preferred size – altogether, these factors allow this pillow to be called the best.
And how do you deal with those warm summer nights? Do you simply turn your AC on? Or do you believe that a cooling pillow is enough? Share your thoughts in the comments!
Product links on Happysleepyhead are referral. We get a commission on purchases made through our links at no additional cost to you. More information in my disclosures.