The 6 Best Air Mattresses For Camping and Everyday Use
by | Last Updated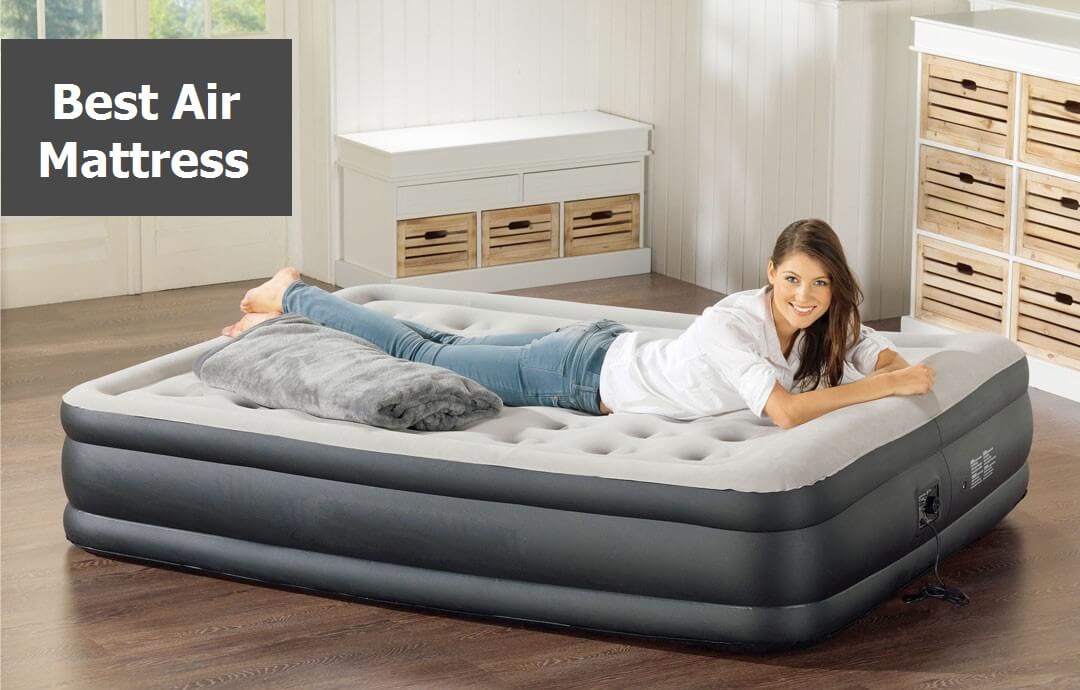 Do you have a dream about comfortable rest on barbeque somewhere outside? Maybe, you prefer camping rest, aren't you? Or do you have to lodge your dear guests?
Then, there is only one solution – purchase of air mattress. I have done the detailed research of the best air mattresses on the market which can be suitable precisely for YOU. 6 best inflatable beds are waiting for your decision to make your sleep uninterrupted and homey.
Please be so kind to follow me for exploring of mattress review. I highly recommend you taking these reviews into consideration before you make your final choice.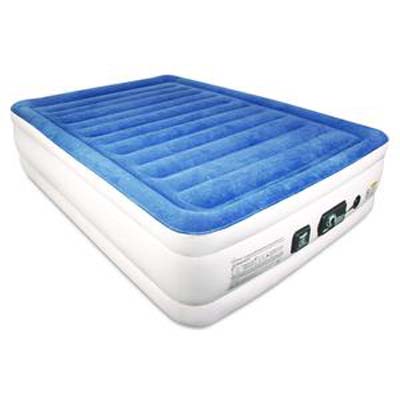 Soundsleep air mattress is included to our list of the best mattresses due to the great combination of the sure-grip bottom which provides the absence of sliding, synthetic, but eco-friendly materials and resistance to puncture.
Let's look closer to its Dream Series.
Air mattress from this series will be intended perfectly for temporary usages, like additional sleeping place or place where you can lie outdoor. I'm confident that your children will adore it. Thanks to the built-in air pump, the process of inflating is quite easy and fast. For camping purpose, please purchase Soundsleep's camping version.
PVC material allows you to feel the stretchy effect and you can be confident in its positive ecological influence. Please do not worry if you notice some sagging, it is the natural effect of this material. 40 coils play supporting role and help to prevent from air loss, not only care about firmness and shape.
You will be pleasantly astonished by the time of deflating and own storage. You will not notice how a few minutes will be passed and how little place it is required for its storage.
Producer gives you one-year warranty spread of course not on daily usage. Please keep it in mind. You will save money if purchase this mattress online. I advise you to buy queen size air mattress.
What is really great with that mattress?
One crucial benefit of the air mattress is controlled firmness. Only a few minutes are required to get proper firmness. And you can change it from 100% firm to a little bit softer adding or removing air if you desire to rest.
One more vital thing is the absence of leakage as your sleep can turn into a nightmare or just uncomfortable dream. Soundsleep air mattress is capable of holding up to 500 pounds, so you are in safety with it.
What is wrong with that mattress?
It is not suitable for camping. So if you plan to go camping, it is not for you. You can't use other pumps to fill the mattress up except that one which is included in the set.
check out this mattress on amazon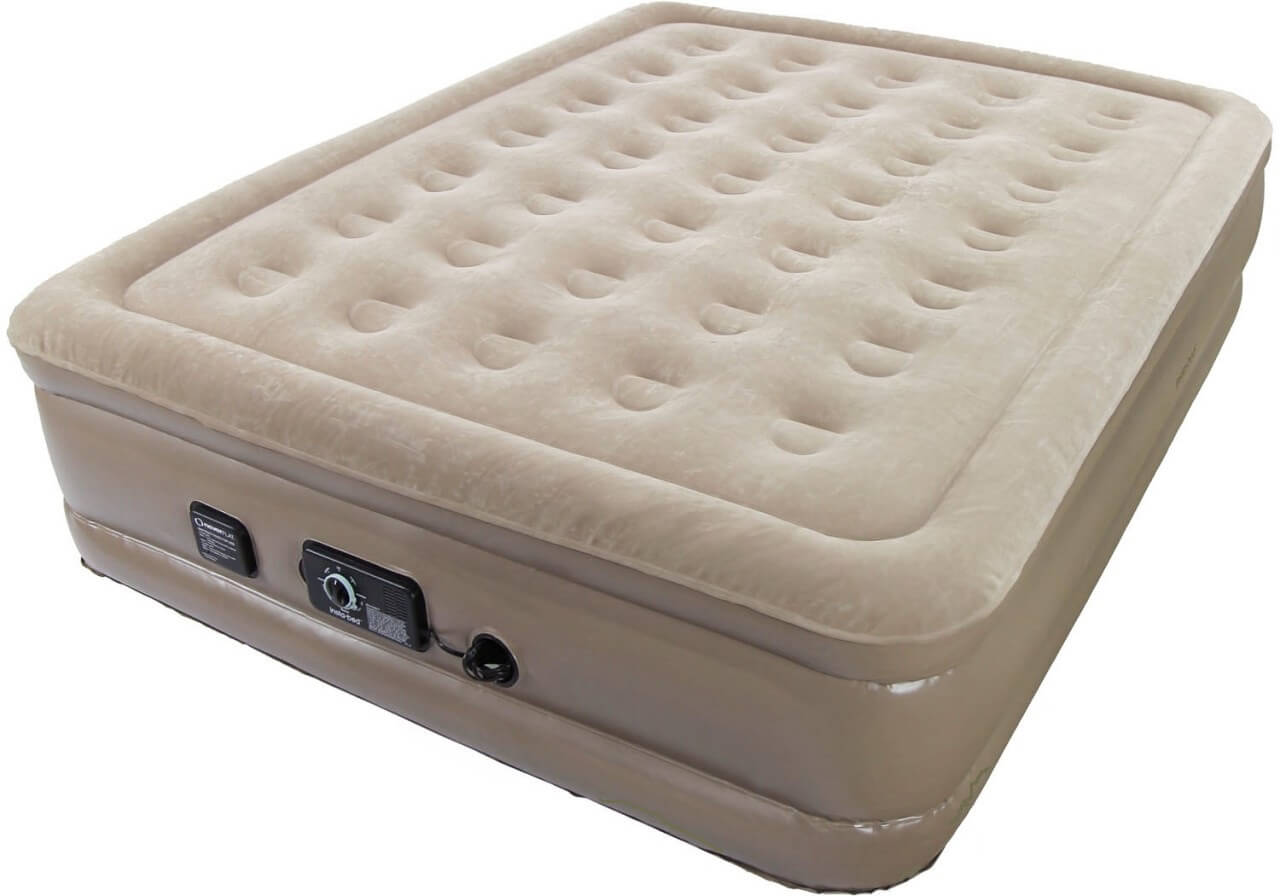 I like multiple options which are launched to Insta bed air mattress – it fits camping, to outdoor activities, to home conditions for temporary everyday utilization. It is suitable as for adults as for children. Does it sound too perfect? Let's find out the details further.
Producer acted smartly and provided Never Flat Pump technology which allows not to lose air throughout the night. I did not wake up with the pain in the back thanks to such technology. Implemented coils permit me to sleep comfortably.
The great news is that versatile options of firmness are available – plush, medium, firm.
Insta bed has two pumps. First one is pumping up within a few minutes. It is very convenient in case of the visit to unexpected guests or overnight stop somewhere outside. It also is shutting off automatically
The company even thought over about storage bag which is crucial for carrying it over.
I didn't have the possibility to slide and go down from the mattress throughout the night thanks to flocked cover. I felt comfortable on twin version, but if you need more space, please be so kind to purchase queen air mattress size.
What is really great with that mattress?
Due to the implementation of never flat pump technology, it is possible to use two pumps. The second one can control air pressure throughout the night and does it quietly.
It understands what kind of firmness you are expecting – plush, medium or firm. I assured myself about it and was happy of uninterrupted sleep.
What is wrong with that mattress?
As the mattress is intended for outdoor utilization, respective firmness can be impacted by temperature. You should provide constant power supply if you desire to have proper firmness during the night.
check out this mattress on amazon
Coleman Double High Air Mattress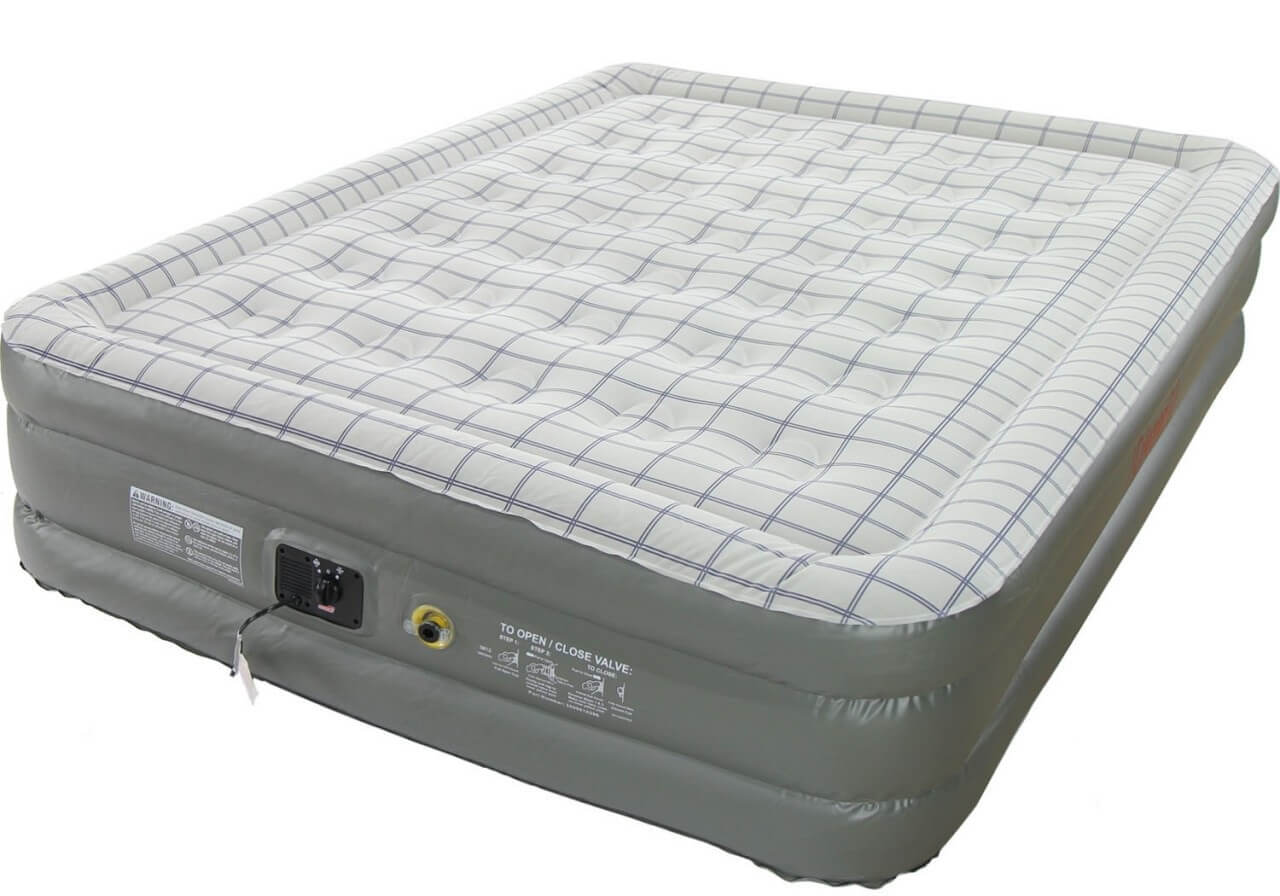 I have added mattress designed by Coleman thanks to the Airtight System developed by them. This system keeps the air in like its life depends on it, so I didn't have to re-inflate it every couple of minutes.
According to pressure test, it managed with my weight properly. Let's find out is about its reliability as it was mentioned by the producer.
Coleman didn't scrimp and added additional inches to its height and now it is higher than other versions. The added inches are especially beneficial for individuals prone to back or hip pain, who may have trouble getting up and down from lower-height beds and chairs.
The mattress is highly convenient while I was inflating, deflating and packaging it to the individual bag. The attached flap and strings make the process of storage much easier to manipulate and store this air mattress.
Don't be worry about slightly deflating at the first night and respective odor as it requires minimal-to-moderate refilling and came from the factory. I had to use the pump by myself as there is no any pump in the package.
The producer is able to propose you two sizes of his model – twin and queen size. As it is quite cold to sleep on the mattress at night, especially outside, like in camping, I highly advise adding the sheet on it. Velvet feeling from the first layer helps you not to slide on it.
What is really great with that mattress?
It's very comfortable and easy to set up. Moreover, it remains in perfect shape. I took it with me to camping trip so far, and it performed like a boss.
What is wrong with that mattress?
The main fault with the Coleman Double-High comes from extended and repeated use. It has the eventual leak and a limited lifespan.
check out this mattress on amazon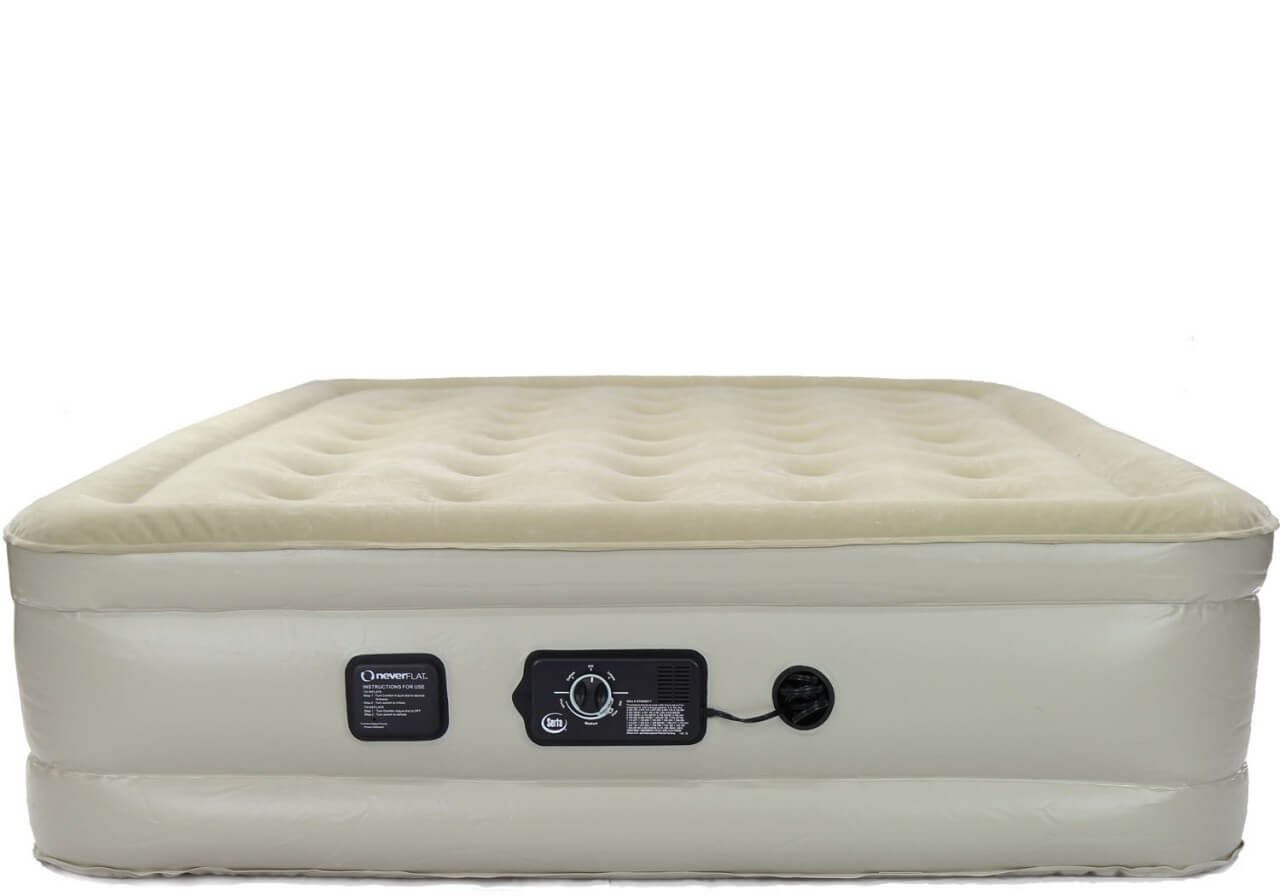 Mattress issued by Serta is considered the best seller on the market and it has some pros that can attract you. Let's look closer on it.
The main advantage of this mattress is Never flat pump technology. I forgot about any loss of air during the night thanks to two pump involved to the process. Fundamental buckling load is on the second pump while you are sleeping. The first pump is intended to inflating and deflating process. Moreover, it is silent, so my sleep was comfortable and unceasing.
If talking about mattress construction, it is good news as it similar to an innerspring mattress. 35 coils and 21 coils in queen and twin sizes make distribute the weight evenly across the entire surface of the mattress. The edges of the inflatable bed are quite solid. Thanks to the horizontal and vertical beams, they were firmly sturdy. The flocked surface of the top keeps your sheet on.
You might be wondering:
But polyvinyl chloride (PVC) allows an extra bit of stretching which is great if you desire to get the firmer option. Thanks to such option, you are to safety at the risk of bursting or cracking the seams. One more benefit that it is both punctures resistant and waterproof.
Auto shut-off button is involved in the construction and provides comfort level between soft, medium and firm options.
What is really great with that mattress?
Taking into account it's never flat technology, the auto-controls for easy inflation and deflation, the raised height, abrasion resistant and stretchable PVC material, Serta can be an excellent choice.
What is wrong with that mattress?
Plastic around the pump can be defective. Moreover, it can be leaking on the inflate deflate panel.
check out this mattress on amazon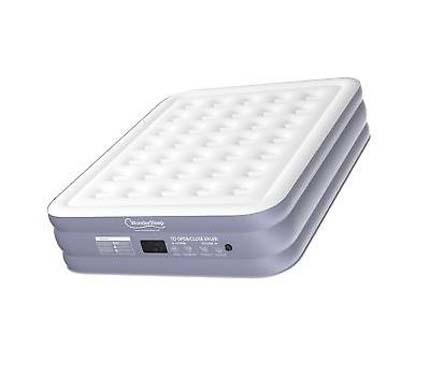 The producer is promising a restful night of sleep thanks to its soft inflatable mattress. Here I will share with you the faithful review which helps in your choice.
The crucial feature of every air mattress is the pump. Wondersleep series is equipped with an internal Pump, certified by ETL. It means that it is safe to operate with it. One more vital thing for better durability and the firmer feeling is the Dream Coil Technology. Coils do not let the mattress to sag throughout the night.
The WonderSleep Classic Series Air Mattress is also compatible with a manual, and external air valve of your choice.
The queen size of the mattress is large enough to feel comfortable position for any height. It is suitable for couples with average weight. I have used it for my guests, and you can do the same or for yourself on a regular basis or if you are used to tossing and turning or for camping.
What is really great with that mattress?
The top-flocked, enhanced PVC adds required strength. The waterproof feature helps to avoid damp mattresses.
What is wrong with that mattress?
Customers who purchased this series complain about the necessity to pump it up every night, that the mattress doesn't hold the air properly because of broken seals.
check out this mattress on amazon
Intex Pillow Rest Air Bed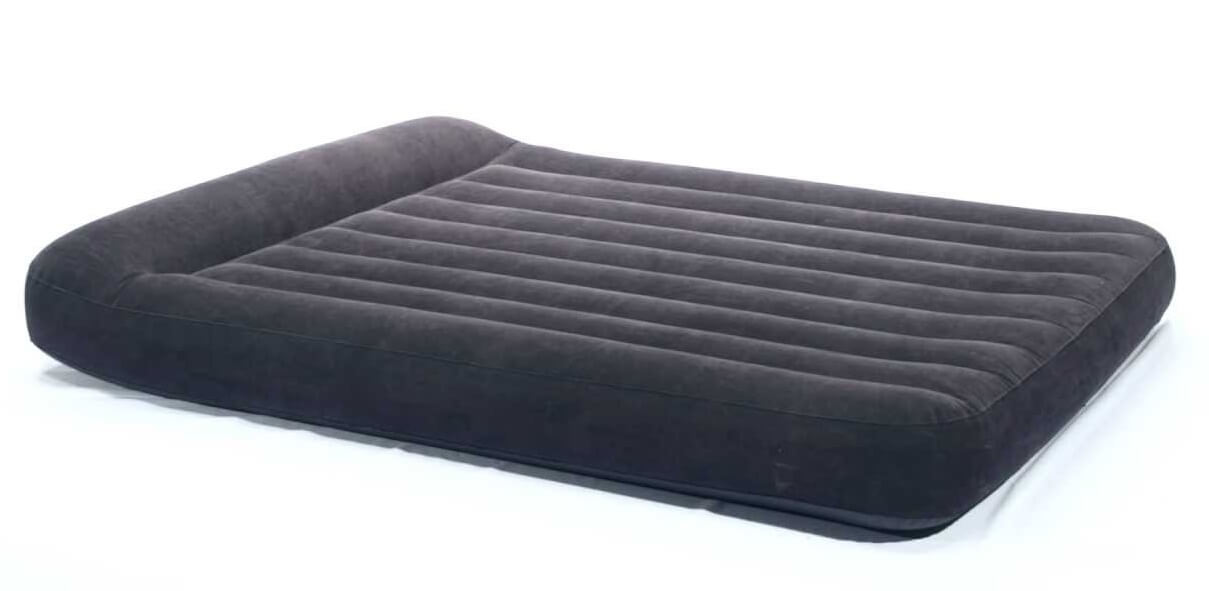 This mattress is different from above-mentioned ones because of the absence of coil structure inside it. In the same time, Intex air mattress has a combination of great characteristics which make it highly competitive. Please look over attentively on it.
My sleep throughout the night was comfortable and unbroken thanks to silent work of Built-in Electric Pump which holds the air on the best level. The flocked top gives the comfort, and the built-in pillows are quite cozy as for me. Thanks to convenient storage bag, I found the available small place for the mattress. Also, its size is suitable for car, closet or other areas.
Vynil material and the top layer with waterproofing can give durable effect. The length of the mattress is 80", it is longer than most twin air mattresses.
What is really great with that mattress?
The process of setting up and putting away is quite simple and quick. The mattress doesn't lose air thanks to built-in pump and it is firm.
What is wrong with that mattress?
Poor made seams which are able to give a leak. It doesn't hold the air.
check out this mattress on amazon
How to make a right choice of Air Mattress
It is easy to make a proper decision if you know several criteria. Here I share with you the most crucial ones which help to look about.
Thickness. It is directly connected with comfort level throughout the night. This point is simple as thicker mattress you purchase, as the more comfortable version you get.
Size. Almost all air mattresses are presented in two options – Twin and King (or Queen). It is the crucial point as you should realize the goal of your purchase.
Twin version is preferable for a single person or camping use.
Queen size is perfect for two adults.
King size is intended to guests and will be an ideal variant with bigger space if money is not a tight for you.
Utilization of the pump. There are a few options with pump proposed by talented producers. Some of them still suggest you purchase additional pump (foot or hand one). You should realize that it is not such an easy process and can take time and efforts. More modern versions can propose you an electric pump. You just need to change required batteries. The most convenient variant is automatic pump as it is possible to inflate the mattress at any time, even at night.
Holds the air. It is the most crucial point. You have to be aware that outside temperature has the direct impact on such criteria. Colder it can be, more possible to meet with leakage. Please be careful and choose only highly qualitative materials and positive feedbacks about its utilization.
Best Air Mattress
Using Your Air Mattress
There are different places and circumstances when an airbed can come in handy.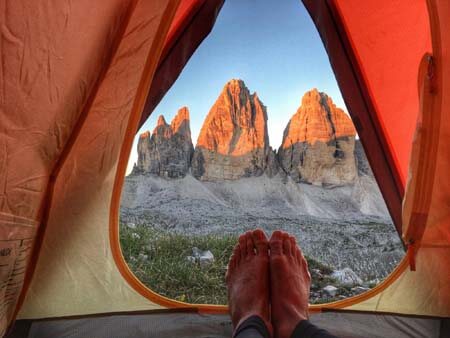 Because such mattresses are relatively cheap (compared to regular beds) and extremely portable, they can serve many purposes.
So, here are the most common circumstances when you might need your air mattress:
Camping and backpacking

. An air mattress is much more comfortable than a simple sleeping bag thrown on the ground. Airbeds are great for camping because they allow you to take the

comfort

with you (no matter where you go). You can inflate your bed in mere minutes and enjoy the restful sleep even when being far from home.

Moving

. When switching homes, chances are you will not have a regular bed right away. So, when moving into a new house/apartment, you can use an air mattress as a temporary substitute for a regular bed.

Visiting friends or family

. Air mattresses are an awesome solution for guest bedrooms. Because they

are used only occasionally

, they can serve your friends and family for many nights and visits.
Now, many people wonder whether an air mattress can be used as a regular (permanent) bed. And we get it:
Airbeds are more affordable and flexible than regular mattresses. Additionally, they don't trap that much dust and debris (compared to regular beds, which can actually be the dirtiest part of your room).
And yes, they can be used permanently, but we have to warn you:
Don't expect your air mattress to serve you for a very long time as a regular bed. You see, airbeds are designed for temporary usage. They simply aren't built to work as the main bed that you use every night.
"If your air mattress is too firm, there are a couple of things you can do to fix that. First off, you can deflate it a little. However, there are some downsides to this method: your mattress might not be able to properly support your body when being deflated. A better option would be to get a topper. They aren't very expensive and can completely change the feel of your airbed."
Usage Tips
The most annoying thing about air mattresses (in my personal opinion) is air leakage.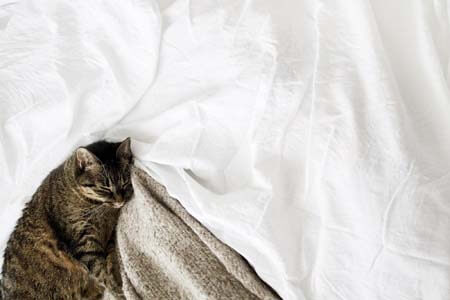 Keeping your mattress inflated throughout the use period oftentimes turns into a challenging task. However, there are some simple tips and tricks that can help you make the process a bit more fuss-free:
Avoid over-inflating

your mattress. This might lead to air leakage and even rips.

When you use the airbed

for the first time

, inflate it (up to its 90% capacity) and deflate again. After that, you can use its full capacity. This little trick will make the plastic fibers a little bit worn in, which means the material will be better prepared for expansion and pressure when you first lie on it.

Don't put more weight

on the mattress than it can handle. Again, this might lead to leaks and rips.

Check for air leakage regularly

. I know, this can be annoying, but you absolutely have to check the mattress as often as possible. It is better to find a tiny hole and repair it than to allow it to grow more.

If you have

pets

, try to keep them away from your air mattress. An occasional paw step can make a hole in the airbed or even create a large rip.

When camping or using the mattress outside, don't forget to always place it on a

mat

(or a piece of fabric). The majority of manufacturers make air mattresses with reinforced bottoms, but it's still a good idea to put an extra layer of something between the ground and the bed's bottom. Just to avoid the potential of poking, scratching, and ripping.
Conclusion
Please be so kind to take into consideration above reviews of six best air mattresses. By analyzing of valuable information, I am confident that you will make a proper decision.
To my mind, I have noticed advantages without doubts from mattress designed by Soundsleep.
With 88% of positive feedbacks and water-proof and puncture-resistant materials, it has proved its reputation on the market of air mattresses. Your guests or relatives or you at time of BBQ will be delightful by its properties.
Are you convinced that air mattresses can be comfortable too? Which one do you think is the comfiest? Let us know in the comment section!
Product links on Happysleepyhead are referral. We get a commission on purchases made through our links at no additional cost to you. More information in my disclosures.