The 7 Best Air Mattresses For Everyday Use in 2020
by | Last Updated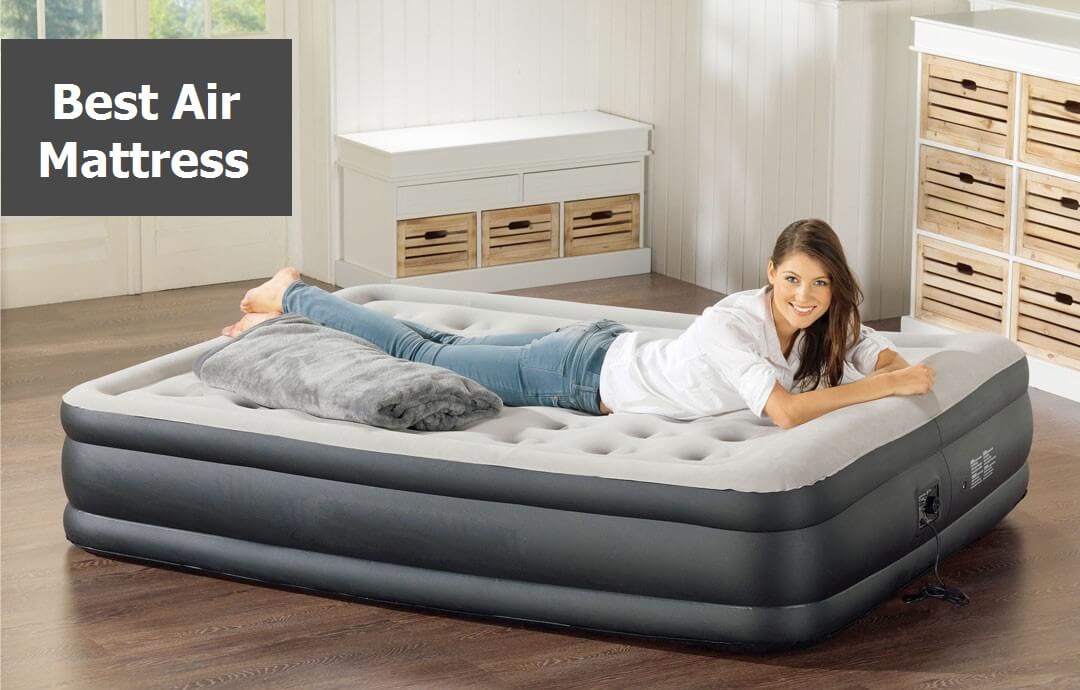 Here's the deal: even pets these days have their own cute little beds. So, why do we, people, have to sleep on the floor when visiting our relatives, moving, or camping?
Am I right or am I right?
But fear no more: you don't have to sleep on the hard floor or cold ground, as there is a simple, yet effective solution to this problem.
Today, I've selected 7 of the most comfortable inflated beds. Let's see which one can create the best sleeping space for you in times of need.
[table id=64 responsive=collapse datatables_row_details=true datatables_row_details_columns="A-G" /]
"Air beds give you an endless list of use opportunities. You can keep them on hand for occasional family visits or unexpected guests, go camping and sleep with comfort, or use as a temporary bed during the big move."
Best Air Mattress for Everyday Use
SoundAsleep Dream Series Air Mattress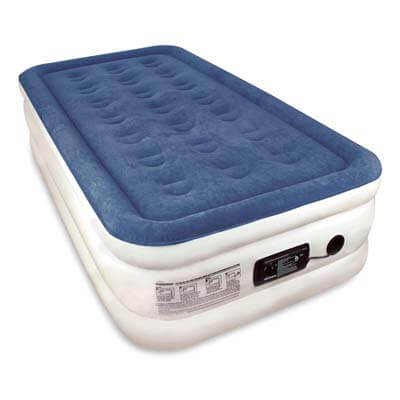 Even though serving just as a temporary measure, this product can surely be called the best air mattress (or at least one of the best on the market). It is super easy to inflate, it holds the air in, and it feels very comfortable.
Here's what you need to know about this blow-up mattress:
It comes in a

Queen size

, suitable for both single sleepers and couples.

The construction involves

40 internal air coils

, which add more support.

The

top

is multilayered, thick, waterproof, and plush to the touch.
It features the internal pump for fast and easy inflation and deflation.
The best thing about this model is its weight capacity. This mattress can hold up to 500 lbs, which is more than enough for an average couple or a single large sleeper. This makes it a great guest bed able to accommodate all types of guests.
The weak point of this mattress, however, is that the middle part may be a bit raised. This means the edges are lower, which might cause you and your partner to roll away from each other.
Let's consider the most important pros and cons:
"One of the coolest things about air beds is the fact that you can actually regulate their firmness. All you have to do is add or reduce air. If you prefer a firmer surface to sleep on, blow the mattress up to the maximum. If you want a softer plush feel, let the air out. It's that easy!"
To tell you the truth, I was impressed with this mattress. Despite being an inflated one, it provided enough support and felt equally comfortable in all sleeping positions. No matter who is going to use it, you or your unexpected guests, I'm sure this mattress won't be a disappointment.
Want to see for yourself?
check out this mattress on amazon
AirMattress Raised Inflatable Bed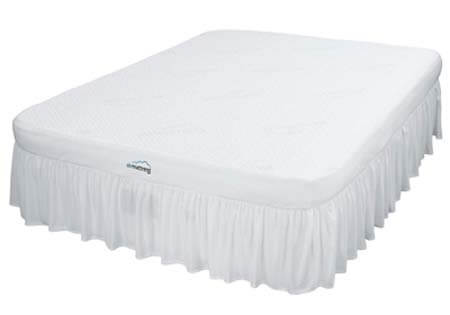 This model can be considered the best blow-up mattress for a number of reasons. It looks like a real bed, offers great support, and feels comfortable in multiple sleeping positions.
"Another great thing about an air bed is the fact that it won't sag with time, unlike ordinary memory foam mattresses."
Let's see its main characteristics:
It comes with

a topper and a bed skirt

, which make this mattress look more like a real bed and add a bit of a luxurious touch to the design.

Features

several layers of material

, including vinyl and nylon for more strength and durability.

The

pump is built-in

and inflates the mattress rather fast.
The manufacturer offers a 60-day money-back guarantee.
I loved this mattress the most for its thickness. It can offer comfort not worse than a regular bed and can hold two adults or several kids with ease. And it even looks like a regular bed!
The main downside of this inflatable bed is that the pump is noisy. Even though it inflates and deflates the mattress pretty fast, it's still very loud and might be annoying for some.
I really enjoyed sleeping on this air bed. It is rather bouncy and supportive, which allowed me to relax and sleep well all through the night. I have a feeling that you are going to enjoy this mattress just as much.
check out this mattress on amazon
Best Air Mattress for Guests and Camping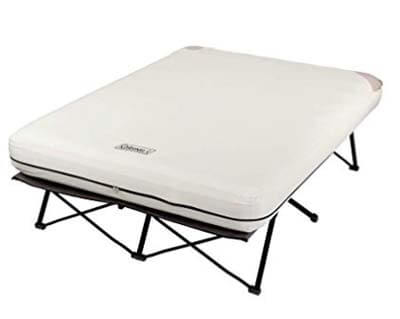 This top-rated air bed truly deserves all the praising comments and reviews. It is comfortable, practical, and reliable.
Here's what you need to know about this model:
It comes with the

folding steel frame

, which can serve as an additional sleeping surface or a supportive base for the mattress.

It can support up to

600 pounds

.

The interior

ComfortStrong coil system

provides bounciness and support.

The

battery pump

inflates and deflates the mattress quite fast.
It features the sewn-in cover, which keeps the mattress in place and doesn't allow it to move on the frame.
I love this airbed for its construction. Along with the metal frame, this mattress most closely resembles the actual bed and allows you to take it outside without having to worry about accidental punctures.
But the presence of metal elements adds up to the overall weight. This definitely is a downside if you plan to use this bed for guests or as an occasional sleeping place because you would have to install the frame each time.
Let's see the main pros and cons:
To tell you the truth, I loved using this mattress. And now I can surely say that it is one of the most comfortable inflatable beds.
check out this mattress on amazon
Intex Comfort Plush Mid Rise Dura-Beam Airbed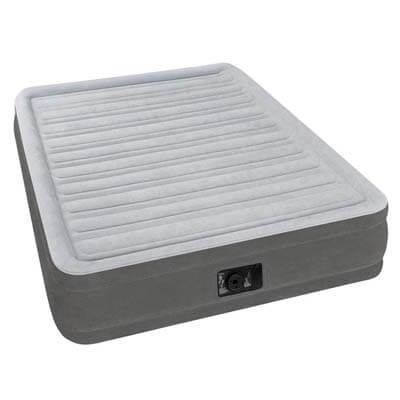 This is a smaller and a bit cheaper model, which still deserves to be called the best inflatable bed. The manufacturer decided to improve the design, so this air mattress is a more supportive and comfortable model.
Let's take a look at its main features:
The interior construction features the

enhanced Fiber-Tech system

, which includes the added high-strength fibers for more support and durability.

It features the

built-in electric pump

, which is very easy to use and inflates the bed rather fast.

The sides and the top surface are made of waterproof

flocked material

, which is very pleasant to the touch.

It features the

dual air pillow top

and the

enhanced edge construction

for more comfort.
The most prominent feature of this mattress is the combination of high-quality materials that you can get for a great price. If you need a bed for occasional indoor use, this will be a real deal.
The drawback of this airbed, however, is a slight off-gassing. It will diminish in a couple of days but still can ruin the first impression a bit.
Here are the most important pros and cons:
Here's the deal:
This mattress is both affordable and high-quality, which is a rare combination. It can become your best helper during the camping trip or when you have an overcrowded house.
check out this mattress on amazon
Best Air mattress for Edge Support
Coleman SupportRest Elite Air Bed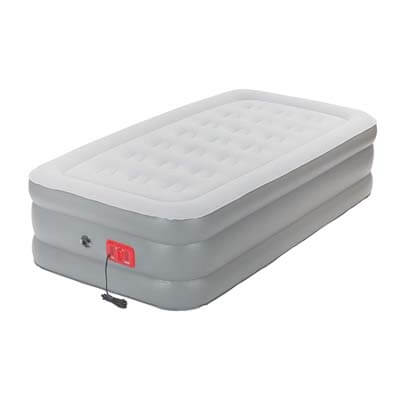 Another contestant for the right to be called the best air bed (or the indoor air mattress, wherever you choose to use it) is this model by Coleman. It is comfortable, supportive, and keeps its shape quite well.
Here's what you need to know about it:
It features the

enforced interior coil construction

(ComfortStrong) for an even sleeping surface and better support.

The

electric pump

is built-in and allows the users to inflate the bed fast and deflate it completely.

The

edges are raised

to keep the pillows in place during the night.
It features the AirTight system, which prevents the air from leaking.
The best thing about this airbed is its edge support. You can share a bed with someone or snooze closer to the edge and won't feel uncomfortable. I believe that it's achieved with the combo of raised edges and heavy-duty materials.
The worst thing about this air mattress is that, even though it has an AirTight system, it's still not immune from occasional leaking. However, the built-in pump can alleviate this inconvenience completely.
Let's take a look at the main pros and cons:
Here's the kicker:
Despite being a temporary replacement for my regular mattress, this camping air bed helped me sleep all through the night without feeling uncomfortable even once. It is supportive and soft at the top, and I'm sure you are going to like it too, no matter where you take it.
check out this mattress on amazon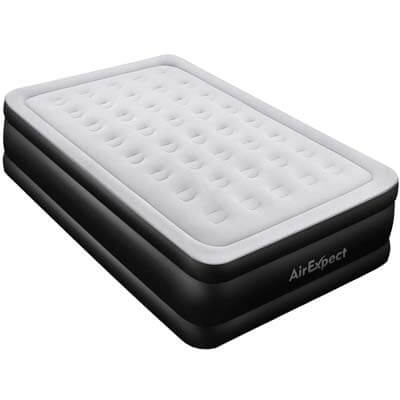 Let me introduce you to the last contestant deserving to be called the best inflatable bed – this mattress by AirExpect. It's available in two most common mattress sizes — Twin and Queen — and is comfortable and supportive, which is everything you need your air mattress to be, right?
Look at its main features:
It packs

40 internal air coils

for better support and contouring, so you will wake up well-rested and without any pain.

The airbed has

raised borders

that will help you keep pillows in place.

The

skid-proof bottom

prevents the mattress from wandering around your room or camping tent.

A powerful

built-in pump

is there to help you arrange the sleeping spot in just 5 minutes.
Also, the mattress doesn't take much space when stored and can be easily deflated using the same pump.
The most prominent feature of the AirExpect is its durability. The mattress walls are 0.7 mm thick and feel incredibly sturdy, so you can be sure that it's a long-lasting purchase.
The only downside is that a mattress might lose some air overnight. If you're a single sleeper, it won't affect the quality of your rest, but couples might feel more discomfort in the morning or during the night due to that.
Here are the main pros and cons for your consideration:
"Don't think that an air bed cannot be turned into a real bed. You can always add a mattress topper for additional comfort and joint support. And a nice set of linens, pillows, and a warm blanket will surely make an air mattress feel like the most comfortable bed."
To be honest, I used to be quite skeptical about inflatable beds. But despite minor flaws, this one is nearly perfect. It is comfortable, supportive, and reliable, which makes it a great product for numerous occasions.
check out this mattress on amazon
Things That Make Air Beds Awesome
I don't know about you, but I keep wondering why some people still speak out against inflated mattresses. Of course, a good regular mattress is better for you, but that's concerning only the regular, frequent, everyday use. However, when it comes to a temporary mattress replacement or occasionally creating a sleeping place for yourself or your guests, air beds come to the rescue and bring a whole pack of benefits with them. If you're curious about what those are, consider this list:
Air mattresses allow you to create a perfectly good sleeping space

in just a couple of minutes

. The majority of them come with electric or battery pumps, which take only a couple of minutes to completely inflate the bed.

You can easily

customize the firmness

and the level of support of your air mattress. All you have to do is either pump it up or release some air to make it firmer or softer.

Inflated beds are

very lightweight

and cause

no storage problems

. They can be rolled up and put in a bag (which usually comes with every mattress). You can take it anywhere with you and it won't occupy much space in your car. Therefore, you can carry your sleeping place with you without a problem.

An air bed is

less expensive

(much less) than usual mattresses but can serve you for

just as long

if you take proper care of it.

They are an excellent way to create

extra sleeping spots

for your guests. Add a nice sheet, a couple of comfy pillows, and a warm blanket, and your visitors will feel welcomed and comfortable.
What You Should Consider When Buying the Air Mattress for the First Time
Here's the deal:
You might think that buying a simple inflatable bed is easy.
I hate to disappoint you, but it can be quite challenging. It's not rocket science, of course, but there are a few factors you need to consider and really think through:
Support and overall comfort

. If you're anything like me, you realize that when a mattress is able to provide you with a decent level of support, your back will be fine. That's why it's important to pay your attention primarily to how supportive the air bed is and how comfortable you feel when lying on it.

Size.

It is crucial too. It should be suitable for the area where you're going to use your mattress. Also, keep in mind that bigger beds can support heavier sleepers or a couple better than, let's say, a twin mattress.

Height

. When the mattress is too low and put directly on the floor, not on a platform or a steel frame, it might be difficult to get off it, especially for older people. Thankfully, there are plenty of double-height mattresses, which usually are as tall as traditional beds and don't cause any troubles getting out of them.

Warranty

. Air mattresses are rather durable, but accidents can happen even during the delivery process. That's why it's always better when the manufacturer offers a warranty on their product. This way, you will feel safer.

The

pump

is very important. It might be built-in, external electronic, external battery, or there might be no pump at all. Electronic pumps are the fastest and the most powerful ones, so going with a mattress that comes with such a pump is always a wise choice. Some air beds also feature special sensors, which make the pump add more air when detecting pressure changes.
"Some of the most comfortable inflatable beds feature two separate inner chambers. This way, you and your partner can regulate each side according to your own preferences. One side of the mattress can be firmer for back sleepers, the other one can be softer for side sleepers. This is a perfect option for couples.
How to Use Your New Mattress Like a Pro: Helpful Tips and Tricks
If you're wondering "How can I prolong the life of my air bed and use all of its benefits at the same time?", I have the answer for you. A few, actually:
No matter how plush the mattress surface is, it's always better to

use sheets

. They create a more familiar feel and make the air bed look like a real one.

Try to put your mattress on something

soft

, like a rug or a carpet. This way, it will be steadier and won't make any unnecessary squeaky noises when touching the floor.

This is obvious, but many people tend to forget this important rule:

don't let your pets on the air mattress.

Even if your dog or cat is calm and just wants to lie down, their claws can easily make a hole with just one paw movement.

You can always increase the level of comfort by adding a good

mattress topper

. Choose whichever you want, whether it's memory foam or, let's say, latex. By adding a topper, you can add either cushioning or firmness and make the air bed feel more like a traditional mattress.

Be careful and

try not to over-inflate

the mattress. Too much air can lead to unwanted leaks or even rips.

Mind the

weight requirements

. No matter how firm and supportive the air mattress looks, overloading it might damage the product. Always read the packaging and the maximum weight the bed can support.

When you inflate the mattress for the first time,

leave it for a couple of hours

and then

add some more air

. Why do that, you might ask? You see, the material of air beds is quite stretchy, and when being inflated for the first time, the pressure from the air makes the mattress material stretch a little bit, which oftentimes looks like air leakage. You need to add more air to fill the mattress after it has stretched out a bit.
When the Disaster Strikes: How to Repair Your Air Mattress
Listen, accidents happen. We aren't 100% careful all the time, and accidentally poking the mattress with something sharp can happen to anyone. Or, for example, your pets might be too curious and climb the air bed using their long claws.
Whatever the case is, when there's a small hole in your mattress that allows air leakage, it can be fixed with the right tools. After you've discovered the leakage place, you should deflate the mattress completely. The next step is actually sealing the hole.
Now, the majority of air mattresses come with a repair kit, which usually contains special glue and some patches. And, of course, the instruction. If your mattress doesn't have any supplementary tools for repair, you can buy special vinyl glue at a camping store.
After you've applied the sealant to the breakage spot, let it dry. Don't be in a hurry to inflate the air bed, as this might break the seal. You can also apply a couple of coatings for a stronger seal.
And, when everything is dry, you can start using your mattress again without any air leakage.
Conclusion
As I've said before, I used to be quite skeptical about air beds. But after actually trying some of them out, I can surely say: it's an excellent way to create comfortable sleeping space when you lack extra beds and mattresses or want to sleep outside during a camping trip. Inflated beds can be supportive and very comfortable.
And the most comfortable one, in my opinion, is the SoundAsleep Dream Series Air Mattress. Thanks to its inner air coils, it is bouncy and supportive. The multilayered surface is waterproof and pleasant to the touch. And the internal electric pump is super fast and will inflate and deflate the mattress completely in just a few minutes. I feel like this is a great option for numerous occasions and different sleepers. I bet you are going to love this air bed too!
Product links on Happysleepyhead are referral. We get a commission on purchases made through our links at no additional cost to you. More information in my disclosures.