The 7 Best Memory Foam Pillows in 2020
by | Last Updated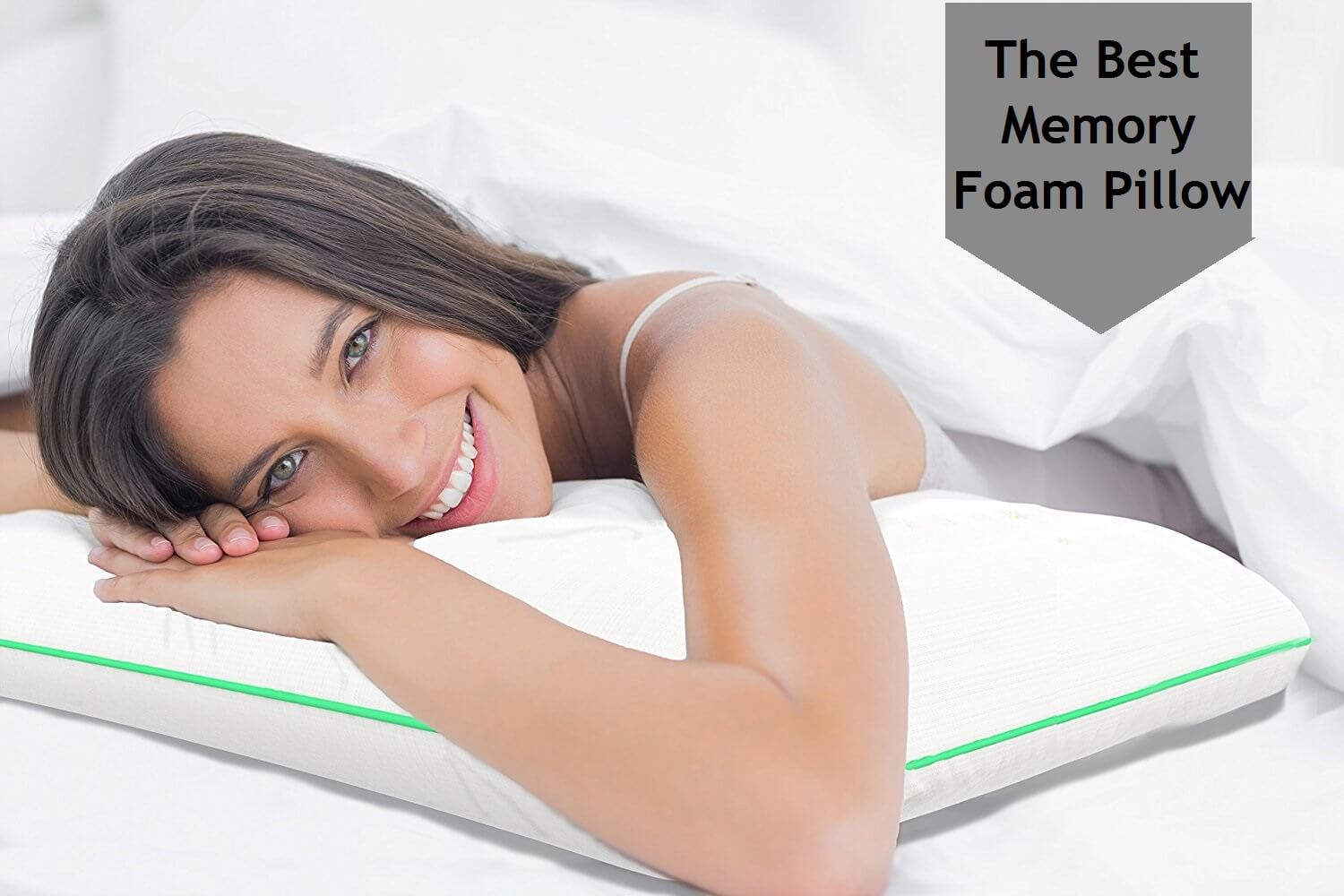 There are days when I feel like a sleep-addict.
I'm not kidding: the second I leave my bed I regret this decision.
Does this sound familiar? I hope it does. Tell me I'm not the only one.
But the heavenly moment of sweet sleep can be ruined by one small but nasty detail – an uncomfortable pillow. That's why I decided to do a little research. Today, I've prepared 7 best memory foam pillows, which can change your sleeping experience for good.
Amerisleep Comfort Classic Pillow – Editor's Choice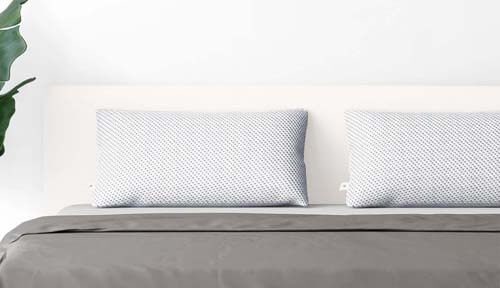 A comfort pillow by Amerisleep can easily give you the comfort you deserve. It has everything to claim its place in my review of the best memory foam pillows on the market. The Comfort Classic doesn't sleep hot and molds to your head and neck for precise support.
Now, let's take a look at its main specs:
The

filling

comes in the form of a solid Bio-Pur memory foam piece, which is certified by CertiPUR-US and doesn't contain any harsh chemicals.

The

cover

is made of a poly-cotton blend, ensuring a combo of breathability and durability. Also, the cover has a zipper for easy removal and cleaning.

The

6-inch thick loft

will make a great choice for back and side sleepers.
The pillow comes in Queen and King sizes, so you can choose the one that suits you better.
What is really great about that pillow?
The most prominent feature of the Amerisleep is how it adjusts to your natural spine curves. When I tested it, I literally felt like I'm sleeping on a cloud. No stiffness, sweaty nights, or pinched nerves in the neck after waking up!
What is wrong with that pillow?
I think that the downside of this pillow might be that it's available in one firmness option only. While it's still comfortable, it might not suit everyone.
I can say that the Amerisleep is one of the best pillows I've tested. It's moldable, supportive and cool, so you should definitely give it a try.
check out this pillow on amerisleep.com
Zoma Pillow – Best for Mixed Sleepers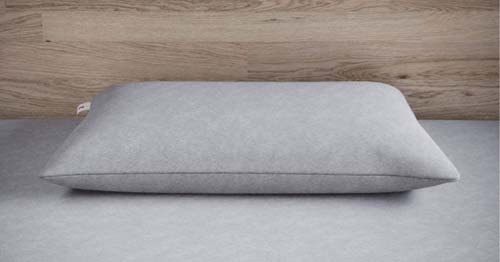 Don't let this small grey pillow with unobtrusive design fool you. Zoma is one of the leading manufacturers of sleep products for athletes, and this pillow is designed for sound and restorative sleep, no matter what type of sleeper you are.
Let's break down its main features:
The

filling

is made of thousands of tiny memory foam shreds — or MicroCushions™, as the brand states — combined with polyester fibers.

The

cover

features a blend of polyester and spandex and has a breathable weave. It's also incredibly soft to the touch.

The

MicroCushion™ technology

allows you to adjust the loft without removing the filling. Just squish your pillow if you want it thinner or fluff it a bit if you need a higher loft.
You can choose between the Standard/Queen and King sizes, so it's not a problem to adjust the Zoma pillow to your comfort needs.
What is really great about that pillow?
Probably the best thing about the Zoma is that the MicroCushion™ technology makes it suitable for any type of sleeper. Just regulate the height by flattening or fluffing the pillow, and you're all set.
What is wrong with that pillow?
The drawback of the pillow is that the filling may have a pretty noticeable odor, especially during the first couple of nights. Although you can facilitate its removal by actively squishing the pillow, it's still a thing to consider if you have a sensitive nose.
Despite some minor flaws, Zoma can make a great purchase for almost every user. It's pretty comfortable, adjusts to your head and neck, and can alleviate any discomfort.
check out this pillow on zomasleep.com
Live and Sleep Pillow – The most suitable for side sleepers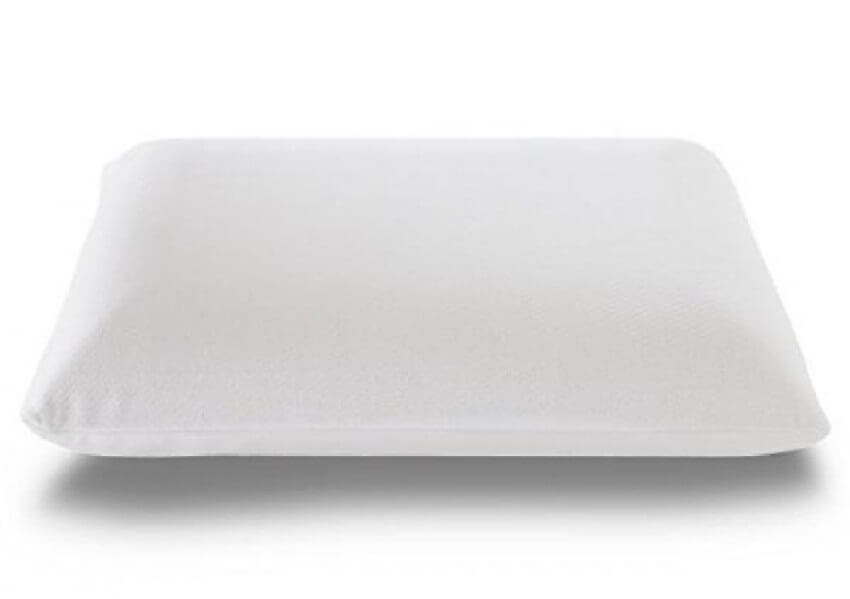 This model by Live and Sleep is reasonably priced and very comfortable, which, in my opinion, is a win-win combination. Although Live and Sleep was designed to provide great support and comfort to all types of sleepers, I feel like users sleeping on their side will make the best of it. With a 5.5-inch thickness and medium firmness (7 out of 10), this pillow suits the sleeping needs of side sleepers perfectly.
Here's what you should know about it:
The

filling

of this pillow is the solid visco-elastic gel memory foam, which is CertiPUR-US certified and safe to use.

The knit

cover

is soft, breathable, and washable.

The pillow features the

open-cell technology

, which allows the free airflow.

It has a

medium firm

feel.
The manufacturer offers a 5-year warranty and a 30-day sleep trial.
What is really great with that pillow?
The best thing about this pillow is the combination of value and quality. While being among the relatively cheaper models, the Live and Sleep pillow is supportive and comfy. It easily adjusts to your head and neck, cradles them, and helps the muscles relax completely.
What is wrong with that pillow?
The worst thing about this model is its firmness. It does offer great support but might not be suitable for all sleeping positions. Being a solid piece of foam, it is a great option for side sleepers, while back and stomach sleepers might find it too firm or too thick.
To be honest, I think this pillow is worth trying out. It is able to provide enough support for your head and neck, especially if you're a side sleeper.
Feel like this option would be great for you? Click here to order!
check out this pillow on liveandsleep.com
The Eden Pillow by Coop Home Goods – Best for Stomach Sleepers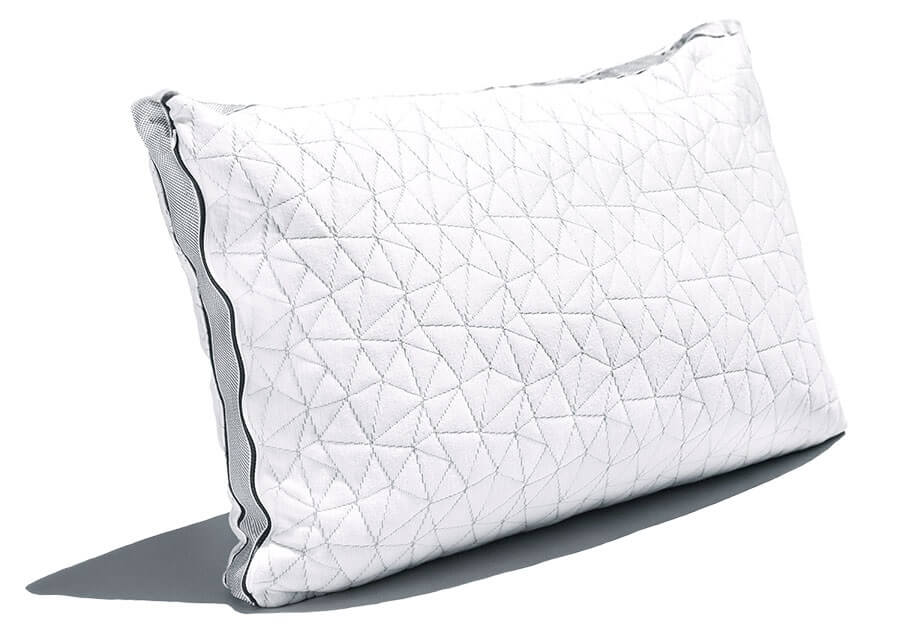 . This pillow by Coop Home Goods can satisfy almost anyone, in my opinion, as it's soft and very comfy. But stomach sleepers will likely benefit from sleeping on Eden more than other users. The thing is this top-rated memory foam pillow is really soft. I mean, not absurdly soft, but softer than medium (approximately 5 out of 10). Thus, if you remove the filling partially to make the pillow thinner, you can sleep on your stomach and feel great.
Here's what I want to tell you:
This model deserves the right to be on the list of the top-rated memory foam pillows. It is comfortable, cradling, and soft as a cloud, which is a perfect option for people who want their pillow to feel plush.
Take a look at its main features:
The

filling

is made of gel-infused shredded memory foam and microfiber.

The

cover

is made of bamboo and features a cross-cut design.

You can

adjust

the pillow's thickness by simply removing the filling.

The pillow is

machine washable

.
The manufacturer offers a 5-year warranty and a 100-night sleep trial.
What is really great with that pillow?
The best thing about this pillow is how breathable it is. You all know that memory foam can make you sleep hot, right? Well, with the Eden model, that's not the case. When sleeping on it, I even felt a subtle cooling effect. I guess it's because of the gel that's infused in the filling and the cross-cut shredding style of the foam.
What is wrong with that pillow?
The worst thing about this model is its softness. For people who prefer sleeping on a cloud, it's not an issue. However, if you're one of those sleepers who appreciate solid support, you might find this model to be too thin or too plush.
check out this pillow on coophomegoods.com
Premium Shredded Foam Pillow By Brooklyn Bedding – Best to sleep cool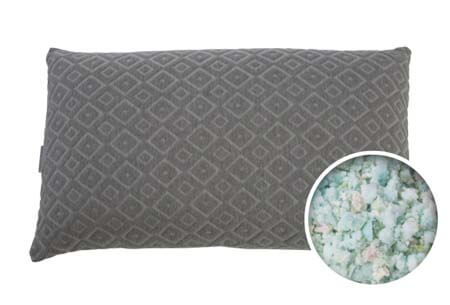 This Brooklyn Bedding pillow can make you feel exceptionally comfortable during the night, given the fact you can adjust it to your liking.
Unlike most memory foam pillows, this one doesn't sleep hot. The thing is it's not made exclusively from foam. Instead, it gives you the best of both worlds – foam and latex. The latter is known to be a naturally breathable material that doesn't retain heat. Besides, the pillow features a cooling gel infusion, which adds to the cooling effect.
"Latex naturally has an open-cell structure, which promotes far better airflow than memory foam and most other materials used for pillows can provide.
Have a look at the main features:
This pillow's

filling

is a blend of shredded foam and latex, which makes the pillow supportive, cradling, bouncy, and breathable – all at the same time.

The zippered charcoal bamboo

cover

makes it possible for every user to adjust the height of the pillow to personal preferences.

The cover is

machine washable

.

Three sizes

are available (Standard, Queen, and King).
The pillow is covered by a 3-year warranty and can be returned within a 120-night trial period.
The coolest thing about this pillow is its flexibility. You can remove or add the filling to make the pillow comfortable for you personally. It's also extremely moldable, which means you can fluff it and reshape in order to find the sweet spot to place your head.
The most annoying thing about this model is its off-gassing. Even though the pillow is not 100% foam, it still has that strong chemical odor typical of memory foam products. It's supposed to air out within a day (that was my case), but some users complain it takes much longer.
Let's see the most important pros and cons:
To tell the truth, I really enjoy sleeping on this pillow. Although it took me several nights to find the perfect thickness, it was worth it, as now I sleep cool every night.
Feel like this pillow is your key to comfortable sleep?
check out this pillow on dreamfoambedding.com
Premium Shredded Memory Foam Pillow by Clara Clark – Best Cheap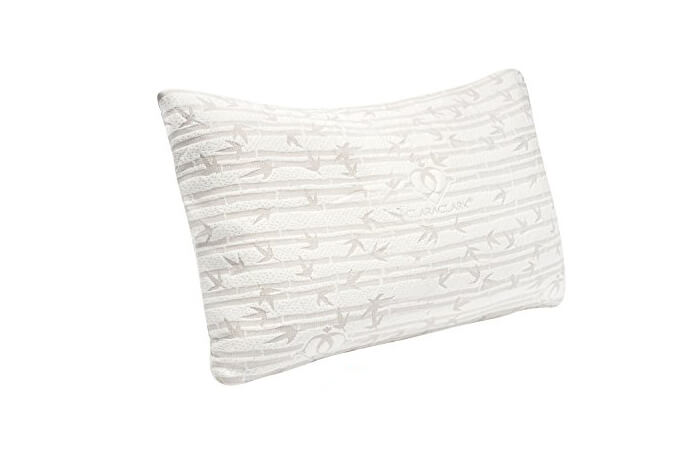 Another contestant for the right to be on the list of the best memory foam pillows is this model by Clara Clark. It is soft, breathable, and simply comfortable.
And the best part is:
You can get it all for less than $20, which makes it one of the cheapest memory foam pillows on the market.
Even more so, if you buy a pack of six pillows, you will get almost $20 off your purchase. So, it's a great choice for people who sleep with more than one pillow, as well as for those who want to upgrade the bed of every family member.
"The thing you use the most is your bed pillow. It gathers all the dust, the sweat during the summer, the circumstances of your late night snacks, and the accidental spills. Therefore, don't forget that regular cleaning is a necessity."
Let's take a look at its main features:
The

cover

is made of the combination of bamboo and microfiber. It is breathable and pleasant to the touch.

The

filling

is the shredded memory foam. It is hypoallergenic, dust mite resistant, and easy to adjust.

The company offers a

100% satisfaction guarantee program

.

There is a

zipper

on the cover. It will allow you to customize the pillow to your preferences.
The company offers different sizes and package deals. This provides you with more chances to find the perfect option for yourself.
The best thing about this pillow is how bouncy and squishy it is. It manages to maintain its shape during the night and doesn't turn into a flat pancake when the morning comes. The bounciness also means great support, which is a necessity every pillow must provide.
What is wrong with that pillow?
The worst thing about this model is the off-gassing. Again, a common issue for memory foam products, but it made me a little bit worried as the odor took more than a day to disappear.
Overall, my experience with this pillow was rather pleasing. My neck felt good, my head felt cradled, and I slept all through the night.
check out this pillow on amazon
Best Shredded Memory Foam Pillow
Snuggle-Pedic Ultra-Luxury Bamboo Shredded Memory Foam Pillow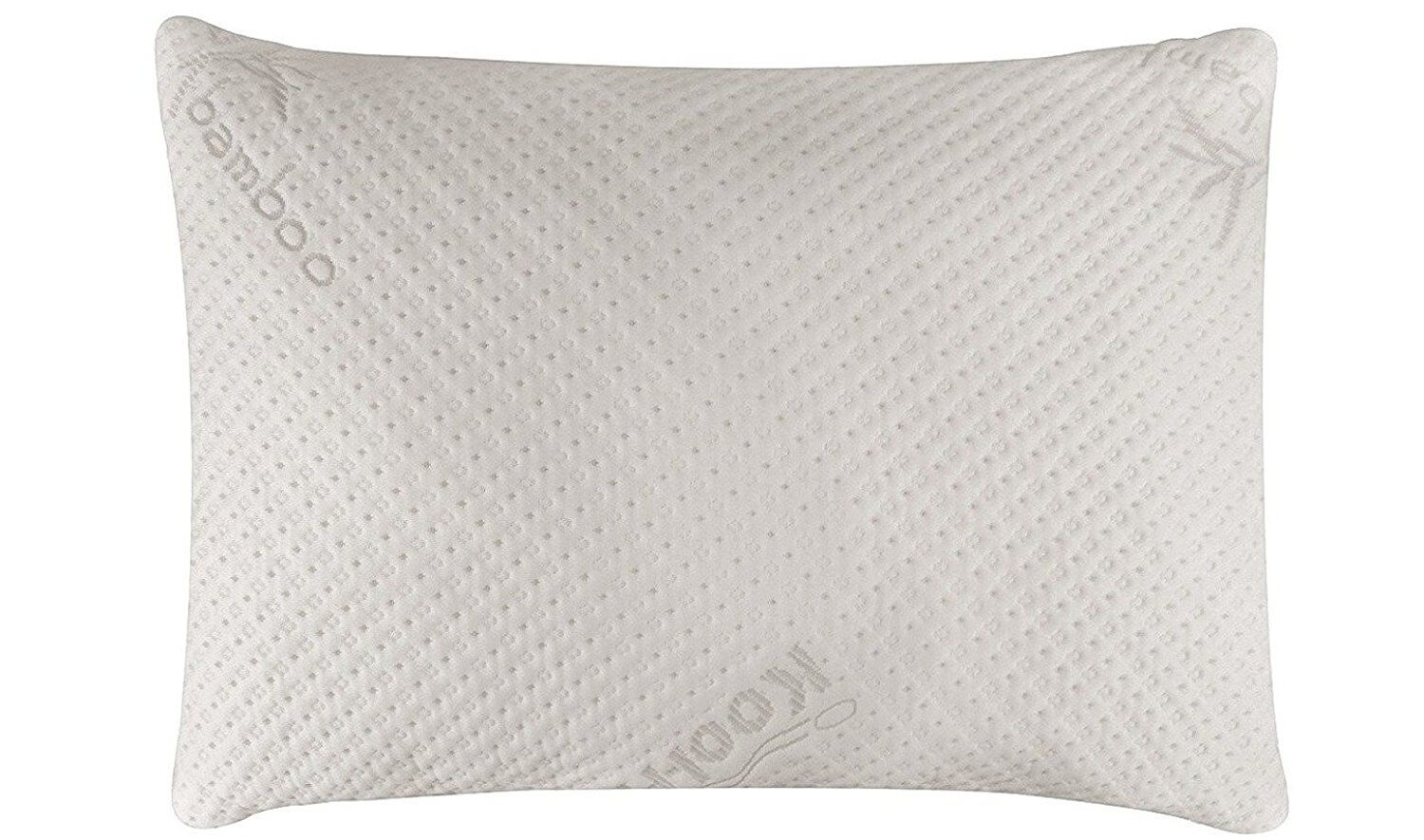 The Snuggle-Pedic pillow gives you everything you need for good sleep:
It feels cool and cradles your head, so you won't feel sore. But the greatest thing about this pillow is that you can adjust the loft based on your sleeping style and preferences.
Let's take a closer look at the features:
The cover is made from

breathable bamboo viscose

. It's breathable and wicks away moisture, so you will feel cool and dry.

The filling of the pillow is

shredded memory foam

. It traps less heat and is very moldable.

The cover has a zipper and is

washing machine-friendly

, so the maintenance of the pillow is as easy as pie.
The pillow is available in three sizes, meaning you'll have no problem finding a perfect fit.
What is really great about this pillow?
The best thing about this pillow is its adjustable loft. It allows you to make your pillow suitable for your particular sleeping style or health conditions so that you would feel comfortable in any situation.
What is wrong with that pillow?
The typical downside of pillows with shredded memory foam filling is their odor. After you fluff the pillow, the area of contact between the filling and the pillow increases, so the smell might be a bit more noticeable. But you can aerate it for a couple of hours to alleviate the odors.
Overall, this is a good pillow. I would recommend it to everyone who wants to be able to customize their pillow to their own needs.
check out this pillow on amazon
Factors We Look At
Finding the best memory foam pillow is one of the secrets to better sleep. Each model on the market has its own features, as well as a number of pros and cons. We consider them all when recommending an item to you. Here are the things we factor in:
Shape

. Different types of pillows cater to different sleeping needs. E.g. cervical and contouring pillows are designed for people suffering from neck and back pain, while V-shaped pillows are a great option for people who need to hug something in their sleep.

Size

. Usually, the size of a pillow is determined by the size of your bed. However, people with smaller beds might appreciate a larger pillow if they tend to toss and turn at night. We mostly select models that come in different sizes.

Overall comfort

. Firmness and thickness are two main factors we consider to evaluate the comfort levels of a pillow when used in different sleeping positions. Whenever it's possible, we make suggestions as to what sleeping position this or that pillow will be most comfortable for.

Construction

. The way a pillow is built is directly connected to the way it feels. We take into account whether it's a one-piece or shredded memory foam pillow, whether it features a dual-sided design or has equal sides, whether it's 100% foam or a mix of foam and other materials.

Cover

. Some covers are breathable and hypoallergenic, while others are hot. Some are removable and machine washable, and some are not. The material that the cover is made from defines how it's able to wick the moisture, keep you cool, promote a clean sleeping environment, etc.

Durability

. We always consider the quality of the inner filling, the seams on the cover, lining (if any), etc. Long-term reviews are factored in too, as they show how other users are satisfied with a product when they've been using it for a long time.
A Little Insight into the History of Memory Foam
Did you know that the invention of foam is closely connected to NASA and space?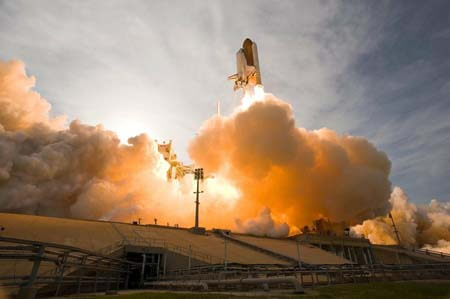 Although some sources refer to NASA as to memory foam inventors, it's a myth. The truth is NASA hired an independent contractor in 1966 to design a seat for astronauts, which would help them feel more comfortable when a space shuttle is taking off and all the way during their space journeys. The material for the seats should have possessed the following properties:
energy absorption;

softness;

pressure resistance.
"When a spaceship takes off, astronauts inside it experience enormous pressure as if a 500-pound man would sit on their chest."
Although there are some recorded uses of a similar foam material before 1966, the first formula of the memory foam we know today appeared as a result of NASA's attempts to make space travel safer and more comfortable for astronauts. From that time on, the initial formula has been undergoing different modifications, as every manufacturer who used this material in their products wanted to improve it.
"Most companies keep their own memory foam formula a secret, which is why you can often come across the phrase 'a proprietary memory foam blend' in product descriptions."
The Variety of Shapes
You might think that the regular rectangular pillows are the most popular options. But these days, people choose to experiment and try different styles and shapes.
Among those are the contouring pillows. They are crafted specifically to cradle the head and to create a wave under your neck for the proper support.
Wedge pillows look quite unusual but are also a popular choice for numerous people. They look like a big triangle, which is made from a solid piece of memory foam. Such pillows are designed for multiple sleeping positions, plus you can lean on them when sitting and, let's say, reading in bed.
Why Hundreds of People Choose Memory Foam (and Why So Should You)
The old-fashioned feather pillows are in the past, and the memory foam occupies more and more place on the market each day. Want to know why? Because memory foam pillows come with numerous benefits:
Memory foam is

hypoallergenic

, which means it is suitable for sensitive and allergy-prone people.

This material is perfect for side sleepers as it is

sturdy, supportive, and firm

enough to keep the head and the neck properly positioned.

Memory foam pillows manage to effectively

keep their shape

, which means they will stay fluffy for longer periods of time.

This material is

dust mite resistant

, so your pillow will remain safe for you to sleep on.
This type of pillows is great for pressure relief and the neck pain reduction, because they provide enough support and that cradling effect that helps sleepers relax their muscles.
The Most Common Issues You Might Face (But Don't Let Them Scare You Off)
Now, nothing is perfect. Memory foam pillows have their own flaws. Not each and every one of them, but some models might make you face the following issues:
Heat retention

. Foam is a dense material, which doesn't allow too much airflow. Therefore, some foam pillows can make you sleep hot. However, going with the shredded foam can eliminate this issue, as the small bits of the material allow the free airflow and help with the temperature regulation.

Price

. Some models are reasonably priced, but there are many items that cost more than $100. Some manufacturers offer numerous extra features, others go for the material quality and comfort. Whatever the case is, keep the price factor in mind when searching for the best pillow.
Odor. This is a common issue for the majority of memory foam products. You might feel a slight (or strong) off-gassing when you open the package with your pillow in it. Don't let it ruin your mood, as the off-gassing (when it's moderate) can be simply aired out. Just give it some time.
Cleaning and Maintenance
Here's the deal:
No one wants to sleep on a dirty, sticky pillow, right? So, if your memory foam pillow isn't machine washable, you need to learn other ways to keep it fresh:
When the accidental spills happen, soak up the excess liquid using paper towels. This will help prevent the staining, but only if you do it quickly.

To clean minor stains or spills, blot the dirty area with a damp cloth. If needed, use some mild soap to spot clean the pillow.

If you want to get rid of the unpleasant odors, you can sprinkle the pillow with baking soda, leave it for some time, and then brush the remaining baking soda off.
FAQ for Memory Foam Pillow Buyers
What's the difference between memory foam pillows and latex ones?
The main difference between a memory foam pillow and a latex pillow is the feel. Memory foam is soft and contouring, while latex has a bit of that spongy feel and is more bouncy.
Do all memory foam pillows sleep hot?
Hot sleeping depends on a lot of factors, and your perception is the main one. Aside from that, some pillows might sleep warmer than others for the following two reasons:
because they allow for deeper sinkage, hugging your head and thus retaining heat;

because they have a denser structure, which traps heat as well.
Can I use a memory foam pillow for sleep apnea?
Yes, memory foam pillows can be suitable for people with sleep apnea, acid reflux, and other sleep-related disorders. Memory foam is a sturdy material, and it can maintain a slight incline in order to keep your airways open during sleep while remaining comfy and cradling for your neck.
Actually, wedge pillows, which are quite a popular option among people with sleep apnea, are mostly made of memory foam.
Are memory foam pillows washing-machine friendly?
No. If you put a memory foam pillow into a washing machine, even the delicate mode will be too rough for it, which means it will break down the structure and make your pillow flat and unsupportive.
You can still wash it, though. Just submerge the pillow into lukewarm water and rinse it until it's clear. Do not use any detergents, as they can damage the foam. Then allow your pillow to dry on its own.
How often should I change my memory foam pillow?
Usually, a memory foam pillow is more resilient and dense than fiberfill and shredded foam blends. Most manufacturers claim that you should replace your foam pillow every two or three years, but you can actually rely on your overall feel. If your pillow leaves you with a sore neck, restless sleep, or headaches, it might be time to choose a new one.
Conclusion
Trying to pick the perfect pillow isn't an easy task. We are all different and have our own preferences, and the manufacturers are doing their best to satisfy our needs. But the number of choices can be really overwhelming. That's why I decided to find 7 coolest memory foam pillows that can help you sleep like a baby.
And the most comfortable among them, in my opinion, is The Easy Breather Pillow by Nest Bedding. It is comfortably firm, supportive, and cradling. The pillow comes in three different sizes and features a zipper on the cover, which provides numerous adjustability options. And yes, this model belongs to the pricier category, but let me just tell you: the second you place your head on this pillow, you'll realize that it's worth every penny.
Additional Resources:
Best Cooling Pillows On The Market – Buying Guide and our Top 7 picks
Best Down Pillows You Can Buy Online – Buyer's Guide and our picks
Product links on Happysleepyhead are referral. We get a commission on purchases made through our links at no additional cost to you. More information in my disclosures.