5 Best Reading Pillows on the Market — Reviews and Buyer's Guide
by | Last Updated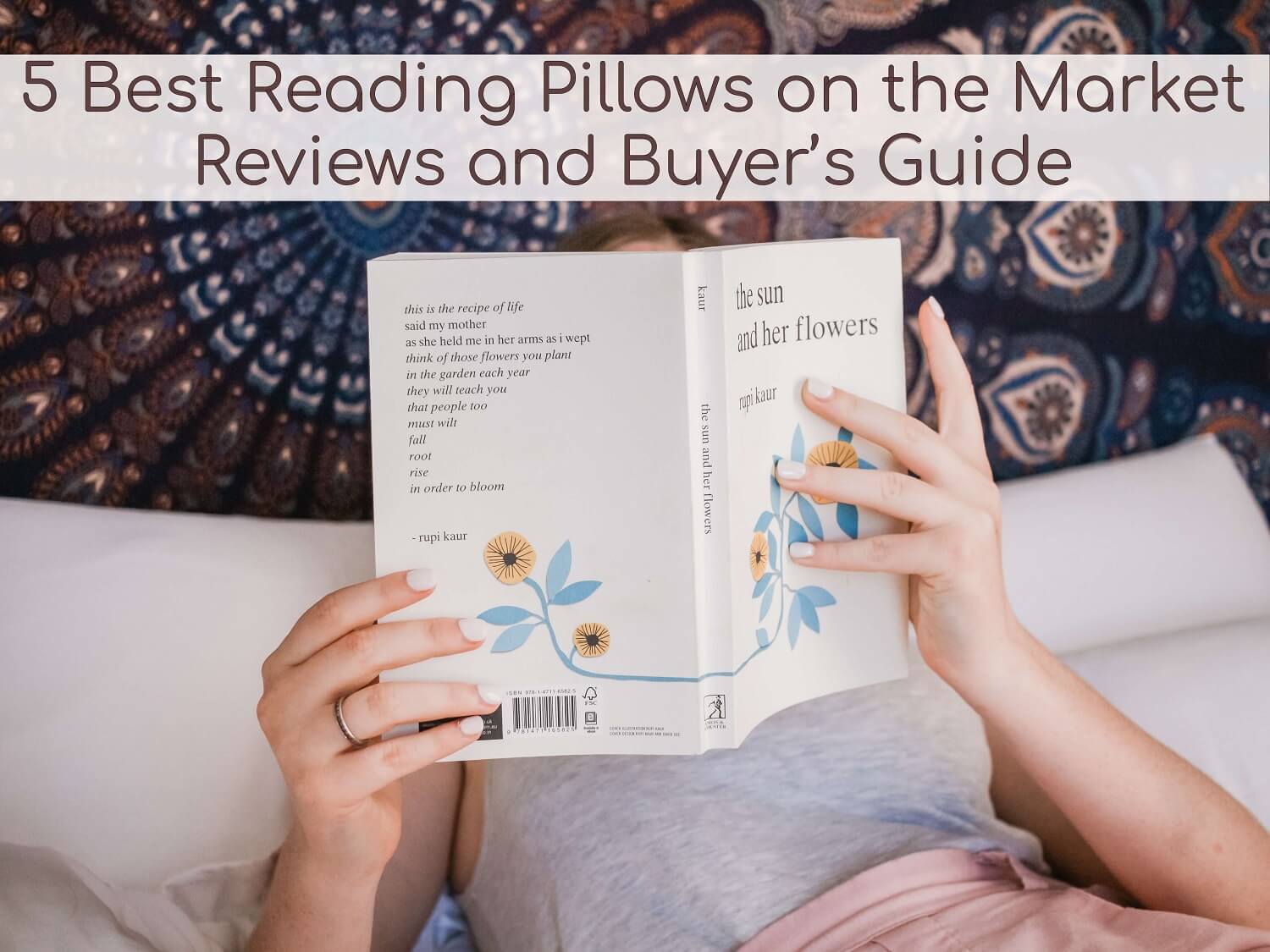 What can be better than reading a good book before going to sleep?
For me, nothing beats this relaxing ritual.
Having been doing this for years, I've learned that comfort is essential here. After all, waking up with stiffness or soreness in the neck the next morning is not a pleasant experience.
If you agree, I suggest that you check out my reviews of 5 best reading pillows to ensure yourself a nice and comfortable spot for reading.
Are you intrigued? Then scroll down to learn more!
| Model | Type | Dimensions | Warranty | Rating |
| --- | --- | --- | --- | --- |
| Linenspa | Shredded memory foam fill + velour cover fabric | 15 x 26 x 18 inches | 3 years | |
| Vive | Memory foam fill + soft polyester cover | 27 x 24 x 12 inches | 2 years | |
| Brentwood Home | Memory foam fill + knit bamboo rayon cover | 24 x 24 x 10 inches | 1 year | |
| Husband Pillow | Shredded memory foam fill + micro plush cover | 15 x 8.5 x 31 inches | 3 years | |
| Keen Edge Home | Shredded foam fill + velour cover | 20 x 28 x 17 inches | Not specified | |
Our Reviews of 5 Best Reading Pillows
Best Shredded Foam Pillow for Reading in Bed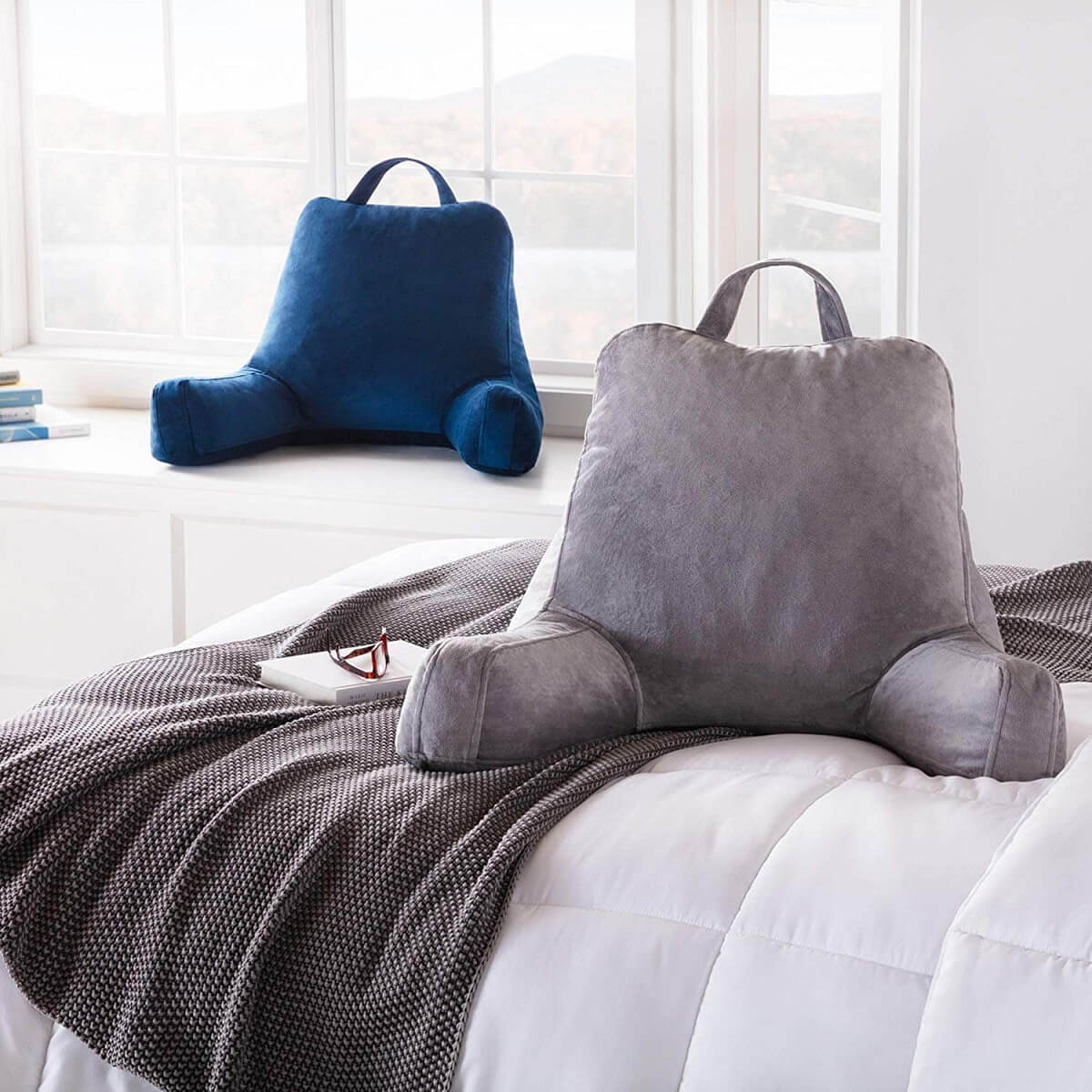 So, let's open our list of the best reading pillows with this model by Linenspa. Being available in the neutral stone grey and navy blue colors, the pillow looks luxurious. And it feels luxurious too!
Foam shreds inside this pillow compress and contour your body evenly, without creating pressure points and straining your muscles. Just like any decent shredded foam pillow for reading, the Linenspa model doesn't make you sweat and effectively draws away heat.
The velour cover is incredibly soft and smooth to the touch. But don't worry, it won't slide unexpectedly when you lean on it.
Also, you can choose between the standard (designed for kids and teens) and extra large sizes (designed for adults), which means you can get such a pillow even for your little reading lover.
The worst thing about this model is that it may be small for some users. See, the height is 18 inches only. For taller people, it may lead to discomfort in the neck.
What I love about this pillow is its ability to contour your body for an extended period without making you feel sore and sweaty. This is exactly what a bookworm like me usually looks for.
Overall, if you're looking for a sturdy and comfy option for everyday use, this pillow is the one you need.
Check out this pillow on amazon
Best Reading Pillow for Versatile Use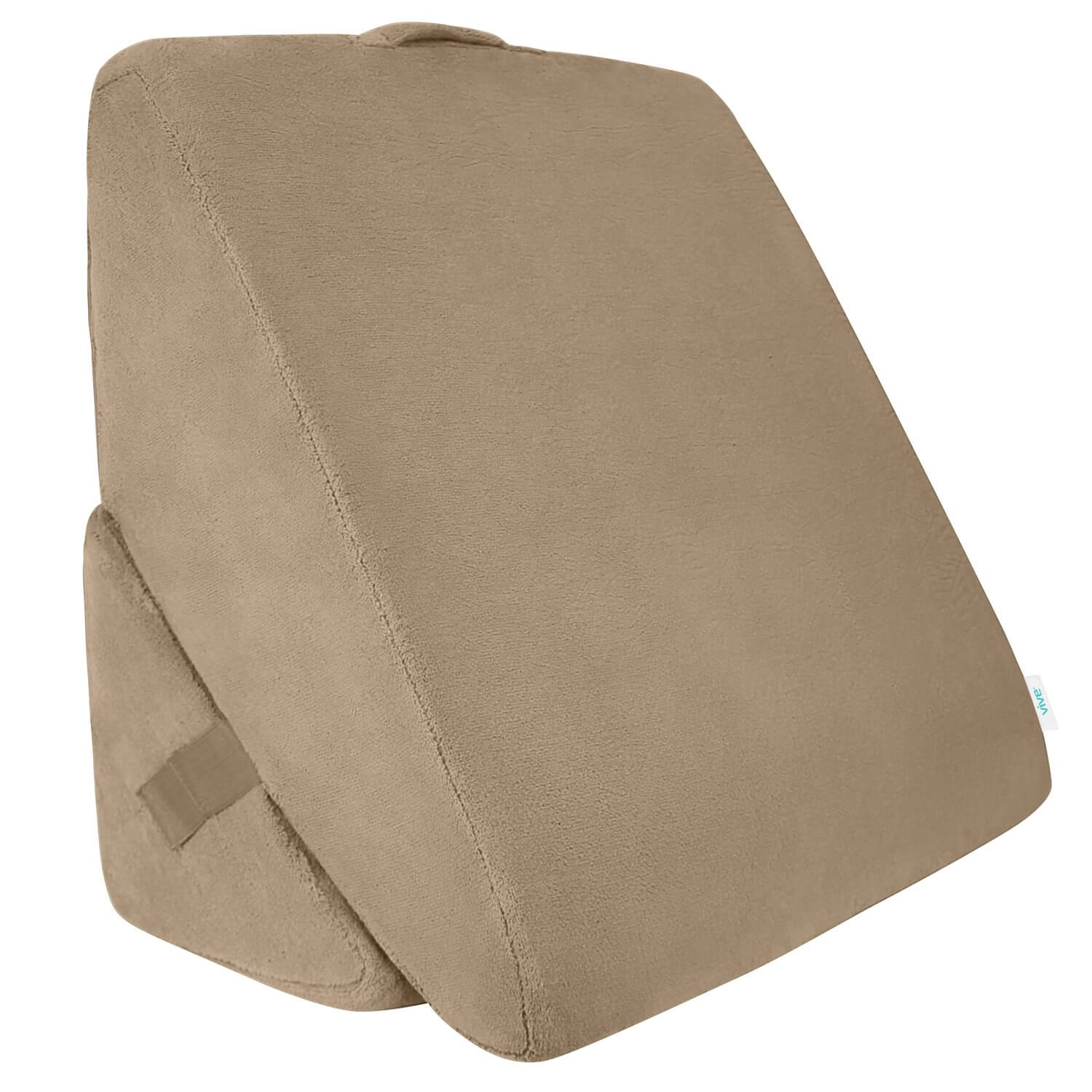 Another top-rated pillow for reading in bed in my list is the wedge pillow by Vive. I put it here because of its versatile design: you can use this pillow as a headrest and back supporter or put it under your legs.
Great, right?
Another great feature of this model is the adjustable incline. The pillow consists of two separate wedges connected with a velcro fastener. Thus, you can rearrange them to regulate the angle for sleeping or watching TV.
The cover is made from polyester and comes in the warm beige color. Moreover, it's removable and washable, so don't panic if you accidentally spill your tea because of an unexpected plot twist.
The main downside of this pillow is typical of all memory foam products: sometimes it retains heat. I felt it quite a bit when I spent more than two hours reading in bed.
The main advantage, however, is versatility. With this model by Vive, it's like you are getting several pillows in one. This is great if you plan to use the pillow not only for reading and therefore want to save money.
Thus, if you're looking for a pillow that allows customization and may be used in different ways, this is your model of choice.
Check out this pillow on amazon
Best Wedge Pillow for Reading in Bed
We are moving down our best reading pillows list. The Brentwood Home pillow is here because it combines quality materials and excellent comforting properties, and is available in three thickness options — 7, 10, and 12 inches!
And this is not the end!
Along with providing excellent comfort while reading, this pillow can be used for treating some of the sleep-related disorders, such as sleep apnea, acid reflux, or snoring. So, if you have some health issues, this pillow might save not only your comfort during bedtime reading but also your night sleep!
Now, the breathable bamboo rayon cover is designed for withstanding frequent active use. It's removable, so you can wash it in a washing machine and enjoy the fresh look.
The height of the model can be a downside in some cases. I was testing the 10-inch option and found that it was too high for sleeping while still being good for reading. Thus, if you plan to use this pillow as your regular bed pillow, you might want to opt for a smaller size.
The greatest thing about this model is that it's durable. This means it can survive everyday use for a long time and still be able to provide pain relief and relax your muscles.
Overall, this model is a perfect pick for those aiming to find a durable wedge pillow for reading in bed at an affordable price.
Check out this pillow on amazon
Best Reading Pillow With Arms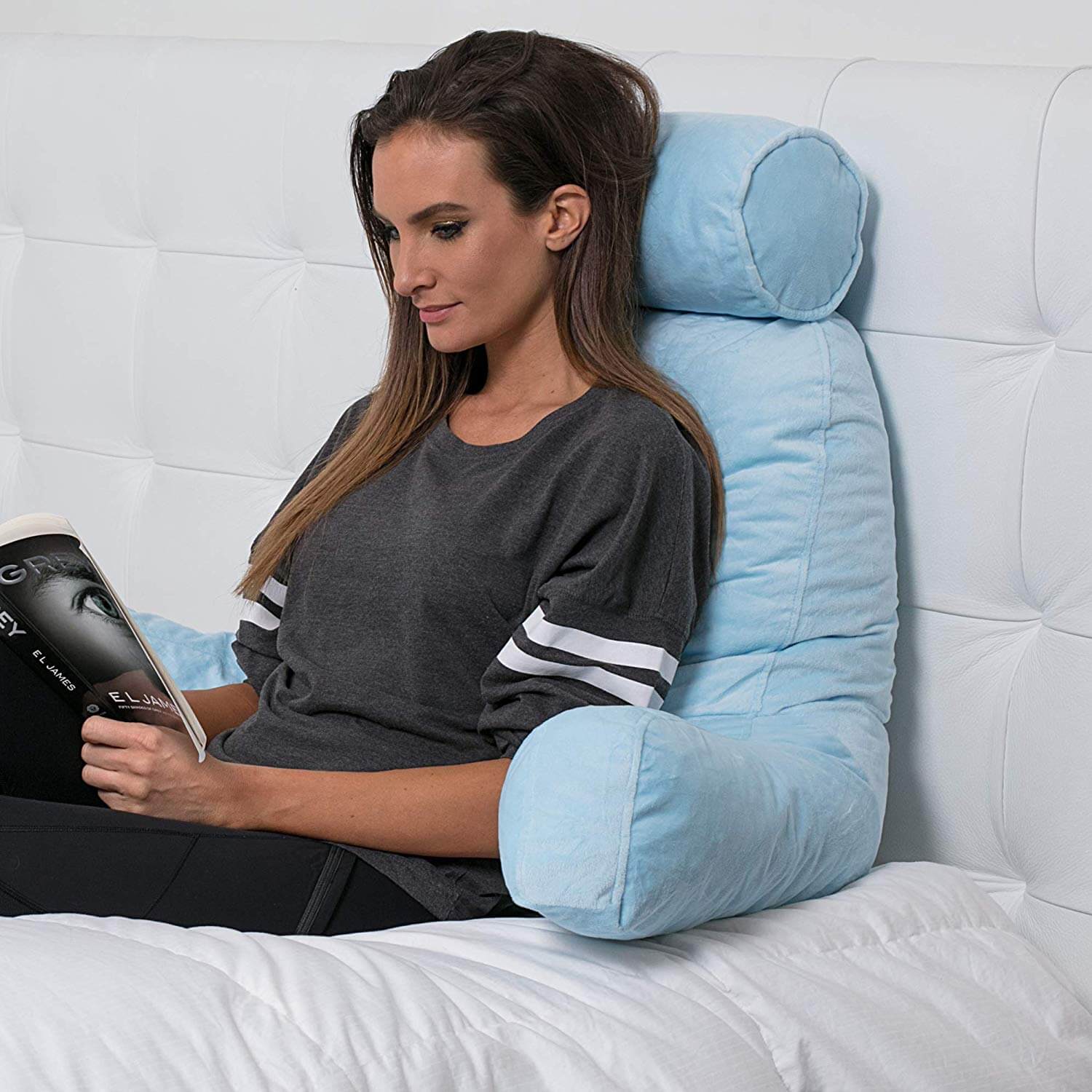 The Husband Pillow is in my top-rated reading pillows review for several reasons. It offers a generously padded back and headrest, so you can read or binge-watch your favorite shows for hours without feeling stiff.
Another cool feature is the adjustable loft. You can unzip the cover and remove some amount of filling. Or, redistribute it around the areas where you need more support. And for providing even more of that comfortable feel, the model has a detachable roll for neck and head comfort.
Now, look at the color palette of the covers! More than 20 options are at your service! Not to mention that the cover is washing machine friendly.
The biggest drawback about this almost perfect pillow is that the headrest mount is somewhat weak, so the roll might come loose. Also, the buttons used to attach it don't promise to be durable at a glance.
What I love the most about this reading pillow with arms is that it's large and comfy. I feel like I'm sitting in a big warm hug. Very relaxing for smaller users like me and comfortable enough for taller individuals.
Overall, I loved reading in the arms of this "husband". It's a go-to choice for fans of large pillows as well as for those who want to be able to adjust the pillow's loft.
Check out this pillow on amazon
Best Cheap Pillow for Reading in Bed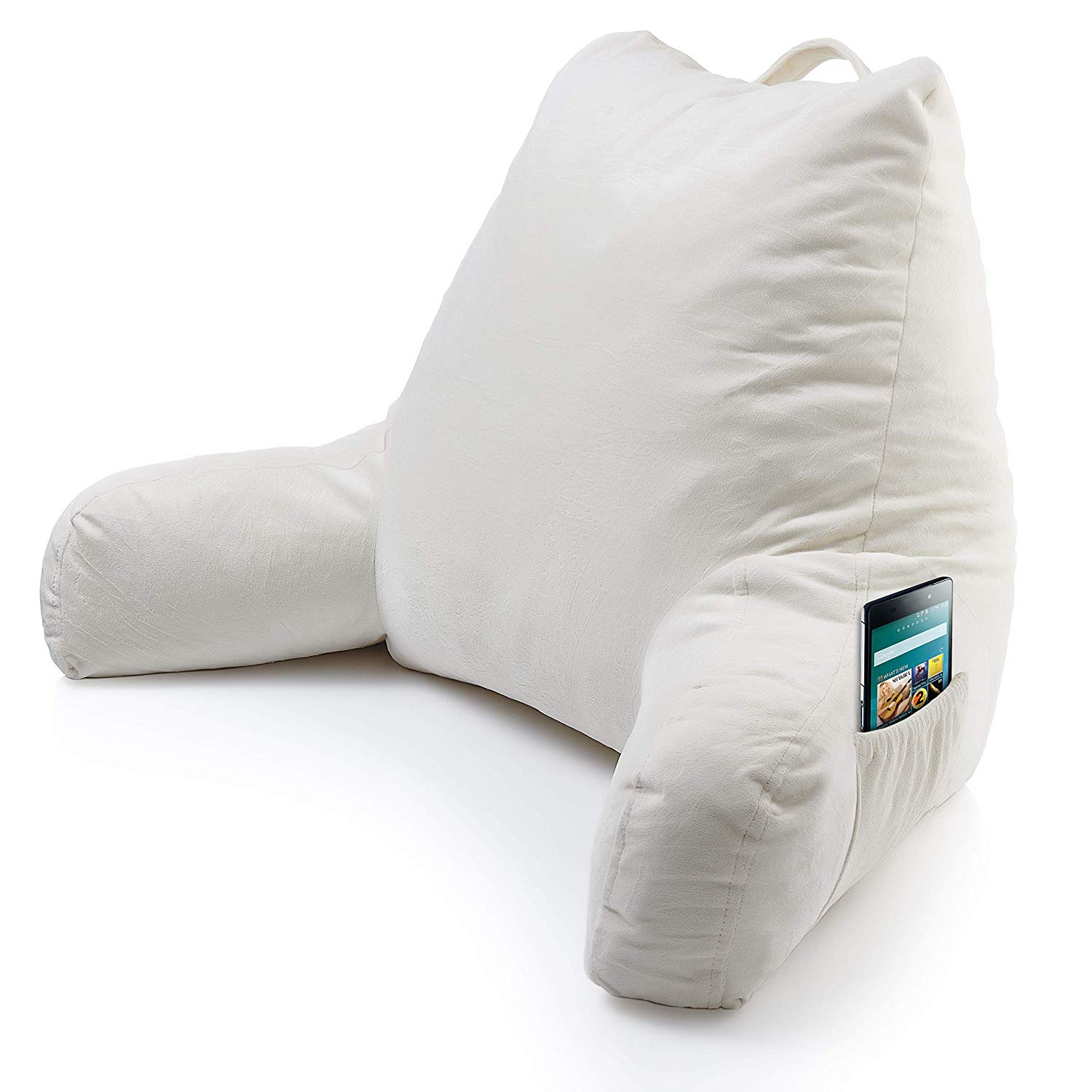 And the last model in my list is the Keen Edge Home pillow. I consider it the best pillow for reading because it offers excellent support for the sore neck and back. I was testing it after a hard workout and ended up going to sleep very relaxed!
But that's not it.
With a price tag under $30, this is one of the cheapest pillows for reading in bed on the market. It has a shredded foam filling, so it's very moldable and comfy. It also has a pretty tall back. My husband (6'5'') asked to try it too and found it so supportive that I had to fight the pillow back to continue testing.
Another thing that is worth to mention is the cover. Do not worry about the bright vanilla color, as the fabric is stain-resistant. If any spill occurs, just unzip it and throw in the washer, and you're good to go.
What I didn't like about this pillow is that armrests appeared shorter than on the photos. This might be an issue for someone who is particularly looking for shoulder and arm support.
The best thing about this model is definitely how affordable it is. Many of the similar models will cost you twice as much. Considering all the great features it has, I think it's a real steal.
I think that this is a universal reading pillow for anyone. It's very comfy and supportive, and it is so cheap! A deal of the century.
Check out this pillow on amazon
Why Back Support Is Important When Reading?
Most of us bookworms can spend hours reading our favorite novels.
That means our body needs proper support throughout all that time.
The thing is, regular bed pillows normally aren't designed for maintaining sit-up positions: they are either very soft or too small. Special back support pillows for reading, on the other hand, can offer you this support in several ways:
they create a slight incline that keeps your back neutral and relaxed;

they compensate for pressure points in the neck and upper back;

pillows to sit upright in bed

often have armrests that can additionally relax your shoulders.
A stand-alone, high-quality pillow for reading in bed can withstand your weight for several years of active use, so it may be a worthy investment.
Types of Pillows for Reading in Bed Available on the Market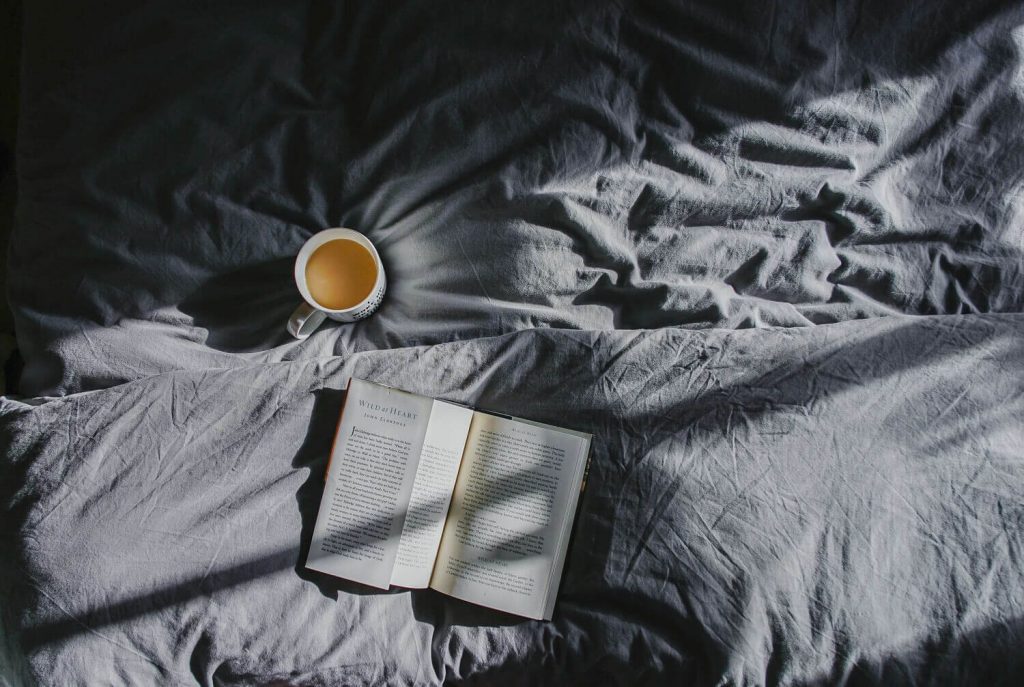 You might think that most of the bed reading pillows on the market today are the same, but there are actually a few types distinguished.
And each has its strong and weak sides.
Let's take a look at the main features of each type.
Husband Pillows
Despite the name, these backrest pillows aren't designed only for husbands or men in general. Almost anyone can benefit from using them because:
they have special

headrest which prevents stiff neck and soreness

, allowing you to read or binge-watch your favorite shows for hours;

they support the

entire upper body area from neck to lower back

, including shoulders and arms;

most models

have a ton of additional features

, such as pockets, handles, cup holders, etc.
Husband pillows often come in a vacuum-sealed package, so you need to give them some time to unfold properly.
Wedge-Shaped Pillows
According to reading pillow reviews on the Web, wedge pillows are the most popular option for reading.
But that's not it.
they can be used as sleeping pillows as well

, especially if you suffer from obstructive sleep apnea, acid reflux, or snoring;

they are typically made from polyfoam, which means that they're

very comfortable and hypoallergenic

.
Pyramid Pillows
Pyramid pillows for reading in bed are shaped like a pyramid (surprise!) with soft sides.
However, you can't lie on them.
Pyramid pillows are designed to prop your book, e-book reader, laptop, or any other device in a comfortable position so that you could read for a long time without straining your neck.
What Materials Are Pillows for Reading in Bed Usually Made Of?
Knowing about common materials that are used when making reading pillows and their properties can significantly narrow down your search.
So, let's see what we have here.
Filling Materials
Memory foam

.

Memory foam pillows

, both for reading and for sleeping, are made from a solid piece of memory foam. These pillows typically combine great cradling properties and offer you decent support in the upright sitting position. Also, they maintain their initial shape very well for a long time.

Shredded foam

. This filling material is made from small pieces of foam that move under the pillow fabric. Thus, you can easily adjust and mold the shape of this

sit-up pillow

as you like. Also, such pillows retain less heat and are generally softer than solid memory foam models.

Polyfill (or fiberfill)

. This filling consists of tiny synthetic fibers. Fiberfill is typically used in cheaper options, so these pillows may offer mediocre support, begin to lose their shape fast, and have a shorter overall lifespan.
Outer Materials
Along with the filling material, the outer fabric is also essential.
Today you can choose among several options:
Corduroy

. Corduroy covers can be made from pure cotton or a cotton blend. Thus, they are quite durable and can suit people with allergies. Plus, they usually can be washed in a washing machine, which makes maintenance so much easier.

Rayon (or viscose)

. These fabrics are made from regenerated cellulose. The most significant advantages of rayon blends are their breathability and hypoallergenic properties.

Velour

. Made from natural cotton or synthetic polyester, this fabric is famous for its plush feel and luxurious look. It can be your choice if you plan to use your reading pillow frequently, as it's quite easy to maintain.

Microfiber (or faux-suede)

. Threads of this fabric are woven in a way that makes it stain-resistant and easy to clean. It also has a sleek and luxurious look, especially when made in neutral colors.
Things to Consider When Looking for a Perfect Pillow for Reading in Bed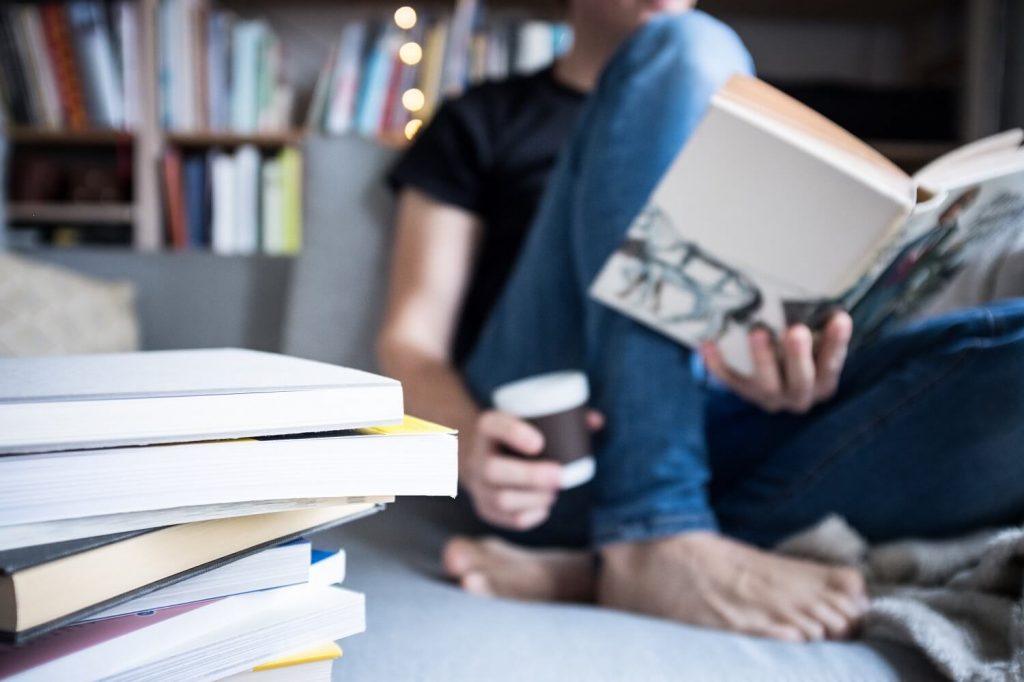 After learning the general information, you probably want to know about more specific considerations that will help you find your perfect reading pillow.
Because the devil is in the details, you know.
So, according to user reviews of reading pillows, the most common features that you need to look at are the following:
Support

. To offer you adequate support without causing you to strain or squeeze, a pillow for reading in bed must be sturdier and firmer than the one you choose to sleep on. Thus, it's always a good option to read user reviews or visit the nearest retail store and try some models out.

Size

. A golden rule for choosing appropriate pillow size is to measure the length between your shoulders and add 2-3 inches for both sides.

Comfort.

Comfort is about how you feel when using your pillow. Obviously, you should feel good. I recommend that you pay attention to models with armrests, as they are more supportive. Also, you may want to choose softer cover fabrics because chances are the pillow will make direct contact with your skin.

Easy maintenance.

Many people like to read while munching snacks or drinking tea. If you're one of them, you'll probably encounter the necessity of cleaning your pillow. So, choosing a model with a washable cover or the one that is easy to spot-clean seems to be a reasonable idea.
Additional features, such as pockets or cup holders, are often optional. It's not difficult to find them, but this may cost you extra money.
Conclusion
I know, a search for the perfect sleeping pillow can make your head explode, as the market grows every day.
I hope that this guide will serve you as an excellent cheat sheet.
And I am ready to announce my personal favorites among all the reading pillows reviewed.
The model I liked the most was the Husband Pillow. Besides being sturdy and durable, it offers plenty of room for adjustment and customization. And the number of color options is really impressive here, so you will find what suits your bedroom most.
Another personal favorite of mine is the Keen Edge Home pillow. A comfort and durability combo this pillow offers for $30 only is a great deal. Besides, it is hypoallergenic and suitable for tall people.
Have you ever used a special pillow for reading? What are your key considerations when looking for an ideal one? Share your thoughts below!
Product links on Happysleepyhead are referral. We get a commission on purchases made through our links at no additional cost to you. More information in my disclosures.