Casper Mattress Review
by | Last Updated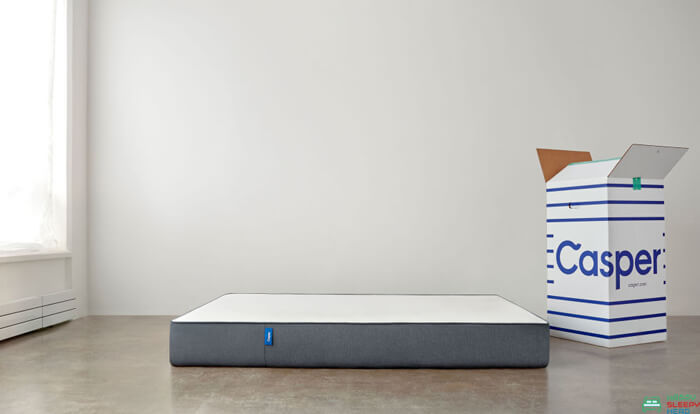 It's needless to say that the search for a perfect mattress can be a real challenge. Am I right?
Even though I'm a bit cynical when it comes to perfection, it looks like there's a mattress company whose goal is to constantly improve and create a mattress that would allow any person to feel perfectly comfortable.
In my today's Casper Mattress review, we will look at one of the most popular mattresses on the Web and find out what the hype is all about.
I want to start my Casper Mattress review with the most important part – the filling. One thing we can agree on: no matter how awesome a cake can look, nobody will want it if the filling tastes horrible. The same applies to any mattress: it can be large and stylish, but its construction is what matters most.
Now, Casper decided to move to a whole new level and make mattresses not with two or three but with four layers:
The proprietary

top layer

is made of the open-cell foam, which was designed to keep your body cool and provides some extra bounce. The system is rather simple but very

effective

: this layer allows the heat to flow away from your body by using conduction and convection. You won't believe how reducing your body temperature can benefit your sleep!
"It is difficult to fall asleep when the temperature in the room is too high. That's why cooling down is very important if you want to have a restful sleep."
One of the

two middle layers

is memory foam. It is very

responsive

and

reduces the pressure

on your body. Unlike other memory foams, it won't cause any heat retention problems as it is placed below the cooling poly layer.

Another

middle foam layer

is an adaptive polyester layer that plays a transition role and

distributes the body weight evenly

. It allows your body to smoothly go from the comfortable top layers to the supportive base layer.

The

base layer

is made of supportive foam. It's a core of the mattress, which

supports the whole construction and provides durability. It's pretty much the same as in other memory foam mattresses, but it does wonder when combined with other three layers.
If you are feeling like this number of layers is perfect for you, order your Casper Mattress now!
Interestingly enough, all the materials are designed and made in North America. So, if you want to support the local manufacturer, this mattress is for you. Also, there are the best mattresses made in Canada.
Another great thing about these mattresses is that the used materials are CertiPUR-US certified, which means they are made without any harsh chemicals, heavy metals, ozone-depleting substances, and other nasty things. I don't know about you, but this fact makes me feel safe. I don't have to worry about sleeping on a pile of chemicals.
It's not 100% organic, though. Those mattresses are rather pricey.
"Sleep is as important as a healthy diet and exercising."

I think the cover deserves its separate place in this Casper Mattress review. It's more than just a wrapper. It's what protects the mattress from dust and external damages, and it's the part that directly contacts our bodies. Obviously, it's supposed to be durable and soft to the touch.
The Casper cover can boast of having some cool features:
it's made from high-quality textiles;

it is breathable and doesn't increase the temperature of your body;

it's super easy to clean;

it has a zipper, which makes cleaning even more worry-free.
And it gets better:
The cover is lightweight and stretchy, so you won't have any troubles with fitting it onto the mattress after washing it.
Let me just say this:
I want this review of Casper Mattress to be honest.
That's why I'm not going to say that the mattress feels like a cloud and that when you sleep on it, you feel completely nothing. No, Casper Mattresses are not super "cotton candy" soft. But they are not brick-hard either.
There's a good level of bounce in this mattress, which is a great thing because it won't let you feel like you're sinking into the foam all the time. But this mattress is a bit firmer than an average mattress.
Firmness means great support, and to me, that's very important. But if you prefer sleeping on a soft mattress, or you have some back issues that won't allow you to sleep on a firmer surface, you should probably look for a more suitable option.
As I've mentioned before in my Casper Mattress review, this thing offers great support. The manufacturer claims that these mattresses are suitable for anyone, but I feel like they aren't that great for heavier people. Look, it's still a foam mattress, so it can't provide the exact same level of support for different people. If you weigh more than 350 lbs., the more comfortable option for you would be a mattress designed specifically for your weight.
As for the edge support, there's really nothing special about the Casper mattress. I mean, like any other foam mattress, it doesn't provide that much of an edge support, but this criterion is not crucial. Of course, if you love sleeping on the edge with your arm hanging down, you should probably try looking for another mattress, preferably the innerspring one.
When preparing to write my Casper Mattress review, I decided to conduct a motion transfer experiment. Of course, I wasn't jumping on my bed with a glass of red wine standing on the other side like they do in TV commercials. Instead, I used an empty vase, and the mattress showed great results, which makes it a great option for people who are easily disturbed by their partner turning and moving when sleeping.
This mattress is rather bouncy, which means it shows low levels of sinkage. If you are a heavier sleeper, you might sink deeper into the comfort layers. But in general, this mattress performs well and doesn't make you feel stuck inside the foam.
The average sinkage depth is between 2.5 and 3.5 inches. Again, it depends on your weight, but in this Casper Mattress review, I've already mentioned that heavier sleepers might enjoy specially designed mattresses more.
The mattress arrived in the box and had a slight odor when I unpacked it. I think this is a natural thing for any new mattress, so that didn't worry me much.
But get this:
The smell completely disappeared within a day.
I want to note that my windows were opened because it was a warm spring day, so if you receive your mattress and keep it in a poorly ventilated room, it might take it a couple of days to lose its off-gassing.
As I've mentioned at the beginning of my Casper Mattress review, the company is very famous online and beyond the Web. What you probably didn't know is that Casper is a relatively young company. They've launched in 2014 and have been improving the mattress ever since, adding new features based on the customer reviews.
I guess this is the best part:
They take people's opinion into consideration.
But that's not the only thing they do to make their mattresses better.
"Each update is based on feedback and research data. The latest updates include making the cover removable, adding the fourth foam layer to help with the pressure relief, and creating patented foams that add breathability and durability."
Here's how they test their product:
Research. The company studies people's sleep habits and conducts interviews to understand the customer's needs better;
User testing. The beta models of mattresses are always tested by real people, who then describe how the mattress feels and how comfortable it is;
Durability tests. They include compression tests, force profile testing, airflow experiments, rebound control, and so on. Looks like the company is very serious when it comes to the durability.
By now, the company has extended its range of products by adding two more mattress models:
The Wave

— a more advanced option that combines different foams and gel pads (and its hybrid variation with a coil base).

The Essential

— a no-frills option featuring three foam layers and a very affordable price.
Another innovation is the hybrid version of the Casper. It features the same four foam layers the original version has, plus a layer of individually wrapped springs, encased in foam around the perimeter for better edge support. This option is great for those who love the original Casper but want a little bouncier feel and enhanced breathability.
Company's Impact
Now, just like many successful companies in the US, Casper has a mission.
Aside from improving people's sleep, the company makes an effort to improve local communities and the planet. Currently, their website states they have made over 70,000 donations of their products to those in need. Besides, some of their stores accept used begging items, such as pillows and sheets, for recycling.
So, by shopping with Casper, you become a part of this impact.
If this impresses you as much as it impresses me, don't hesitate to order your Casper Mattress now!
The Best Thing About the Casper Mattress
It's obvious how much the company cares about the satisfaction of their customers. But that's not what attracts me. What really buys me over is that extra layer. I mean, how can you not feel comfortable sleeping on four different layers of foam? All of them add to the pressure relief and the cooling feature, which is a win for me.
The Worst Thing About the Casper Mattress
I can't write a Casper Mattress review without mentioning the worst feature of this product, right? So, the problem with this mattress is that it's too firm. Not like a hardwood floor or concrete, don't get me wrong. Still, it might be too firm for some people, especially those who are used to soft foam mattresses. Also, the firmness might cause a backache or pain in your shoulders at first, and it will take some time to adapt and get used to the mattress.
Shipping, Payment, and Guarantees
The shipping process is fairly easy and takes approximately 1-5 days depending on where you live. The mattress arrives in a box, which is a very compact and an easy way of shipment. If you live in one of the major cities (Chicago, San Francisco, New York, and Los Angeles), you can take advantage of the company's White Glove delivery service. They will deliver the mattress the same day you order it, unpack it for you, and set it up for free. The company also ships to Canada, the United Kingdom, Austria, Germany, and Switzerland.
As for the warranty, it's a pretty good deal: 10 years limited warranty on your mattress. Of course, some companies offer a 20-year warranty. But I feel like 10 years is enough.
And it only gets better:
The company offers a 100-night sleep trial.
So, if you don't like the way the mattress feels or if you don't feel comfortable enough, you can return it and get a full refund. It's a very safe option for people who are worried about investing in a new mattress without trying it first at the store.
Is the Casper Mattress for You?
Even though the company wants to create a mattress that's suitable and comfortable for anyone, you and I both realize: it's close to impossible as all people are different. So, I think this mattress is a great option for you if you:
are not ready to invest in a luxurious mattress but still want something high-quality;

don't mind sleeping on a slightly firmer surface;

are not overly heavy;

appreciate bounce and support;

sleep with a partner and get easily disturbed by their movements during the night;

hate feeling stuck in the foam;

need good pressure relief.
Comfort

Materials

Support

Cooling

Smell

Company reputation

Delivery

Warranty

Trial
Summary
Overall, the Casper Mattress does stand out among other brands. The fourth extra layer, fast delivery, sleep trial period, sound construction, and other perks are the reasons why the company is so popular. I would definitely recommend trying it out, and don't worry: you will always be able to return it for free in case you're not as happy with it as I am.
And don't forget to leave a comment to let me know how comfortable Casper proved to be personally for you.
Product links on Happysleepyhead are referral. We get a commission on purchases made through our links at no additional cost to you. More information in my disclosures.