Tempurpedic Mattress Review
by | Last Updated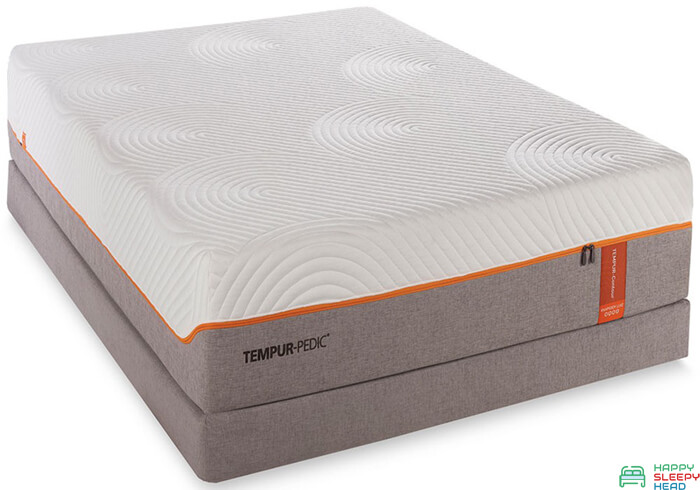 You probably won't argue with me when I say that improving your sleep quality can make your life better.
"Sleep is the best meditation."
What if I told you that there's a company whose motto is "Change your sleep, change your life"? They've been helping people to change their sleep for years, establishing a great reputation and making an example for other mattress brands.
The company I'm talking about it Tempurpedic, and I'm sure you've heard about it before. So, in today's Tempurpedic mattress review, you are going to find out what makes these mattresses so good and whether they justify their cost or not.
Now, the first thing I want to point at in my Tempurpedic mattress review is that the company offers a very wide selection of mattress models. All of them have different firmness levels and some extra features. But the construction is pretty much the same in each one. The only difference might be in the firmness of the materials, the density of the memory foam, and in some additional characteristics for every particular model.
I chose the Tempurpedic Cloud Supreme Breeze to test out, which is a relatively new model. It has caught my attention because of the described cooling effect. Also, I wanted to see how supportive the soft model can be, as I prefer sleeping on firmer mattresses.
But let's talk about everything step by step and take a look at the most important part – the construction:
a

base layer

. It consists of double foam and is designed to support the other layers and to contribute to the cooling effect.

a

support layer

. It is made of the patented Tempur foam and features the Tempur-Climate technology for the body heat distribution and channeling it out of the mattress. This layer also distributes the body weight evenly and provides support.

a

comfort layer

. This soft layer provides a soft feel and features the PureCool technology, which removes the excess heat from the body. Being gel-infused, this layer was designed to make any customer sleep cool. My experience shows that the cooling technology does work great.
"Sleep ties our bodies and our health together."
Just like all other parts of the Tempurpedic Cloud Supreme Breeze mattress, the cover was designed to contribute to the cooling effect. Its material is soft to the touch and breathable, which means it doesn't retain the body heat and allows it to cool down naturally.
Firmness and How It Feels
As I've already mentioned in my Tempurpedic mattress review, I decided to try out a soft model. In terms of firmness, the Cloud Supreme Breeze is probably 4 on a scale from 0 to 10, and it does feel like a cloud. Seriously, I'm not a big fan of soft mattresses, but this one feels good.
Like any other high-quality memory foam mattress, it feels squishy and bouncy. And the gel comfort layer adds a bit of marshmallow-like feeling, which might seem weird for some people, especially those who are used to a 100% foam feeling.
But if you're interested in that unique feel and cloud-like softness, get yourself a Tempur-Pudic mattress and enjoy it!
"A good night's sleep is your friend who gets upset when you buy an uncomfortable mattress for him."
To be honest, I'm always concerned about back support when it comes to choosing the mattress. This aspect is one of the most important to me, which is why I prefer sleeping on firm mattresses. Yet, I decided to take a chance and try sleeping on a soft mattress for a couple of months.
This is crazy, but the mattress is comfortable and supportive. Maybe not as supportive as I'm used to, but it definitely doesn't feel like sleeping on a waterbed. I didn't experience any back or neck pain and I felt comfortable sleeping in any position. I wouldn't recommend it to people who like sleeping on firmer surfaces because the feeling might be too unusual and too soft. However, people who enjoy soft mattresses will definitely appreciate the level of support in this model.
Get your Tempurpedic mattress today and see it for yourself!
Here's the deal:
The Tempur-Cloud Supreme Breeze is a foam mattress but it's a soft one, so the motion isolation is not that great.
The foam is high-quality but it's not that dense, which is why you might get disturbed by your partner during the night, especially if one of you is a heavier sleeper.
If you are concerned about the motion transfer, I would recommend getting a firmer model, like the Tempur-Contour Elite Breeze.
Just like the motion transfer, the Cloud model allows more sinkage than the firmer mattresses I've slept on, but it's not critical. The foam is high-quality and dense enough not to let my body feel like it's enveloped in the mattress.
When the mattress arrived, it did have a slight odor, which disappeared in approximately 72 hours. Now, I couldn't find any exact information about the materials used in the mattress, so if you are concerned about that or suffer from allergies, you might want to contact the company and ask them about the materials.
I want to note that the off-gassing wasn't really strong and didn't bother me at all. The smell wasn't harsh and didn't remind me of a chemical scent.
Also read: Best Tempurpedic Mattress Alternatives — Cheaper Beds
In the "Construction" section of my Tempurpedic mattress review, I've mentioned that the company uses the patented materials in their mattresses. Well, if you're wondering what those materials are and what they feel like, you can request a free sample.
The company will send you an information kit with a sample of their special Tempur material. Of course, you can always find a store that sells these mattresses and try them there. However, if there are no such stores in your area, requesting a sample is a great way to find out what the mattress is made of.
The Best Thing About the Tempurpedic Mattress
The most awesome thing about the Tempur-Cloud Supreme Breeze is the cooling effect. With this mattress, it's impossible to sleep hot, even in summer. The gel is really cool and pleasant to the touch. And to me, this is really a game changer, as I'm the one who hates sleeping hot.
The Worst Thing About the Tempurpedic Mattress
I want to be completely honest in my Tempurpedic mattress review, so let me get straight to business: the worst thing about my Cloud Supreme Breeze is that it sinks down in the spots where my body lies for the most of the time. For example, if I spend the whole night in the middle of my bed without tossing too much, the next day the mattress will have a slight dent there and I will have to spend the next night lying on the edge to kind of help the mattress straighten itself out.
I don't know if this happens because the mattress isn't firm enough, and I don't know if it's only this model's issue, but it's definitely a point to keep in mind.
Now, this is the part that has to be included in all Tempurpedic mattress reviews. Shipping is free for all mattresses if you buy on Amazon.
Is Tempurpedic Mattress for You?
Of course, different Tempurpedic mattress reviews will tell you different things about the mattress, but here's whom I think the Cloud Supreme Breeze model will satisfy:
people who prefer the soft feel of the mattress;

people who hate sleeping hot;

someone who doesn't have a tight budget;

people who sleep solo or don't get easily disturbed by their partner;

light or medium weight sleepers.
Again, in my Tempurpedic mattress review, I am talking specifically about the Cloud Supreme Breeze model. So, here are some pros and cons concerning this specific mattress and the company in general:
Click here to find out more and how to order YOUR Tempurpedic Mattress!
Comfort

Materials

Support

Cooling

Smell

Company reputation

Delivery

Warranty

Trial

Motion transfer
Summary
Even though I'm not used to sleeping on a soft mattress, my overall experience with the Tempur-Cloud Supreme Breeze was pleasant. I absolutely love the cooling effect. Still, this model might be too soft for some people (including me). The support level is good and I didn't experience any kind of back or neck pain. In general, I would recommend trying out a Tempur mattress, but make sure you choose the most suitable firmness level for yourself.
Did you find Tempurpedic kind of too soft, like I did? Or did you enjoy your sleep on it completely? I'm excited to hear your thoughts. Feel free to comment below.
Product links on Happysleepyhead are referral. We get a commission on purchases made through our links at no additional cost to you. More information in my disclosures.