Best Tempurpedic Mattress Alternatives — Cheaper Beds
by | Last Updated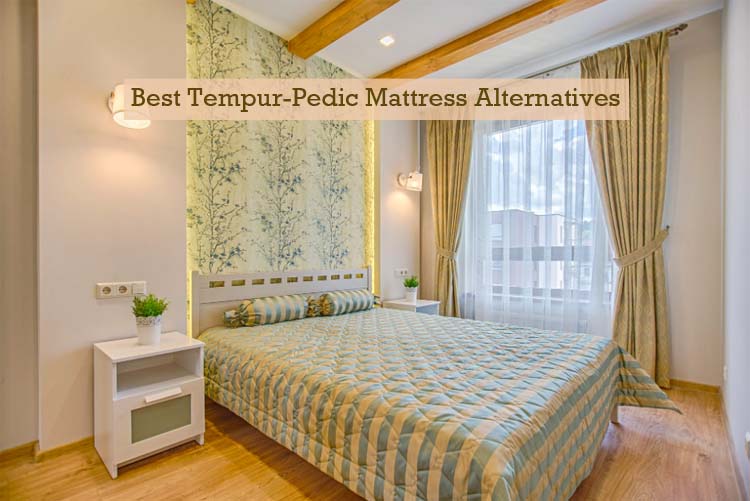 Tempur-Pedic doesn't need an introduction:
We all know that this is one of the major companies in the mattress industry.
But we also know that Tempur-Pedic mattresses are not quite affordable, which is why many people are looking for something with similar value yet a lower price tag.
If that's what you're here for, you're in the right place!
I have found 5 best Tempurpedic alternatives that are on the cheaper side and have tested them to see if they can offer the same or even better value for money. Want to know my findings? Keep reading!
Model
Type
Layers
Trial & Warranty
Rating
Dreamcloud
Hybrid
polyester pillow-top quilted with foam;
gel-infused memory foam;
foam transition layer;
pocketed coils;
dense foam base
365-night trial;
lifetime warranty
Nectar
Memory foam
Tencel cover;
quilted gel memory foam;
gel memory foam support layer;
memory foam transition layer;
high-density foam base
365-night trial;
lifetime warranty
Novosbed
Memory foam
knitted Tencel cover;
dense memory foam comfort layer;
memory foam transition layer;
supportive foam base
120-night trial;
15-year warranty
Helix Midnight
Hybrid
Celliant cover;
memory foam comfort layer;
polyurethane foam transition layer;
individually wrapped coils;
dense foam base
100-night trial;
10-year warranty
Layla
Memory foam
removable polyester blend cover;
copper-infused memory foam comfort layer (Soft side)
supportive foam foundation;
copper-infused memory foam comfort layer (Firm side)
120-night trial;
lifetime warranty
Our Reviews of 5 Best Tempurpedic Mattress Alternatives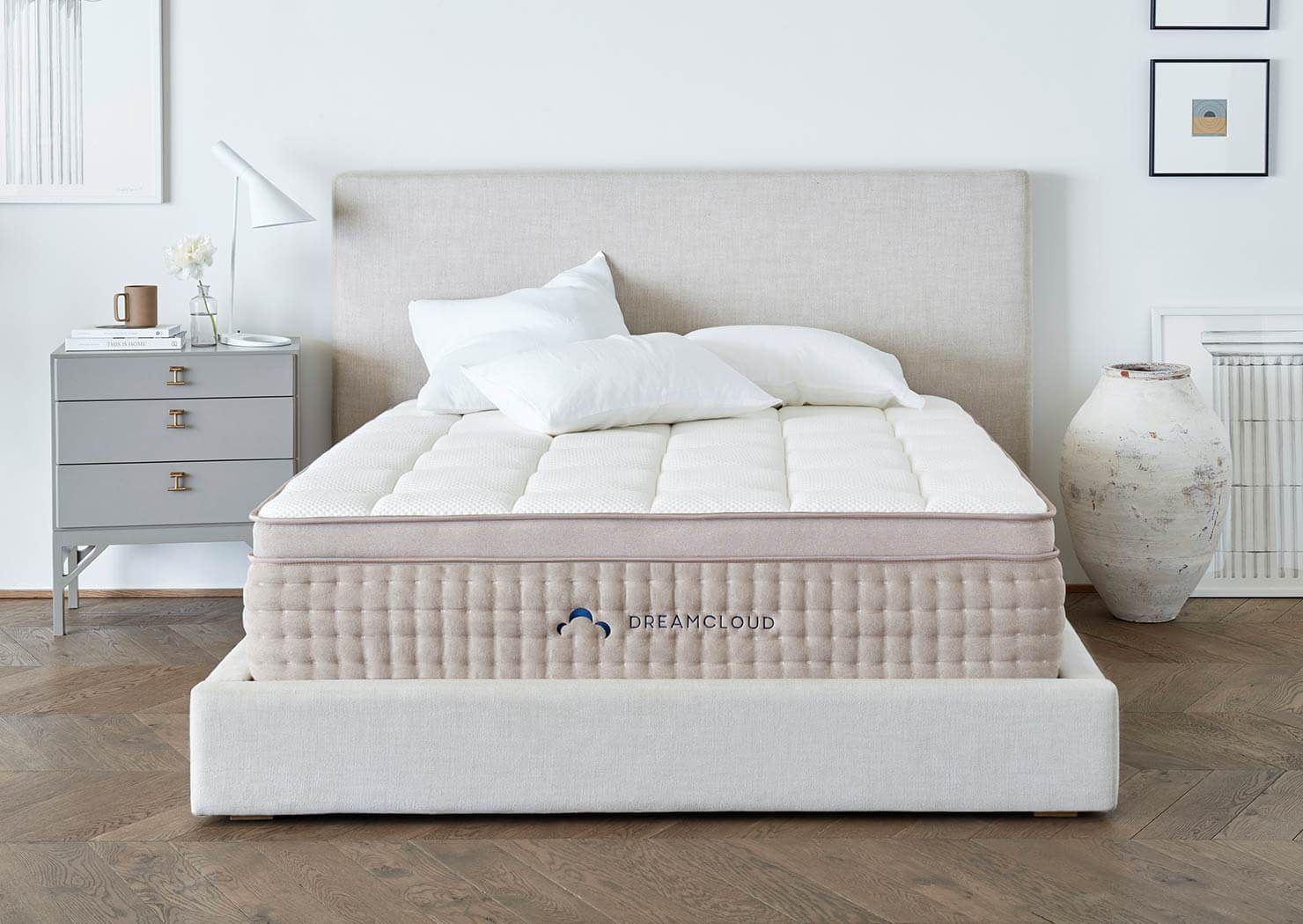 So, I will start my review of top-rated Tempurpedic alternatives with this model from Dreamcloud. Its updated construction provides even cooler sleep and remains supportive in any sleeping position you choose.
The core of the mattress is a layer of pocketed springs, which results in a uniform surface and sturdy edges. If you share a bed with someone, you will be able to utilize the whole mattress surface without feeling like you're about to roll off.
Two soft comfort layers made of memory foam are used to balance out the firm feel of coils, thus delivering a perfect medium-firm feel that can suit almost every type of sleeper. I'm a mixed sleeper and my wife sleeps on her stomach, and we both slept very well during the testing period.
The only thing I can complain about is the weight of the mattress. Even though the manufacturer reduced the number of layers from 8 to 5, the mattress measures the same 15 inches high and is still pretty heavy to move around.
But the most prominent feature of this mattress is its breathable design. The spring block creates good airflow between layers and helps dissipate body heat even if you're a heavy sleeper who tends to sink deeper into mattress layers.
Overall, the Dreamcloud will be perfect for anyone who wants a mattress with a good amount of sinkage but without the typical foam issues with hot sleeping.
check out dreamcloud mattress on dreamcloudsleep.com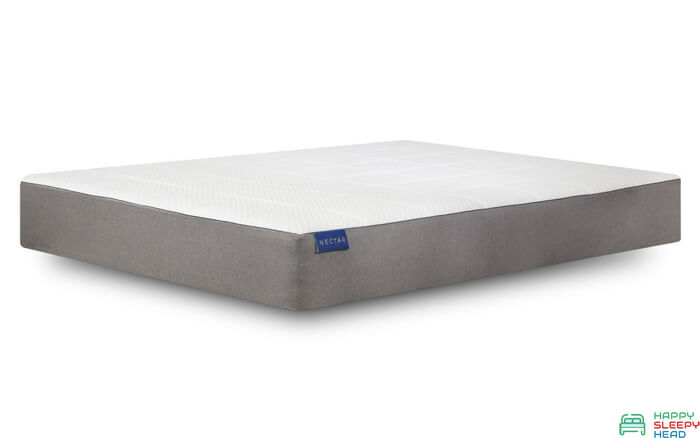 The second option on my list of the best beds like Tempurpedic but cheaper is for those who need more comfort for their pressure points, as well as those who deal with back pain. The Nectar comes with a smart all-foam construction that can relax your stiff muscles and give you restorative sleep.
The first two comfort layers are a pillow-top quilted with gel-infused foam and a solid gel foam pad right under it. They are designed to offer you a decent hug and prevent heat accumulation. Moreover, altogether, they can support back, side, and stomach sleepers equally well.
Below, you'll find a transitional layer of foam. It aids in transferring the pressure your body puts on the mattress down to the base, and it helps isolate your movements during the night, thus offering you uninterrupted sleep.
The thing that disappointed me a bit, however, was the expansion time. It took longer than I expected, so we had to delay testing before the mattress fully decompressed.
The coolest thing about the Nectar mattress is the pressure relief it provides. I've tested this mattress when my muscles were stiff and fell asleep like a baby.
Despite some inconveniences, the Nectar is a great mattress. It can be a perfect choice for anyone who needs a heaven-like sleeping cloud in their bedroom.
check out nectar mattress on nectarsleep.com
Best for Motion Absorption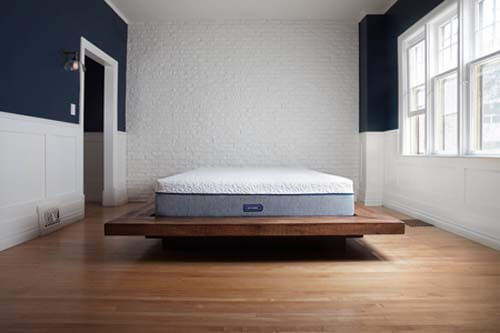 Another contestant in my review of the best Tempurpedic alternatives also features an all-foam construction and can be a lifesaver for sensitive sleepers who share a bed with an overly active partner. The reason for that is the outstanding ability of the Novosbed to absorb motion.
So, the mattress packs three foam layers under a breathable, washing machine-friendly Tencel cover. The first layer is made of soft-to-the-touch open-cell memory foam, which is very conforming and retains less heat than standard viscoelastic foam.
The second layer is a bit denser and serves as a transitional pad between the plush top and the sturdy base. It helps cradle your body properly and maintain the proper spine alignment.
And finally, there's a dense foam base that isolates movement very well and offers you a sturdy sleeping surface.
So, the best thing about the Novosbed is how great it absorbs all the motion without limiting your movements. I mean, you and your partner can easily switch positions or get in and out of bed without waking each other.
But the drawback of the foam construction is that it might sleep hot for some. If you don't have trouble with hot sleeping, you will probably feel great on this mattress, but those who are prone to overheating are advised to look for options with a more pronounced cooling effect.
Overall, the Novosbed is a decent memory foam mattress that can hug you and properly support your spine all through the night. If you or your partner are light sleepers and wake up to every little movement, this is a perfect choice for you.
check out novosbed mattress on novosbed.com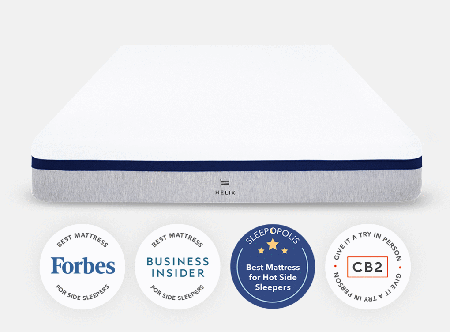 Here's another top-rated Tempurpedic alternative with coils. The Helix Midnight claimed its place here due to its ability to provide uniform support across the entire surface, even near the edges.
So, the Midnight is a hybrid mattress with four layers packed under a breathable cover. The comfort layer is made of a proprietary Helix memory foam blend. I must say that this foam feels more cradling and cooling than the average foam, so it can guarantee you sound slumber.
The supportive core of the mattress is made of a durable steel coil system. Individually wrapped coils offer precise contouring and relief for your pressure points in any sleeping position you prefer.
What I didn't like about the Helix, though, is its amount of bounce. I know some people are really into such a responsive feel, so it shouldn't be a problem for them. But if you are used to slow-response foam beds, you might not like this mattress.
But the greatest feature of Helix Midnight is its sturdy edges. The manufacturer uses a zoned layer of pocketed coils, with thicker coils around the perimeter, which means better support for those who love snoozing closer to the edge.
Despite the flaws, I really enjoyed sleeping on the Helix mattress, because I'm the cliffhanger type of sleeper myself. If you're too, this bed will give you great sleep as well.
Check out helix mattress on helixsleep.com
Best for Dual-Sided Construction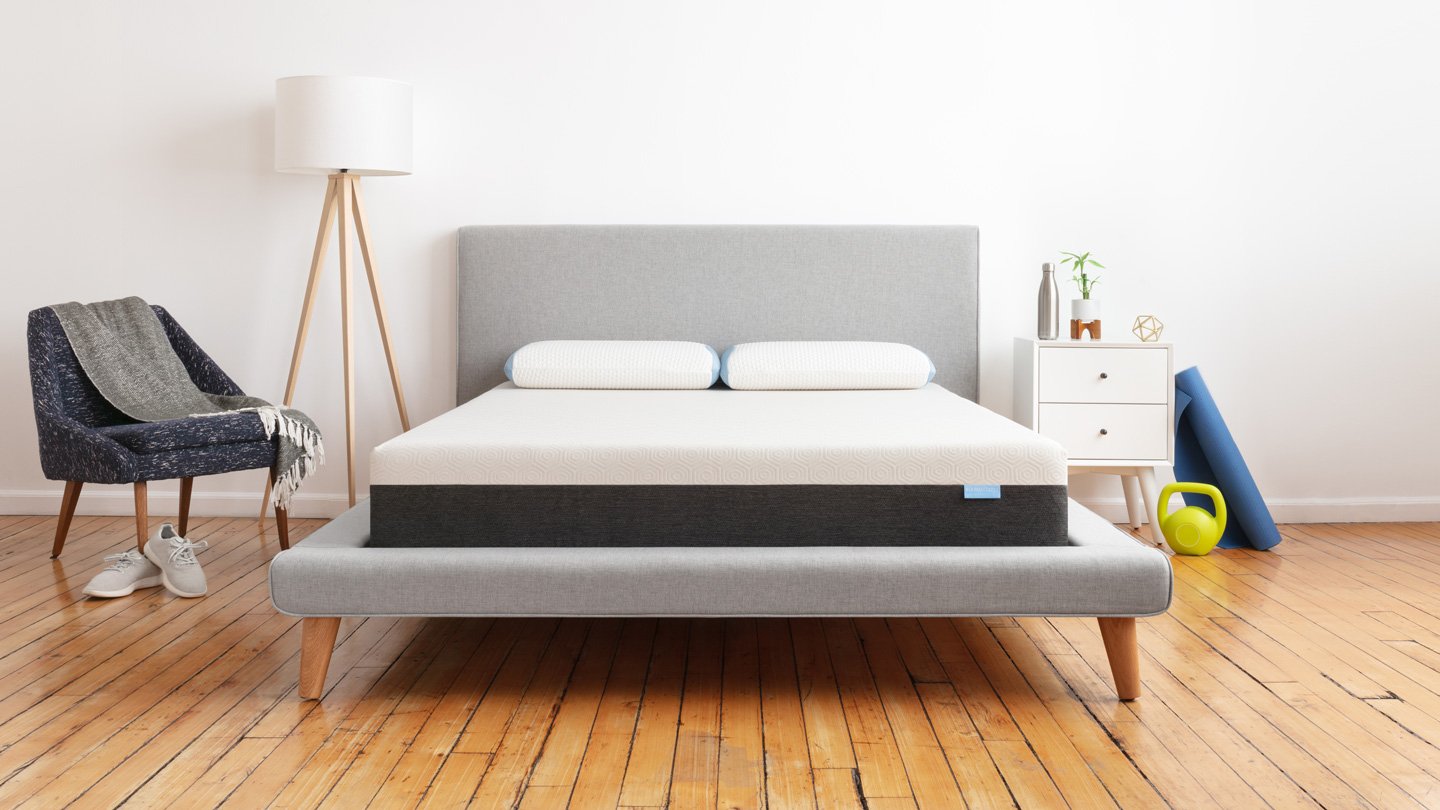 And to close my review of Tempurpedic competitors, here's the Layla mattress. Having a flippable design, it can really give you great value for money because you kind of get two different mattresses under one cover.
The two-tone removable cover is nice to the touch and will help you distinguish two sides of the mattress: the dark one is firm and the light one is soft. Plus, you can remove the cover and toss it into the washing machine when needed.
Both Soft and Firm sides feature a layer of copper-infused memory foam for better thermoregulation. This material helps remove heat and keeps you cool even on hot summer nights. Also, copper-infused foam is mold and mildew-resistant and durable compared to non-infused foams.
But the thing that bothered me about the Layla is the odor. It's a typical issue with foam, but copper-infused foam smells particularly annoying, which might be a disruptive factor for some sleepers.
The coolest thing about this bed is that it gives you the opportunity to experiment a bit and choose firmness based on your needs. It's a very cost-efficient solution for everyone who is not sure about the level of firmness they prefer.
Overall, if you will be patient enough and allow the odor to dissipate, you will get a great mattress with a flippable design and superb supportive properties.
check out layla mattress on laylasleep.com
So, What Makes Tempur-Pedic Mattresses So Good?
The number of Tempurpedic competitors is increasing, and it's totally natural,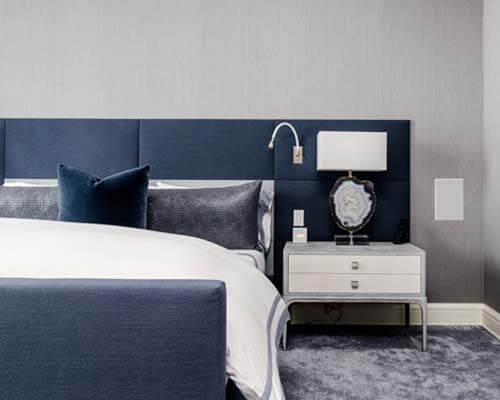 as everyone strives to be better than the best ones on the market.
But what does it take for a new company to become that good?
Of course, it's a lot of work. After all, Tempurpedic mattresses are made with compliance to really high standards. I think that the main reasons people love them are the following:
Close conforming and pressure relief.

Almost all models from the Tempurpedic lineup can offer you a decent amount of hug and mold to your body shape in every sleep position you choose.

Temperature neutrality.

Even though Tempurpedic is focused on making foam mattresses, user complaints about hot sleeping are very rare. The company uses high-end materials in smart combinations, which allows for better airflow.

Great motion absorption.

Again, thanks to all-foam construction, Tempurpedic beds can easily absorb movement, whether it comes from your restless partner or a pet that you allow on your bed.
Now, all these good sides come with one significant drawback:
Tempurpedic is an expensive brand.
The most basic option will cost you more than $1,000. In case you want something fancier, prepare to pay even more.
Basically, that's why people are looking for beds like Tempurpedic but cheaper.
What to Look For When Choosing a More Affordable Alternative to Tempurpedic?
Now, let me guide you through the main features you need to consider when choosing a mattress among the main Tempurpedic competitors.
Mind Your Mattress Preferences
The first thing you need to do is to determine what mattress type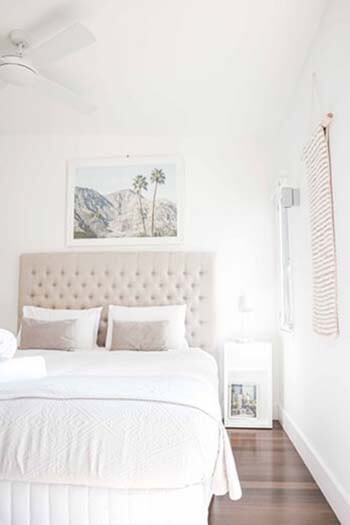 you actually need, as it will narrow down your search and make it a lot easier.
Today, you can choose a suitable Tempurpedic alternative among the four main mattress types:
Memory foam.

This material has a specific "hugging" feel, which so many people love. No wonder memory foam mattresses are very popular on the market (and no wonder they make up most of the Tempurpedic lineup). Memory foam closely molds to your body curves and helps maintain proper spine alignment. Note, though, that it also typically has issues with thermal regulation. To avoid them, you should choose models with denser foams that have a quicker motion response and don't sink too deep. Also, keep in mind that open-cell foams, such as gel or copper-infused, may have lower resiliency and start to wear out faster than standard viscoelastic foam.

Hybrid.

A hybrid mattress has the best of both worlds: foam and coils. It can offer you a supportive sleeping surface along with a decent hug. Also, the coil system contributes to the anti-sagging properties of hybrid mattresses and offers great edge support, which is essential if you share a bed with someone.

Latex.

Latex mattresses are the priciest among all mattress types but they can still be cheaper than an average Tempurpedic bed. Latex feels more bouncy than foam but is naturally breathable and more durable. Also, the higher rebound of latex doesn't interfere with your movements during the night, thus making it a great pick for individuals with different types of pain or mobility concerns.

Innerspring.

If you are looking for a mattress with the same anti-sagging design that Tempurpedic has, you may want to opt for an innerspring. A solid steel unit offers an even sleeping surface and supports your spine alignment. Also, innersprings can be a good purchase for a heavy sleeper, as they tend to be firmer and can support bigger weights without feeling like quicksand.
Choose the Right Firmness
Firmness is subjective, but it's the main parameter that you need to consider if you want to get a comfortable mattress.
You can use this cheat sheet of firmness levels during shopping:
Soft.

Soft mattresses (3-5 out of 10) can offer you more sinkage and tend to have better motion-absorbing properties. They will work great for petite sleepers, those who sleep on your side, and people with aches and pains, who need more cradling for their pressure points.

Medium

. Medium and medium-firm mattresses (5-7 out of 10) may work for most sleepers, but they are most suited for those who sleep on their back. They also typically have higher rebound than soft beds.

Firm.

Heavy sleepers, individuals with certain back issues, and those who love to snooze on their stomachs will benefit the most from a firm (7 out of 10 and higher) mattress. It will offer little sinkage and can evenly distribute bigger weights without creating awkward curves in your spine.
Note that I'm using a universal mattress firmness scale, which refers to 1 as the softest and 10 as the firmest feel. Some mattress brands may use their own scale, which can be very different from this one, so keep that in mind.
Learn About Brand's History on the Market
Many brands today claim to be a good Tempurpedic alternative.
But the best way to see how the manufacturer delivers the advertised quality to its customers is to check how long it exists on the market. A long history of success and a large number of positive reviews are sure signs to support that.
"Check platforms like Amazon for reviews written by users who have actually purchased the mattress rather than relying on reviews on brands' websites."
Make the Most of Your Trial
Finally, do not hesitate to fully use your trial period, as that's what most mattress brands can really boast of today. Some companies let you test the mattress for as long as one year!
Which, by the way, is much longer than the 90-day trial from Tempurpedic.
Conclusion
So, now you know that there are a lot of decent beds like Tempurpedic but cheaper.
All the five models I have tested can become an affordable alternative to this brand and offer you heaven-like sleep.
As for me, I enjoyed sleeping on the Dreamcloud mattress the most. This bed is the closest to Tempurpedic in terms of comfort, and it will keep your spine supported in any sleeping position.
But if you're more into that memory foam hugging feel, go with the Layla. I love the dual-sided design and copper-infused construction of this bed. Plus, it sleeps pretty cool.
So, do you think Tempurpedic mattresses are worth the price? Which of the suggested alternatives do you like the most? Share your thoughts in the comment section!
Product links on Happysleepyhead are referral. We get a commission on purchases made through our links at no additional cost to you. More information in my disclosures.