Best Daybed Mattresses for Adults
by | Last Updated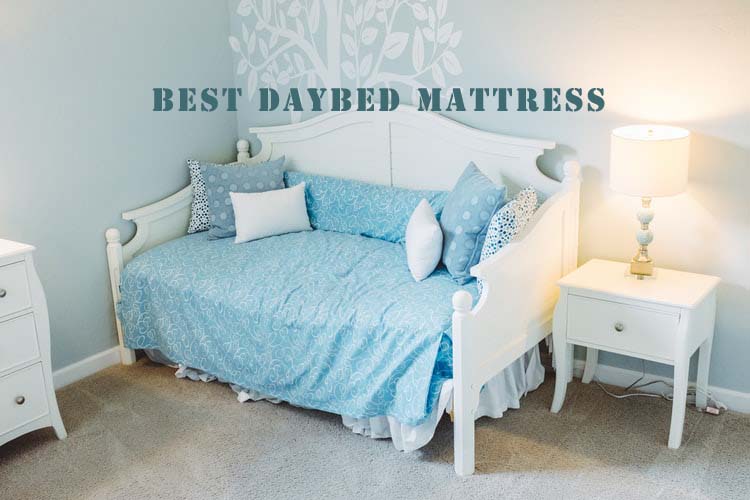 Let's admit:
A daybed is an easy-to-make and cute place to get cozy.
Not to mention that you can use it to have a power nap and pump up your energy levels.
Now, whatever you're planning to use your daybed for, it's essential to choose the right mattress for it. And by "the right" I mean the one that can be comfortable for both sleeping and sitting.
So, check out my reviews of 5 best daybed mattresses for adults and read the buying guide below to help yourself make the right pick!
[table id=144 responsive=collapse datatables_row_details=true datatables_row_details_columns="A-G" /]
Our Reviews of 5 Best Daybed Mattresses
Best Value — Editor's Pick

So, let's begin my review of the best daybed mattresses with the Nectar because it's the model that has literally all you need. The mattress combines quality materials, decent support, and is suitable for both sitting and sleeping.
The Nectar is an all-foam bed, so you can expect great adaptability and an awesome pressure-relieving effect. Unlike many mattresses that are made for sleeping, the Nectar feels great when you lie or sit on it while reading a book or doing any other activity. It is firm enough to allow you to move freely on the surface without sinking.
Along with that, the manufacturer took care of heat removal. The combination of a breathable Tencel fabric and gel-infused memory foam aids in creating airflow and doesn't make you uncomfortably hot if you nap on your daybed.
The best thing about this mattress, as for me, is its value. The Nectar offers everything you may need from a good daybed mattress at a reasonable price and can serve you for years.
As for the drawback, I think that the mattress may feel a bit too firm for petite users. While a firm surface might be comfortable for sitting, it can create too much tension on the hip and shoulder areas if you're a side sleeper.
With that being said, I can certainly recommend the Nectar as a good daybed mattress. Offering great value for money, it can withstand active exploitation and is pretty supportive and comfortable.
Check out nectar mattress on nectarsleep.com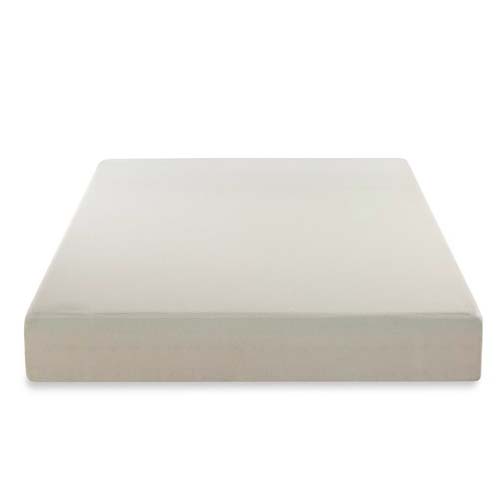 Another option in my review of the best daybed mattresses is the Zinus Ultima, and I've put it here for its surprisingly good durability. Since daybeds get used more actively than standard beds, you need a mattress made of more durable materials, and the Zinus fits this description perfectly.
The durability is achieved by using plant-based foam and infusing it with green tea extract. Altogether, this enhances antimicrobial properties and prevents mold and funky odors.
Also, the foam used in the Zinus Ultima is denser and more long-lasting, so your mattress won't develop saggy edges or uneven surface areas for a long time.
Speaking of pressure relief, the Zinus excels here as well. The upper layer of the plant oil-infused memory foam has a soft feel and adjusts to your body perfectly. So, you can use this mattress for both sitting and sleeping, as it will feel equally comfortable either way.
What I loved the most about this mattress is that it's made to last. It looks and feels pretty sturdy thanks to the dense foam layers, so I believe that it will work well for your daybed.
The thing I didn't like, though, is the odor. Even though the green tea extract is used to mask the initial foam odor, the Zinus mattress might appear overly scented, which can annoy sleepers with a sensitive nose. If this is your case, be sure to air out this mattress for a couple of days before using it.
I enjoyed testing the Zinus Ultima. Along with being durable, it offers a very supportive surface for both sitting and sleeping. I think it might be a great pick for those who actively use their daybed or have it installed on a porch.
Check out this mattress on amazon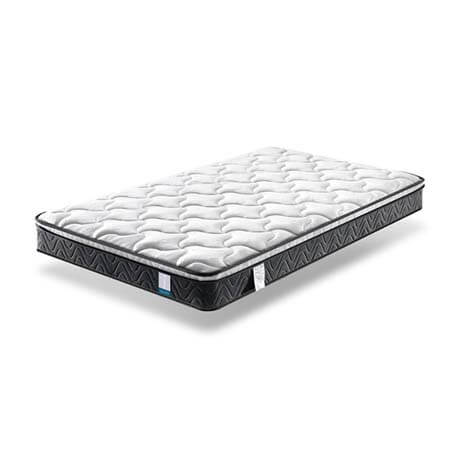 Okay, you probably love the idea of installing a daybed, but let's be honest: you're unlikely to sleep on it on a regular basis. So, you may not need the most expensive mattress out there. And this is the exact reason why the Inofia is in my review of the best daybed mattresses for adults — it is a very affordable yet surprisingly good mattress.
The Inofia features a hybrid construction and has a steel coil unit as a supportive core. This means you can expect a sturdy mattress perimeter and uniform surface, which contribute to better overall durability.
However, if you're concerned that your mattress will be too rigid, don't be. Memory foam comfort layers placed above the coil block create enough cushioning for your body and can relieve the pressure in your pressure points.
Also, hybrid mattresses tend to have a cooler feel compared to all-foam beds, so if you nap on it, you won't feel boiling hot.
So, what's the greatest thing about this mattress? The price, obviously. I love that you can get a good daybed mattress with durable construction and a decent amount of support without spending all the money in the world. In fact, everyone loves that, right?
Speaking of the downsides, I'd like to remind you that solid coil units are more prone to squeaking and rust than individually wrapped coils. So, this mattress might start making noise over time — some users report this issue within the first 2-3 years — which could be pretty annoying.
Overall, I enjoyed testing the Inofia. If you're a fan of hybrid beds and want something decent for your daybed, I can definitely recommend you go with this model.
Check out this mattress on amazon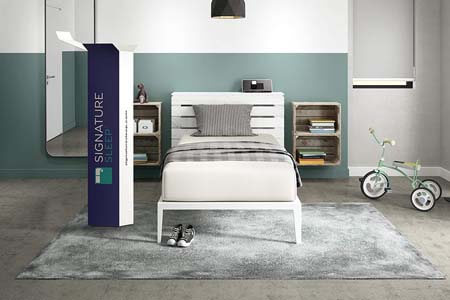 The Sleep Signature Memoir claimed its place in my daybed mattress review for its exceptional cradling properties. No matter whether you use your daybed for sleeping or sitting, you will feel incredibly comfortable and won't develop pressure points.
So, the mattress has an all-foam construction, which results in great adaptability to your body shape. When it comes to napping, the Memoir will support your spine alignment in any sleeping position.
Also, the Memoir utilizes dense foam, which results in responsiveness and durability. Also, this mattress feels sturdy on its edges, so you can comfortably sit on it for hours without worrying about sagging.
But the most impressive thing about this mattress is how well it hugs your body. The Memoir bed is suitable for both sleeping and long-time sitting and can support your spine and relieve the pressure in any position.
What bothered me, though, is that the mattress might feel a bit hot. The Memoir doesn't use any materials for a cooling effect. Besides, dense foam is prone to trapping more heat. So, if you tend to sleep hot, you may want to choose another model.
Even though the Memoir has some minor flaws, it's a really good mattress. I can surely recommend it to the fans of that specific memory foam hug and precise contouring.
Check out this mattress on amazon
Best for Cooling Properties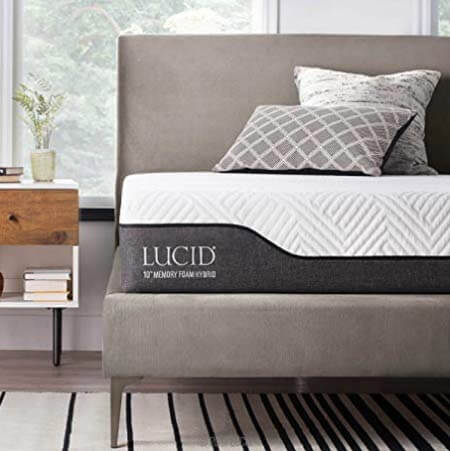 And the last candidate in my review of the best daybed mattresses for adults is the LUCID. The manufacturer has managed to design a mattress that doesn't sleep hot and feels like a breeze even if you sit on it for hours!
So, the mattress features infused foam in the comfort layers, particularly charcoal and aloe-vera infused foam. Besides having an open-cell structure, which initially traps less heat, these foams are also mold and bacteria-resistant, which helps prolong the lifespan of the bed.
Also, a hybrid construction enhances the airflow between the layers and minimizes the moisture build-up. Along with that, individually wrapped coils contribute to better contouring and pinpoint support during sleep.
So, the most significant advantage of this mattress is its cooling effect. If you spend a lot of time sitting or lying on your daybed, you won't be sweaty even on summer days.
As for drawbacks, I would like to mention surprisingly poor edge support as for the hybrid bed. Since most daybeds for adults require a Twin mattress, weak edges might be a real disappointment for some.
I can recommend this mattress to those who look for a bed that won't make them hot. But make sure to use a sturdy frame with it, to compensate for weak edges.
Check out this mattress on amazon
Why Are Daybeds So Popular among Adults?
Since they combine features of a regular bed and a sofa, daybeds can be used to create a comfortable sitting area in any room.
Plus, they are available in dozens of different designs and configurations, so you can choose the perfect fit for your interior.
But to me, the best thing about a daybed is that it can transform into an occasional sleeping spot for your guests, kids, and even yourself if you need that power nap boost.
See? A simple piece of furniture can offer incredible benefits! And you can make it even more comfortable and suitable for your needs if you pair it with the right daybed mattress.
Can You Sleep on a Daybed on a Regular Basis?
Short answer:
Of course, you can!
Most daybed frames are compatible with a standard Twin mattress. This makes shopping for a new mattress much easier, as Twin beds are widely available on the market.
Also, some daybeds have a trundle that allows you to use two Twin mattresses in one bed, which might be great for kids or occasional guests.
It's good to keep in mind, though, that certain daybed frames are made of lightweight materials, such as plywood and pine wood, which are not very resilient and may break if you use them actively. So, if you plan to sleep on your daybed on a regular basis, you should go for models made of metal or hardwood. Note that they tend to cost more.
Types of Mattresses for Daybeds and Their Features
So, since a standard Twin-sized mattress can fit in most of the modern daybeds for adults, it's fair to suggest that you can choose any type of mattress you like.
Right?
Let's find out!
So, the best mattress for a daybed should be:
Durable. Active exploitation takes a toll on mattress lifespan. But durable materials can slow down the wear and tear.
Comfortable

. Some mattresses are made for sleeping rather than for lounging on them. When it comes to mattresses for daybeds, you need a model that can perform great in both scenarios.

Affordable

. Even if you purchase a mattress made of heavy-duty materials and care for it religiously, it may still wear out pretty fast. Especially if your daybed stands somewhere on the porch. So, chances are you will have to replace it more often than you replace your bedroom mattress. That's why it makes sense to fo with more affordable options instead of luxurious and expensive ones.
Now that we know the three key features of a good daybed mattress, let's see which mattress types have them:
Memory foam.

Being the most common option on the market, memory foam mattresses can suit nearly everyone. Models made of dense viscoelastic foam typically are more resilient and can withstand active exploitation while offering you decent pressure relief.

Latex

. Latex mattresses are great when it comes to durability because they're naturally resistant to bacteria, mold, and dust. Also, they are bouncier and don't feel like quicksand, so they are easier to move around on. At the same time, they're quite pricey. And as we defined earlier, spending a lump of money on a daybed mattress may not be reasonable.

Hybrids

. Hybrid mattresses have the reputation of the most innovative on the market. They combine foam, coils, and other materials and often use some brand new materials. The great thing about hybrids is that they can withstand different weights and are pretty durable, which makes them a perfect fit for a daybed.

Innerspring.

Traditional innerspring beds can be very durable and immune to wear and tear, which makes them a good pick for a daybed as well. But there is a possible limitation to them — even soft models might feel firmer and lack cradling, so not all users will love them.
Bottom line?
Almost any type of mattress may work for your daybed. Keep your preferences in mind and always go for more durable materials, regardless of the mattress type.
Things to Consider When Choosing a Daybed Mattress
Now, aside from the mattress type, you need to define other things you will look for in your perfect mattress for a daybed.
Let me suggest a few criteria that might be important for you.
Mattress Height
Proportions are essential for both comfort and looks.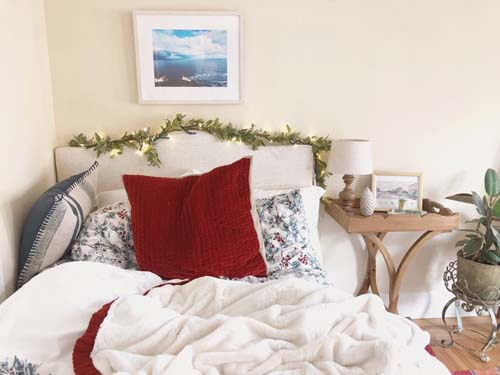 You definitely don't want your daybed to look too bulky. Plus, a very high mattress will make getting in and out of bed difficult. Just like an overly low daybed will.
Now, the average comfortable height of a bed is 25 inches, including both the mattress and the frame. So, to calculate the needed mattress height, you should subtract your daybed frame's height from 25. The range you will likely fall in will be 6 to 12 inches.
"Don't forget to consider the interior style of the room you're going to install a daybed in. Based on that, you might want a thicker or thinner mattress."
Firmness
People typically use daybeds more actively than their bedroom beds. So, a perfect daybed mattress should feel comfortable for any possible activity, be it lounging with a book or napping.
Speaking of the firmness levels that will suit most users, I'd suggest medium or medium-firm mattresses. They offer a balanced feel with some give and don't limit your movements.
However, if you are a large guy, you may want to choose a mattress with a firm feel so that you wouldn't sink in too deeply.
Thermoregulation
If you're going to use your daybed for reading or watching TV, you may spend hours on it. This means your daybed mattress should be able to effectively remove heat from your body.
Mattresses made of solid memory foam typically trap more heat and may make you feel hot. So, you may want to choose those made of foam infused with cooling gel or those with coils inside.
"If you plan to use your daybed outdoors, you may want to purchase special pillows and mattress covers that are weather resistant and can protect your bed from moisture and dirt."
Wrapping Up
A simple daybed paired with the right mattress can easily become your most favorite spot in the whole house. No wonder more and more people buy this furniture piece to place it in the leisure zone.
All the mattresses I've collected here combine good performance and durability, so they may work equally well for your daybed.
My most favorite among the five is the Nectar. This mattress has great value for money and feels pretty comfortable for both lounging and sleeping.
But if you aren't into the foam feel, try the Inofia. This hybrid mattress can offer you uniform support for years and features an anti-sagging design that allows you to utilize the whole mattress surface.
Have you already purchased the daybed frame? What type of mattress are you considering for it? Tell me in the comments!
Product links on Happysleepyhead are referral. We get a commission on purchases made through our links at no additional cost to you. More information in my disclosures.