Saatva Mattress Review
by | Last Updated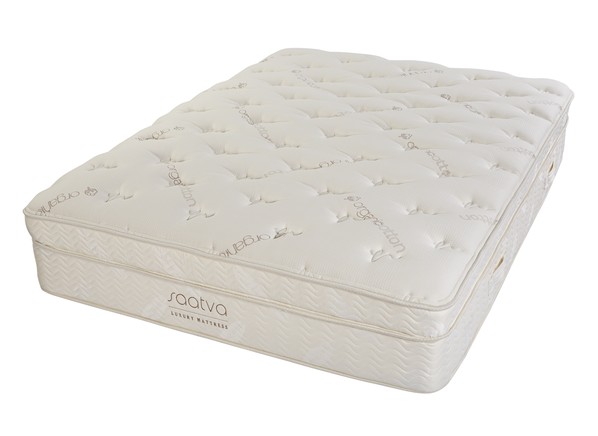 Let's face it: we all want to sleep well. Moreover, we all want to feel like royalty and enjoy luxurious beds and mattresses. But not all of us can afford or want to spend thousands on a single mattress.
What if I told you that there's a company that makes luxurious mattresses and sells them at an affordable price? The Saatva company claims that their mattresses are built for superb comfort, and the majority of the reviews prove that claim. And get this:
Forbes named the company one of the 100 most promising ones.
That's supposed to mean something, right? In today's Saatva Mattress review we are going to find out whether Saatva really measures up with all of these praise words.
I want to start my review of Saatva Mattress with the most important part – the construction.
The company makes mattresses with 5 key elements:
a

base support system

. It is presented in the form of

steel coils

, allowing the mattress to last longer and prevent it from sagging over time.

a

comfort layer

with

individually wrapped coils

. This system is usually present in luxury mattresses, which makes Saatva mattresses stand out. Individually wrapped coils are designed to perfectly

contour

your body and properly

respond

to all body shapes and sleeping positions. This layer is incorporated in the top segment of the mattress.

a

lumbar support layer

. This support enhancement layer is made of

memory foam

and provides good

pressure relief

. It is supposed to work on your lower back the most effectively, reducing tension and stress from it.

a

euro pillow top layer

. It provides some extra padding and is made of

cushioning

materials. Unlike other mattresses, Saatva Mattress has this layer hidden underneath the cover for a better and more stylish look.

a

dual edge support system

. It is made of dual

foam

and provides more sleeping space and an anti-sagging effect for the mattress edges.
This is what makes these mattresses stand out – they are hybrids! The combination of coils and foam might feel weird at first, but it's definitely a unique way to incorporate the best features of both innerspring and memory foam mattresses.
Other great hybrid mattresses you can find here.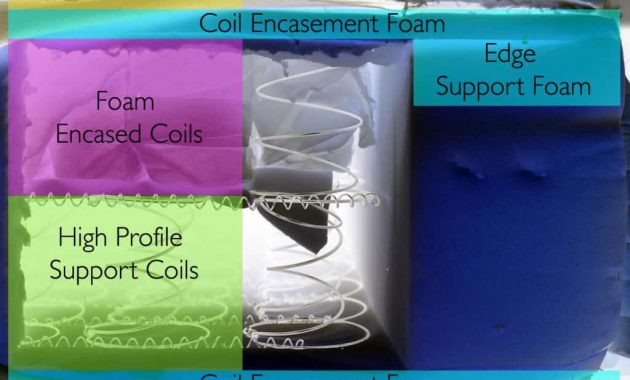 "Sleep is probably one of the easiest things to do. Even babies do it, right? But it is such a complex and versatile process. That's why choosing the best mattress might save you a lot of trouble."
If you feel like such a construction is perfect for you, order you Saatva Mattress today!
Now, this part of my Saatva Mattress review will be interesting for people who are concerned about sleeping on 100% organic materials or suffer from allergic reactions to some fabric types. The mattress cover is organic and non-toxic, made from pure cotton blended with hypoallergenic fibers.
Another cool thing about the cover is that it's breathable. Because cotton is a natural material, the cover fabric is pleasant to the touch and breathable, which prevents your body from heating up when sleeping.
Firmness and How It Feels
One important aspect I want to mention in my Saatva Mattress review: the company allows you to choose the level of firmness you want in your mattress. There are three options available:
Plush Soft

, the softest model, which rates 3 on the firmness scale;

Luxury Firm

, which I'm going to talk about in detail in my Saatva Mattress review;

and

Firm

, which rates 8 out of 10 on the firmness scale.
This is what really surprised me:
The company makes mattresses to pretty much any liking. You don't have to flounce between different brands, looking for a particular firm, soft, or average mattress. And don't forget that all of them would have different filling and construction.
With Saatva, you can order a mattress, which is as firm as you want it to be but has the same high-quality filling.
I got the most popular option, the Luxury Firm mattress. The manufacturer states that its firmness level is within 5-7 out of 10. I would say it's closer to 7 than to 5. But thanks to its inner pillow top, it doesn't feel too firm.
No matter how soft or firm you want your mattress to be, the Saatva has an option for you, so don't hesitate and place your order!
"Sleeping well depends on many factors, including how you feel and your stress levels. But the most important factor is a comfort."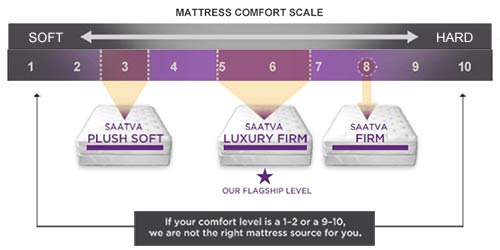 As I've previously mentioned in my Saatva Mattress review, the company uses a "double coil" system: a combination of the base coil layer and the comfort layer with individually wrapped coils. You must have already guessed that such a system provides great support. The mattress is bouncy and responds quickly after applying pressure to it. Of course, it might be a bit softer if it's the Plush Soft model or more supportive if it's the Firm comfort option. But the bottom line is:
The double coil system provides good support in all three models.
As for the edges, here's where it gets tricky. The edges feature a double foam support system, which is supposed to provide the anti-sag effect.
But here's the deal:
Foam is foam, and there's nothing you can do about it.
So, I can't say that the edge support is perfect on this mattress, but it's definitely better than in regular memory foam mattresses. You won't feel like you're sleeping on the hill, that's for sure.
Now, if your partner ruins your good night's sleep by tossing and turning, you will certainly find this part of my Saatva Mattress review interesting.
Usually, coil mattresses don't perform well when it comes to motion transfer. But Saatva might really surprise you. The levels of motion transfer are rather decent in this mattress, probably thanks to its "foam + coil" combination. But let's not forget that this is still a coil mattress, so it won't perform as good a memory foam one.
If this is more than enough for you, order your Saatva Mattress here.
"Counting sheep won't help if you feel like you're lying on a water bed."
Here's the deal:
If you enjoy the feeling of the mattress contouring you, Saatva might not be the best option for you. Featuring a combination of foam and coil, it's rather bouncy and doesn't envelop around your body.
But I'm talking about the Luxury Firm model, the one that I got for myself. I believe the Plush Soft version will allow more sinkage and that hugging effect of the mattress around your body.
As I've mentioned before in this Saatva Mattress review, the company has used eco-friendly toxic-free materials. As a result, the mattress doesn't smell. There's no off-gassing, just a pleasant scent of new fabrics. Another great thing that contributes to the absence of the off-gassing is that these mattresses are delivered in their full size, without being compressed and vacuum sealed. You might think that this will cause difficulties when you receive the mattress, but don't worry: the delivery team will do everything for you.
Important Points to Consider
If you are very concerned about your health and the condition of your spine, this part of my Saatva Mattress review will make you happy.
"There are so many ways to sleep wrong. But with proper spine support, you'll feel great sleeping in any position."
It might surprise you, but Saatva mattresses have received the Congress of Chiropractic State Association's Seal of Approval. Sounds impressive, doesn't it?
The manufacturer claims that their mattresses feature a special spinal zone, which is located in the center third of the mattress. It contributes to proper spinal alignment, reduces back pain, and removes stiffness in your spine.
This special zone incorporates a wire support technology, which is also supposed to distribute your body weight evenly, support any body type, and ease the pressure points.
I don't know about you, but I'm really sold on that. If you agree, click here and order your Saatva Mattress.
The Best Thing About the Saatva Mattress
It's hard to pick just one best feature, but I will try. To me, what makes Saatva Mattress great is the comfort level it provides. Obviously, comfort is the essential feature when it comes to mattresses. And Saatva does an excellent job, providing awesome support of a coil mattress and comfort of memory foam.
The Worst Thing About the Purple Mattress
I didn't find any fault in this mattress, but I guess these things are different for different people. What I've seen among the customer reviews, though, is the issue with the delivery process. Many users complain about how delivery is executed, which might be a turning point for some people.
The shipment costs and delivery time vary depending on where you live. You can calculate the price at the checkout. The company also offers your old mattress removal option, which costs $39. There's no sales tax, plus a PayPal Credit option available, which is a great bonus for people who don't want to spend all the money at once.
One thing to keep in mind though:
The mattress is shipped in its full size, without being vacuum compressed into a smaller box.
It's a good thing when we talk about preventing the mattress from damaging in the folded spots, but it might make the delivery quite troublesome. Some users note that because of the item's size, it oftentimes gets damaged when being delivered. It might get dirty or the corners might be torn up. Of course, it doesn't happen to every single one of them, but you should still take this aspect into consideration.
As for the guarantees, the Saatva's policy is pretty standard. You can take advantage of the 120-night sleep trial, which will allow you to return the mattress in case you don't find it good enough. The return process is penalty-free, however, you will have to pay $99 for shipping. The majority of customers note that the return process is really smooth and easy. Although, not everyone is satisfied with the fact that they have to pay $99 for it. And I agree with them.
The company offers a 15-year warranty, which allows you to get your mattress replaced within the first 2 years. After 2 years, the company will re-cover and repair your mattress for free, but again, you'll have to pay $99 for shipping.
Is Purple Mattress for You?
Let me just say this:
I understand that all people are different and might feel differently about the Saatva Mattress. That's why I want to point out who will totally find this mattress to be a great option:
someone who wants a mattress with

great support and construction

;

people who sleep

solo

or don't get

easily

disturbed by their partner's movement;

people who

can't sleep hot

;

someone who wants a high-quality mattress for a

reasonable

price;

people who don't like to

sink

into a mattress.
Comfort

Materials

Support

Cooling

Smell

Company reputation

Delivery

Warranty

Trial

Motion transfer
Summary
Overall, the Saatva Mattress made a good impression on me. I love how bouncy and supportive it is. It does sleep cool, which is another important feature that can influence your sleep quality. I also love the fact that you can pick the firmness level to your liking. So, it's definitely worth trying.
Now, you're welcome to share your thoughts on this mattress in the comments. Which firmness level did you choose? Was it supportive enough? Let me know below.
Product links on Happysleepyhead are referral. We get a commission on purchases made through our links at no additional cost to you. More information in my disclosures.