Puffy Mattress Review & 250$ OFF Coupon
by | Last Updated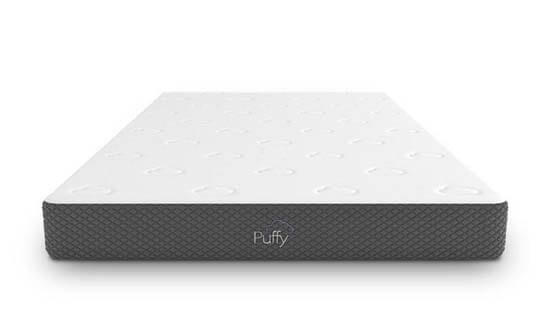 You've seen it on Ellen, in your Facebook feed, and a dozen times elsewhere.
Puffy is very popular these days. And it seems that there's a reason for that.
Are you curious to learn whether it's really worth the hype?
Let's find out.
Construction
Now, the first thing I want to address in my Puffy mattress review is its construction and layers. I believe that 90% of your sleep quality depends on your mattress's construction (the remaining 10% being your stress levels, well-being, and the surrounding you sleep in). So, let's see what Puffy has to offer:
Firm core support foam

. Measuring 6 inches in height, it's super dense and supportive. This layer features Puffy's Insta-Firm Technology, which makes it very responsive.

Cooling Cloud foam layer

. It is 4 inches thick and serves as a comfort layer. This foam is gel-infused and is meant to provide a cooling effect. It is rather cradling and nicely balances out the firm base layer.
As you can see, Puffy has only two foam layers. Some users believe that such a number is enough to provide a restful sleep, others think that such a construction is too simplistic and cannot work for many sleepers. In this review of Puffy mattress, we are going to find out who of them is right.
"Puffy is CertiPUR-US certified. This means you don't have to worry about the harmful components in the foam. The mattress is made without ozone depleters, dangerous flame retardants, heavy metals, phthalates, formaldehyde, etc. The company implements a special manufacturing process (which involves variable pressure) to eliminate the use of any harmful components."

Cover
The cover deserves a special place in this Puffy mattress review. This is the part of the mattress, which is going to be the closest to your body. Therefore, a cover absolutely must be nicely made and pleasant to the touch.
Now, Puffy uses a polyester cover. It is quite thin and has tiny pores in it, which makes it breathable and helps with ventilation. It is very soft and smooth to the touch. Additionally, polyester is a rather durable fabric, so it will serve you for a long time.
It gets better:
The cover is removable (zipped) and machine washable. So, even if you don't have a mattress protector, the cleaning process will be easy and fuss-free.
The only thing you should keep in mind is that polyester is not a natural, organic material. This is a synthetic fabric, which doesn't work for everyone.
Firmness and How It Feels
Another factor I want to mention in my Puffy mattress review is its firmness level. The firmness of a mattress determines how comfortable you are going to feel sleeping on it, so let's not omit this part.
Now, the manufacturer describes Puffy as a medium-firm mattress. Of course, the way it feels will depend on each separate user and his or her weight and sleeping position.
When we were testing the mattress, the firmness levels differed depending on the users. On average, Puffy rates 6.5-8 on the firmness scale (from 1 to 10). Heavier sleepers experience a very generous amount of cradling and sinkage, while light and average users note that the mattress feels very balanced and pleasantly firm.
I personally didn't feel like Puffy was too firm, probably because of its cradling top layer. It hugs the body gently and makes the mattress feel softer than it really is (at least for my average body).
Support
Again, this factor will depend on the weight of the user. I found Puffy to be supportive enough when lying on my side. However, for back and stomach sleepers, there is too much cradling, which means the top comfort layer will not let your spine stay properly aligned. Additionally, if you are a heavier sleeper, you will sink deeper into the comfort layer. This might make you feel like sleeping on a cloud, but that's not always good for your spine.
Here's the kicker though:
If you are an average user, I feel like Puffy will provide you with just the right balance of support and cradle, especially if you are a side sleeper.
Moving on to the edge support. This is where Puffy falls behind. Because this is a foam mattress, which doesn't have any reinforcements around the edges, Puffy offers a rather weak edge support. This shouldn't be a huge problem if you sleep alone and tend to remain in the middle of the bed during the night. However, if you share your bed with a partner and need a larger sleeping area, or simply toss and turn and find yourself sleeping on the edge of the mattress, Puffy would not be a suitable option for you.
Motion Transfer
Motion isolation levels are important if you share your mattress with a partner and don't want to be disturbed by their movements during the night.
Here's the deal:
When it comes to motion transfer, Puffy does a very good job minimizing it. Because the top layer doesn't have too much bounce, it effectively absorbs movement and helps the other side of the bed remain undisturbed.
If you and your partner have a big weight difference, the movement will be a bit more noticeable. However, overall, Puffy offers a decent level of motion isolation, which makes it suitable for couples.
"One of the coolest things about Puffy, in my humble opinion, is their return policy. And I don't mean the free mattress pick-up. I am talking about what the company does with the unwanted mattresses. If for any reason your Puffy doesn't work for you and you decide to return it, the company will pick it up and donate it to the local charitable organization. This way, someone in need will get a new comfortable mattress to sleep on. This definitely is a financial loss for the company, but Puffy does the good deeds anyway."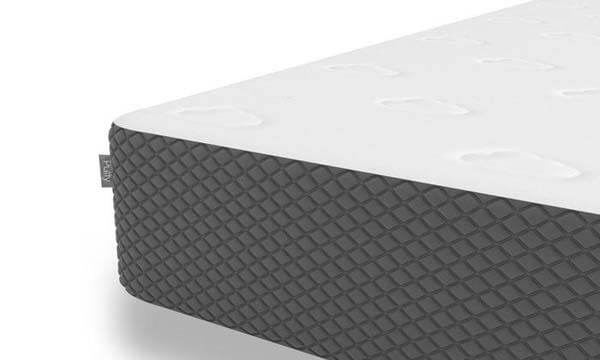 Sinkage Tests
When testing Puffy for sinkage levels, I tried lying on it in different positions and asked my colleagues to do the same. Obviously, sinkage depends on the weight of the user and his or her pose.
Overall, Puffy offers a generous amount of sinkage. It cradles the pressure points and hugs them nicely. It also easily adjusts to your body shape and offers that nice slow-hugging feel, which is so characteristic of foam mattresses.
Smell and Off-Gassing
If you have a sensitive nose, you should pay attention to this part of my Puffy mattress review. You see, when it comes to foam mattresses, users oftentimes have to deal with strong, unpleasant, and even chemical odors. Off-gassing can completely ruin your sleep and your impression of the new mattress.
So, you may be wondering now "Does Puffy stink when it arrives?" The answer is no, it doesn't really stink. However, there is a slight odor present. It's not very strong or overpowering, neither it's chemical. Puffy just has that "new mattress" smell, which is most likely to disappear in a couple of hours.
"If your new mattress has a noticeable odor and your nose it too sensitive, you might want to leave the mattress in a well-ventilated room for quite some time. If the weather allows for it, leave the windows and doors open. This will create a nice air circulation in the room, which might actually make the mattress smell disappear."
Something You Should Know
I want to warn you right away:
Puffy is a very young company.
It was launched in 2017, which means it's a new player on the mattress market. Because the company is so young, some users feel like they cannot fully trust it. And it's natural. I mean, there are no long-term reviews and evidence, which might show how the mattress performs over the years.
Here's the kicker, though:
Puffy offers its customers a lifetime warranty. Therefore, if you experience any issues with your mattress or it doesn't hold up during the years of usage, the company will either fix or replace it, depending on the situation. Such a warranty is like a protection for you. It's also like a promise of durability, which the company makes.
The Best Thing About This Mattress
The absolute best feature of this mattress is the pressure relief it is able to provide. Puffy is rather cradling and hugging. It easily adapts to your body shape and gently hugs the pressure points. The top comfort layer feels like a cloud and allows for a generous amount of sinkage.
All of this makes Puffy ideal for people who have stiff joints or need instant pressure relief. Puffy can help with back issues too. Its cradling and hugging properties might also come in handy if you have lower back or neck pain.
The Worst Thing About This Mattress
The worst thing about Puffy is its value. Let me explain: the Queen size currently costs $795 (and $995 when not on sale). This seems like a very reasonable price, I know. However, after you learn more about the mattress and its small imperfections, you might agree with me: it doesn't offer a very good value for money.
First off, the construction of this model is very, very simple. There are only two foam layers, and it comes in only one firmness option. This factor means that Puffy cannot suit too many users, only a group of certain sleepers.
And don't get me started on that polyester cover. Even though it is breathable thanks to its pore structure, let's not forget that polyester is a synthetic fabric, which isn't that breathable itself.
What I'm saying is: with such a number of flaws, I feel like Puffy is a bit overpriced, and that might be a huge drawback for some other users as well.
The Good and the Bad: Overview
Puffy has many strong features, but it isn't flawless. And if you want to get a clear idea of what this mattress really is, I suggest that you consider both the good and the bad aspects concerning this model:
"A quick note: Puffy offers financing to its client via the Klarna service. You can make payments as low as $25 a month. This means you can get yourself a new mattress without the need to spend quite a large sum of money at once."
Shipping, Returns, and Guarantees
When it comes to shipping, returns, and trial, Puffy really does its best to satisfy its customers. First off, the shipping is free, which is always a nice bonus. However, keep in mind that it is available only in 48 states.
The company also offers a 101-night trial. This gives you enough time to test your new mattress and see whether it works for you or not. If you are not fully satisfied with your new bed, the company will arrange a free pick-up from your home, donate the mattress to a local charity, and give you a full refund.
This is actually rather impressive. You don't have to pay extra for the delivery and returns, and the mattress will be donated to help those in need. To me, that's a really great bonus.
As for the guarantees, Puffy comes with a lifetime warranty. You can read about all of the conditions on the manufacturer's website to make sure that your new mattress's quality will be protected throughout the years.
Whom Is This Mattress For?
Now, I understand that picking the best mattress is an individual task. Each person has different needs and preferences, and one bed cannot work for all.
So, you may be wondering "Is Puffy suited for me?" Well, it might be a perfect option if you:
require generous cradling and love that hugging feel of the foam;

need good pressure relief;

share your bed with a partner and need decent motion isolation;

do not tend to sleep on the edge of the bed;

want a foam mattress that doesn't sleep hot;

prefer simplistic models without bells and whistles;

don't need a natural or organic mattress;

sleep mostly on your side;

are an average user.
Whom Is This Mattress Not Suitable For?
No matter how great Puffy might be for some sleepers, there are many people who may not appreciate this model. You won't probably like Puffy if you:
don't like the feeling of being hugged by the foam;

are a stomach or back sleeper and need more support for your spine;

are a heavier sleeper and do not like when a mattress offers too much sinkage;

want multiple firmness levels to pick from;

prefer buying only from reputable, tested companies, which have been around for a while;

want a natural mattress with organic materials;

tend to sleep on the edge of your bed;

look for the best value for money;

want a luxurious mattress with some extra bells and whistles.
Check Puffy Mattress on Puffy.com and SAVE 250$ with coupon BESTPUFFY
Materials and quality

Support

Cradling

Edge support

Motion isolation

Cooling

Warranty and trial

Off-gassing

Company reputation

Value for money
Summary
To me, Puffy is a rather contradictory mattress model. It is comfy and cradling, with a decent amount of support. However, it does not work for all, and many people might find it not comfortable enough.
This is a simple mattress, with only two foam layers and one firmness option. And, given these factors, I feel like it's a bit overpriced.
I am not saying that Puffy is a bad mattress. I just feel like it's overhyped. But if you want to try it, I say go for it! Chances are this might be a perfect bed for you. Besides, you can always take advantage of the trial period, so why not test the bed yourself?
Product links on Happysleepyhead are referral. We get a commission on purchases made through our links at no additional cost to you. More information in my disclosures.