DreamCloud Mattress Review
by | Last Updated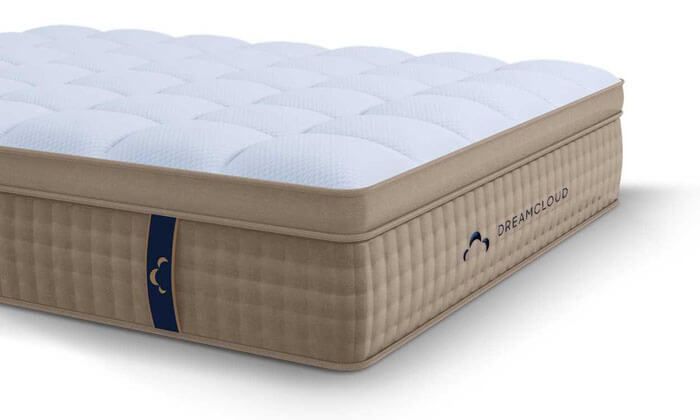 New mattress models appear every day. And they all promise their users a luxurious comfort.
DreamCloud is one of them too.
But does it really live up to the expectations?
That's what we are going to find out today in this DreamCloud mattress review. Let's see whether this model really offers "affordable luxury", as the manufacturer claims.
The first thing you should know is that DreamCloud is a hybrid mattress. This means it features a multi-layer construction combining different materials. Let's look at them:
The

base layer

is made of high-density memory foam. It serves as a foundation of the bed, providing support and absorbing the movements. It reduces motion transfer, making this mattress feel like a real luxurious model.

The company's patent-pending "Best Rest"

coil system

features 5 different zones, which provide proper support for different parts of your body. The pocketed micro coils are foam-encased, which also adds to the mattress's balanced feel and helps with motion transfer. Additionally, the coils' compression system offers great levels of support.

The

cradling comfort layer

is made of super dense foam, which serves to properly support the body and gently hug the pressure points. This foam is dense but also quite soft, which gives it great pressure relieving properties.

The extra

"Dream Plush" memory foam layer

offers deep contouring and contributes to the mattress's supportive properties.

The

natural latex layer

is bouncy and cushioning at the same time. It adds some extra contouring without making you feel like you are stuck in the mattress's layers.

The

quilted memory foam layer

provides some extra softness and comfort.

The

gel-infused memory foam layer

does a few things: offers some extra support, helps with contouring and pressure relief, and provides a cooling effect.

The

cashmere-polyester blend cover

is hand-tufted and very pleasant to the touch.
As you can see, this is a rather impressive construction. The manufacturer uses the most popular mattress materials – foam, latex, and coils – in one model to get the best out of each layer. Does it really work? We are about to find out in this review of DreamCloud mattress.
"The manufacturer claims that DreamCloud is an affordable luxury, and many users agree with that. You see, given its interesting and effective construction, the quality of the materials, and the comfort it provides, DreamCloud offers a very, very good value for money. It's hard to find a Queen mattress for only $1,300, which would have the same number of layers, the same smart combination of hybrid materials, and the same level of comfort."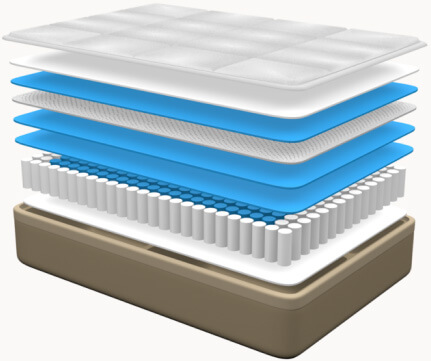 This model's cover deserves a separate place in my DreamCloud mattress review. It feels super soft, smooth, and pleasant to the touch. Being one of the mattress's components that give it that luxurious feel, the cover really feels and looks expensive.
It is hand-tufted, which means a lot of effort was put into its design. And it features a combination of natural cashmere wool and polyester fibers.
The cashmere component provides that luxurious feel and superb breathability. It can help sleepers with temperature regulation and feels great during all seasons.
As for the polyester part, it adds a bit of smoothness and silkiness to the way the cover feels. I guess it also makes the mattress more affordable. I mean, if the cover was 100% cashmere, you would have to pay more for the DreamCloud mattress, I am sure. So, such a blended construction is a compromise between the luxurious feel and the reasonable price.
"If your mattress does not have a removable zipped cover, you might want to consider getting a mattress protector. A waterproof one is always a good idea. It can keep your mattress clean and will likely even prolong its lifespan. Additionally, the cleaning process becomes super easy with a mattress protector. You just need to take it off and throw it into the washer. And perhaps vacuum your mattress to get rid of the dust. That's it"
Firmness and How It Feels
The firmness of any mattress feels differently when different people test it. Therefore, for this DreamCloud mattress review, I asked different users with different body types to lie on this bed. and here's the deal:
The answers were almost all the same.
This particular model rates around 7-8 on the firmness scale (from 1 to 10). It's not "concrete floor" firm but doesn't feel like a cloud either. It can hold heavier sleepers just fine, still providing them with enough support. It is rather resilient and bouncy, with a moderate amount of cradling.
Keep in mind, though:
If you are a side sleeper or a lightweight user, this mattress might feel too hard for you. It simply won't let your pressure points sink in too deep because of its bouncy construction.
There are many things you can say about the DreamCloud mattress, but you definitely can't say that it offers weak support. This bed is bouncy and "strong". It has dense foam layers (the comfort ones) and a coil system, the combination of which results in superb support. Add a layer of resilient latex to that, and you get a mattress that can hold even heavier users in a proper position without a problem.
I also want to include the edge support in this DreamCloud mattress review for all those of you who share their bed with a partner or simply prefer to sleep on the edge of the mattress. Here's the good news:
This bed offers good edge support. Whether you're lying on your back or side, the edges can withstand your weight without allowing too much sinkage. This means some extra sleeping space for you!
This aspect is also important if you're going to share your mattress with someone. Thankfully, the DreamCloud mattress shows great performance here as well. Of course, the motion levels will depend on both your and your partner's weight and height, but overall, DreamCloud creates a minimal amount of disturbance when one of the mattress's sides is being "harassed" by a person turning and tossing constantly.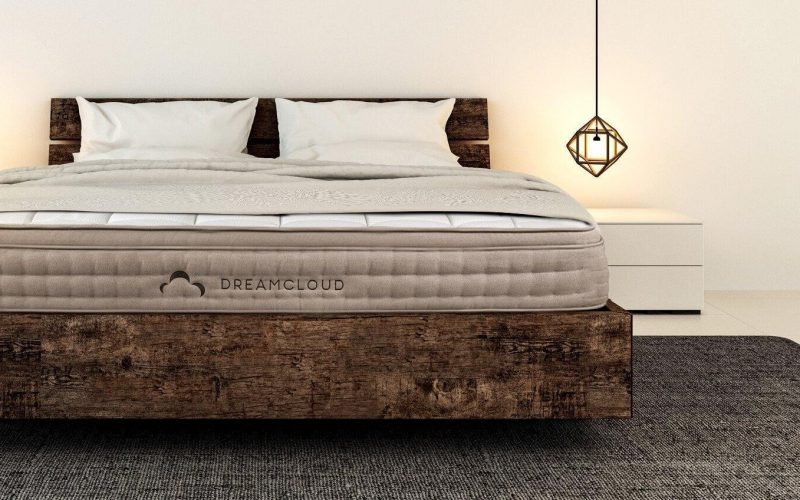 Different people prefer a different feel of the mattress. Some want to be hugged by it, slowly sinking into the materials. Others prefer to lay on top of the mattress and hate the feeling of being stuck in its layers.
With DreamCloud, you get a moderate amount of sinkage. Of course, it will also depend on your weight. If you are a heavier sleeper, you might sink deeper (a few inches), and then your body will be supported by the foam-encased coils.
However, if you are an average user, the sinkage won't be that noticeable. DreamCloud is more of the "lay-on-it" type of mattress (which isn't a bad thing but might not be suitable for some users).
"DreamCloud is described as a medium-firm mattress. Our tests show that it's somewhere around 7-8 on the firmness scale. This means DreamCloud might be too stiff for side sleepers. However, it is perfect for back and stomach sleepers since it can provide great support and keep their spines in a neutral position."
Smell and Off-Gassing
The majority of memory foam mattresses have that "new mattress" smell, which we also call "off-gassing". And the DreamCloud mattress is not an exception. When your new bed arrives, you will feel a slight odor. However, it's not chemical or too harsh. It is supposed to disappear within a couple of hours or a day (maximum). So, just leave your new mattress in a well-ventilated room, and this tiny issue will be fixed.
Something You Should Know
A quick (and rather important, in my opinion) fact:
DreamCloud is a very young company. It launched in January 2018, while its parent company (called Nectar Sleep) started its operation in 2017. As some users prefer buying only from the companies that have been around for a while and have a good, stable reputation, this is something to keep in mind.
Here's the kicker, though:
If you feel like you don't trust DreamCloud fully, you can take advantage of their trial and warranty, which I'm going to discuss later.
The Best Thing About This Mattress
The absolute best thing about the DreamCloud mattress is its construction. The manufacturer has clearly put a lot of thought into the choice of materials and layers. This mattress has a very balanced feel. It features just the right amount of cushioning from the memory foam, a good bounce from the latex, and a great support level from the coil system. And the truth is such a construction makes this mattress very, very comfortable.
The Worst Thing About This Mattress
As for the drawbacks, the biggest one, in my option, is a lack of universality. This mattress will not work equally well for different sleeping positions and users. Because it's rather bouncy (courtesy of latex) and supportive (thanks to the inner coil system), this model might be too stiff for side sleepers, especially lightweight ones. Such users simply will not get enough cradling for their pressure points.
The Good and the Bad: Overview
If you really want to see the full picture in this DreamCloud mattress review, you need to consider all of the bed's strong sides and imperfections side by side. Here they are:
Prices
This is an important part of my DreamCloud mattress review. Before actually considering buying a new bed, you need to make sure you are ready to invest in it right now. So, here are the prices the DreamCloud mattress is sold at:
| Size | Price |
| --- | --- |
| Full | $999 |
| Queen | $1,199 |
| King | $1,299 |
| Cal King | $1,299 |
CHECK AVAILABILITY ON dreamcloudsleep.com
"A quick note: the company allows its customers to finance their purchase. This can be done via Affirm, about which you can read in the FAQ section on the manufacturer's website."
Shipping, Giving Back, and Guarantees
Here's the good news number one:
DreamCloud offers a 365-day trial!
That's a lot! That's more than enough to see whether the mattress works for you or not. If you feel like your bed isn't that comfy, it will be removed by the company from your home and you will get a full refund. Super easy, isn't it?
As for the warranty, here comes the good news number two:
You get a lifetime warranty!
That's also rather impressive, especially given the fact that DreamCloud is a young company. This warranty means that the manufacturer is sure of their product's quality. It also means that you can feel safe using your mattress for years.
DreamCloud offers free delivery to the 48 states. The order ships within 24 hours of your purchase. Typically, the mattress is being delivered within 5 business days (usually less).
Overall, it looks like DreamCloud is doing everything possible to keep their customers satisfied. And I am very pleased with that.
Recommendations
Now, one mattress cannot suit everyone. The same rule applies to DreamCloud. However, I'm sure that it will be a perfect choice for certain people. So, you are going to love the DreamCloud mattress if you:
usually sleep on your back or stomach;

want a luxurious feel for a reasonable price;

appreciate great support;

don't like the feeling of sinking into your mattress;

want to sleep cool;

share your mattress with a partner;

want a great warranty and a sleep trial;

aren't on a very tight budget.
CHECK DREAMCLOUD MATTRESS ON dreamcloudsleep.com
Materials and quality

Support

Cradling

Edge support

Motion isolation

Cooling

Warranty and trial

Off-gassing

Company reputation

Value for money
Summary
The DreamCloud mattress definitely has a lot to offer and comes with a great set of features. This model delivers a luxurious feel and superb support for a relatively reasonable price (given its high-end construction).
It's not suited for everyone, that's for sure. However, with such a great sleep trial and warranty, it is definitely worth trying. And I'm sure the majority of users will decide to keep this mattress for good!
Product links on Happysleepyhead are referral. We get a commission on purchases made through our links at no additional cost to you. More information in my disclosures.