Best Mattress Toppers for Lower Back Pain Relief and Sound Sleep — Our Top Picks and Buyer's Guide
by | Last Updated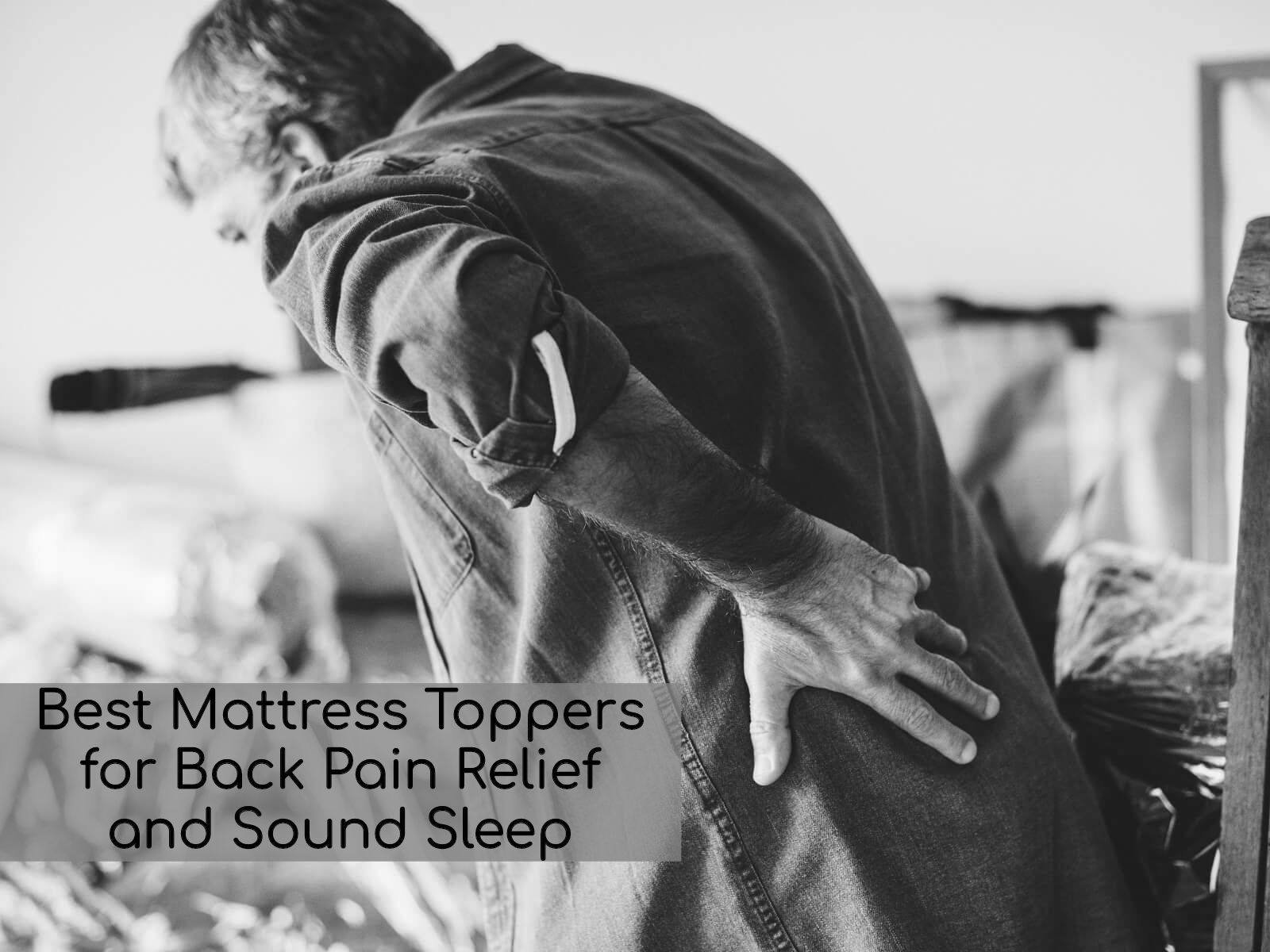 Back pain is a common condition.
You've probably experienced the stiff and painful feeling that's haunting you for hours at least once in your life.
Although the causes of back pain often require a doctor's consultation, there are some things that you can do yourself to improve your condition.
For example, buy the right mattress topper.
To define what the "right" is, continue reading this guide. Besides reviews of 5 best mattress toppers for back pain that I prepared for you, you'll also find the answers to the most frequent questions that arise when shopping for this item.
[table id=101 responsive=collapse datatables_row_details=true datatables_row_details_columns="A-G" /]
Our Reviews of 6 Mattress Toppers for Lower Back Pain
Zinus – Thick Mattress Topper for Lower Back Pain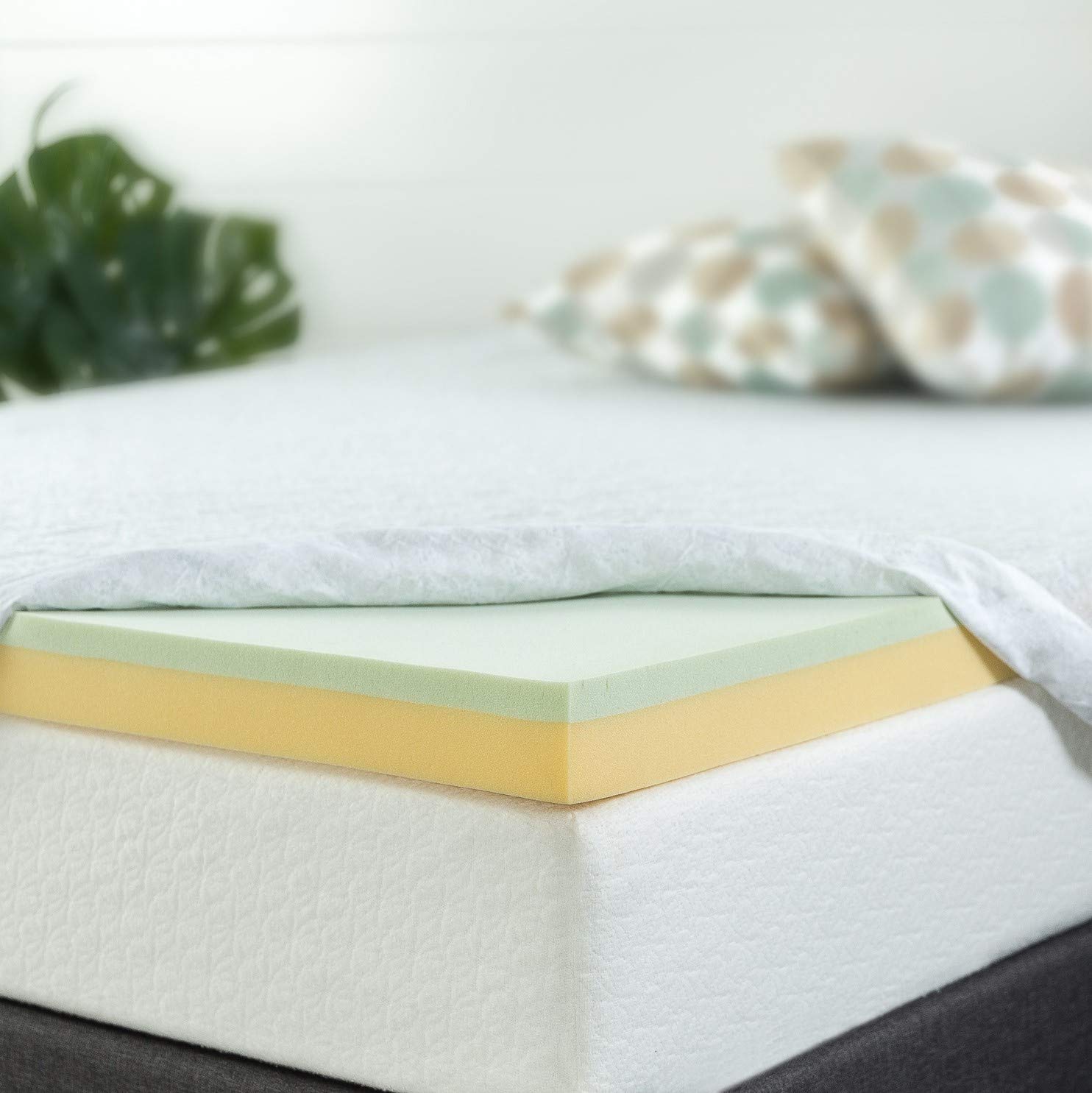 My list of top-rated mattress pads for lower back pain begins with the Zinus. I tested the 4-inch topper, but there are three more options of different thickness, so I'm sure that it can please every demand.
So, what's so good about it?
First, the materials. This thick mattress topper for back pain is comprised of 2 layers of dense memory foam for making you feel like you're sleeping on the cloud. Moreover, the upper green layer is BioFoam. It's infused with natural green tea extract and charcoal for better odor elimination and antimicrobial properties.
Now, this topper provides excellent pressure and pain relief and cradles your body perfectly, no matter which sleeping position you choose.
However, I think this mattress pad may not be comfortable for heavy sleepers because it's on a softer side of the firmness scale. So, if you're a large person, you'll probably sink too deeply and won't receive the support for your back that you need.
What I love the most about this model is its thickness. Four inches are enough even for a side sleeper who is suffering from back pain. Plus, this thickness might help you compensate for the sags on your old mattress.
Overall, I've found this mattress pad very comfortable. I think it will make a good investment for anyone looking for a thick, plush feel.
Check out this mattress topper on amazon
Amerisleep Lift – Best for Smart Design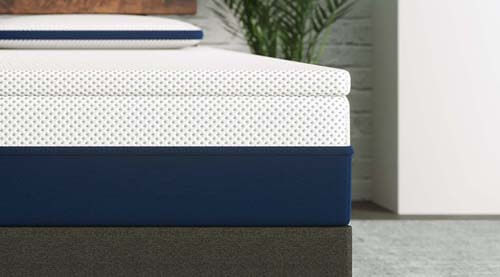 Another candidate in my review of the best mattress toppers for back pain is the Amerisleep Lift. This model can offer you what you need the most for pain relief — close conforming and proper spine support.
This mattress pad is available in two firmness configurations: the Comfort has a more cushioning feel and the Support is for the fans of floating atop the bed. However, both of them utilize the brand's proprietary HIVE technology for pressure relief.
HIVE is, basically, textured memory foam with a hexagonal pattern. The whole topper is divided into five zones, and the spacing between tiny hexagons is wider in shoulder and hip zones. A wide spacing makes these areas more cradling and allows the topper to support your correct spine alignment without overstretching the muscles.
Aside from that, the topper is encased in a Celliant cover. Celliant fabric utilizes temperature-sensitive technology and can convert your body heat into infrared energy, thereby aiding in more therapeutic sleep.
The only flaw of this mattress topper is its odor. Even though it's light and will likely dissipate completely over a couple of nights, sensitive sleepers might still feel annoyed.
As you can see, the most prominent feature of the Lift pad is its design. Every material is in its place, and the result is a great pressure relief and compatibility with all sleep positions.
As a wrap-up, I can recommend the Amerisleep topper for chronic pain sufferers and owners of old beds. Its thickness is sufficient to give you the comfy sleep you deserve.
Check out this mattress topper on amerisleep.com
Sleep on Latex – Best Firm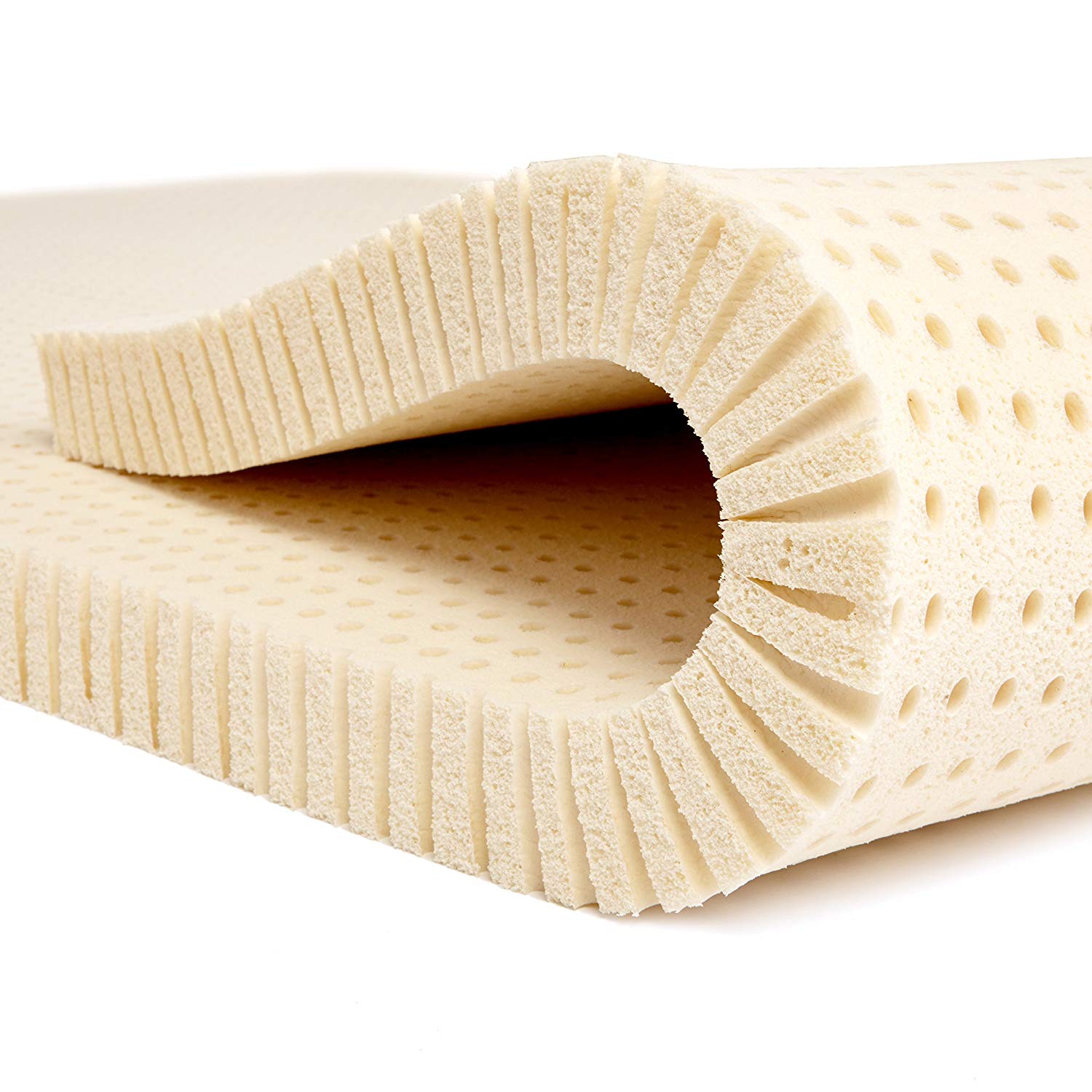 For my fellow eco-enthusiasts, here's another candidate among the top-rated mattress toppers for lower back pain. The Sleep on Latex pad will be good for those who value durability and bouncy support that only latex can give.
This pad is made of Dunlop latex. The 2-inch option I was testing felt really firm and supportive, so I think it's a great pick for heavier individuals. It can accommodate their weight without much sinking, while still cradling their body to alleviate pain.
Now, the cooling properties of this firm mattress topper for back pain are off the charts. Latex is naturally cool and breathable. Plus, this topper has a punctured design, which promotes air circulation and helps you sleep cool even on a memory foam mattress.
The worst drawback of this pad is that it moves a little during the night, so you may need to adjust it from time to time. Or, get a fitted mattress protector, like I did, to hold it in place.
What I love the most about this topper is its balanced firm feel and pressure relief. If arthritis or another chronic disease causes your back pain, then you should give this pad a shot.
Despite a higher price tag, this mattress topper is a great investment that is worth every buck. If you're looking for a firmer feel and don't mind some bounce, this is the model to go for.
Check out this mattress topper on amazon
Red Nomad – Best Material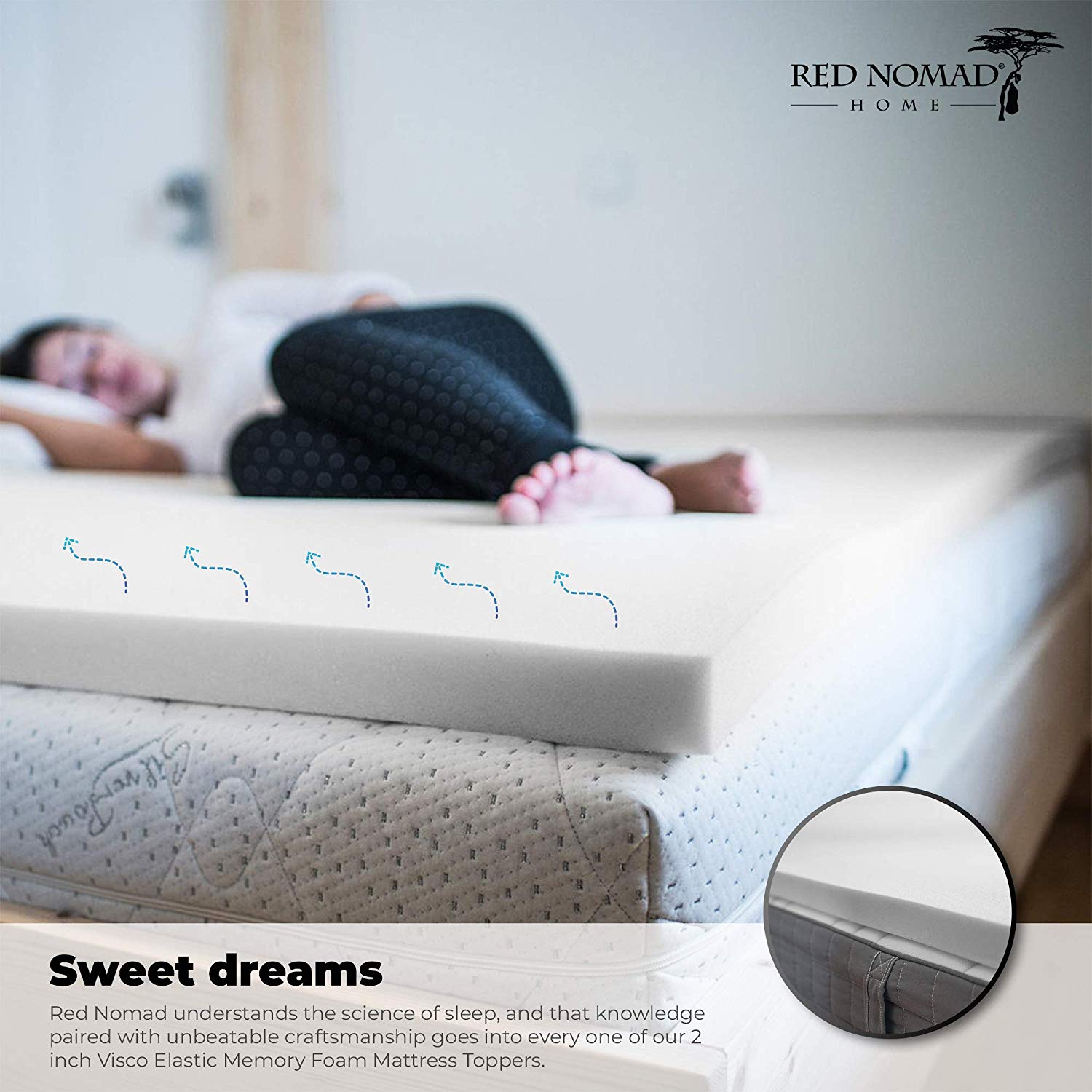 Now, I've included the Red Nomad on my list of the best mattress toppers for lower back pain due to several reasons. But the main one is the high-grade certified material used, which conforms to your body shape very closely.
This mattress pad is made of memory foam, which is known for its outstanding hugging and pressure relief properties. Given that, it is able to reduce even the most annoying lower back pain. If you're a side sleeper, you may want to try the 3 or 4-inch options. But I was testing the 2-inch one, and I found it to be most comfortable when sleeping on my back and stomach.
Now, this Red Nomad's mattress topper for lower back pain uses open-cell foam with Cool Cycle Technology for better breathability and heat withdrawal. I had no issues with temperature regulation when sleeping on it. However, note that it might be different with thicker options I mentioned above.
And that's the biggest drawback of this model. The memory foam used in Red Nomad is the first generation material, so it might still sleep hot for some sleepers, compared to newer foams used in competitor models.
However, what I loved about this mattress topper the most was its cradling abilities and overall comfort it provides. It relaxes your spine and relieves sore back after the first night you sleep on it.
To tell the truth, I didn't expect too much from this mattress topper. However, each night I slept on it, I woke up without any back pain thanks to the gentle cradling it provides.
Check out this mattress topper on amazon
Advanced Sleep Solutions – Best Feel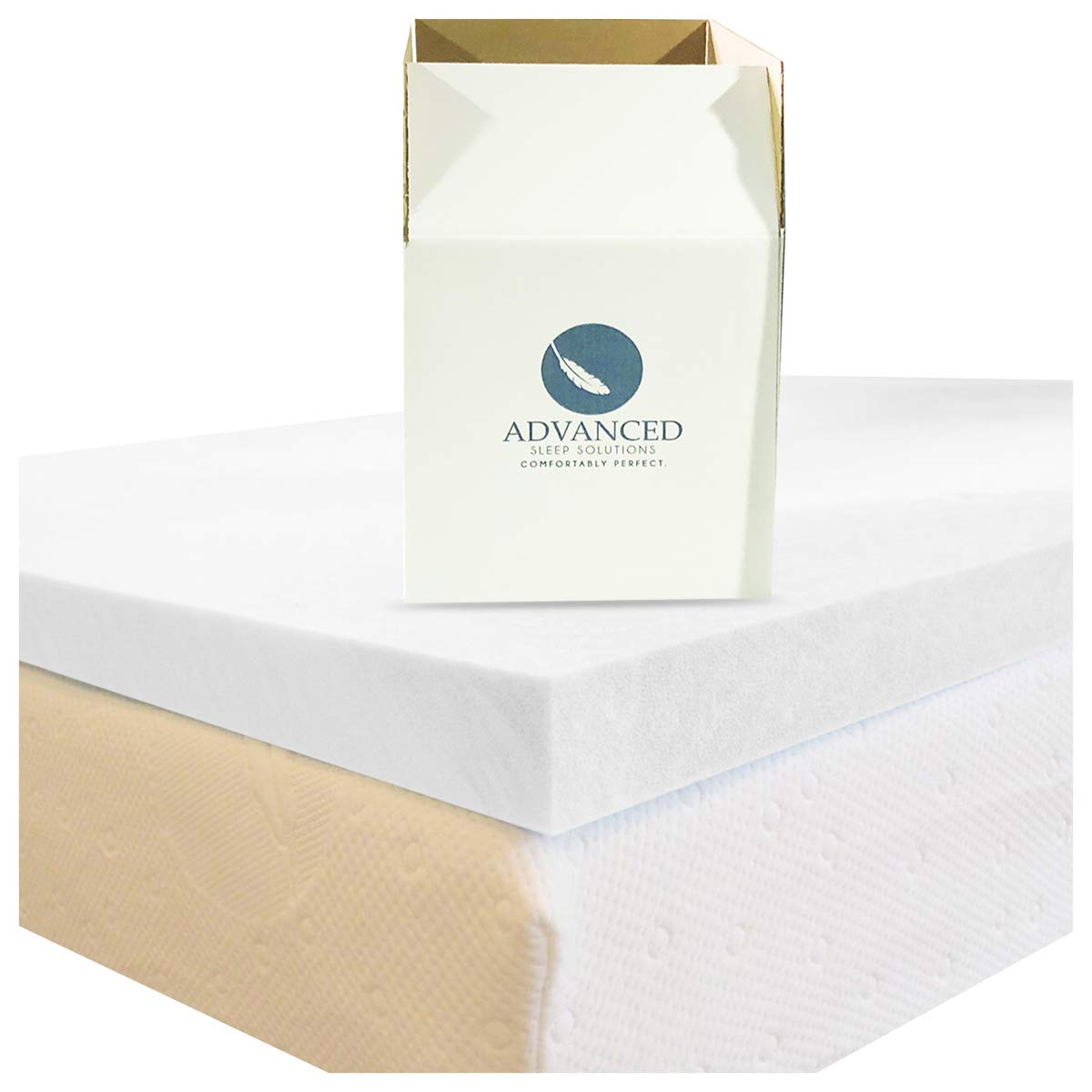 Here's another memory foam model on my list of top-rated mattress pads for lower back pain. I tested the 2-inch thick option (there's also 3-inch one), and I loved how comfortable it is.
This mattress topper is made of durable and dense memory foam that allows you to receive the desired comfort in any sleeping position. It gently hugs the protruding parts of your body and eliminates pressure.
As the brand claims, they use special technology to make their foam more breathable than the traditional memory foam. And to be honest, it shows. This memory foam mattress topper for back pain is nice and cool to the touch and didn't make me sweat during the night.
The worst thing about this topper is its smell. I was testing it for three nights, and it hasn't disappeared within that period. According to reviews of this mattress topper, it's very likely to diminish eventually, but I advise to keep that in mind, especially if you're odor-sensitive.
What I love about this mattress pad is its memory foam cushioning feel. I'm a combo sleeper, and no matter how I turned on my bed during the night, I felt comfortable and woke up rested and refreshed.
If you want a comfy topper that feels like a cloud and helps you forget about back pain, then this model is the right one for you.
Check out this mattress topper on amazon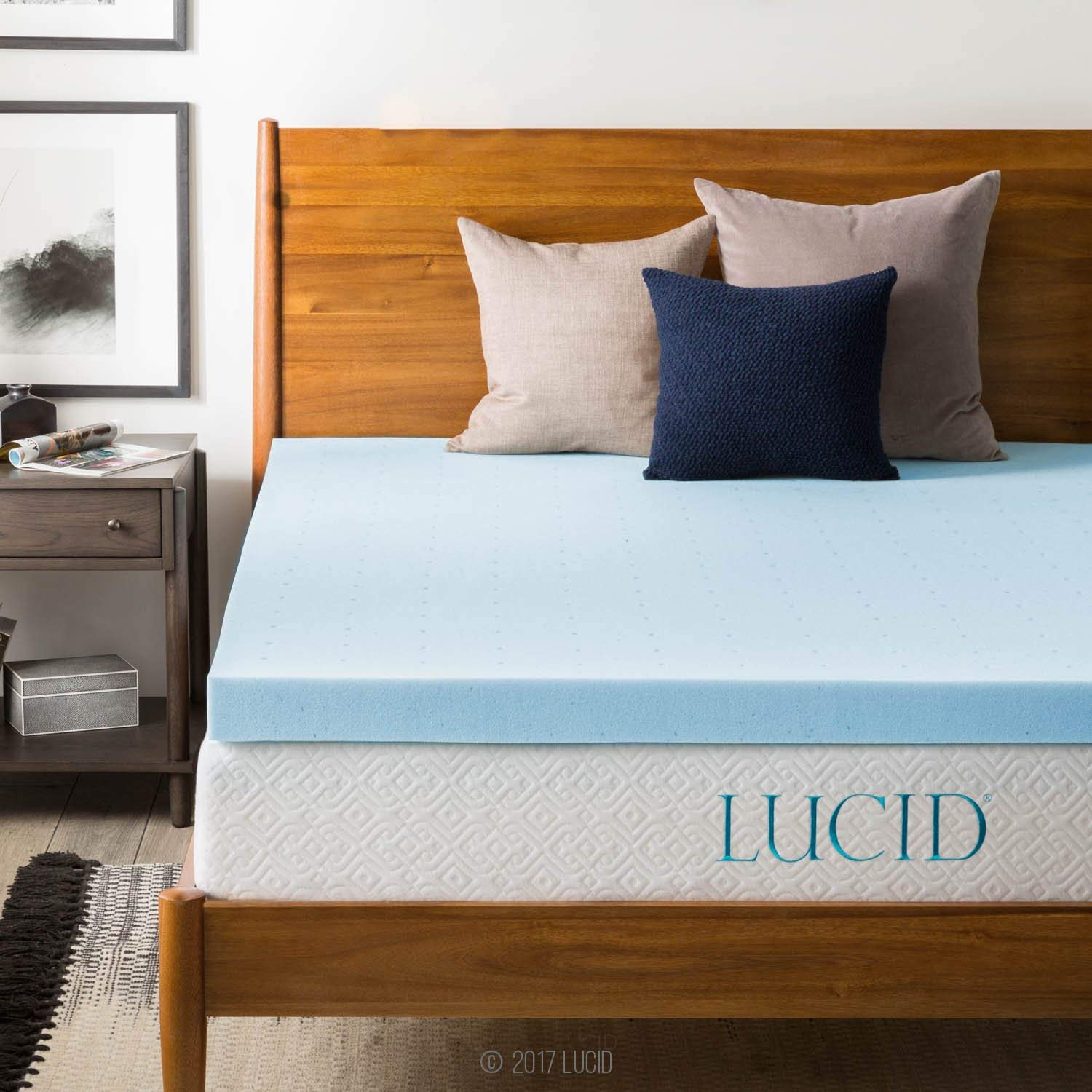 And the last model on my list of top-rated mattress pads for lower back pain is for those who are tight on a budget or just aren't willing to spend too much money on a new bedding item. The LUCID gel-infused foam topper is an excellent investment for better sleep and hence better overall health.
The 3-inch thickness that I tested was very soft but supportive at the same time. I should say it has enough cushioning for your sore back but ensures proper spine alignment in any sleeping position.
Now, this mattress pad doesn't make you sweat at night due to the cooling gel infusion. The gel adapts to your body temperature and disperses heat if you tend to sleep hot.
As for the drawbacks, I believe that for some people, this topper might be too soft and cushy. So, if you already have a bed with a softer feel, adding this pad on top of it is not a good idea.
The best thing about this model is how affordable it is. For less than $80, you'll get high-grade materials that perfectly do their job at providing back pain relief and help you achieve a heaven-like sleep in no time.
So, for the fans of softness and cushioning and for those who have a limited budget, this mattress pad by LUCID should work just fine.
Check out this mattress topper on amazon
Can a Mattress Topper Really Help You with Back Pain?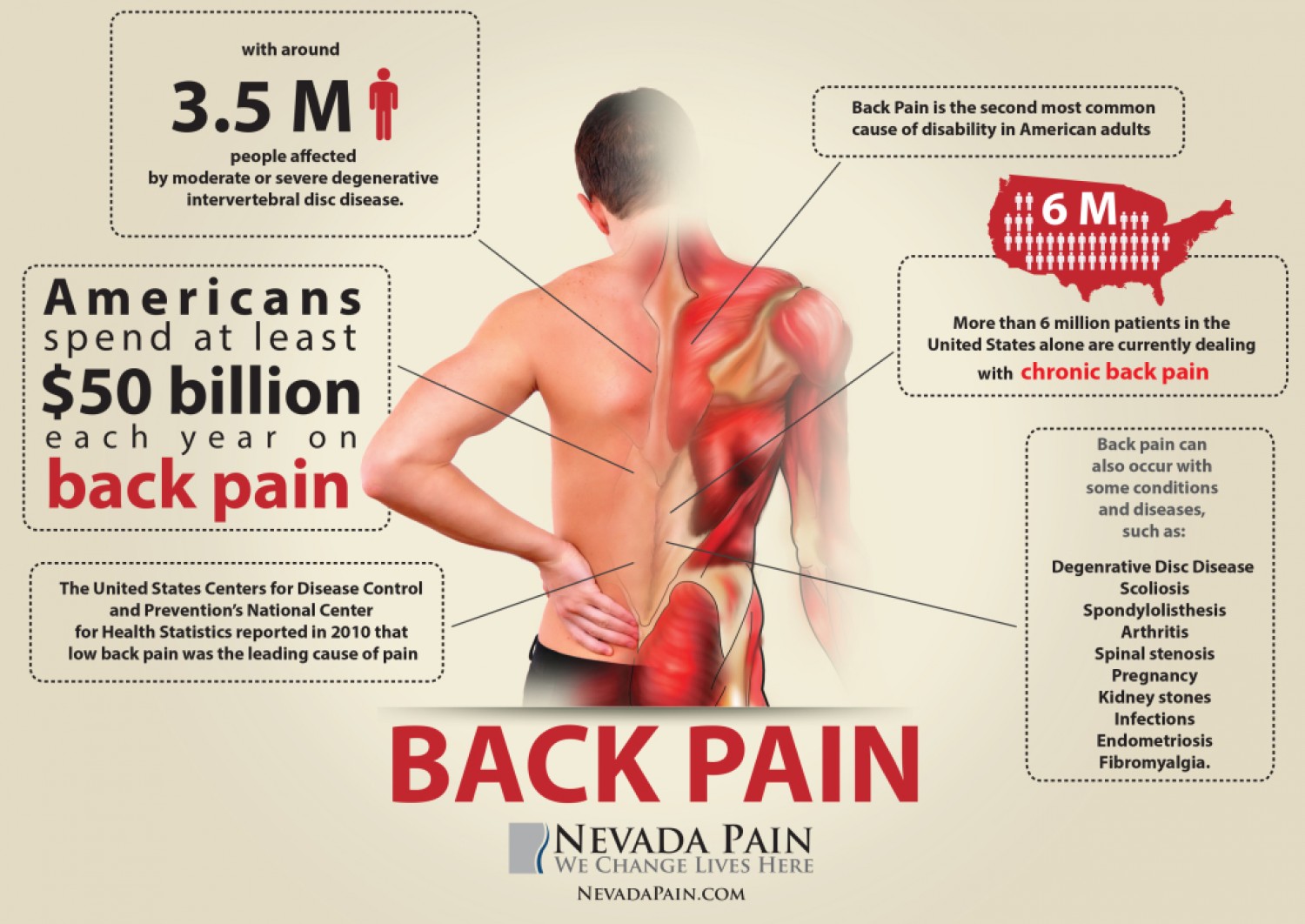 Source: nevadapain.com
The short answer is:
Yes.
In some cases, your mattress pad can really help you alleviate back pain, and sometimes even get rid of it completely. For example:
If your mattress is old

. Foam beds tend to soften with age, while innerspring mattresses can become firm and stiff. Actually, any mattress is susceptible to wear and tear. But sleeping on an old mattress isn't good for your spine alignment and usually results in painful symptoms. In this case, a mattress pad can be your temporary lifesaver.

If your mattress is unsuitable

. According to

mattress topper reviews

, users often find their mattress not comfortable completely, which leads to soreness and pain. So, they use a mattress topper for altering the feel and firmness of their bed.
Remember that chronic back pain problems are a serious condition and a mattress topper may not work for everyone. Thus, if your back pain didn't get better, or even became worse, please consult your doctor for proper treatment.
Why Buy a Mattress Topper for Lower Back Pain?
Now, if you're not completely sure that buying a mattress topper for back pain is a good idea, let me share a number of potential benefits you might get if you eventually decide to give it a try.
And I'm talking about those benefits that come in addition to back pain relief, which obviously is the main benefit.
It can alter the feel of an unsuitable bed after your trial had ended

. Although almost all mattress manufacturers offer you an appealing trial policy with at least 90 nights of sweet slumber, sometimes it's not enough. We're all different and we all need a different amount of time to make a balanced decision. This is especially true for such products as mattresses, because, you know, it's an investment for the nearest decade. So, if your trial period is expired and you feel the need to make your mattress softer or firmer, you can use a mattress topper.

It's affordable

. The prices for a mattress topper fluctuate between $50 and $300, so it's way cheaper to buy a pad than to buy a new mattress. Again, I'm talking about cases when your chosen mattress appears to be uncomfortable for you.

It can create a cooler sleep environment

. Most foam mattresses — the primary type that people choose for back pain relief — initially sleep hot and, as I said, this drawback becomes more pronounced over time. To get a cooler sleep, you can use

mattress pads made with cooling gel or latex

. They work better in dispersing body heat.

It can diminish sagging until you're ready to buy a new mattress.

All mattresses have a lifespan between 8 and 12 years, depending on the material they're made of. However, any bed may begin to lose its supportive properties even earlier, and this is the leading cause of morning back pain. If that's the case, you may use a mattress pad to level your sleeping surface. But keep in mind that this is a temporary solution for a couple of months, as the topper will adjust to the sagging spots and will repeat their shape over time.
Also Read: Best Egg-Crate Mattress Toppers
What Material Works Best for Lower Back Pain Relief?
So, now you're more confident in your decision to get a mattress pad for your sore back. Depending on your budget and overall comfort preferences, you can choose between latex and memory foam.
Let me briefly walk you through the upsides and downsides of each of these two materials.
Memory Foam
Memory foam is the most popular material on the mattress market. Its popularity is based on the following advantages:
excellent cradling properties for any sleeping position;

pressure relief;

a vast range of firmness options.
But a memory foam pad might not be the right choice for you if:
you need good edge support;

you seek a responsive and resilient feel;

you're a hot sleeper.
Most manufacturers try to alleviate the heat-trapping properties by offering customers gel-infused and open-cell foams that distribute heat pretty well. But you still have to give it a test to find out if the heat removal is good particularly for you.
Latex
Latex is a vulcanized sap of rubber trees, meaning it's a natural material. You may opt for a latex mattress pad if:
you're a fan of more sturdy and bouncy feel;

you need a topper with good edge support;

you're a heavy sleeper;

you tend to sleep hot.
But there are some drawbacks:
latex mattress pads are pricier;

some people are allergic to latex.
According to mattress topper reviews, dual-layer models that combine a down or polyester pillow-top and a bottom foam layer are often used by back pain sufferers to alleviate their condition. If you're considering this option, keep in mind that a pillow-top may go flat in several months so that it won't offer you the needed support anymore.
Also read: Best Twin XL Mattress Toppers
What to Consider When Choosing a Mattress Topper for Lower Back Pain?
Now, knowing about the materials is only half of the way. To choose a mattress topper that will work for you perfectly, you need to dive into specifics.
To help you do that, let me share my checklist of points to consider before making a purchase.
Firmness
Firmness is subjective, but it's crucial when it comes to back pain relief. Too soft mattress pads lack support, so chances are that your spine will become misaligned and the pain will worsen. Too firm mattress pads, on the other hand, can serve well if you're a heavy sleeper, as they can compensate for the increased load.
But if you're an average-weight sleeper and tend to sleep on your side, then getting an extra firm mattress topper for back pain isn't the best decision:
It will push against your body, creating pressure and awkward curves.
Instead, consider choosing mattress toppers with a medium feel.
Back Pain Localization
Another key thing to consider is where your pain is located. After all, different features might be needed for different types of pain
Upper back pain

. This issue often appears if your mattress lacks support for your shoulders. In this case, you need to choose more cradling materials, such as softer memory foams. Consider finding the right pillow for neck pain relief too, as it can additionally relax your shoulders.

Middle back pain

. While being a rare case, middle back pain is typically the result of chronic diseases. Consider buying models that offer the golden middle between firmness and support.

Lower back pain

. Being the most common condition, soreness in the lumbar area appears because this is the part of your spine that carries the most load during the day. If you have this kind of pain, you need to opt for such materials as latex or high-density foam.
You should consult your doctor to receive a recommendation about what topper will be the best in your particular case.
Size
Surprisingly, many people return their toppers to the manufacturer because they bought the wrong size. This usually happens when:
you own a non-standard bed;

you're buying a mattress pad for your RV bed;

you've made a hasty decision (we all do this sometimes).
If you don't want to go through the returning process, measure your mattress before purchasing and compare it with a mattress size scale.
Most mattress pads come in one thin layer. So, if your mattress appears to be smaller than the topper you've purchased — and if you're okay with voiding your warranty — you can cut it with a sharp knife to the desired size.
Thickness
The thickness of your mattress pad is often linked with its pain relieving properties. But it's not always the case. Most mattress toppers have the thickness between 2 and 5 inches and the right one for you may be tied to the severity of your condition:
Thin pads

. These might be good for occasional episodes of back pain, for example, after sitting in the office chair all day long. But they won't offer good support for people with chronic aches and pains.

Medium toppers

. Models of 3-4 inches thick are suitable almost for everyone. Their thickness gives you a decent hug and can provide proper support.

Thick toppers.

These are the

best toppers for side sleepers

with back pain or for people with severe and chronic conditions causing pain.
Your Weight
For large sleepers (250 lbs or more), weight is an essential factor to consider when it comes to comfort and pain relief. The golden rule here is, the bigger the load, the thicker the mattress topper should be. With a thinner pad, especially a foam one, you will hardly notice any changes in how your mattress feels. So, be sure to find a bulkier option that will be able to accommodate your weight.
Mattress Topper Reviews
Last but not least. Reviews of a particular topper model can provide you with a ton of useful info:
live photos;

actual opinions from people with similar needs and health issues;

conclusions about how the mattress pad performs over time.
The best way to get unbiased reviews is to search for them on Amazon or turn to sleep expert websites.
Conclusion
So, the key takeaway from this guide is that you can achieve relaxed and sound sleep with the right topper for back pain.
I hope that the models listed above will serve you as a great starting point and make your shopping easier.
And I'd like to share which model I loved the most.
It's the one by Sleep on Latex. Mainly because I really like latex for its bouncy and responsive feel. I think it's a universally comfortable option that will work for most sleepers with chronic aches and pains. Its natural breathability is a big plus too.
Now, I know that some of you aren't willing to pay more than $100 for a pad. In this case, your best option is the mattress topper by LUCID. I love how it adapts and molds to your body. I think that it's an excellent investment for people with any pain syndromes because of its balanced and comfy feel.
How often do you experience back pain episodes? Have you tried using a mattress topper to deal with them? Feel free to share your experience with us!
Product links on Happysleepyhead are referral. We get a commission on purchases made through our links at no additional cost to you. More information in my disclosures.