Best Twin XL Mattress Toppers on the Market
by | Last Updated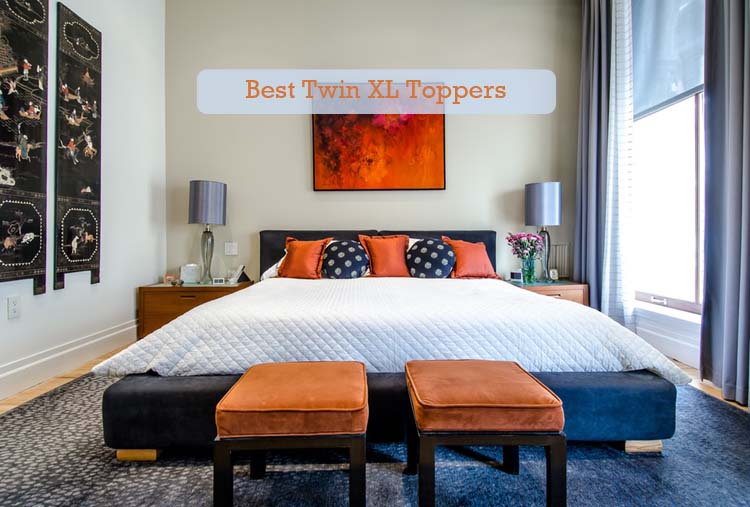 Choosing the right mattress topper can turn into a quest, as the choice is already rather wide and companies keep on releasing new models.
If you own a mattress of a less popular size, such as Twin XL, things become even more difficult.
Don't worry, though, I've got your back!
With this review of 5 best Twin XL mattress toppers, you can easily find your perfect fit and make an informed choice. So, get cozy and let's see what I've found!
Our Reviews of 5 Best Twin XL Mattress Toppers
Best Twin XL Mattress Topper for Natural Materials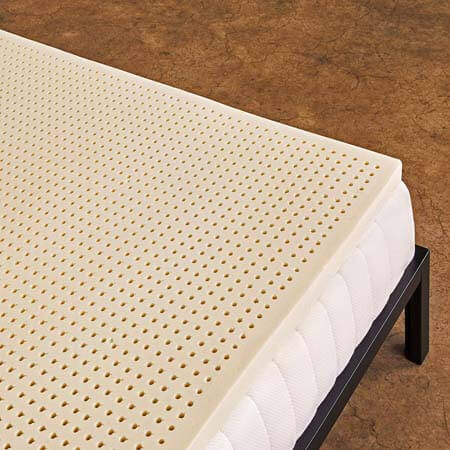 I couldn't resist putting this great eco-friendly option on this list of best Twin XL mattress toppers, so meet Sleep on Latex. This model is, basically, a layer of perforated Dunlop latex, and it will help you take your sleep to a whole new level.
Latex is good for many reasons: it doesn't aggravate your allergies if you have any, it sleeps cool, and it's extremely durable. Besides, the latex used in this model has a soft feel, so it can offer you a perfect balance between cradling and that typical latex springiness.
The Sleep on Latex topper is available in three thickness options. You can choose a 3-inch thick topper if you feel like you need more comfort for a saggy bed, or go for a 1-inch thick one if your mattress isn't old and you just want to add some cushioning. The 2-inch option is the golden mean for an average sleeper, as it offers a decent hug and good rebound.
So, the strongest point of this mattress topper is that it's made of natural latex. Besides being breathable and comfortable, latex is also a renewable material, so it minimizes the negative impact on a planet.
As for the drawbacks, though, I must say that this particular model might be too soft for large sleepers. They may sink down deep and feel poorly supported. So, if you're on the heavier side, you check some other options.
Overall, I loved testing the Sleep on Latex topper. It cradles your body really well and isn't overly bouncy.
Check out this mattress topper on amazon
Best for Dual-Layer Design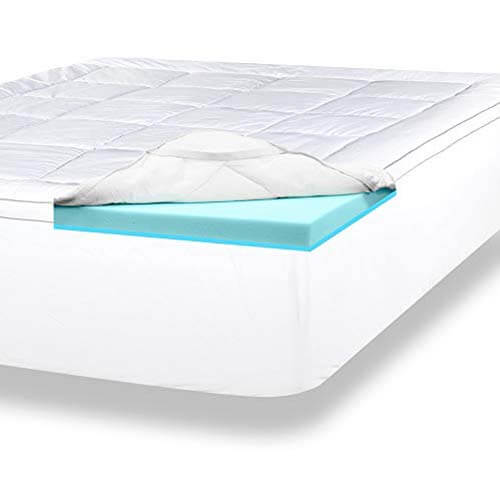 I can easily say that the Viscosoft topper has claimed its place among the best Twin XL mattress toppers for its design. It features a super soft quilted cover and a gel-memory foam pad, and it measures 4 inches thick, which is more than enough to cradle any sleeper.
The gel memory foam layer conforms to all your body curves and provides a cooling effect, withdrawing excess heat during the night. The cover quilted with down alternative acts as a moisture-absorbing and pressure-relieving layer and enhances your comfort.
A nice bonus is that the cover is washing machine-friendly, so the maintenance is pretty easy: just throw it in on the delicate cycle and enjoy the fresh look.
So, the greatest thing about this mattress pad is its dual-layer design. Not only does it make the topper more comfortable, but it also offers some level of versatility, as you can always remove the cover to get a different feel.
However, some users report issues with the quilted cover. Depending on how actively you will use it, this layer might go flat pretty quickly and become totally useless, so keep that in mind.
I would recommend this mattress topper to those who need to rejuvenate the feel of the old bed. It's thick enough to hide saggy spots and give you your portion of peaceful sleep.
Check out this mattress topper on amazon
Best Twin XL mattress topper for Cooler Sleep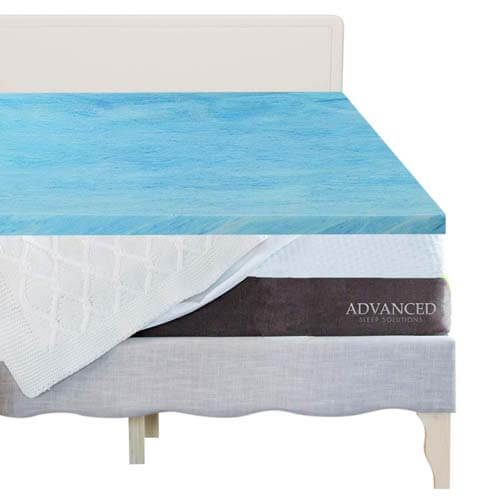 While I was reviewing this Twin XL mattress topper from Advanced Sleep Solutions, my key finding was that I never felt hot or even a bit warmed up as I usually feel with gel-infused foams. I think this is a legitimate reason to place this mattress pad in my selection.
Now, the Advanced Sleep Solutions mattress pad is available at two and three inches thick. This is the optimal thickness for a mattress topper, as it allows to create a comfy additional layer atop your old bed and refresh its feel.
Along with that, the topper has a medium-firm feel and can adapt to any sleeping style. It cradles your pressure points while remaining supportive.
So, what I liked about this mattress pad is in the combo of gel infusion and the open-cell structure of the foam itself. These features result in an incredible heat-removing effect, so if you're a chronic hot sleeper who loves the foam feel, this is your perfect solution.
The weak point of this pad is typical for all foam products — the odor. You need to aerate this mattress pad thoroughly before you sleep on it, or the smell might become too irritating.
So, if you need a mattress pad that will help you cope with hot sleeping — or if you want to really upgrade the feel your mattress has — the Advanced Sleep Solutions mattress topper can be a good pick for you.
Check out this mattress topper on amazon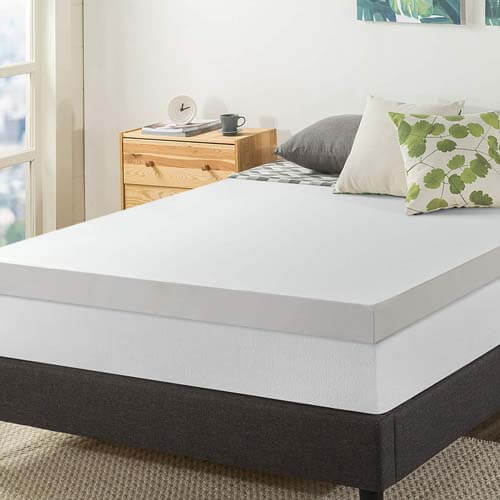 When it comes to mattress pads, durability can be an issue, especially with memory foam models. But this is not the case with Best Price Mattress. This top rated Twin XL mattress topper can offer you strong support in any sleeping position for years.
The pad consists of two layers that altogether measure 4 inches. The upper layer is made of green tea-infused memory foam that has a soothing scent and nicely conforms to your body curves. The bottom layer is made of high-density polyfoam, so you can expect a bit of rebound and temperature neutrality.
The pad is encased in a removable polyester cover, so the maintenance is fairly easy. However, I still recommend that you use a waterproof protector to minimize any accidents.
The thing I loved the most about this mattress pad is how durable and well-made it is. The cover protects the topper from dust and debris, and the materials are of high quality, so the topper can support you for years to come.
The downside, however, is the weight. The pad becomes pretty heavy after expansion, so installing it, moving, or taking the cover off for washing might become a challenge.
I think that the Best Price Mattress topper would make a great purchase for those who want a long-term solution. This model is very supportive and will remain such for a couple of years minimum.
Check out this mattress topper on amazon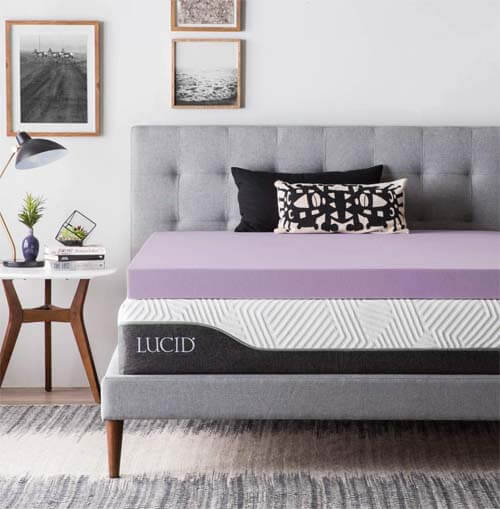 My review of the best Twin XL mattress toppers wouldn't be complete without a budget-friendly model, so here's the LUCID. This is a simple 4-inch thick pad made of ventilated lavender-infused memory foam that simply does its job and keeps you comfortable throughout the night.
The perforations in the foam enhance the airflow between you and the mattress and aid in cooler sleep during summer nights. Along with that, they help evaporate moisture from your body, thus preventing the development of mold inside the topper.
Four inches is the optimal thickness for the owners of mattresses that are starting to sag. It can help refresh the feel and mask the saggy spots, so you'll get your sound sleep back. Also, it makes the topper suitable for side sleepers, who may need more sinkage and pressure relief.
I really love that the combo of cradling and temperature neutrality won't cost you an arm and a leg with this topper. It's a good deal, that's for sure.
Speaking about the drawbacks, though, the topper might feel too soft. So soft that some users even reported that their pad ripped within the first year of use. This doesn't sound appealing, but note that such issues are always covered by the warranty.
To sum up, the LUCID is a decent mattress topper with a reasonable price tag. It is pretty basic, but it does its job of supporting your body and relieving your pressure points well enough. If you want a temporary solution, that's a great deal.
Check out this mattress topper on amazon
Things You Should Know About Twin XL Mattress Toppers
So, what is a Twin Xl mattress topper? How big is it? How did Twin XL appear on the market?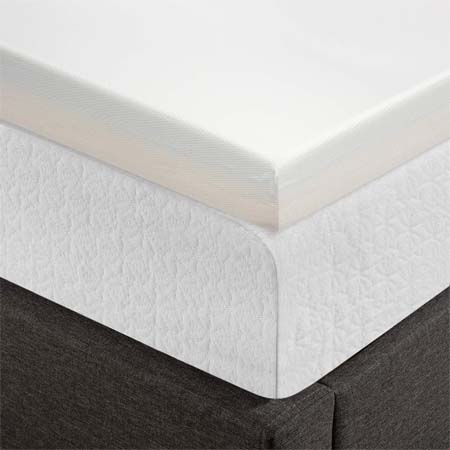 To answer these questions, we need to dive into the history a bit.
In the early 20th century, there were several outbreaks of infectious respiratory diseases in the US. Such illnesses as pneumonia, flu, and tuberculosis took almost 400 lives per every 100,000 people combined, so the public health experts executed the rule under which couples and children had to sleep in separate beds for safety reasons.
That's how Twin beds became a dominant option on the market for the next couple of decades.
Now, student dorms used Twin-sized beds as well. Until the human physiology came into play.
See, women and men go through puberty and maturity at a different pace. An average male reaches its height peak — which is about 69 inches tall — before the age of 20. Since a standard Twin mattress measures 38 x 75 inches, an average-height male sleeper might find it difficult to get comfy on it, not to mention taller individuals.
People in the mattress industry saw the demand and found a solution — to create a longer size for taller single sleepers. And this is how we got the Twin XL size, which measures 38 x 79.5 inches. These additional 5.5 inches solve the comfort problem for higher people without being too expensive to produce.
Now, Twin XL mattress toppers appeared as a complementary item for Twin XL mattresses a couple of years later.
"If you need a mattress topper to refresh your old bed, you may want to take a look at the models designed for side sleeping, as they're usually thicker and more cradling."
Who Will Benefit the Most from Using a Twin XL Mattress Topper?
Every mattress size has been designed with a buyer persona in mind,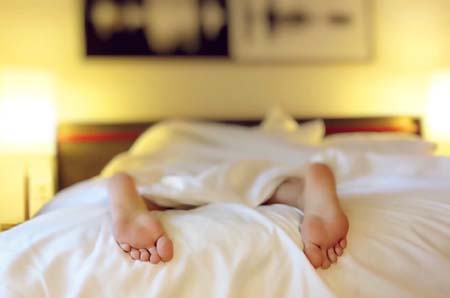 and it's the same for mattress topper sizes. You'll probably find a good Twin XL mattress topper working for you if you're one of the following:
Students.

Since most beds in the dormitories have the Twin XL size, adding a topper can be a great way to refresh your sleeping experience. Especially if you were not that lucky and got a mattress that is already worn out.

Kids.

While transitioning from a toddler bed to a Twin bed, kids may also need more comfort. A mattress topper placed atop the existing mattress can alter the feel and help make the transition more comfortable.

Hot sleepers

. Due to a variety of mattress toppers available today on the market, it's pretty easy to find the model that will help you cope with your hot sleeping. For example, you can look for a

mattress pad with a convoluted design

that promotes better airflow. Or, go for a gel-infused foam topper that traps less body heat.

Individuals with pain issues

. If you have any health conditions causing back pain or mobility issues, an unsuitable or old bed can aggravate your pain and discomfort. A mattress topper, in turn, can be a temporary solution to help boost the comfort of your bed until you are ready to replace it.
Also read: Best Mattress Toppers For Lower Back Pain Relief And Sound Sleep — Our Top Picks And Buyer's Guide
5 Best Mattress Toppers For Hip Pain — 2020 Reviews And Buyer's Guide
Wrapping Up
Buying a mattress topper for a bed of a non-standard size might be a bit difficult. But I hope that this article has given you the right directions to look for before you make your purchase.
I honestly enjoyed testing every model out of those five. But my favorite one was the Best Price Mattress pad. I really love how well-made it is, starting from the material choice and ending with the washable cover. Also, the topper is very cradling and has a soothing green tea scent instead of an annoying factory odor, which may also promote good sleep.
But if you're a fan of natural materials, I think that the Sleep on Latex mattress topper is what you need. It's conforming and cradles your pressure points well. Also, latex is a good choice for hot sleepers and individuals with allergies.
So, which model from the five reviewed seems the most appealing to you? Share your thoughts below!
Product links on Happysleepyhead are referral. We get a commission on purchases made through our links at no additional cost to you. More information in my disclosures.